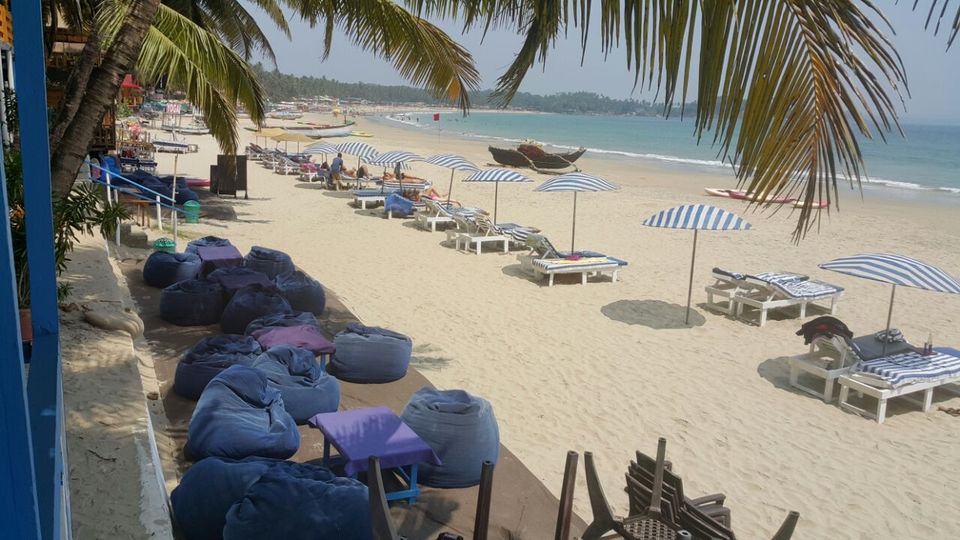 For most of you, I bet the first thing you think of when you hear "Goa" are the beach parties. Sorry to break it for you, but there is so much more of Goa than just parties.
I have chosen the South Goa to show it to you, as it's the best, so sorry party-goers!
We came near end of the season, middle of April, season here starts from October/November till end of April.
We decided to stay in a hut, for two days in Palolem, resort is called Oxygen Palolem. You can easily find it on booking.com and tripadvisor.com.
(https://www.booking.com/hotel/in/oxygen-palolem.en-gb.html?aid=318615&label=New_English_EN_AE_20480110945-m9JovV9ZIqM2t8xeGuWLYwSM217291386661%3Apl%3Ata%3Ap1%3Ap2%3Aac%3Aap1t1%3Aneg%3Afi12937650870%3Atidsa-206305369465%3Alp1000013%3Ali%3Adem%3Adm&sid=13193588b7d4ecc6db25e2f3d73b94f0&room1=A%2CA&dest_id=-2108152&dest_type=city&cdist=0.2 km&ucfs=1&hapos=1&m_occ=2&srhp=1&activeTab=main)
At this time of the year it will cost you from around 2500 ruppees per day, that is if you are with a local Goan person to help you negotiate the price. Usually the huts have A/C, but for lower price you can get a hut with a fan, with a decent toilet and shower, bed, cupboard and all the normal neccesities that you get in a three star hotel.
I loved our hut. There were huts with the view of the sea, but always do the research before you decide staying somewhere, I will suggest to just drive to town and easily you can get a hut on the spot. Our hut was two minutes walk from the beach, a bit hidden from the public but so worth it. We were seranaded by the ways in the night and early in the mornings. You can wake up and have a walk on the beach before the sun rises and note down all the possible colours in the sky or you can have a cup of tea or a coffee on the balcony and just meditate.
As we arrived late in the afternoon and after an hour and plus driving on a bike we decided to take a rest first. The most exciting part of visiting Goa is you can travel and see all the beauties by bike. The experience is undescribable and it will make you feel like you are the main actor in an adventurous movie.
After that one hour rest we decided to go and meet Palolem.
Gold sandy beaches, turqouize blue waves, am telling you once you visit Goa you will wish to never retur back home. I know I do. You can have hena drawings done even you can get a massage on the beach, the people here are friendly and helpful.
You might wonder where and what to eat? Well wonder no more, as you can get any world kitchen on their menus, from local food to Italian and American as well.
On the first day of our stay we ate at Dropadi Bar and Restaurant. We ordered traditional Goan/Indian food, I love their spices, but for the not so brave, you can still stick to your own taste buds as they have everything from pasta to fish and chips and salads.
If you are a food explorer am sure you would like to taste their cheese and garlic naan-the after taste is still in my mouth. They have fresh fish of the day and they bring it to your table, you can have a shark fish for your dinner,very exciting! Do try their fresh juices as well. It can't go more fresh than that. Do not be afraid when the bill will come. You will have the best dinner ever and plenty of money left in your pocket. I am telling you, you will want to settle in Goa. You will dream about this place and everytime your mind will wonder, will wonder back to your trip to Goa!
Time to sleep. Come back soon for our second day of our minimoon.
Viva la Goa!
P.S. Dropadi Bar & Restaurant details👇
Main Street, Palolem Beach, Palolem, Canacona, Goa 403702, India
+91 832 264 4555
https://g.co/kgs/UxN4nj