Dec, 2020

We had been longing to go to Goa since the lockdown restrictions were eased, but we knew that travel to Goa this time would be different. We would have to take a lot of precautions, avoid crowded places and our treasured party spots. Hence, we chose South Goa to figure out what will be the new normal for Goa.
After a slumber of eight months, our cabin luggages found their way out of the closet excited to board a flight and call Goa their home for a couple of days.
Our Stay: The safest way of enjoying the tropical Goa life is to choose a well equipped resort like the Caravela Beach Resort, Varka. The resort is following all safety protocols, has amazing villas amidst lush green golf course garden, a private white sand beach which is super clean and relatively less crowded.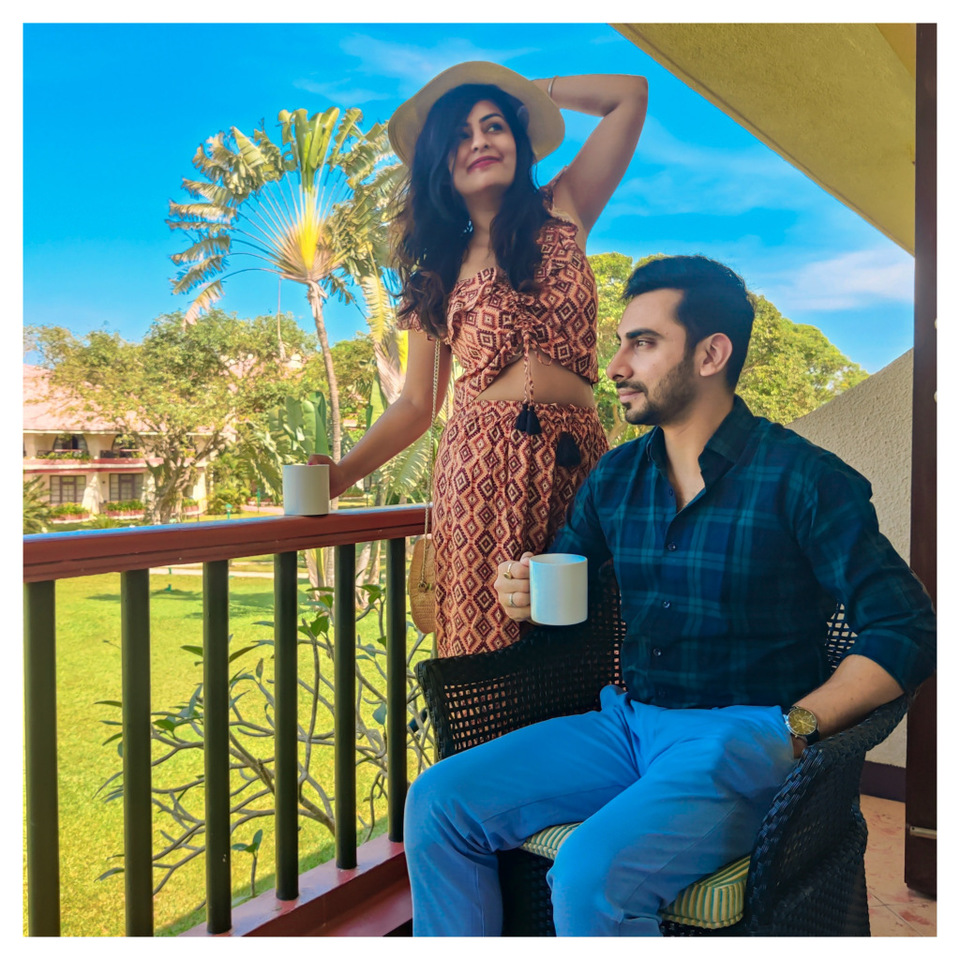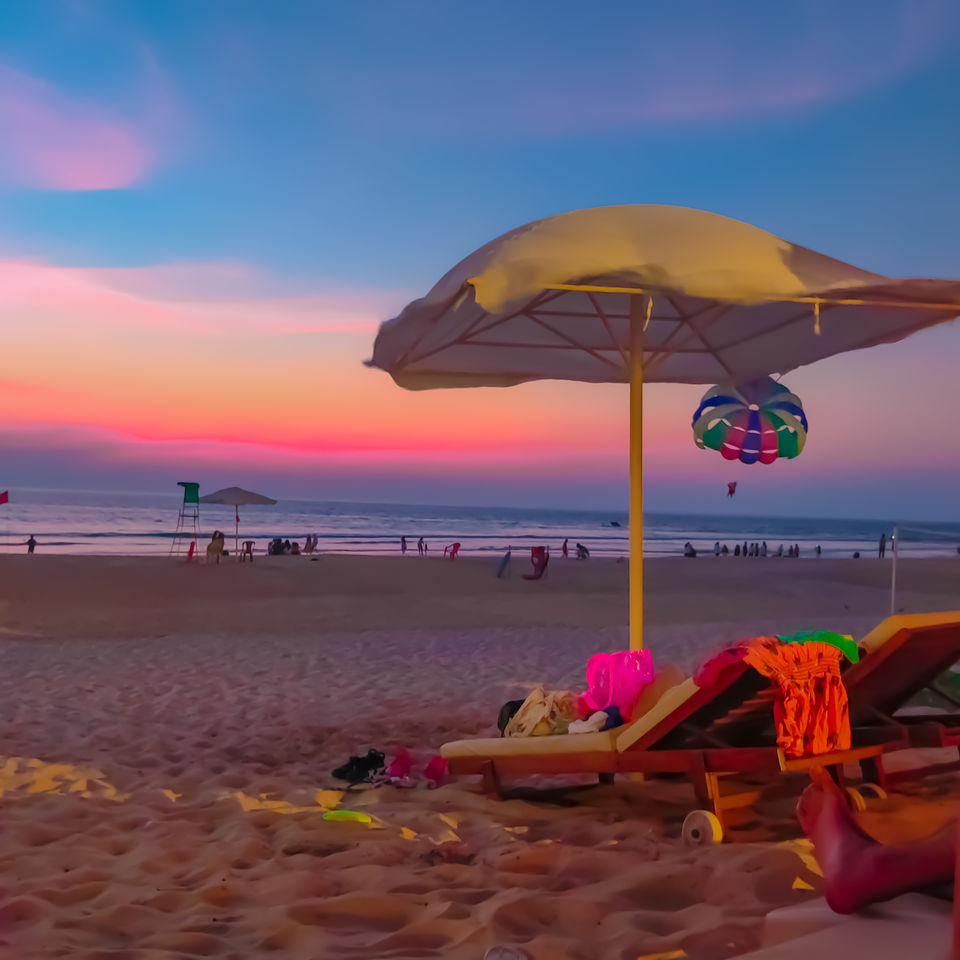 Day 1: Having reached the resort in the evening, we decide to take some rest and then headed off to the Palolem Beach later at night.
Palolem beach is by far the best beach in South Goa and boasts of numerous cafes, beach shacks and restaurants, our favourite amongst them being DROPADI. Some of the beach shacks are open till 4 am in the morning, play amazing music of all genres and are a hit amongst young couples. One such shack is Café Del Mar, where we spent some quality time over drinks, decent finger food and hookah.
Day 2: Goa is not only famous because of its beaches and crazy parties but also because of its heritage homes which depict its rich history, unique architecture and a showcase of Goan culture. One such property which has been restored by its current owners and has been open for the public is PALACIO DO DEAO in Quepem.
Visitors can enjoy home cooked Indo-Portuguese cuisine on the belvedere overlooking the Kushavati river. They are only open for lunch, have 4 tables that can accommodate close to 20-25 people at max and follow the farm to table concept. The sumptuous lunch kicks off with a fresh kokum-based cocktail, followed by 3 delicious veg and non veg starters (crabs, prawns, mushrooms etc). The remaining courses are quite a lavish affair and a treat to the eyes and the stomach, with at-least 10 different main-course dishes being served, followed by amazing desserts and high-tea.
Altogether, it's an experience that needs to lived at-least once in your lifetime.
Note: This is strictly a reseravation-only restaurant, so you'll need to get in touch with the owners, either through their website or instagram account, to book a table.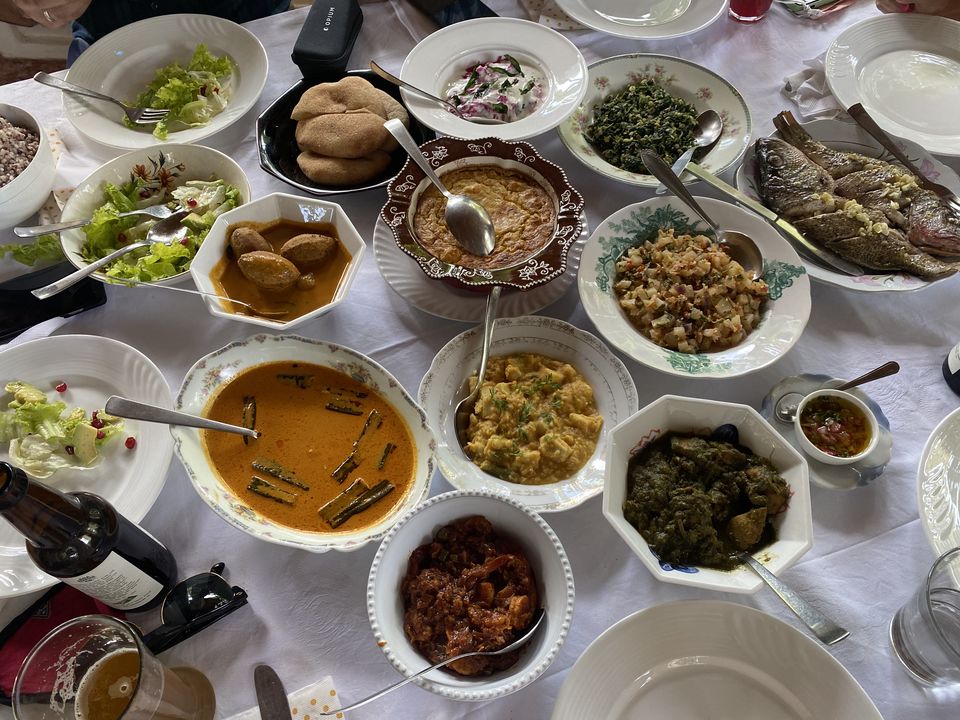 Having eaten to our heart's fill, we wanted to chill and relax by the beach, so we decided to go to Majorda beach - another one of the white-sand, famous beaches of the south goa coastline.
Later at night, we decide to go to this newly opened beach shack - JAMMING GOAT, in Utorda, which everyone seems to be raving about these days. It is one of the few restaurants which is following strict safety protocols, served innovative cocktails and some of the best finger food we have had till date.
Day 3: After indulging in beach therapy at our resort's private beach in the morning, we headed over to the Fisherman's Wharf, Cavelossim for lunch. The Fisherman's Wharf as they all say, is not just any other normal restaurant, but the ultimate culinary destination of Goa and serves delectable sea food preparations. Located along the Sal river, this restaurant is a vision for the eyes.
A trip to Goa is incomplete without paying a visit to the most famous restaurant of south goa, the sacred :P - Martin's Corner, so our dinner was served there. We were so involved in our eating skills, that we completely forgot to take a picture. What more can be said about this culinary delight anyways.
Day 4: Back to home
I would say this trip to Goa was surely the best thing that happened to us in 2020 as we returned back with happy faces and a heartful of happy memories.
The Benjabi recommendation and pointers:
Here are a few things that we did, that might be of help for you if you are planning on a trip to Goa during this pandemic:
1. We reached the airport well before time to avoid long queues and last minute rush.
2. We made sure that our face masks and shields were on during the entire duration of the flight.
3. We chose to stay in a beautiful beach resort in South Goa, which was following all the covid-related safety precautions and was relatively less crowded.
4. We visited clean and less crowded South Goa beaches to indulge in our beach therapy.
5. As far as the restaurants are concerned, we chose to dine in heritage homes and all the bigger brand restaurants / shacks where the probability of catching the virus was low.
For the visual version of this experience, please head over to our youtube and Instagram channel.
Youtube: https://www.youtube.com/channel/UC0kc8LRLKTCA23oQHXqWGuw
Instagram: https://www.instagram.com/the.benjabi.affair/
Do like, share and subscribe !!