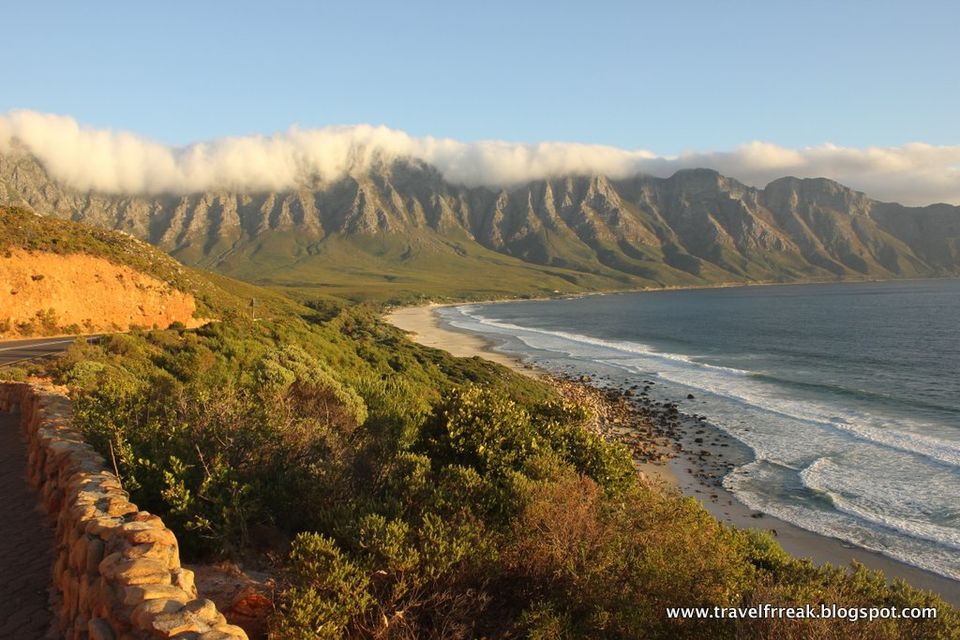 Detailed article along with photos, http://travelfrreak.blogspot.com/2017/05/lounging-in-pringles-bay-cape-area.html
South Africa continues to amaze me, everytime! I have been to Cape Town twice already and I was under the impression that I had experienced and explored all there was to do there. But my third trip to the Cape turned out to be completely different from all my earlier ones, telling me that I still have a lot to see there still. We spent a weekend in and around the Pringles Bay area near the town of Cape Town and it has been one of my most active as well as relaxed weekends in SA. We went cage shark diving, saw penguins, some amazing sceneries and visited a few vineyards - all in the space of two days...
We flew to Cape Town from Joburg on Friday evening and drove from there to Pringles Bay on Friday night itself. The drive was quite short, about an hour or so. It is apparently beautiful during the day - driving all along the sea, with bare hills in the background and the blue sea in front - but we missed all this beauty as we drove through it at night.
We were staying at Belle Mer Guest House, a small B&B in the village of Pringles Bay. It was right at the end of the village road, just next to the sea. It felt a little scary driving in at night, as there was no one around that late. And the road to the B&B was an unpaved one. But once there, it felt amazing and relaxed.
I had a room on the first floor, with a balcony from where I could hear the waves lashing on the rocks. I could not see the water, but only the clear sky and the stars twinkling up above. And the light house at Cape of Good Hope periodically beaming its light from miles away. I slept very peacefully that night but couldn't wait for the morning given how beautiful I could already perceived the place to be.
And it did not disappoint! The morning brought to light what we couldn't see the last night - we were staying right on the beach, and could see the foamy water lashing out at the reddish rocks in front. On Saturday, we did not spend much time in the village though. After a scenic and sumptuous breakfast, we left early enough for Kleinbaai - our first stop of the day and the location for cage shark diving!
It was about a 2 hour drive till there and one of the most scenic drives of South Africa (I wonder why I did not know about this route when driving across the Garden Route). We drove through towns like Gansbaai and Hermanus, past townships and beaches, all along the coastal area dotted with holiday homes, lagoons and vineyards. It was green and sunny everywhere and made for a pleasant drive, the day enchanting us with beautiful vistas at every turn of the road. We did pass by some townships in between but overall, most of the area was full of luxury holiday houses. Beaches and hills; sea and the sun; greenery dotted with white houses and so on... What better view can one ask for on a weekend off?
Kleinbaai is a coastal village and the popular launch spot for cage shark diving. There are multiple operators there, all of them offering the same experience. We reached there around 10 am and spent almost an hour having breakfast, as well as being briefed on what to do and not to do when near the sharks.
Apparently the whole coast is full of sharks, but the shark diving for tourists is allowing only at one spot in the national park, slightly away from the residential areas. There are more than 60 species of sharks inhabiting this area, but only the Great White sharks comes to the surface and can be spotted on these trips. The most commonly spotted sharks are still teenagers, about 3 metres long. The adults are much huge, and can go up to 6 metres long. If you are lucky to spot an adult, they can be seen swimming below the boat and visible on both sides. But given that near land it is too shallow for them, they are spotted rarely, not more than 2-3 times in a year.
We left the coast in a speedboat to go towards one of the bays where the boat would be anchored and the sharks would come. The sea was very very choppy and the waves were huge. It felt quite unsafe and scary at times as the boat went up and down quite violently! Once at the spot on the bay, the guides threw a barrel of tuna oil into the water, and then we started waiting for the sharks to turn up. Apparently, there is a 95% probability to see a shark on any of these trips! There were 4-5 other boats also in the bay at the same time and looks like all of us saw the sharks that day.
Once the sharks started appearing, they started circling the boat and the guides used empty tuna heads to lure them closer to the boat. I had always imagined that we would go down underwater in a cage to see the sharks in the water. This was however going to be different. There was a cage tied next to the boat, with space for people to stand, Groups of 4 people would enter the cage at a time, wearing wetsuits (the water was 13 degrees!) and then wait for the sharks to come close. When the guides saw them close, they would shout 'down' and we would put our heads into the water to see the shark come close to our cage.
I went in the cage twice, and it was nice to see the Great Whites up so close in the water. It was scary to see their eyes and open teeth, as they would open their mouths trying to catch the tuna head and then skillfully swim away when they realised that the cage was in the way. But it was honestly more fun to see them from the boat - a top view of seeing them slyly circle the boat lazily and then make a move for the tuna head. They did seem menacing sometimes, when their mouths were open for the tuna (they were able to bite them off a couple of times), but mostly they seemed like huge harmless fishes swimming lazily on a sunny day.
(Shark video, may not show in some browsers)
We spent about 2-3 hours on the boat, admiring these majestic animals. In total we saw 4 different sharks circle our boat at least 50 or so times. Twice it was quite scary, as once the shark's tail hit the cage, and the second time, a shark came very close to the boat while the cage was still open on the top! But overall, I loved the experience and wish I could have stayed there longer and seen them up closer ????. It was the first time I had seen such huge sharks, and realised they are not as scary as they are made out to be.
Once back from the shark watching, we lazily made our way driving back to Pringles Bay. It was the same beautiful drive and this time we stopped at two vineyards on the way - Sir Robert Stanford estate and Benguela Cove. Both of them were landscaped beautifully. The Robert Stanford estate is an old vineyard with a history. It was set up in the 1800s as a farm by Sir Robert, an Englishman who founded the nearby town of Stanford too. At that time, he used to take his boat to Cape Town to sell his farm goods and later started selling wines. It was a beautiful estate, with a few ponds and an enchanting lake in front of the restaurant with blue lotus growing in it.
Benguela Cove vineyard was different, it was next to a lagoon and beautifully landscaped. Both the vineyards had a lavish lunch food menu and offered a place to stay for the night too.
While coming back, we stopped at Bettys Bay - a better spot for observing African penguins than Simon Town near Cape Town where I have been twice. There were a few thousand of these penguins just sitting around the rocks, barely moving, just aimlessly looking towards the sun with their eyes closed, as if tanning in the sun after a hard day of work. It was a beautiful and free sight, with no people around. I spent about an hour there, just observing these funny creatures in black and white...
And then we drove past Pringles Bay for a drive next to the sea, the same way we had driven by last night. And we turned up at one of the most stunning views I have seen. We stopped at a couple of stops on the road, all with mesmerising views. We were surrounded by yellow hills behind us, with clouds crowning them and in front of us was yellow sand beaches dotted with some light green vegetation and then the blue sea beyond.
It was all so picturesque that every turn of the road was worth a stop. We spent a lot of time there during sunset, walked to the beach, saw a baboon sitting atop a shark spotting room and just enjoyed the setting sun in a majestic colourful view. It was all so calm and beautiful, totally relaxing...
After catching this view, we drove back to Pringles Bay and caught some more sunset colours on the local mountains and beach, before calling it a day. I did not have dinner that day but apparently, there were many nice little restaurants offering an amazing fare, even in a village with barely 1600 people. The day had been amazing, spotting sharks to relaxing with penguins, watching the setting sun to visiting a few vineyards. No wonder people love the Cape life ????.
The next day was a relatively relaxed one. I woke up late and took a walk around the village. The village is nestled between bare mountains on one side, the sea on the other and lot of cape kind of vegetation all around. I took a round walk along the beach and the holiday homes and saw some different architectured houses - one was white and shaped like an igloo, one had no windows, one was built in brown as if made of sand and so on. It was interesting to see that people were experimenting with their houses, and that too in a village in the middle of nowhere!
It felt like a very small village with barely 100 or so houses, most of which were empty. I did note that none of the houses here had fences, unlike the ones in Joburg. It clearly felt a lot safer than other places in South Africa that I have been too. People were walking outside all the time without any major worries.
After exploring the village, we started driving back, with a lunch stop planned at Stellenbosch. This is the wine area of South Africa, famous for its mountains and breathtaking views. The drive till there was full of picturesque vistas, passing through many small beach towns. We passed through the Strand which had a beach (and reddish sea water) but very few people on the beach as the water was too cold to go in. The bay looked pretty from afar. We also had to drive through a township called Sir Lowrys Pass Village, which felt a bit scary but not for long.
We drove through Somerset West to reach Stellenbosch and stopped at two wineries close to each other - Hidden Valley and Guardian Peak. They both had a panoramic view of the vineyards below. It was a very very hot day, so we decided to take a break and had a nice lazy lunch at the Guardian Peak restaurant. It was so amazing and relaxed, I really did not want to visit any other place or even go back to Joburg. It was so easy to just sit and read a book in such a relaxed place.
Anyways, after lunch, we drove back towards Cape Town along a long beach (Badel Powells Drive) right next to the townships of Khatelitsa, Mitchells Plain and then Philippi. The beach was many kilometers of pure white sand contrasting with the deep blue of the water. But there were limited number of tourists on the beach given the proximity to the townships. The townships were huge and unending, and looked like they was better managed than a lot of other ones, they had regulated electricity and water supply plus dishtv on every house.
Our last stop of the day was the Kirstenbosch Botanical Garden, which was just full of people out picnicking as it was a sunny day. And then the day ended. Just like that. This trip to Cape Town was my best ever to the city. I realised that people love this area not because of the city, but what lies outside the city, in the countryside. A place of green and sun; activities and relaxation; hills and wildlife, all rolled into one. A life here would be so awesome, isn't it? This was one of my best weekend trips in the Cape area and I have a feeling I am coming back to the place again ????.
Belle Mer is a nice little guest house located at the end of the road in Pringles Bay. The hostess was very very friendly and talkative. She got something for me to eat both the days as we had got in very late. The views from the breakfast table and the balcony are amazing. And sleeping to the sounds of the waves is one of the best offering of this place. I would say its a definite recommend.