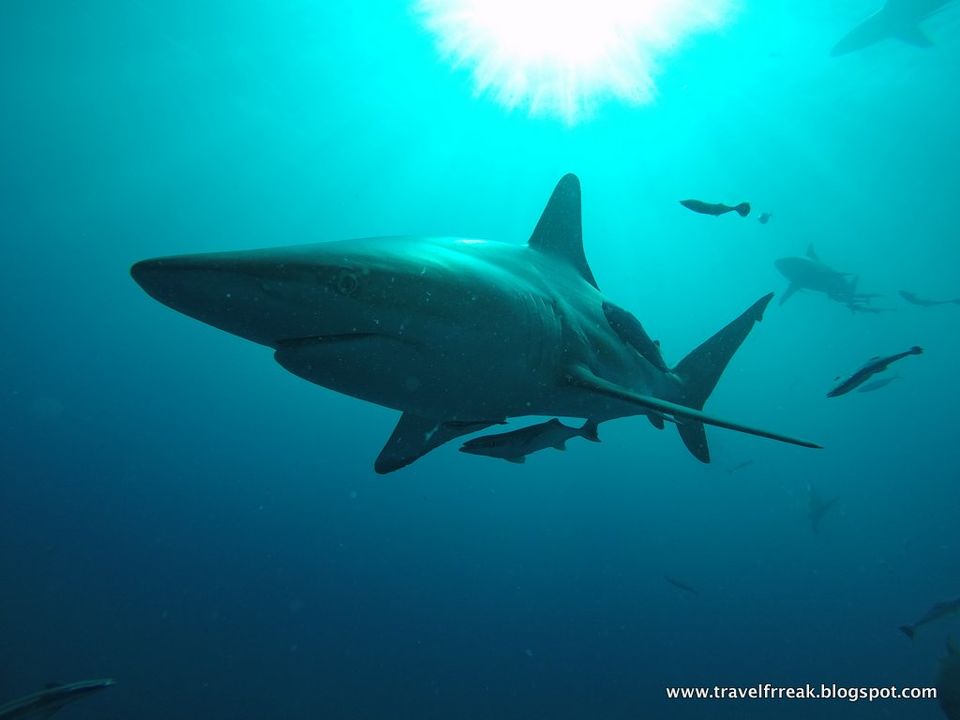 Detailed article along with photos, http://travelfrreak.blogspot.com/2017/06/shark-diving-near-umkomass-durban.html
I had visited Durban once in 2013 and thought that I had already seen what was to be seen. And then two things happened. One was after my trip to the warm waters of Mozambique, everyone mentioned that the water in Durban is also like that, always warm! Second was after the cage shark diving experience in Cape Town, I found out that you can do non-cage shark diving in Durban! When I did a bit of research for dive places, two popular ones came up - Sondwana Bay and Aliwal Shoal. Both these sites were close to Durban and so a plan materialised...
Flights from Joburg to Durban were quite expensive for the weekend and the weather was not supposed to be great. So we kept the plan tentative, that we would go if the weather wasn't bad. The weather turned and so we finally decided to drive to Durban anyways.
We were staying in a village called Umkomass, near the Aliwal Shoal diving site. It was a small village on the eastern coast of South Africa, about 50 kms south of Durban. The route from Joburg was the same as we had taken for Drakensburg before and later for Swaziland - the national highway N3 all the way. And it was quite a busy highway especially with the number of trucks plying between Durban and Joburg.
The drive was about 600 kms and would take 6 hours. So we left at about 4 pm on a Friday night after office. However, one of our colleagues was unable to leave on time, so we had to wait for him at one of the garages outside town. Given how late we got, we were speeding quite a lot. There were even a couple of speed flashes on the way. Thankfully nothing materialised.
It was a good drive, at least for the first half when we could see around. Vast green farms creating many memorable landscape views. There were very few service stations on the way, which I found surprising. Or maybe they closed late at night. We could not see much in the second half of the drive as it had got dark. But I do remember a small town called Howick - it looked fascinating at night with its twinkling lights you could see from far off.
For the last 100 kms drive, we were faced with two options - one was to continue to Durban on the N3 and then turn right along the coast towards Umkomass. The other was to take a smaller road R603 towards Umkomass. We took the later option which within minutes felt like the wrong thing to do! The road took us for an hour on single lane roads which felt in the middle of nowhere and that too in the middle of the night! I think we also drove through multiple townships during that time but it wasn't clear if those were good or bad areas. As we couldn't see anything????! And the last part of the road was along the sea, which again we could not see.
Anyways we reached our airbnb in Umkomass village, safe and sound but quite late around midnight. Our airbnb was a huge house with three living areas(!), a pool outside with a view of the sea and a huge garden surrounding it. The safety system was quite complicated, but we thought hopefully it was safe! After appreciating the house for some time, we quickly fell asleep as we had an early morning dive booked for the next day (btw I have become a fan of airbnbs now, its so much more interesting to stay in a house like a local than a hotel!).
When we woke up in the morning, we finally got the see the area in its glory. Umkomass was a group of huge bungalows, all located right on the sea coast. The sunrise rays falling on the house created some interesting scenes. And we saw huge fences around all the houses. So it wasn't as safe an area we expected. But still there was a beachy relaxed vibe all around which we felt the entire weekend, inspite of the fences everywhere.
We had booked diving in the morning at the Aliwal diving school which was an 8 mins walking from our airbnb. I had plans of doing two normal dives to Aliwal Shoal for the day. But our instructor convinced me to go for the shark dive today itself. It was risky and I wanted to take time to get myself ready for it. When I asked the diving instructor about it, he said 'its not risky and sharks don't attack humans like they show in the movies. Sharks have been living in the seas for millions of years, and humans have been going there only for a hundred or so years. So the sharks haven't really changed their food habits of millions of years to eat humans'.
I don't know if it was this explanation but I decided to give it a go. (btw the shark dive is almost double the price of the normal dive). So we were off in a trailer to the beach at the river mouth, and then in a boat launch into the sea. The boat launch from the beach is apparently tough. The boat has to cross a sand bed - which is a shallow area with sand very close to the surface and brown waves because of all the sand. So the boat driver has to be an expert to get the boat out of the river mouth. We had to try two times to get it right. For the first time, we had to immediately turn and come back when one of the waves was bigger than was considered safe. But we made it out the second time.
For the first dive, we went to Howards Castle and got to the job of searching for sharks! First, the instructor put a can with some fish food into the water with a string. Then you go down along the string. Once down, you find a spot slightly away from the can and float around waiting for sharks. And then slowly and slowly they start coming in...
We saw some 5-6 black tipped sharks come in and swim around that area for about 30-40 minutes. Also along with them were the flat morenas, who stick to them eating the dead skin off them. And we also saw a huge potato bake. It was a beautiful sight, as if stuck in time in slow motion - just observing these ancient creatures swim gracefully round and round for long. If you are lucky, you can spot many other sharks in this area, like bull sharks, tiger sharks etc.. But none others came that day.
I was being relatively risk averse and mostly observing the sharks from afar. A lot of the other divers were swimming right in the middle of the sharks the whole time, as if with them. But clearly, I wasn't as convinced by the instructors' story of sharks not having discovered the taste of human flesh and so kept my distance ????.
For our next dive, we changed boats and went to the Chunnel caves. While we were still outside, we saw a group of of dolphins, just swimming and playing near us! It was a nice sight to see the groups playing with each other, there was even a baby dolphin among them. One of the other diving groups had seen the same dolphins group while on the dive and we got excited.
After the exciting shark dive, this one felt like a typical dive. It was a drift dive along a sandstone reef. We went round caves and spotted lot of different sealife - a couple of turtles, a lobster, a reef shark, a moray eel, silver tailed sting ray, a shark tooth (!), a white tipped shark, a starfish, and of course, loads of usual coloured fish. Overall it was a good dive but we did not see the dolphins that we had seen swimming on the surface.
After the two dives, we spent some time at the dive centre eating breakfast in a relaxed ambience. It was so hot that time, it felt very comfortable to be under shade. We talked a bit to the dive instructors, they are always an interesting bunch to chat with. One of the girls had left her business development role to become an instructor. And apparently the dive centre goes bankrupt every few years but they still continue functioning as usual ????.
Once back at the airbnb, we were so tired with the heat that we just relaxed. I sat outside in the terrace of the house, listening to the sea and drifting to a nice place... I also spotted a green snake and a rivet monkey right outside the house while lounging there. #WildSouthAfrica.
In the evening, we got out to explore the village a bit. We walked along the beach but it wasn't really a sit and chill beach - lot of people were fishing there. Also by the way, I saw lots of Indians here, running shops and on the beach. I also finally saw why people say Durban is full of Indians.
We were planning to drive to Durban for dinner, but were so tired that we cancelled our plans and spent the evening at the neighbouring dive centre - Blue Ocean Resort. They were celebrating their anniversary with a huge carnival party and a live singer. Our dive friends were all there as well as the whole village. In the beginning, there was a dance performance by a group of Zulu children, they kept us enthralled for long. And then the singer sang till late, keeping the dance party going. The party was a good one, but we got tired soon and came back before it finished.
The next day was relatively relaxed. We cancelled the diving that we had planned, had a home cooked breakfast and then left for Durban. The drive was all along the coast on the 102 and pretty all the way - the french Riviera of South Africa. A coastal drive, with green areas and beautiful houses (so typical of SA, it still never fails to mesmerise me!).
In Durban, we went to the promenade on the beach and walked there for a bit. There were a few mud sculptures scattered along the way. And lots of high rises on the side plus lot of people surfing. All in all, nothing too exciting. The weather turned for the worse by then and it got cloudy and rainy. So we had the brilliant idea to have an Indian lunch at Copper Chimney, located right on the promenade. But it turned out to be a terrible idea. We even tried the SA Indian dish of bunny chow but did not like it either. The food was quite bad, and after a disappointing lunch, it was time to drive back to Joburg.
The drive back took us 6 hours and through 3 states. It was a striking drive when leaving Zulu land especially since we could see where we were going ????. Mountains and green valleys with beautiful houses perched atop those. And waterfalls and so on. We saw rural areas with cows and goats and farms on the sides. And secondary forests and loads of pretty vistas. There was no sun all day but still it felt like paradise when we were there.
On the way back, we crossed a pass where it was totally foggy. Driving there felt tough given the cars were still driving fast and there were loads of trucks driving fast even though it was mountainous and foggy. We somehow made out of it during daylight. We almost got stopped by a policeman too once but thankfully he was too lazy to walk till where we had stopped. The sunset was again good, with a great orange hue visible till very later at night. Its always so difficult to describe memorable drives, isn't it?
We finished the drive in 6 hours with one stop in between and were back in Joburg by night. It was a nice weekend, even though we were not sure that we would be able to cover the 6 hour drive comfortably. But it turned out to the quite easy. On this trip, we could have given Durban a miss as it was just a typical city. But the rest of the trip was memorable. Durban countryside has a lot to offer, unlike the city. And I can see myself going there again too, maybe staying at a different village this time?