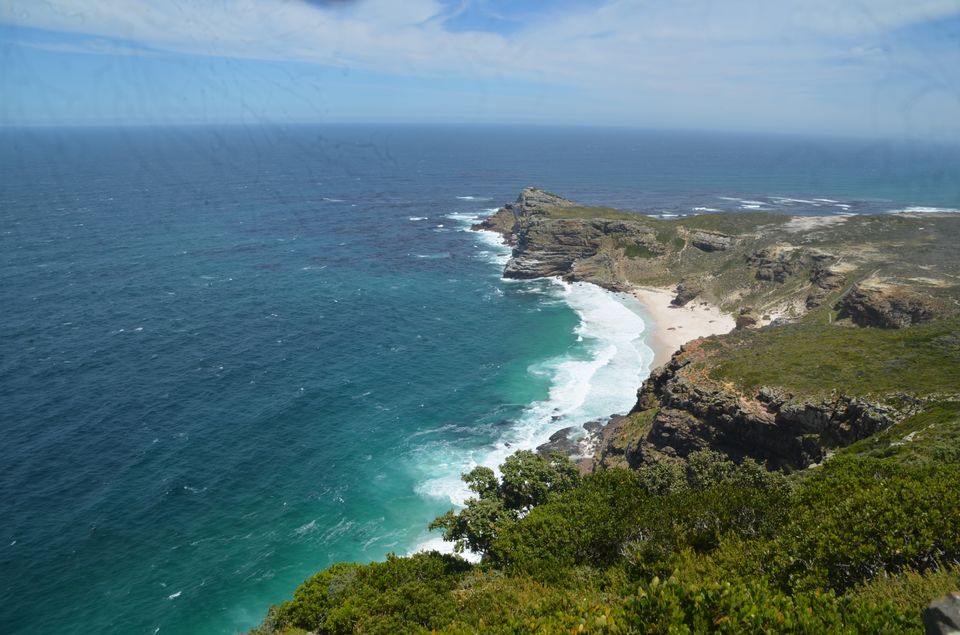 What originally was supposed to be a vacation with friends in October of 2015 ultimately ended up being a solo backpacking trip across the Rainbow Nation exactly a year later. And in retrospect I thank my friends for dropping out last year (some of them quoted some real silly excuses) as I thus explored this beautiful and amazing country on my terms (read full of adventure). Now why South Africa, one would ask. My primary motivation was the Bloukrans Bridge Bungee Jump. I wanted my first to be from there (please look at the pictures before raising an eye). I thus built my entire itinerary in the Western Cape between Cape Town and Port Elizabeth.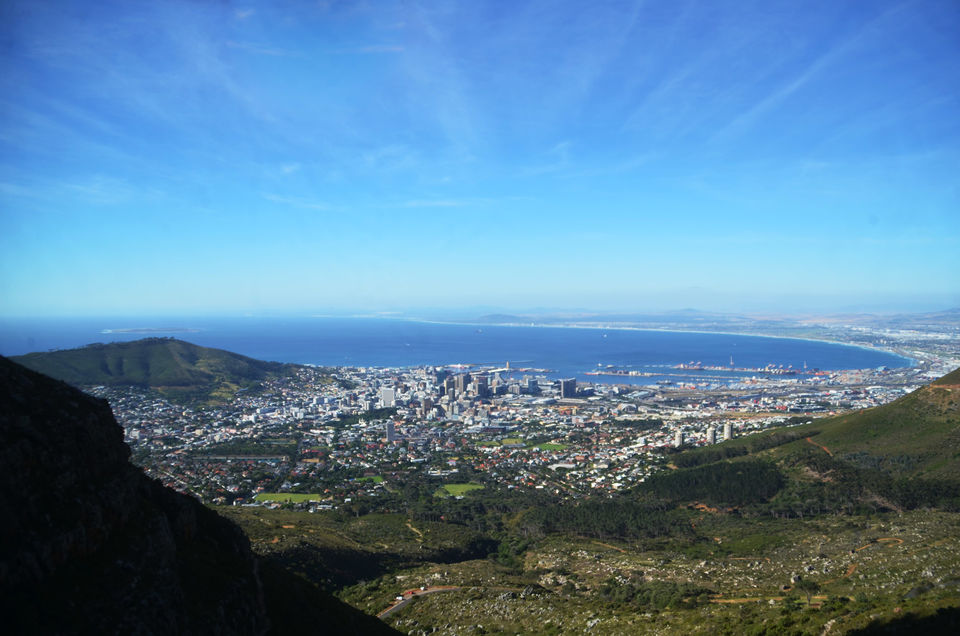 So, it all started on 22nd October when I took off from Mumbai. I landed in Cape Town at around 11 pm the next night. One of the most important investment you can make is on a Vodacom sim card. They got the best network there and a must-have if you are on a road trip. I had decided that I will couch-surf on this trip and Airbnb was a great enabler in this regard. After landing in the airport, I took an Uber to my host's place near Long Street. Lovely place, right on the slopes of Signal Hill.
Day one was a day full of activity. I rented my car – a Volkswagen Vivo from Avis Rent a Car (in case your driving license is not in English, you will need to get an International License). Was surprised to see that the car was in such fantastic condition. My first stop was Delta Airstip, 50 kilometers north of the city for my first Skydiving experience. I went with Skydive Cape Town, who seemed very professional. The beauty of this jump is that landscape – the Atlantic coastline, the plains, the Table Mountain of Cape Town which appears like a tiny Noah's Arc. My instructor Rene (who was from Germany) taught me how to pull off a roller coaster in the air.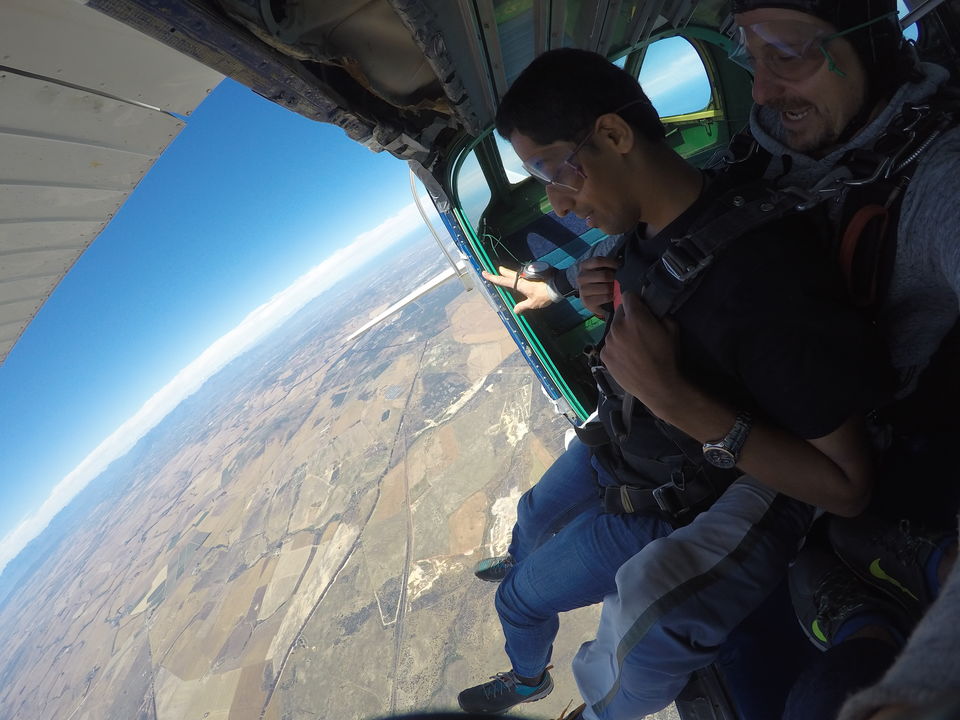 After jumping from the sky, I went to a place called Cape Town Ostrich Ranch (I actually saw their board on my way to Skydive Cape Town). It is a nice private estate, apt for a family picnic. After taking a tour, where I learnt some interesting trivia about Ostriches, I ended up tasting some Ostrich meat. Very healthy and quite tasty. I then drove all the way to the Cliffton Beaches to relax and enjoy the sunset. The road takes you between Lion's Head and Table Mountain – the two main mountains of Cape Town.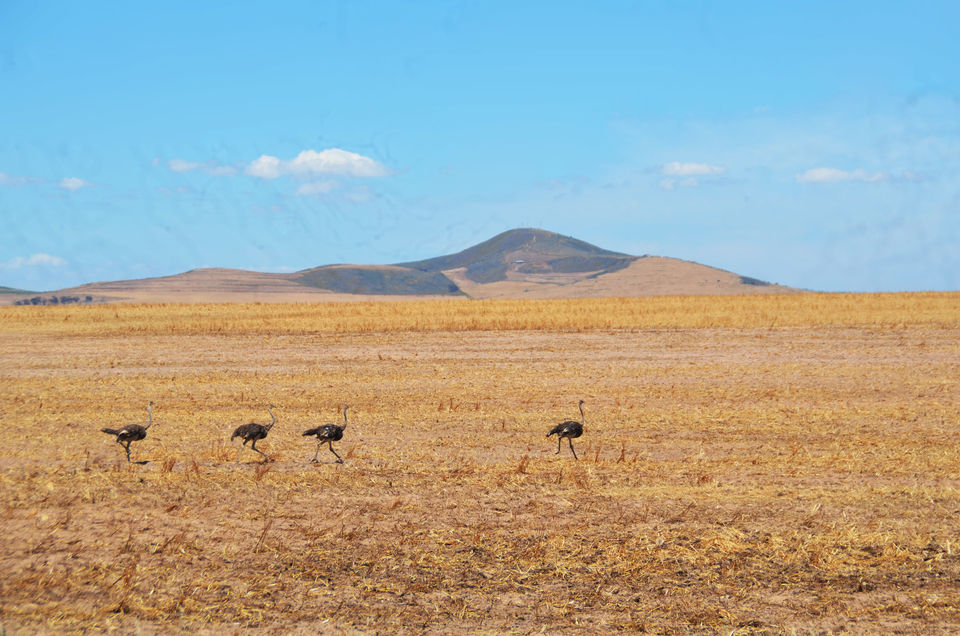 Next morning I went to the serene town of Stellenbosch. The place has some fine vineyards and I had registered for a wine tour with Wine Flies. Ian was our guide-cum-driver. And our group was really interesting, with fun-loving people from different parts of the world. Stories were shared over wine, chocolate, cheese and food. My host for the night was Eugene, who has a beautiful house there. He told about some secret trips and trails on the Garden Route over dinner.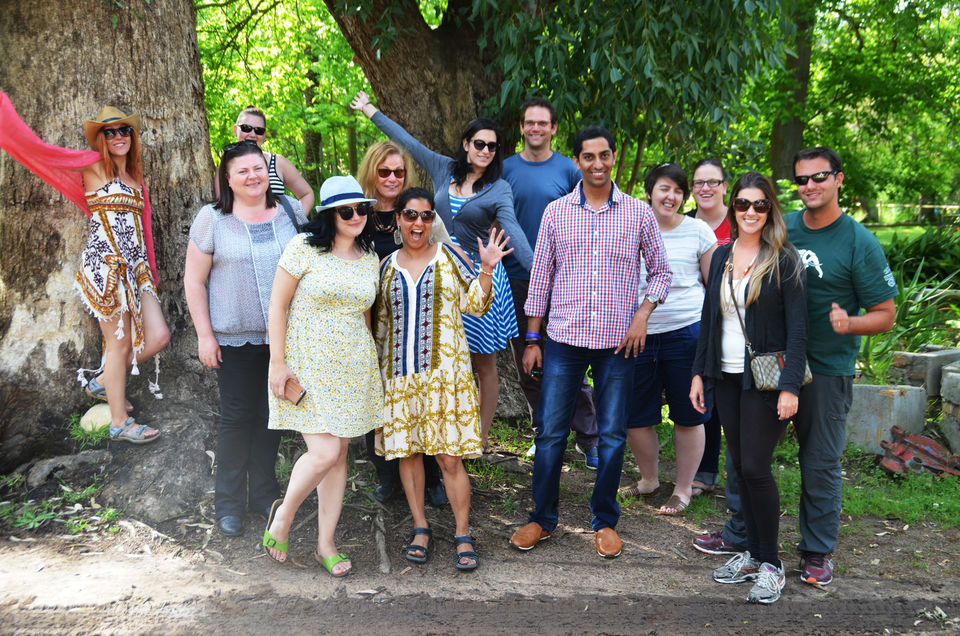 Next day would turn out to be one helluva road journey. I decided to go to L'Agulhas – the southernmost tip of Africa. From Stellenbosch, as I made my way south, I reached a place called Gordons bay. And this is where I saw the stunning road ahead – Atlantic Ocean on one side and the hills on the other. I reached a place called Pringle Bay which has an almost deserted and peaceful beach. From there I went to Betty's Bay, which is a must-visit place if you are a penguin lover. I then proceeded to Hermanus – a sleepy town which if frequently visited by the Brits. It was already past afternoon and I really wanted to reach L'Agulhas before sunset. Making my way via a shortcut through Elim and L'Agulhas National Park (while greeting countless Ostriches on the way), I reached the point where the cold Atlantic and the warm Indian Oceans meet - L'Agulhas. There is a shipwreck close-by and I made it just in time to catch the sunset behind a shipwreck (photographers, note this). My night halt was in Swellendam, a good 100 kilometers from L'Agulhas. And driving post sunset there can be tricky. So avoid it if you have an option.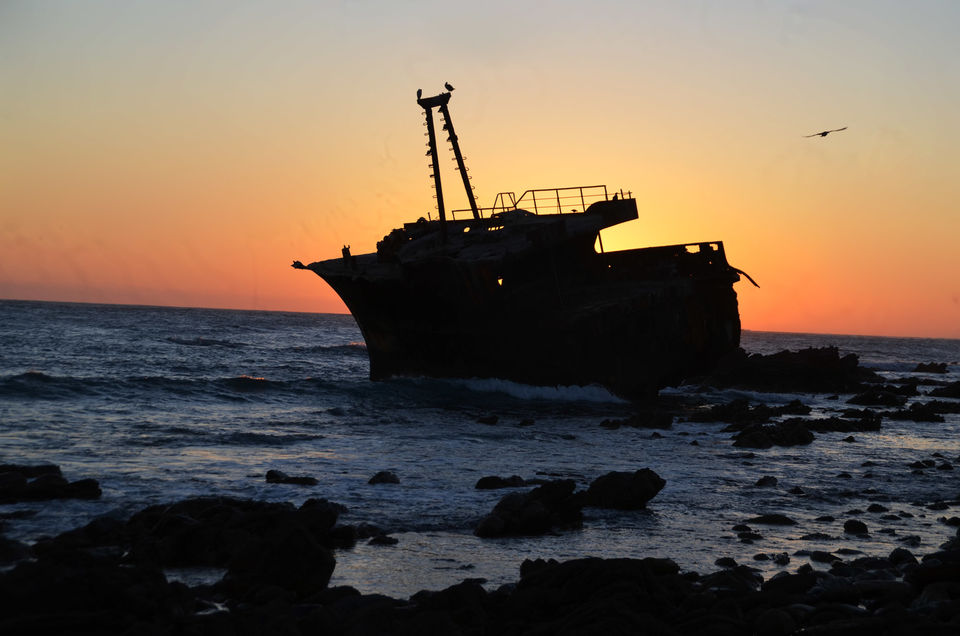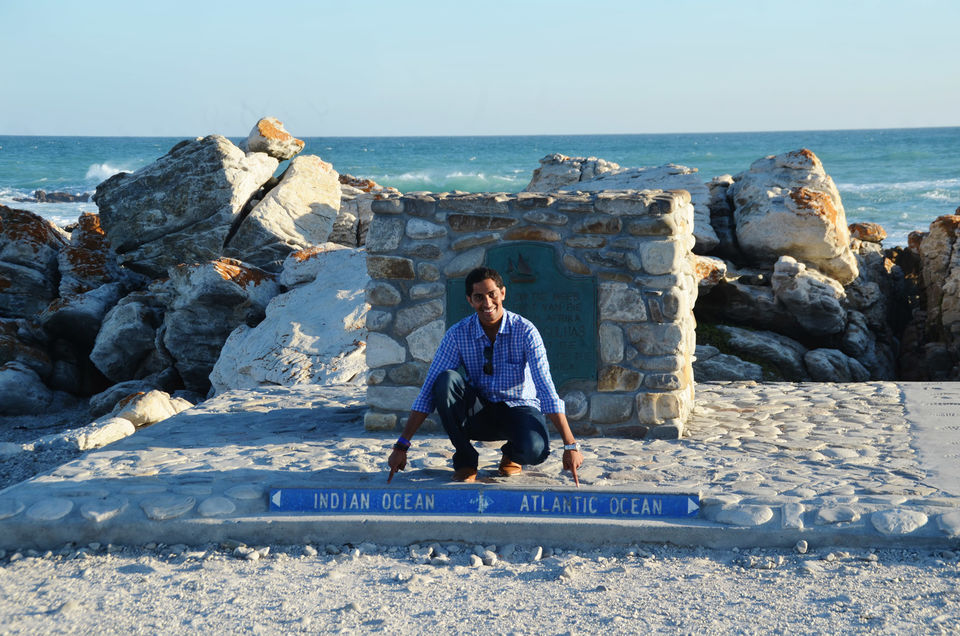 Richard, my host at Swellendam told me about the Cango Caves and Cango Wildlife Ranch in Oudtshoorn. I made my way through the majestic Tradouw Pass on R324 and passed through the towns of Ladismith and Calitzdorp before reaching Oudtshoorn. For Port Wine lovers, Calitzdorp offers some of the best Port Wine there is. I reached Cango Wildlife Ranch around 3 pm in the afternoon and got to live my childhood dream of petting a Cheetah in there. I reached Mossel Bay by dinner time and checked into a Backpackers hostel.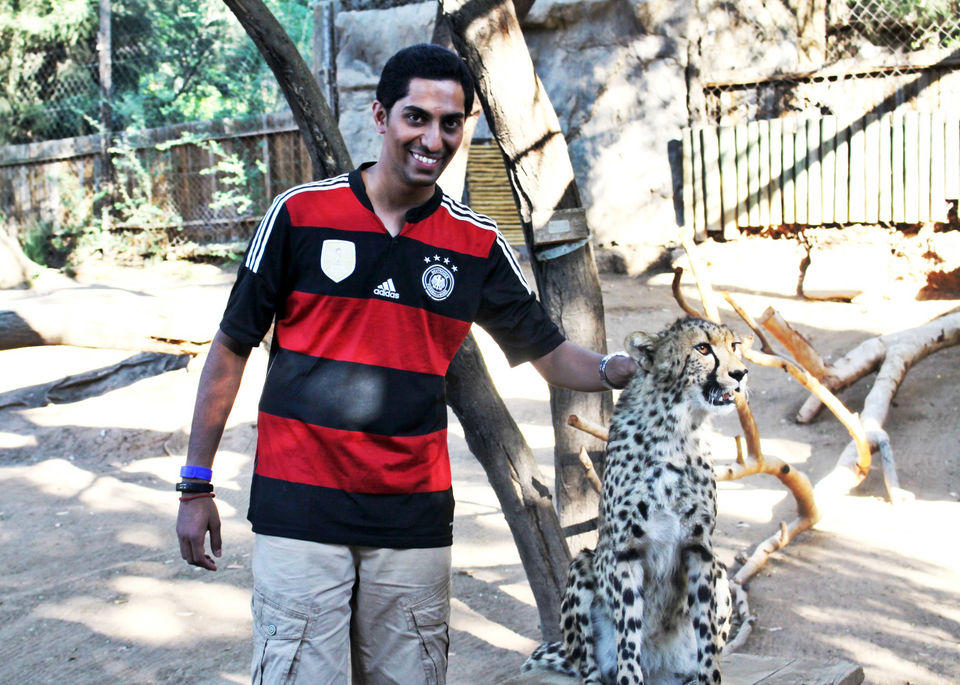 The next day would turn out to be the most intense day of my trip. I went hiking on St Blaize Trail early in the morning. The trail takes you onto the cliffs overlooking the ocean and is a good 13 km long. The weather was cloudy. So, with crepuscular sun rays piercing the clouds to hit the surface of the ocean, waves lashing onto the sedimentary rock formations and a cave which is known to have housed a core population which showed first signs of modern human behavior, this trail was a surreal brush with the past.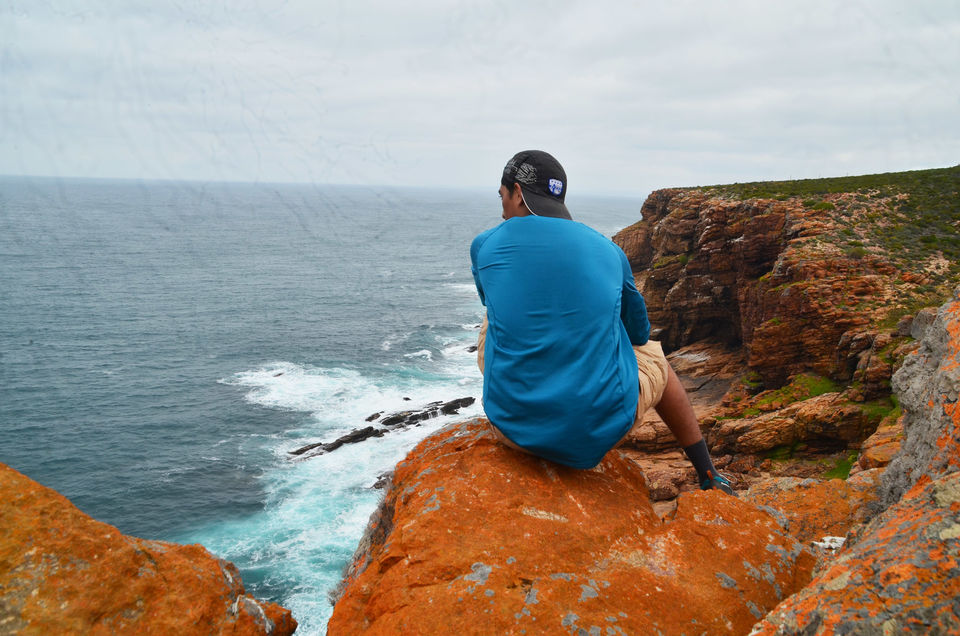 I headed towards Knysna after brunch at Santos Express and visited the pretty Victoria Bay en route (couples, you have to go here). Eugene had told me about a secret trail some 20 kms before I would reach Knysna. Drupkelders Trail. Trivia - not more than 12 people are allowed on this trail at any given time. What you get at the end of this 4 km hike into the forest is something intensely soothing. Rocky pools with cascading river water having a dark green color owing to tannin from the leaves. The day I went, I happened to be the only person on the trail and thus I felt like it was my own private swimming pool. I reached Knysna in the evening and headed straight to the Knysna Heads, which has some stunning views of the lagoon opening into the ocean. That evening as the water receded in the lagoon, got to see two unique things – a group of people baptizing one of their own and people searching for bloodworms (fish baits).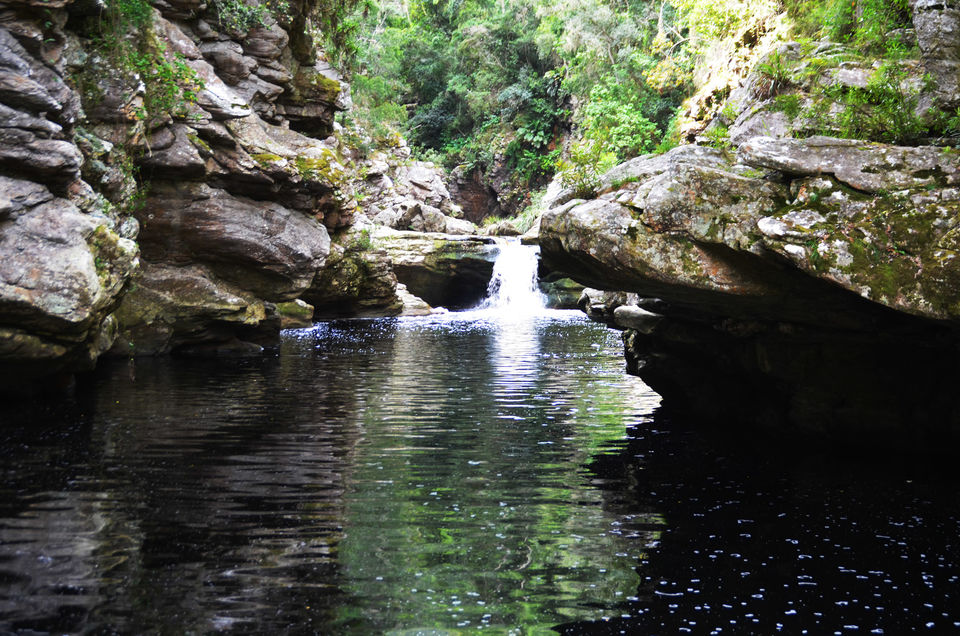 Bloukrans Bridge is a breathtaking structure over Bloukrans River. What makes this bridge even more amazing is that you get to jump off it – Bloukrans Bridge Bungee. This was one major reason why I had come to South Africa. A drop of 216 m right into the valley. I felt this was a bit more challenging (read exciting) than the tandem skydiving because you are all by yourself here. The experience was totally worth it though. I headed next to Tsitsikamma National Park to go Kayaking and Li-Loing on Storms River. I then rushed to Port Elizabeth to catch my flight back to Cape Town, thus bringing the road trip part to an end.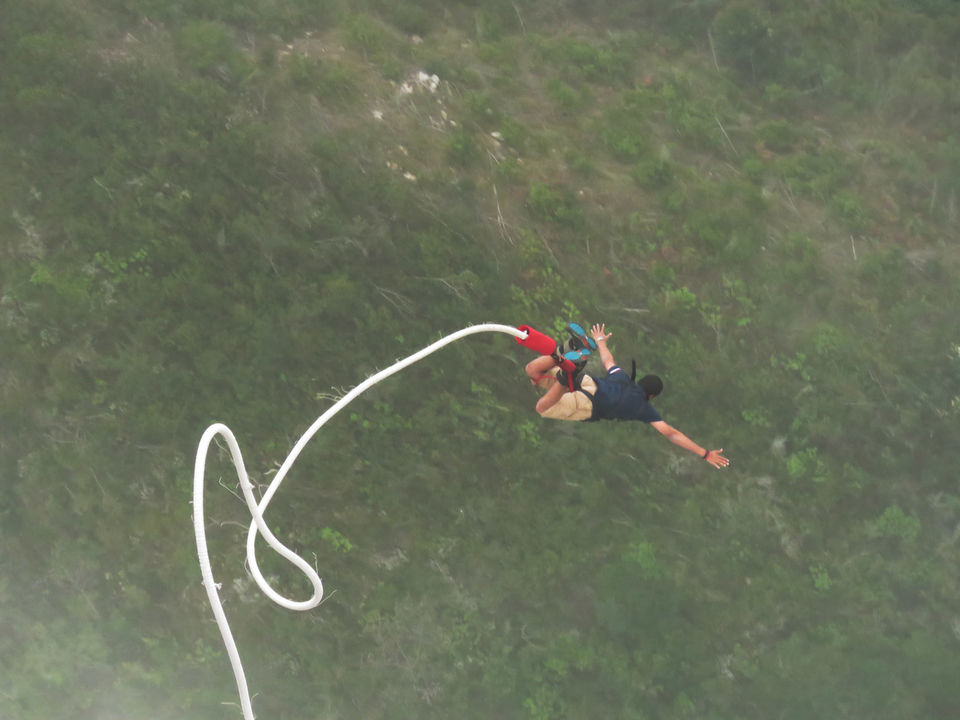 Exploring Cape Town on foot can lead you to interesting places and events. Old Biscuit Mill for example. This Saturday market is a melting pot of cuisines, souvenirs and people. Or the Cape City Walk Tours, which start from Greenmarket Square on Bree Street. I was just in time for the tour of Bo-Kaap. The most striking and unique thing about the Bo-Kaap area is the color of the houses there – blue, orange, yellow, green, pink etc – and each color represents a profession which the inhabitants were good at.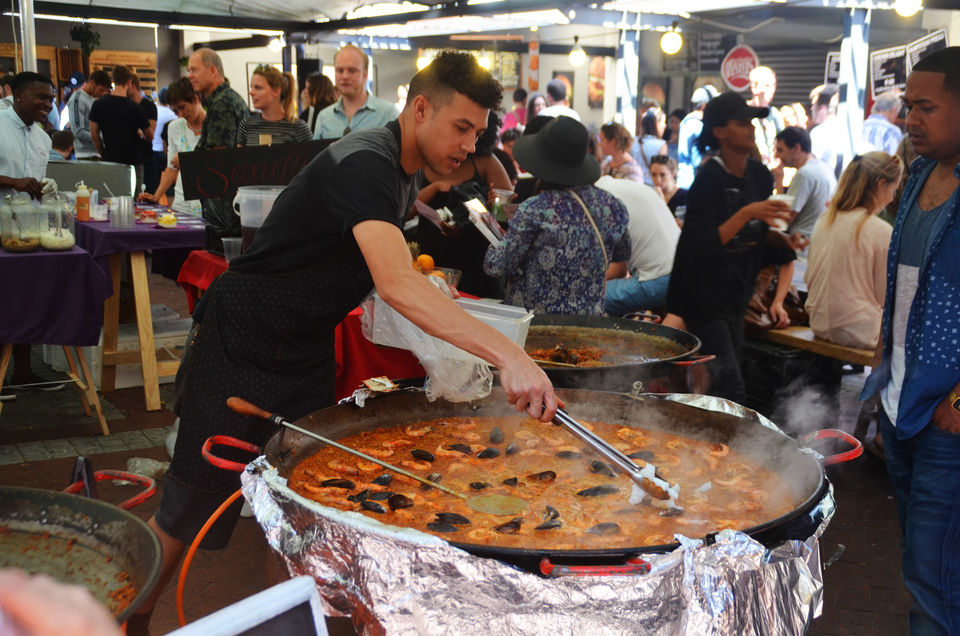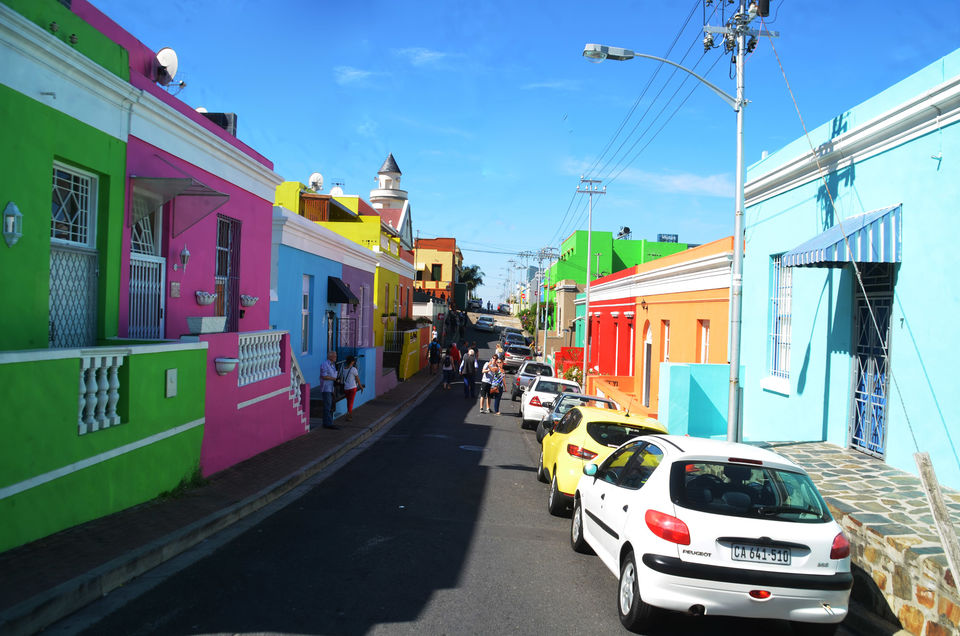 After the tour, my host Mike was glad to accompany me on a trek to the famous Table Mountain. We took the Plateklipp Gorge route and it took us a little over an hour to reach the summit. We came down via the Cable Car. And the day ended with Mike and I pub-hopping on Long Street and Bree Street. He was one cool host. Coincidentally, it was Halloween night.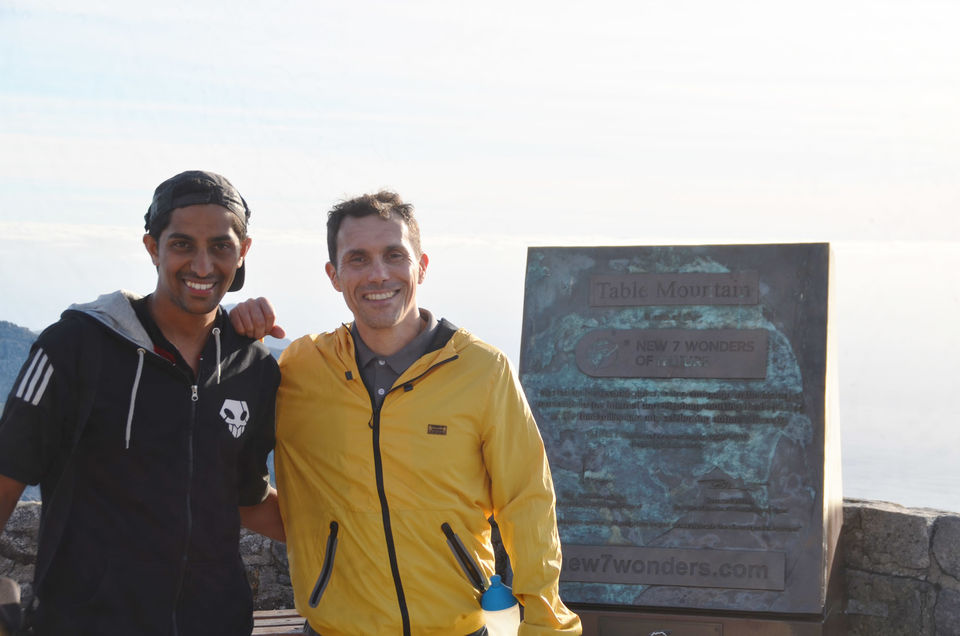 Another cool way of exploring the city is on Cape Town City Tour buses. You can easily get a pass and hop in and hop off at any place on the route. I went to Kirstenbosch Botanical Garden. The garden has some amazing walks and there are different flowers in different parts. One can find the Protea flowers (National Flower of South Africa) in abundance here. The highlight is of course the 100 meter Canopy Walk on a bridge in midst of the garden.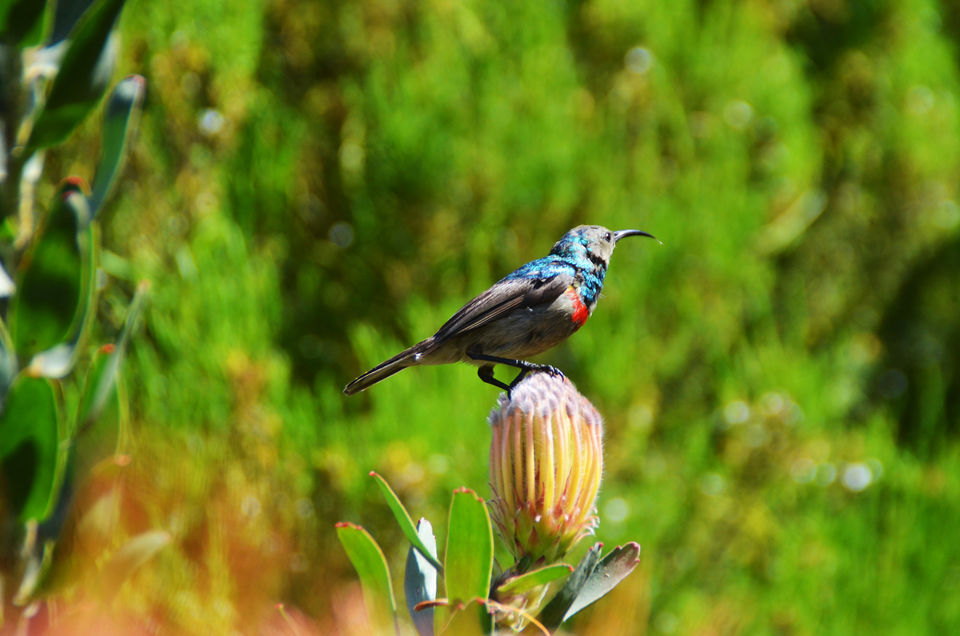 After this brush with nature, I headed to the commercial part of Victoria and Alfred Waterfront (popularly V&A Waterfront). Mostly popular for "Facebook check-ins", this place is almost always buzzing with activity. There are restaurants, shops, museums and people performing impromptu. My host for the day was Timea, who has this amazing beach facing property in the uptown area of Mouille Point, very close to the World Cup 2010 Football stadium.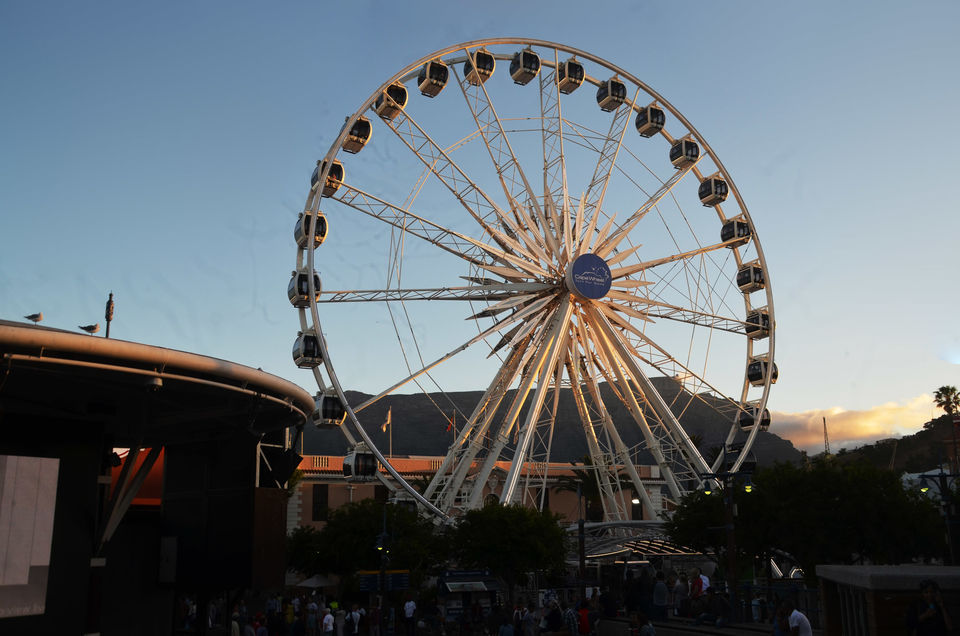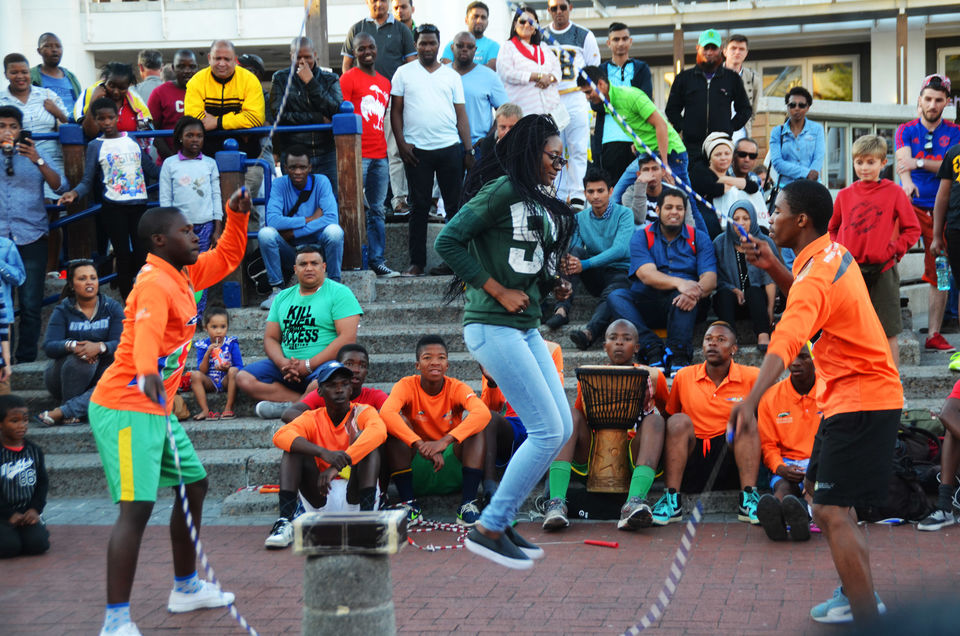 My next day was reserved for another interesting activity – Cage Diving with Great White Sharks. It happens at Gaansbai – around two and half hours east of Cape Town. I went with White Shark Adventures, who picked me up at 3 30 in the morning. It turned out to be a good day as we got to spot around 5 different Great Whites between 2 and 4 meters long. Though you are inside a cage, it's chilling knowing that one of the most violent predators on earth is gliding inches away from you.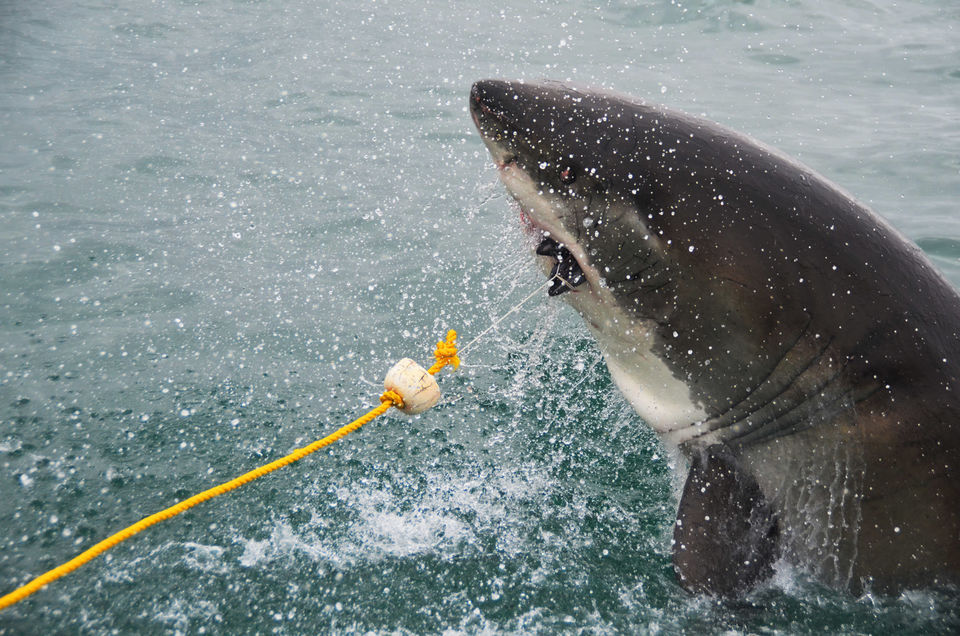 On the last day of my trip (yes, I say last day with a big sob) I booked a tour to Cape of Good Hope. How could I miss such a famous place. En route to the Cape, we explored Boulder's Bay (quite over-hyped), the Twelve Apostles and Hout Bay. The entire journey was laden with spectacular views of the Atlantic. Fifty Shades of Blue indeed. There are two lighthouses at the Cape of Good Hope. One is easily visible while it takes a 20 minute hike to reach the other one. Do go there.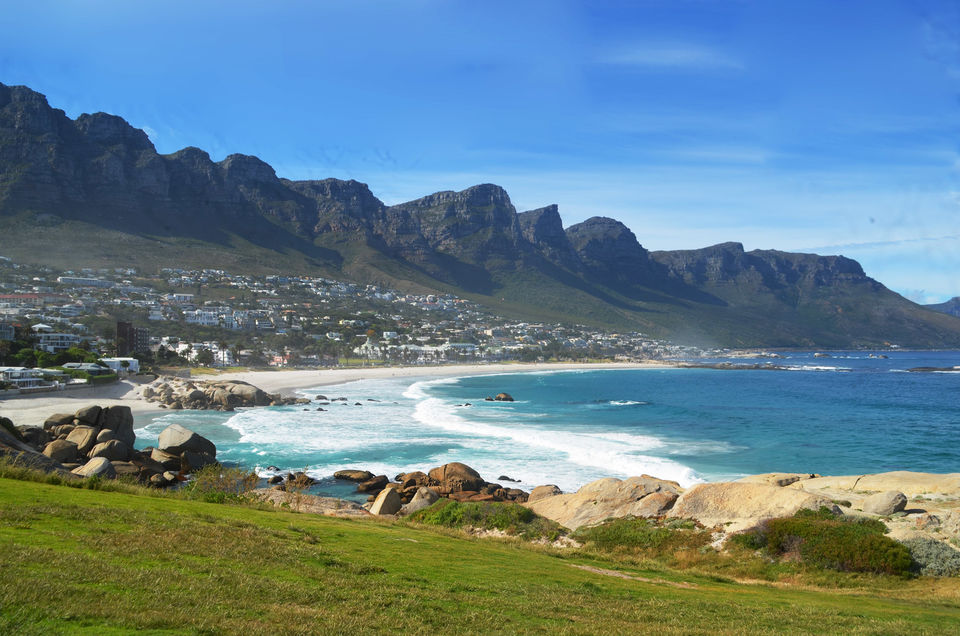 I had my flight back to India in the evening. As I was sitting in Dubai, waiting for my connecting flight back to India, more than anything I felt great satisfaction as this trip was entirely planned by me and most of the places I went to were decided impromptu. This trip was indeed a three cheers to adventure and fun and new friends and road trips and random conversations. Given a chance, I would come back to Cape Town thousand times over.
Some Tips:
Sim Card: Please go for Vodacom, especially if you are on a road trip
Car Rentals: I had a good experience with Avis Rent a Car
Visa: It takes around 3 weeks (my own experience was very touch and go); Plan in advance
Stay: Airbnb is the best way as you stay with the locals and they tell you the best of places to visit
Food: Homestays are DIY mostly; You should try the Ostrich meat here
Roaming around: It can seem scary to travel after sunset as there is really no one on the streets; but in Western Cape, you are largely safe (travel in a group if late in night)
Road Rules: People follow road rules to a t; seemed surprisingly unexciting and pleasant given I am used to driving in India
Best Time to Visit: End of October to February (avoid December as it gets really really crowded)
Must Do Activities: Bungee Jumping over Bloukrans, Sky Diving, Cage Diving, Table Mountain Hiking, Driving on Garden Route, Wine Tasting at Stellenbosch, Lazing on Cliffton Beach/Camps Bay
(*Do let me know if you have any specific queries; will be glad to help)
Frequent Searches Leading To This Page:-
South africa road trip planner, south africa self drive itinerary, solo road trip south Africa, cape town to drakensberg road trip