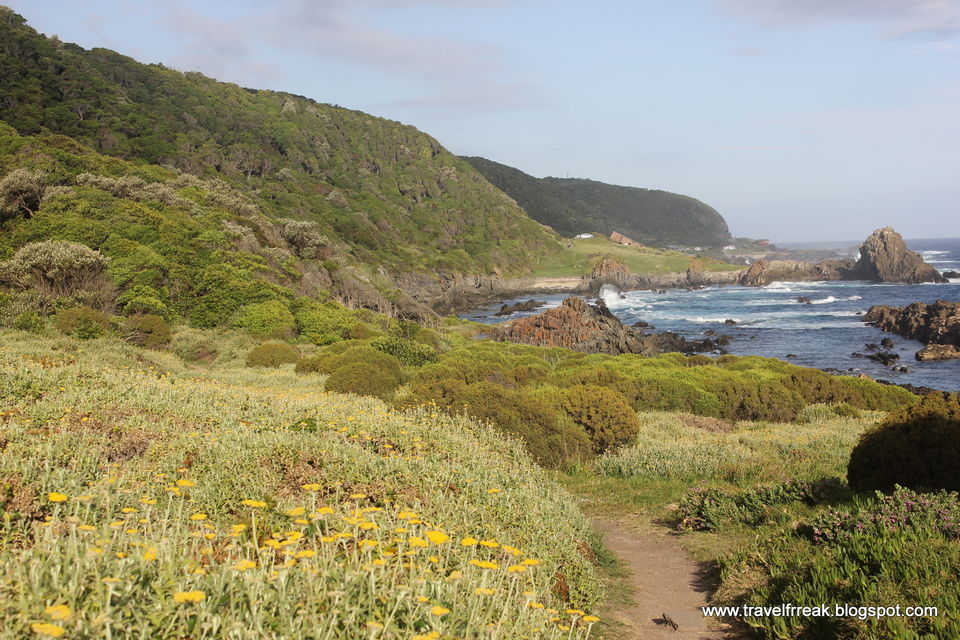 Detailed article along with photos, http://travelfrreak.blogspot.com/2016/12/sa-road-trip-2-garden-route-and-cape.html
SA road trip (1): Towards and in Kruger Park
The second half of our SA road trip was in the provinces of Eastern and Western Cape. We started at a small seaside town of Port Elizabeth, explored the Garden Route along the coast, staying at the Tsitsikamma National Park and then spent a day around the city of Cape Town. This part of SA was completely different from the Northern part - it was a lot greener and had a more relaxed vibe. Our stay at Tsitsikamma park was also the high point of the whole trip - an amazing experience staying close to the best that nature has to offer.
Day 4 (continued): Flight to Port Elizabeth and stay there
The flight from Joburg to Port Elizabeth was about 2 hours and again British Airways. I was happy to discover that status on BA in Europe also allows lounge access for domestic flights in SA ;-). We landed in PE late in the evening and were spending the night there itself to avoid driving late at night.
While landing in PE, we saw breathtaking views of the sea, the beaches and beyond. The whole area looked greener than all the parched land and vegetation we had just left behind in Kruger. There was also a very different feel in the air, which we felt as soon as we landed there - a sense of lazy idleness that is common across all beach towns.
The town felt like a small cute place, ideal for retirement. There was the beach and then huge white beachfront houses all over; the perfect place to settle when you are done with the fast young life. There was also a port on the other side of town but it was quite far and felt almost hidden from view from where we were.
We were staying in the Beachwalk B&B, located right next to the main beach in town. It was a well spread out B&B, with a pool and a nice garden just outside the rooms. The room was comfortable, the property charming and the owners very friendly. And by this time, we had already fallen in love with SA, so everything felt perfect anyways:).
We didn't want to stretch this day much, so just went out looking for Indian food nearby. There was the Sun Boardwalk, a Sun hotel cum casino resort located right next to our B&B, on the waterfront itself. We walked in there and had dinner at a fast food Indian joint called Hungry Peter (really, is that an appropriate name?). We then took a walk along the waterfront which was well lighted up and looked like the popular place to be. We could also see some lights twinkling across the sea, which in hindsight might have been the port lights. I forgot my camera that time, so missed taking photos of the twinkling town:(.
Day 5: Drive on Garden Route, up to Tsitsikamma National Park
In the morning, we had a lazy start as we had got access to internet and phone charging after a few days of no connectivity in Kruger. So we spent most of the morning recharging and getting back in touch with the world:). Then we took a lazy walk along the waterfront - the expansive sea and beaches, the relaxed air and lazying people all around. Isn't this the perfect idyllic dream?
We again walked into the Sun Boardwalk so we could explore it more fully during the day. There was a lake in the middle, with ducks et al. And loads of eating places and shops all around to spend time.
We then started looking at the handicrafts in the shops and ended up spending two hours (!) bargaining and finally buying some African handicrafts and small furniture. And then it was time to leave the town.
By the way, PE is known as the friendliest and sunniest city in SA. I get the fact about sunniest, but wonder why and how they came up with the 'friendliest' epithet:). I also noticed another thing about PE which was different than the north. We saw very few non-whites in town. It really felt like a European place, not an African one. Was that why everyone told us that it was a very safe place?
We left around late afternoon for our next halt at Tsitsikamma National Park. The drive was a straight one on A2 all the way till Cape Town, sometimes near and sometimes far from the sea. The drive overall was a refreshing and interesting one - with rivers and gorges and green mountains and the sea running on either side. We first stopped at a township called Humansdorp on the way. It was not a touristy place at all, but a place where Africans lived and worked. We walked into a huge Shop Rite and shopped for food to barbecue for the next two days. It was like we had come to the real world finally - we were becoming one of the people around:).
We had also planned to stop at a couple of touristy locations on the way. However, these stops made us feel we should have stayed there too:). The first of these stops was St Francis Bay. It turned out to be a small village with huge white villas right on the beach. And there were a couple of lodges and Golf resorts in the village for tourists to stay. How lovely would it be to have a place here? It was too windy though that day and we could not spend as much time there as we would have wanted. As we drove further, we reached the tip of land at Cape St Francis which felt like a less affluent village. It is famous for surfing and a lone lighthouse. But again, it was too windy that day for us to stay there for long.
After that, we drove on towards Oyster Bay which was one of the lows of this trip for us. The road till there - about 20 kms or so - was not completed. It was as good as a dirt road! We kept on driving expecting it to improve but it never did:(. There were windmills and horse farms on both sides all the way. But why was there no road? Anyways it was worth it in the end thankfully.
Oyster Bay felt like a small hamlet, but the beach there was fantabulous! It was like a desert, with huge dunes next to the sea. It was so impressive, I was surprised why there were not enough people there. Maybe because of the road?
Driving back from there to A2 was again the same dirt road. Thankfully the drive was pleasant on both sides, providing an insight to South African rural life. There were vast grasslands with sprinkler farming and farms with thousands of cows everywhere. Even though am from India where cows are usual, I felt like clicking pictures:); it felt so fascinating. Though I must say that it was clear that all the cows were injected with hormones. They were overflowing with milk and you could see that they could barely walk because of that. How humane is it to treat animals like this?
Anyways, after this terrible ordeal, we were back on the highway where the route was green and beautiful again:). Thankfully we reached our accommodation of the night just before dark. We were staying at Storms River Mouth Rest Camp in Tsitsikamma National Park for two nights, again booked on the Sanparks website. It was a camp site on the river mouth of Storms river and there were a couple of forest huts located right next to the sea, with the mountains behind them:).
This location was the best we stayed at on our trip. The first night we stayed in a wooden hut with a captivating view of the sea waves crashing on the rocks, right in front of the hut. And the hut was amazing! Very well stocked, extremely clean and comfortable, and even though we were fully prepared for a barbecue, the kitchen turned out to be a proper well stocked one with no need to barbecue. It had been a long day, so we slept early after having a quick dinner. And it was only the next morning that we realised what a breath-taking place we were in!!
Day 6: Trails in Tsitsikamma National Park
Also I should mention here, there is not enough marketing done for this camp - the information available online barely does justice to how good the real thing is. The camp has multiple accommodation options available - trailer areas, camping, small huts housing 2 (with outside toilets), small self contained huts and then family cottages housing 4. All of them are wooden cabins, spread out next to the water or the cliffs. And then there is a restaurant and a couple of shops nearby for any requirements. There was also a pool in the camp which we never found:).
There are loads of activities to do all along the garden route but we spent our entire next day within the National Park. In the morning, we went on the suspension bridge trail, which takes you on a 45 mins walk through very dense tropical forests. The end of the trail are three suspension bridges which were built on the river mouth right before when it reaches the sea. This trail is quite popular with tourists and there were busloads full of tourists coming in the morning for just the trail. It was a nice walk, not so tough except the end which includes going all the way down the hill.
The trail starts with a small waterfall next to a beach and then you walk through green dense trees filled with myriad yellow, purple and orange flowers everywhere. In the end when you walk down the hill, the edge is dotted with loads of white lilies. We even spotted a few dassies on the way, sitting on top of rocks on the edge. There was also a constant chirping of all kinds of birds but even though I tried, I could not spot the birds making the sounds.
All along the way, there are small beaches and bays and majestic views of the sea, the beaches and the camp where we were staying.
The two suspension bridges were just about ok though. At the end, there is also a small pebble beach where we spent some time sunning in the sun as the weather was quite hot during the day and we needed to rest to get over that.The water was not too cold here and we could have gone in, though we didn't.
Since there were no clear descriptions and photos of the rooms available online, the first night we had booked a two person cottage + a singles hut, and for the second day we had booked a 4 person cottage. Of course when we reached there, we realised the two person cottage was enough for 3 people to stay. And then even though we asked the park reception to allow us to stay in the same smaller cottage for the second night, they refused and so we had to shift to the other bigger cottage during the day. (This is another thing about South Africa, people just don't bend rules even if makes sense and is more convenient. In that perspective, SA is closer to Europe than developing countries in its attitude)
The second cottage was even more luxurious - with two bedrooms, a living room and a kitchen. It was very very convenient and comfortable, with everything you need inside and a picturesque view of the sea outside the balcony. One thing though is worth mentioning - in this and Kruger park accommodation, only the 3 point South African plugs are available. So you need to carry the appropriate adapter unlike the hotels in cities where you have multiple options available.
Immediately after shifting, I left for another trail, called the Waterfall trail. It is about 6.5 kms long and took me a total of about 3 hours going and coming. This trail is the first part of the famous 5-7 day Otter trail along the coast that is popular among enthusiastic hikers. It wasn't a tough trail overall, just involved walking along the sea over rocks and sometimes within the jungle.
It again offered stunning vistas of the waves lashing on the cliffs. At times the trail did get lost as you just had to get down to the rocks and keep walking along till you reach the trail markings back in the jungle. The end of the trail was worth getting lost though - there was a small waterfall which created a huge pool where you could swim. I hadn't prepared for the swim, so I missed it but I think this would have been lovely to do given how hot it was outside.
I had seen a deiker right when the walk started. It was not at all scared even when I came close. And while coming back, I saw a family of about 5-6 dassies sunning themselves on the stone. And of course, lots of lovely birds were giving me company all the way with their chirping:). I ran into lot of people both sides and was surprised how many of them were starting on the trail so late even though there were warning signs suggesting not to start too late in the day. For me though I thought it was a lovely trek and a definite recommend from me.
Back from there, we enjoyed a relaxing sunset from our balcony and then finally used up all the barbecue stuff we had bought. It had also gotten a bit chillier by evening after the blazing sun during the day, which made the barbecue even more fun. We first made butta on the braai, then maggi and then roasted potato - it all tastes a lot better than when its cooked on the gas:). And then we sat outside for quite some time - listening to the sound of waves, eating coal-made food and observing the starry night which is so rare to find in the city. The experience was priceless. The night sky was the best I have ever seen in years. I even got to see the milky way crossing the sky. (We also noticed clouds on the horizon across the sea which had been there for the entire day, we saw the after effects of those the next day).
The camp as I mentioned before was very convenient. There was a restaurant on the beach, a couple of shops and also a pool which we could not find ;-). There were loads of different activities to do here - diving, boating, trails, bungee jumping, kayaking etc.. The day we were there, the sea was strong, so a lot of these activities had been cancelled. But they are enough to keep you busy for quite sometime:). There are many trails around and of the course the Otter trail if you are feeling more adventurous and campy.
The entire two days we were here, we experienced total peace and quiet all around us. This was the best place we had stayed in our entire trip. And I could stay here for days more. No wonder all the accommodation was totally full:). I also realised another thing - 'nature is always beautiful by itself. Its generally the man-made things which sometimes make it look ugly...'
Day 7: Garden Route towards Cape Town
In the morning, we woke up to the sound of waves just outside our rooms. And baboons!! There were loads of baboons in the Park and they had come out that morning creating a lot of ruckus. When we went out to look, they had overturned all the trash cans and there was a guy in a quad bike driving up and down the road trying to chase them away:).
We did not feel like leaving this place at all, there was something so peaceful and serene here. It was definitely the high point of our entire SA trip. But we had a long drive to Cape Town ahead, of about 7-8 hours. So we finally left early with a plan of stopping at multiple places on the way to break our journey. Plettenberg Bay for its beaches, Knysa for activities, Mossel Bay for its beach, Hermanus for whale watching and so on. However the weather turned for the worse and it was London weather all through - heavy rains, fogs, clouds and winds. So even though we stopped at Mossel Bay and Brenton beach on the way, we could not enjoy the stops at all. We did see the potential though:).
Plettenberg Bay is quite popular with tourists. While driving through mountains, the road suddenly opens up into flatlands with the lazy river creating a huge delta. Knysa was a huge city and there were many options for activities there. We drove through both these places because of the weather and finally stopped at the Brenton beach. It was lovely - a huge stretch of sand next to the sea. But the weather ensured that we did not stop there for long either.
We also stopped at Mossel Bay next but the beach there was pretty average. I don't think its one of the popular touristy places. In fact, Google maps didn't even show the way to the beach. So we drove on towards Cape Town without really enjoying any beach time yet:(.
Other than these specific places, the drive was very picturesque by itself. We crossed a lot of rivers about to meet the sea, creating fascinating and deep ravines just near its river mouth. We drove past some picturesque townships and towns on the way, perched on hills or located next to the sea and other such fantastic locations. There were also many animal parks on the way, elephant parks, snake parks, crocodile parks, eagles parks and so on. We had already done safaris in Kruger, so these were not of interest to us anymore. But I think some people might definitely like them.
There were loads of baboons on the way too. And we saw lines of farms with ostriches!! For a second, we took a double take thinking it can't be. But then it was:). Overall, the whole of Garden Route was a great drive through green country with the sea on the side. Wish the weather had been more friendly. As with most highways in SA, the quality of the roads was perfect also. Though this highway was a fully toll road.
Other than these places, our host at PE had mentioned a couple of spots to visit which we couldn't - Beacons island and hotel, Americo restaurant in Plettensberg bay to see the sunset and have fresh fish, trip to Storms river village to see an eclectic village, zip lining and bungee jumping and visit to the cat sanctuary. Again, maybe for the next time:).
After leaving the Garden Route, the drive got very boring. It was barren grasslands everywhere. So I decided to even sleep for some time:). To make it more exciting, we took a detour and shifted to A1, driving through the South African wine country. It was definitely better but still wasn't exciting enough and weather was so hot, that we got tired soon. So we drove quickly and were in Cape Town soon. And then the city life came to the forefront again. Townships outside town for the not so rich. And Cape Town for the rich:).
There was loads of traffic going into town. And it took some time to get to our hotel. We stayed at Radisson Vendana which was well located on the waterfront. Checking in quickly, we took the hotel shuttle to the Victoria and Albert waterfront to have dinner (the same waterfront I hadn't been able to find the last time:) ). It was like a huge mall on the seaside, very spread out with rides and shopping and restaurants. I forgot to take my camera though, as it looked captivating at night with all the twinkling lights. We had Indian dinner at Bukhara which was just about ok and not as great as Raj. And then as we had had a long day of driving, we called it an early night and crashed soon enough.
Day 8: Explore Cape of Good Hope and around
We stayed in Cape Town only for a day and spent that day in the Cape of Good Hope area. Most of my experiences are similar to what I had felt the last time I had been there - Cape Town. This time around though, the weather was a lot better as it was summer - sunny and warm. And the route Google Maps took us through to Simon's Town was through the mountains rather than next to the sea. While driving on the mountains, you can see the sea on both sides, a different but equally picturesque route compared to one next to the sea. But wonder why Google Maps took us through this road, is it a new route that has come up recently?
We first stopped to watch penguins in Simon's Town. Simon's Town looks just like a small English village, like Brighton. It has similar white buildings located all along the water, with a narrow road going all around. I think it would have been a good idea to stay in a place like Simon's Town than in Cape Town city. Maybe for the next time:).
While looking for the penguins, somehow we landed up at Boulders Beach, which was next to the beach where the penguins are generally spotted. There were loads of people swimming on the beach, plus a group of penguins sunning themselves on one of the boulders. It was a nice sight to watch them toddle along and play with each other.
One of the penguins was sitting on a rock alone for sometime, and then she got up, jumped into the water and swam all the way to the beach. She walked up to one of the bushes, almost coming close to the tourists sitting there and then vanished! We tried to find her in the bushes but were quite unsuccessful. Seeing the penguin swim, I realised they can swim so fast. It was quite a captivating sight to see it.
And then we went to the Cape of Good Hope. Entry into the Park had a very long queue because of the construction going on the Main Gate. We first went to the Cape of Good Hope and saw a dead whale on the beach. It was a sorry sight and the whole area was stinking heavily. So we quickly moved to the Cape Point. We think we saw an Eland on the drive up there but am not sure.
The whole park was flowering right now - yellow, purple and white flowers covered the whole landscape. At Cape Point, this time we walked up to the lighthouse. It was a half an hour walk up with panoramic views of water on all sides and a narrow Cape jutting out. I loved the quick walk up. The weather also made it more enjoyable, it felt quite warm whenever we were in the sun though it was quite windy the whole time.
And while coming back, we drove through Chapmans Peak, which was again lovely providing fascinating vistas of beach towns and villages, and the lazy life there. All along the route, there were also loads of people selling sculptures. A lot more than anywhere else we had driven.
Our favourite village was Scotts Estate (yes that's a name) which had one of the prettiest beaches on this route.
While back in town, we crossed another Raj on Camps Bay and stopped there for dinner. The food was tasty (as usual) and the entire atmosphere around very lively. This set of shops were located right next to the beach and it was full of people out chilling in the sun on a Saturday.
We also saw two groups of people just dancing to music on the streets - it felt so chilled out and fun. There was a vibe to Cape Town which I could sense here but which I have not explored much yet as all my trips to CT have been spent outside the city. Maybe once I should stay within and try to understand what it is about the city which everyone in South Africa loves to rave about. Anyways after a long day, we were tired again and soon after slept off once back in the hotel, so no more exploring happened that day:).
Day 9: Goodbye to South Africa
On our last day in SA, we got ready early and first walked a bit on the waterfront in front of our hotel. It was a nice walk and a good way to freshen up the day.
Thereafter, we drove up to Signal Hill, one of the three mountains around CT. The drive was stunning and the views magnificent. It is one of those places you can stay for quite some time. From the top of the hill, many people were getting ready for hang gliding; something I would love to do on my next visit. And loads of people were hiking up the peak also. As we did not have enough time, we just spent some time there admiring the city below. And then were off to the airport, which was about 20-30 minutes ride away.
Also, even though now I have visited Cape Town twice, I still have not been up to Table Mountain. So another trip is definitely due:).
My flight back to London was through Johannesburg where I had a break for a couple of hours. While landing in Joburg, I could see the difference in the two cities - Cape Town felt so much more open than Jozi. Jozi felt so much more up and coming, trying to redevelop itself. And which also means it may be less good-looking for now. Once in Joburg, I spent my time in the airport shopping but turned out all the things I was picking up were not from SA, so decided not to shop :D. Anyways this was the end of my two very interesting months in SA, and I was feeling sad to leave - but of course with a promise to be back soon:).
Map