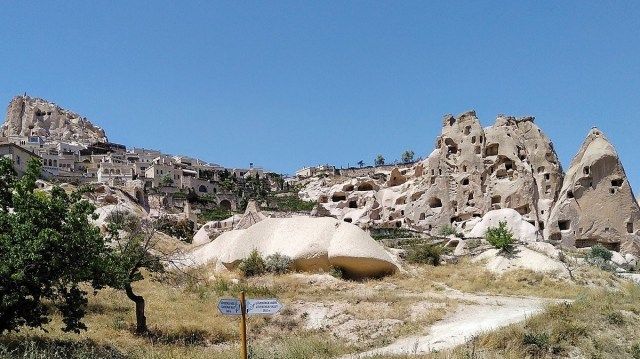 The Pigeon Valley Hiking Trail extends between the towns of Uchisar and Goreme. It is one of the most popular and advenurous hiking trails in Cappadocia.
About the Region
In Ancient times, pigeon meat was used as a source of food and the manure was used for fertilising the infertile land. So for this purpose, countless dovecotes (pigeonholes) were carved into the walls/tuff in this area. Hence the name, Güvercinlik vadisi (or Pigeon Valley).
Good to know before you go
About the Trail: There are 2 trails (1) Half Trail: 2km long, takes around 1 hour and (2) Full Trail: 4km long, takes around 2-3 hours.
Entrance Fee: Its Free!!!
Best time to go: Start early so that you don't panic if you get stuck or loose your way and have enough time in hand to finish before it gets dark.
Important Tips: Carry a water bottle and some source of instant energy like fruits, nuts, chocolates or energy bars, wear light breathable clothing, wear comfortable hiking shoes, wear a cap and a sunglass, put on some sunscreen lotion, have at least one mobile(with internet) handy.
Good to know: There is a good chance that you won't come across any fellow hiker throughout the trail. So be prepared and avoid going alone if you panic easily under such circumstances.
What to expect: A relatively easy hike with steep start and a Gorge-ous ending. Along the route you will find ancient cave dwellings (inhabited by locals), ancient paintings, fairy chimneys, dovecotes and of course lots of pigeons.
The Starting Point
We took the 4km long Full Trail as we had sufficient time in hand. There is also a short 2km trail that starts right next to the entrance to Uchisar Castle.
There are 2 ways to start the hike (Full Trail, 4km long). Start from Uchisar and end at Goreme or Vice Versa. Depending on speed, it takes around 3 hours to complete the trail. The hike is relatively simple but there is a dangerous twist towards the end that I have covered in detail in the " Gorge-ous Surprise" section below.
Most people choose to begin at Uchisar and go all way to Goreme (just like us) mainly because (1) its downhill and (2) they have their hotel in Goreme Town.
Usually people prefer to catch a Bus (for 3TL from Goreme City Centre) or a Taxi to Uchisar Castle, explore the castle, hike up for a breath-taking view of the surrounding area (it offers one of the best views of the valley beneath), walk past the town to the starting point of the Pigeon Valley Hiking Trail, hike till Goreme, get back to the hotel to freshen up and get some rest.
There are many ways to get into the valley from Uchisar Town and it can be a bit confusing. Our recommendation would be to start from the marked starting points with a huge Signboard. To find that, walk past the town's centre (crossing Uchisar Kaya Hotel) until the starting point of the Pigeon Valley Hiking Trail (which is next to "Mavi Beyaz Meze and Bar" and opposite to "Reserved Restaurant").
But if you prefer to start your hike in Goreme Town, follow the canal through the town (in Uzun dere Cd area) and keep moving forward until you find the Sign Board at the start of the trail near Goreme Kaya Hotel.
Pigeon Valley Hike - Our Experience
We started the hike from Uchisar Town entrance. The trail began with a sharp descent along a dusty path. Within no time, we were in the heart of the valley surrounded by huge beautiful rock formations, otherwise known as "Fairy Chimneys".
The complete trail was well marked. On our way, we came across many caves decorated with ancient paintings, cave dwellings (inhabited with locals), thick forested land, some vegetation, small water channels, beautiful landscapes and a deep gorge. The ever-changing landscape kept us entertained throughout the hike.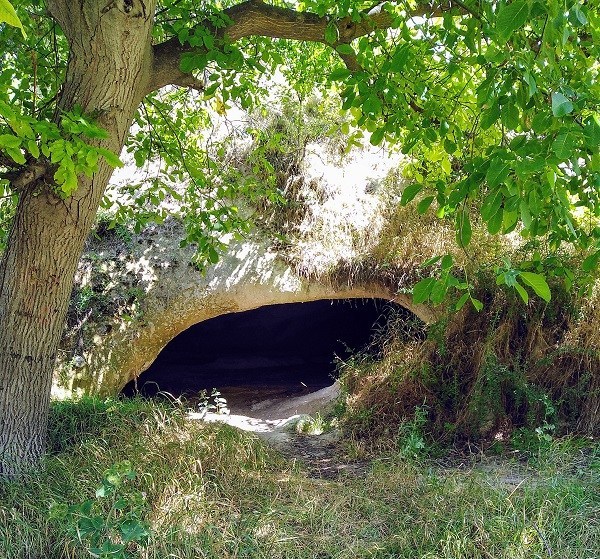 But towards the end it got a little dramatic. The signboard pointed in a strange direction and it was a bit misleading. We decided to take the same path it pointed to, but near the gorge it became practically impossible for us (hiking novice) to move forward.
Little did we know at the time that we were supposed to take a little detour (as guided by a local whom we met in the valley by chance) and go out of the valley, atop the hill on the left) and then re-enter the valley towards the Goreme side of the trail. We learnt it the hard way.
'Gorge'ous Surprise!
Well not a very good surprise though but it quite literally had a Gorge-ous end.
This part of the trail (near the Gorge) was out of action. With a steep cliff overlooking a deep Gorge and the sound of water gushing down left us horrified.
Stuck in the middle of nowhere with literally no help around, we tried to take all possible paths, moving carefully up and down the narrow paths, only to find disappointment.
We almost skidded off the edge of the cliff on multiple occasions and in a hysterical fit of panic and despair, we finally decided to give it up and trace our steps back to, from where we had started.
But luckily on our way back, we came across an elderly person, a local, who was visiting the valley to pluck some fresh produce. Upon knowing our condition, he offered to help us cross the Gorge. Immediately, he left his work and asked us to follow him. We moved in the same direction, towards the Gorge, but took a left turn just before the signboard and hiked up a difficult slope, crossed a narrow tunnel to find ourselves on top of the hill.
He told us that earlier, there was a rope that was attached to help and guide the people hike the slippery hillside. But it's gone now.
We continued our journey filled with a new level of confidence (as we had an unappointed Guide with us now ;)).
Happy Ending
Atop that hill, we could get a better sense of direction and knew that we were past Uchisar and were near Goreme. We re-entered the valley and crossed a tea shop and that is when our Guide insisted on having a tea with us. After a quick tea break and little chit- chat, we thanked and bid adieu to our benevolent guide. The path ahead was easy and after a short walk, we reached the end of trail.
We looked at each other, not able to contain our smiles.
Glad that we reached back Safe!
Happy Hiking!