We had an early morning flight from Istanbul to Kayseri via Turkish airlines and reached the airport via taxi booked by our hotel, Nowy Efendi. It came to roughly 66 TL and you need to report minimum 1 hour before the flight time. There are two security checks at the airport hence it is advisable to leave accordingly. There are couple of nice café and restaurants at the airport like Starbucks, burger king and sweets and bake. The airport also has automatic massage chairs which is an absolute stress buster. For 2 TL you get a good 3 minute massage.
First word that comes to mind when you think of Cappadocia is Magical! It's a Magical Land with rich History and lot of Mystery! It immediately takes you away from the urban world we live in to a primeval age. It's a semi-arid region in central Turkey and is famous for its underground cities, fairy chimneys, pottery kebabs and beautiful cave houses now turned into hotels.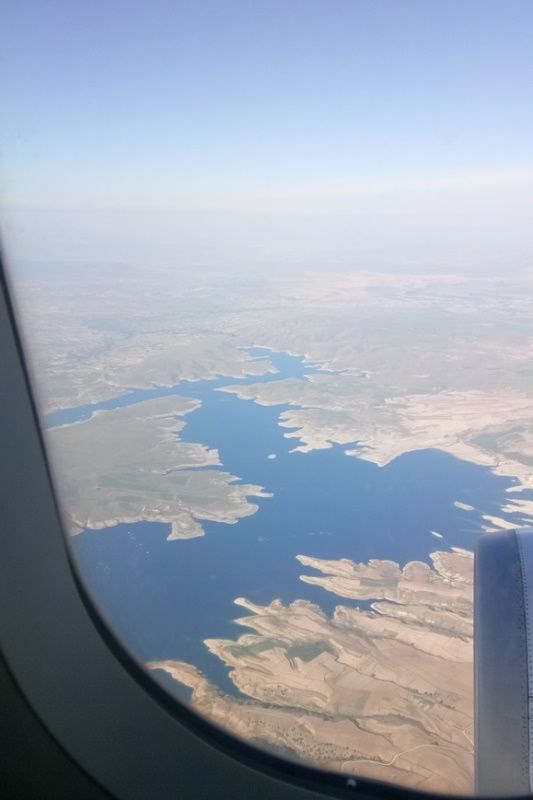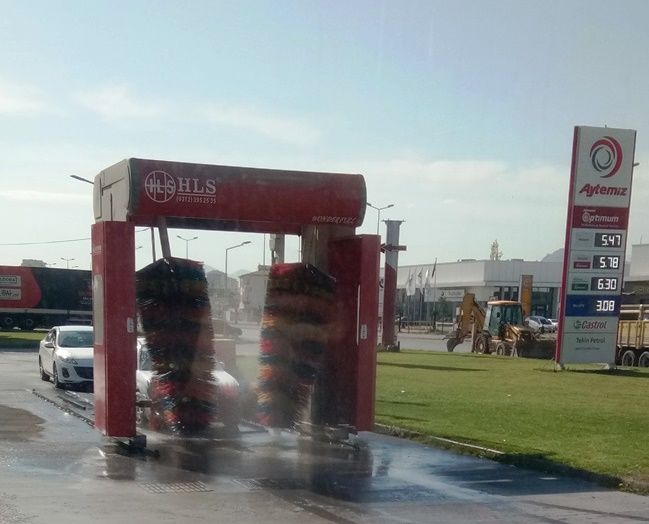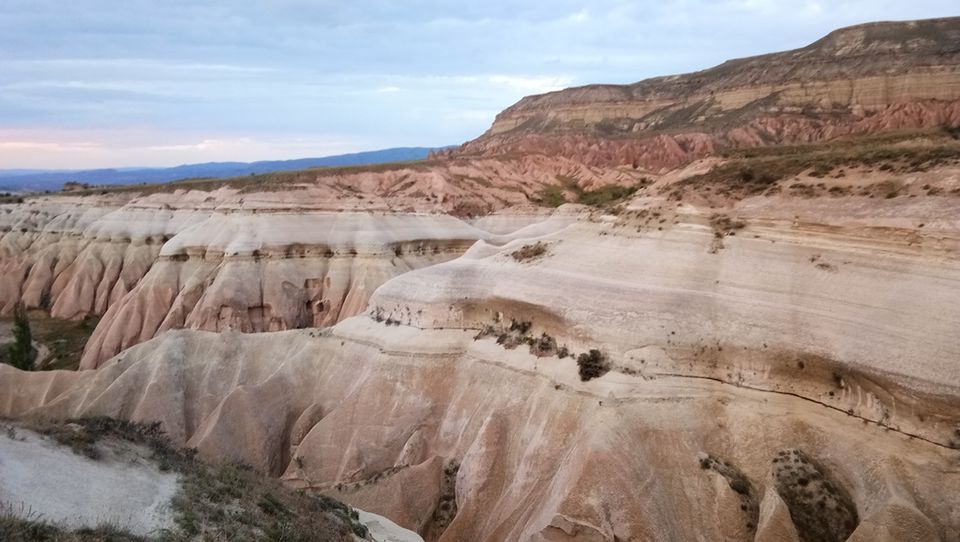 We had booked airport transfer to our hotel in Goreme by New Goreme tours for 25 TL per person one way. It takes you roughly an hour or more to reach Goreme from Kayseri and it's a scenic and comfortable drive in a minivan. Our abode in cappadoica was Erenbey Cave hotel, which is a family run hotel and is exquisite. The twin cave room sets you back in pre historic time though ornamented with current amenities. We were slightly apprehensive initially about living in a cave room but the owner Kimal explained us that natural caves can breathe and hence there would be no suffocation. It was indeed an extraordinary experience! Cappadocia doesn't have a very well established and timely public transport and hence it is strongly advisable to book a tour to visit the various places. Not only will it save money but also a lot of time and energy.
On the first day i.e. 18th of May 2018, we had booked a half day private tour to visit Derinkyu Underground City via Cappadocian Guide Company for 40 Euros per person. The tour started at 1.30 pm and ended around 5.30 pm. The owner Kadir was our guide and he is simply phenomenal. Thorough hold on the subject and knows the area in and out. Our tour started with picture stop at panoramic view point of Goreme. He explained us the significance of the area and how the cave houses and underground cities in those times were used to safeguard local people against threats from invaders and travelers from other regions and countries. You can see the Erciyes Mountain, which is an in-active volcanic mountain and a hot spot for skiing. You can also see Uchisar Castle from the view point. It has some shops and cafes around it and can be avoided.
Our second stop for the day was the most talked about underground city aka Derinkyu! Derinkyu is synonym with deep well and is an architectures paradise. The knowledge and science prevalent at that time can beat the most modern gears available today. Kadir explained us that the ventilation shafts above the underground city helps keep the city beneath well ventilated. He even explained us how food was stored in those times and that allocation of rooms were done as per number of people and not designation of the person. Which means a king may not necessarily get a bigger space inside the underground city. It has 3 levels and only 8 percent is accessible. A one point we were standing 50ft below the earth's surface and there was no suffocation. It was an awe-inspiring moment to witness what skills people possessed at that time to carve this architectural wonder without any machinery or gadgets!
It is advisable to carry a very small back pack while visiting the underground city as the narrow pathways make navigation difficult if you are loaded with stuff on your back. There is a lot of walking and climbing rock stairs hence people with mobility issues need to re-consider a visit to the place. There are few shops outside Derinkyu and you get strong Turkish coffee and lovely souvenirs. Do have a look!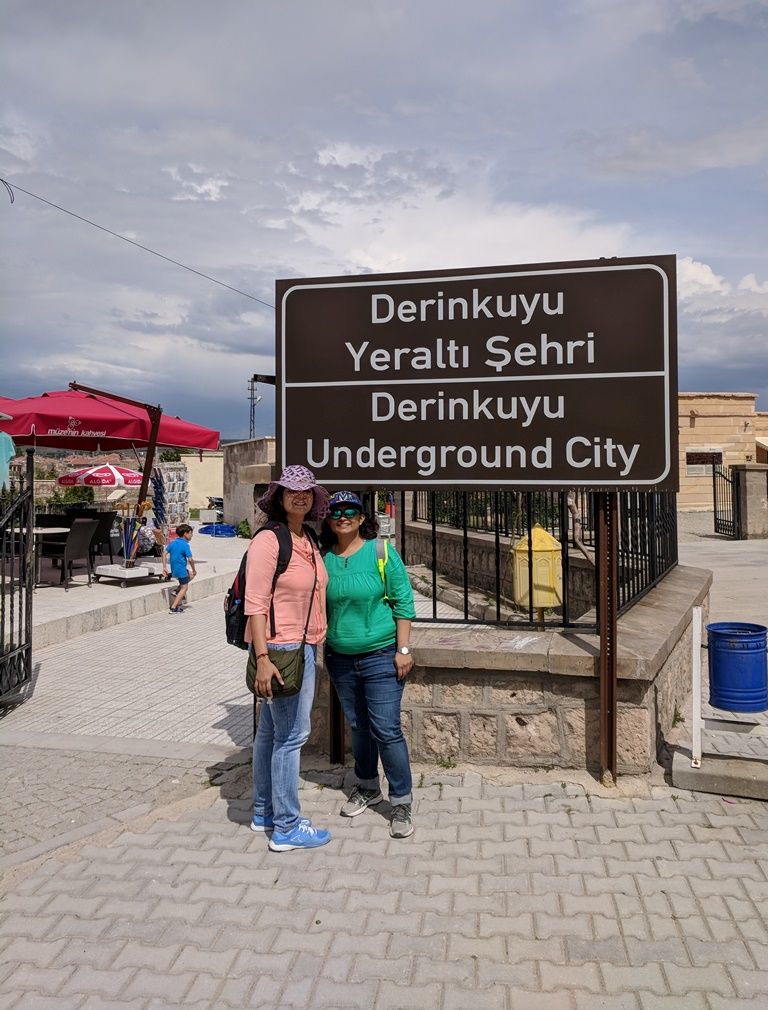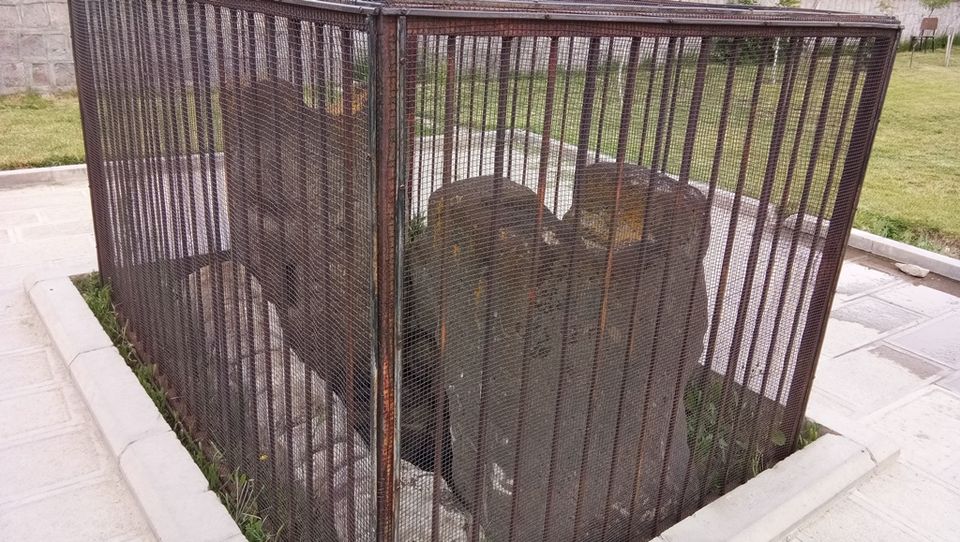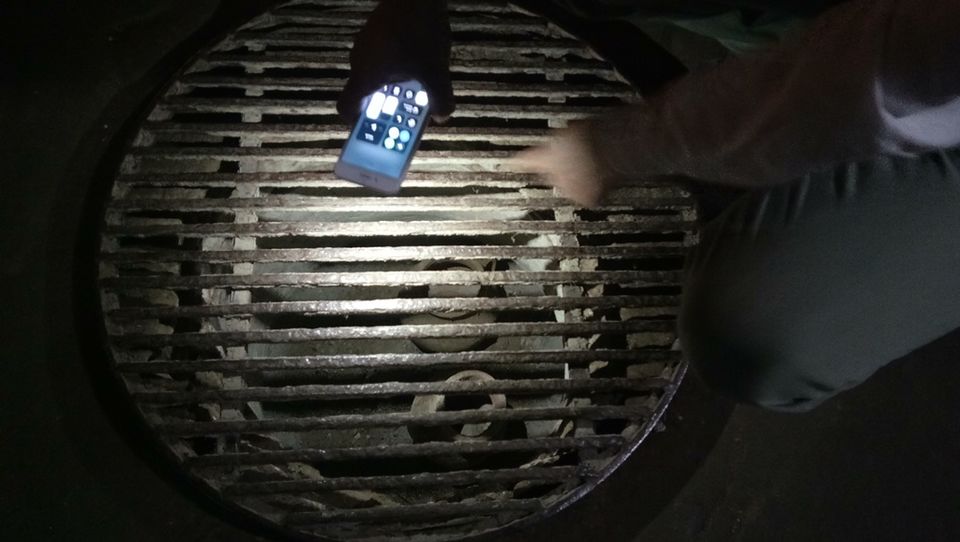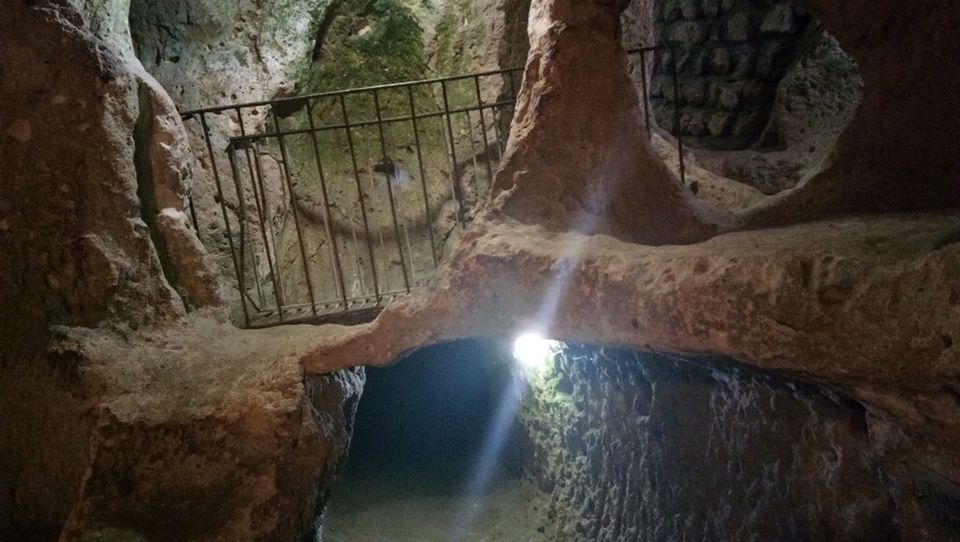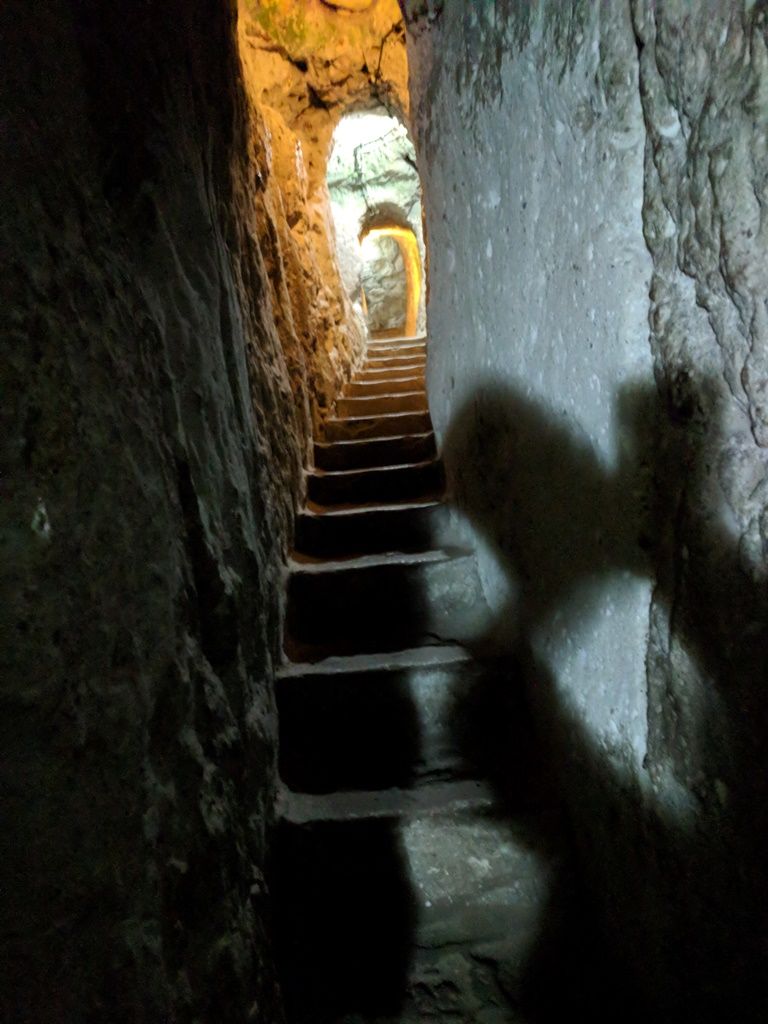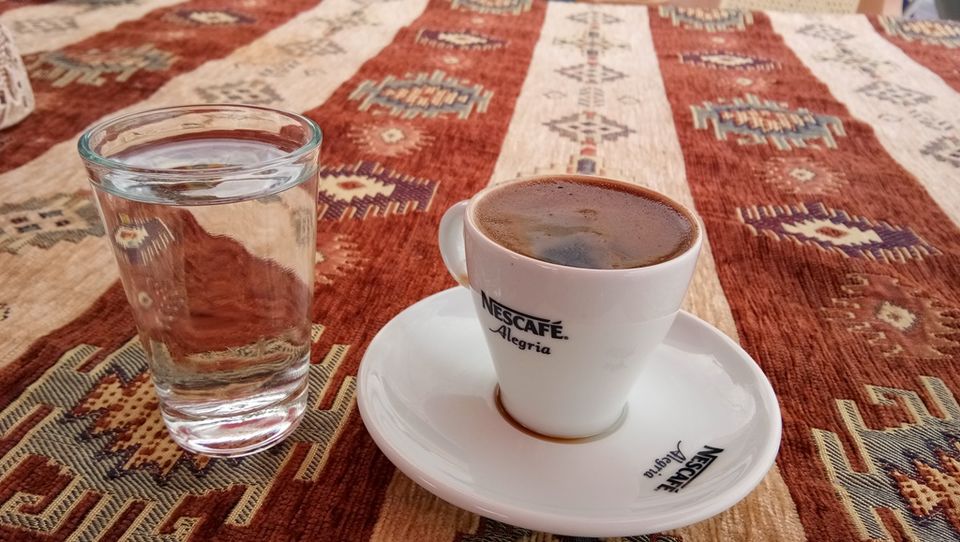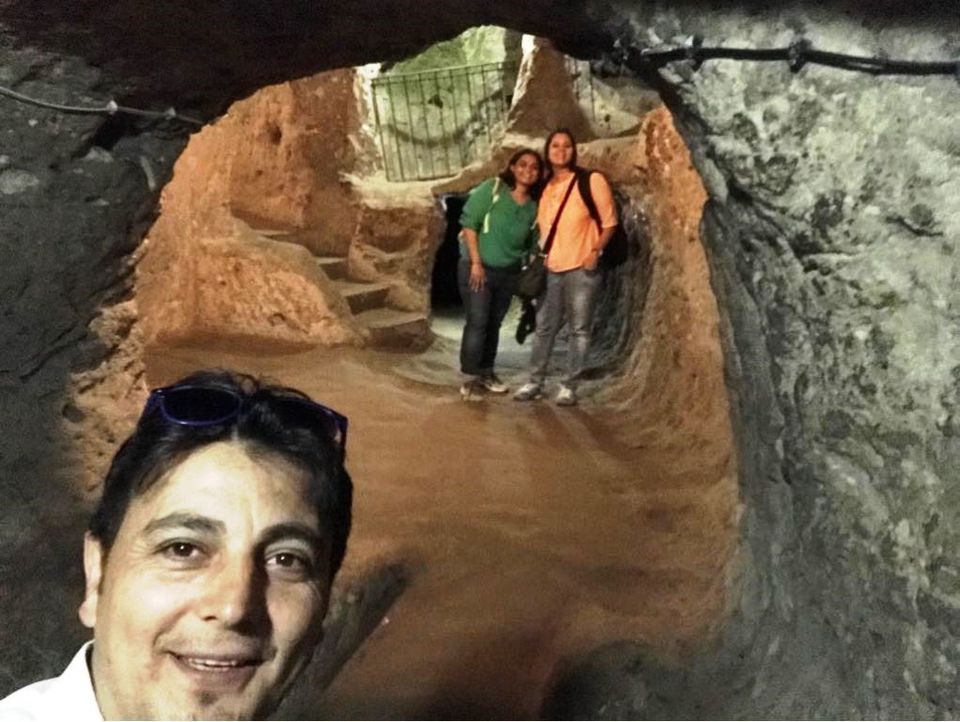 Our third stop for the day was Pigeon Valley – beautiful valley situated between Uchisar and Goreme. The valley is named so because of the numerous pigeon houses carved into the rocks and cliffs. In olden days the pigeons dropping were used as fertilizers and as glue to stick things. Interesting? There is an evil eye tree and people say that if you tie an evil eye along with a string of your clothing then all your wishes can come true. They further say that if it does come true then you need to come back to the same place to open the string else it reverses back. Ugh! Now that's scary! I feel it's a touristy fad to sell more evil eyes from a nearby shop. Nonetheless, I still did it! There is an onyx factory right opposite which is a touristy trap and can be skipped totally.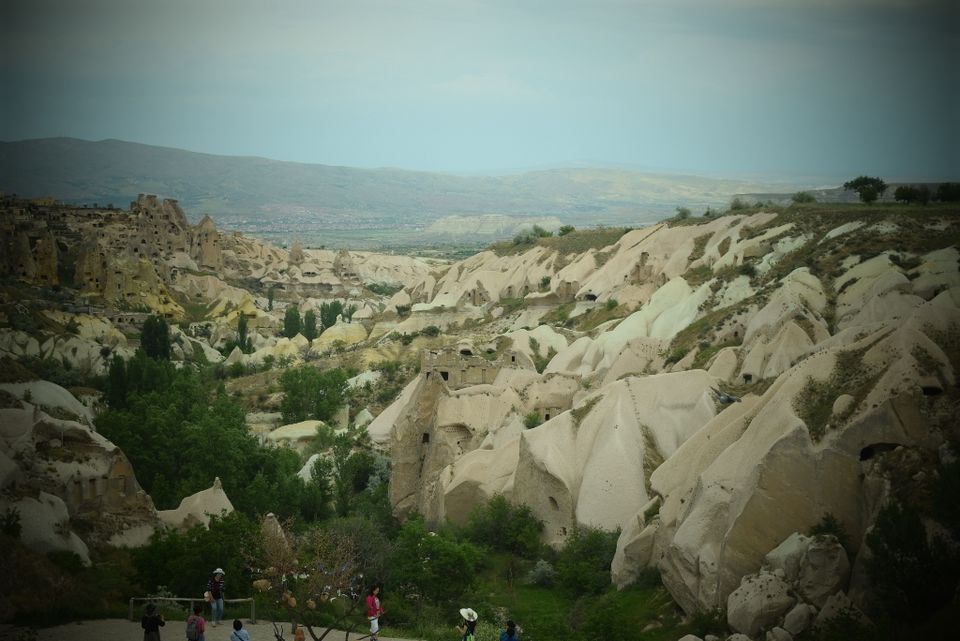 Kadir suggested us to see the whirling dervish ceremony at Saruhan. I was keen to see the same at Hodjpasah, Istanbul but since my friend insisted we went to Saruhan for the same. There was no orientation and we simply didn't know what was happening. Apparently all the stages of the ceremony were mentioned on a pamphlet handed over in the beginning but since it was so dark we could barely read anything. We paid around 90 TL for the same and I personally feel Hodjpasha at Istanbul is much better than this one.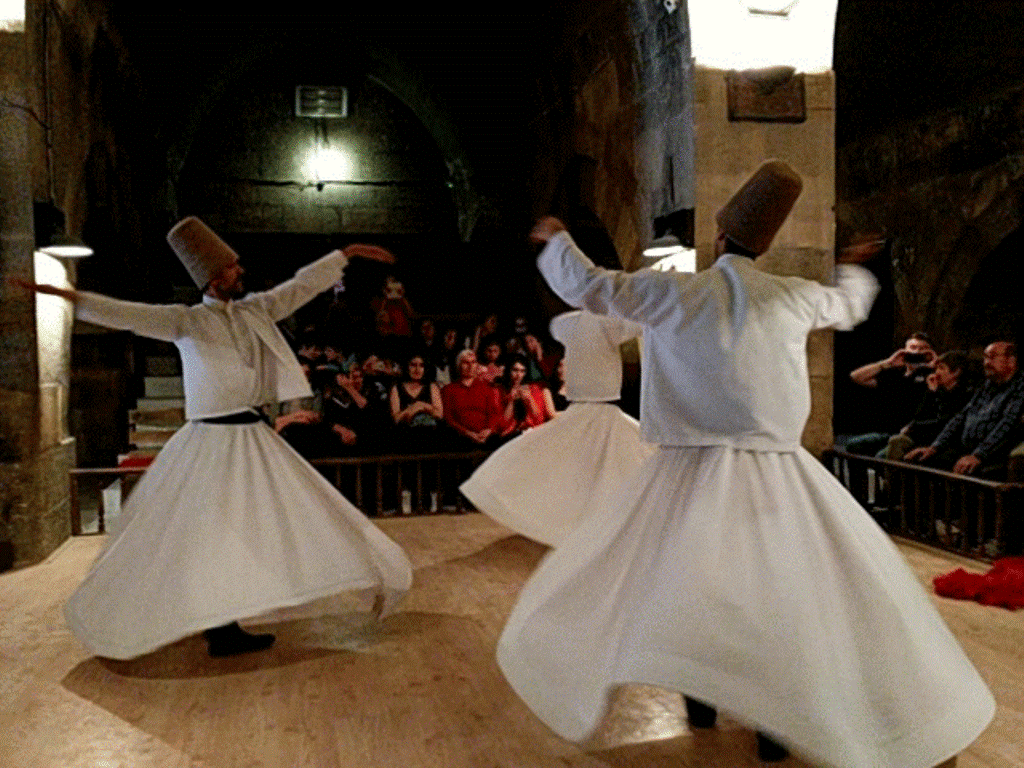 We wrapped the day with warm dinner at Organic Cave Kitchen, Goreme. The famous pottery kebab is a must eat! A short stroll at the city center, picked up few souvenirs and headed back to the hotel.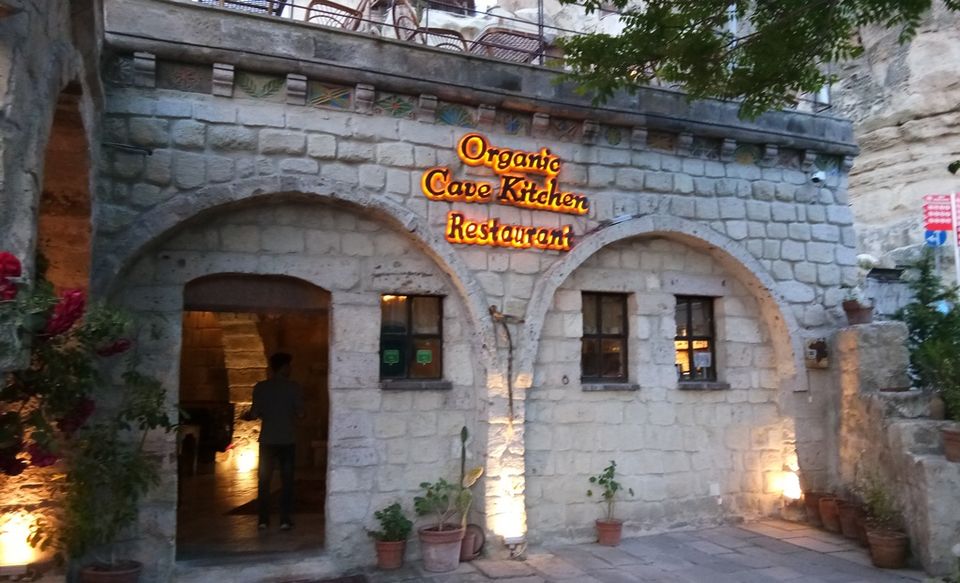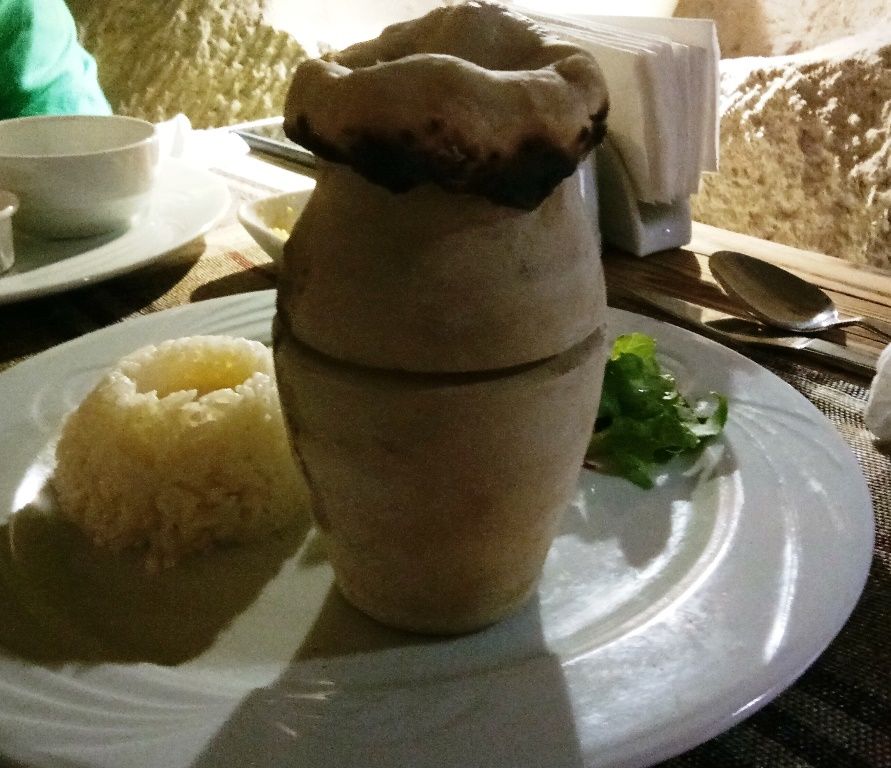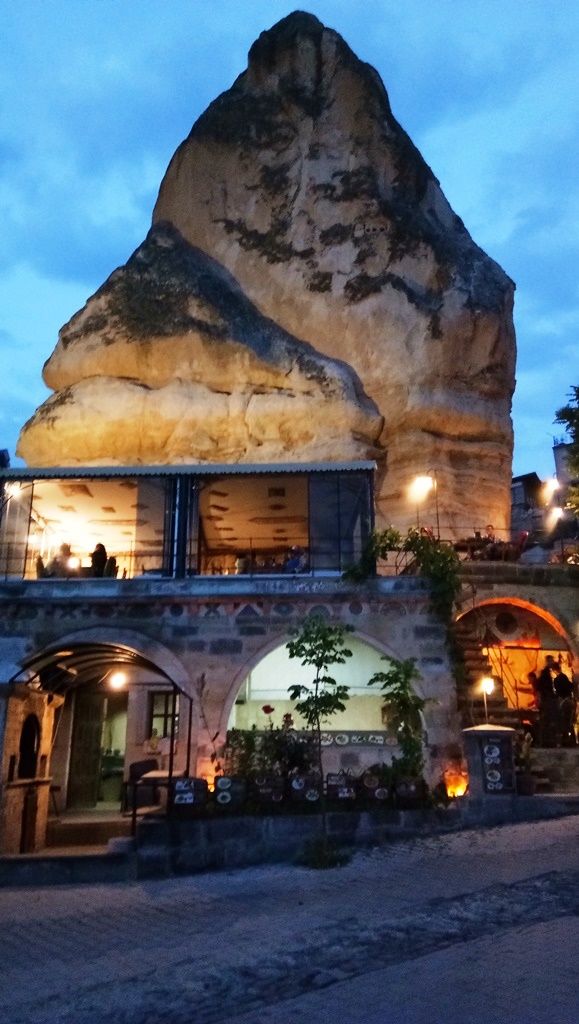 Our second day in Cappadocia i.e. 19th May 2018, was an action packed day. We were picked up from our hotel at 4.15 am to head to Butterfly Balloons office. Since I had booked the balloon flight in advance I got the discounted rate of 130 Euros as compared to 160 Euros. They serve you light breakfast and take you to the takeoff site. In few minutes I was to experience out-worldly moment of my life! My first Balloon Flight ever! The pilot briefs you about the safety instructions to follow while taking off and while landing. It is advisable to wear a track pant or anything comfortable and stretchable as you need to climb 1-2 steps and then jump into the basket. Anything stiff or uncomfortable will it make it difficult while getting in and out of the basket. Also carry a small haversack or bag as space is limited in the basket. Around 16-17 people in each basket waiting apprehensively for the balloon to fly. The moment arrives and the balloon begins to soar. Time comes to a halt as you rise towards the sky. Everything looks surreal.
Floating over Cappadocia in a balloon was the prime reason I wanted to visit Turkey! It's a once in a life time kind of experience and should be on everyone's bucket list. Hundreds of balloon fill up the cappadocian sky and it looks like a dream. You pass by numerous cave houses, pigeon valley, love valley, mushroom and fairy chimneys. The best was when two balloons kissed each other. Our pilot explained to us that the fabric can be touched but baskets cannot! I even called my family back in India while I was flying high.
Floating for around 40-45 minutes we began to descend and the landing was smooth and without any bumps. We were then awarded with champagne and cherry juice along with a flight certificate.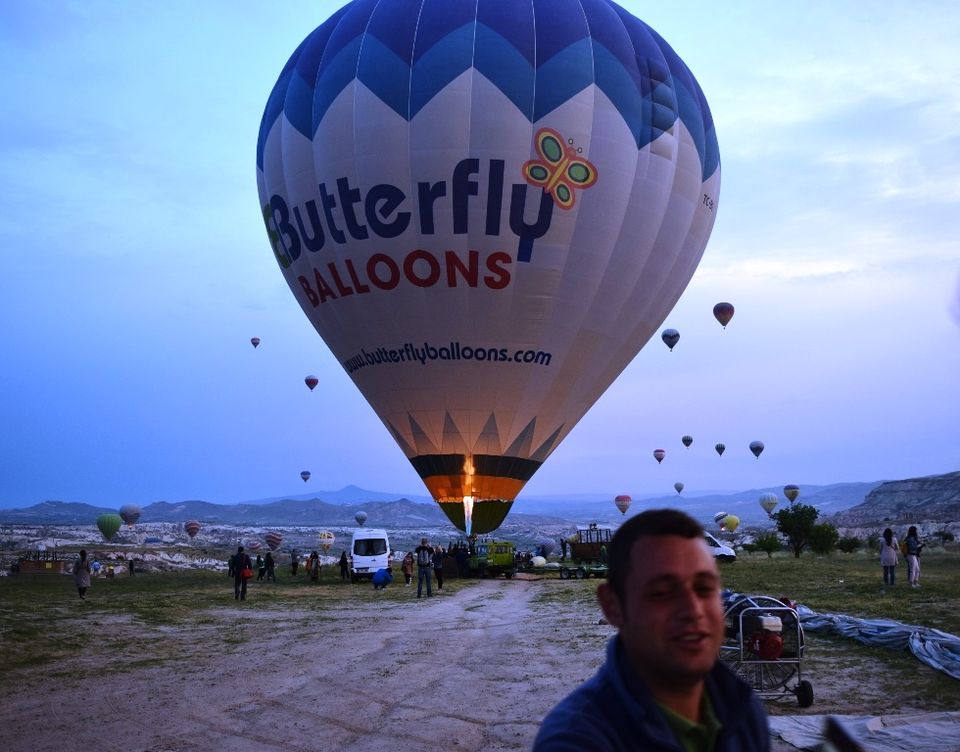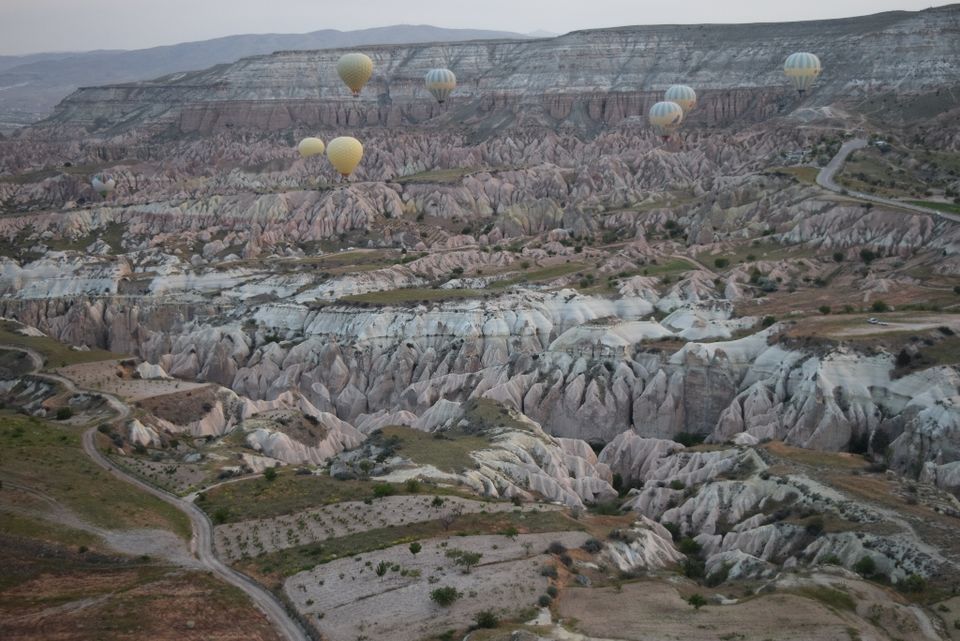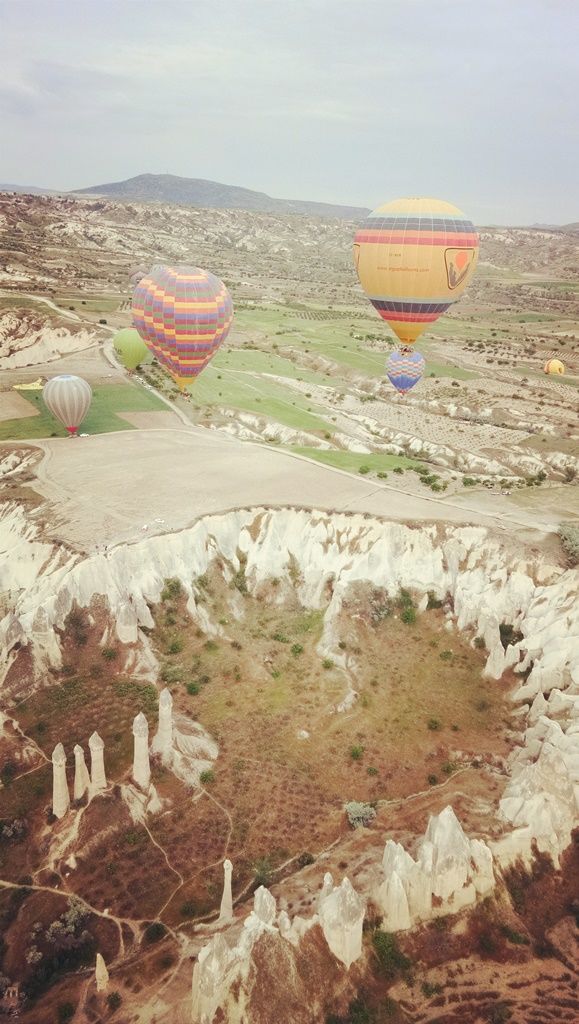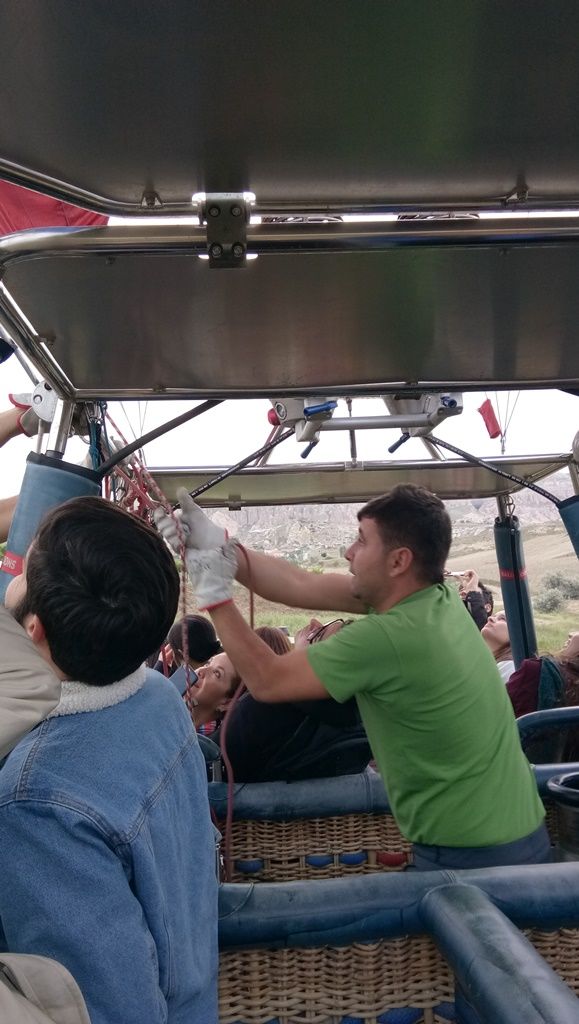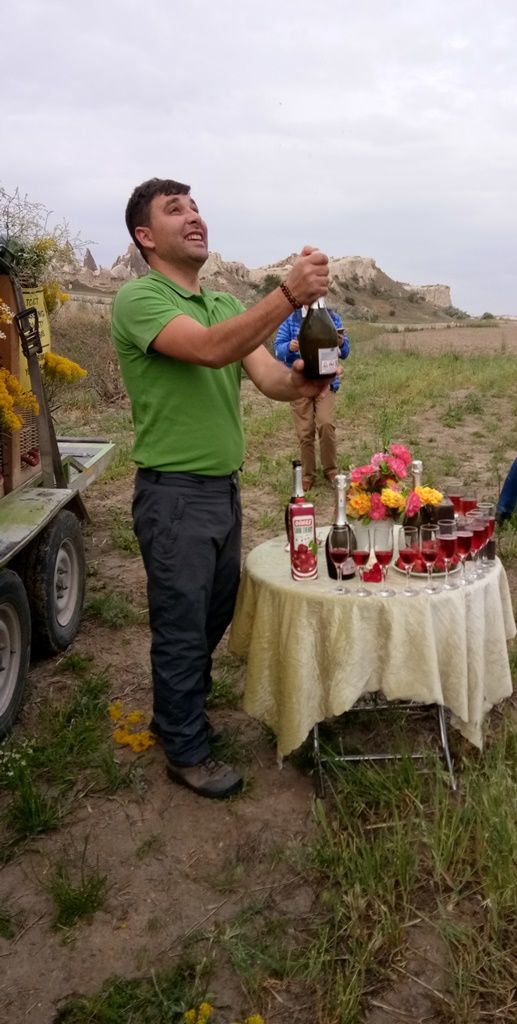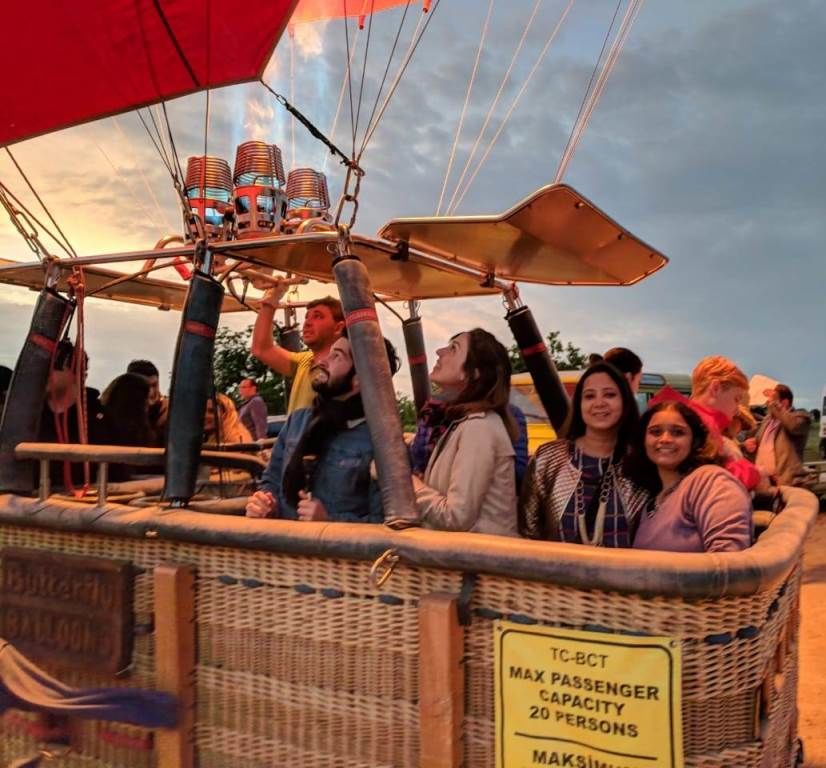 Back to our hotel by 7.00 am we had a scrumptious breakfast and then were picked up by New Goreme Tours around 9.45 am for the famed Red Tour in Cappadocia. If only I had booked this tour via cappadocian guide company and not New Goreme tours, we would have enjoyed the rich history this tour offers much more than what we did. Our guide was passive and spoke in a parroted, monotone lacking any interest or passion about the place. We had paid around 110 TL per person for the tour and it's a full day activity. The tour starts with Uchisar Castle and you can click some photos and enjoy the place. We then moved to Goreme open air museum which is a vast area and houses rock-cut churches with well retained frescoes. It's a UNESCO World heritage site and involves a lot of walking and climbing stairs. Honestly, had our guide been good I would have probably enjoyed the place much more but to look at the Frescoes without understanding anything about it is kind of boring. You can have some delicious dondurma for 5TL outside the open air museum. We then headed to love valley, Pasabag fairy chimneys, Avanos for pottery demonstration and Imagination valley. Lunch was at some local restaurant and had good option for vegetarians. In the end they also take you to Tursan Winery and you can taste red/white while and even buy some as its very cheap. For 26 TL you get two small bottles and it's very famous in Cappadocia. The tour ended on a bad note, as it started raining very heavily and our guide made us get off in a pool of water outside our hotel despite requesting him to drop us a little ahead as we will get drenched if we get off right now. He refused to listen and insisted we get off immediately and as a result we were drenched completely and shoes were completely soaked in water.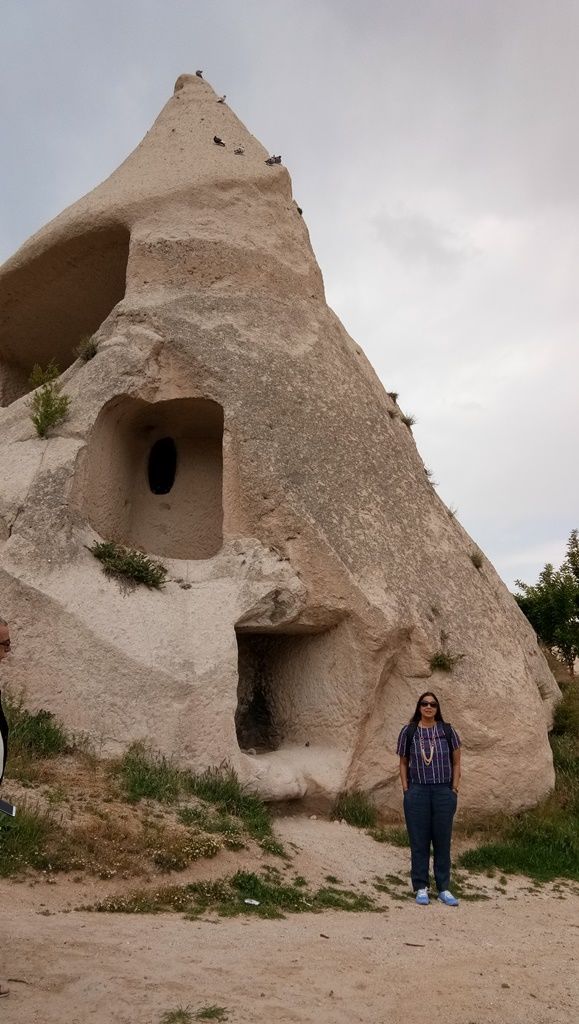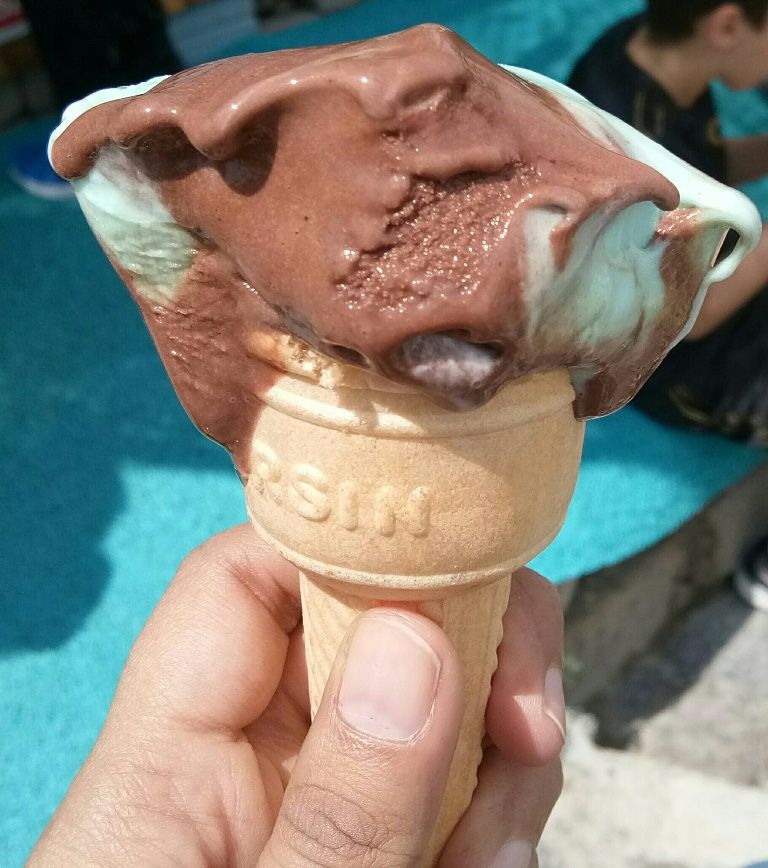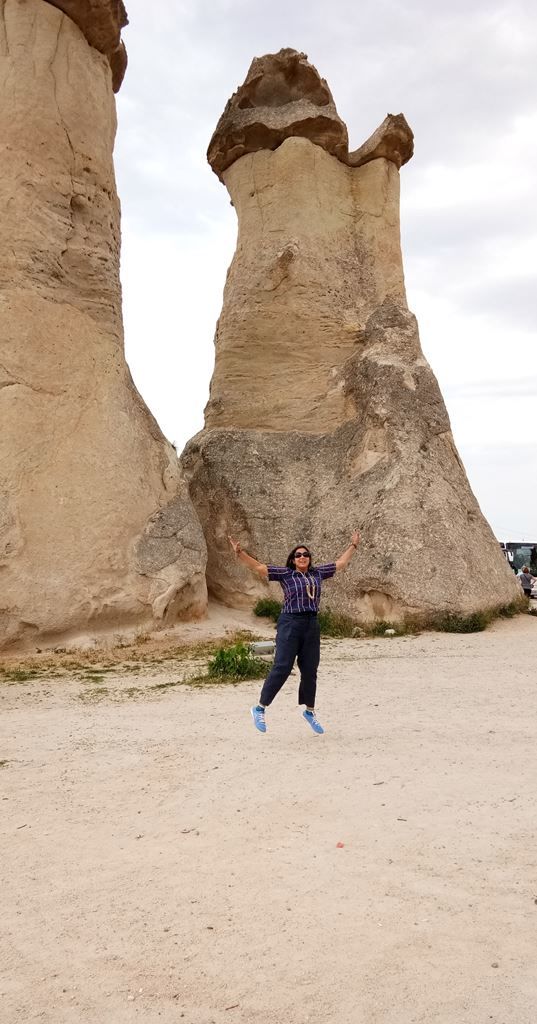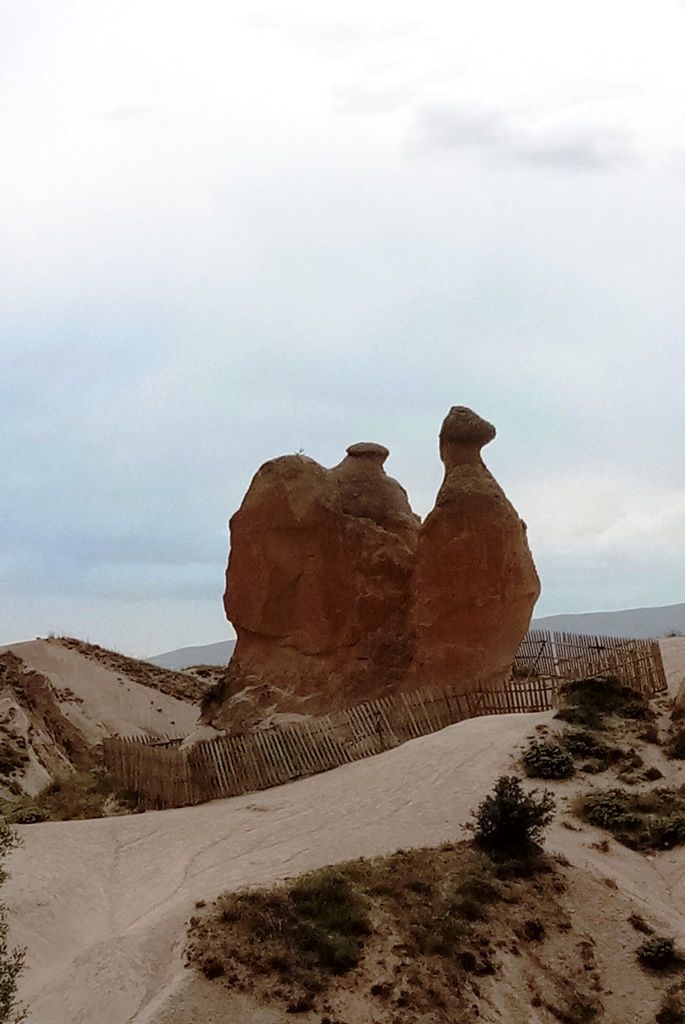 We were not yet done for the day and had signed up for the third activity with Cappadocian Guide Company. Sunset hiking trek is an offbeat thing to do in Cappadocia and definitely a very beautiful trek. It's a 1.5 hour trek and you get to see sword, red and rose valley in all its might at sunset. For 12 Euros this is a must do tour and gives you a close look of the beautiful valley. Please wear good walking shoes and keep yourself well hydrated. Our guide suggested us to eat dinner at Firin Express and it was our one of the best meals in Turkey! Lip smacking pizzas, sutlec (rice pudding) and baklavas. For 26 TL this place is total value for money.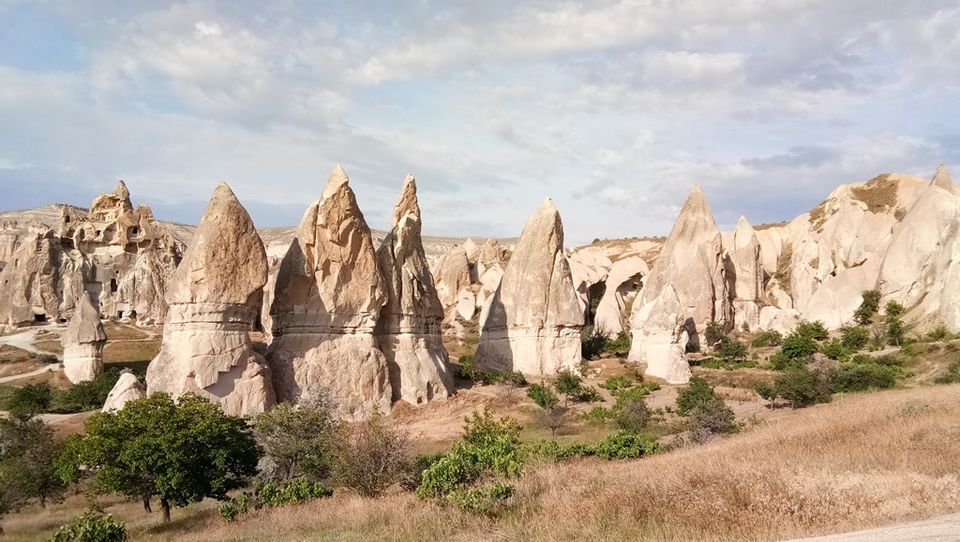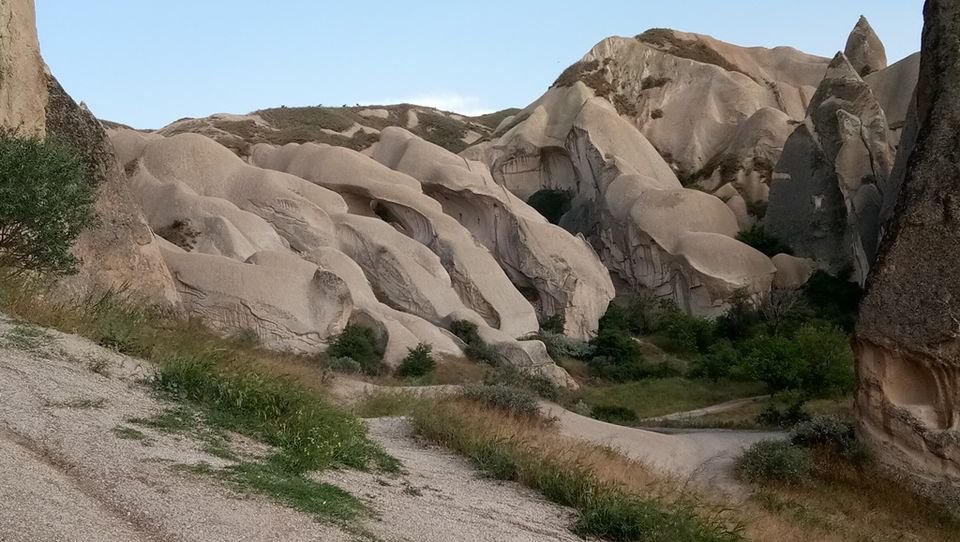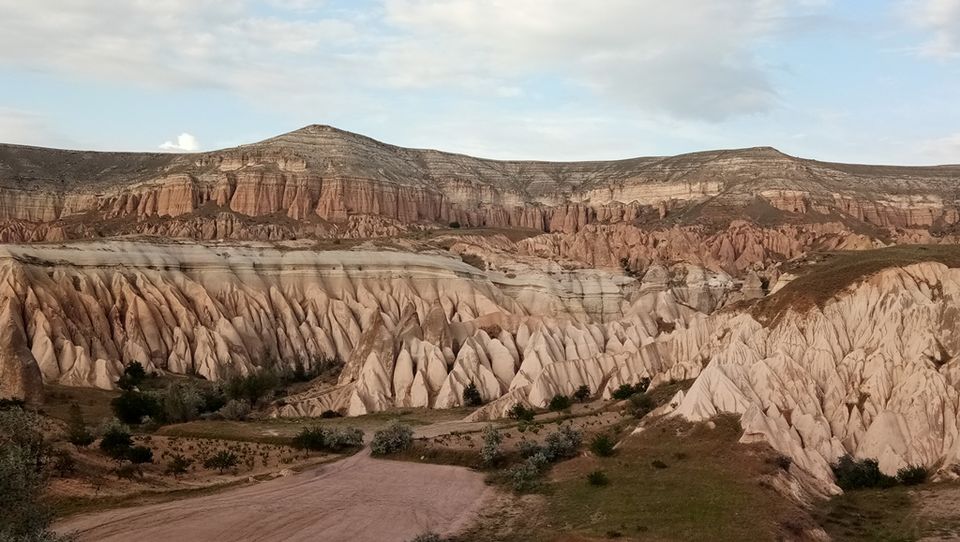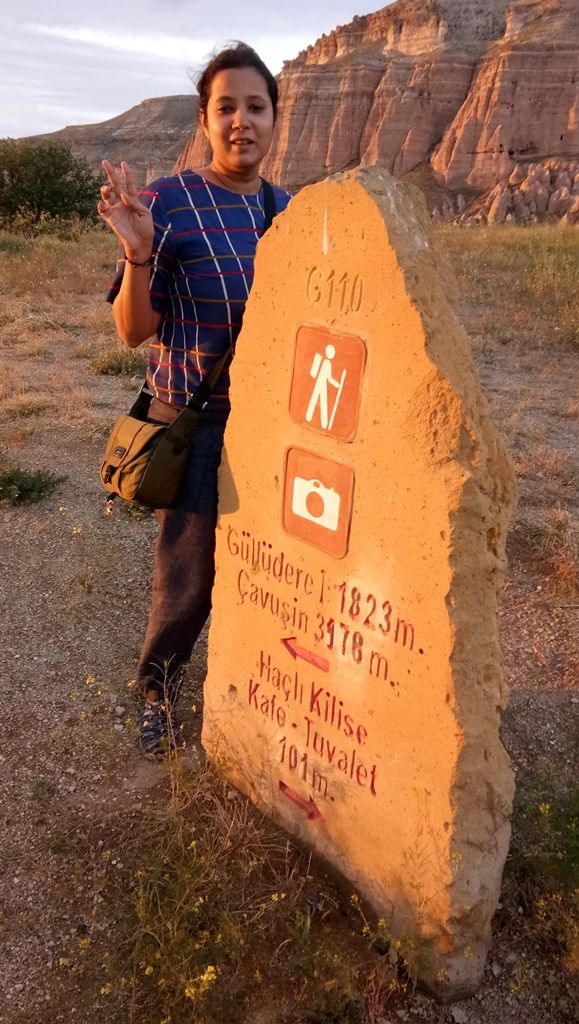 Next day we were to take the return flight to Istanbul from Kayseri and had booked the airport transfer via New Goreme tours for 25 tl. They pick you up almost 3 hours in advance and the transfer was smooth.
Two days in Cappadocia were simply spellbinding. The place has an amazing calm aura to itself and I hope to return to Cappadocia soon.
Frequent Searches Leading To This Page:-
things to do in turkey for couples, adventurous things to do in turkey, turkey family adventure holidays, 5 offbeat things to do in turkey, things to do in turkey for couples, food not to miss in turkey, what is famous in turkey, places to visit in turkey Istanbul, top turkey tour packages with price