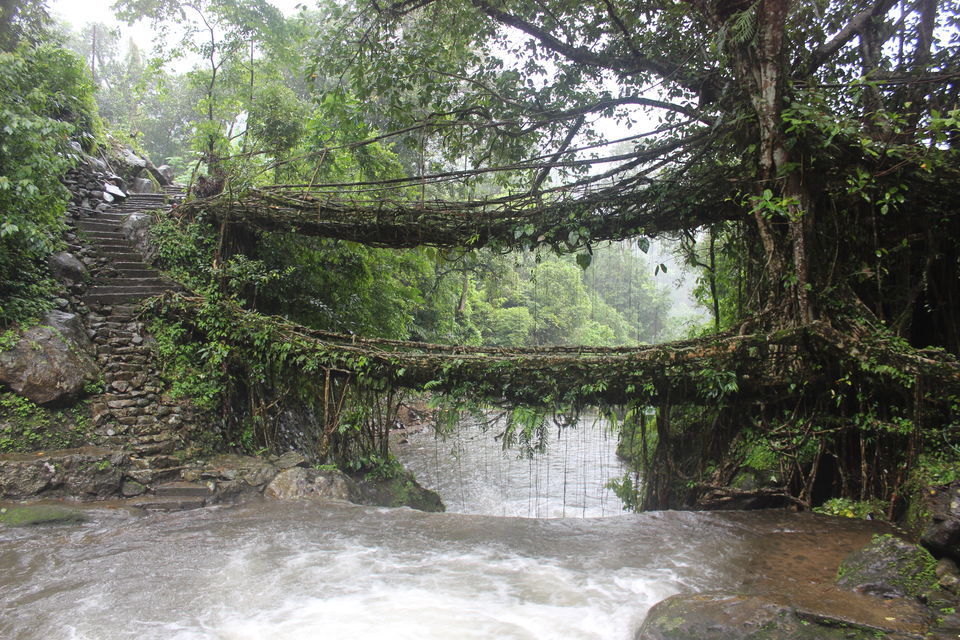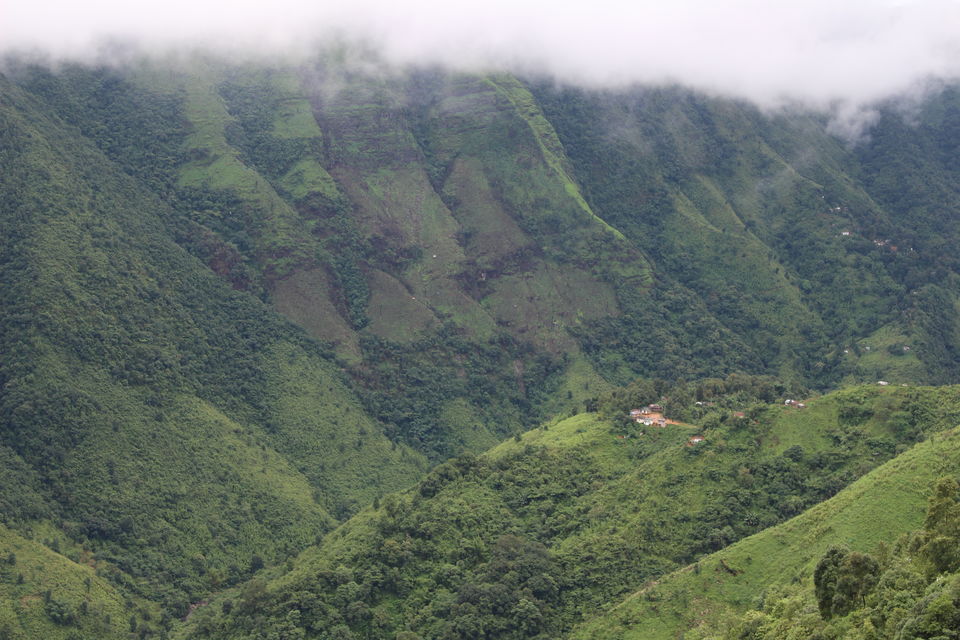 THE DAY I RODE THE THUNDER AND FLEW IN THE RAIN AT ONE OF THE WETTEST PLACE IN THE WORLD.
Hi, So this trip of mine starts from Guwhati, it was the month of July 2019 and monsoon at Meghalaya at its peak. So I decided to take shared sumo from paltan bazar to Shillong. It would cost you 200 Rs per seat. If you are going there and it's not raining then you can also rent a bike from Guwahati. It would cost you around 900 rs for 24 hours.
So I took sumo from Guwahati to Shillong and at 8 am I reached Shillong. I rented a bike there from Daplieh Bikes (8787895391) at 2100 for two days.
then I headed to cherapunji which is about 67 - 70 km away from Shillong.
Have you ever experienced the water spray on your face when a hairdresser giving you a haircut? Yeah!!! Exactly what kind of drizzling was happening when I was on the route to cherapunji.
but within a minute or two, Cherapunji showed me why it is one of the wettest places in the world, The clouds went dark and heavy rainfall started. it almost looked like its 6 pm at the time of 9 am.
but I was prepared for this I brought my Poncho (Raincoat) with me so my bag and my upper body can stay dry and do not drench in rain.
Note: Always Carry a Raincoat.
I have planned this trip to be a 2-day trip and heavy rainfall was pouring, Though my poncho was protecting my bag and my upper body but my jeans were still pretty vulnerable as it was exposed directly to heavy rainfall while I was riding. So I decided to remove it and put on my shorts so it would be my legs only to drench.
it felt a little cold though but I was pretty satisfied that now I can ride without any problem in rain.
So I first stopped at a valley. It was on the left side of the road and I saw it, I could not resist myself and I stopped to take some pictures. though it was raining but I managed to take some pictures.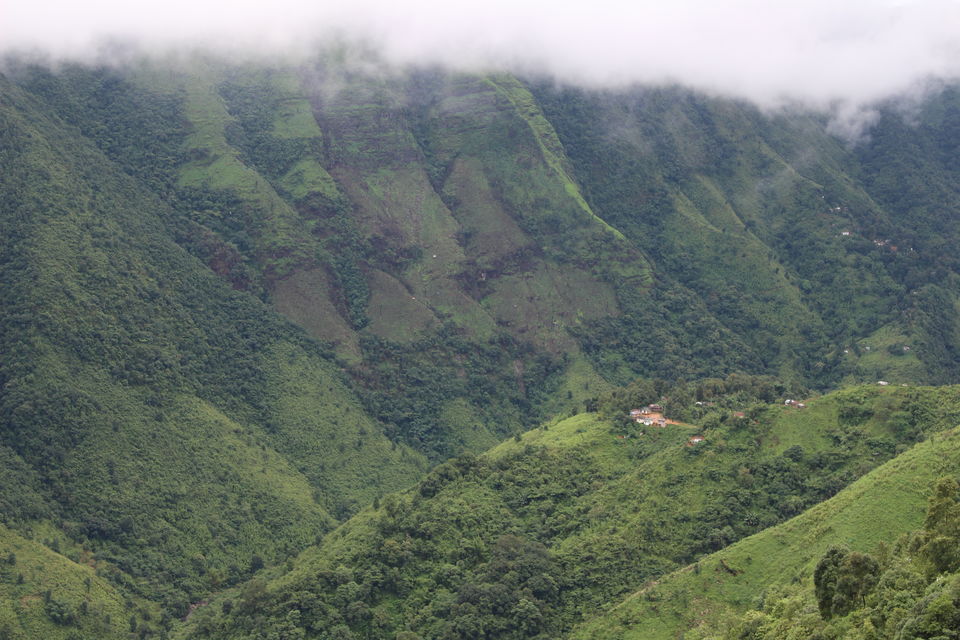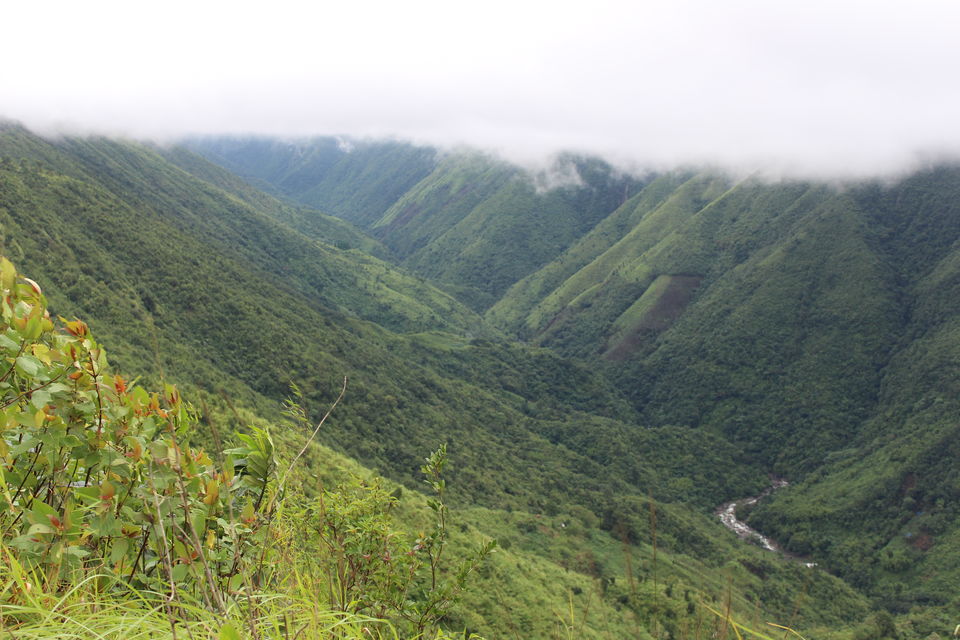 I had had not seen anything like this before though I have traveled many hill stations but this was different, in pictures you can not feel the thing I was feeling when I was there. it looked like rain just washed the forest and you can just touch the cotton clouds with your fingernail.
The route was so beautiful that I was wishing that my eyes become a camera so I can capture every moment there. ( I did not have a GoPro Camera at this trip), Sadly :(
Then I reached to my next stop, Nohkalikai Falls. The moment I saw this place I realized that I can not capture these places in camera. though I can capture the scene but not the feeling. to experience that you have to go there by yourself.
You have to take a ticket for this site which is around 50 rs per person, 20 rs for the camera and 10 rs for the bike.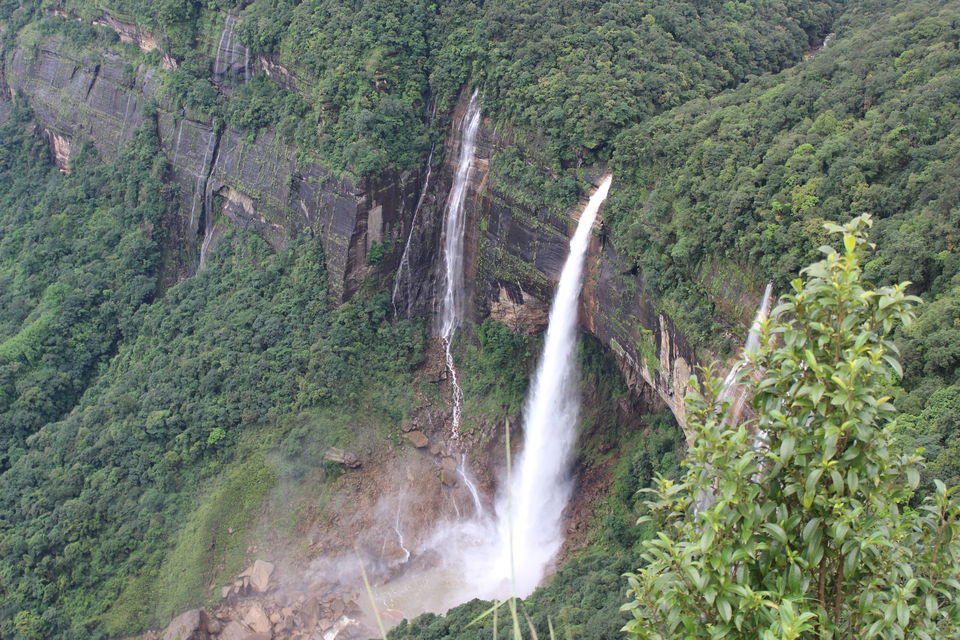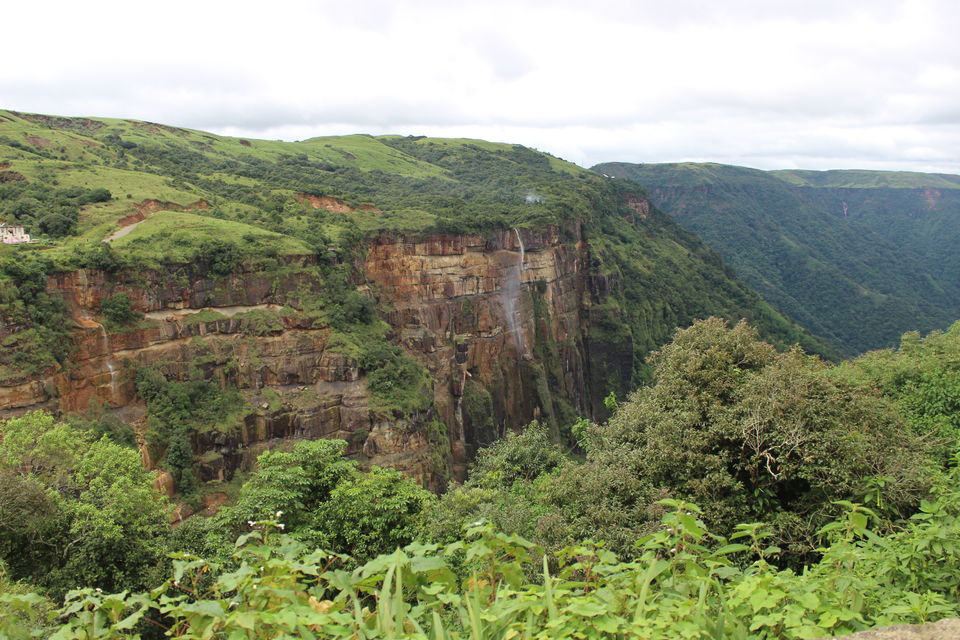 There were these Exquisite Grasslands or I don't know what to call them all over the place. i was so astonished that I decided to capture everything i could and because of that, I ended up being late and in heavy rain :(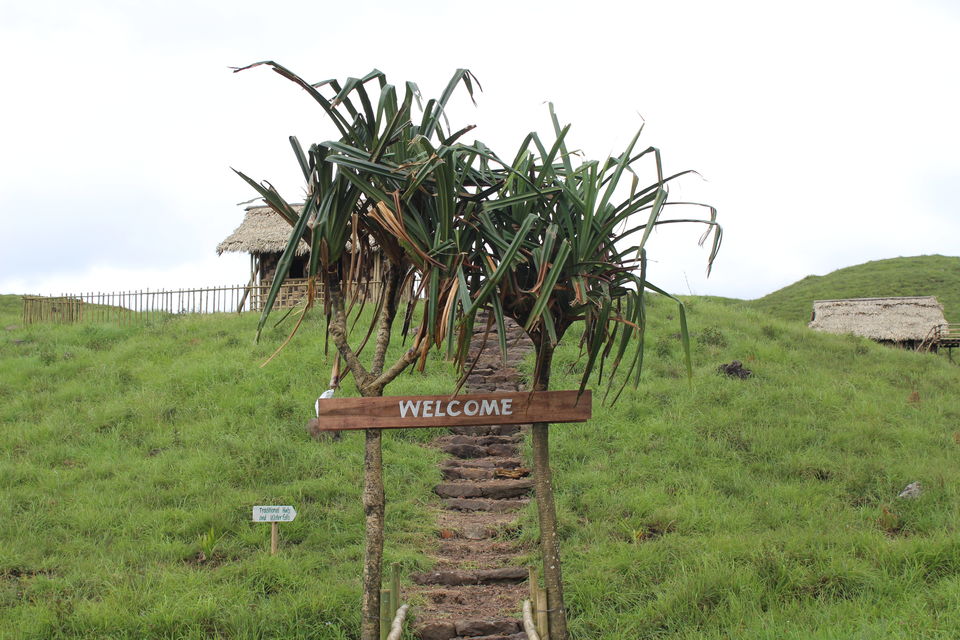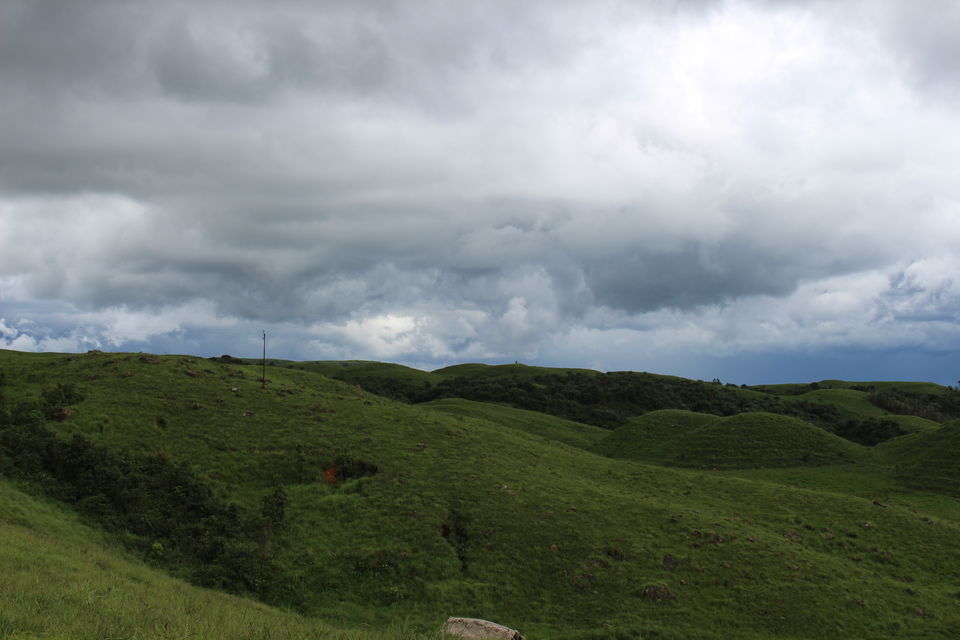 I stuck in heavy rainfall that it was impossible to ride on a bike, The cherrapunji showed me that you can not just put on a pair of shorts and ride on a motorcycle :D The rain was hitting my face so hard that I couldn't even open my eyes so I decided to stop at a tea shop.
I saw the google maps again for direction for my final destination and let the rain subside.
Tyrna Village, it was 15km and 45 mins away from my location, I was being late as to reach the living root bridges I have climb 3000 and several steps down in the forest kind of area.
So I decided to ride in heavy rainfall and thunder. there was one thing in my mind that I have to go there and nothing can stop me, with this mind-frame I started my bike and "RODE THE THUNDER AND FLEW IN RAIN"
The stretch from sohra to the Tyrna village seemed really frightening to me because I did not see any people or car at this route, because of the rain I guess. the roads were shattered and hardly there was any.
there you can feel and see more than 50 small types of waterfalls, as the water was pouring all over the roads from the hills because of heavy rainfall.
there was a cement factory I remember, that gave me a feeling like it is a haunted place as i was alone and I could not see any people on the roads, but it was all fine.
and I finally reach Tyrna Village and saw many taxis, people and 2 tea stalls.
Now from here, you have to climb down to see living Root Bridges.
At this point, you can park your bike. They provide a safe parking r spot even for a night or two for 60 Rs, if you leave your helmet here then it will cost you 20 Rs extra. you can rent a Bamboo stick as a supporting element for 20 Rs.
if you take a guide for your trek they will cost you 500 Rs double Decker bridge.
though if you are not in a tough situation like me ( Very late, in heavy rain or alone) then you don't have to take a guide with you.
It took me around an hour and twenty minutes to reach Double Decker Bridge.
In this journey you have to climb 3200 steps downwards, have to cross two iron bridges, one is really scary as it swings and the second one was pretty normal and in good condition.
then you reach to the Living Root Bridges.
I Can not describe how it feels to be there, you have to go there to see the magic hidden in deep remote Tyrna village of the northeast.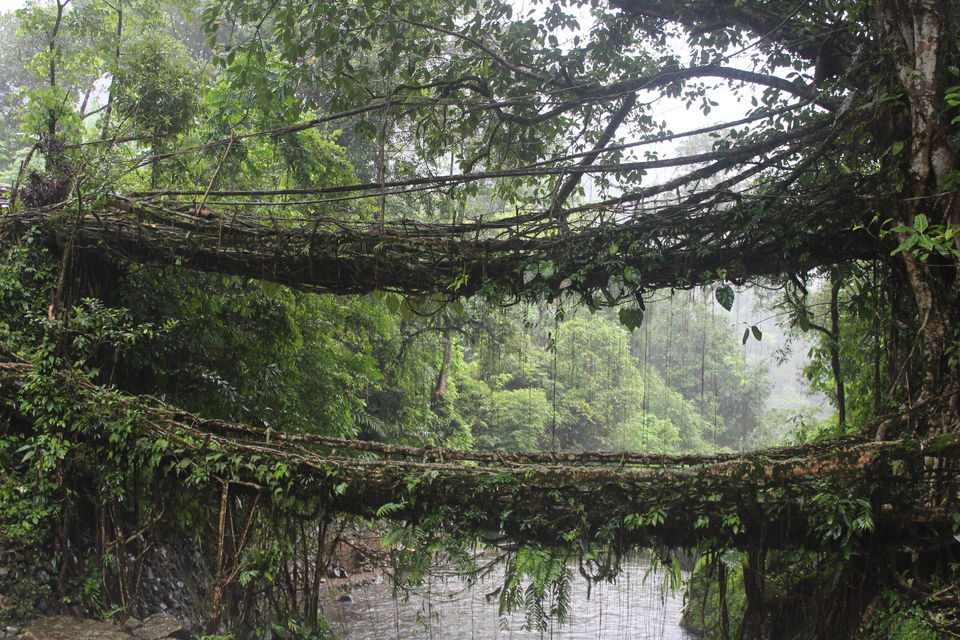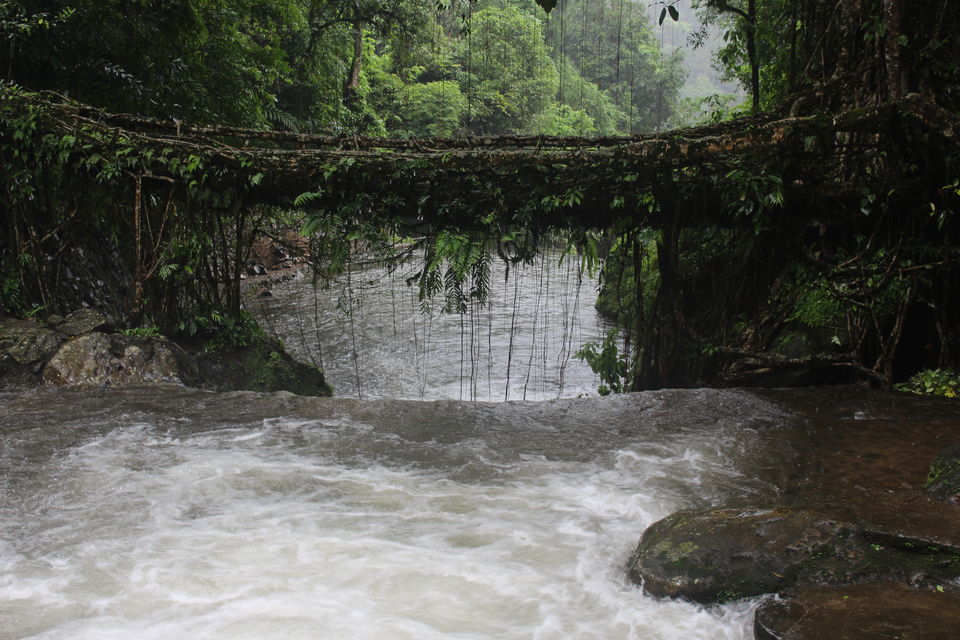 You can stay here for the night, there are 5-6 home-stays, they would charge you 300 Rs per bed per night in sharing rooms.
dinner and food are also served by these home-stays at 130Rs per plate.
I stayed at Serene Home-stay and it was a pretty good experience out there.
Note:
1. Rates I mentioned above can vary as per the season.
2. Carry a raincoat with you here.
3. Odomos would be a lifesaver :d
4. Try to avoid June - July if you are planning this trip.
Thank You!