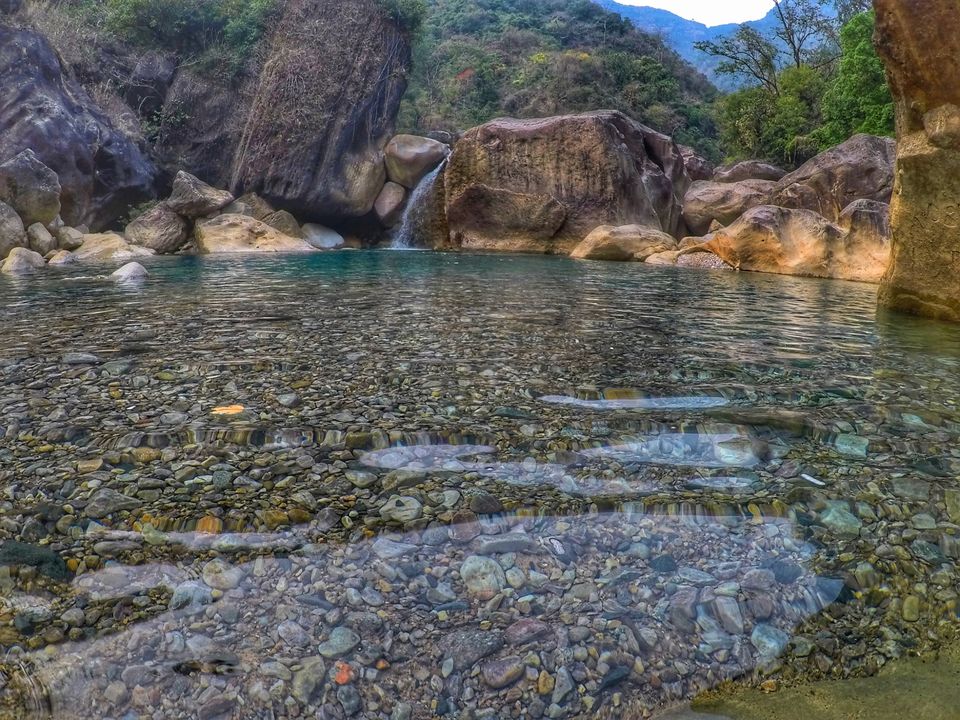 Nongriat, is a small village in Meghalaya known for it's famous Double Decker Root Bridges, Single Root Bridge, Rainbow waterfall and many such natural private pools with small waterfalls.
This hidden paradise is a beautiful combination of nature and simplicity. Nature at it's best,it has the most beautiful scenary and the warm hearts of the people living here will leave you with an experience worth remembering all your life.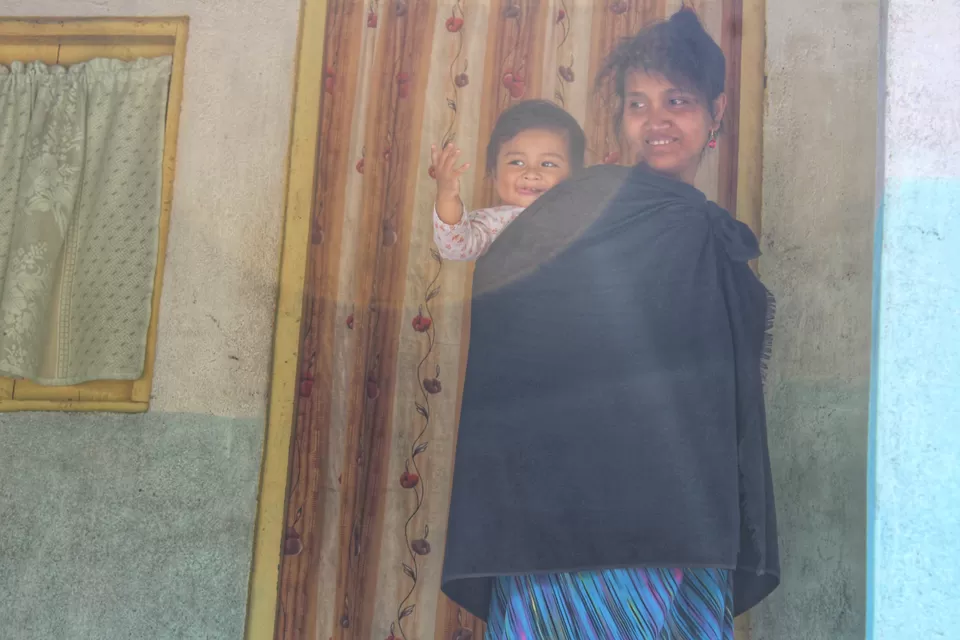 WHERE IS NONGRIAT?
Its located in the East Khasi hills in Meghalaya.
HOW TO REACH NONGRIAT?
There are no direct roads to Nongriat.
The closest village to Nongriat is Tyrna. You can hire a shared cab from Cherrapunjee or get a private cab. The cab will drop you till Tryna village. Book your cab in advance for your return journey as Tyrna is quite off the road and you will not find vacant cabs there. You can get a local cab driver booked in advance from Shillong or Cherrapunjee,to pick you up from Tyrna for your return journey.
From Tyrna you can start your trek to Nongriat. It takes almost 3600 steps to reach Nongriat village.
You will find two suspension bridges in this trek.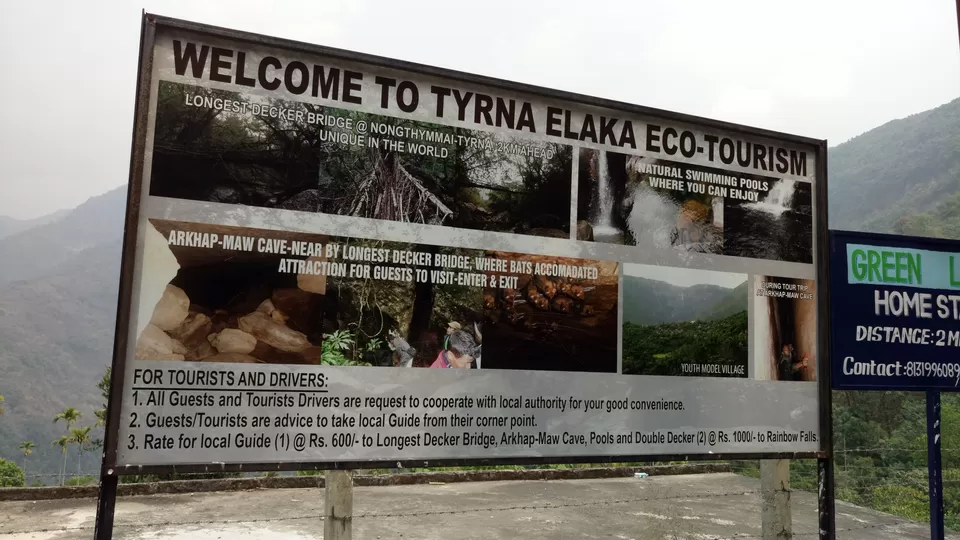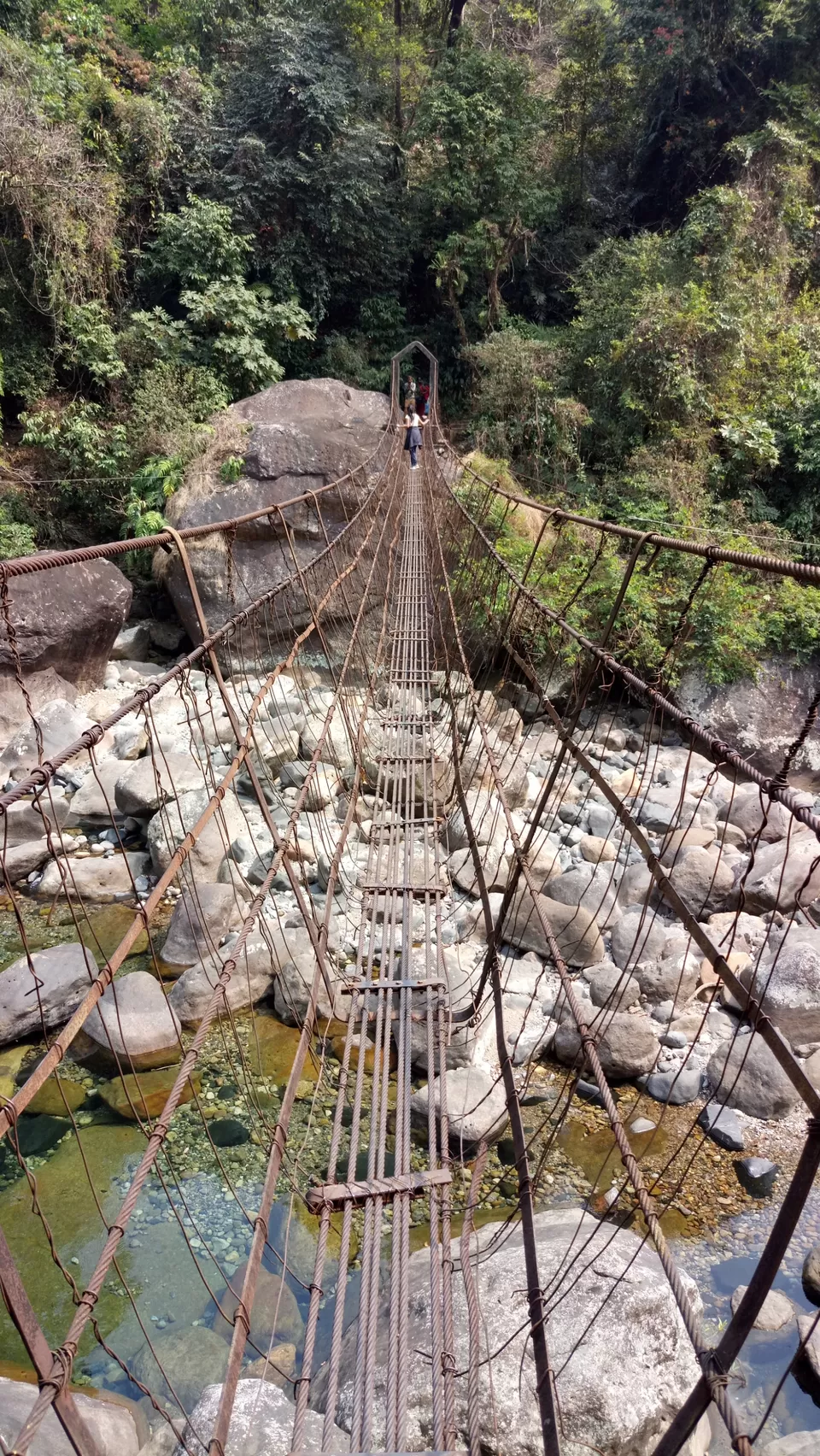 WHY SHOULD YOU VISIT NONGRIAT?
This village is quite isolated and the only way to reach here is through a flight of stairs. Due to which you will find nature at it's best here.
Seldom visited it has an aura of it's own. As it's remotely accessible, you will find very few tourists here. Perfect for those who hate crowd and want to visit places to find peace and serenity. The entire trail is a treat to the eyes.
You will find the famous Double decker root bridges here, overlooking a beautiful waterfall and a natural pool. One of a kind to experience.
The Rainbow waterfall involves some more trekking uphill. But the view is worth it. Beautiful blue waters you can't resist taking a dip into.
You will find plenty of butterflies here some are as big as your palm. Huge bolders, screeching sounds of insects, flowers and fruit trees all throughout the trail. If you come from a big busy city, you will witness a completely opposite life here. Rooted to simplicity and far away from urbanization.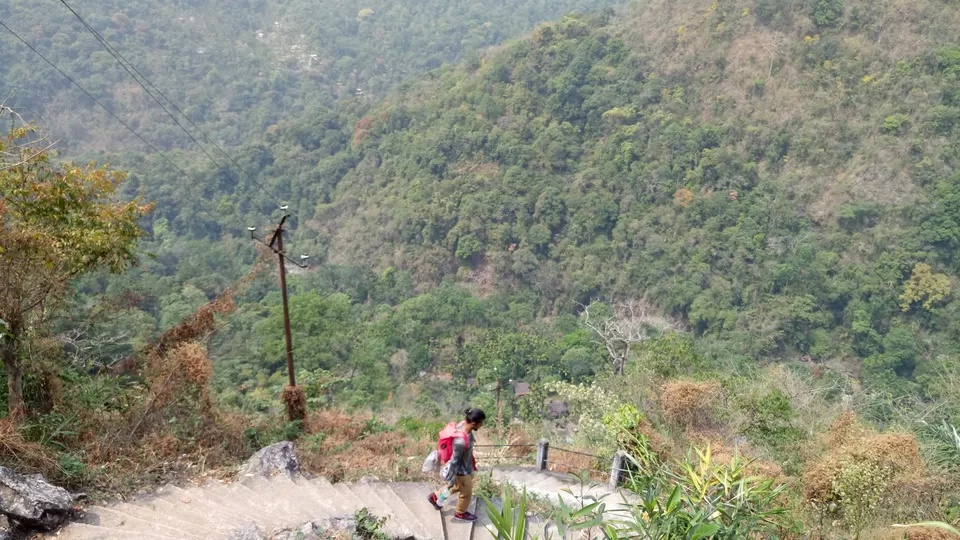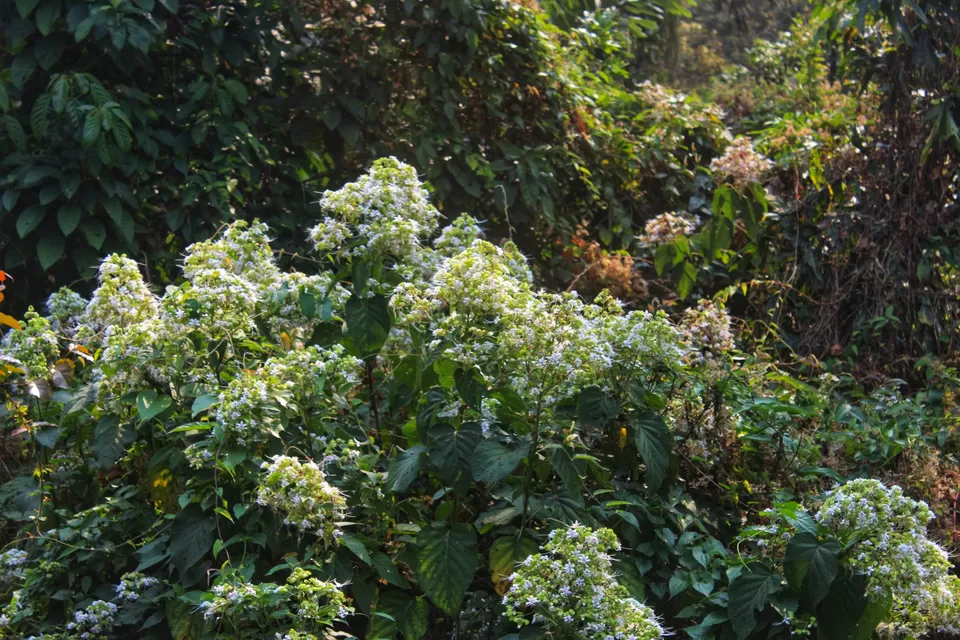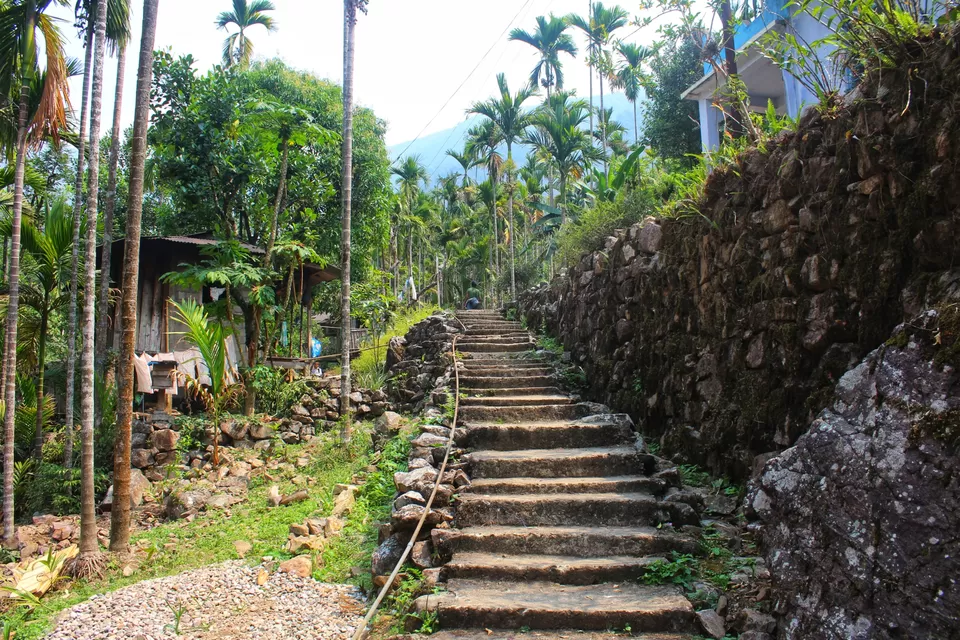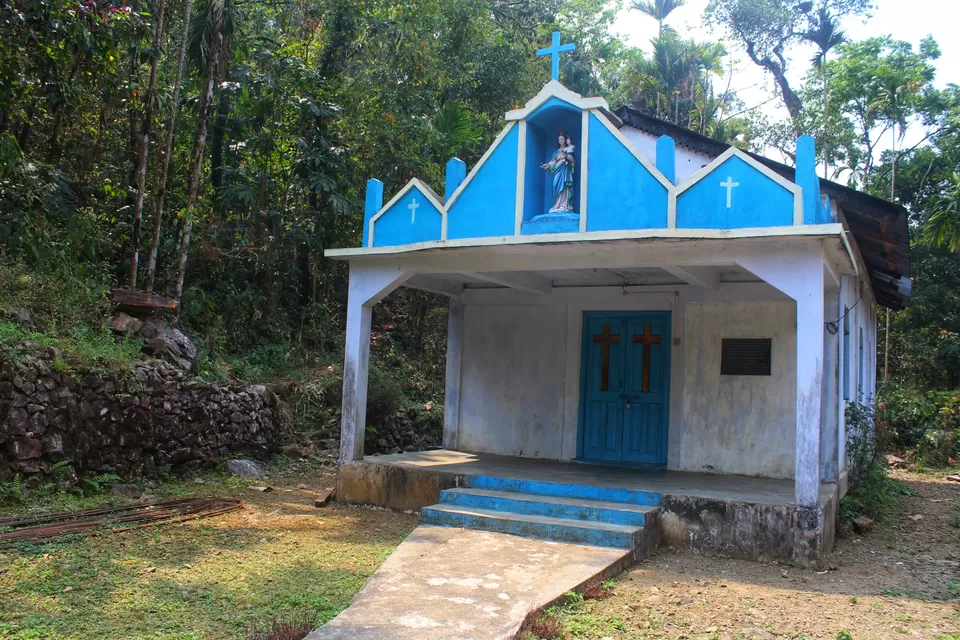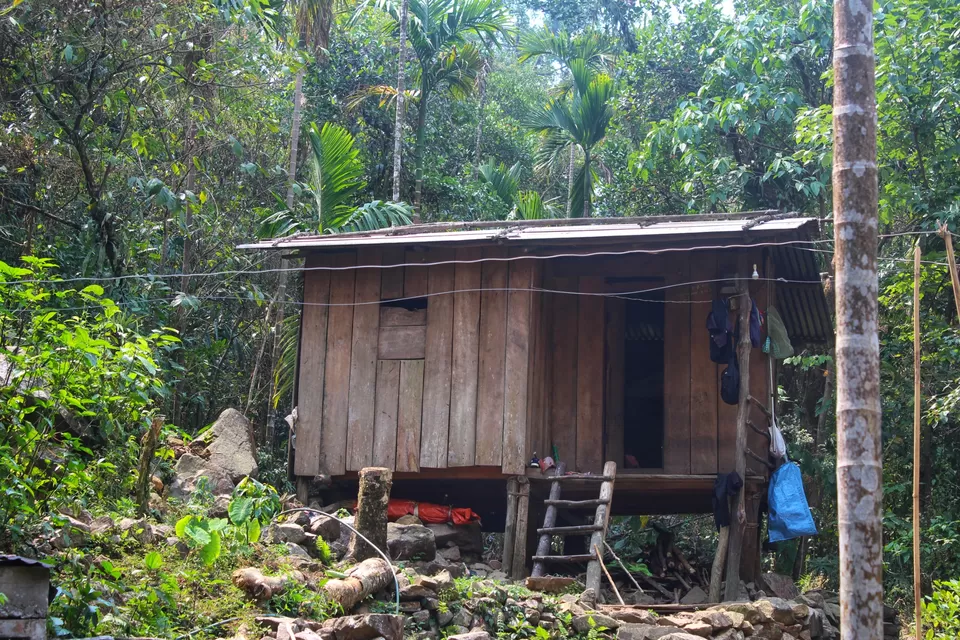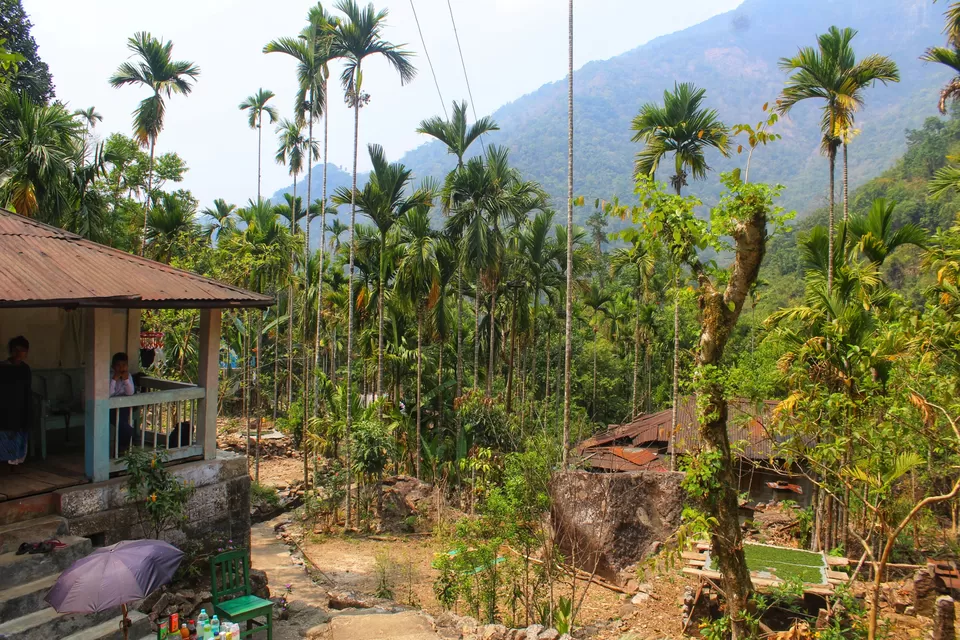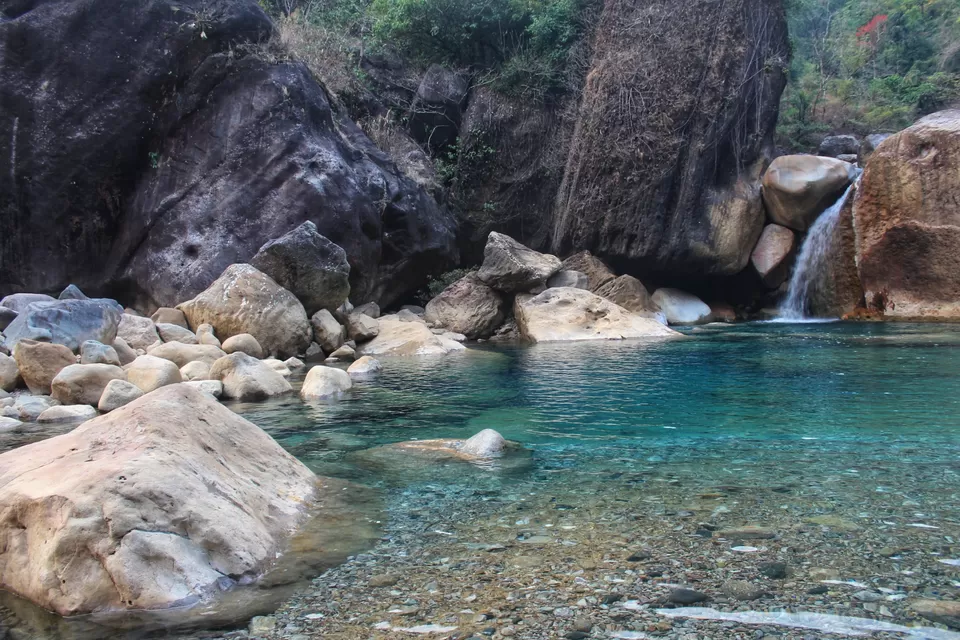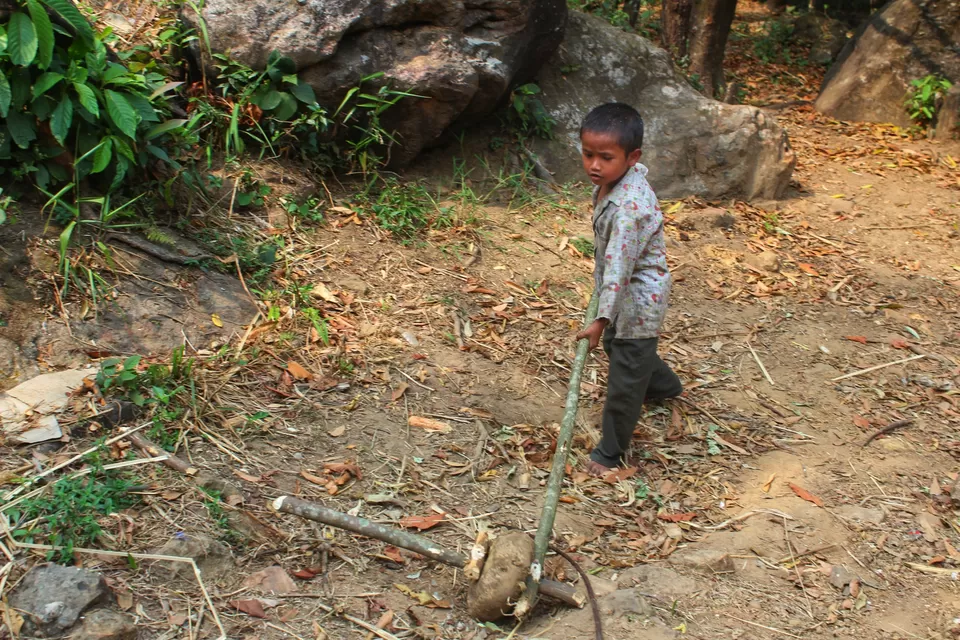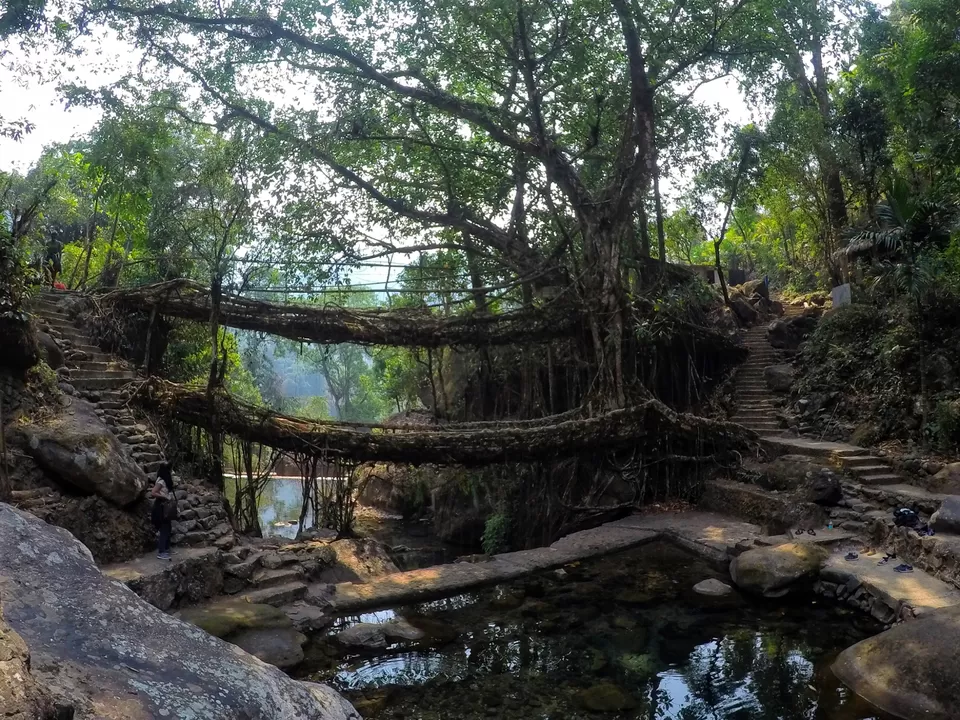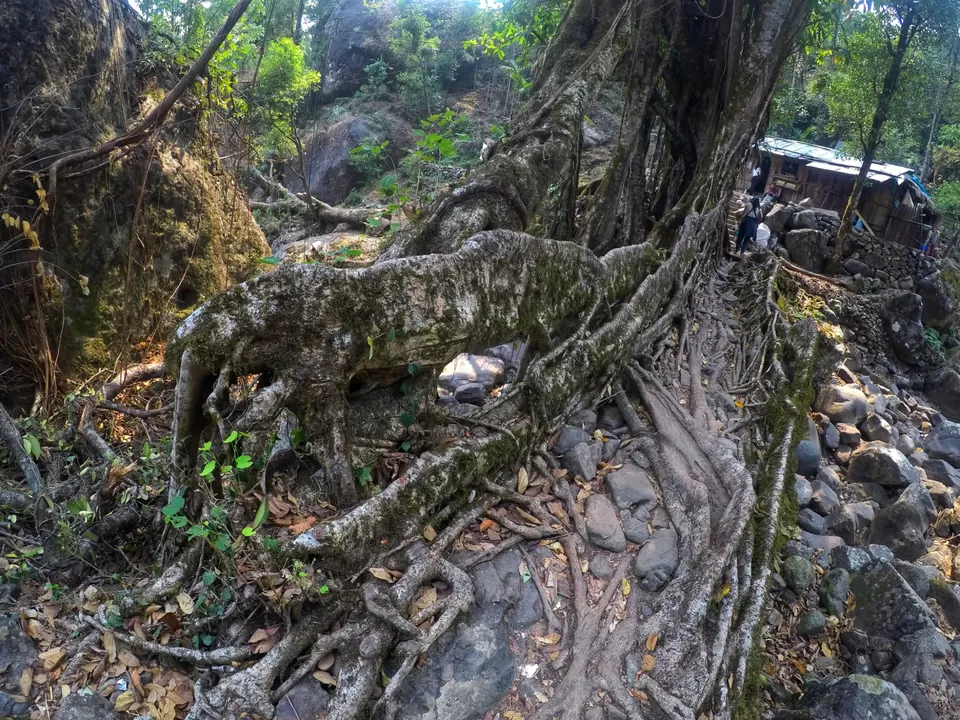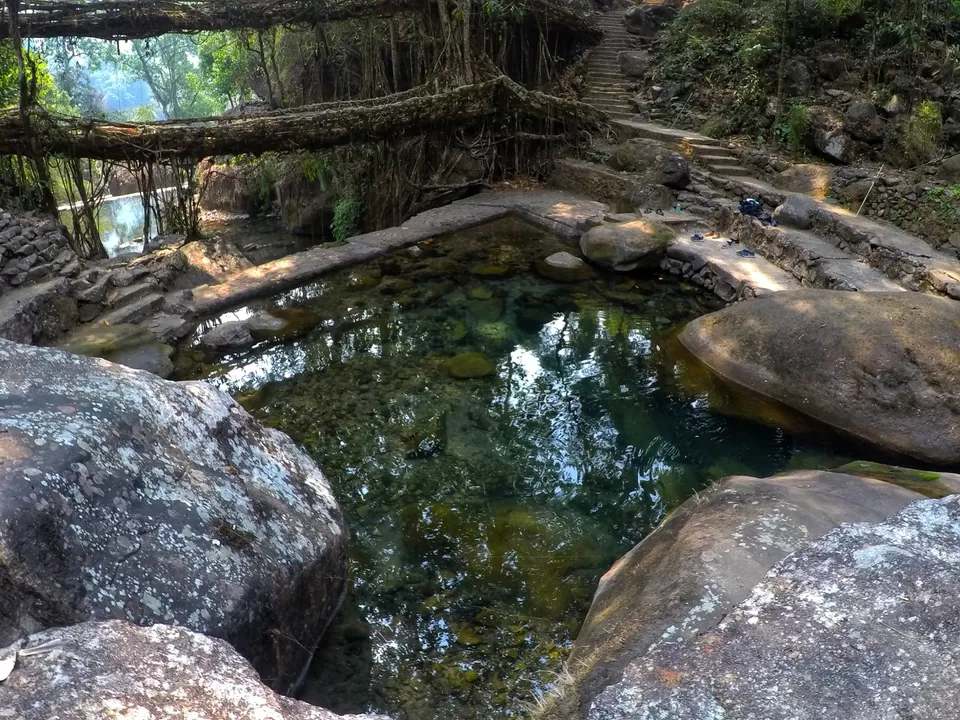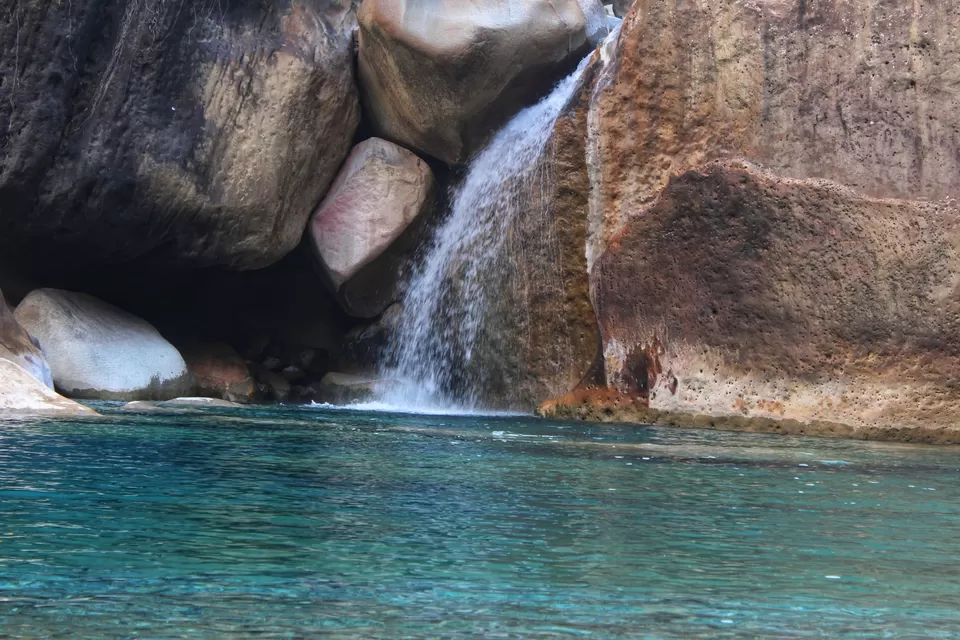 WHERE TO STAY?
Nongriat has two homestays. (Byron's Homestay and Challey's Guests House). Very basic yet clean and comfortable. Do not expect a luxurious stay here as this place is a very simple and does not have all the modern amenities available.
The food here is delicious and generously served. It's a buffet service so you can help yourself with a good satisfying dinner.
I stayed at Challey's Guest House. Room fare was 200Rs per person and dinner was 150 rs per person for non veg/100rs for veg.
You can carry your own tent if you plan to camp here.
LANGUAGES SPOKEN?
Mostly people speak in Khasi here. But some can speak in English also. Nobody knows Hindi here. But sometimes you can hear the local folks calling out Namaste to you. 😁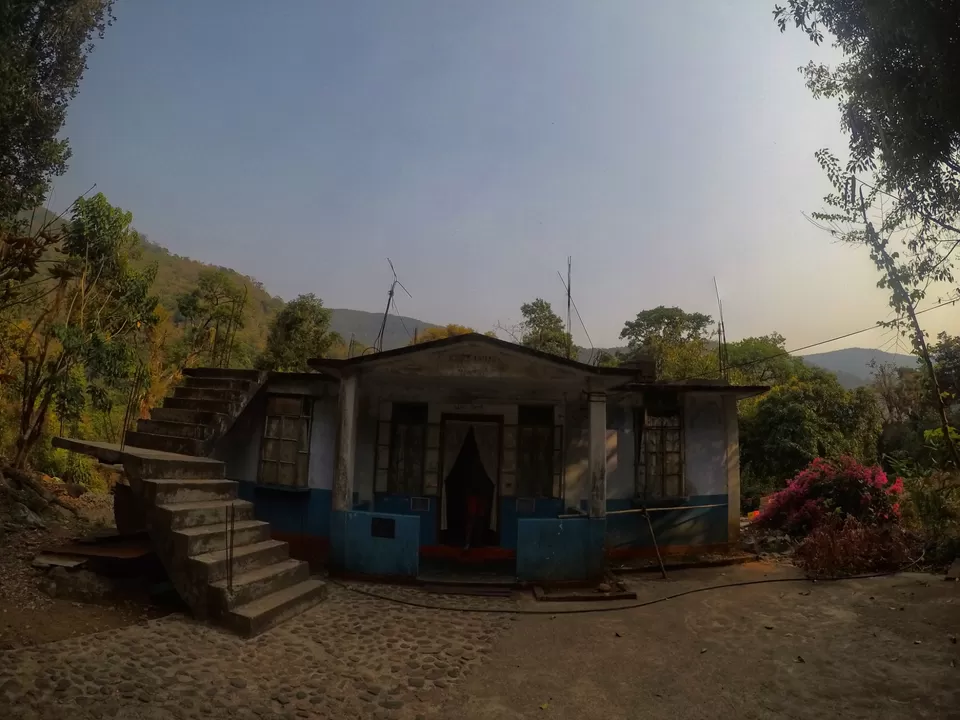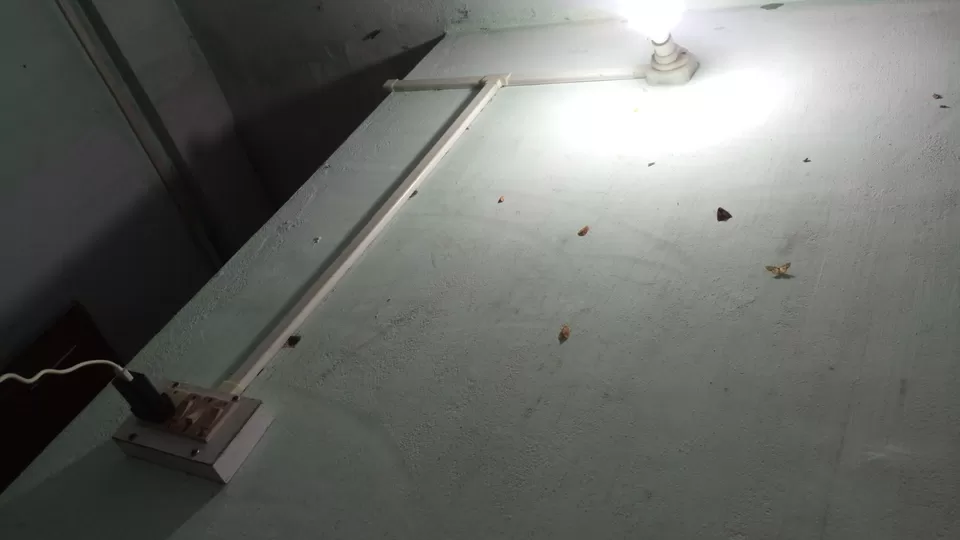 LOCAL FINDINGS?
Do try the lemon juice here. It's a unique taste to experience.
You can buy spices and honey from here. (Those of you who have a similar taste as mine would agree that condiments from different places, taste different, and adds variety to the platter.)
You don't have to buy packaged water here as the tap water itself is the tastiest water you will every taste. Trust me we filled up two large bottles with water for our way back and used it
mindfully.
BEST TIME TO VISIT?
Avoid visiting this place in July as it rains heavily here and the trail can get quite slippery. Also, as this is a village covered by dense trees, you'd fine insects here.
You can visit when it doesn't rain too much so that you can explore well and also find waterfalls all throughout the way.
The beauty of this place is 100 times more in the rainy season.
TIPS
Carry a good mosquito repellent no matter which season you travel in.
Surrounded by trees this place is very cold in winters and rains so carry warm clothes along.
Do not dispose garbage here if possible carry it along with you and dispose it in the city as the locals here do not have proper garbage disposal facilities and they just end up burning the waste.
Do not ask for plastic bags while purchasing things, carry your own bag as the locals do not have carry bags available.
Travel light. Do not carry heavy backpacks as it's a long journey. Weight will just make the experience uncomfortable and stressful.
( Lot of hotels agree to keep your extra luggage in their spare room free of cost while you make a visit to Nongriat)
Carry some dry fruits to help you get energized during your trek.
Carry a medical kit as you won't find medical help here.
You don't need a guide. Directions are mentioned all thorughout the trek.
Some trees here are considered sacred so do not touch or spit.
Though this trek may look stressful, it is not something impossible to do. I myself am not much of a trekker but found this trek less stressful than I imagined it to be. If you make up your mind and have fun all thorughout your trek you would not even know when you complete your journey.
And even if this place includes climbing some odd 3600 steps the view down there is worth it. Some places are worth being so disconnected. Sometimes you need to earn such places. It's like a reward you give yourself when you find it.
Incase your planning your trip to Nongriat, have a wonderful and safe trip!!