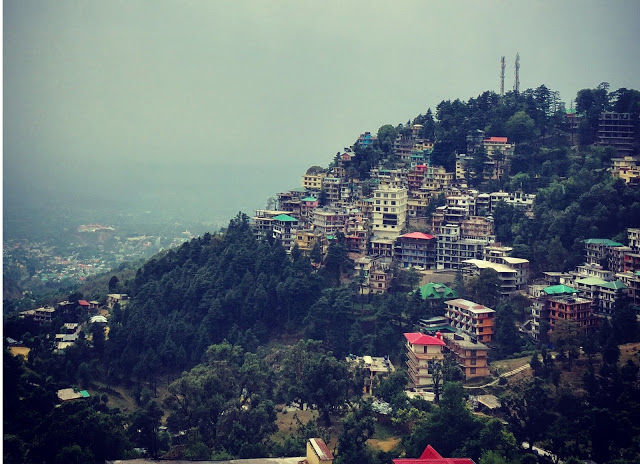 "Its always the same with mountains. Once you have lived with them for any length of time, you belong to them, There is no escape."
These lines from Ruskin Bond's Rain in the Mountains perfectly sum up how we feel about the hills. After exploring holy city of Amritsar my next destination was Mcleod Ganj, hill station at the elevation of 2082 meter (6831 feet) above sea level, situated at Dhauladhar range of hills.
McLeod Ganj, is also known as "Little Lhasa" (Lhasa is administrative capital of Tibet Autonous region of China) because it has become the center for free Tibet movement, Its home to not only H.H. Dalai Lama but largest population of Tibetans outside their homeland.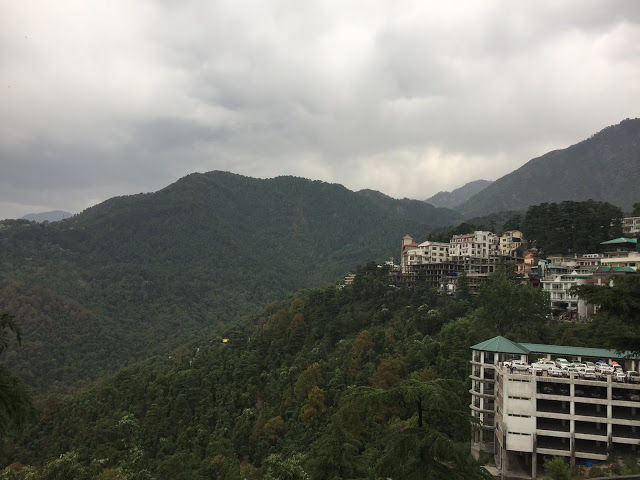 5 hrs bus journey from Amritsar and reached McLeo at 9:30 PM. The hotel I booked was another 4 KM away from hustle & bustle of McLeo in small village of Naddi.
Pls note wherever I am going to talk about distance here in this blog e.g. 1 km, 2 km. Dont think it just few KMs or straight, proper road. Hill area and its mostly either up & down, not only takes time but also give you many heart in the mouth situation, considering the narrow road and gorge at one side of road.
Next morning I was greeted by magnificent view of Dhauladhar range from Balcony of my hotel room. Perfect start of the day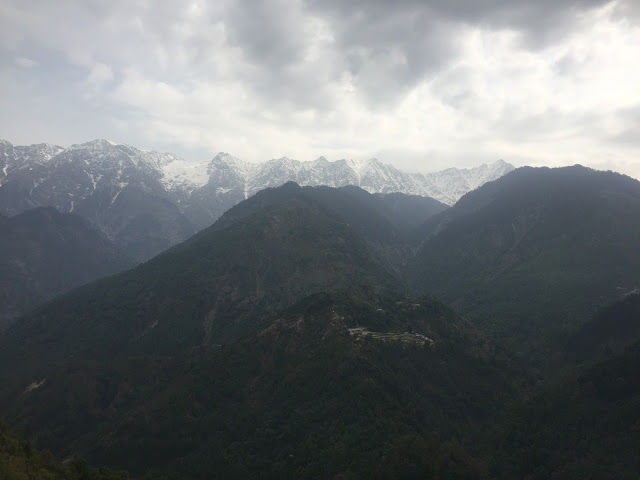 Time to explore the Little Lhasa. From last night taxi ride from McLeo to Naddi (hardly 4 KM, paid 250 Rs) I realized hiring taxi is going to be expensive and when I inquired at hotel reception I came to know that taxi will charge anything from 2000-2500 for covering 4-5 places in Town. There is taxi union and rate is fixed. No one will take less or more than that.
Thats the problem with traveling solo. With 3-4 friend, taxi fare would have been 500-600 per head, which is ok. I was not ready to pay 2000 rs just to cover 4-5 places which are within 6-7 KM in range, my main objective to visit McLeod was trek, walk and be footloose!!
I turned on GPS and started looking out for places I could cover. The first destination was Dal lake , 2 KM from my hotel and then St John Church another 1 KM from Dal Lake. 3 KM walk was not bad idea considering weather was cool, pleasant and I had to walk down hill.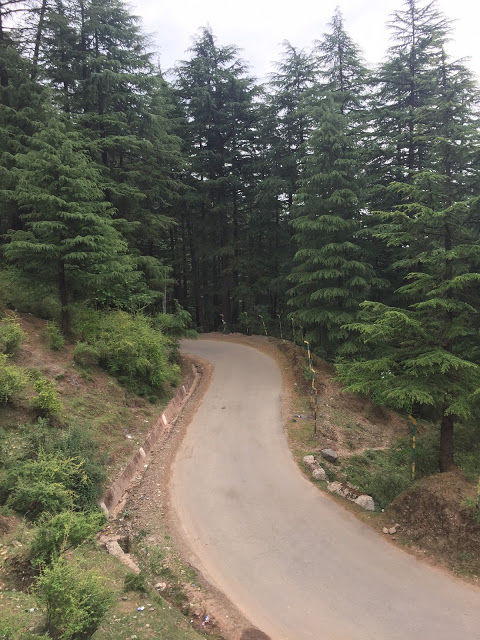 Isn't the roads beautiful?
Dal Lake is scenic picnic spot surrounded by the forests of Cedar. There is also a temple of Mahadev.
I didnt spend much time there, clicked few pictures and continued walking. By the time I also realized that I dont have to follow road always and there were some shortcuts that saves time and made walking easy.
Another 1 km walk to reach St. John Church in wilderness. Before that there is small cemetery (Later I came to know that it contains the graves of many victims of the 1905 earthquake)
Amid tall cedars, St. John in the wilderness is an Anglican Church, built in 1852. Constructed of hand cut local granite, its the one of only buildings in Dharamshala area known to survived the devastating 1905 earthquake.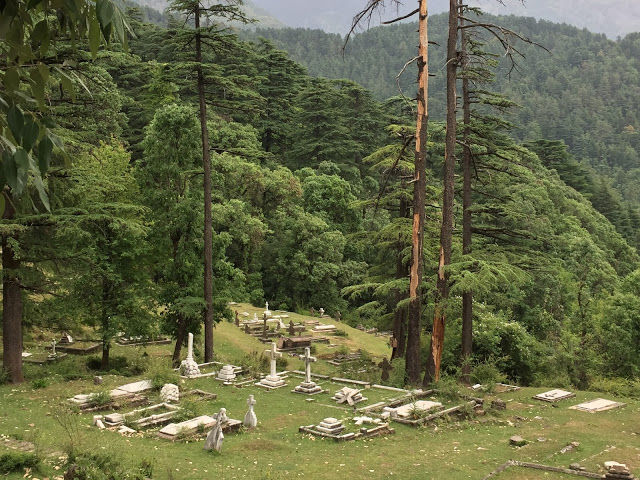 Its Gothic architecture and inside the church Belgian stained-glass windows are beautiful.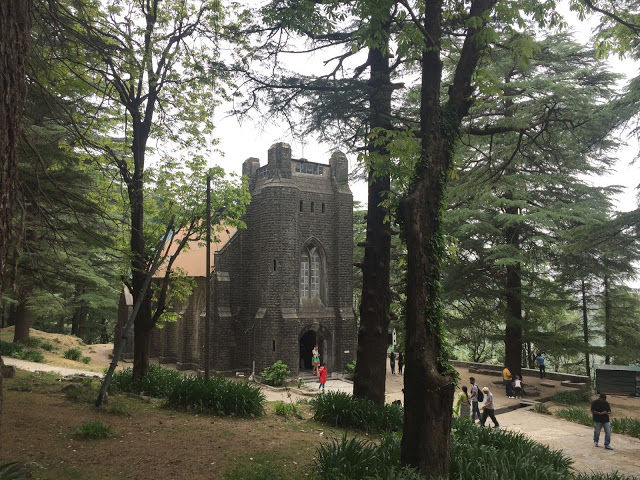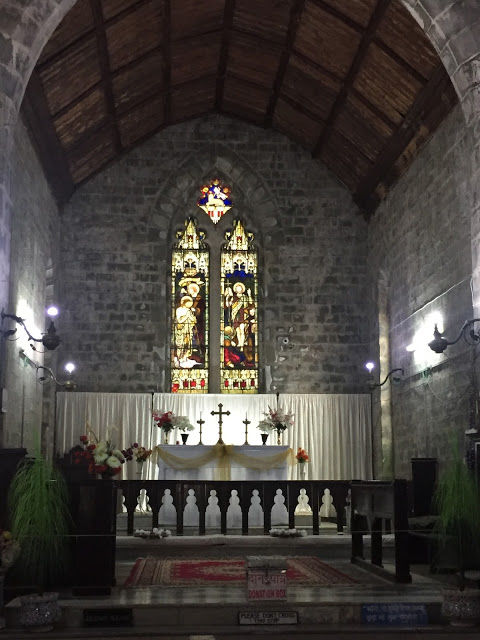 While sipping tea at the small tea stall near church. I started browsing net and map to look for other places to explore. McLeod town was another 1km away.
And there I met one Yoga teacher from Germany who told me that he visit McLeod every year and Its his 6 visits in India. While walking towards the town, he told me how this town was nice, quite 3-4 years back now how its getting commercialized, crowded, full of taxis, buses. And I couldn't agree more as its not just McLeod but many hill stations across India.
Then he told me 3-4 places I could visit, gave me direction to Dalai Lama Temple before we both shook hand and parted away.
The moment you enter Mcleo, things get completely changed. So far it was amble, quite, not many around but now I could see busy streets with monks and tourists. narrow roads mostly one-way, Taxis, bikes honking around.
From McLeod Bus stand, Dalai Lama Temple is hardly 300-400 meter walk. This short walk will also take you through busy Mcleod market and shopping street. Before you reach Dalai Lama Temple, in the middle of busy street, you can see Kalchakra Temple. Its Buddhist temple and must visit because of the paintings and decoration inside. The walls and columns here have many traditional Tibetan Thangka painting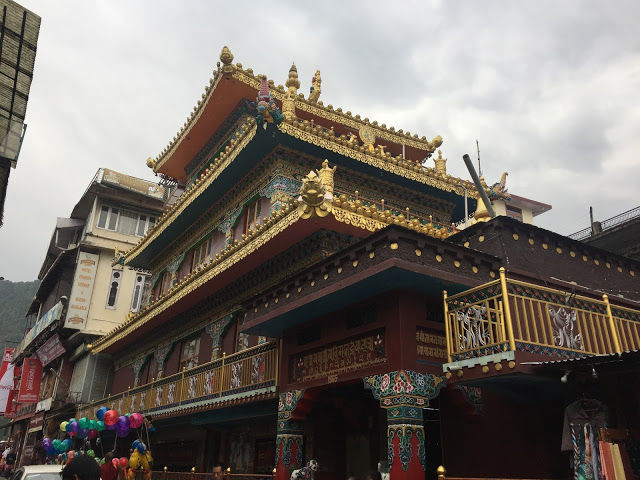 Cursory look at many shopping stalls and admiring magnificent view of town and hills, I reached Dalai Lama Temple
Once you enter through the entry gate, you could see many posters taking about Tibetan leaders, Free Tibet Movement and then a memorial for Tibetan martyrs sacrificed their lives for Free Tibet. In the temple complex there Tibet museum where you can get more information about Free Tibet movement, you must be thinking why large population of Tibetan escaped from Tibet and living in Mcleod? Why Dalai Lama had to flee Tibet and take refugee in India? What China is doing in Tibet? I got all the answer in Tibet museum.
Mandatory security check before you enter the temple, as its also residence of H.H. Dalai Lama.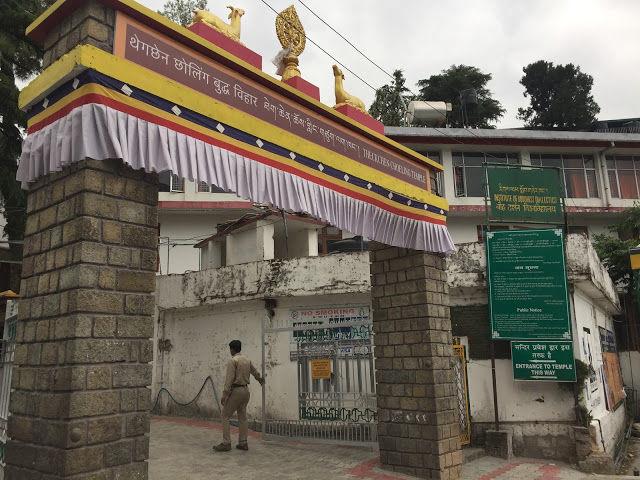 The temple complex is big and also offer superb view of McLeod Ganj town and hill area.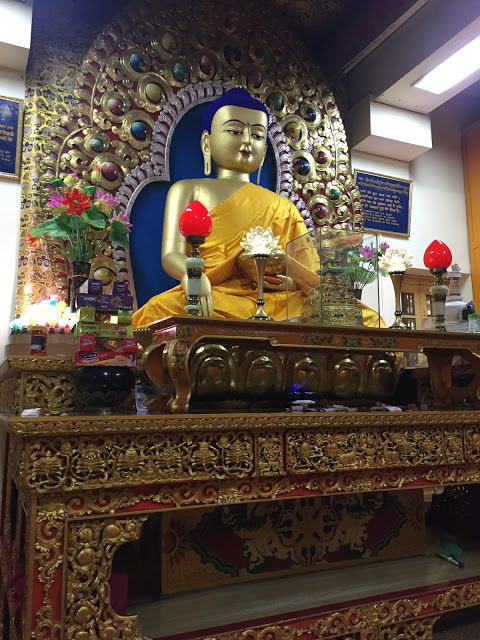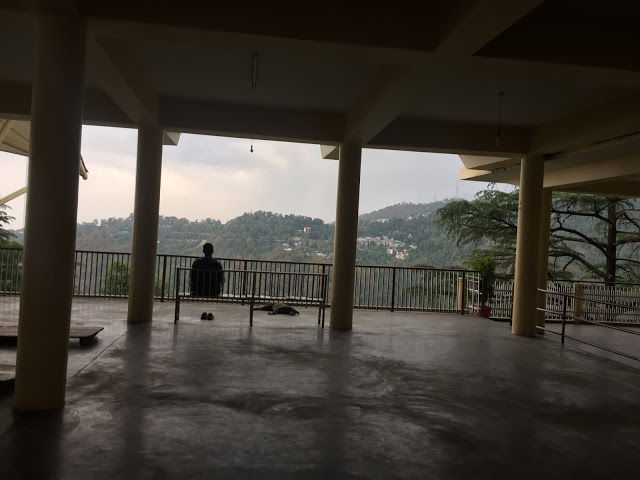 In the main market you could find many restaurant, cafe not only Indian, there are many resto with Japanese, Chinese and Korean cuisine.
I played safe, settled down in small cafe, ordered Masala Tea and Egg Maggi.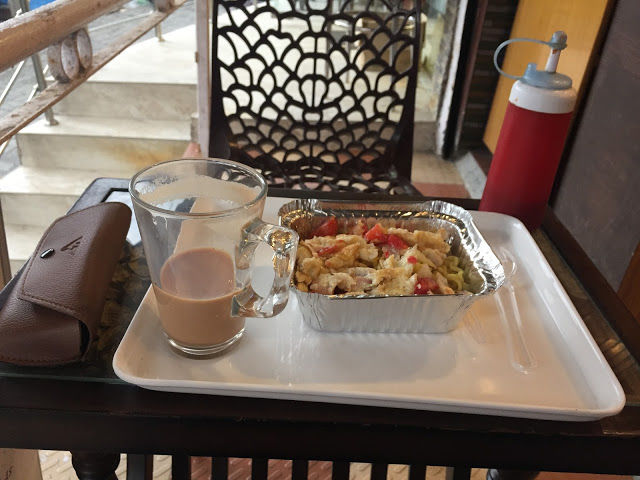 And then it started drizzling, weather was already cold. I didn't mind walking again and next destination was Bhagsu Nag temple and waterfall, 2KM walk from McLeod main square.
The story of this temple is very interesting. Bhagsu was king of Rajasthan. There was once a severe drought in his kingdom. People started leaving his kingdom and the King promised everyone that he will himself search and get water for them. After 3-4 days of searching King Bhagsu reached Nag (Snake) Lake at the 18000 ft in Dhauladhar range of hills. Lake was big, King Bhagsu used trickery and filled the water of lake in to a small vessel (Kamandal in HIndi). By the time it was getting dark and King Bhagsu decided to rest nearby.
When Nag (The Lord of Snake) came to know that their lake is empty, followed the foot marks of King Bhagsu, reached where he was resting. They both had fight and in between the vessel with sacred water fell on the ground, started flowing down. Nag defeated King Bhagsu, badly injured King told Nag that he did this because of drought in his kingdom. Before dying King prayed, requested Nag to do something for their people. Nag accepted King's request and then there was continues rain in his kingdom and provided many water sources. Nag also granted him a boon that this place will be known as BhagsuNag.
After many years one of the local king Dharamchand dreamt that lord Shiva asked him to build a temple in this place. Today it is about more than 5100 years since this temple was built.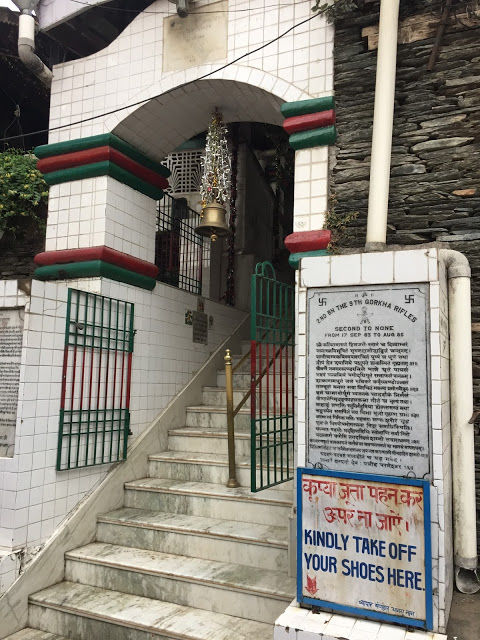 BhagsuNag water fall in behind the temple and place where the fight between Bhagsu & Nag took place.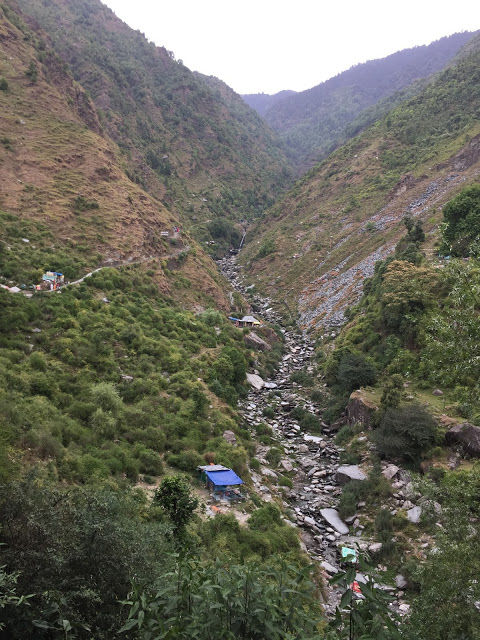 After spending around an hour, I walked back to McLeod town, here I had two options, either to take taxi or walk up hill for 4 km to my hotel at Naddi village. I was ill prepared for the trip, thought its summer and not expecting cold or rain. I bought a jacket in the town and decided to take evening walk back to hotel.
And then real challenge, when I started from hotel in the morning, it was downhill easy walk but now its different.I had to take many pitstop, one of it was Dal lake where I had another cup of tea.
By the time I reached hotel, it was quite dark. I was tired, bit soaked but overall it was nice walk throughout the day
Looking at step counter, I completed more than 27000 steps, walked 17 km and climbed 62 floors. Not bad!! As I said before there is no escape, once you be there, you wish to be part of it. Hills, Cedar, Cool Weather, there are also places beyond natural beauties, its place full of peace and harmony. The perfect way to explore these is to just walk and roam around.