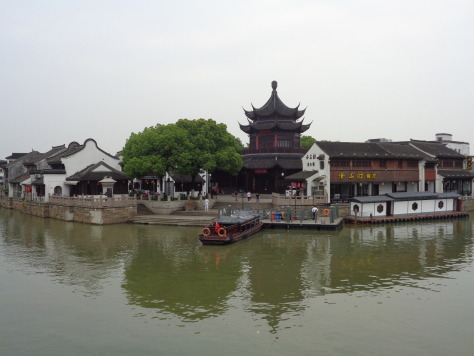 Never had I ever thought I'd visit the ancient city of Suzhou in China, but as luck had it planned, I was asked to make a business trip to represent my company in the Sino-Shanghai (Suzhou) Fintech Expo 2019. I flew a couple of days before the actual conference to ensure I get accustomed to the city before the show day and I'm glad I did because the city was nothing short of beautiful - a perfect amalgamation of modern futuristic China with the old-world charm intact.
Some facts about Suzhou:
Suzhou doesn't have an airport, but it's about 40 mins from Shanghai Railway Station by a bullet train. Despite direct connectivity from most places in China as well, Suzhou is one of the 20 most popular tourist cities in China. Suzhou is known for the ancient Chinese gardens, some of which have been listed in the UNESCO World Heritage sites. Water towns are another popular attraction of Suzhou. It is also referred to as "Venice of the East" The Leaning Tower of China - Also known as the Tiger Hill Pagoda is another famous attraction of Suzhou Suzhou is also known as the "Silk Capital of the world" and is also famous for freshwater pearls.
3-Day Suggested Itinerary
I flew from Singapore to Shanghai Pudong International airport and took a subway to reach Hongqiao Railway Station. While there was no changeover, but this was a long journey (about 1.5 hours). Once you're at the Hongqiao Railway Station, take a high-speed bullet train to Suzhou Railway Station. It'll take about 25 mins to reach Suzhou. Estimated Fare: RMB50 (first class ticket) and RMB33 (for a regular one)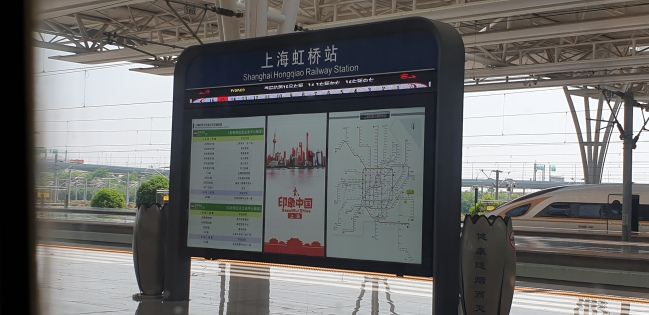 Stay: If you're traveling to sightsee, some neighborhoods I'd suggest staying would be Shantang Street, Guanqian Street or Pingjiang Street. These are quite centrally located, so it'll be easier to navigate.
I started my exploration at the Humble Administrator's Garden. It is a classical Chinese Garden that dates to the 16th century. It is now listed in the UNESCO World Heritage Sites and is known for its exquisite views. If you're a garden person, you should definitely visit this place but even if you aren't, I'd highly recommend taking a stroll here to enjoy its exquisite beauty, artistic value, and historical significance. Opening hours: 7:30 am - 5:00 pm Entry fee: ¥80 (SG$16)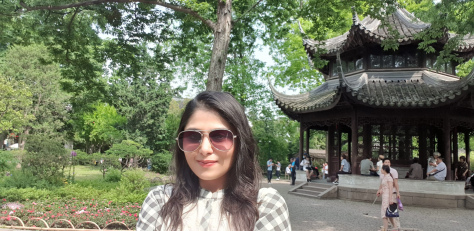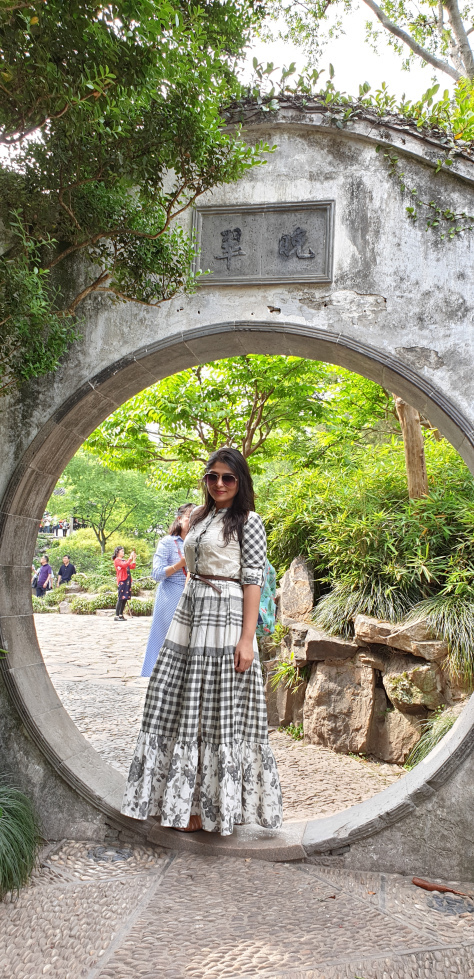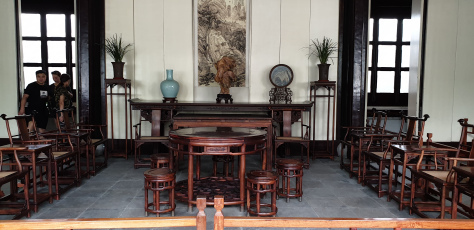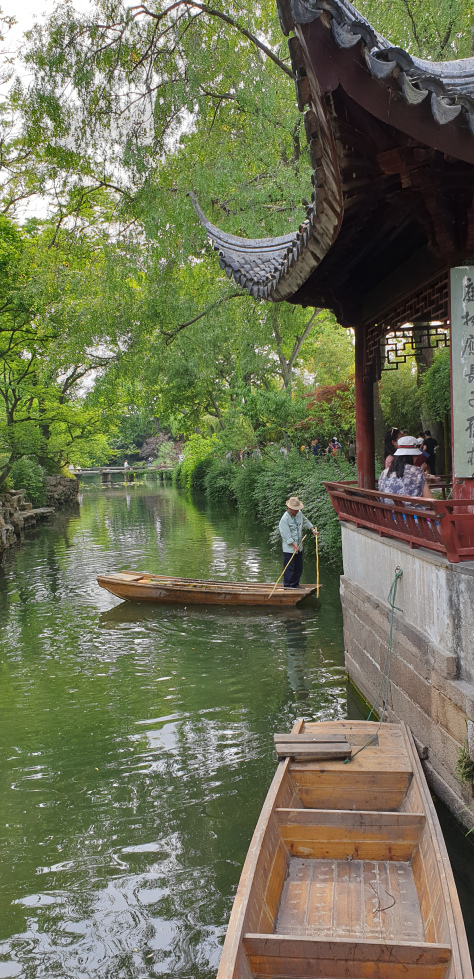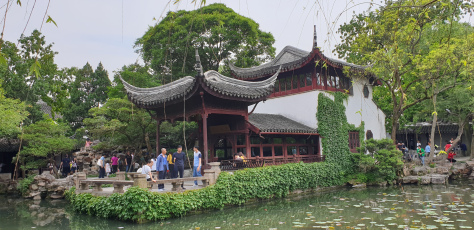 Adjacent to this is the Suzhou Museum is another major tourist attraction, known for its modern Suzhou style architecture. The Humble Administrator Garden's ticket gives you free access to the museum.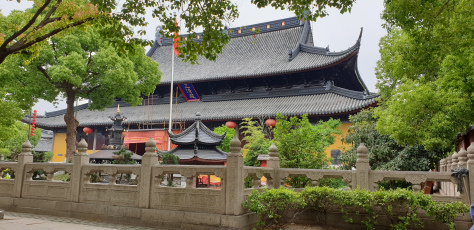 DAY2: SHAN TANG STREET, HUQIU TOWER, AND WEDDING DRESS MARKET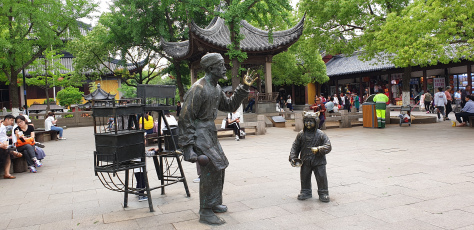 After the museum, I headed to Guanqian Street, the biggest shopping street in Suzhou for both locals and tourists. It is also one of the 4 biggest shopping streets in China and has nearly everything for everyone - from local to international brands. It's a great place to enjoy some delicious food and is perfect for people watching as it reflects the culture of Suzhou. I had my dinner here and retired for the day.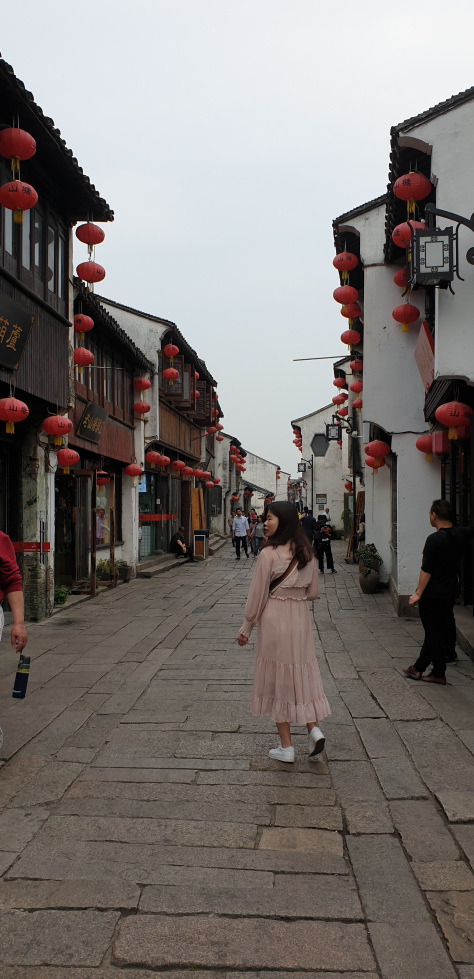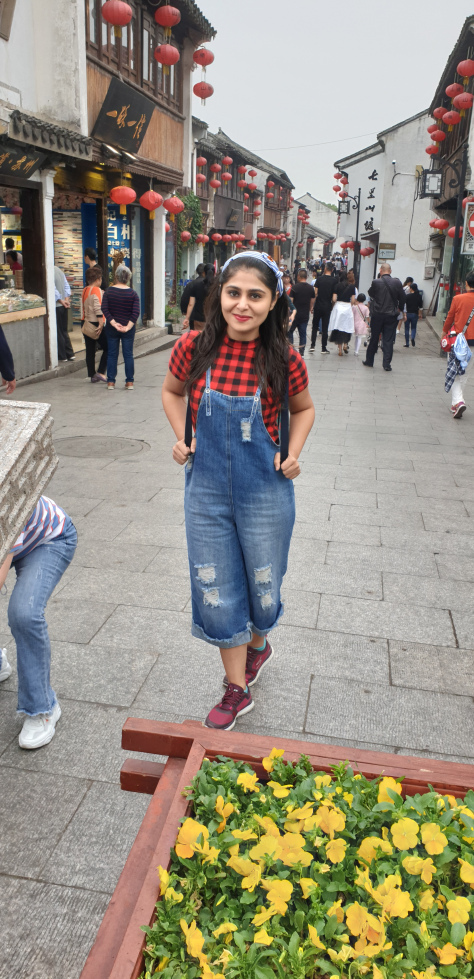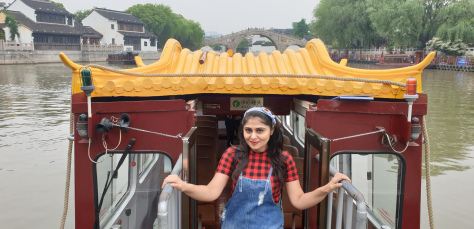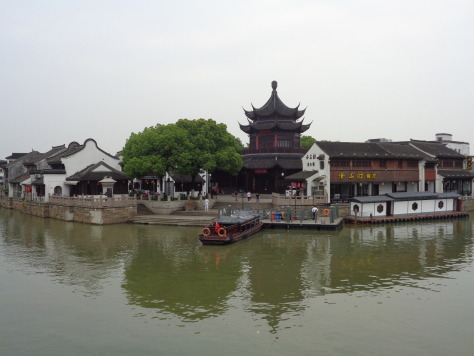 I started my day by taking a stroll on the SHAN TANG OLD STREET. Regarded as the "Miniature of Old Suzhou and Window of old culture", Shantang Old Street is a pedestrian walking street with the canal on one side and restaurants, old tea houses and craft shops on the other. I was amazed to find bakeries and shops here that date back to the 16 th Century and have been following these recipes since then. I also took the Ancient painted boat ride that steers through the canal giving a small slice of a water town in China. It transported me back to Suzhou of 1000 years ago where Wy people lived peacefully by the water. Opening hours: 8:00 am - 9:00 pm Fee for the Boat ride: ¥80 (SG$16) for 40 mins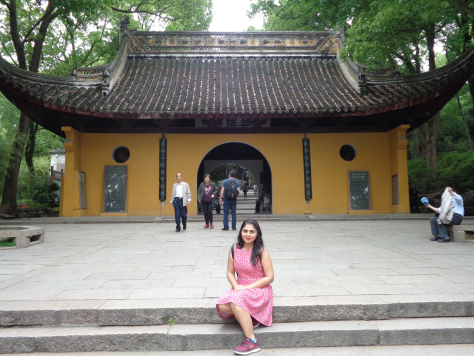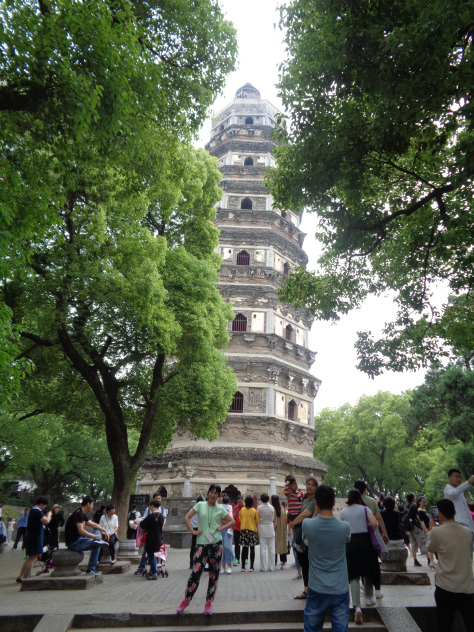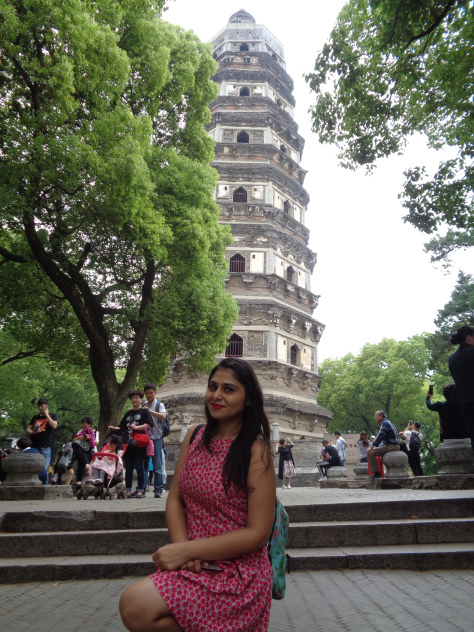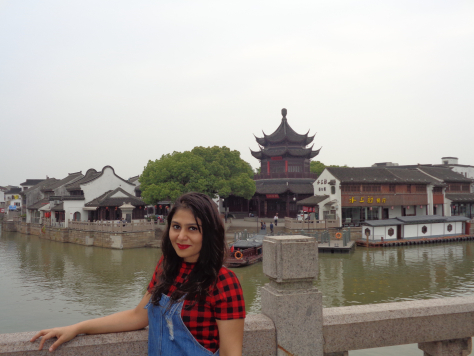 TIGER HILL PAGODA After the boat ride, I took a taxi to reach the Tiger Hill Pagoda. Before even entering the premises of Tiger Hill, you would be able to see a tall structure standing at the top. The Tiger Hill Pagoda is a seven-layer tower that boasts a 47.7 meters height and has started to tilt as time went by, now leaning 3″59 degrees to the northwest, thus it was also given the title 'The Leaning Tower of China.' You can easily spend about a couple of hours in this place as it is away from the hustle bustle of the city and the lush green surroundings calm you down. Entry fee: ¥80 (SG$16) Opening hours: 7:30 am - 5:00 pm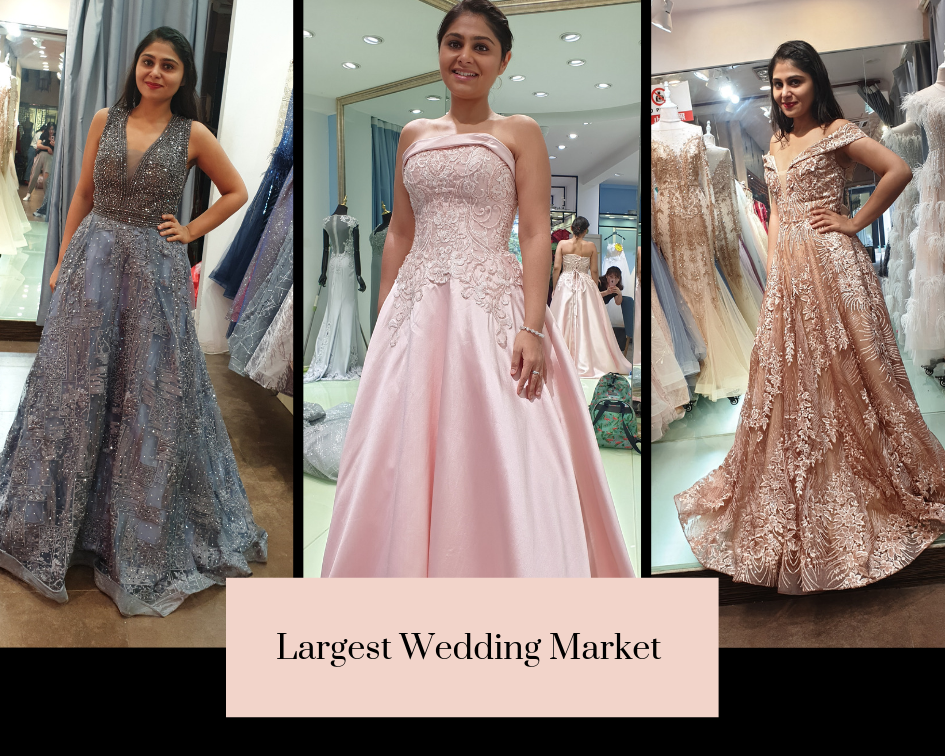 Right at the foothill of the Tiger Hill Pagoda, lies Suzhou's LARGEST WEDDING DRESS MARKET. My trip to Suzhou would have been incomplete without visiting this place. I was like a child in a candy shop. Here you can see silk come to life in a dazzling display of design. So, whether you're looking for a wedding gown, a cocktail dress or simply a traditional Chinese Cheongsam, you will be spoilt for choice here. Cost - Dresses start from ¥300 onwards.
DAY 3: PINGJIANG ROAD AND JINJI LAKE
PINGJIANG ROAD - This is a well-preserved part of Suzhou. This street is lined with bookshops, teahouses, plenty of shops selling traditional Chinese fan, silk handicrafts, etc. Walking along the street, I saw people taking gondola rides down the grand canal singing and humming the Chinese old songs. I also came across a shop that rented traditional Chinese outfits for a day or two; which could be worn before your gondola ride for an Instagram worthy photograph. It is no doubt a touristy street but totally worth a visit.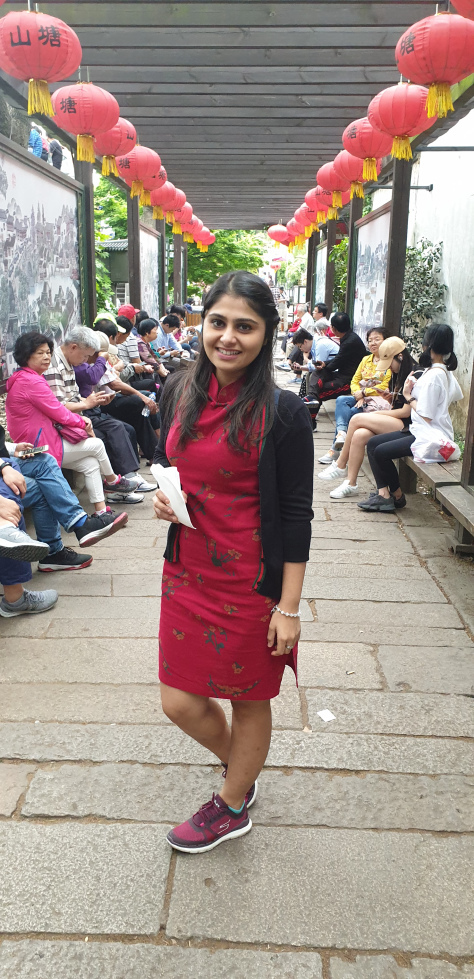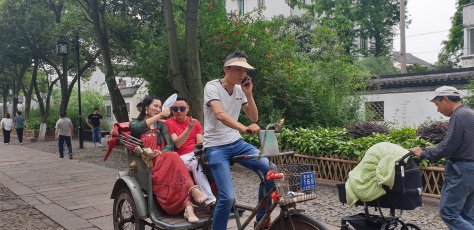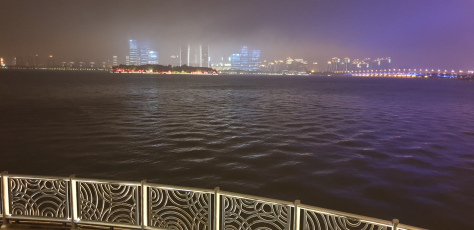 Other suggested places in Suzhou: Some dining options that I loved in Suzhou:
JINJI LAKE - Since I was in Suzhou for work, I was living right next to Jinji lake in the Suzhou Industrial park. This part of the city reflects modern China. Standing at the Lakeshore on Moon Harbor, you can get great views of the huge Ferris Wheel, Hanshan temple and the Gate to the East or the Gate of the Orient. I had dinner at a German place, Meister Brau Biergarten which offers Panoramic views of the Suzhou city skyline from its deck. It wasn't the best day to get the perfect views as it rained that evening, but despite that, the views looked breathtaking.
For more such updates, follow me on Instagram