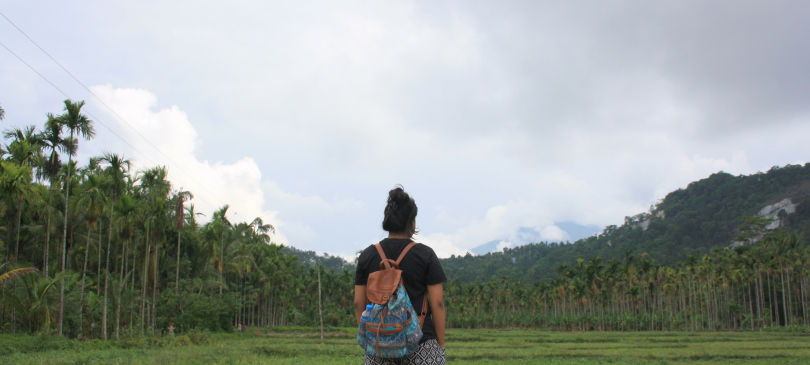 "You kidding, right?" – the first reaction I got when I revealed about my solo traveling plan to people around. After an hour long lecture on women safety and stuff, I managed to convince my family that it wasn't a bad idea after all. While traveling on your own abroad is perceived to be much easier and safer option, an Indian travel experience can be equally rewarding, if done in the right way. I started my experiment on solo travelling by going to Thrikkapetta, Wayanadu for a few days. This trip let me knock off few of my unknown fears, taught me to loosen up a bit more to have better experience of a place. Traveling for me had always been about the marvellous mountains, beautiful flowing rivers or a spectacular sunset, until I discovered this new fascinating way of exploration. Instead of having a fleeting crush on a place, I create an eternal bond by simply discovering what makes that place so special. Engaging with the locals tell me so much more about the place than google. Stories of people gives me inspiration to be thankful for what I have today. When I get home, I have so many stories to tell to my loved ones than just describing about the landscapes.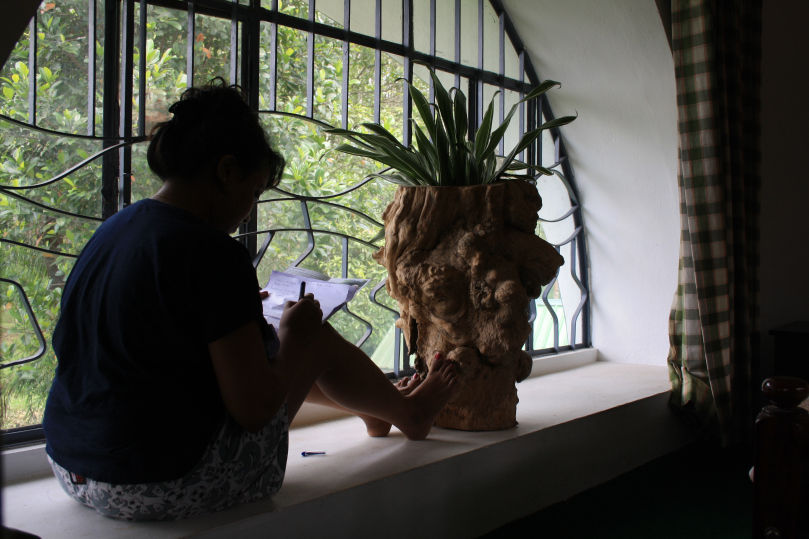 My dairy and pen – two best friends during my solo travel.
Why do I like to travel solo?
Traveling for most of the people is about relaxing and taking time off from routine. For me, going to unknown places has become more of a calling. I have done numerous trips with my family, friends, office colleagues, but none of them had been as fulfilling as a solo trip. Few reasons why I like to travel all by myself: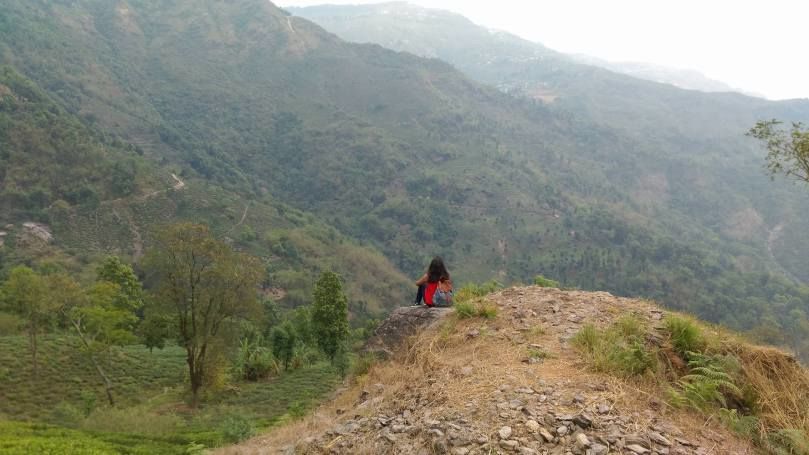 Quiet time at the foothills of Darjeeling
I get to travel the way I like – When you share a trip with someone, you need to divide your time with your fellow travelers. Every plan you make, you need to have constant consensus to arrive at a decision. Sometimes you end up compromising your preferences to keep up the spirit of the group you are travelling with. When you travel alone, you have all the time and decision making power to yourself. I usually plan the day as I like and try to take things at my own pace. It buys me more time to spend with the locals, understand their lifestyle, discover new things to a greater extent.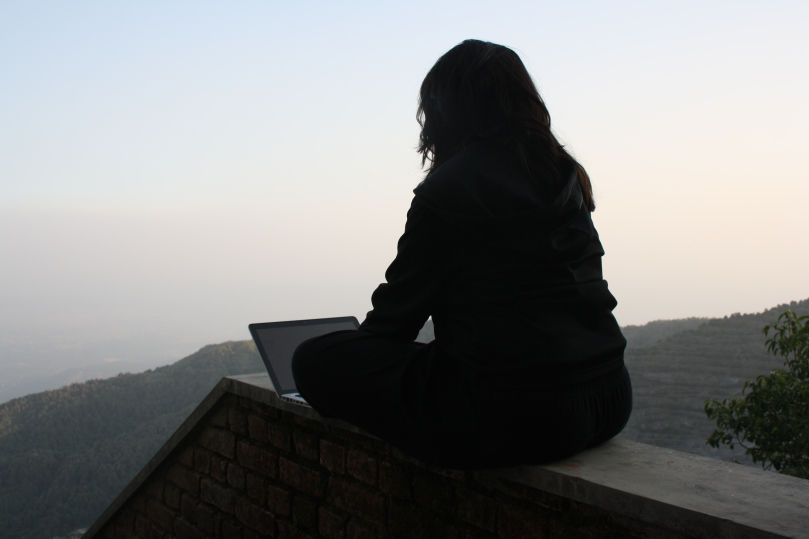 My office desk in the Hills of Mussoori, Uttarakhand
Helps me know myself a little better – I found my fondness for writing after I started travelling alone. The beautiful places and the soul-stirring stories of my fellow countrymen gives me inspiration to pen them down. Another virtue I unravelled during my solo trip is my people/social skills. Talking to strangers had always been a challenge for me. Especially when you are traveling alone, you need to choose the right person to ask your questions. And the next tricky part is starting up the conversation. Initially I struggled to deal with both of this, but now I have learnt the art of talking to strangers. I have prepared a few conversation ice-breakers and follow-up questions to keep the conversation going. It feels easier now to strike a conversation with a stranger.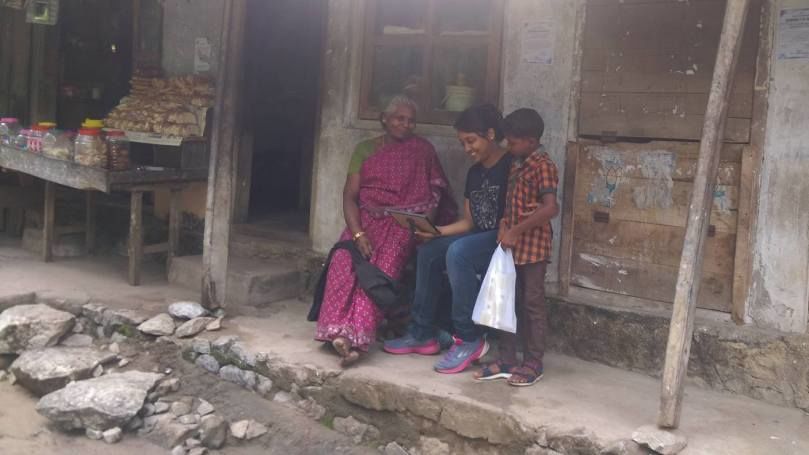 Kariamma, a proud owner of a small teashop in Thrikkapetta, which has been running for more than 17 years. I dropped by her tea stall to have my tea and ended up having a long conversation. Handing over a black and white photo-frame of her family, she started telling about her young days in this Bamboo village.
Broadens my view – After my first solo travel experience, I have permanently rested my stereotypical view on Indian men.
Know that "Not all Indian men are rapists"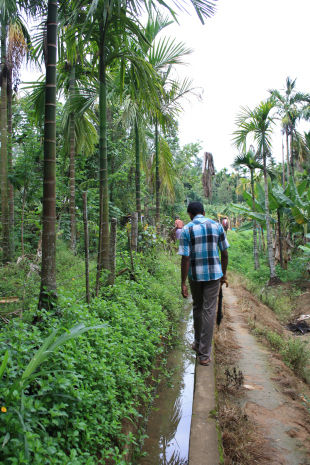 Village walk with Anoop. On the way to the paddy fields of Thrikkapettai, Wayanadu.
One such interesting incident that took place while I was returning back to Bangalore changed my opinion on Indian men. I had to catch a bus at 10.30 PM. I had contacted Mr. Anoop, an auto-driver and a trained tour guide, to drop me at the bus stop. As planned, we arrived half an hour before the estimated time. Anoop's duty was to just drop me at the bus stop and leave for the day. But he noticed that there were only men passengers around. He immediately offered to wait until my bus arrived. Soon, we figured out that the bus was running late by an hour. Though I insisted him to get back home, he did not heed to my instructions but patiently waited. The bus arrived around 12.15 AM, as promised he stayed back until I got into the bus. I was amazed at such a simple act of care from a stranger in an unexpected situation. This pleasant incident helped me broaden my view about my fellow countrymen.