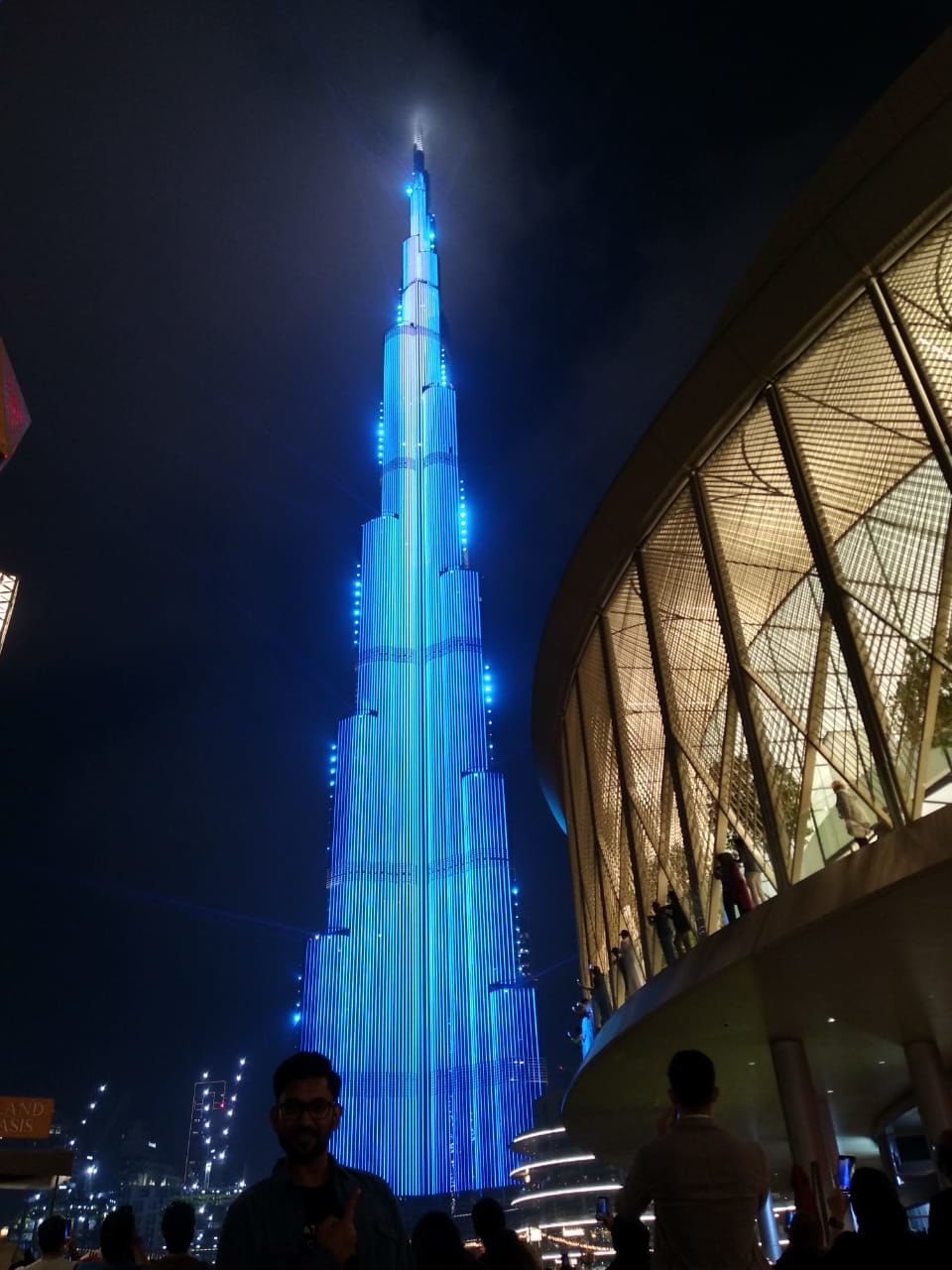 All pumped up for our 1st International family trip with my mother and sister - we were all excited and the major bookings had been done around 40 days prior.
Preparations: The flights - Indigo (17K/person), hotel- Savoy Central Hotel Apartments in Bur Dubai (7K/day with breakfast), Visa (6K/person), Travel Insurance from Religare (400/person), itinerary tickets via Headout app, forex card, clothes all decided based on the weather which was bit on a chillier end this time.
We reached the airport 3 hours before to enjoy the Airport Lounge facility using the Mastercard/Visa/Rupay. The flight duration was 3.5 hours and it fluked.
We reached the hotel around 11 am - a studio apartment comprising of a bigger room with attached kitchen which gives a feeling, freshen up a bit and walked through the streets of "Meena Bazaar" which is the old dubai area. We purchased the local Etisalat SIM from a nearby shop - costing around Rs.900 for whole trip. Dubai has around 40% Indians, 20% Pakistanis, 20% their natives - thus you would find majority Indian shops in this region.
1st thing, we enjoyed the tea at "White Mug" - a small stall in front of the hotel. One can stroll over the streets of Meena Bazaar and purchase dry-fruits, dates, chocolates; 1st copy watches & electronics; apparels, fruits or anything from hypermarket Carrefour which are omnipresent there.
In the evening, we went to "Dhow Cruise" at Dubai creek which was a 10 min drive from hotel - our cruise was a 2-deck "Oberoi" & it was a 1.5 hours show above the sea. One can enjoy the cold breeze, the titanic pose and a calm environment. Don't expect much from the buffet (pathetic and cold food) but the varied performances of Magic show, Egyptian dance, 2 more funny performances were really entertaining. We enjoyed the maggi at the hotel room in night.
(Dhow Cruise - Rs. 1300/person; use Abra Boating service at Dubai creek - Rs. 20/person to reach Deira from Bur - saves time & money)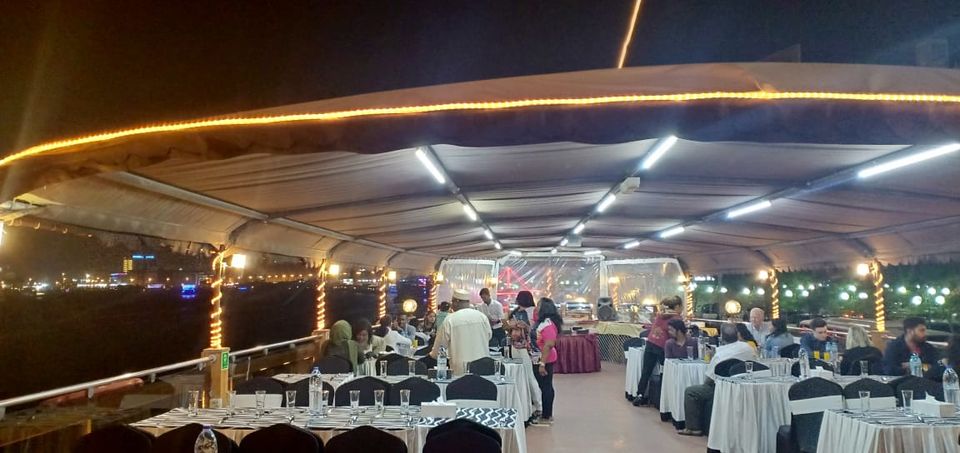 The 2nd day of the tour welcomed us with breakfast buffet and drizzling outside, rain in the desert is amazing experience. We left for "Miracle Garden" - world's biggest flower garden over a desert soil & was around 30 mins far. It would take around 1.5 hours to roam around the place and few eateries for refreshments. The Disney theme will make you remember your childhood days, a perfect place for photography. (Rs. 800/person)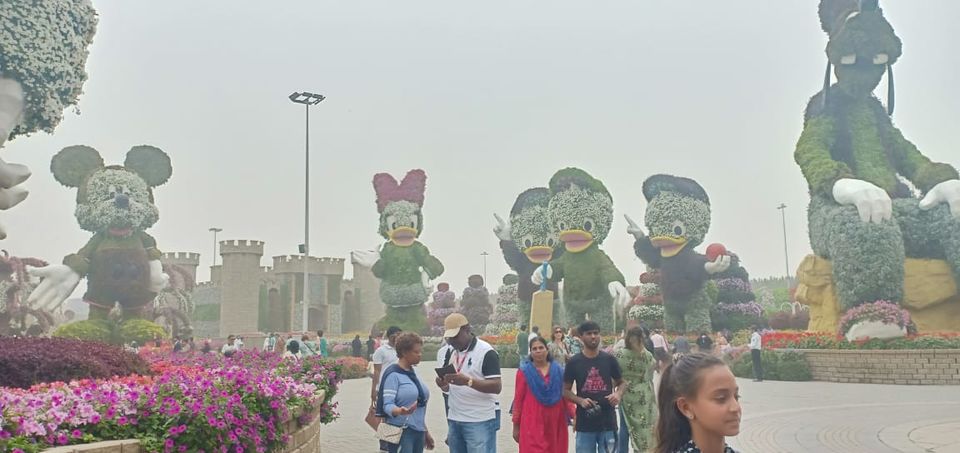 Around 12:30, we returned back to hotel and had our lunch at "The Meating Room" searched over zomato which served us delicious butter chicken.
When in Dubai, you can't miss this --> At 3, we left for Burj Khalifa, Dubai Mall - 125th floor in less than a minute which is a marvel in itself, the fastest lift and the world's tallest building. One can feel the temperature changing compared to ground temp. and the 360 degrees view of the magnificent city while the sunsets is a sight to experience. You can linger at the top for how long you wish, no questions asked. Photos don't do justice to the actual experience. (Rs. 4000/person)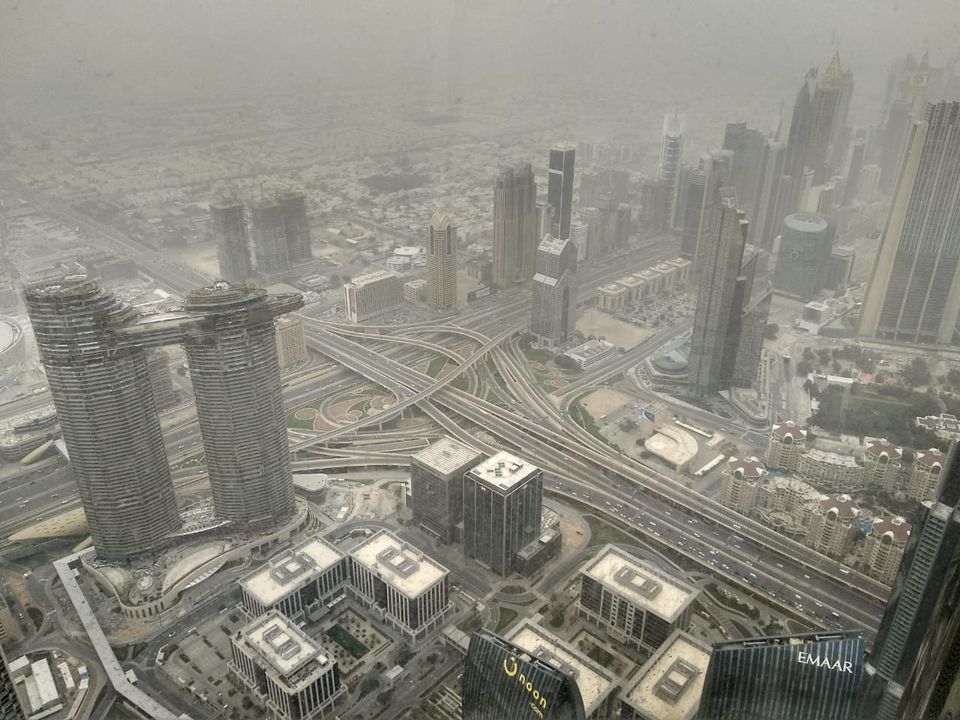 Descend from the clouds, we entered the aquatic realm at the world's largest suspended "Dubai aquarium and Underwater Zoo". Took a stroll around the glass walls of Dubai aquarium that stands between us and 30,000 different species of marine life. It took us 15-20 mins to visit this. The Underwater zoo has a different entry where we explored the unique ecological zones and witnessed the night creatures coming to life. You can watch in awe the Crocodiles, tiger sharks and many endangered species of the ocean. (Rs. 2500/person)
Around 8, walked out of the mall to experience the magnificent "Musical fountain show" with rush gathering in large numbers.
We later did some apparels shopping but the mall is very huge to completely visit it - it has all the big brands of the world, the ski-world, the gold-souk market. We didn't see any security guards in the mall or gold shops, everything is captured via cctv. The food out here was bit expensive.
The 3rd day, we embarked on a 5-hr excursion of "Dubai City Tour" starting at 9 am with our travel guide Mr. Mirza. Reached the "Zabeel Palace" (1) where the King resides & soak in some contemporary architecture built in 19th century at the "Jumeirah Mosque" (2)(for entering the mosque, one needs to file an application before). They will then take you to a Dubai Museum(3) for understanding a brief history of the city; you will meet here a marketing wizard who will make the perfect pitch & will tell you that its their 10th anniversary, horoscope knowledge, 50% discount & would persuade you to buy "Gold Carpets & emeralds". We went to see "Burj Al Arab, a 7-star hotel" (4) from a distance. The hotel has got an individual chef for each room, thus the star rating is 7. We reached "Jumeirah Beach" (5) which had such clean waters & one can do surfing, swimming as per their choice, stunning landscape & scenery, a definite treat for the senses. We roamed through the Palm Islands and been dropped back to hotel at around 1:30. (Rs. 1500/person)
We had our dinner at a famous Pakistani "Ravi Restrau." which offered us shahi mutton, lentils & roti & was a cheaper affair.
We left for a thrilling "Desert Safari" which was like 80 km far deep in the heart of Lahbad desert leaving the city behind (Rs. 1500/person). Before starting the Safari, we did "Quad Biking - 4x4" in the cold winds of desert ourselves. Then, we went into the sand dunes as a roller coaster ride in Land Cruiser & its not that risky as it was heard.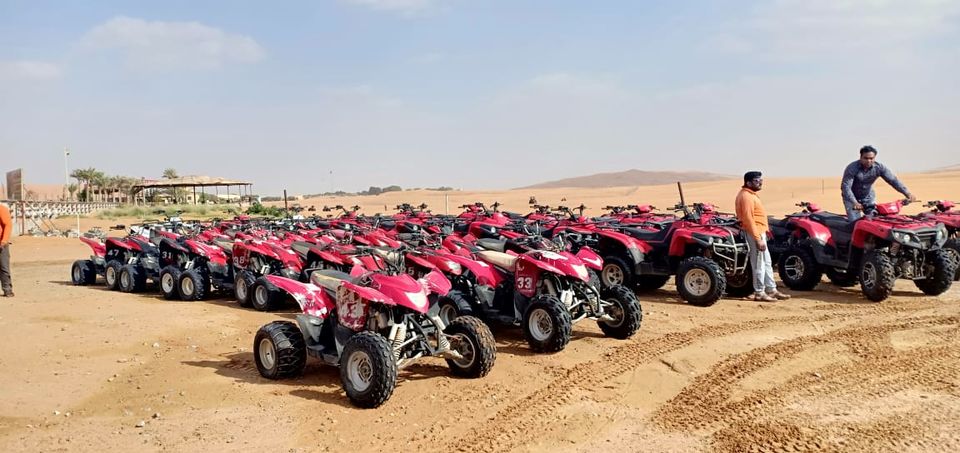 After the ride, we arrived at the traditional camp where we experienced camel ride, aromatic shisha, henna hand painting, tanoura & fire shows, belly dances, buffet dinner, traditional arabic dressing and photo with eagle. Exploring the vast Arabian desert & making the most of the time in Dubai.
(Precautions - they will offer you VIP seats for Rs. 1000 but thats actually a waste for the pathetic food they serve; photo with eagle in Rs. 100 - do this after the show; henna mehndi is non-sense; Quad Bike cost was Rs. 5000 for 2 people/half hr)
The 4th day, wake up to rooftop swimming in the hotel. After breakfast, we left for "Aquaventure Waterpark" inside the Atlantis hotel in Palm Islands. Its the same place where Shahrukh's movie "Happy New Year" got shoot. The place is overflowing with 17 fun-filled hectares of adrenaline-pumping rides & slides which whole family can enjoy.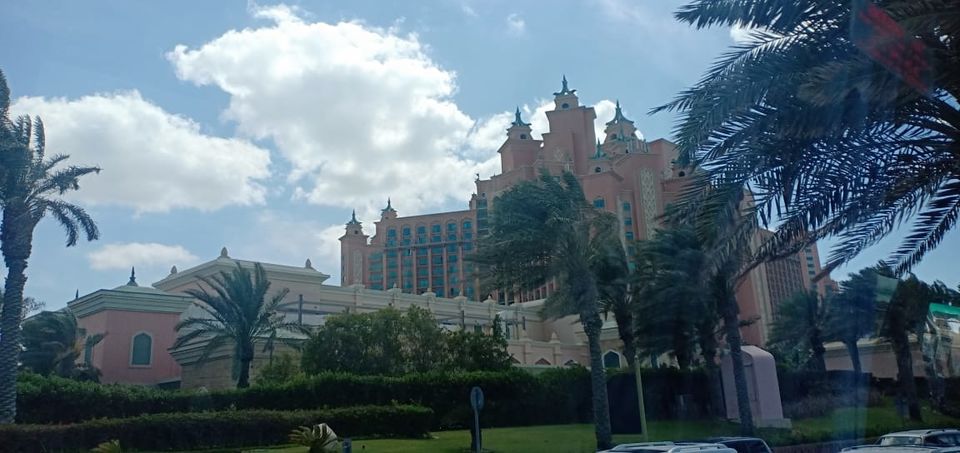 I started with tube rides, slide down the 90-foot Leap of Faith at the Tower of Neptune. We relaxed for sometime by taking a raft & cruise through the Shark tunnel, sitting & posing at the private beach. I must admit, the rides are safe but you can really feel the adrenaline rush out. We then visited the "Lost Chambers" which was a 1 hr walk & quite repetitive as underwater zoo. We went up to the area where you can swim with dolphins & shark rays.
(Apart from regular ticket of Rs. 8000/person --> remember to take Towels as it will cost Rs. 9000/towel, locker - Rs. 9000; No outside food allowed; swim with dolphins & sharks - Rs. 11000 / person)
Around 5, we reached back hotel, left for Deira straight to "Shark Supplements to purchase ON Protein". He offered the bigger packet at around 60% of cost in India for around Rs. 6500. (Don't forget to see the Expiry date). Next we bought souvenirs & perfumes from "Gift Land" . Went to "Gold Souk" - majority shops sell 18 carat here; we then went to "Meena Jewellers" - the 22 carat rate was around Rs. 29,500 with making charge of Rs. 400/carat. But, they had really good designs and authenticity of Dubai.
The last day we have reserved for shopping as we now know quite a bit about the city and the different price range. We went to Carrefour & tried local fruits out of fascination and purchased local dubai t-shirts. Since, it was MahaShivratri, we thought of visiting the temple at the shore but the huge rush made us turn around as it might take us 2-3 hours to do darshan. We purchased saffron, coffee, dates etc.
We had our flight at 6 pm so we reached the airport around 2:30 pm. The 5% VAT on Gold was returned during immigration. "Travel" company sticker should be there on the bills for which you want to redeem back the VAT. The T1 was a small airport there, could not find anything interesting in duty free shops there but purchased date palms. Not much checking at the airport for us being a family I guess. The dream journey ended with sleeping in the flight and arriving around 12.
The most beautiful thing I found there was you get respect while walking down the street from even Audi Q7 guy, no corruption, no security guards required. I can be more than happy to settle in such a country. The few bad things were no one guides/suggests you anything, 1st copy things are still been sold by Indians there who can fool you easily.
Hey friends, don't forget to Like and Follow if it's of help to you, it can motivate me to iterate future trips.
Frequent searches leading to this page:-
places to see in Dubai, Dubai honeymoon packages from India price, Dubai holidays deals December 2020, Dubai trip from Delhi for couples, Dubai travel packages