Dubai, one of the most visited cities in the world, is known for larger than life experiences, some of the world's tallest structures and massive theme parks. However, it is not just a city of superlatives. Dubai, a fishing village, surviving off an oasis in the desert, has now become a destination that has gained popularity with all kinds of travellers around the world. Families, friends and even solo travellers visit Dubai attractions for adventures and celebrations that they can't find anywhere else.
Dubai is the place to be for one-of-a-kind experiences that you will cherish forever. Plan that epic, immersive experience here!
The Best Dubai Attractions
Sunset from Burj Khalifa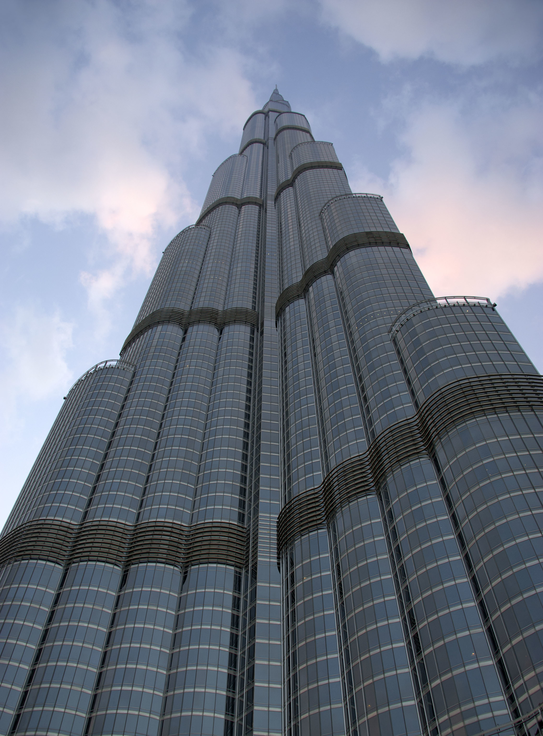 A sunset is beautiful, no matter which part of the world you see it from. However, there is something about seeing the sun set from the tallest building in the world. Burj Khalifa, with 122 floors, provides a spectacularly magical view of the setting sun as well as the entire city of Dubai. The trip to the top is a short one, with the world's fastest double deck elevators, zooming up at 10m/s and the sunset from this height is a sight you can't miss.
Entry fee: AED135/ ₹2,465 for adults and AED100/ ₹1,825 for kids.
Timings: 6.30pm to 1am.
You can know more about the observation deck of Burj Khalifa here.
Swim with the sharks at Dubai Aquarium & Underwater Zoo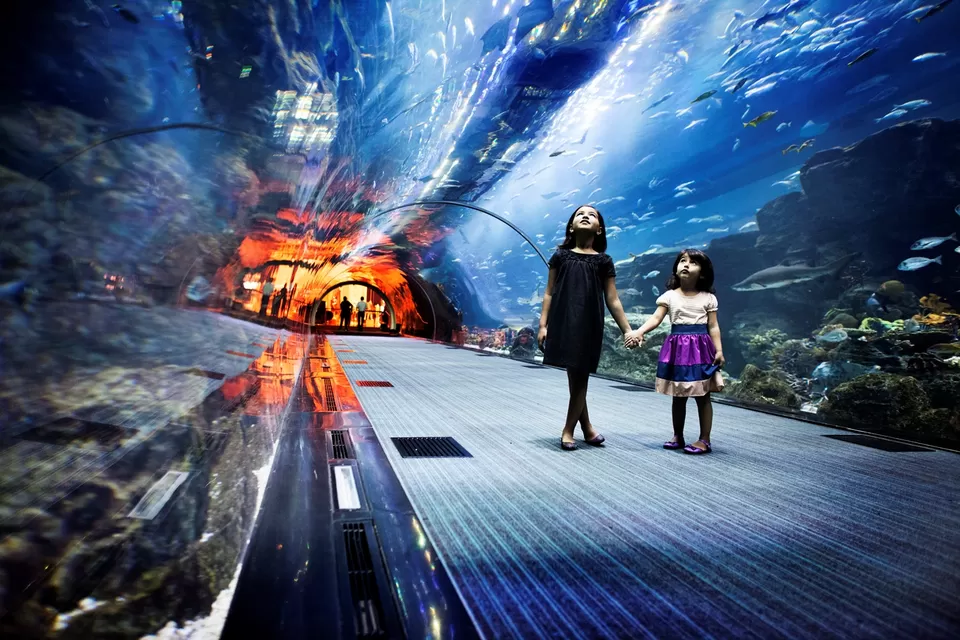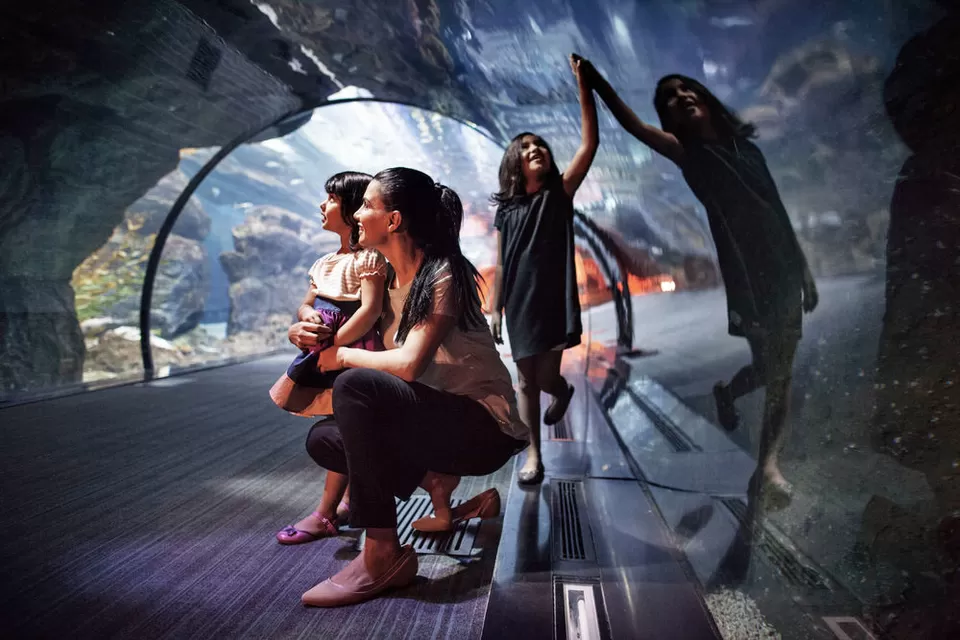 Swimming with sharks is a thrilling adventure that few dare to undertake. However, if you are one of those few daring travellers, then Dubai Mall Aquarium is a perfect destination for you. Home to a ten million litre tank filled with aquatic wildlife, it is a place where you can dive in and swim with majestic predators of the sea. Guided by qualified instructors, three shark dives are held daily, allowing up to four divers in each group to explore the wonders of the underwater world.
Entry fee: AED750/ ₹13,695. You need to be a minimum of 10 years of age for this experience.
Timings: There are three shark dives daily and timings are updated on a regular basis. You need to arrive at least an hour in advance of the dive time.
What are you waiting for? Book yourself a fantastic holiday to Dubai right now.
Chill all day at world's biggest inflatable water park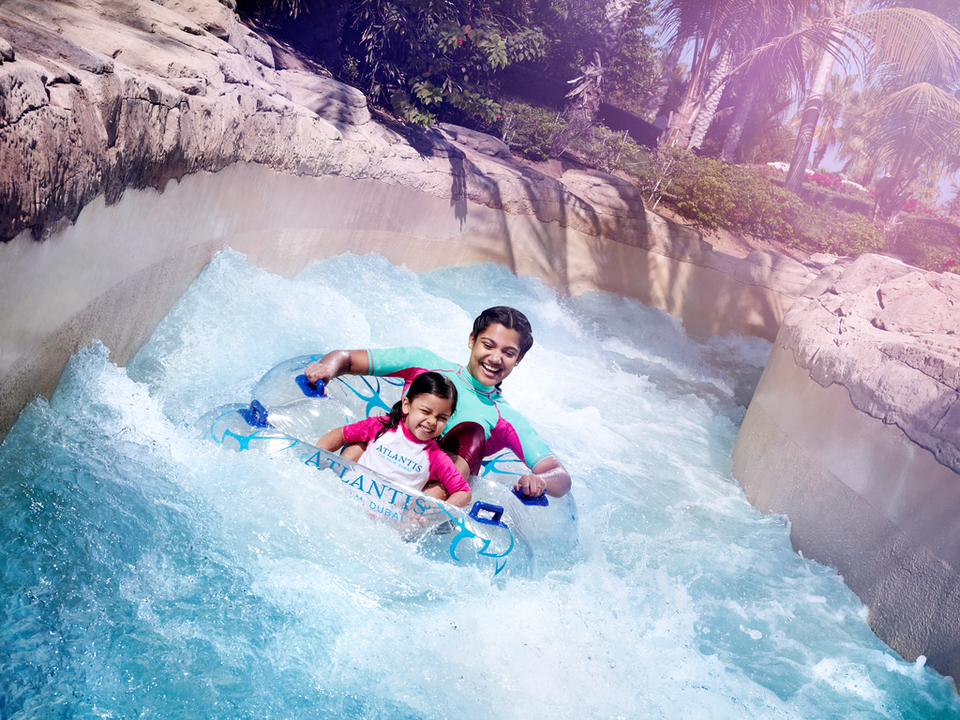 An inflatable water park, yes you read that right. The Middle East's first and biggest inflatable park with the world's longest and highest inflatable water slide and yacht slides, Dubai Aqua Park is one of the most fun Dubai attractions for you to get your adrenaline pumping. It can be seen from the sky and is in the shape of the Dubai Logo. Run, jump, and slide over 74 obstacles, challenge your friends and family and just have the time of your life here!
Entry fee: AED150/ ₹2,740 for adults, AED120/ ₹2,190 for children. However, if you book a group ticket (for a minimum four people, adults and children), it will cost you AED110/ ₹2,008 per person.
Timings: 10am to 6pm
Shop for gold, spices at textiles at Deira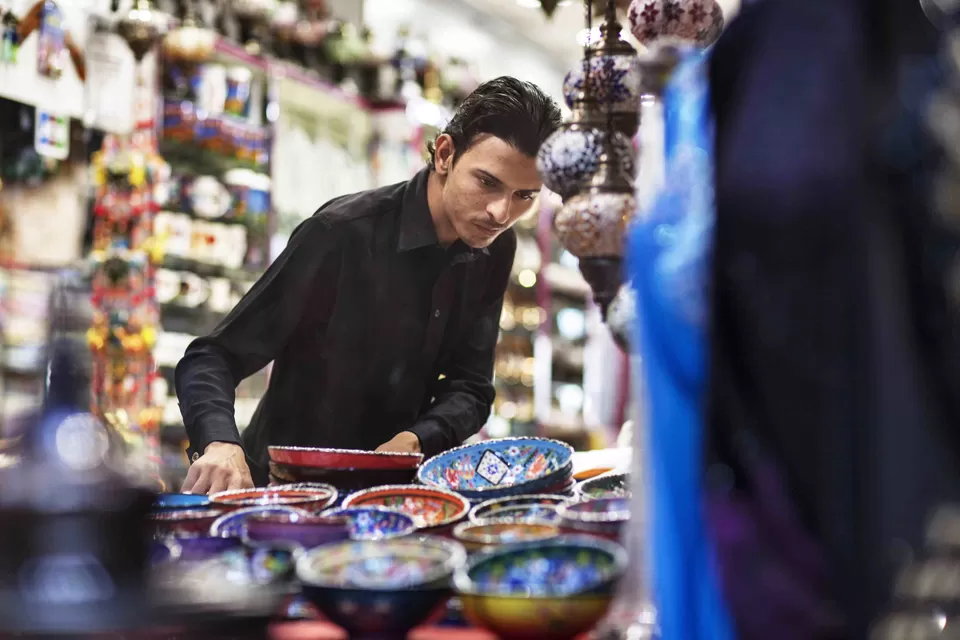 Dubai is known for gold shopping and there are multiple kiosks spread across the city selling gold jewellery for, both, men and women. However, the souks in Deira are known for much more than just gold shopping. Here you can shop for spices and textiles as well. Beautifully embroidered and richly coloured garments shine from stores and the air is permeated with various aromas as you pass through spice souks. These are lined up symmetrically and are known for selling the best produce in Dubai. But this is also the place where you easily shop for beautiful pashminas and exotic souvenirs, at dirt cheap prices. How? The trick is haggling! Bargaining is the accepted norm here and if you are good at it, you can score some authentic and quality merchandise at half the price.
Timings: Opening hours for the souks are 8am (some open by 9am and gold souks open by 10am) to 10pm Saturday to Thursday (but many stores close between 1 pm and 4 pm). Timings on Fridays are 4 pm to 10 pm.
Go snowboarding and meet with the penguins, in a desert!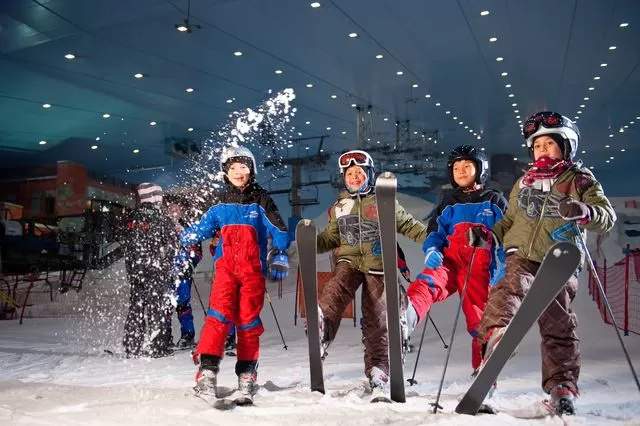 Keeping true to its reputation of being an enchanting place, only in Dubai can you go for indoor skiing and snowboarding. Ski Dubai, Snow Park is a breathtaking 3,000 square metre, real snow wonderland. Here you can ski, snowboard, meet snow penguins and also experience the world's first sub-zero zip line.
Entry fee: Skiing and snowboarding cost around AED515/ ₹9,402 per person and snow bullet (sub-zero zip line) costs AED175/ ₹3,195 per person.
Timings: Sunday to Wednesday, 10am to 11pm. 10am to 12 midnight on Thursdays. 9am to 12 midnight on Fridays and 9am to 11pm on Saturdays.
There are three different experiences with penguins that you can choose from.
Swimming with penguins:
This experience includes underwater viewing, up-close and personal play, a training session with your new peng-friend, memories of your encounter, a souvenir from your peng-friend, and free hot chocolate.
Entry fee: AED1,390/ ₹25,377 per person
Timings: Every Wednesday at 4 pm.
Meeting with the penguins:
This experience includes underwater viewing, meeting up with two snow penguins, and photo opportunity of the same.
Entry fee: AED255/ ₹4,655 per person
Timings: All days during park hours
Exclusive encounter with penguins for up to four people:
This experience includes exclusive and unique up-close and personal interaction with these remarkable birds. Underwater viewing, meeting up to 14 snow penguins, a picture of your encounter and free hot chocolate.
Entry fee: AED545/ ₹9,950 per person
Timings: All days during park hours
Explore the world's largest indoor theme park
IMG Worlds Of Adventure is the world's largest indoor theme park that offers about 1.5 million square feet of exhilarating fun and adrenaline, divided into four "epic zones". Marvel park has rides based on your favourite superheroes, from The Hulk to Spiderman. Lost Valley is a prehistoric lost world of dinosaurs roaring back to life with a bang. Cartoon Network is for those who wish to surround themselves with a healthy dose of nostalgia. From interactive attractions, to vast retail outlets and a wide selection of dining options – the central zone of the park is aptly named IMG Boulevard and promises hours of endless excitement.
Entry Fees: Adults – AED245/ ₹4,275; Under 1.2m in height (junior) – AED225/ ₹3,925; Children (under 1.05m in height) – Free; Senior citizens (over age of 60) – AED150/ ₹2,620; Guests with disabilities – Free
Timings: Sunday to Wednesday – 11am to 9pm; Thursday to Saturday – 11am to 10pm
Celebrate with an electric underground music scene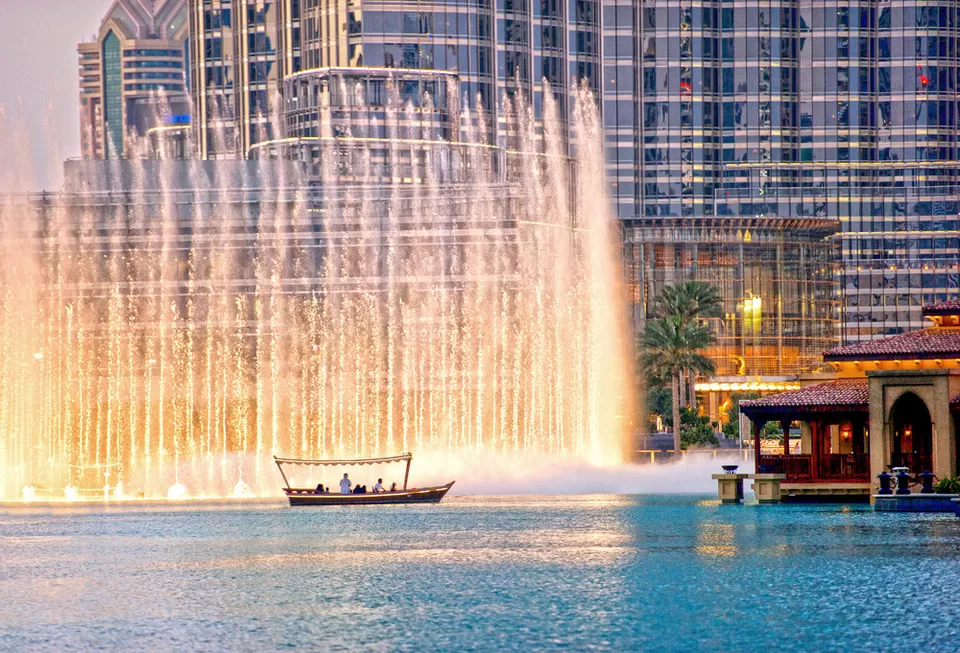 Dubai is a city where fancy nightclubs and beach parties are as popular as the underground music scene. Other than the touristy Dubai attractions, these parties are the best way to discover new music, local artists and understand what makes the locals' foot tap. Some of the best clubs to enjoy Dubai's underground music are:
Frequent searches leading to this page:-
Dubai packages with atlantis, Dubai honeymoon package cost, top Dubai tour packages with price, best Dubai tour packages for couple with price, best Dubai tour packages with price from Delhi

Decibel DxB, in Media One Hotel, is an amazing, low-key club where many new artists perform regularly and some of the more globally known musicians test out their new music. It is known for crazy parties every Thursday.
Deep house music sets, a unique atmosphere, raw talent and a killer sound system make Coma, at JW Marriott Marquis, one of the most sought after places on a Saturday evening. The parties here are on till 3am and this is known amongst locals as the best place for an after-party.
Analog Room, in Westin Hotel, is the place known for putting the spotlight on homegrown talent. One of the best electronic music venues in Dubai, Analog Room knows how to party hard every weekend.
Secret Circle, at Media One Hotel, is as mysterious as its name. Parties here include local and regional DJs, and the crowd is very eclectic. Rock, EDM, Jazz, all kinds of music plays here and the place has earned a name for being the locals' favourite place to end a weekday.
To plan your Dubai trip, click here!
Have you had an unforgettable experience at these Dubai attractions? Share your story on Tripoto and help a community of 25 million travellers plan their next great vacation.
In association of ezeego1.
Frequent searches leading to this page:-
Dubai tour packages from Delhi, Dubai tour package from India, Dubai tour package from Mumbai, Dubai tour packages from Ahmadabad, India Dubai tour packages, Dubai tour packages for family, Dubai tour packages for couples