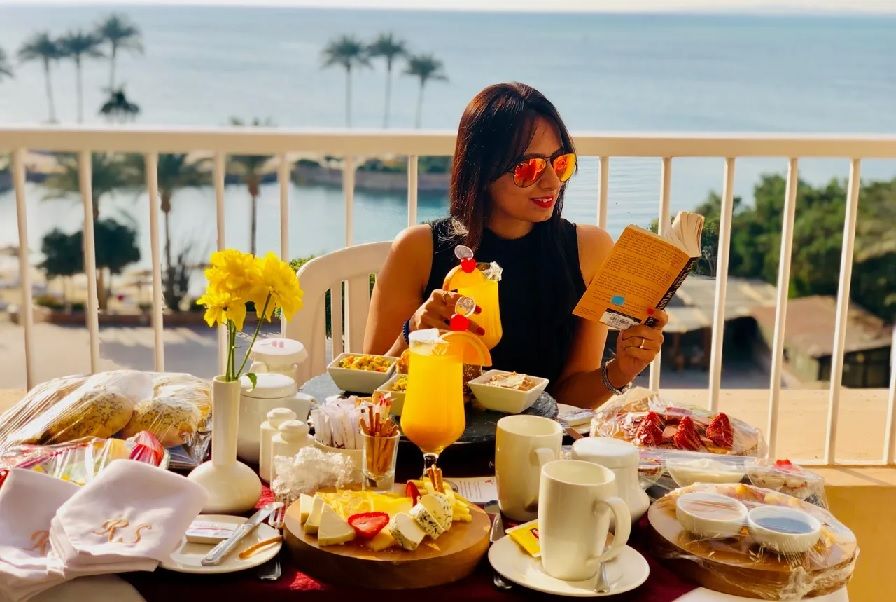 What comes to your mind first when you talk about Egypt?? We are sure its either the Egyptian Pyramids or the buried Mummies but did you guys ever think of having a relaxing beach vacation in Egypt!! Egypt has so many beautiful resorts along the untouched coast of Red Sea - be it Sharm -El-Sheikh or Hurghada or Ain Sokhna. We decided to go to Hurghada and stayed in one of the most beautiful properties in Egypt- Hurghada Mariott Beach Resort, this property is so serene with its own private island and clear water beach, not to forget the great hospitality it offers. The best part about the resort is that it offers the luxury you need at very pocket friendly rates, and we recommend all our readers to stay here.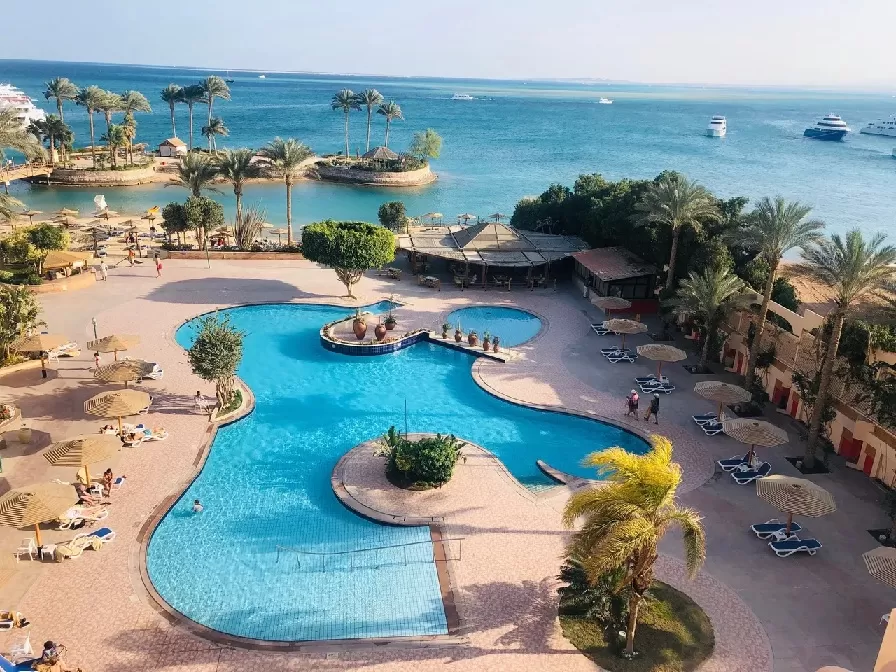 We traveled by road from Cairo to Hurghada by Blue Bus Service and we absolutely recommend this service. The bus prices were cheap (about 200 EGP per person one way) but quality of travel was good. After travelling for more than 20 hours from Bengaluru (India) to Hurghada, all our tiredness simply went away after we saw our room, the balcony of our room facing directly the Red sea and a beautiful pool (on the left). It was like a dream come true for us to wake up every morning with this stunning view. On top of all this, the welcome snacks in our room made it even better.The best part about this property is that every room in the resort has a view to the astounding red sea.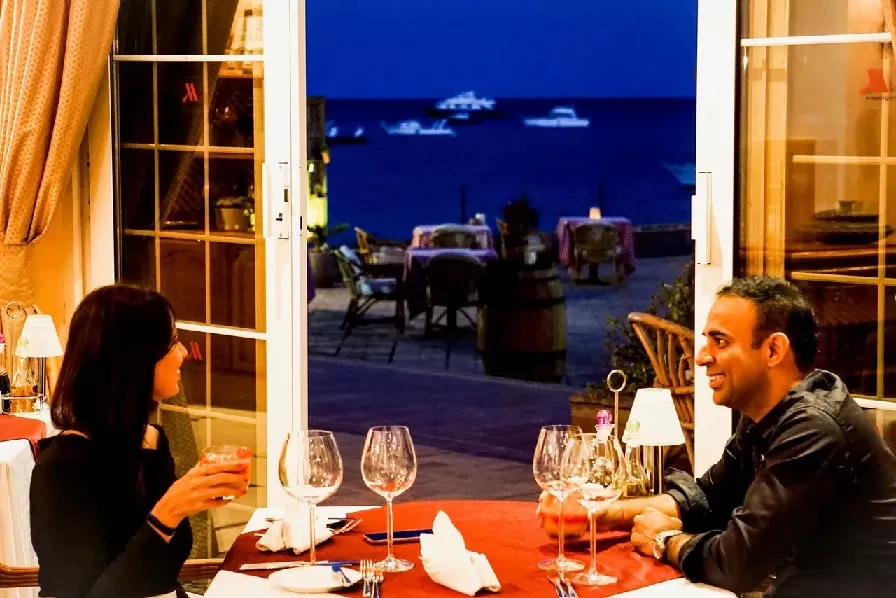 We arrived at Hurghada Mariott Beach Resort in the evening, got good time to relax and freshen up before scrumptious Italian dinner awaited us at Ristorante Tuscany. Tuscany is known to be the finest Italian restaurants in the entire Hurghada city.Other than Tuscany there are many other red sea facing restaurants, the best among them being the Island Bar, Sunset lounge, Shorouk Restaurant. Our favorite was the Island bar, perfect place to soak the sun gazing the red sea and sipping their amazing cocktails and mocktails.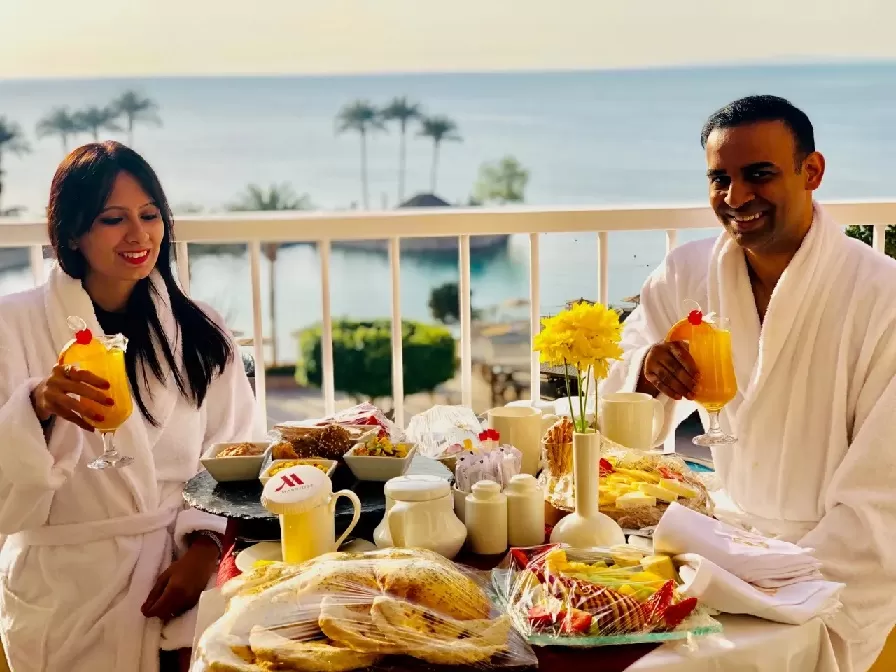 The best moment of our entire stay at Hurghada Mariott Beach Resort was having breakfast in our room balcony. We woke up in the morning watching the sunrise and our morning became even more special when a big breakfast trolley arrived in our room. The breakfast platter had everything you could imagine from local Egyptian delicacies such as Falafel, fava beans, Tahini to full fledged English breakfast. Their breakfast buffet spread was also huge and we enjoyed our breakfast in the outdoor seating's with Red Sea view. If you want to enjoy your own personal time for breakfast, we highly suggest you order breakfast to your room and you can enjoy the breakfast from your balcony soaking in the sun and enjoying the fantastic view.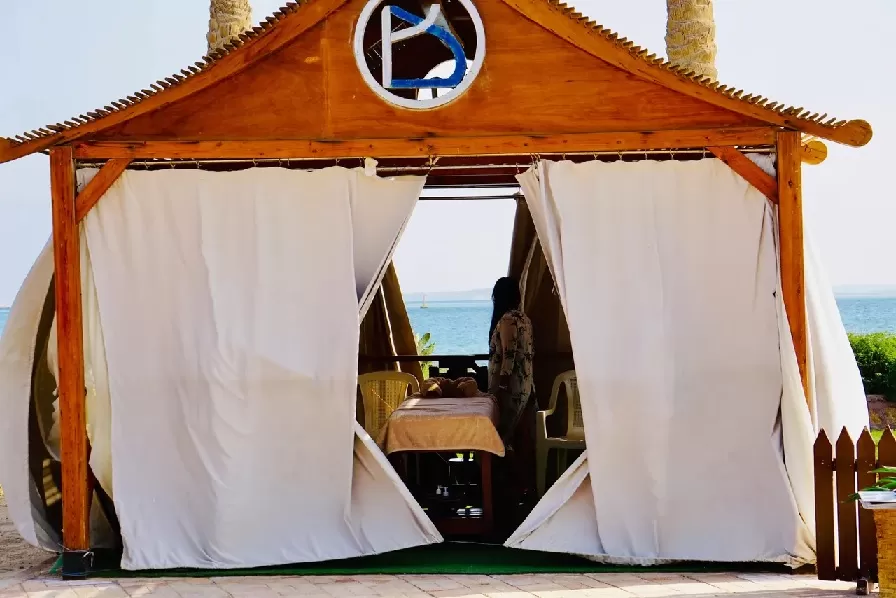 What would you do after having heavy breakfast?? Of course you need to go for a spa!! Icing on the cake is that their spa also has a view to the Red sea. With great massage and beautiful view to the red sea, you will not get to know when you fall asleep. This is definitely the perfect way to relax with great music playing in the background.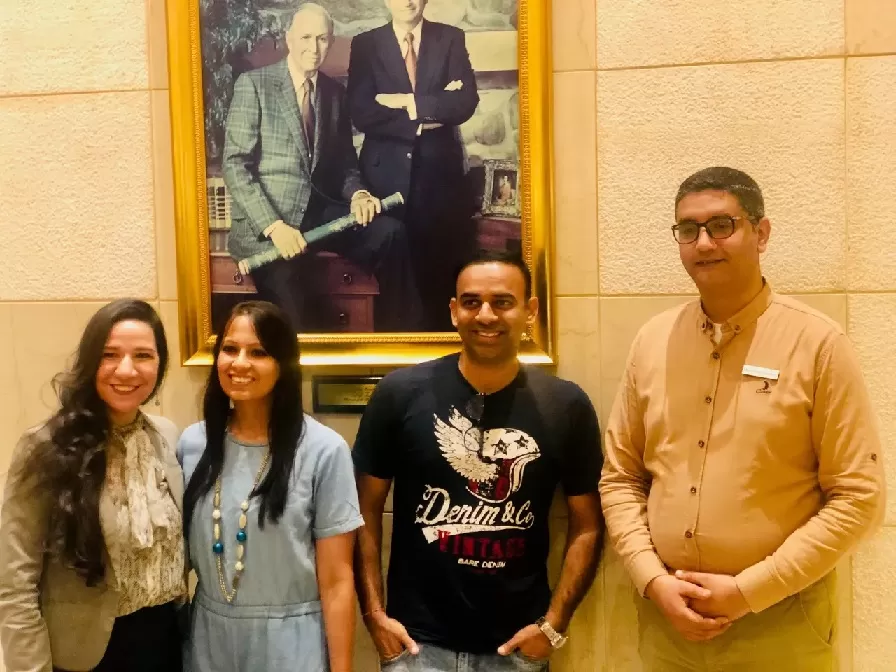 The hospitality of the staff is also at Next Level which makes the stay even more memorable. I would like to highlight that the moment you enter the property till you leave, the staff will treat you very well assisting you with all of your requests with a smile. We were lucky to meet and interact with Mohammed Salame and Ester Kamal who provided us with information of the Hotel and how best to enjoy our time over here.
Go under the water without getting wet!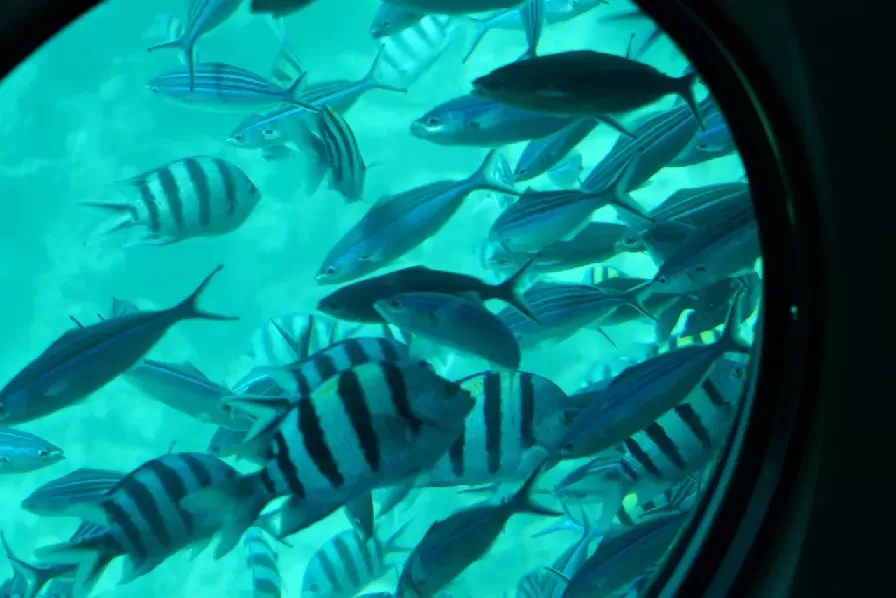 Are you also scared of getting into waters but still want to go under the sea and spot Nemo !!! Both of us do not know swimming and we never imagined in life that we will be able to go 25 meters deep inside the sea and experience the beautiful corals and aquatic life inside. Submarines in Hurghada came to our rescue!! We set out for a beautiful red sea voyage on a nice sunny day, to witness the beauty of colorful and diverse marine life all in the comfort of spacious cabin of the amazing Sindbad Submarine. It is the only submarine in Red Sea which takes you 25 meters down in the sea. There are many Submarine vendors available but Sindbad is the one which goes to the maximum depth . It is a very secure way to explore life under the ocean, absolutely safe for families and children. We paid around 36 USD each for the submarine trip including the pick/drop facilities from the hotel. We guarantee that this experience is totally worth the money paid.
How can you come back from Egypt without visiting the Pyramids!!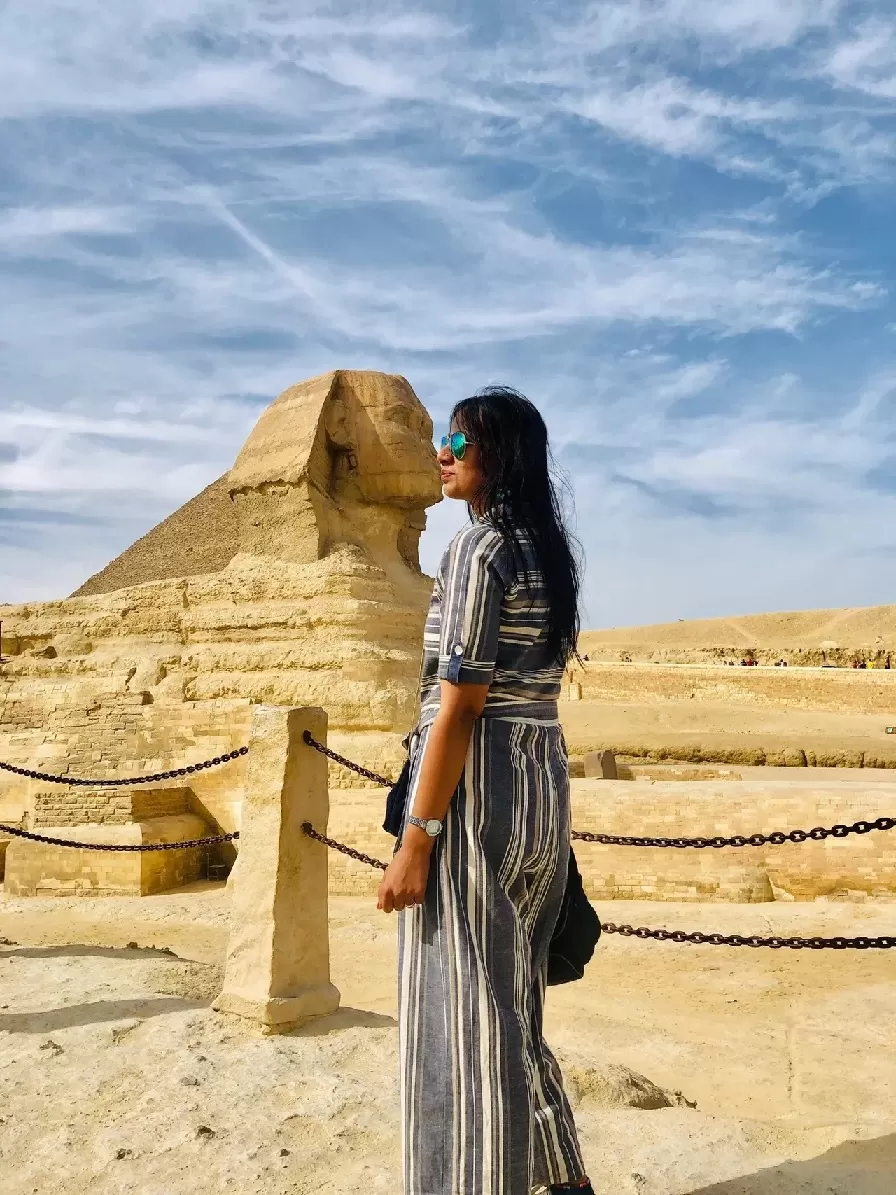 Giza pyramids and the Sphinx goes synonymous with Egypt. When we think about visiting Egypt, the first thing that comes to our mind is the mention of Pyramids from the ancient history textbook we studied at school. Giza Pyramids are about 20-25 kilometers from the Cairo downtown and it takes about 45 minutes to reach depending on the traffic situation. There are many ways to get there such as tourist buses, public buses, Uber ride, guided tours and Uber being the most economical one. We preferred the private guided tour even though it was slightly expensive because guides are history experts and will explain you everything in detail about the pyramids and on top of that they will save you from the local tourist traps at the pyramids site. English is not very well spoken in Egypt, so it is always good to hire a English speaking guide to prevent you from getting trapped .On an average, a guide would take 60 Euros /1200 Egyptian pounds for a day trip, including pick up and drop from the hotel (this fees excludes the pyramids site fees and going inside the pyramids)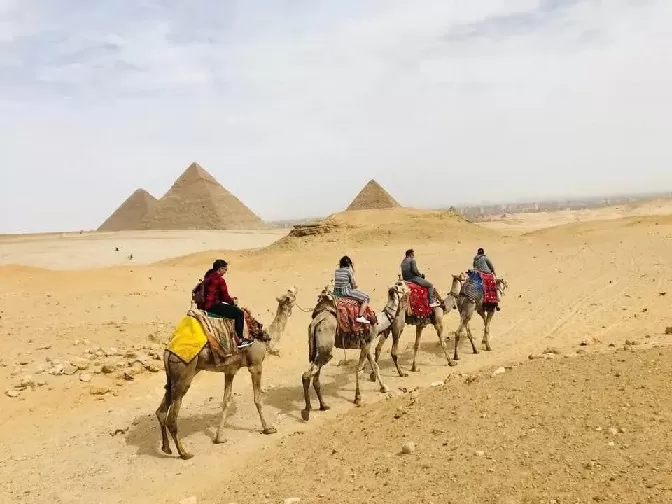 Camel ride at the pyramids site is of course a brilliant idea to experience the panoramic view of this vast desert. Again, camel vendors try to take advantage of the tourists and you really need to negotiate well to get the best price, we again suggest you to go with the local guide to help you getting the best price. We highly recommend to carry caps or scarf when you plan to visit the pyramids otherwise your hair will be a mess!! :)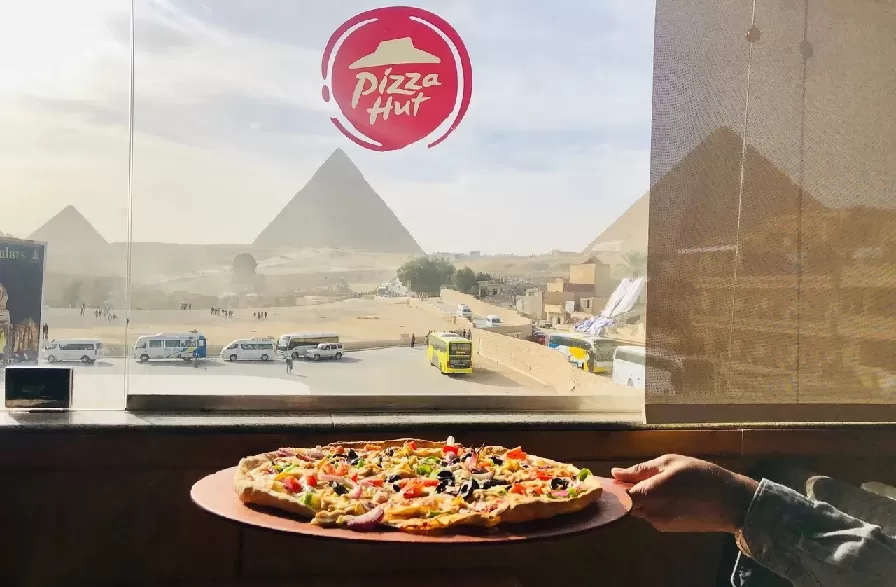 You will take at least 3-4 hours to cover the pyramids and Sphinx depending upon how enthusiastic you are about history!! After these 3-4 hours, you would have surely burned 3000 calories and then its time to eat!! Pizza Hut and KFC are right in front of the pyramids, and we highly recommend you to have lunch at one of these places to enjoy the holistic view of the pyramids!
This blog was originally posted on Gulping Nomads