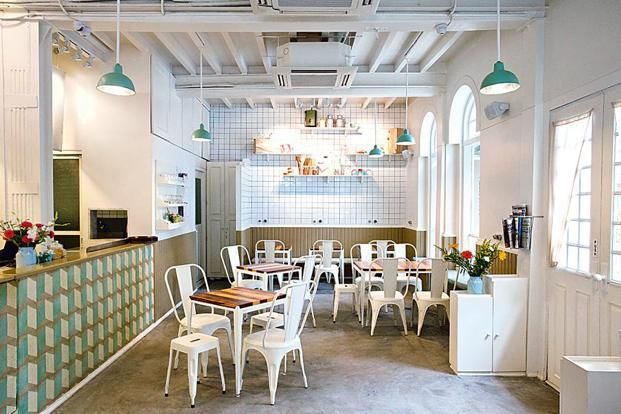 A guide to the best eateries in Mumbai's beloved art district
Kala Ghoda, in the Fort area of Mumbai, is the city's art district that is abundant in British, Victorian and Greco-Roman buildings that are brimming with the city's hip, artsy new persona. It is not uncommon to find a jazzy boutique beautifully set in a Gothic structure with a rich history. Museums, art galleries, shops, libraries galore; another big part of the Kala Ghoda scene is the plethora of cafés that dot its by-lanes.
Here are some of the best places to go when you're in the mood for a place to chill, with some delicious eats and an easy-going ambience!
As you enter the narrow lanes of Kala Ghoda from the street opposite Westside (VB Gandhi Marg) passing Khyber Restaurant and Rhythm House; keep going until you reach the last building in the lane. The Nutcracker, with its frontage of inviting wood and foliage, is situated here. This theme of wood continues inside the eatery, along with some retro tiles and metal. This place is the perfect blend of cosy, yet lively. The Nutcracker only serves vegetarian food, along with eggs; so breakfast here is a must try! The "Eggs Kejriwal", "Salli Eggs", "Emmenthal and Truffle Oil Scrambled Eggs" and the "Buttermilk Pancakes" are items you cannot miss. Try the "After 9 – Mint Hot Chocolate" too, especially if you love those thin mints! For a lunch or dinner meal, you should try the "Warm Lebanese Sandwich", "Burrito Bowl", and the "Kushari", followed by "The Seven Layer Cookie" for dessert.
Cost for two (approx.)- Rs. 1200 (excl. taxes and charges).
If you exit The Nutcracker and turn to your left, keep walking straight and take the second left directly after the magnificent structure which is the Keneseth Eliyahoo Synagogue. Right opposite this cold azure blue building is the gorgeous façade of the "Bake House Café". As you walk in the tall, paned wooden door, you step into a vintage wonderland. The attention to detail of this café is endearing, with seat-backs of different themed illustrations, frames of retro Bombay, and polished panels of wood and art-deco tile.
If you're here for breakfast, the "Classic Eggs Florentine", "Cheddar Mushroom & Asparagus Omelette" or the "Shakshouka" are must tries. Their "Freshly Baked" menu is true to its name; with croissants, muffins, and doughnuts straight from the oven. The "Sugar Doughnut" is fresh, warm and with perfect hints of cinnamon. Don't forget to taste one of their smoothies or shakes, which are thick and full of flavour. For mains, their salads, "Butter Garlic Prawns", "Vegetarian Lasagne", "BBQ Pulled Chicken Burger", "Mac N Cheese Pizza", "Mezze Platter", and "Harissa Chicken Supreme" are strongly recommended!
Cost for two (approx.)- Rs. 900 (excl. taxes and charges).
As you exit Bake House, look left and keep walking straight for roughly 50 metres, and you will come to "Kala Ghoda Café", on your left. This unassuming little café with interiors of wood and exposed brick would be a perfect place to be on a rainy day. The café seats about 10 people in its main area, but a steep wooden staircase leads you to a cosy loft where another 4-5 find a place. Kala Ghoda Café is known for its sandwiches, salads, coffee, and hot chocolate. They also have a decent amount of healthy options, such as gluten-free "Desi Waffles", for patrons looking for the same. Don't miss the Pesto Cheddar Melt, Chicken Cheese Salad Sandwich, KGC Chef's Salad, Cappuccino (which they cutely serve with a small bar of good quality dark Belgian chocolate), and Hot Chocolate.
Cost for two (approx.)- Rs. 650 (excl. taxes and charges).
Located bang opposite Kala Ghoda Café is La Folie Du Chocolate. Not going by the size, but the name, of this patisserie; you will come to realise that it is an abode of confectionary decadence. The accomplished founder and Executive Pastry Chef of La Folie; Sanjana Patel, has trained at Le Cordon Bleu, London and apprenticed under the likes of Pierre Hermé (the 'Picasso of Pastry'). This place is the mecca of premium desserts in town. From ganache chocolates in exotic flavours, to exquisite looking bonbons; you can then move on to La Folie's own selection of expertly crafted desserts and also some classic French sweet treats.
Some of the desserts you get here are the "Criollo" (72% chocolate mousse, chocolate fondant cake, chocolate crémeux, chocolate truffles), "Intense Caramel" (butterscotch praline crumble, crème brulee, 65% chocolate mousse), and the "J'adore" (Vanilla lemon genoise cake, strawberry-rose-champagne compote, berry white chocolate crème cheese Chantilly and champagne gel). La Folie also serves up a 70% dark "Original Hot Chocolate" that will blow your mind especially if you're a chocoholic, but they also have some other amazing variants. You will be absolutely spoilt for choice because they all look and sound so exciting. It must be added that you will be shelling out a good amount of money here, but if you're a connoisseur of confection; the experience is more than worth it.
Cost for two (approx.)- Rs. 800 (excl. taxes and charges).
Not more than 50 steps away, on the corner of the perpendicular street, stands "The Pantry". We won't blame you if you feel like you're standing on a street off the Champs-Élysées just by looking at the exterior of this café; and the teleportation will be complete as you walk through the doors. With the stunning yet quaint, white and grey interior with accents of wood and tile; this place is utterly soothing to the eyes (and that's even before the food comes out!).
The Pantry has an 'All Day Breakfast' with a lot of delicious, healthy, vegan options to give you the perfect boost for your day! They also have some quick, freshly baked bites like quiches and puffs, along with salads. You can dine here for lunch or dinner, as they serve up some artisanal sandwiches, hummus bowls, lamb pilaf, roast chicken, lamb stew, vegetable lasagne, and so much more! However, the cherry on the top, for us, is the dessert menu. The "53% chocolate ganache", "Saffron lime and coconut cheesecake", and the "70% flourless chocolate cake" are to die for!
Cost for two (approx.)- Rs. 1400 (excl. taxes and charges), for a full meal.
Plenty is located more towards the Horniman Circle part of Kala Ghoda, which is a 5-minute walk from the cluster of the aforementioned cafés. The ambience is a fusion of contemporary with hints of retro. The café has tables on the ground floor, as well as on a sizable loft area. Largely a breakfast or lunch option, this café does them both very well; along with keeping up with the other eateries in terms of healthy options. The "Akuri" and "Fluffy Pancake" are scrumptious breakfast options, while "Avocado Toast", "Chicken Yakitori", "Penang Curry Bowl", and the "Ramen" are great options for other meals. The "Apple & Elderflower Spritzer" and "Yuzu Lemonade" are delightful mocktails to try.
Cost for two (approx.)- Rs. 1200 (excl. taxes and charges).
Not more than a 5-minute walk from Plenty, located on the street directly behind the Flora Fountain, is Tasse de Thé. The portal to this Parisian-styled tea parlour is a long passageway, with a stunning patterned ceiling and chandeliers, and tea-sets displayed in curio cabinets lining the walls. The establishment then opens up at the end of the corridor to the seating area, which maintains its grandeur with arches and chandeliers. We're going to focus on the forte of the place, which is tea, although the café serves full meals too. You can have a look at various different infusions and blends of tea from all around the globe. You can also view displays of showpieces made entirely from tea-leaves, and purchase small 'cakes' of tea that can come apart easily to brew- a great gifting option!
You can choose from more than 300 brews of tea, all of which have been designed by the co-founder Mr. Jiten Shah, a certified tea blender. We must also mention the superb desserts that they create, indicating which tea they would pair best with. All of this is served in impeccably refined sets of crockery and cutlery. While this place is heavy on the pocket, we guarantee that you will feel like royalty!
Cost for two (approx.)- Rs. 2000 (excl. taxes and charges), for a full meal.
How many of these cafés can you check off the list? Make your way to the gallis of Kala Ghoda to begin your culinary expedition!