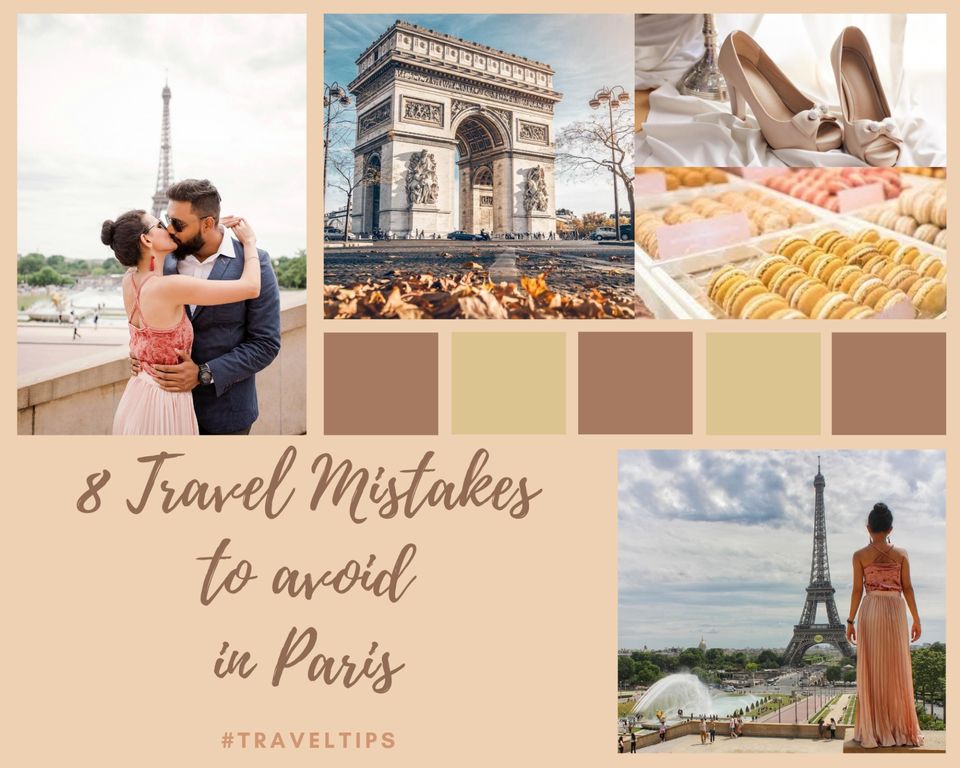 I was very excited when I planned my trip to Paris. Knowing travel mistakes beforehand always helps to make the trip even more better and motorable. I considered these facts during my plan and I could save a lot of time and enjoyed my trip fullest. Let's look at those mistakes and how to avoid them
1. Not buying city tour pass:
This is the most important pass and essential when you plan to visit many places back to back in Paris. It will help you to save money and time. This pass comes with free and hassle-free entry to few attractions. The best part about it is, it gives you unlimited access to public transport like Bus, Metro Tram & RER.
This pass also includes hop-on-hop-off bus pass and incredible seine boat cruise.
If you're going to Paris first time then don't forget to buy this all in one pass.
2. Visit only popular sites in Paris:
Paris has many incredible sites which we should not miss at all. Paris is beyond Eiffel tower, Notre Dame Cathedral and the Louvre museum
There are a number of hidden gems in Paris that are often overlooked but are equally beautiful. Like Statue of Liberty, Luxembourg Garden, Seine River etc.
3. Spending a lot of time in queues for tickets:
Paris is a home of all the world famous attractions, art and monuments. And hence these attractions receive thousands of tourists everyday. If you decide to queue then you are likely to spend hours in the queue. To avoid this opt for online tickets and buy skip the line ticket. The time you save will save by skipping lines can be used to visit some other place
4. Dining near popular attractions
Restaurants or cafes near popular tourist attractions are quite expensive and by all means and I don't think they prepare the best meals in the city.
if you want to explore Paris on the minimum budget, it's better to stay away from dining at popular restaurants and cafes
5. Assuming everything in Paris is expensive
I know Paris in one of the expensive cities in the world but doesn't mean that everything is expensive
In fact, you can find a number of free things to do in Paris, like roaming around the famous Champs Elysees street, visiting some of the beautiful Paris parks like the Luxembourg gardens
watching the illuminated Eiffel tower every after one hour at night, visiting the Notre Dame Cathedral so many others.
Apart from this you can look for options like some of the popular Paris museums like the Louvre, Orsay, and Centre Pompidou are absolutely free every first Sunday of the month.
6. Staying at the wrong side of the city
It can be a bit tricky to find out the best side of the city to book your accommodation.
Some people opt to stay near popular sites which is a bit costly and others choose to stay away from the tourist attractions to get better deals.
In my opinion, it would be better to stay within the city especially if you just have a few sightseeing days in Paris. But if you're staying for longer, a hotel just out of the city center won't be a bad option as Paris' public transportation is well connected
7. Not making restaurant reservations in advance:
Some of the popular places in Paris easily get booked out especially on special days or weekends.
To avoid waiting or bouncing back, make your table reservations a few hours in advance.
However, some smaller eateries don't require advance reservations.
8. Missing the Seine boat cruise
This is a must thing to do in paris and the most romantic one especially in the evening. Although you can easily pay for your ticket at the time of boarding, it's always better and cheaper to buy your seine cruise ticket online.
I hope that these travel tips in Paris will help you, have an amazing time in the city of lights with minimal to no mistakes.
You can follow me on instagram @travel_clues_ for some more travel tips and blogs.