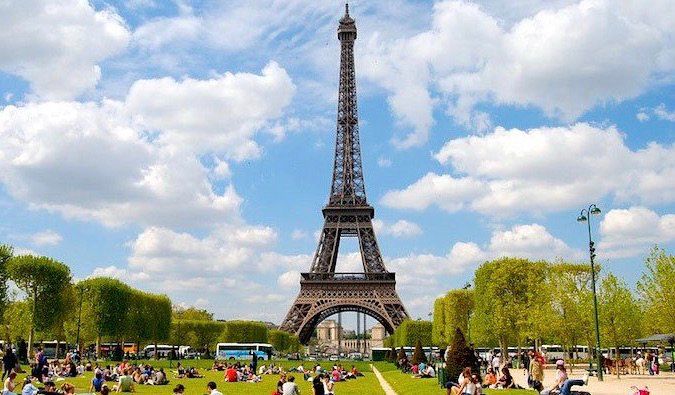 Paris is one of the most romantic city in the world! You can't NOT be romantic when you are in Paris, is what they rightly say. Paris is known for its stunning historic monuments, beautiful cafes, art work from various centuries, food and fashion.
When my friends ask me for a holiday recommendation, Paris is one city that I always like to mention. It is the easiest city to roam, even if this is your first ever International destination. Here is an easy guide you can follow to plan an unforgettable trip to Paris!
6 Days Paris Itinerary
This is a suggested 6 days Paris itinerary which includes 4 days of site-seeing, tips on getting around, advice on where to stay in Paris, our thoughts on when is best to visit and best way to save money during your trip.
Before I start, let me tell you there are several travel agencies that can help you with a Paris trip. But the major disadvantage of these tours is that, you do not get sufficient time to view the monuments. You will always be in a hurry to get in and out, without exploring much of the monument or the places around you. You will waste most of the time standing in queues rather than the actual monument. The only major advantage of going with the tours is that they provide good Indian food. But if you are staying in airbnbs with a kitchen, you can cook that Indian meal yourself. Some days, you can try the local food as well.
So let's get started!
Paris Itinerary: Day 1
1. Eiffel Tower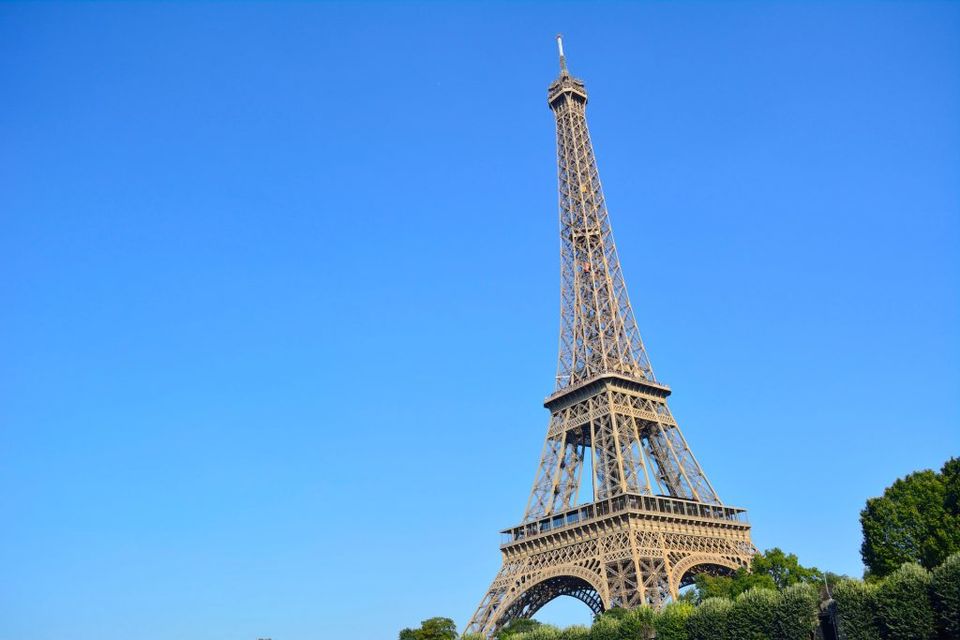 What better way to start your trip, than the most iconic monument, The Eiffel Tower. The sheer scale of this beautiful building will amaze you and make your trip totally worth it.
If this is your first time in Paris, we would recommend a trip inside the Eiffel Tower up till the Summit. Book your tickets in advance from the official website, to avoid standing in long queues and save time. The same link would provide you details on the opening and closing time. Try and book the first slot to avoid crowd. The view from the top is incredible and gives you an idea of how the city is planned out.
The other way to enjoy the Eiffel Tower view for FREE is from the Champ de Mars gardens just below the Tower. This is the best place to gaze at the Tower endlessly. For photo-shoot, it is best to arrive here early in the morning, before the Eiffel Tower opens up.
2. Hop on Hop off bus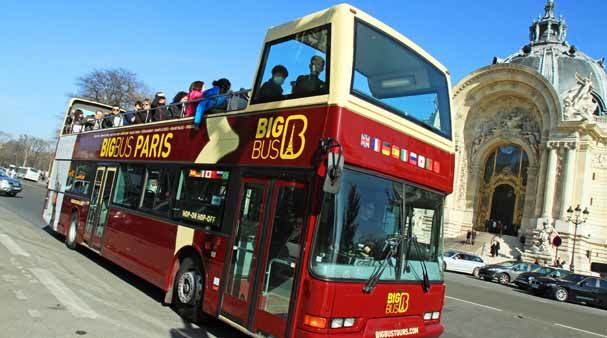 The best way to sit back and enjoy a city in Europe is through HOHO bus tour. Paris is no exception to this. The bus stop is right next to the Eiffel Tower that gives you a guided tour of the major attractions in Paris. We would recommend you to buy a Paris Pass as this includes a 1 Day Big Bus Tour. Remember to look out for that sign, Big Bus!
3. Seine River Cruise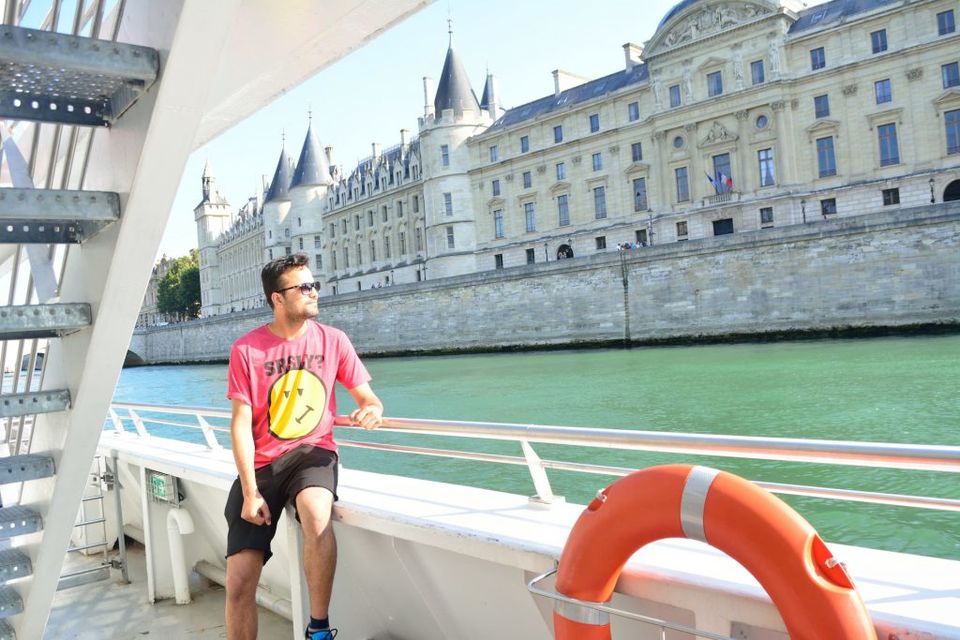 This is the most popular and must-do experience in Paris. You will get to see the Eiffel Tower, Notre dame and other top attractions around the river Seine. Sit back and enjoy the views with a commentary included. There are several routes to this cruise, we would recommend the Bateaux Parisiens River Cruise. This route begins right next to the Eiffel Tour and the tour is included for free with the Paris Pass.
4. Paris by Foot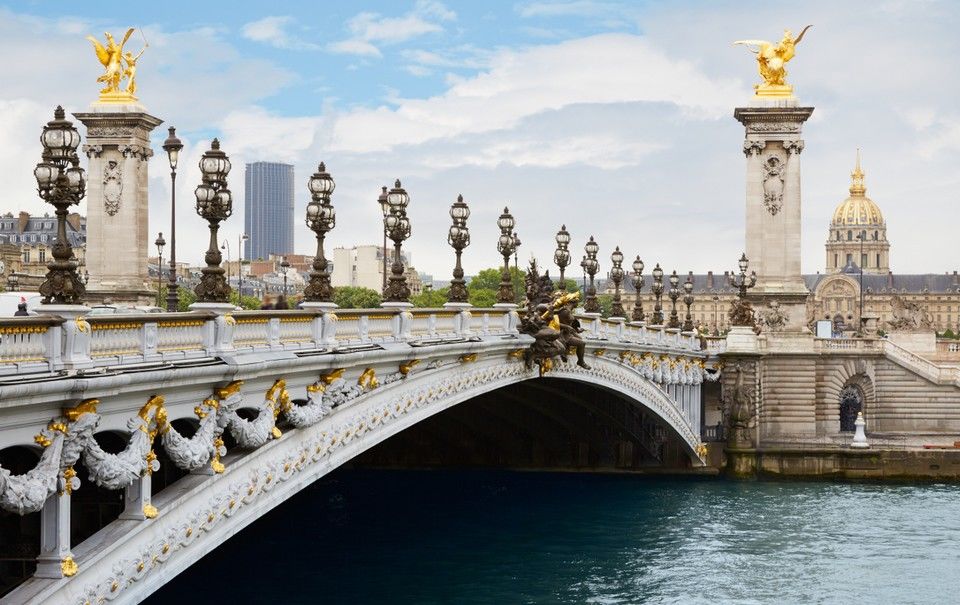 Once you are done with River Cruise ride and the Bus ride, it is best to get on foot and enjoy this beautiful city. The Paris Pass comes with several guided walking tour included with the pass for free. If you do not have a Paris Pass, then simply walk along the banks of River Seine, cross over few bridges and sink in all the romantic vibe around you.
5. Tour Montparnasse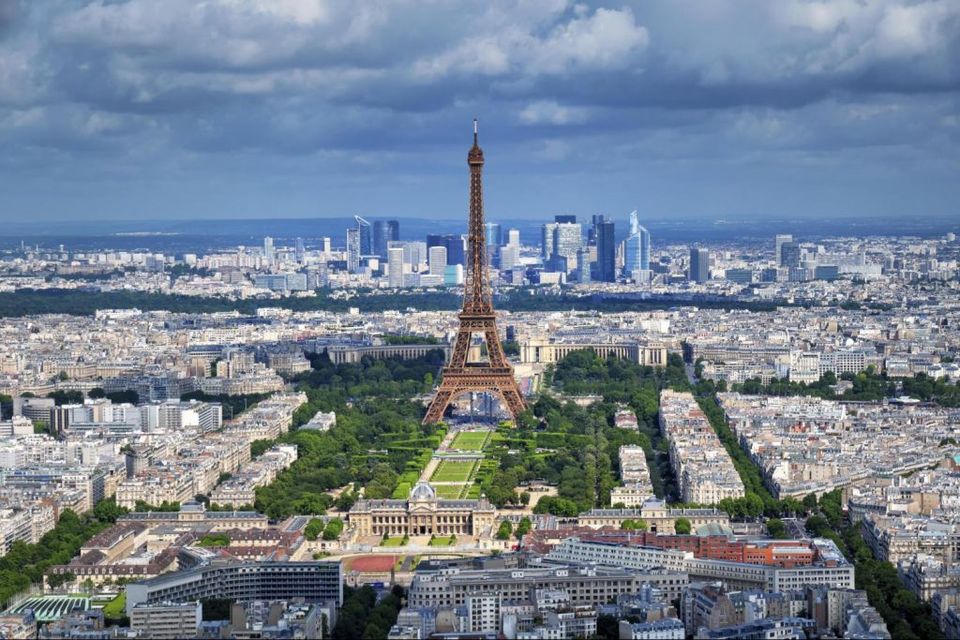 This is the location to get picture perfect view of the Eiffel Tower and the Paris city. Unfortunately, we never got a chance to visit this place but this ones the most popular site amongst the tourists for its stunning views. This location is included in the Paris Pass, so you don't have to pay anything extra. Try to be here during sunset and enjoy the evening city lights. Once you finish with the Montparnasse tour, walk down to the Eiffel Tour and have a closer look at the shimmering display of lights from the gardens. Every hour from sunset till 1AM, for five minutes there is a magnificent display of lights on the Eiffel Tower. Do not miss this show. Its absolutely magical. It gets better as the day passes by, with darker skies as the background.
Paris Itinerary: Day 2
6. Saint Chapelle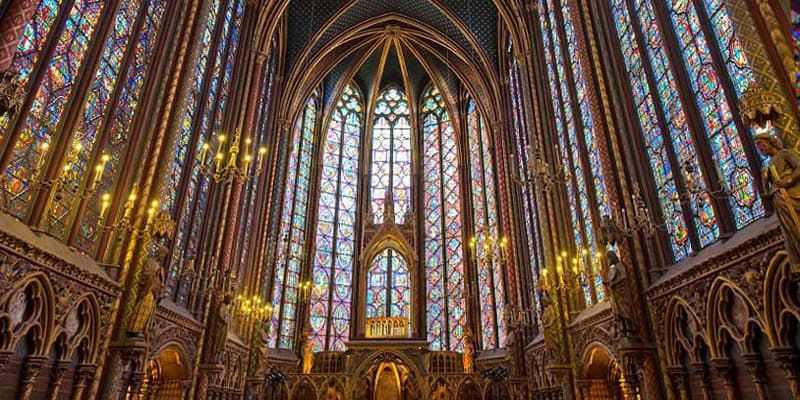 The 13th century Saint Chapelle has some very beautiful stained glass interiors. The Chapelle is quite popular and hence it is better to reach here 15 minutes before the chapelle opens up. There is a security line and there can be long queues if you reach late. The entry fee for the Chapel is included in the Paris Pass.
7. Musee d'Orsay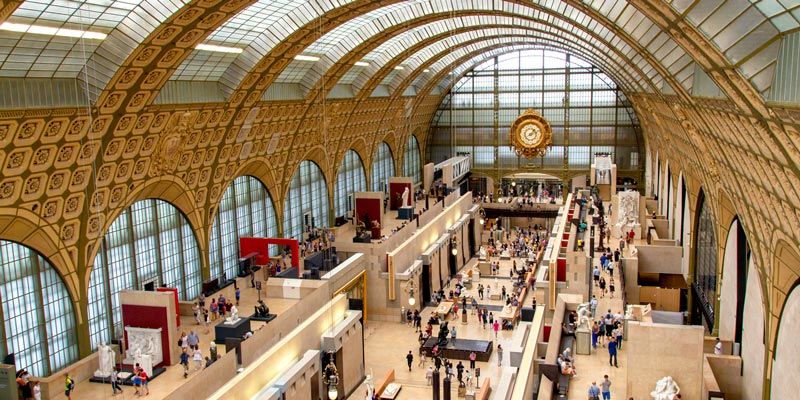 You can walk to the next museum along side the river bank. There are book sellers lined up here, just as shown in the movie 'Midnight in Paris'. This movie btw is what, you got to watch before and after your trip to Paris. The interiors of this museum is just out of the world. Its grandeur and the large collection of art work is so impressive. The entry fee of this museum is included in the Paris Pass.
TIP: This museum (and many others) are free on first Sunday's of every month and closed on Monday. Just in case you do not buy a Paris Pass, then this is another budget option.
8. The Louvre Museum
Here you will find the famous Mona Lisa painting. This is the largest art museum in the world. Even if you are not a museum lover, you are sure to fall in love with art after visiting this museum. And we have all seen the beautiful sparkling Glass Pyramid in so many different movies. You can come and relieve all those moments here. You could end up spending three hours to three days here, depending on the love you have for art. Buy the Paris Pass to avoid ticket queues. You still have to stand in line for security check up but this line is quicker. For timings and how to get there you can check their official site. The Louvre is closed on Tuesdays. Do pay a visit here during the night for a beautiful light display on the pyramid.
9. Arc de Triomphe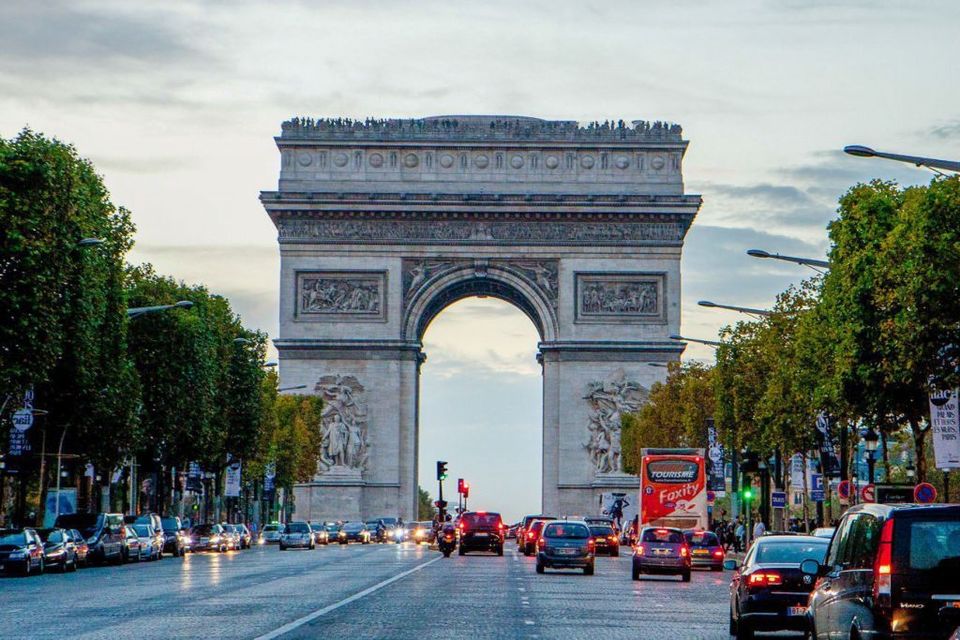 The Arc de Triomphe was built in memory of those who died during French Revolution and Napoleonic wars, just like our India Gate. You can get an excellent top view of the city from here. The entry fee is included in the Paris Pass. There is a museum included inside the monument. To get to Arc de Triomphe, look for an underground subway route.
Paris Itinerary: Day 3
10. Versailles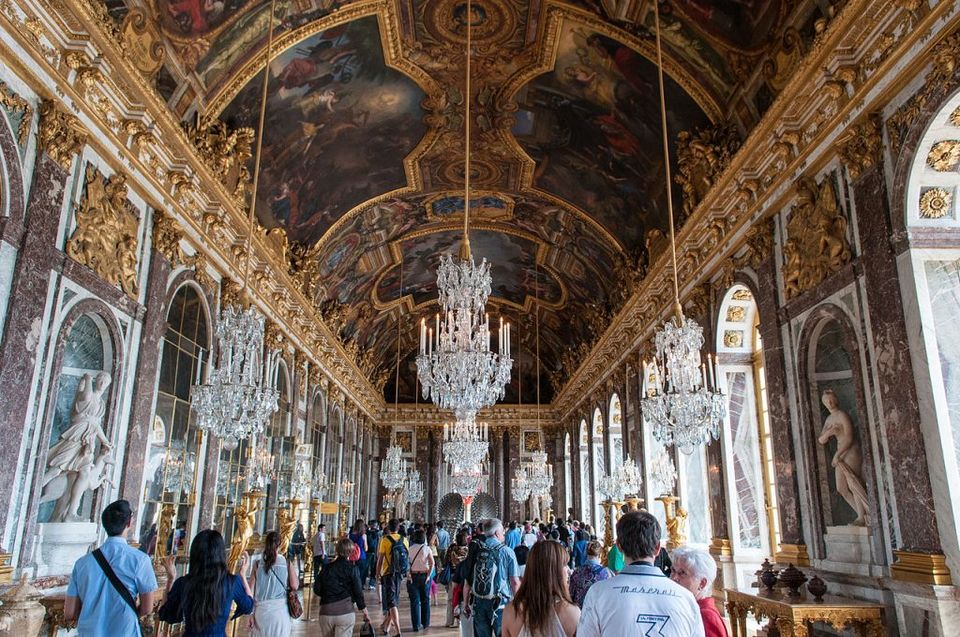 This place lies slightly on the outskirts of the main city but totally worth visiting. The Palace was home to French Royal families and today listed under UNESCO World heritage site. The Hall of Mirrors is a must-see room inside the museum and try to head here as early as you can to have the best picture devoid of crowd. The gardens of Versailles are another major attraction here and you can best enjoy the outdoors during the summers and spring. This palace is so dreamy and displays art that has stood time. Take the RER C from central Paris to get to Versailles.
11. Sacre Coeur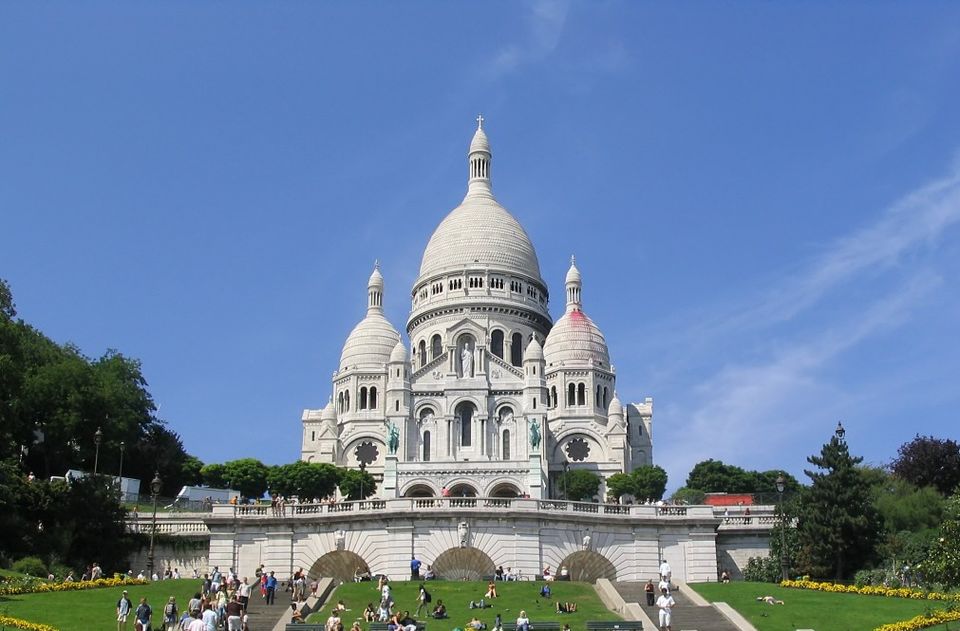 The highest place in Paris which houses the Basilica is the best place to spend an evening in Paris enjoying a beautiful sunset. The view here is spectacular. The entry to the Basilica is free.
Apart from the above listed attractions, the Paris Pass includes several other monuments and attractions for free. Choose more options as per your taste. I have provided more details on the Paris Pass later in the blog. But the major attractions can be all accommodated within three days in Paris!
Paris Itinerary: Day 4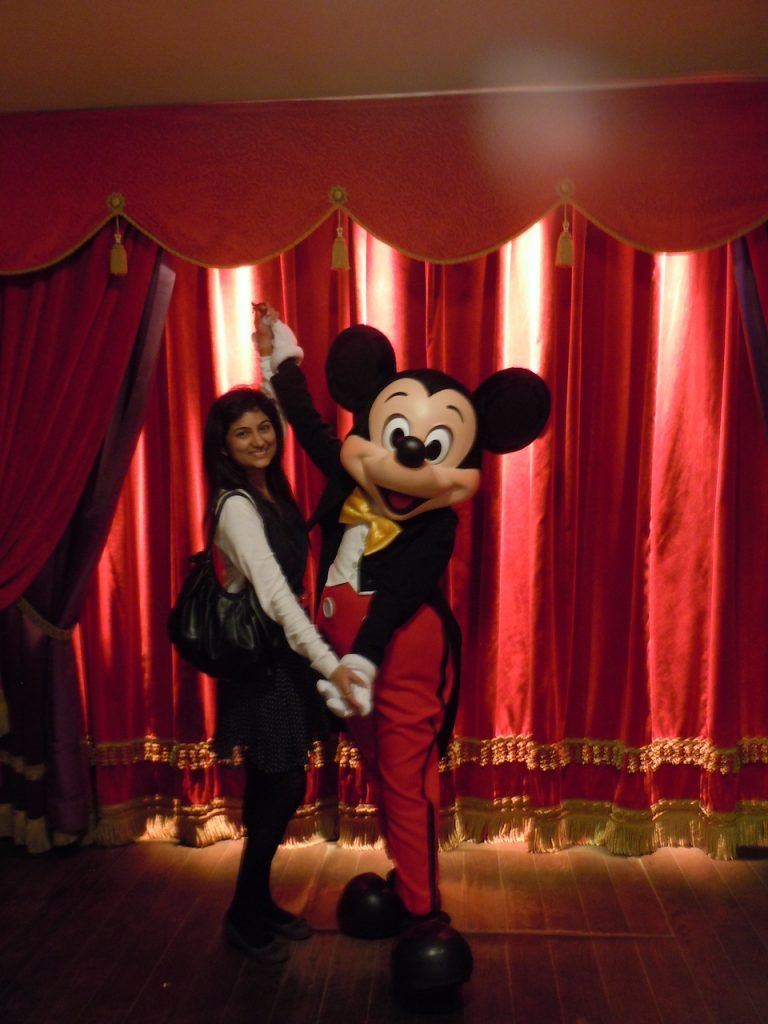 If you wish to stay for one more day in Paris - then a whole day or two at Disneyland is highly recommended. You can easily get RER A from Paris city center(Chatelet-les-Halles) to Disneyland(Marne-la-Valleé). The trains start as early as 5.30AM. More details .You can either book just the disneyland tickets or tickets to the park with transfers. Do not miss the last show when all the disney characters come out on the streets to dance.
With this we conclude with a 6 days itinerary to Paris which includes 4 days of site-seeing and two days to arrive and depart Paris.
From India to Paris
You need to apply for a Schengen visa to enter Paris. To get a Schengen Visa, you need to have confirmed flight & hotel bookings. You can book any fully refundable flights and hotels bookings. Once you receive your visa, cancel the flights and hotels. And plan for your actual flight and hotels.
There are several flights from Delhi to Paris(Charles de Gaulle airport). Emirates and Etihad flights are the best of all. But look for the cheapest option.
Apply for travel insurance.
Where to Stay in Paris
Pick the cheapest airbnb, preferably with kitchen at one of the following locations: Eiffel Tour or Le Marais or Monmartre. For hotels check out booking.com
Best Time to Visit Paris
September/October is the best time to visit Paris. June to August is the peak season with comparatively higher rates. Winters in Paris is all together a different feeling but its difficult to survive outdoors for too long.
Getting Around Paris
Airport to City Centre
Paris International airport has several terminals. These terminals are all connected by FREE shuttle buses. You can follow the path that takes you to RER or which says 'Paris par Train' to get to the RER station. These lines will get you to the main city centre.
Within Paris city centre
Public transport in Paris is super easy to use. You also get travel maps for free at the metro station. Alternatively, you can use google maps or similar travel apps to find the best route to your destination. Within the city, you can travel using metro trains or buses. When traveling to other zones such as airport, Versailles and Disneyland, RER lines are preferred. If you buy a travel pass such as Paris Visite travel pass, Navigo pass, t+ tickets or Paris pass - you get an unlimited access to public transport till the expiry date of the pass.
Budget for Paris
With this we get to the most important question. What would be the budget for 6 days per person in Paris? Let me break this down for you. These are approx cost details with an exchange rate of 80:
OPTION A:
If you buy a Paris Visite travel pass:
-Return Airfare INR 40,000 -Visa and medical insurance INR 8,000 -Airbnbs: INR 4000 per night per person. So for 5 nights INR 20,000 -Food: 12 euros per meal for 5 days * 2 meals per day, 10 euros for breakfast/snacks for 5 days. Sums up to INR 14,000 (You will get cheaper options at Mac D or KFC) - Paris Visite travel pass for Zone 1 to 5, for one week Includes unlimited access to public transport: INR 5,300 -Site seeing mentioned above (excluding Disneyland) INR 13,000 -Disneyland per park per person per day INR 8,500
Grand Total: INR 1.10 lac per person for 6 days OPTION B:
If you buy the Paris Pass instead of the Paris Visite Travel Pass, for three days then following are the advantages:
-You get free entry to 60+ attractions in Paris -You also get unlimited access to public transport for three days for Zone 1 to 3 only -Versailles, Airport and Disneyland are the only three places in the given itinerary that does not fall under Zone 1-3. So you will need to buy a different travel pass in addition to Paris Pass.You can purchase a booklet of t+ tickets to travel on other days within Paris. -You can use unlimited Hop On Hop Off bus service only for one day. Museums are allowed to access for two consecutive days. Hence the itinerary is made such that you cover Louvre and Musee d'Orsay on Day 2 -The pass does not include entry to the Eiffel Tower and Disneyland -The cost of Paris Pass for three days is €250.00
Paris Pass helps you to save money if you wish to cover more attractions such as Wine Tasting, Paris Aquarium, Dali museum, Picasso museum etc. But remember the Paris Pass is valid for 3 days only, unless you buy a pass for more days. And it is advisable not to add too many places in the itinerary.
Conclusion: You will spend around the same INR 1.10 lac per person for 6 days if you go with option B. But the major advantage of this is 1) you won't have to spend time waiting in queues to buy tickets. 2) the pass can be booked online, well in advance 3) you will save more, if your aim is to do a lot of site seeing. Hence the Paris Pass is highly recommended.
OPTION C:
Museums in Paris are free on first Sundays of every month. You will save on The Louvre museum and Musee d'Orsay entrance fee, if you take this option in addition to option A
OPTION D:
If you happen to land in Paris on Monday or Tuesday for the above itinerary, instead of buying a Paris Visite Travel Pass, you can buy the Navigo Pass. Navigo Pass costs only 22.80 Euros(plus 5 euros for the card) as compared to 65.80 euros for Paris Visite Travel Pass. This Navigo pass is valid only from Monday to Sunday. Whereas Paris Visite Travel Pass can be activated any day. For Navigo pass, read more details here and also remember to take two photographs along.
So, with above 4 options we have provided several ways you can save money in Paris. The most hassle-free option is obviously Option B that includes Paris Pass.
Paris, just like any other Europe destination is definitely not a budget destination. Another way however, is to save on Food - cook your own meal at airbnbs or at Mc Donalds, KFC alike options.
Other tips
-Keep all your possessions such as passport, cash, wallet, phone in front-pocket closely tied to your body. -Buy mobile data/SIM card at the visa office or airports. -You need an international converter as the switches here are different. -The tap water in Paris is safe to drink unless otherwise indicated.-Paris by train guide here
And that's it for our guide to spending 6 days in Paris! If you have any feedback or queries, just let us know in the comment section below. If you love this blog, you could bookmark or pin it too.