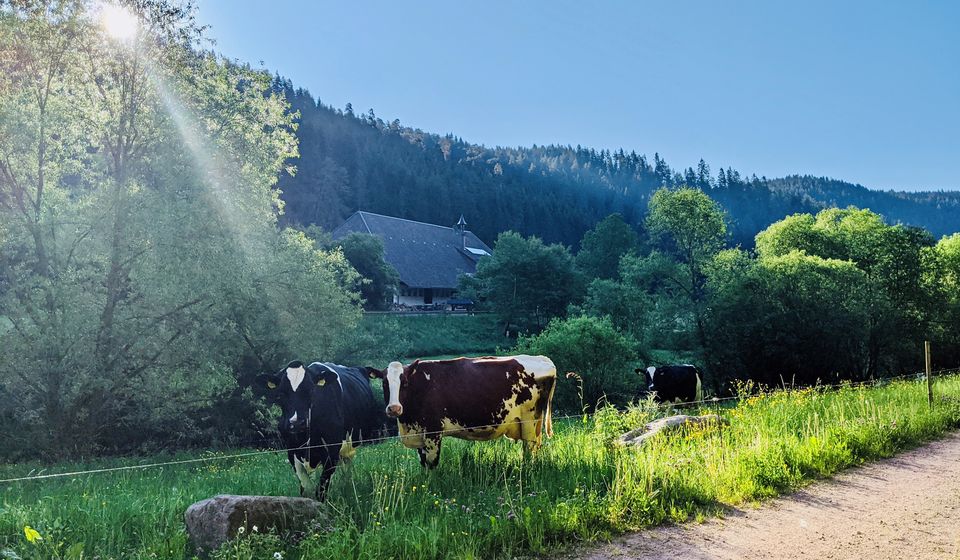 The summers of 2020 and COVID lockdown had only been a month old when we already started struggling with being at home all the time and repeating the same set of robotic chores. And so before summers would end, we decided to take a short safe weekend trip away from the crowd. We needed green - and so we headed to Black Forest..
The name itself comes from the dark color the forest gets from its numerous gorgeous Pine trees reaching to the sky. Hansel and Gretel, Rapunzel and Sleeping Beauty are said to be inspired from these forests.
Black Forest is wide spread and few spots are popular tourist attractions. It is the home to Germany's highest waterfall - the Triberg Waterfall which is a major attraction even in winters since the falling water freezes !!
Yes, Of course I remember I wanted to avoid the crowd. I stopped by here for something completely different and unavoidable. Schwarzwälder Kirschtorte literally translating to Black Forest Cherry Cake cannot be missed. Café Schaefer is one of the most popular ones but there are several cafes around Triberg offering you a memorable slice of the authentic Black Forest Cake mit oder ohne Alkohol i.e with or without alcohol.
And while we were for a short while in Triberg, one cannot miss the number of Cuckoo Clocks you see across the street. The mechanical movement of these clocks which originate also from here since around 1630 is used in a fun way - have a look at the short video below. I also simply love the sound of Church bells - each time I listen to them. (In case you buy a cuckoo clock, its good to know the authentic ones have a VdS Verein die Schwarzwalduhr certification- look out for it.)
We also found another interesting thing- the Windows. I daresay like every place has its distinct language, people, music - windows are also unique. Look at the lovely work on this.
But, back to our goal - we have to reach far from the madding crowd and so we drove till we reached this beautiful Pension (Guest House) in Vöhrenbach - central Black Forest heavily forested and exactly what we were looking for. One can always plan for summer camping in areas permissible but ours was a short notice trip. This Pension had a small stream running by next to it also popular for fishing. In the night, one can only hear the water flowing by in silence and watch a sky studded with umpteen stars. DREAMY!!
We got up early, morning bliss is precious. The fresh air , the lush green and the sun coming up has such a refreshing effect. We met or rather disturbed the cows on the way relishing their breakfast. In that moment it seemed, Human beings are the only misfits on Planet Earth! But this curious Human Being kept walking unplanned and came across a stew of ways one could take. We chose to go to the top till Schloss (Castle)
My sense of direction is often disconnected from my brain. And once again lost my way !!! But ended up finding the sweetest spot of the trip. We did manage to reach the Castle later. However, this spot and its serenity marks the best of my 2020.