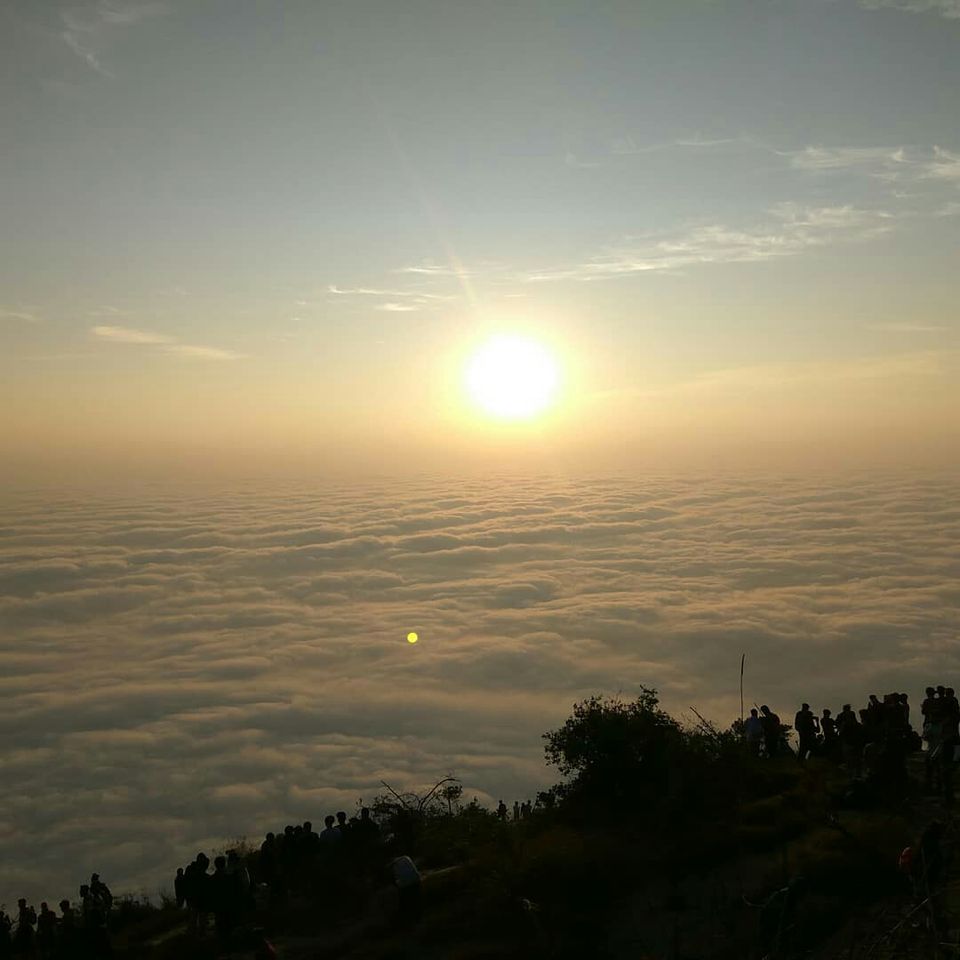 When I am on the brink of leaving this city that I have called home since forever, I acknowledge that I want more of my city and the vibrant state of Karnataka !
Increasingly, I find myself waking up in the middle of the night, sitting bolt upright, wondering how I can carry with me a bit of my city, a chunk of my state to wrap myself up in a blanket of familiarity when I am sure to miss home in a few months down the lane.
This trip was an attempt to experience as much of Karnataka as possible before I relocate for work.
While going through an "events in my city" app, I came across a sunrise trek at Skandagiri. Anything to do with spotting the sun or moon gets me excited. This was no different. Well, there was just a wee bit of a problem. The travel to the base of the hill was dead in the middle of the night. I was sure my dear mother would ask me to forget about it considering that I am a woman and the world out there is filled with dark, cruel monsters and blah, blah, blah!
At that moment, I could only think about friends who might accompany and bail me out of this deadlock, I had supposedly reached. But a voice kept singing "Goa chalte hain"!
I ignored the voice and sent the link to my squad. Guess what?! You say I fell flat on my face? Then i wouldn't be writing this post, would I!! :)
The girls not only agreed for the trip but agreed immediately. So four girls and an 8 year something boy paid for the trip here: b/NJsDEeQJlM8Nn96Z+soUZ8toXUSAPrzmkP+uJNPoX6vKpH1mN+ULhWvi/2YPgI
Where is Skandagiri: it is a hill located in Chikkabalapur district, about 65kms from Bangalore.
How to get there: We booked with escape2explore.com which included to and fro journey and breakfast for 1100 bucks a piece.
Difficulty level: Moderate.
Best time: Nov to Feb
Safety level: Infinity.
You must carry: torch light, warm jacket, a scarf or cap.
The tour bus picked us up at around 12.50am from Hebbal. After an easy drive of about 1.5 hours we reached the base of the hill. Our guide purchased tickets for our entire group and gave us usual instructions about staying together and refraining from consuming alcohol or smoking.
We started our trek at around 3am. What immediately caught my attention was that the sky was so star-studded! That's something one misses in a city polluted by artificial lights. Sonny boy and I spotted the Big Dipper, and finally understood its position relative to the Orion! Imagine our joy.
With millions of stars keeping us company from up above and awesome friends around me, the experience of being out in the wee hours of the morning was magical.
The trek up took us about 2 hours 45 minutes. We found a good spot and sat down to wait for Mr. Golden Sun to keep his date with us.
Time and again my belief that travel is a great teacher is reaffirmed. While we waited for the Sun, we spotted the brightest star in the sky. My friends and I were sure that we were looking at the pole star. But we were thoroughly confused because by that logic the hundreds of people who had turned up to watch a spectacular sight were facing the wrong direction! We quickly checked the compass on our phones but were none the wiser. It was only later that we found out that we had been staring at Venus the entire time. Not for nought is it called the morning star!
As the cloak of darkness lifted, the horizon lightened. Shades of dark blue and lilac and pale orange and yellow danced and swirled around. The lighter the sky grew, the more our eyes widened with wonder. Soon, our feet were almost touching a large blanket of fluffy, white cotton! I have only ever seen such a blanket from the window of a plane. I couldn't believe what I was seeing. Was this for real!
Our guide had told us to descend at 6.30 even if the Sun had failed to peek out from behind the thick veil of fog. But none of us budged. A quick Google search revealed that Mr. Ra was expected at 6.45.
Our disobedience was rewarded with such splendid sights!! The pictures only capture  1/1000 of the actual beauty. But my memory is so enriched that I feel wealthier than all the riches that this world ever holds.