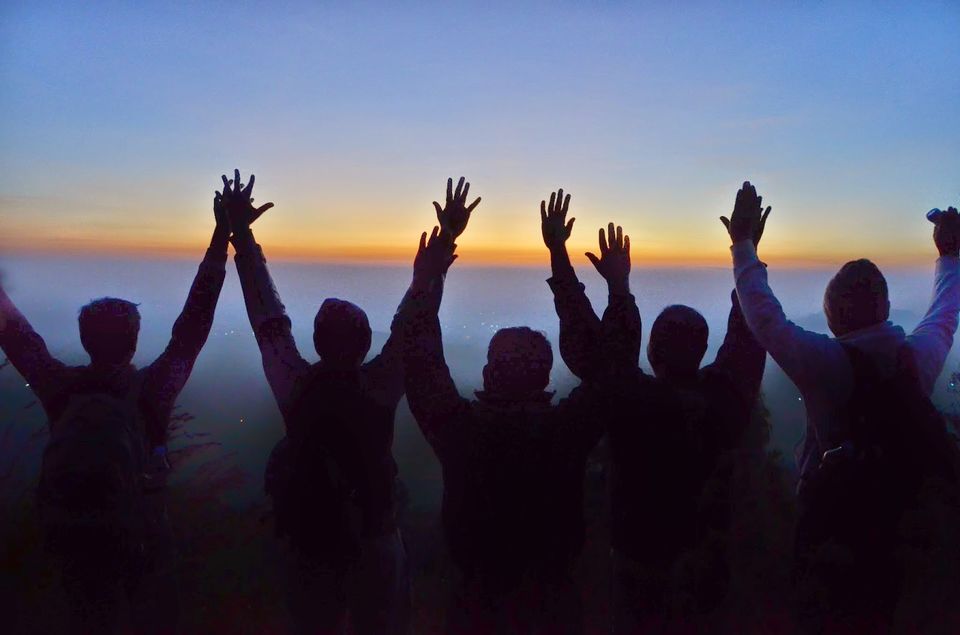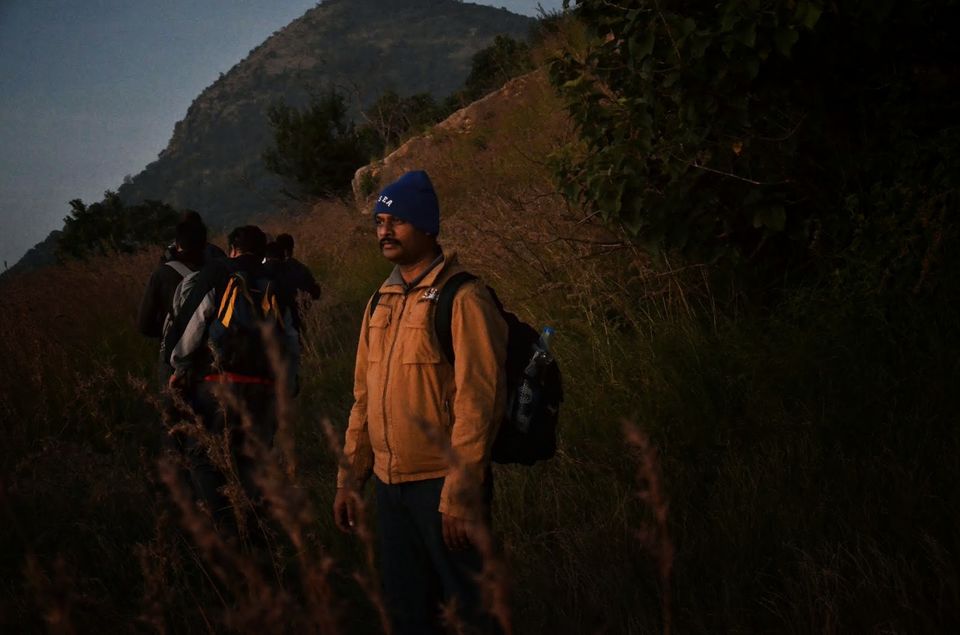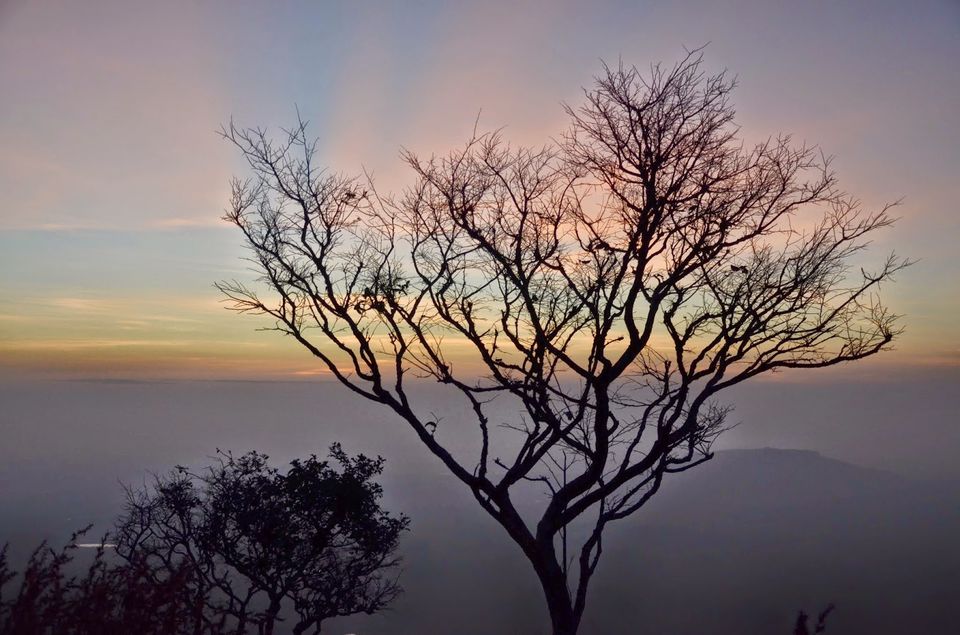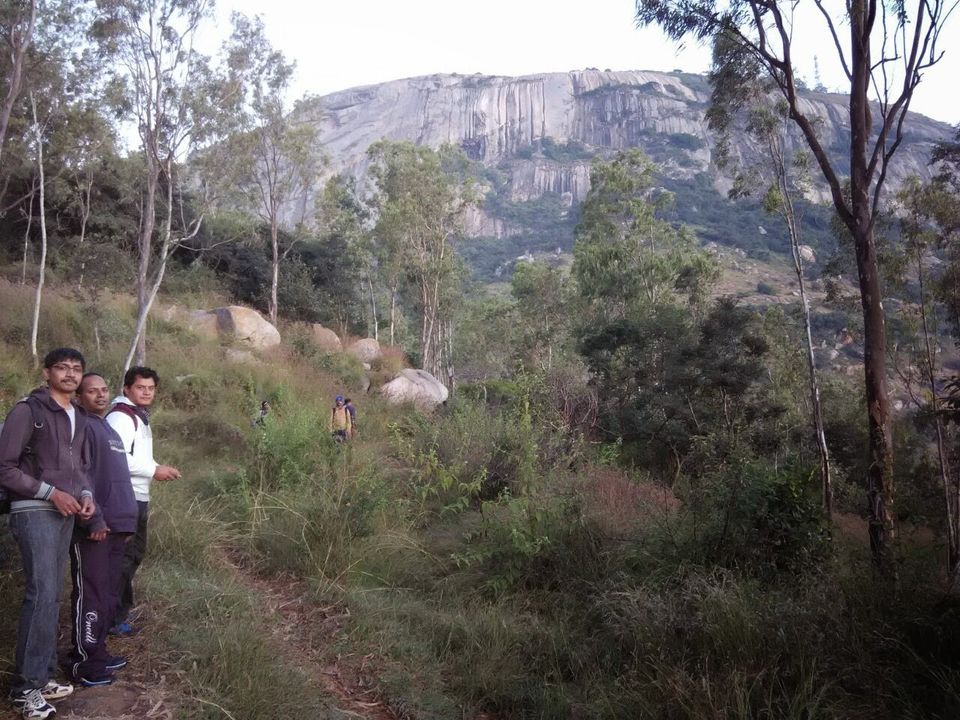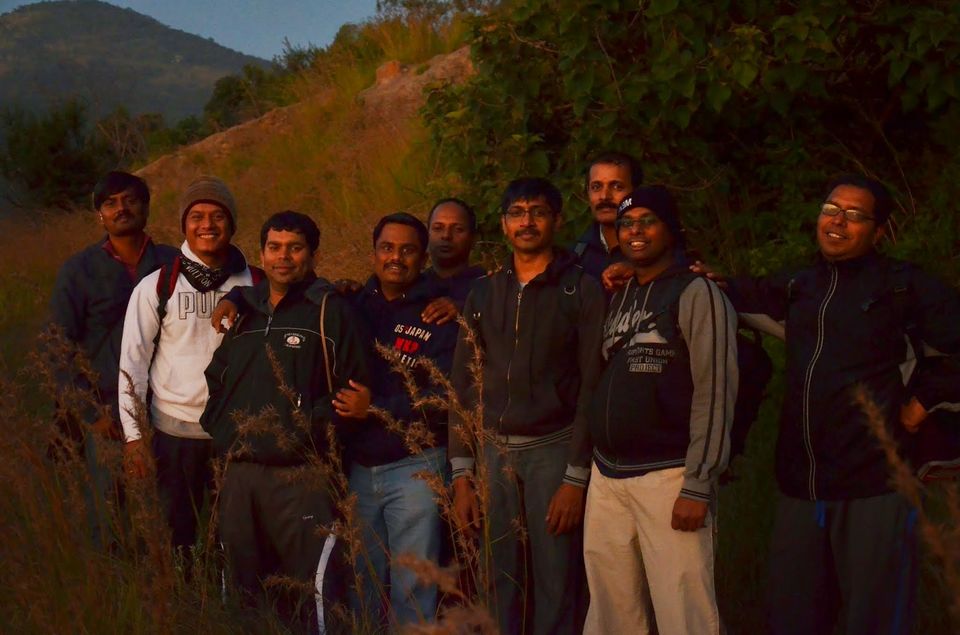 Let me begin by introducing the five hills adjoining the Nandi Betta. Nandagiri, Skandagiri, Brahmagiri, Divyagiri and Vishnugiri. There is not much information available about Brahmagiri, Divyagiri & Vishnugiri while the other two- Nandagiri (or Anandagiri as it used to be called earlier) aka Nandi Hills & Skandagiri are quite popular now.

Prasad alias Charlie is the brainchild behind this initiative. Post the trek to Ramadevara Betta in Oct'14 he planned this one to Skandagiri & after having almost booked the tickets thru an Internet Portal we decided against it & wanted to venture out on our own & that too for a Night Trek. The infamous Kalavarahalli(foot hill of Skandagiri) kallaru(thieves) dissuaded us to take our own cars & hence we hired a TT. The 10 members of this trek are:

Prasad alias Charlie, Diwakar alias Owner/Champ(of Badminton), Kishan alias Kitta, Ravikumar alias RK, Ravikumar N, Babu, Vimal (no aliases), Manjunath (the Sr. Photographer), Murali alias Mama & myself yours truly Jitender alias Dinga.

After mild refreshments at the Green Park dhaba opp: Jakkur flying club we reached Kalavarahalli at around 12.30 a.m to be welcomed by a few Lathi wielding cops. They almost shoved away a group of enthusiasts who had just arrived in an auto. Luckily we didn't face similar treatment. Nagaraj (our TT driver) submitted the documents & after careful examination the cops asked Nagaraj to take us back safely (Henge Karkond Bandidyo hange vapas karkond hogu). Though a positive statement it turned out to be otherwise & we were advised to return back saying the Night Trek has been banned for now due to some mishap couple of days ago. Babu & Ravi's negotiations were in vain. It was a cold water splash on all our planning & efforts but not on our Spirits. With no Plan-B in place we had to depend on the Big Brother Google to help us out, which we did & came out with some alternatives viz.. Jaramadagu Falls, Antaragange, Ranganathaswamy Betta & lo Behold" Brahmagiri(from no where). Till such time the only Brahmagiri that we knew was the one near Madikeri. Neither did Google have much information about this. Luckily I found a Blog on a Night Trek to Brahmagiri & that was it. We decided(almost) that this was the Plan B & asked Nagaraj to head towards Kerehalli Cross which apparently is the T Junction point of Blr-Nandi Hills-Skandagiri. The Left turn(coming from Devanahalli) is to Nandi Hills & the Right Turn is to Skandagiri. Kerehalli cross was brimming with people, all Night Trek enthusiasts from Bangalore & many of them the disappointed lot who were returned by the Cops at Kalavarahalli.

2 a.m : We reached out to a local chai wala to gather some information about Brahmagiri. With some misleading information he successfully managed to sell us some yummy bread Omelettes. We referred back to the Blog for some clues & there we found "Hotel Abhinanadana" right at the T Junction & the lane next to that we presumed might lead us to Brahmagiri. After much deliberations we entered the lane to be greeted by some barking dogs & a not so violent horny cow( pl dont mistake). we outnumbered them & hence was not much of a problem. All the torches were out by now & a couple of them worn by Vimal/Ravi & RK were awesome. Manju named them as "Hanebaraha" people because they had to wear it on their Heads. After walking on the Jeep Trail for close to Kilometer we hit upon a clueless point with no directions or prominent walkways. All we could see was the majestic Nandi Hills Rock in the backdrop but we were let down by our Courage(s) & hence decided against continuing further. A dejected walk back to Kerehalli Cross where Kitta helped us with some Bread Toast & Benne Biscuits. Babu managed to take a Cat nap while all others were doing some lose talks & Mama had made up his mind to return to Blr.

3.30 a.m: Charlie's spirits weren't dampened as yet & a ray of hope came in the form of a Chai Shop who opened at around that time. Charlie & Kitta coaxed the boy into giving out some much needed information on Brahmagiri & the boy also inspired us by saying that Ladies trek in the morning & Men trek in the night. That was enough to rekindle our male chauvinism. After having Chai (as Thanks giving) to the Boy we embarked on the Trek to Brahmagiri. Charlie was still not convinced about this & he was trying all out to postpone the trek till sunrise. He finally had to reluctantly relent & started with us. The Dogs & the lonely Cow were still in action but our enthusiasm was much higher this time. Ravi N had by now volunteered to be the Navigator & he was leading from the front. His calls of "watch left" "watch right", "watch for Lil Rocks & Thorns" were accurate. Vimal who probably was lil more scared than others had clinged onto Ravi N. We kept counting ourselves from 1 to 10 so that we dont lose anybody in between. Must admit that the path is treacherous & risky but we had made up our minds not to give up. After about an hour of trekking we found some hope when we spotted fresh cow dungs(probably a day old). With that Diwakar took out his SLR camera to capture the moments. Manju & Diwa took some cool pics & Selfies while Ravi N was still in top form.

5 a.m: The Sun was still trying to break thru the clouds but we could spot the mild rays & that was sufficient to switch off some of the Torches which were running out of Batteries. Charlie( & probably most of us) was a relieved man now coz he sensed being out of danger. 5.30 a.m- The Sun was almost out & with that everybody's camera shutterbugs too to take some pics as proof for the family members back home. We could now spot the Nandi Rock in full glory from there but the way out was still not clear, but we continued the trail.

6 a.m: Finally & to the relief of all of us we reached Curve No. 20 of the Road to the top of Nandi Hills. We spotted some 2-wheelers & cars zipping to catch the Sunrise from the top. An awesome feeling & the pride of having come out trumps. The joy was inexplicable all the more because we are no trekking professionals & we had taken the unexplored path.

6.30 a.m: With a feeling of Victory we were all sitting at Curve no. 20 & Kitta helped us again with some Cream Buns & my wifey had packed some cut papayas which tasted very yummy. 8 /10 of us were willing to take the reverse trail but Mama wanted to go on top of Nandi Hills coz the last time he visited this place was when he was in his 3rd grade. Nagaraj, after a good sleep came with the TT & we boarded to reach the top of Nandi Hills & surprise surprise there were already around 1,000 bikes & a few hundred cars in the parking lot. Most of us caught up with the much needed sleep & rest by staying back in the TT.

7.30 a.m: we bid adieu to Nandi Betta & Brahmagiri & reached Sanjay Nagar at 8.30 a.m. Luckily Brahmin's Thatte Idly joint was'nt crowded much & most of us preferred to fill our hungry tummies with hot & steaming Thatte Idlis & then it was time for the Gang to split & head to their respective homes.

The official photographers Diwa & Manju have shared some amazing pictures.

Cheers to the Weekend Getaway Group (on Whatsapp) & i see that there is already lot of discussions going on in the group about the next destination.
This blog was first published on My Cuppa Coffe.