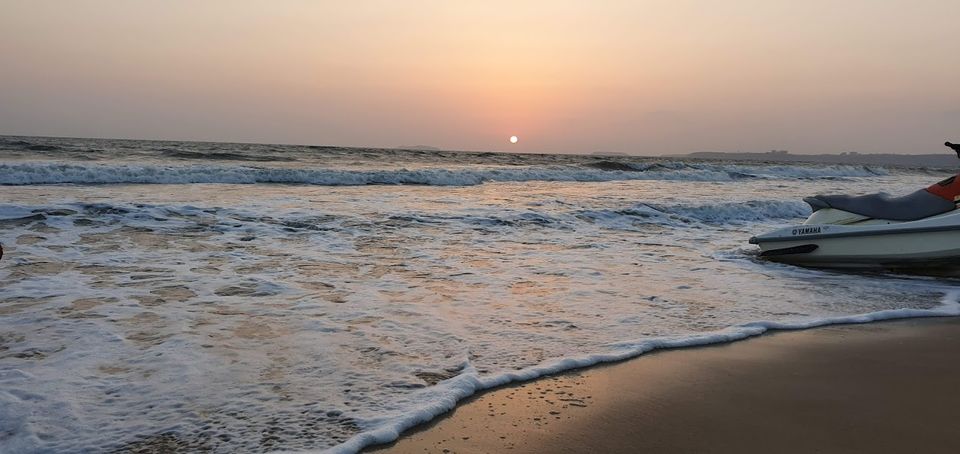 Goa has been among my favourite destinations. Hubby and I make sure we go there every year. It's an annual pilgrimage we undertake sometime in the year. Love the vibe and energy of that place. Having been there so many times, have explored Goa reasonably. So, this time, we were hoping to just chill and laze around out at a good resort, rather than get up everyday with an itinerary in hand and move out in the scorching sun. Goa in May is hot, for people all over. Except for people coming from Nagpur, who are used to 45 degrees and above,consistently, extreme dry weather adding to our woes. So, Goa for us was much better at 38 degrees! We decided to stay at ITC Grand, South Goa.
Nagpur has no direct flights to Goa. The quickest and cheapest was via Indore. Nagpur-Indore-Goa and there we were, Dabolim Airport at 12.30 pm. The person from Hotel ushered us to the vehicle. Reached the resort in half an hour,with two kids in tow, aged 12 and 7, hubby and I with our 4 suitcases. Yes, we do not travel light.
ITC Grand Resort, Goa is located near Arossim Beach, Cansaulim, South Goa. As we entered the Resort, the foyer was airy, well kept and spacious. From the open lobby, one could see the liveliness at the swimming pool, the hustle near restaurants, the greenery providing much needed respite from the scorching sun and you could actually feel the salty, humid Goan air. Welcomed with fresh tender coconut water and the mandatory seashell necklaces, which kids loved.The initial process of check in was bit hassled, because they wouldn't accept Aadhar or driving licence or PAN as id proof, which is accepted everywhere else. That was a bit strange, we had to search for soft copies of passports and mail them. Once that was done,we reached the room. It was located facing the lagoon. Room itself was spacious, had wooden flooring and wooden ceiling with a nice sit out which we used early morning since day time was really hot. The bathroom cum dressing was spacious and toiletries were well stocked . Kids could not wait after check in and soon after we proceeded to the swimming pool. There are 3 pools, all interconnected , having slides, that was super thrilling for kids! Azure sky, lush greenery around, and pool side bar that also served as coffee shop, it was appealing. I found my place under a white Umbrella on one of the pool relaxing chairs, with a book and coffee, while kids had a blast in the pool, and hubby took his 40 winks peacefully in the room, yes he slept !
The resort is spread over acres. Perfectly manicured laws, beautiful flora fauna around. A walk around the resort itself is delight. Since the property is huge, they have buggies to pick n drop, but it is much more delightful walking down the stony path, running on the lawns, and lazying on the hammocks mid way. Each time my son wanted the buggy called, we took races to see who reached the room first! There are 4 restaurants serving Italian, Goan, Indian and a mutlicuisine restaurant which doubles up as 24 hour coffee shop. One can either choose the exclusive cuisine at the restaurants or there is a centrally located village square; a seating area surrounded by these restaurants, wherein u can order from any restaurant. It was a convenient option because each of us again had a different palate. So, day one dinner was spent over lazy pints of Beer, Bloody Marys, Pizza, Daal Makahai and Vindaloo! The food was superb and the staff was very enthusiastic about keeping guests comfortable, especially kids! Live bollywood retro music added to the overall liveliness. One thing, they make the best Bloody Mary ever!
Days began with a sumptuous breakfast which was a part of the package. It's better to reach early to avoid the maddening chaos that ensues around 9.30- 10.00 am. The food was as usual superb, little repetitive at times. The kids later went to the Activity Club , 'Ollies'. Was fun for them since they spent 2 hours at the club, almost everyday. Toys and puzzles, colouring, stain glass wokshop, watching movies, kids did various activities over 3 days. Few activities were free, others were chargeable.A clean place, Ollies, took good care of the children. It is a boon for parents, when kids do not know what to do next and parents have exhausted their quota of energy. With kids busy I decided to take a Spa appointment. It was the most soothing and relaxing massage for whopping 90 mintues! Spas at luxury resorts are expensive, but it was surely worth it, the masseuse had hands of gold could get the knots of my aching back .
We made sure, we went to beach early morning or evening and definitely at night,when i'ts not crowded and the continuous sound of waves soothes ones senses. Mornings and evenings were with kids and nights would be just us strolling around after dinner, listening to Hemant Kumar, Kishore Kumar, Jagjit Singh and likes. The resort provides sand toys for kids at the beach, as well as clean towels after soaking in the water and sand. Water Sports were in full swing still ( they were soon to discontinue it due to off season) Activities like parasailing and water scooter were thrilling. Off season has it's own perks, beach was relatively empty, far from the maddening crowd Goa witnesses during Christmas and New Year and the the water sports were cheaper.
While hubby and I sweated at the gym, kids enjoyed at the indoor sports building, playing table tennis and carom. It includes a mini library too, along with various other games . Kids hardly watched television or demanded phone which suggests there were lot of fun things to do for them inspite of the weather, and the fact that we did not step out of the resort at all.The gym is well equipped though a trainer around would have helped.
The resort also has a beach side restaurant, serving kebabs and tandoori dishes only. Dinner there, relishing kababs and drinks, with the sea waves and balmy breeze is highly recommended.
Overall experience at the ITC Goa, was fabulous. We had always been Taj hospitality fans, having stayed at many big chains, Taj always beat them at congeniality. ITC is at par, surely. The deal we got was worth it. The package was Rs 51,000 per room for 3 nights inclusive of breakfast An added Rs 3000/- per day meal credit and 20% discount on Spa widened our smiles :))
Clean Beach front, lush greenery around, well kept room , bathrooms with amenities regularly stocked, excellent housekeeping staff who would keep checking if anything was needed, they cleaned up the room several times in a day, recreational activities for kids, well maintained swimming pool, well mannered ' kid friendly' staff, an array of cuisines to choose from,and above all great cocktails.
A perfect recipe to chill out in summer!
#summerescape #IssSummerBaharNikal