A contemporary design seeking inspiration from the uncut diamond, restaurants that serve memorable meals, comfortable rooms and happy staff all around- that pretty much sums up my thoughts about ITC's new property in Hyderabad.
Luxury and love both are in details. At ITC Kohenur it was in the 'sleep box' that is on the bedside, in showers fitted with Vitamin C capsules in their wellness rooms, in the personalized pillow that has guest's names nicely embroidered on it and that extra dessert that the chef will feed you no matter which restaurant you are dining at.
The Rooms
I checked into my room- an executive suite that was spacious, offered soothing view of the lake, a four unit bathroom that was plush and all the five star amenities thrown in. Then there were the ITC luxe touches- an iPad with which you could manage room lighting, order in-room dining, book a spa appointment; bathroom that in addition to regular toiletries from Essenza Di Wills stocked lip balm, bath salts and even a facial toner from Forest Essentials and a sleep box on the bedside that had ear plugs, a handy book with tips on good sleeping habits, essential oils to de-stress and also pillow mist. Then there was a lady butler with a disarming smile available to ensure I have a more than comfortable stay.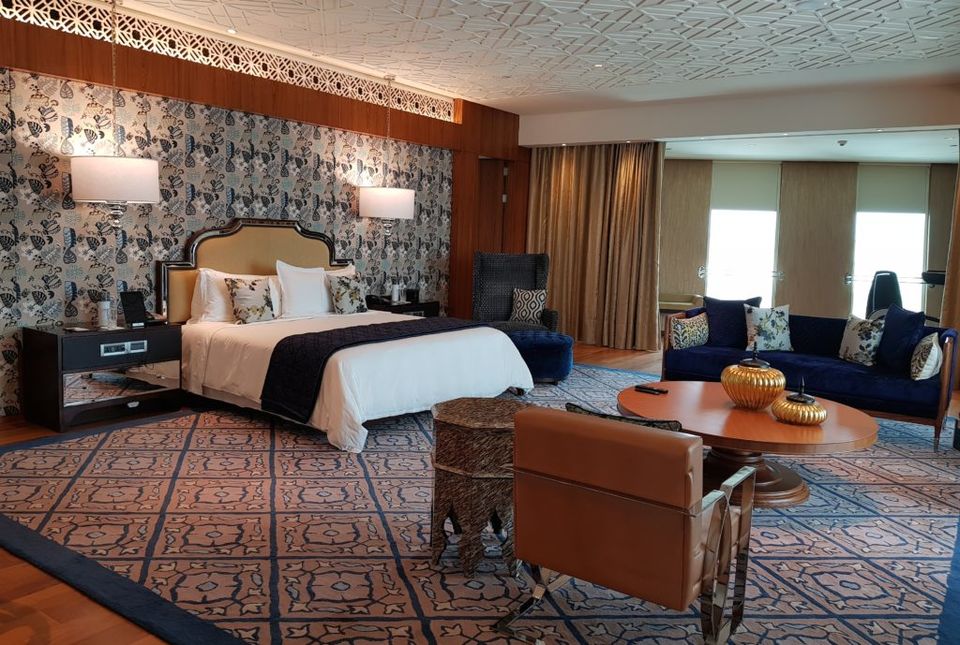 ITC Kohenur houses 235 rooms across room and suite categories. It also has wellness rooms that come equipped with Vitamin C showers and other amenities that enhance well being of travellers. Then there is the coveted Presidential Suite that I hear has already hosted quite a few guests despite its hefty price tag.
Beyond Rooms
The contemporary yet royal design lends a great vibe to the hotel. Infinity pool, spa that spans three floors, fitness centre with a dedicated weight and strength training area, ITC's chocolate boutique Fabelle and an al fresco banquet area- all the facilities make it a vibrant hotel that has been designed to meet all that a discerning traveller could ask for.
Spa: On a comfortable Sunday evening I hit the spa - KayaKalp- and opted for the 60-minute massage christened after the spa'a name. The treatment room was bigger than any standard city five-star features. The room also had an en-suite bath and sauna room. The therapist after a short chat worked on my problem areas and I came out rejuvenated after the massage. Even though I have stayed at ITC properties earlier, this was my first time at the Kayakalp spa and the experience was just what I had imagined it to be- a relaxing affair that renewed by mind and body.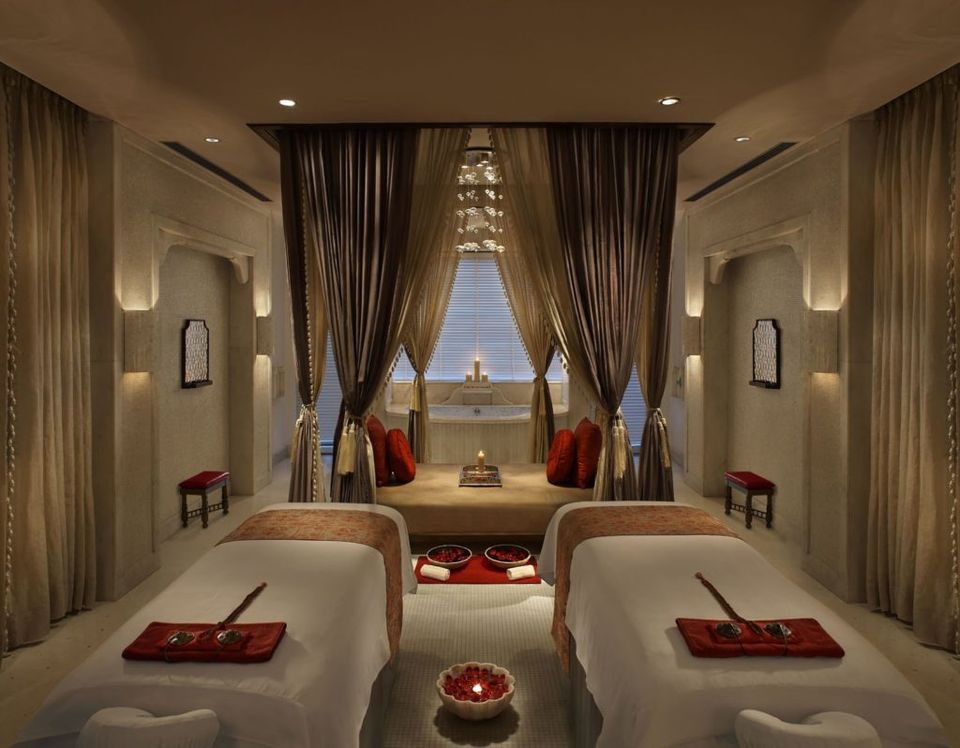 Chocolate Boutique: No matter how hard you try and resist, the wafting fragrance of cocoa from the Fabelle chocolate boutique will draw you towards it and you will come out with a box full of aphrodisiacs. I am not a chocolate connoisseur but it was fascinating to see how chocolatiers at Fabelle put their heart into it. ITC has got this one right.
The Food
Each of ITC's restaurants deserves a separate review ( which I would do eventually) but this hotel review would be incomplete if it doesn't talk about all the scrumptious food that the restaurants serve offering a variety of wine and dine experiences to its guest.
Dum Pukht Begum's : ITC's Dum Pukht is any epicurean's delight, with Dum Pukht Begum's the hospitality brand takes the food experience a notch higher serving authentic Hyderabadi cuisine and no that doesn't translate to biryani and haleem. A lot of R&D has gone into the menu that features dishes from royal families where Begums were the master chefs and treated their recipes as heirlooms that were passed on to their daughter-in-laws and not even daughters lest they go out from the family.
Golconda Pavilion: The all-day dining Pavilion Golconda has elaborate lunch and dinner buffets that feature local fare and all that a guest could crave for- from sushi to dimsums to chicken curry.
I spent lazy mornings helping myself to the buffet breakfast at Golconda Pavilion. Two of my absolute favorites were the very healthy yet delish Ragi Dosa and a chef special millet and almond milk pan cakes. They are the best pan cakes I have had. At times it's not extravagant chandeliers, sunk-in bath tubs or fine wine that you remember post your hotel stay but a simple healthy pan cake that you had for breakfast.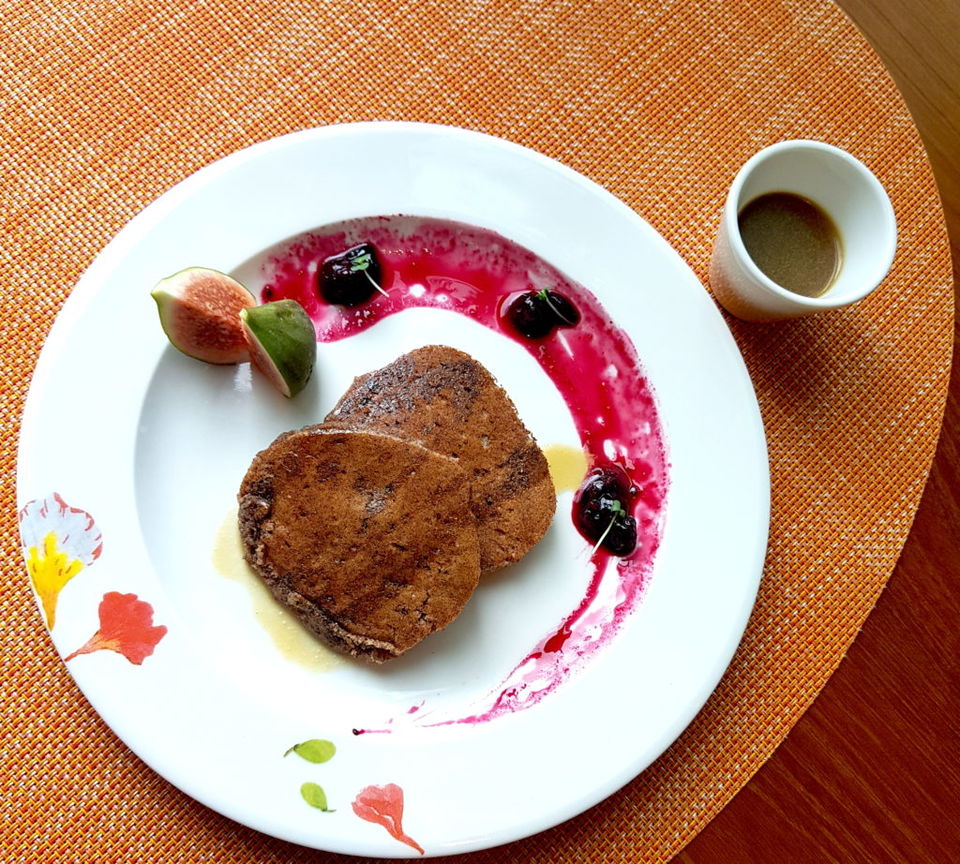 Yi Jing: Another design marvel, interiors of Yi Jing are done in a fashion that make this of the most instagrammable restaurants in the country with of course equally instagrammable food ( oh the dimsums!). The restaurant serves contemporary Chinese. The must try list for this restaurant is rather long- Spicy Carrot and Wasabi Dumplings, Sake and Edamami Dumplings, Seafood Tobiko and Chicken Char Sui dumplings, Beijing Duck, Lobster with oyster sauce and handmade noodles. Though everything on the menu is as perfect as a Chinese cuisine dish can be!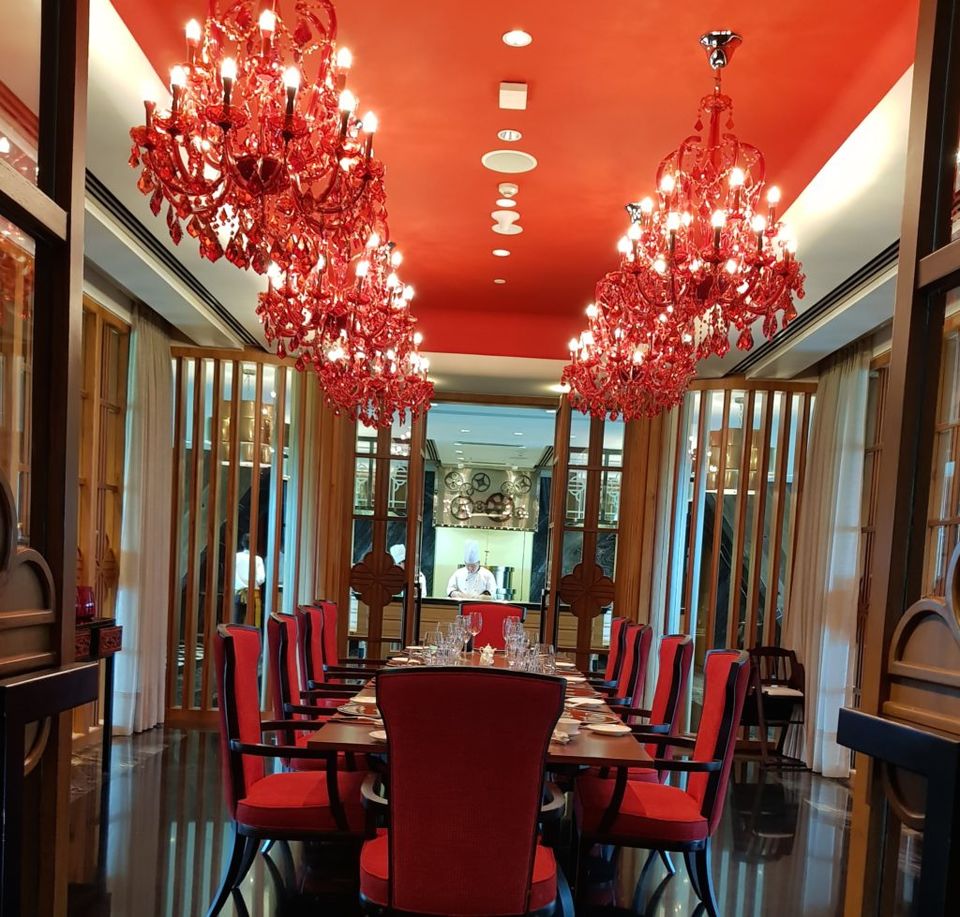 Ottimo Cucino Italiana: Last day after some heady cocktails at the Sky Point that has cool edgy design, I settled for a rather elaborate six course meal at the hotel's signature Italian restaurant Ottimo. There was Lobster salad for anti pasti, followed by seafood soup, rabbit ravioli, king prawns risotto ( with chamomile flowers). Then there were the very delish grilled Australian Lamb Chops. Each course paired with a glass of wine. Unfortunately even though I wanted to, I couldn't make space for desserts that night. The food coma was for real and now the details of that meal are a little blurry, though I do remember having a great conversation with Chef Vittorio Greco and that it was an incredible meal.
Another gem at the ITC Kohenur is the stunning Peacock Bar where you can unwind after a long day soaking in the stunning views both inside out outside.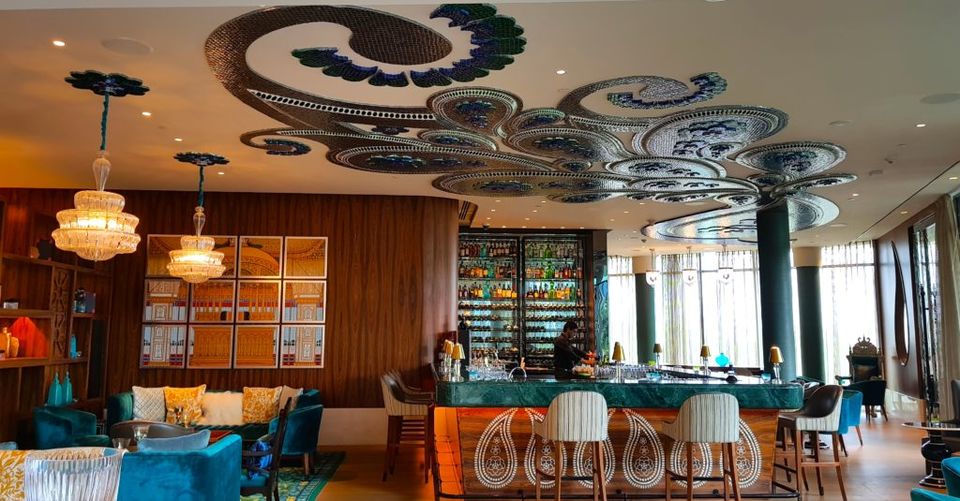 THE Verdict
Luxurious amenities, grandeur, food experiences and to top all of these the impeccable service make ITC Kohenur a perfect hotel. When you meet the GM of the hotel Tejinder Singh, called Teji by everyone, it is not tough to understand why the employees of this hotel have beaming smiles and are motivated enough to serve guests with an elan. With a GM as charming and affable as Teji, it is tough not to deliver a great hospitality experience.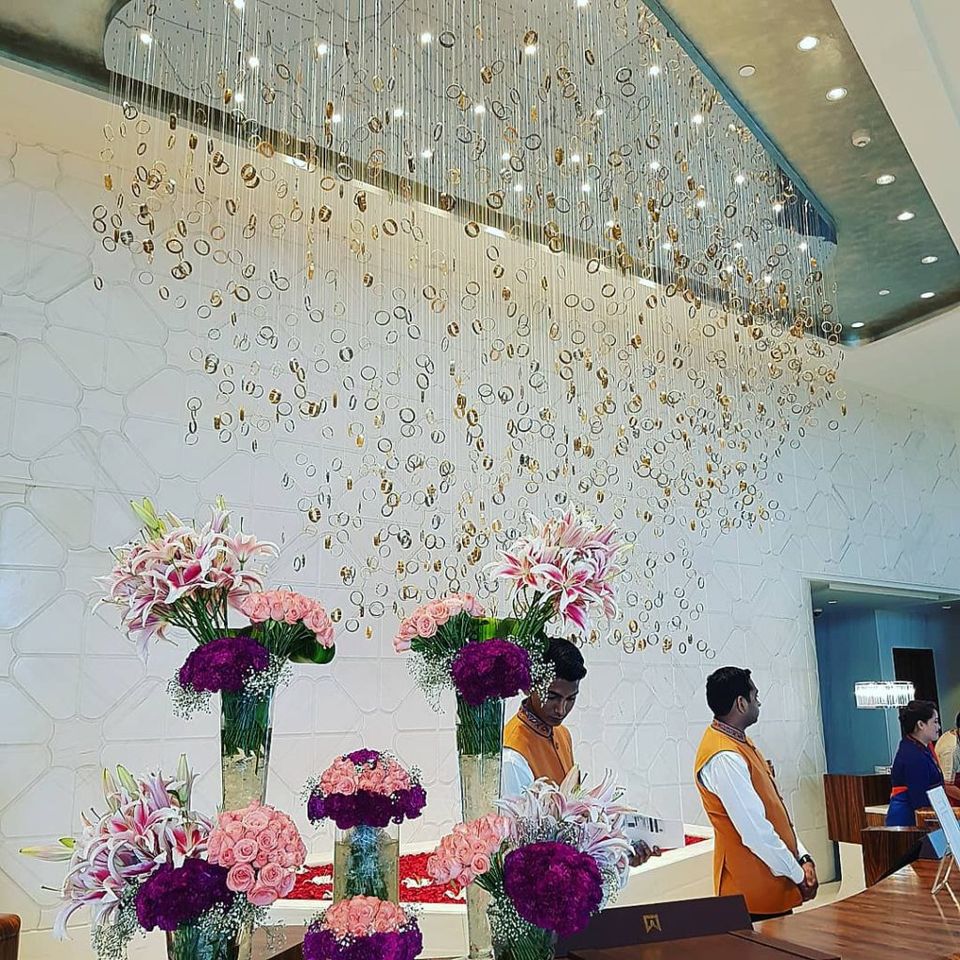 Move over Ikea, it's ITC Kohenur that is the best thing that has happened to Hyderabad this year! Travellers would be glad to know that the second best (Ikea) is just at a stone's throw from this gem of a hotel.
ITC Kohenur Hyderabad: Luxury Hospitality At Its Best: overview
LOCATION ☆☆☆☆☆
SERVICE ☆☆☆☆☆
FOOD ☆☆☆☆☆
CONNECTIVITY ☆☆☆☆☆
Wow! ☆☆☆☆☆
Summary:Luxurious amenities, grandeur, food experiences and to top all of these the impeccable service make ITC Kohenur a perfect hotel.
This blog was originally published on The Hotel Explorer.
Frequent searches leading to this page:-
hyderabad tourism packages from mumbai, hyderabad package tour from mysore, hyderabad manali tour packages, hyderabad tour packages from nagpur, weekend trips from hyderabad