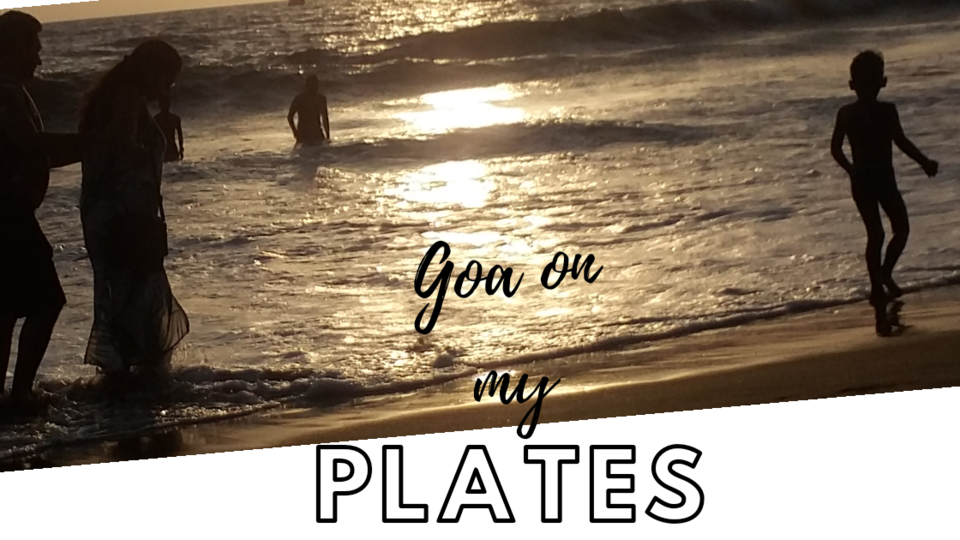 Getting up hung-over from late night party at Mambo's, is a common phenomenon, if you are a party animal and are in Goa. But how many of you have woken up to stomach ache, due to over-eating? Yes, meet me, an avid foodie, who has woken up to a terrible stomach ache, due to an overdose of Konkani prawn the night before, but hey, that did not stop me. I hiked up to the much-famed Chapora Fort, but yes, had to limit myself to just French Fries and Coconut water for that day. However, my second trip to Goa was more of a compensation trip for that day. This time, I did roll up my sleeves and decided to try every kind of food from every type of restaurants and shacks and so my new journey began- this time from one plate to another.
Goan nights at the beach shacks- What's Goa without tasting the delights at these shacks?!
Shacks at the BeachesIf you are in Goa, you need to try out the beach shacks. They simply add to the beauty of Goa and it's splendid beaches. Ofcourse you will have ample of choices, but for us, we fell in love with the hospitality and the food at La Marin, located close to the famed Tito's Lane on Day 1, and it became our 'go-to'place even at the dead hour of the night. Unlike many other shacks, situated nearby, they remained open till 4am in the morning and you could just sit and chill on the beach recliners, watch the waves hurl on the shore and watch the dawn breaking while munching on your favourite snacks, starters or main course.
Breakfast with some Spanish OmletteA platter to fill you up for the day, but when you are a foodie, you need some moreLoaded French Fries while you wait for the steak to arriveAnd the Steak Arrives, won't say it's the best, but worth a try
We tried their sea-food, continentals with mostly chicken starters mostly. If you are looking for a place to spend the night watching the sea and not just party, you can surely drop into any of the shacks and enjoy the peace and the vibe of Goa.
But hey, before choosing your shack, do not forget to ask the opening hours. Even though, Goa remains awake at night, there are many shacks which closes between 12 to 1pm.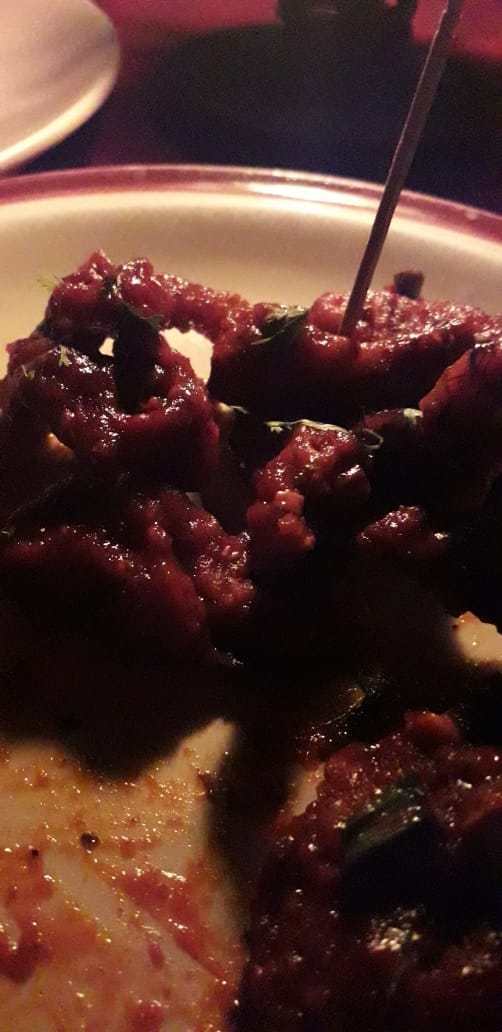 A hint of Konkani Spices with a dash of Chinese and oodles of Taste- that's Goa for you
Manik (Indian) Bar & Restaurant On our second day, we wanted to try something that reflected the flavours of Goa and this mid sized restaurant on our way to Baga from Candolim caught our attention and we decided to give it a shot. Even though, Goa boasts of many fine dines and proper restaurants, but we always make sure to try food from places those are mostly hidden from the limelight and in this case, this place was a hidden gem. We expected to try Goan cuisine, since they had Goan thali.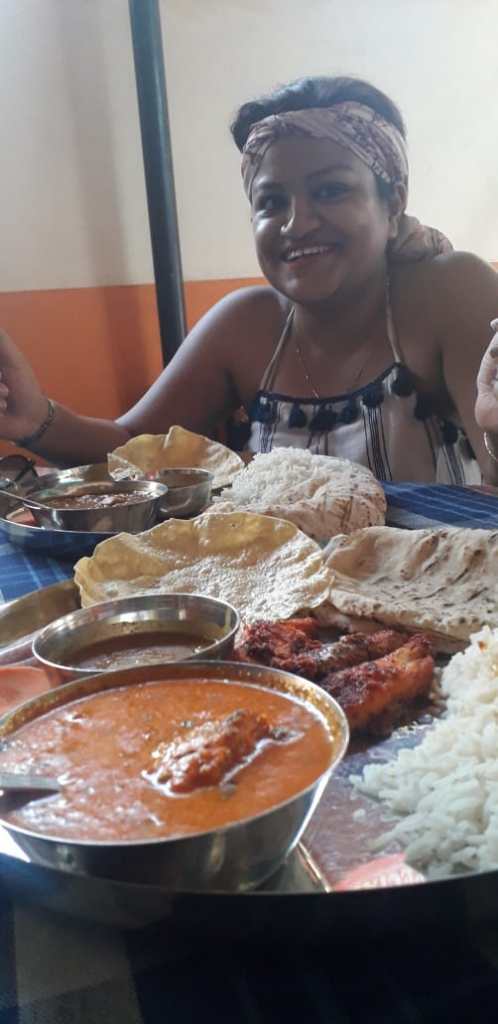 The Thalis Arrives and my smile doesn't stop
The place was run by a family, who had their roots at Ladakh. They also had a Pashmina store, but our sole focus was food and food only. The owner suggested us to try Fish and Chicken thali which will have the perfect blend of Goan and Pahari Cuisine. We were super-excited as the thali arrived. Freshly prepared both the fish thali and the chicken thali were enough to suffice two person, hence it did make us feel overloaded.
The Chicken Thali
Chicken Thali had two chapatis, a portion of rice, the yummiest preparation of Dal, roasted papad, salad and a preparation of chicken with a hint of coriander and coconuta and it was the heartiest meal, I have ever had.
The Fish Thali
The Fish Thali had Rawa Fried King Fish, Spiced up dal, roasted papad, Mackarel in Konkani gravy, salad and a portion of rice and 2 chapatis.
After satisfying our heart, soul and belly, we decided to head to our hotel room and rest for a while, before venturing out to Candolim, to enjoy some live music. Stay tuned, because, Goa is not just about Coconuts and spices from the Konkani kitchen. There were Colonial dishes as well, waiting for us and we could not wait more to dig our forks into them.