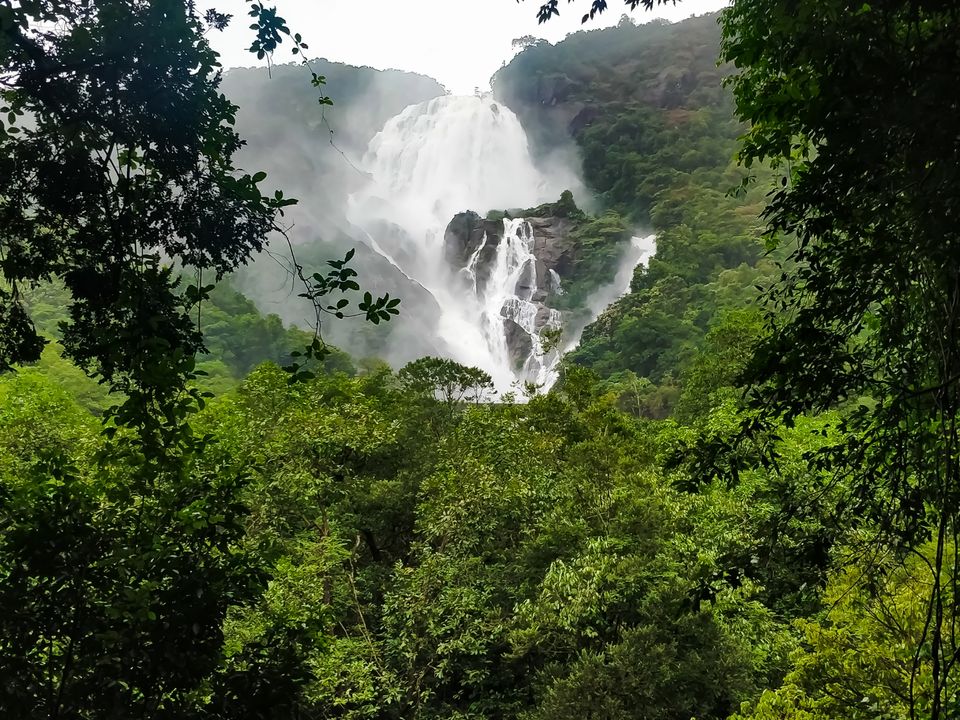 Ever done any Waterfall Trek?
Let me take you through the journey of India's one of tallest waterfall!
I have always heard about the magic of this Waterfall from my friends (the trip I couldn't join unfortunately)- how they walked in dense forest in extreme rain on railway tracks, all in the dark, all frightened as there were signs of anybody else, only way to get back from this place is to ride the moving train.. but the glimpse of this waterfall Worths it all!
Isn't it sound fascinating?
This is the reason I was always Keen to go to this place even before the release of Chennai Express, where this place gained it's popularity.
And finally I was able to plan this trip with the help of Trekkers.in.
Me and my cousin along with 28 other enthusiastic people boarded Goa express with all the smiles and excitement.
It was month of July, peak monsoon season in the region. It was raining heavily in Pune as well. We started our journey by 4.30 pm. While carrying things for the trek, I kept it simple. I carried only minimum things that are required on a trek - rainwear, trekking shoes, a pair of clothes, waterproof mobile cover, water bottles and some eatables.
Train journey itself is scenic on the way to Dudhsagar.
It covered some of the major railway stations like Sarara, Sangli, CastleRock, Kulem.
Soon we got familiar with the other people in the group. It was already night time and some people opted to sleep. I knew the next day is going to be very adventurous and hectic but still I chose not to sleep as the journey was very exciting.
Soon we arrived at Castlerock station, it was raining heavily and giving us signs that it will rain even more near Dudhsagar. At the station We could hear police telling that it's illegal to go to Dudhsagar during monsoon as it is banned. It may cause 6 months jail if caught but we already had our plans clear!
Some of the people start their trek from Castlerock station but we decided to get down at Dudhsagar station.
We have been told that we need to get down from the moving train at Dudhsagar station, where train do not stop but it gets bit slow. So we had around 30 seconds for 30 people to get down. We occupied each n every possible door from nearby coaches and when our guide asked us we all managed to get down within time. There was barely any space beside rail tracks to stand until the train passes by.
It was around 4.15 in the morning and rain was quite heavier but there was something special special in that climate that kept us going. We decided to walk on the rail tracks in disciplined manner and give side whenever a train passes by - as it seems to be the only good option.
We started walking towards Sonalium station which was around 3 km from Dudhsagar station. Sonalium village is the Place from where we were going to start our trek to base of the waterfall. After walking for half an hour, we got the first glimpse of Waterfall from the rail tracks - the best view anyone can ever get. Though it was quite dark at that moment, the Milky stream was shining out there! This view was enough to keep you motivated for rest of the day.
This route till Sonalium kept us giving different views of the waterfall from different angles. It took around an hour to reach Sonalium station. By the time Sun started rising. After 5 mins walk from Sonalium station we had to take a right turn(leaving the rail tracks) for another 10 min descend and that's how we reached Sonalium village.
We quickly freshen up, kept our luggage at the only Snacks center in that village and started our journey to Bhagwan Mahavir sanctuary for the Dudhsagar base. This journey was going to take 1 and half hour as it was 6kms long.
This route had several water streams crossing the path. Due to monsoon in it's full flow, some of the streams were flooded. We managed to cross those streams with the help of each other.
After 45 minutes of walking, we found a stream which seemed to be impossible to cross. Our coordinator tried to cross it first but it felt unsafe. Flow was tremendous and it was not possible to cross it without help of rope. Our coordinator had to went back to Sonalium village for the rope. It took another hour till he got back. It gave us opportunity to click some pictures, trying other ways to cross that stream.
Our coordinator then managed to cross the stream with the help of rope tied at one end. After reaching at the other end he tied the rope to a tree and all of us cheered up. It was still difficult to cross the stream so we decided to keep some volunteers in between to help the people crossing it. But let me tell you, it was not for faint hearted. One girl got frightened while crossing it and lost her balance. She almost got flown away but thank God 2 guys were able to get hold of her. She decided not to cross that path and returned back to Sonalium.
It was going to take another 45 mins to reach the gate of Bhagwan Mahavir sanctuary. Dudhsagar Waterfall was visible from this route and we were getting closer to it. There was a viewpoint from which you get the full view of Waterfall. This wasn't enough adventure, we were going to walk for another 45 mins from the forest, crossing numerous streams to see how this mighty Waterfall looks from the base.
Even after getting the views of Waterfall from every possible angle, I was curious to find out how it is to be at the base. This curiosity kept me going.
We could hear the roaring sound of water and that was it we were finally at our destination.
Ahh!! It was literally felt like heaven. Trek of 5 hours was totally worth it. Waterfall was already flowing at it's highest capacity.
It was time to start our return journey as we had to catch the train in the evening for Pune.
We returned to Sonalium village had some snacks and collected our luggage. Our next task was to board any possible moving train to reach Kulem from where we had our reservations to Pune.
Boarding the train from Sonalium station is itself a story. We waited for more than 1 hour and there were no signs of passenger train. There were some goods train but it was not possible to accommodate on that train. Finally after 2 hours we were able to board a train that took us to Kulem station. We had only half an hour to get dry, change and have lunch as the return train to Pune was about to leave soon.
We boarded our train to Pune from Kulem station all happy and content. This adventure gave us beautiful moments to Cherish. But that was not it! There was something more exciting for the end. The final glimpse of Waterfall, a better, closer view from the train. No matter how many times you look at it, the view gets better Everytime. This trip had so many things to offer, even at the end of the trip it offered this beautiful view from the moving train.
Apologies for the bad picture qualify (due to rain)
For more details please have a look at below Vlog:
https://youtu.be/R_kgQ20qOPY