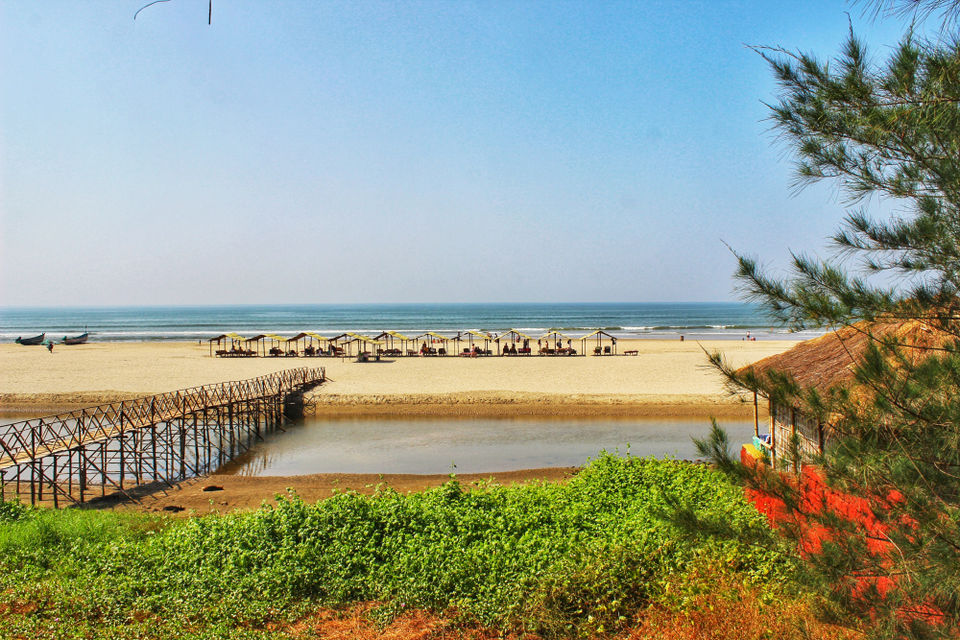 I realise how much I have changed when I look back at my Goa travels. I see different shades of me in each of my Goa picture, from a hippy person to an intense thinker. This is the place that saw me evolve from parties to tranquillity.

Every youngster in India plans for Goa, some taste success, while some invent funny excuses. Luckily for me, my first Goa plan was kind of impromptu. My new 9-6 job shaped a new independent me, keen to travel places like everyone else. So, I packed my bags without a second thought when my colleagues counted me in for the trip. Buses, hotels, everything booked hardly a week in advance. Being the first Goa trip for most of us, we stuck to what a usual tourists does in short 3 days vacation around North Goa. However it was my second trip to South Goa when I realised how tranquil this party place can be.
NORTH GOA
How did we reach Goa?
We were lucky enough to get last minute bus bookings in peak January. To my relief, the TV wasn't on during the whole night journey (Anyone has same complaint for Volvo buses!?) A peek outside the window in the morning, and I felt as if I'm in the Indian Grand Canyon. The huge red rocks accompanied us throughout twists and turns of Konkan. The journey was of about 13 hours with a pit stop for dinner, breakfast and definitely nature's call.
Where we stayed?
The only courteous thing the owner of our homestay did was to pick us up from Mapusa, where all the buses halt. We hardly paid Rs.1000/- per night for stay. That's the best thing about Goa, you can find cheapest of places to stay, even a beach hut! (not always top quality, try your luck!)
Places I liked in North Goa
Sinquerium Beach & Fort Aguada:
This is by far my favourite Goa beach, for it has all in it's store. The bluest sea, water sports to satiate your adrenaline and a fort offering breathtaking views. Adjacent to Vivanta by Taj Resort, a section of Fort Aguada is attached to this beach. The fort has more to offer, if you walk a few kilometres further – A lighthouse and panoramic view of ocean from the top!
This beach is less crowded compared to touristy Calangute or Baga, yet equally fun with various activities offered. Parasailing, Jet ski, Banana ride, you name it and it has it! Do bargain as they usually quote a higher amount at first. Also, do you know that Sunburn Music festival is hosted here every December?
Arambhol Beach:
This beach can take you in lands of Africa as foreign travellers frequently play their Jimba drums here. A bit away from usual Indian tourist areas, at night this beach can offer you a movie like beach party experience with fire shows and grooving music. The vast expanse of white sand ends at the cliffs which offer great sunset views if you climb. This whole area feels a lot different than most of the Goa, lively yet peaceful at any time of the day.
Extra facts: There is also Paragliding available and a sweet water lake which remains pretty unexplored.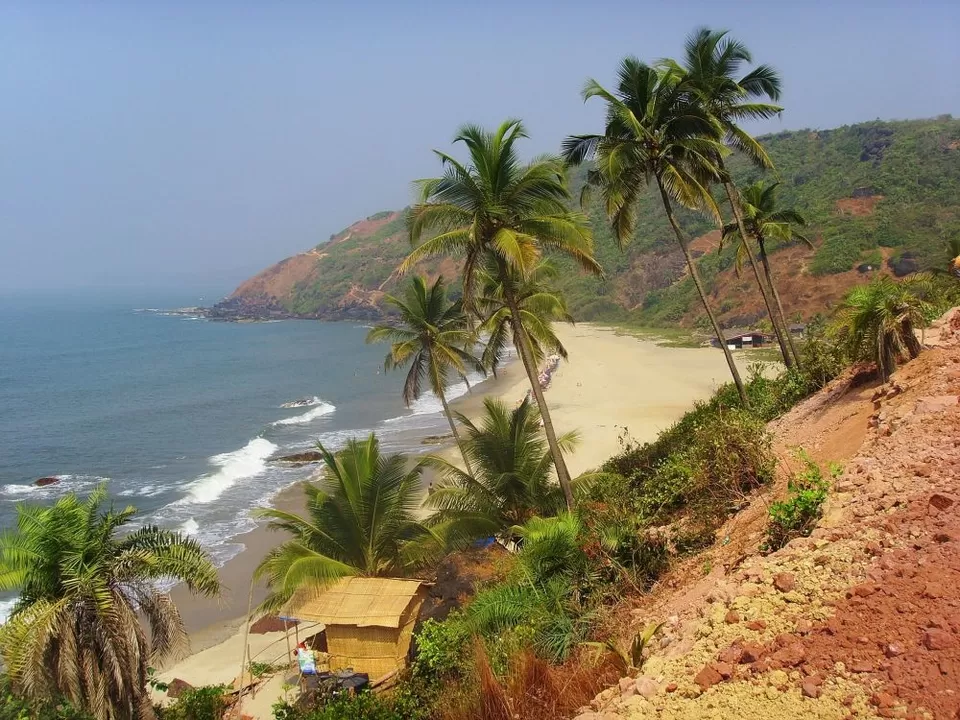 Ashwem- Mandrem Beach:
Ahead of Arambhol are twin beaches of Ashwem and Mandrem which remain peaceful and less crowded. With white sand and pristine blue water, these beaches are must visit if you want a South Goa like experience in North Goa. While Ashwem beach has a bit rocky terrain, Mandrem receives its charm from a small lagoon that flows around. Just look at the picture, do I need to say anything further?
Commercialised Beaches (Calangute, Baga) & Anjuna Flea Markets:
These beaches are highly commercialised, crowded and untidy. You surely don't want to be here unless you're shopping or are on a night stroll and its near your hotel. Nearby area is filled with shopping places, where you'll find everything from cloths, accessories, jewellery, crafts, cashews, liquor and unending list of stuff. Infact Anjuna's weekly Wednesday flea market can surprise you with some unique merchandises from all sorts of sellers, be it hippies or commercial ones.
Every beach in Goa offers you cheapest candle light dinner in their shacks. The nights you're not partying, just head to the nearest one to enjoy chilled beer with ocean and candlelight.
Old Goa Churches:
Old Goa, once a capital of Portuguese Goa, is currently a UNESCO heritage site. The three churches of Old Goa are frequently visited by tourists – Basilica of Bom Jesus, Se Cathedral, St Francis of Assisi, all in the same premises. The basilica holds the mortal remains of St. Francis Xavier. These architectural masterpieces were constructed about 400 years ago, yet are very well maintained.
There is also an Archaeological Museum inside which can be a treat for curious minds and history lovers. It displays various fragments of Hindu sculptures, briefs of Portuguese history with a pretty big gallery consisting portraits of Portuguese viceroys.
Clubbing:
North Goa has a lot of clubbing options. You can find Titto's advertisments printed on every wall of Goa. However my personal favourite is Cubana, tucked in Arpora, welcoming you with neon lights and neon signboard. No stag entries here makes sure there is a decent crowd. Cover charge covers you with unlimited drinks and a fun night as you sip your drinks along the pool or enjoy the beats at multi-level disc. Soak in conversations at romantic sitting area near the pool overlooking the Arpora town and you'll not realise how time flies.
Restaurants like Thalassa, just near Vagator beach, are great option too if you're in a party mood, but not up for proper clubbing. White decor combined with fairy lights gives this place a dreamy feel. With fire show and entertainment acts lined up every half hour, your fun time is sorted here.
North Goa- though a major tourist attraction, yet only handful of places are common amongst tourist, while many remain a hidden gem. Blessed with a vast coastline and vibrant history & culture, Goa is beyond just a 3/4N stay. I would honestly suggest you to go a bit off track and explore some of the less visited beaches like morjim, ozran, etc or include an offbeat activity like heritage walk in Panjim or River Rafting in monsoon at least for one day of your trip.
This first Goa trip of mine, implanted in me the seed of travelling and till now my bookmarks are filled with Goa places. Be it North or South, there is so much to be explored that I can't really wait for my next trip!
Stay tuned for next chapter of Goa series – South Goa!
Which are your favourite places in North Goa? share on the comment below!
This post was originally posted on my blog, do follow to read more:
https://explorewithneha.wordpress.com/2018/06/02/from-parties-to-tranquillity-north-goa/
Follow on Instagram for more picture from my trips.
I'm also available on YouTube, Facebook and Twitter.
Just a girl with dreams of travel…