Yes, we are talking about the official party capital of India. Goa has got everything - from beaches to nature and nightlife to adventure activities. It is a perfect gateway for people who like to chill by the beach with a bottle of beer in hand or the adventure junky in you who wants to try different activities Goa has to offer. That is, it's one of the tourist places where one can have both a backpacking trip as well as a luxury relax-station. Wait what! is that a word or did I just make that up? Well, now that I have said it let's make it a word like how we have stay-cation.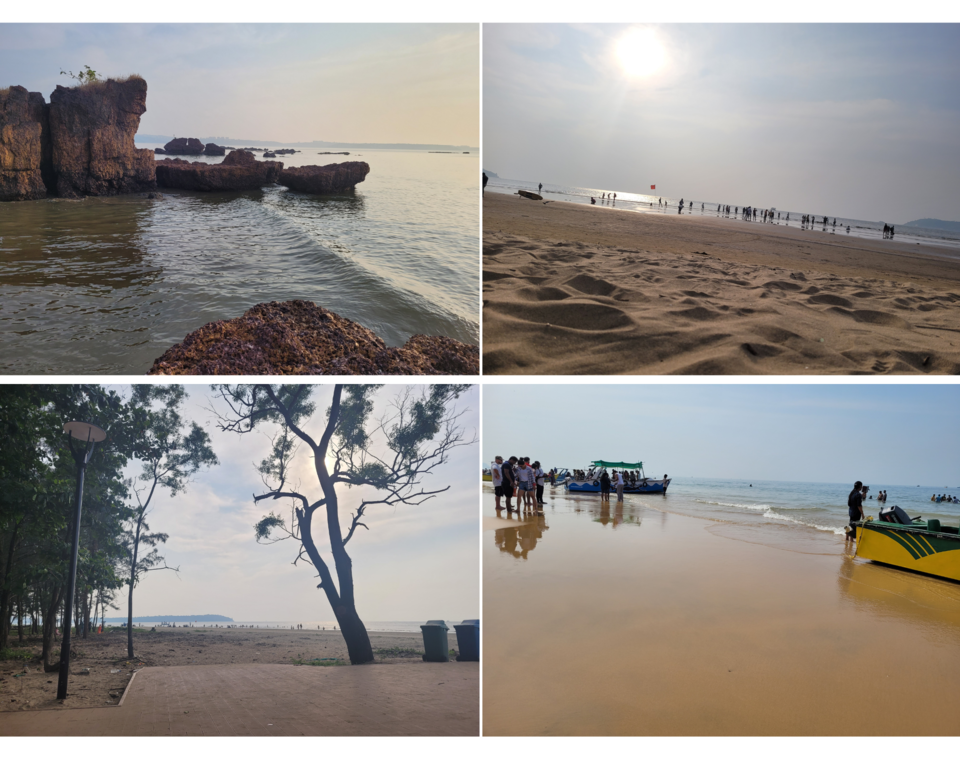 Generally, October to February is considered the best time to visit Goa as the weather is ideal for enjoying the city and beaches, however the catch is that everything becomes particularly expensive at this time of the year. And not to mention the crowd and the new year party's across beaches. So, if you are planning something under a budget, choose for any time when it is off-season. I will get into details when I explain the itinerary. Now let's dive into how my 3-day trip to Goa was eventful yet relaxing and budget-friendly. I went with my husband aka friend aka partner in crime for this trip.
Bangalore – Goa
We planned it around November which was closer to the December madness yet the time when Goans were just gearing up to welcome the tourist flows. To travel from Bangalore, you can choose between buses or trains for a night journey or take a direct flight. One-way tickets will cost you around Rs. 350 for a sleeper to Rs. 1500 for 2AC in trains and between Rs. 900 to Rs. 2500 for buses. We pre-booked train tickets a month back as it gets filled fast.
Since we had booked our stay near Dona Paula, we took a cab from Madgaon railway station to the hotel. It cost us around Rs. 1000 (it was around 40 kilometres). If you prefer to ride or drive from Madgaon there are multiple rental places around. We reached the hotel around 10:00 AM. We had booked Ocean Suites Boutique Hotel Goa which was around 2000 per day without breakfast. (there are cheaper options available). The rooms were very spacious and had an amazing balcony view. Later we ordered in some brunch and freshened up. The first thing we did after that was; look for a bike rental and got a Honda Activa at 400 rupees per day. The costs can go up to 600-800 during season.
Bike renting tip – Make sure the required papers are there and be aware of any scratches or dents on the vehicle. You may also take a video of the vehicle in case.
Destination 1 : Fontainhas
Fontainhas is a neighbourhood in Goa. It is a narrow line of colorful Portuguese villas with balconies and red-tiled roofs. it is also called Goa's Latin Quarter.
Destination 2 : Old Goa (Basilica of Bom Jesus, Se Cathedral, and Tomb of St. Francis Xavier)
All the these are in a one kilometre radius and easy to locate.
Se Cathedral is also from the 16th century. It is said to be the largest church in Asia that is still operational. The high ceiling and large hall and corridors are exceptionally beautiful.
Tomb of St. Francis Xavier is in one of the chapels of the Basilica of Bom Jesus. It is the tomb of a revered Portuguese saint – St. Francis Xavier who was popular in Goa.
Basilica of Bom Jesus is a World Heritage Monument built in the 16th century. It is a brick-colored structure with amazing architecture.
We had some snacks from the shops near the church and headed towards our next destination
Destination 3 : Shree Mangesh temple
The temple was around 10 kilometres from old Goa. The temple is famous for its captivating architecture. The main attraction is a seven-story octagonal lamp tower which is said to be lit with oil lamps during festivals. The temple is dedicated to Lord Mangesh who is an incarnation of Lord Shiva. The temple was originally built in a different place around 450 years ago, however, during the Portuguese rule it was destroyed and was later built under the Maratha rule around 150 years ago.
We had no plans for the evening and decided to go for an early dinner at Barbeque Nation. The care takes were very accommodating and allowed food and drinks at the hotel. The evening was long and relaxing.
Since the hotel was not providing breakfast the time we travelled, we ordered in some breakfast. We usually do not plan much for a day. Its mostly one or two places in a day wherever we travel.
Destination 1: Aguada Fort
Fort Aguada is a seventeenth-century (400-year-old) Portuguese fort with a lighthouse on Sinquerim Beach. The best time to visit is either morning or in the evening because the afternoons can be very humid.
Destination 2: Miramar beach
It is a 2 km long beach in the city capital of Panjim. The beach is famous for the golden soft sand, palm trees and eateries around.
We decided to go for an early dinner at Fisherman's Wharf. I have heard so much about the place. I have heard so much about the place, but honestly, the food was not as expected. Probably we didn't know what the speciality was there.
Since the agenda for the day was primarily some beach activities, we started early.
Destination 1: Calangute beach
Calangute beach is famous for water sports and can be hustling with tourists throughout the year. It is one of the most visited tourist locations in Goa. We reached Calangute beach early and got some good parking lot. We had some snacks and went for some water sports and parasailing. The experience was average. There will be lot of people on the beach offering you different water sports activities at different rates. So make sure what exactly are you looking for and enjoy your time. The thing is, lot of people talk about bargaining and how the locals can be a little intimidating. However, the fact is their only source of income is tourism and all of them charge you the same amount most of the time (because all of them work together and for each other).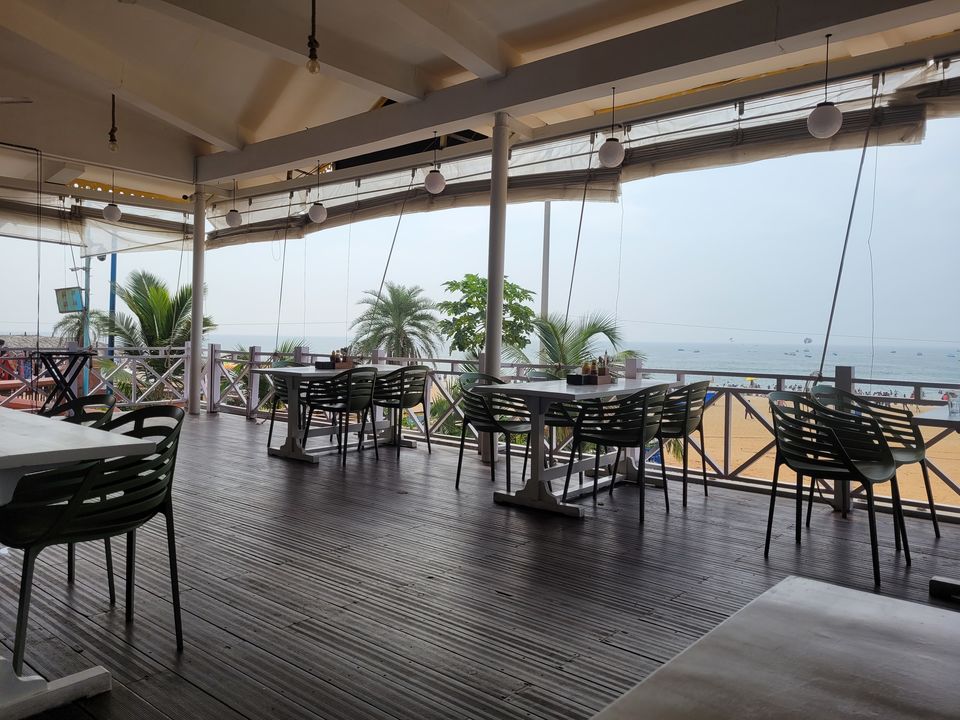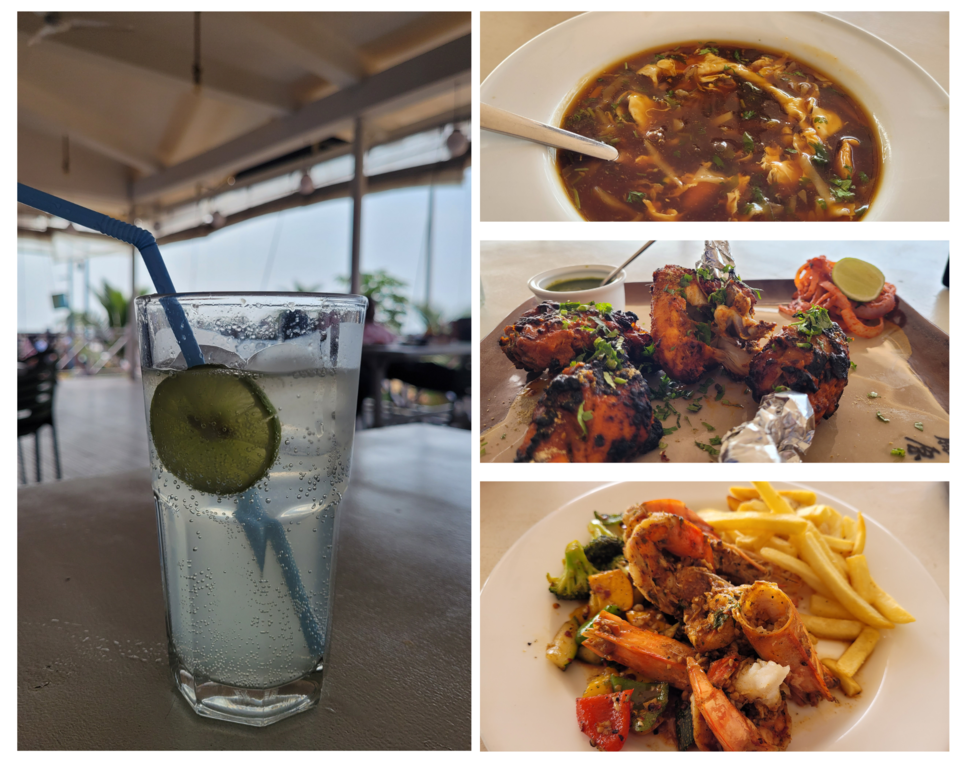 There is an amazing open restaurant right in the entrance of the beach called 'White Beach Bar and Restaurant', we had some really good lunch from there. We especially enjoyed the ambiance and surprisingly it was not crowded.
Destination 2: Seashells beach
We were actually done for the day and was planning to return back. But while coming back, we thought of checking out a not so famous beach in Goa called Seashells beach. We reached there around 4:00 in the evening and trust me it took us by awe. There was hardly anyone and there were a lot of seashells on the beach. No! I am not kidding. There is a reason why they call it seashells beach and now this is one of the places we recommend people to go if they like to enjoy an amazing sunset or sunrise.
Destination 3: Dona Paula
I had a vague recall of the place from a trip during my school days. However, the place has changed so much. It is too crowded and there were some constructions going on. So, we left the place just spending some 15 minutes.
Most people who read or research on Goa must have come across blogs on Shri Kokni Kanteen in Panaji. They are one of the restaurants known for their authentic coastal Konkani cuisine and thali served in a homely setting. They have been functioning since 1972.
Goa to Bangalore
Since we had some time in had as we had booked an afternoon train from Madgaon, we decided to go on a morning ride before we return our rental bike.
Destination 1 : Immaculate Conception Church
We went to the iconic 'Immaculate Conception Church' in Panjim. I call it 'iconic' because the white church used to be the face of Goa at one time. The church is famous for its architecture and its flight of stairs that zigzag to the top. The church is said to be built as a chapel in 1541. However, during the Portuguese rule, it was replaced by a larger church in the 1600s.
Cannot leave out the place we stayed. it was really peaceful, spacious and cozy.
Later we returned the bike and took a cab to Madgaon railway station. We had an afternoon train back to Bangalore.
Cost: Bike rental - Rs. 1200 + petrol – Rs. 700 + Food – Rs. 7000 + miscellaneous – Rs. 2000 + Room - Rs. 6000+ Travel (train + cab) Rs. 4000 = Approximately Rs. 21000 for 2 people