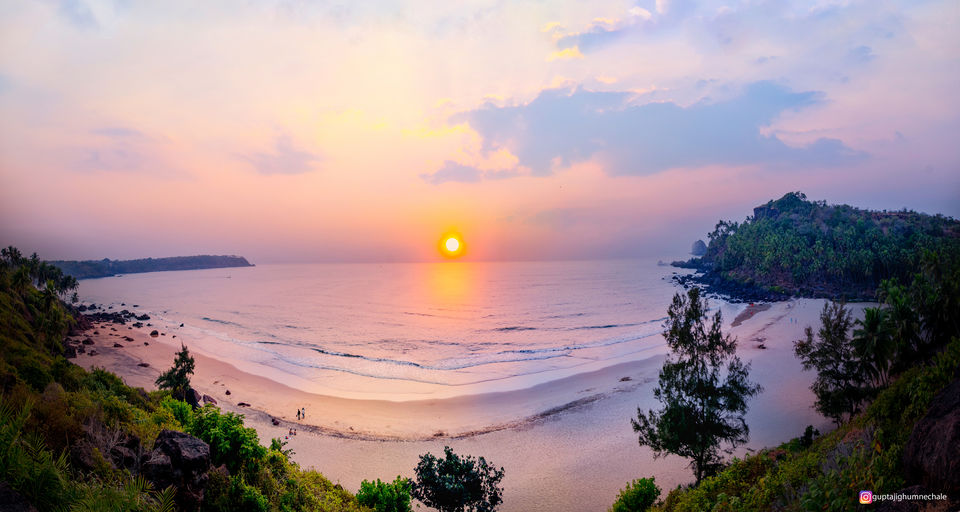 You know what, Goa is not just all beaches and bar shacks, but it is a very laid back and fun place to explore outside the limits of its famous beaches. I know there is notion out there that Goa = Beaches, Beer and Casino (do not know when did this become a "thing" to do), but I beg to differ from this thinking and through this post I want to bring out a different Goa that one should experience.
Like all first-timers, my first ever trip to Goa included visiting all the famous beaches especially in the north and chilling at the shack. So when the thought of a second Goa trip came to my mind, I decided that this trip won't end up me just visiting the beaches (maybe this time in the south), but I wanted to experience the real Goa - even if it is just scratching the surface of the Goan life. And so I took a wise decision of pulling in a friend of mine who was raised in Goa. Now, I know, not all of us have friends from Goa, but in this post I will try to write down my moments of discoveries that you can try out on your next visit to Goa.
To travel to Goa, we decided to board a bus for both onward and return journeys. Now, you guys might be thinking - in 2019 who travels via bus, when the flight tickets are way cheaper, the journey is more comfortable and less time consuming. But here's the thing, i found my bus operator to be just fine irrespective of the bad reviews and ratings on ticket booking sites. The bus interiors were pretty clean, well lit, had mobile charging units and one water bottle per seat. The only down-side of bus travel is the timings. Though our bus started from Bangalore right on-schedule, by the time we reached Goa we were just an hour delayed, which i believe is absolutely fine with me, after all i am going to Goa for vacation, so i am in no hurry at all!
But above all, here is the great advantage (according to me) of a bus journey. When travelling by bus the next morning, when you have entered Goa, you can start imbibing the essence of this tiny state. That's exactly, what I felt! Looking out of my seat window, my bus was spiraling down the hair pin roads of Canancona, driving through lush forests (filled with cashew and eucalyptus trees) and evergreen patches of rice fields and villages and as you are enjoying this ride, you cannot just ignore the fact that Goa has such scenic and untouched countryside hidden behind its overcrowded coastline playground. So, let's begin my vacation in Goa.
We reached Panjim bus stand around 9 AM and from here we took an auto to reach our Airbnb house. The was house very near to Miramar beach. It's an individual villa, located inside a colony. The host was friendly and nice . Here is the link for the house :
https://www.airbnb.co.in/rooms/29149101?guests=1&adults=1
To travel around Goa, we hired a bike. Our AirBnB host helped us with this, he knew a bike rental service, who delivered the bike at his house within few minutes after calling them. Now that our accomodation and mode of transportation was in place, we were all set to explore the Goa, eat some awesome food and in general have great vacation time.
Here is the link to my food article :
https://www.tripoto.com/trip/how-to-get-the-best-food-experience-in-goa-5c83fdc9bb75f
I will just take you through all the places we visited. I am sucker for good sunsets and sunrises, and I wanted to witness them on some beach everyday. On our first day we decided to go to the all time favorite beach - Anjuna. I love Anjuna because of its rocky coastline that provides great landscape for photography. We left the house at around 4:30 PM and was rushing to see the sunset. The ride to Anjuna was just awesome. We reached on time and captured some beautiful pics.
Anjuna beach has lot of shacks to enjoy drinks and food. After taking pics of sunset, we sat down at a shack and enjoyed our drinks as the time moved into darkness. On inquiring, we found out few shacks provide accommodation too. Actually, it seemed pretty nice, they have beautiful places to stay just at beach. The rates are around 3-4K per night but I think it will be worth. I would love to try it on my next visit. On our way back, we stopped at Baga for a really good dinner and ended our beautiful day.
Next morning, around sunrise time, we went to the iconic landmark of Panjim - Our Lady of the Immaculate Conception church. The Church conducts mass every day in English, Konkani and Portuguese! The colonial Portuguese Baroque style church was first built in 1541 as a chapel on a hill side overlooking the city of Panjim.
After taking some nice and amazing photos, we headed to Cafe Real to eat some local breakfast. Thereafter, we were all charged up to explore Goa for rest of the day.
The next plan was to visit Old Goa and few surrounding places where my friend has spent his life when he was growing up. Old Goa was the capital of the state in the early days of Portuguese rule. We started our day riding from Panjim to Old Goa, passing by some beautiful old Portuguese styled houses. Not sure was it because it was Saturday or generally it is such that, as we were riding, the road seemed pretty empty of people and vehicles. My friend told me that this is just normal. All the people are inside their houses, doing their routine work and chilling.
Our first stop was Basilica of Bom Jesus. This is a UNESCO heritage site. The basilica holds the mortal remains of St. Francis Xavier. The church was built using Baroque architectural style, which was the most popular style of architecture in the sixties. This is a heavily adorned and ornamental form of architecture, making the church a visual treat. The floor of the church is laid with marble and the interiors are done with precious stones and other ornamental works.
Just opposite to Basilica of Bom Jesus, there is Se Cathedral de Santa Catrina. This is the biggest Cathedral I have seen in India. It is the cathedral of the Latin Rite Roman Catholic Archdiocese of Goa and Daman and the seat of the Patriarch of the East Indies. The Se Cathedral was built to commemorate the victory of the Portuguese under Afonso de Albuquerque over a Muslim army, leading to the capture of the city of Goa in 1510. Since the day of the victory happened to be on the feast of Saint Catherine, the cathedral was dedicated to her. It is grand and very beautiful inside.
After these two churches, we roamed around the old streets of Old Goa and explored the nearby places where my friend used to live. It is so nostalgic to go the place that you have left behind in your past. I am sure all the memories came right flashing before his eyes. It was overwhelming for him.
For today's sunset we picked Sinquerim fort. It is a very small fort near Aguada fort. I will show you one pic from this place to lure you in going there. The Sinquerim Fort is located at a distance of 18 kms. from Panaji. The fort stands overlooking the Sinquerim beach and bisects the shoreline into two. This fort was constructed in the year 1612. The lower fort consists of a bastion and a section of fortified wall on both sides. During the 16th and 17th Century ships used to anchor next to the fort. We spent our evening here and took some beautiful pics of the place .
We headed to Saturday's night flea market near Arpora. It is one of the biggest flea market in Goa and has a lot of things available for women. You must check it out if you are interested in shopping.
Day 3, we started with Miramar beach. We were staying 500m from this beach, so one morning was supposed to be dedicated to this. Miramar beach is a clean, family friendly beach. It is located in Panjim city and has lot of places to eat nearby. Here are some pics from this place .
We went to Panjim City for breakfast and while coming back, we checked out Panjim "farmer's market". This is a big complex where so many shopkeepers will put up their stall for fresh vegetables, groceries, meat, flowers etc. etc. It was so nice to see this market, it reminded me of the Italian markets - where everything was so fresh and clean. I don't think I have found such a market in Bangalore. Do let me know in comment if you know such a market in Bangalore.
Today our destination was Cabo-de-Rama beach. I will not write a lot about this place as I have a separate blog for this place. Please check it out.
https://www.tripoto.com/trip/the-most-scenic-isolated-and-photographic-beach-in-goa-offbeatgoa-5c734eeba60cd
After spending an awesome evening at Cabo beach, we returned to Miramar and ended our day with sipping wine and having snacks at the beach .
In the end, my second Goa trip was truly unforgettable and as I was writing this post, i was transported to all these sites and just filled my heart with joy and content.
Dev borem karum!
Frequent Searches Leading To This Page:-
Best Tour Packages for Goa, Goa Tour Package for Couple, Best Travel Packages for Goa, Best Goa Trip Packages, Goa Holiday Tour Packages, Top Goa Packages for Family, Goa Honeymoon Packages from Delhi