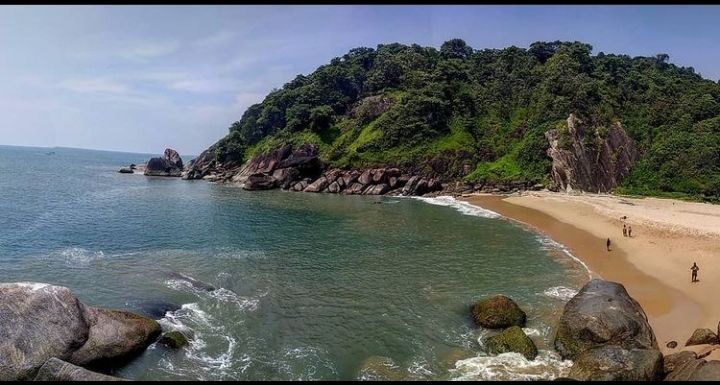 Hello people!
Here's another story from the wild and the unknown, and the place is named as The Butterfly Beach because of it's beautiful curve  as the butterfly wing and you can see that from above if you open your own maps!
So, let's go to the story we need to reach that place.
Scene 1
It won't take a day actually, but it's hangover could stay with you for days!
So, it's in the south part of Goa near Agonda. We reached there with our two wheeler. Then, after a point where the leopard valley starts, (the entry point of the route) within 1 km comes a point where there's a big plant nursery, is the point where we need to drop our vehicles and start our journey to the beach by walking.
We had visit the place on the rainy season so from the starting point we had our ankles dipped in the water on the ground while walking.
So, when you go there for the first time it would take around 45 mins for you to reach the destination only if you have someone to guide you with the directions.
Scene 2
While walking for around 25 mins, we were almost in the middle of that jungle where we saw two big snakes (maybe fighting or having sex) actually was very frightening because the snakes were in that same water from where we need to pass.
So, slowly slowly we took our time by staying still and waiting for the snakes to go on their way home so that they could make way for us to move forward, probably after 5 - 10 mins the way was clear and we then moved towards the beach.
Scene 3
We were walking on our path while all the trees making a canopy over a narrow lane and it was all scary like the branches of the tree were hanging just above your head and we had to look forward, backward, left, right and up & down as well so that nothing hops on you at that moment.
Scene 4
Then we faced one another challenge where we see  there's an open field on both the sides with a very narrow pathway on which you have to walk straight with wild bulls sitting and gazing on the either sides looking only at you. It was like they were watching us going from one point to another like it was a ramp show and all the wild bulls are watching and judging you for the brownie points.
After having all that adrenaline rushing in you we then again reached on the roads which were narrow and scary as well. And on that way we heard peacock and we saw kingfisher bird then colourful crabs and etc.
Scene 5
Then after controlling all our pulses and hoping to be alive through all this, we reached at a point where we see no way after that. It felt like a dead end and no way out.
This is the point where you are very close to the beach but you have no way to reach. And most of the people go back from this point as they find no way out from this. It was our fortune that we had a person with us who has been there before, so he showed us the very narrow and short way from all those woods and leaves there, which guided us to the beach finally.
Scene 6
And trust me, the moment we stepped on the beach, the trek felt of being so worth, as there was no one over there and you had that beautiful tiny little beach all for yourself. The sand was so fine, the water was so clear. It felt like we have reached a magical place through the jungle and seriously my words may interpret an imagination but trust me this is the reality.
That place will make you feel so reserved as if it's your home and you don't need to go anywhere out of this.
So, after spending good 2 - 3 hours of quality time over there we made our way back from the jungle which took around half an hour, as we had to reach out before it gets dark.
And then I am still not out of it's hangover.
That's it.
The Butterfly Beach,
South Goa,
India.