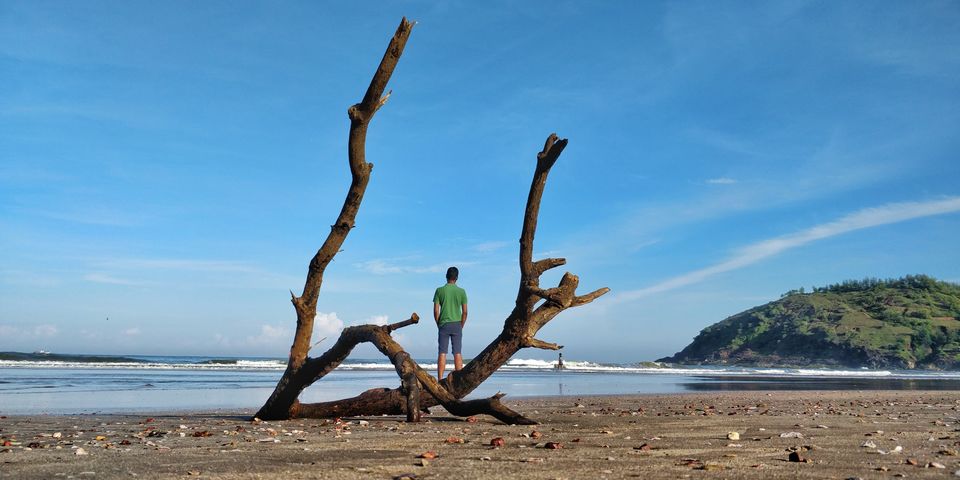 If you haven't read the first part of this travel blog, then please visit this link and read the first part.
Rest, if you have read the first part- please unread the first line.
After having the breakfast, we started moving towards Kudle Beach. This was our Hitman's research- somehow he managed to scan some travel blogs and came up with the solution that, Kudle beach was a cheaper place to stay. That's it- keyword found "CHEAP". Packed the Bags, ignited the engine and bid adieu to Namaste cafe.
As per google maps, if you have a vehicle with you- then you will be guided to park the vehicle in a small open space, full of pebbles in a highland(or hill for us city folks) just beside the Kudle beach. Guessing that you love your vehicle, seeing the kind of area where the vehicle is parked -your small cute heart will be filled with despair. On one side, you will see a very narrow concrete road with jungle on both sides- fit for one car to go in a single direction. That's the road you took to reach here. And on the other side, you will see the end of the road to a Gate holding a board on its neck from ages- "Private property.....Do not trespass etc. etc.". If you stand on the road, you will see the wide angle view of the Om Beach from the hilltop. Perfect murder spot. That's not where it ends. After you somehow, recover from the hopeless and useless concern for your vehicle- you have to climb down the hill terrain, by stepping down a good no. of well built(not sarcastic) stairs. Climbing down is not the issue. Anyways, you will get attracted by the sound of the waves and not feel the agony of the physical strain your body is going through, if not attacked by monkeys or scared by occasional visit of the bulls. But, climbing those stairs after sunset will put the real deal on the table. No street lights are there and it's pitch black after sunset. Just a single light at the top. If you suddenly manage to see any shadows or hear any hustling noise, endless paranormal possibilities and hypothesis will keep crossing your mind.
Okay, i understand- being cynical isn't helping satisfy your urge to come and read my criticizing lines. So, here my beloved reader- have something for your eyes to motivate you.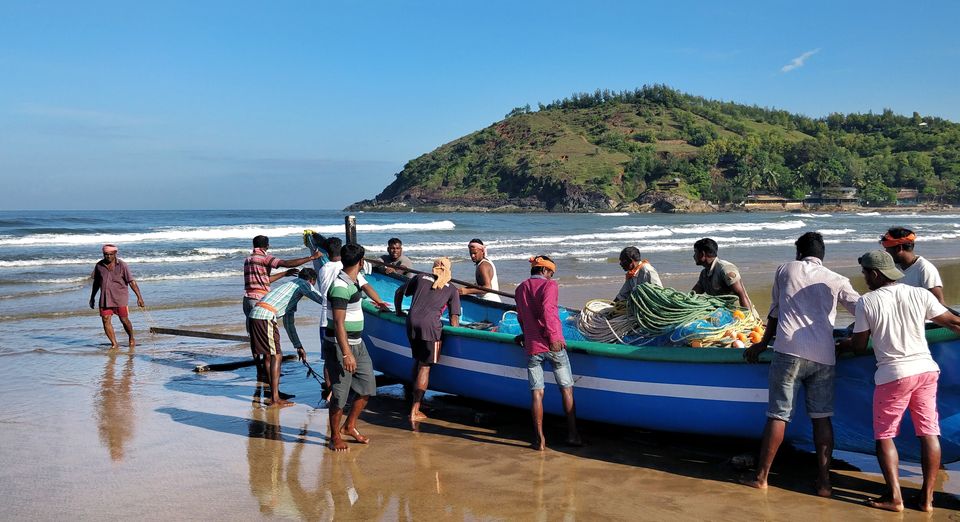 Please click on the photo to view the full image.
After coming down to the beach, what we saw was drop dead stunning. The whole beach was surrounded by Shacks- all I could see was food in front of my eyes. Behind the shacks, were small cottages for the travellers to stay. We started visiting the cottages, and within the span of 30 minutes, found a cottage for all 3 in a price that is, half of what our prodigy had charged us. The room was awesome and the washroom was exceptionally clean- FYI no snails were crawling this time, completely clean. The main door was having a GODREJ lock, with computerised key (Please keep this line in your frivolous mind, you will have fun later to know why).
Anyways, after a shower- we went back to the beach. It was almost 1 by the clock and the sun was over our heads. The humidity was so well balanced, that we could walk under the direct sun, without having any sweat session or uneasiness(Tanning I can't guarantee, that you get in bonus). We entered a shack and planned to have something, because the breakfast was absorbed long back by the tension and the unwanted trekking we went through. You won't believe if I tell you, the food was just magical. Don't know what they had put as a secret ingredient, or maybe it was the charm of the beach and a chillable shack on the vicinity, or our intense hunger cravings- the food seemed to be one of the best, that I ever had. Booze is at plenty. Just an order away. And tell you what, if accompanied by a beer at the right time, you can attain MOKSH under the absolute influence of colitas in the air.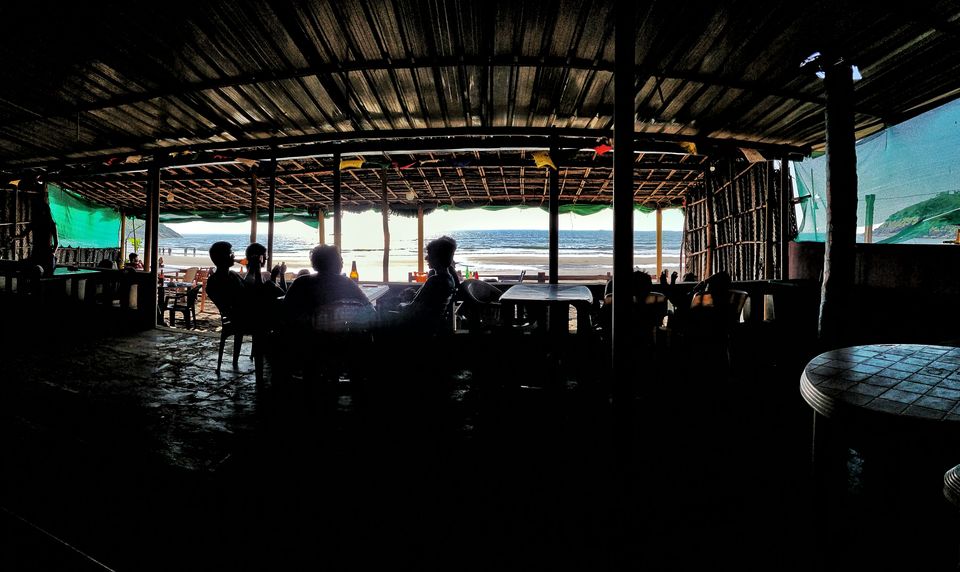 After having some chilled moments, we planned why not have an intensional trekking and hiking session this time, through the hills and visit the paradise beach.
Oh yes, you read it correctly, it's the paradise beach- that you my boy, might have googled once or twice. It's a NUDE beach. See, there are perks of going places in the off season. You get to visit such places, which are may be off limits for us poor Indians, during the ON Season.
We drove till a point, where they had roads and trekkable sideways constructed. They were contradictorily well constructed unlike our highways. We managed to drive and park the car in a kind lady's house, fortunately didn't had to pay a penny for that.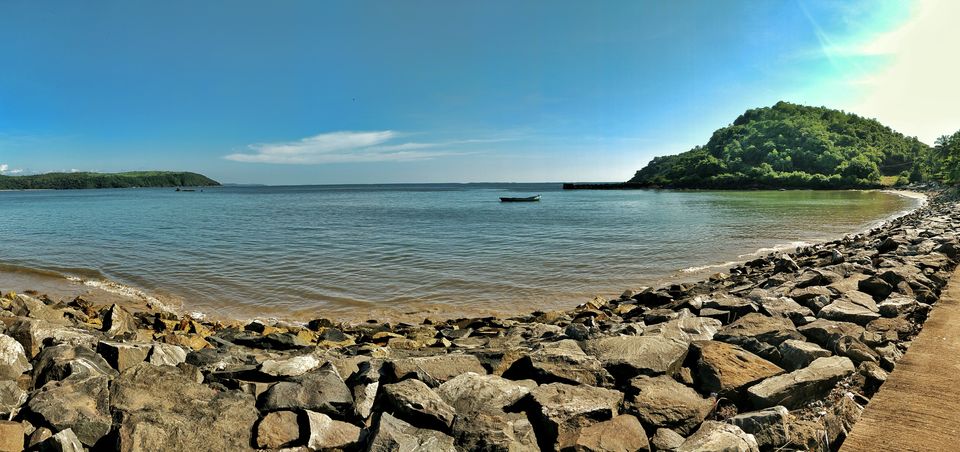 Look at the above image- till this point, you can drive. Then you have to trek and cross the hill on the right side of the image to reach the "googled" place.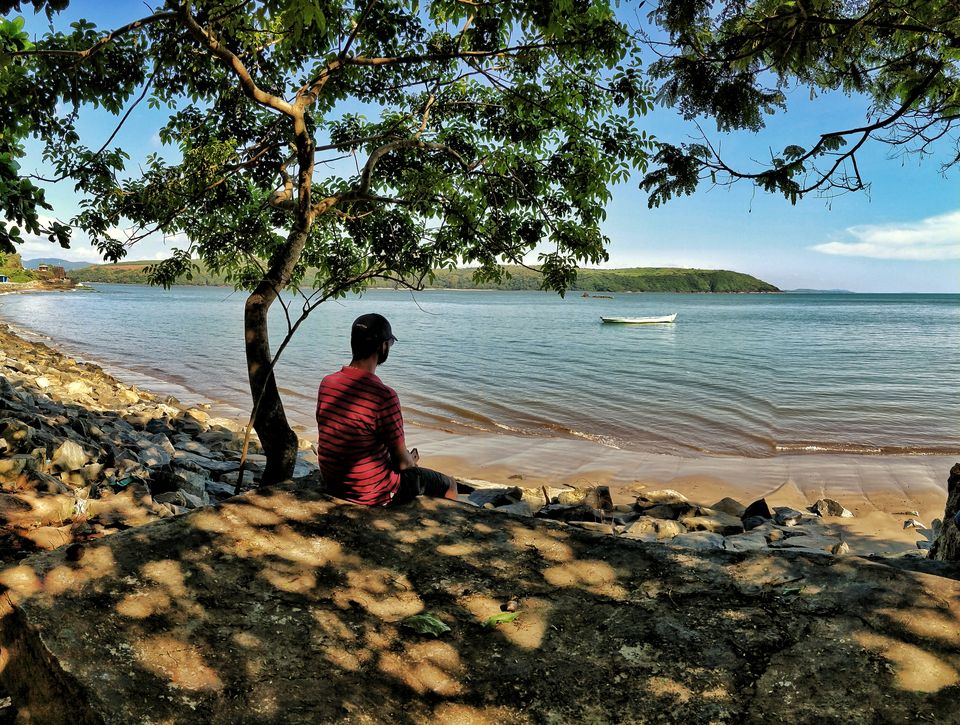 Coming back to the point- to reach this place, either you have to convince a boatmen, to take you "there"- which is a position when they will play the usual trick of high charges. Or else, if you are strong enough and have hiking shoes, unlike us idiots wearing chappals- then, you can climb the hill, get tired and sweaty, slip and roll few meters, see some scary bugs and insects(Bear Grylls yaad ayega), suddenly find weird cabin in the woods and finally after crossing these hurdles my friend- you will land in the beautiful paradise beach. It's view is breathtaking.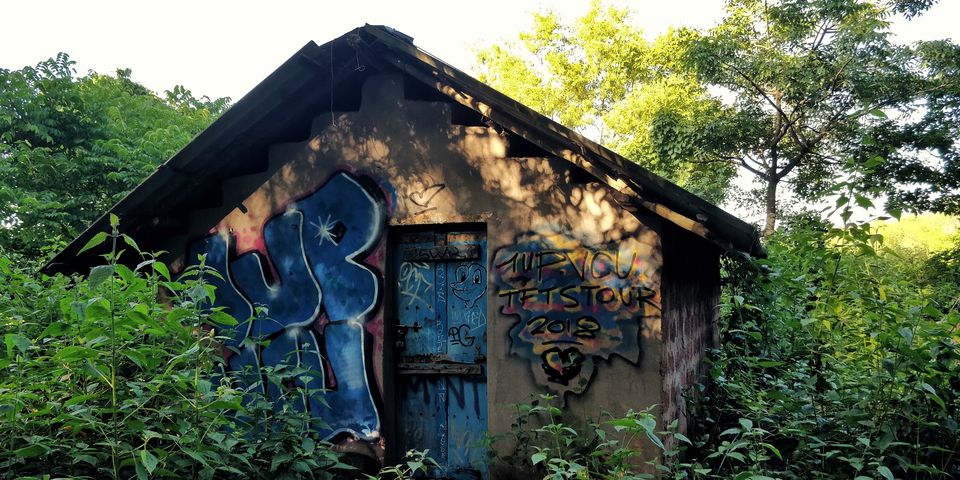 This cabin is something you will find, while trekking tirelessly in the jungle after a while. It will work as a pitstop after climbing. If you reach here, then take some rest. You did a great job. Just kidding. This is a point, when you can start thinking you didn't trek some extra ordinary distance- you have a long way to go. Haha, this is not even halfway. And the worst part, there will be no reception in your cell post this point.
We had to go through some very narrow paths, and climb down some dangerously steep slopes. I don't want to post our embarrassing photos while climbing down, but please be careful while climbing down. We enjoy, and throw beer bottles everywhere like responsible citizens. Since, this is a remote beach, just the beach is kept clean and these slopes can contain broken beer bottles, fragments of glass, small slippable rocks and snakes. A moment of carelessness can destroy the trip and end you up in a hospital.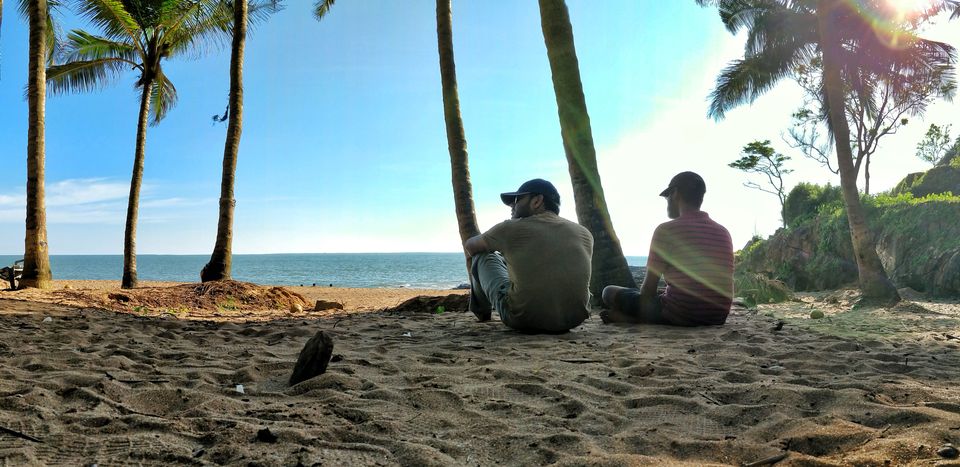 But, if you succeed in crossing these hurdles , then here my friend- behold the Paradise beach. You can see rocks and small stands painted with graffiti, people chilling under the coconut trees. And also, hippies visiting the place at the same time- if you are lucky(ON SEASON THEOREM).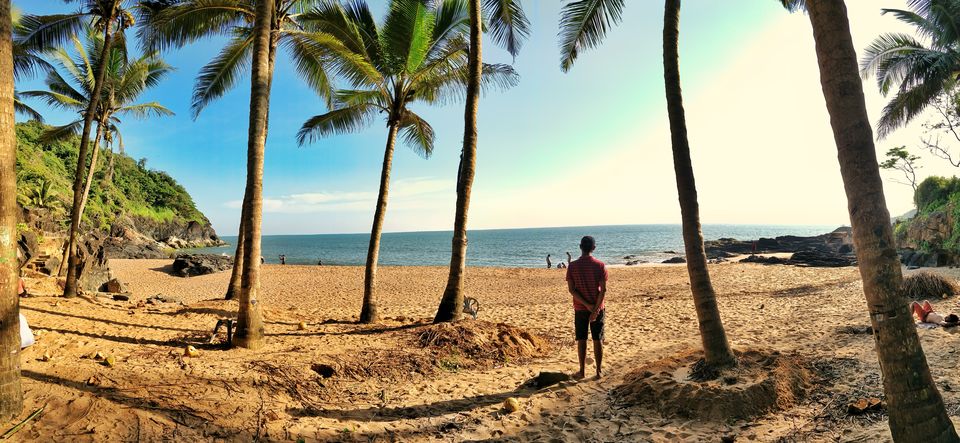 People usually camp over there, and stay overnight. If you want to enjoy the beach, take a day out of your itinerary and spend the whole day there. Vendors with coconut water, will be available there. That's it, natural beauty, you and your friends. No shops or shacks or locals can be found in the 4 km radius, until and unless you climb back the hill, to the point- where we parked our car.
We came back from that place, just before sunset.
But, something else was waiting for us back in the Kudle beach. I never keep the car keys with me because, i lose small things very easily. So, I kept it with our very reliable Hitman. Hitman and accountant were chilling in the beach while I was photographing the night sky.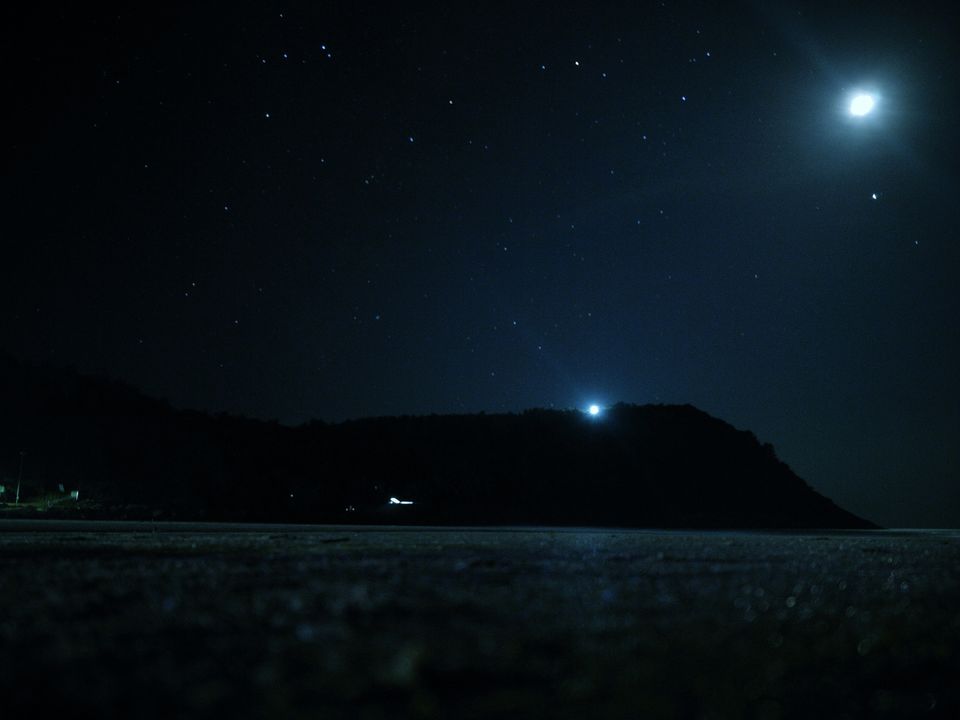 After we had the dinner, Hitman hit him with a beer. We came back to the room hoping to get back in the beach at late night to enjoy the bonfire. Hitman was a little high, and he was smirking weirdly at me and kept telling- "Hey, I lost your car keys". First, I thought it was just some fun he was making, because of being high. But, after sometime it seemed genuine and a cold sweat passed from my head to the toe. Ran back and scanned the beach like anything, just to find that wherever we were sitting before- that place was washed away long back by high tide.For a second, i felt hopeless and ran back to check if the car was there at the parking. At least, there we found some luck. Some gentleman found the key and kept it with him for the whole time. He was sitting in a restaurant for us to come and claim. Prior verification, he handed over the keys. I was so overwhelmed, i couldn't even thank him properly.
After that incident, we had to call it a night.
This day was another crazy day in our trip. You must be remembering, I asked you to keep a line in your mind. We are going to cover that story today.
In the morning, we had some breakfast. Me and Hitman planned to have some fun in the water. Accountant as usual, didn't find the activity plan well suited- and moved back towards the room, with some petty excuse.
After our fun session, when accountant came back- I gave an idea for a speed photoshoot which involves him jumping over my head and landing on the sand. That was a grave mistake- and gradually, the chain of events started unfolding.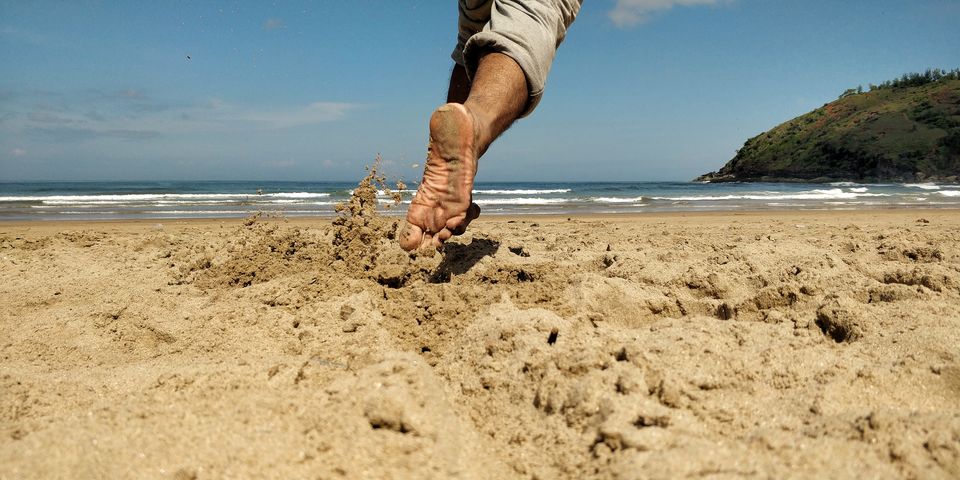 This photo idea got me kicked in the head multiple times by the idiot. He jumped so many times, that he got tired. Though he stated out of tiredness, but knowing him for so long, it seems he kicked intentionally.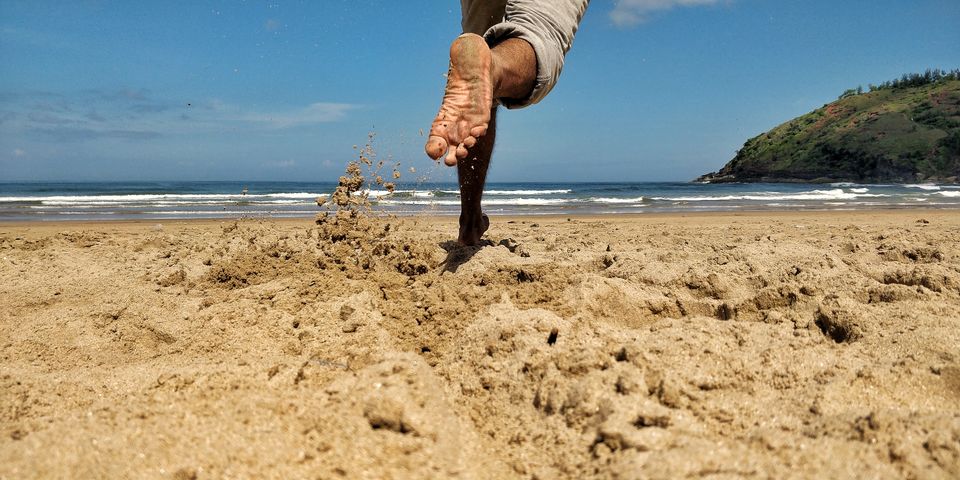 Our agony didn't just end there. My clever friends challenged each other, on a race in the beach- and I agreed being the judge like a fool. Accountant did all his stunts while keeping the "computerized key" in his pocket. And somehow, managed to drop the key in such a place, where after scanning for half an hour, we couldn't even find a clue. So, here my beloved reader- we lost the keys to our room.
We went back with our sad faces and reported the incident to the cottage resort management. And the management decided to cut open the lock. Another tourist group had also lost the key in the same place. We got to know from them, they were charged 300 bucks, which they managed to bring down to 20o. (They only told us last evening, someone had found a car key and waiting for the owner.) We were happy- 200 is not a big deal. But to match our misfate, the owner came and charged us 500- stating this is a costly lock and this computerized key- they can't find a replacement anywhere.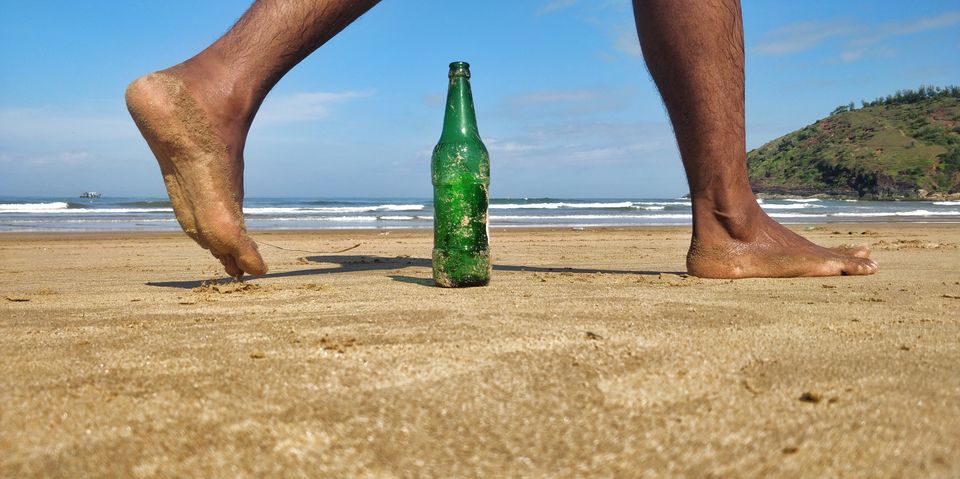 Kudle beach was the best part in the trip, nevertheless. It was the most photogenic beach, that I have seen till now.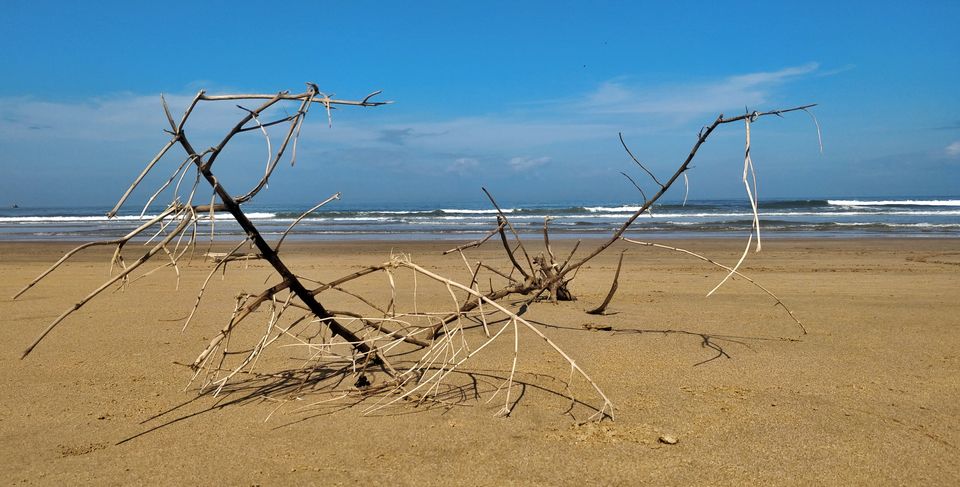 Visiting a place in the off season obviously gives you a good grasp of the place from the photography perspective. Won't find much of a traffic, and you can frame the view from different angles.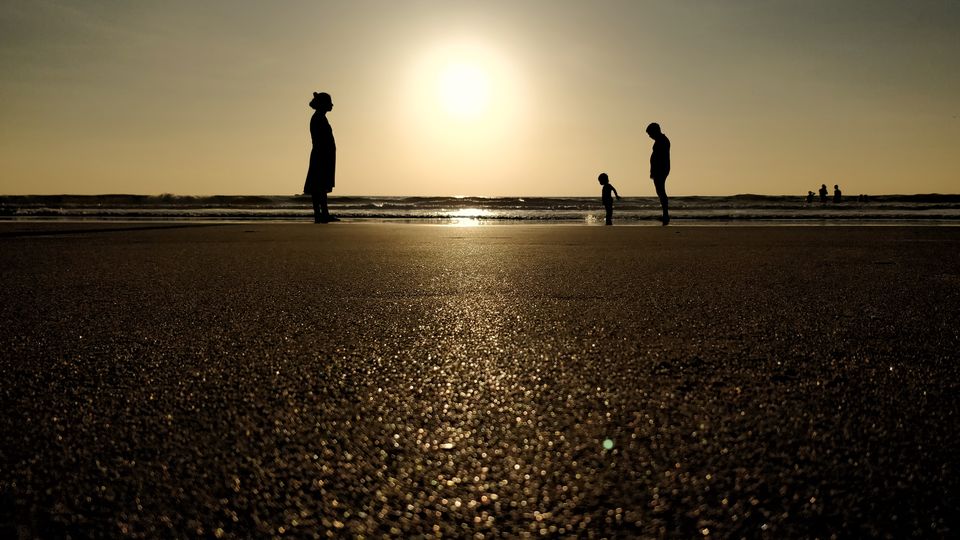 Kids were playing in the beach happily, seamlessly and were gifting me frames to capture, like anything.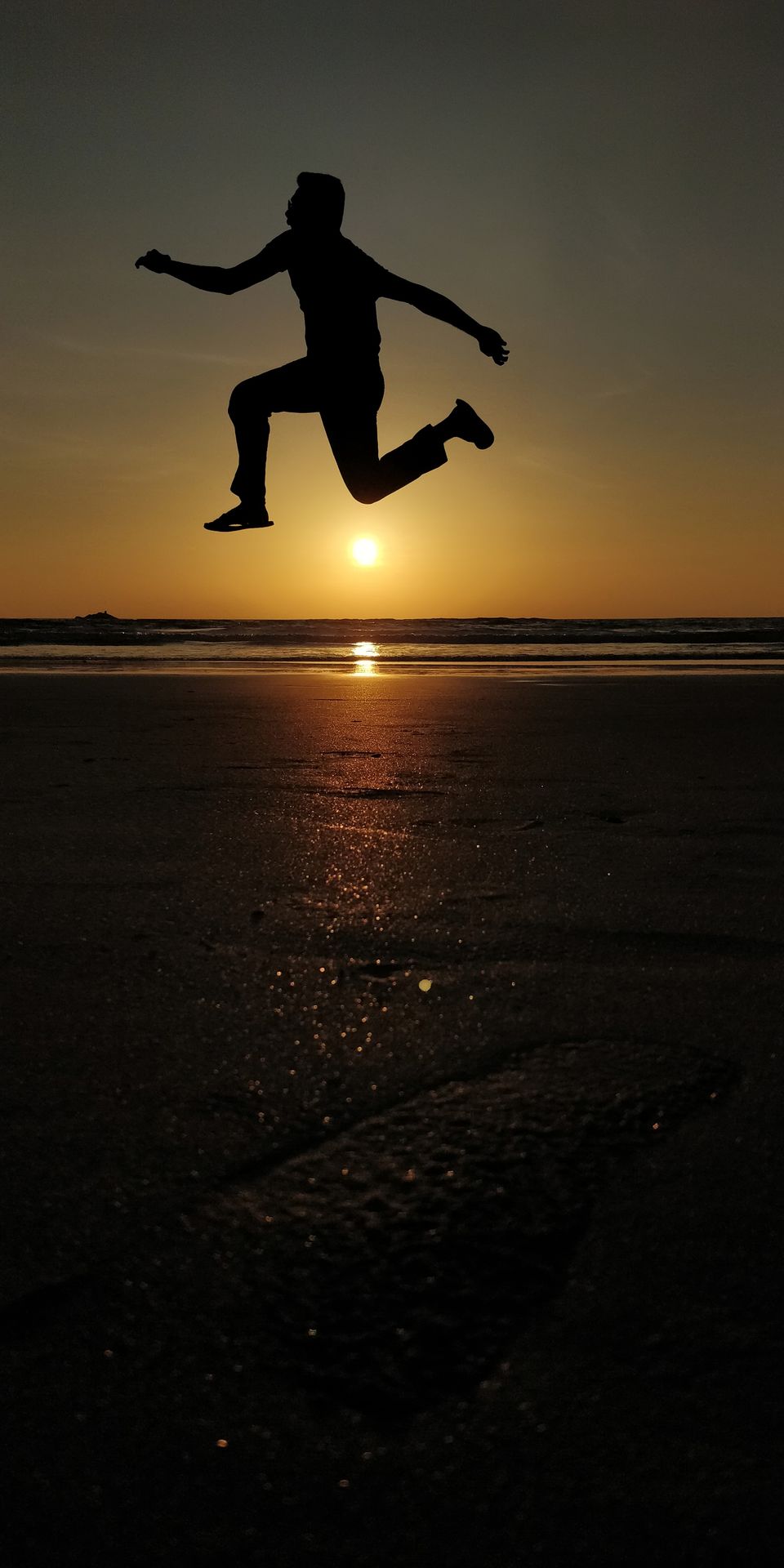 Please click on the picture to expand.
And, I can never forget the kind of support Hitman and Accountant had provided me by being my subjects. Here are some of those samples.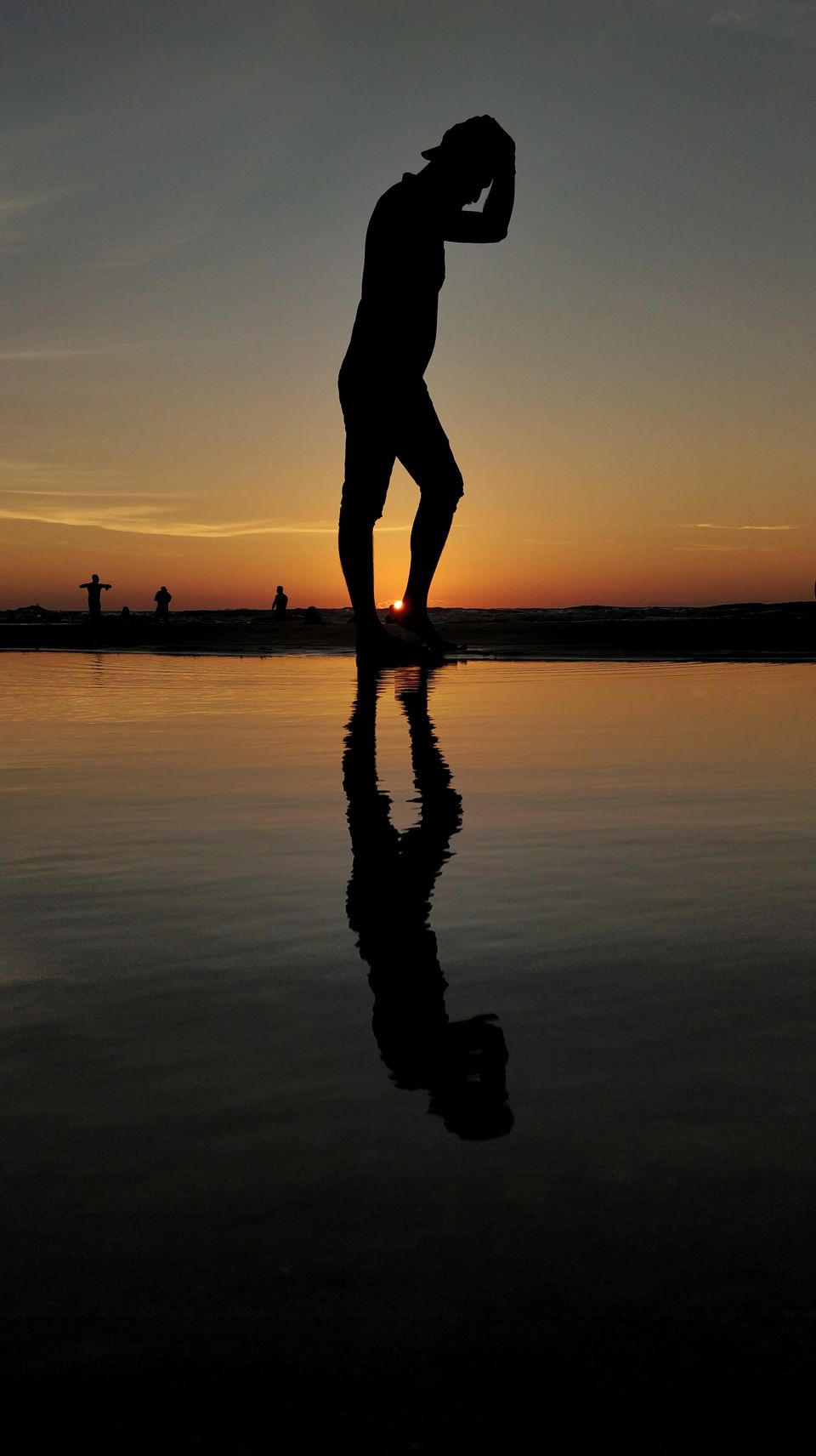 Please click on the picture to expand.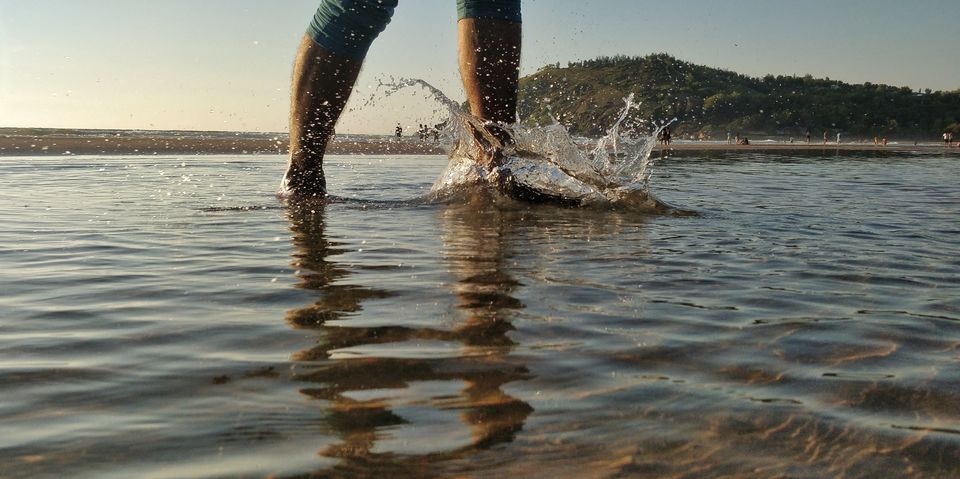 Couldn't manage to click the shadow photos. Hope to click them in future.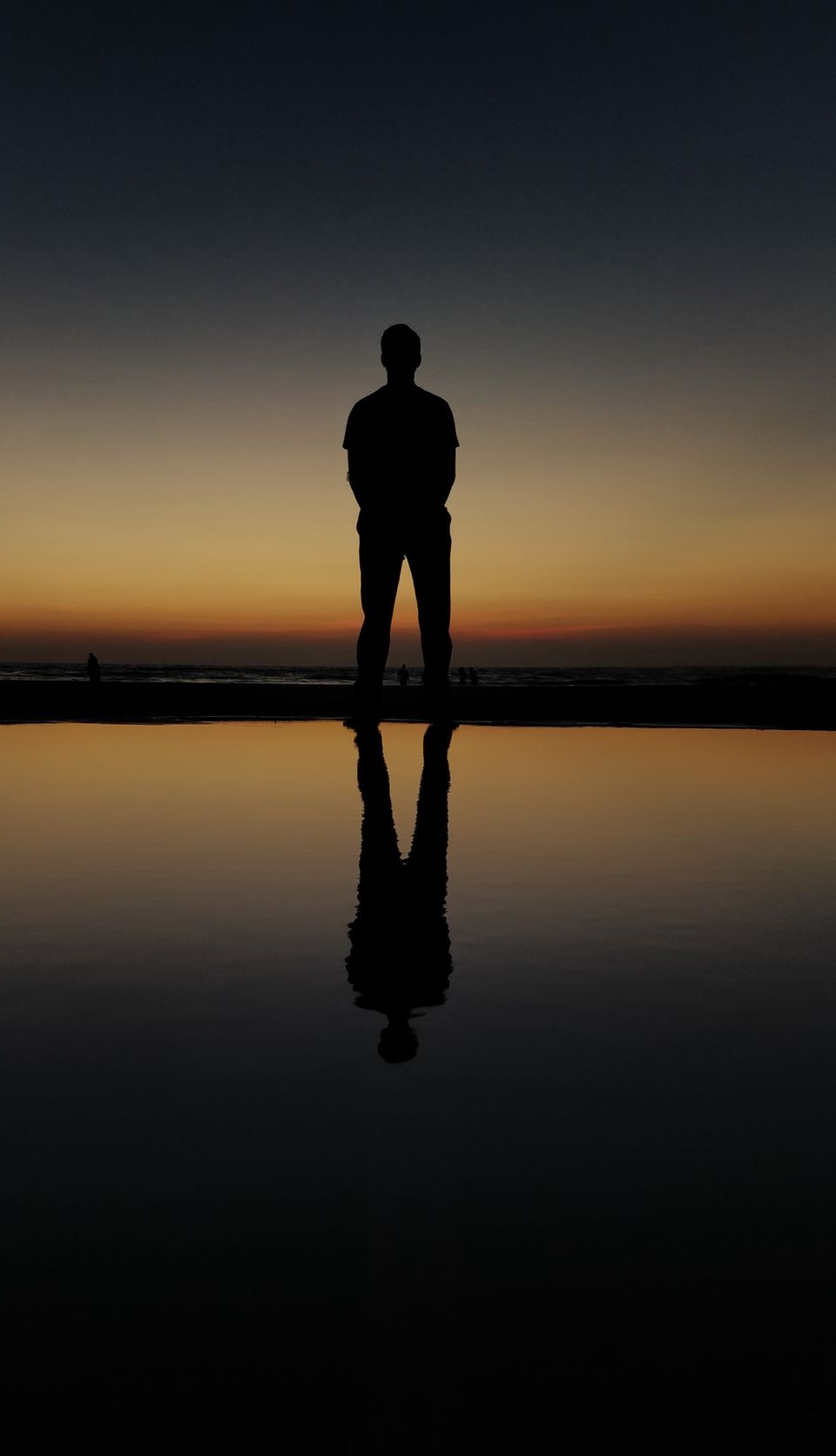 Please click on the picture to expand.
That's the most possible.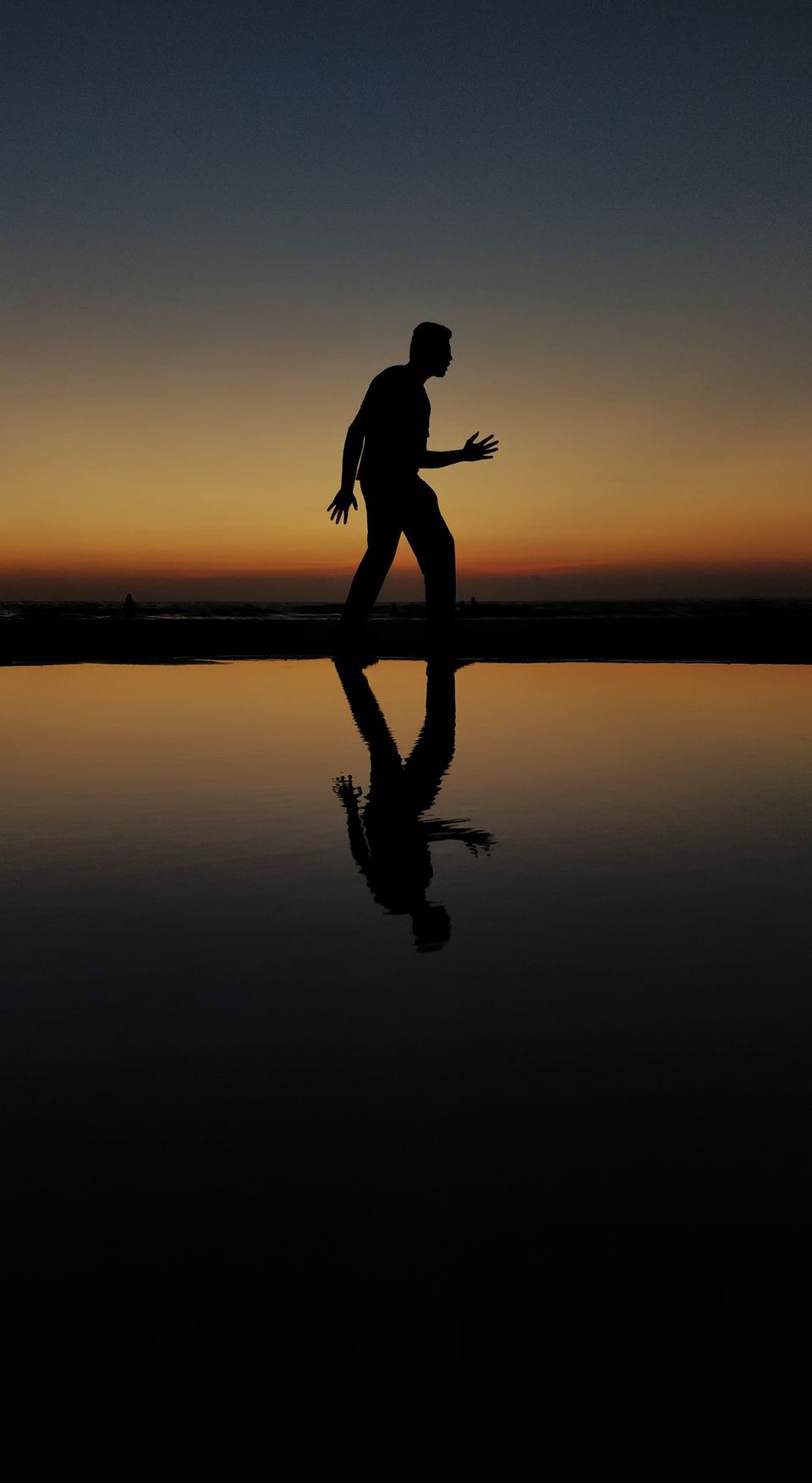 Please click on the picture to expand.
Since, this was our last day in Gokarna- we left no chance of photography and clicked anything and everything that was passing our eyes.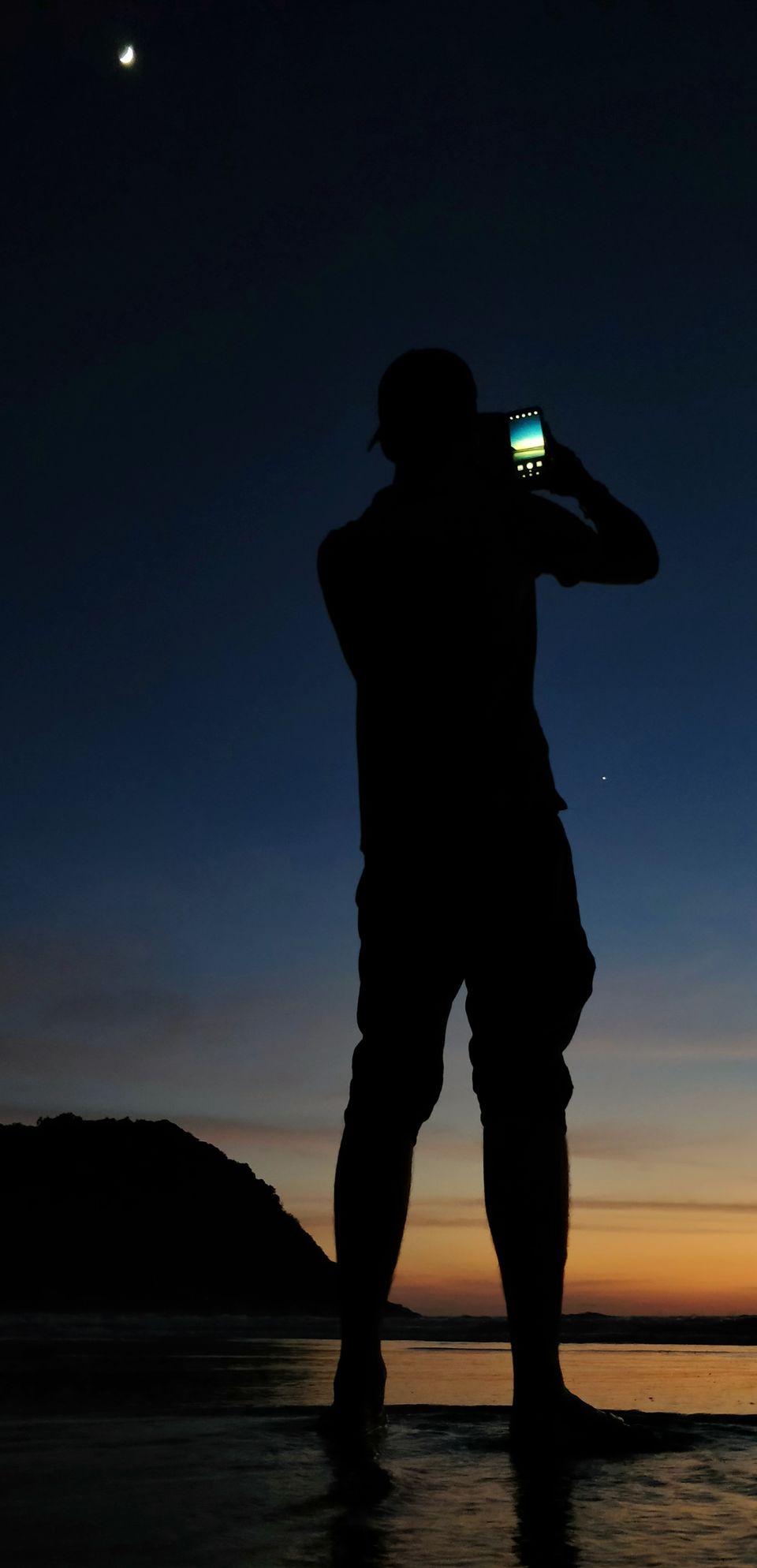 Please click on the picture to expand.
This was one of the best photos from the trip, as per my views.
Later, at night we sat in the shack with our food and drinks- enjoyed the rest of the night in the non stop cool breeze. Bonfire was going on- people were carrying their ice boxes and speakers in the beach, couples were having their quality moments, the sky was lit with a thousand stars, the moon was shining bright above the hills- it was a heavenly experience beyond imagination.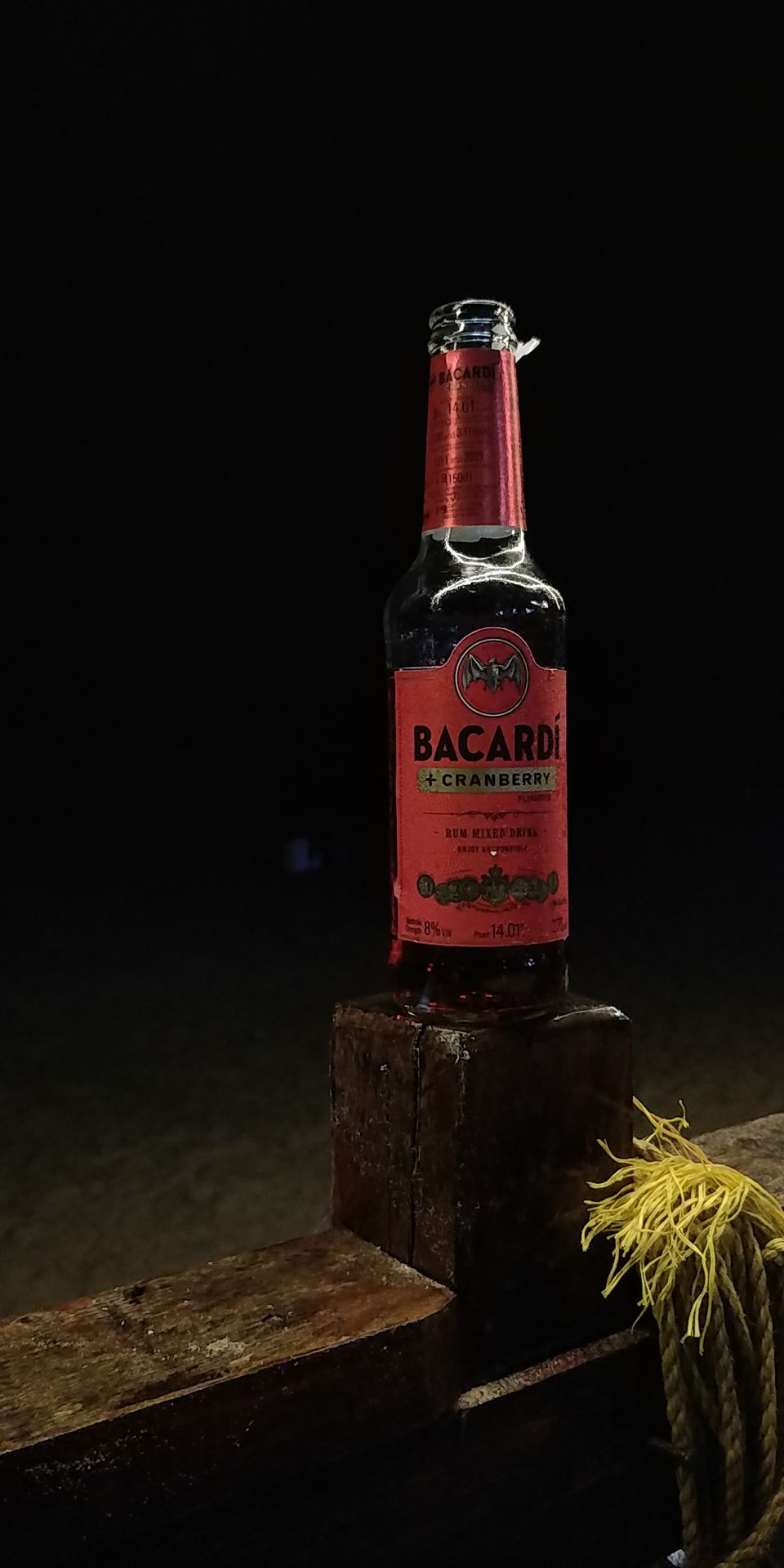 Please click on the picture to expand.
I loved Gokarna so much, I created something out of sheer love for Gokarna.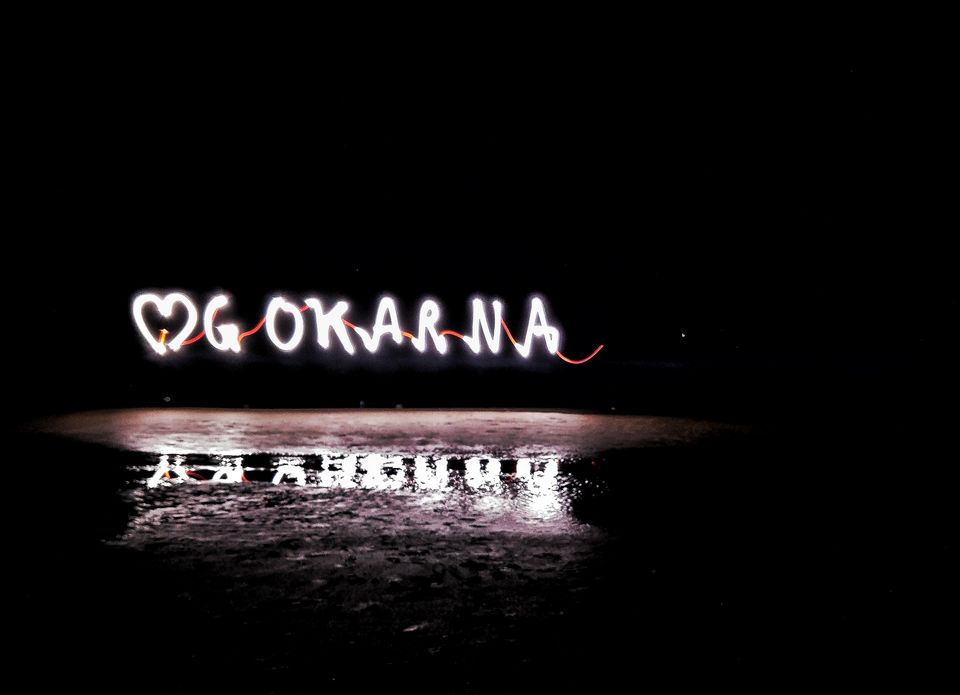 A slow shutter shot, just for the love GOKARNA gave back to us. The more we tried to love, the place tied us back with it in a stronger bond.
That was the last night for us in Gokarna.
This is the day we returned back. Since, we had a 500 km ride- we headed out by 10 in the morning. Did some photoshoot, just before leaving.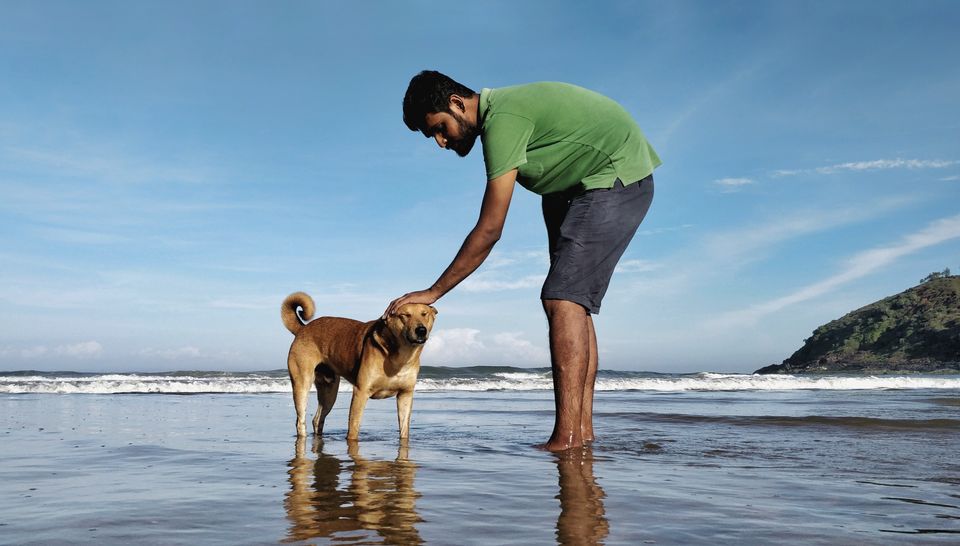 We always found a cute doggo to give us company wherever we went.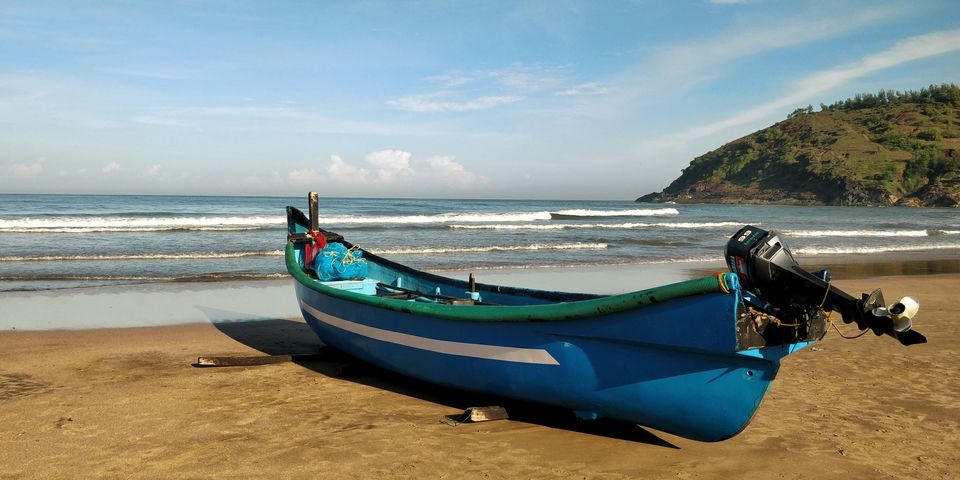 Boats were parked there alone, waiting for their owners to drag them back to the sea. A good subject though.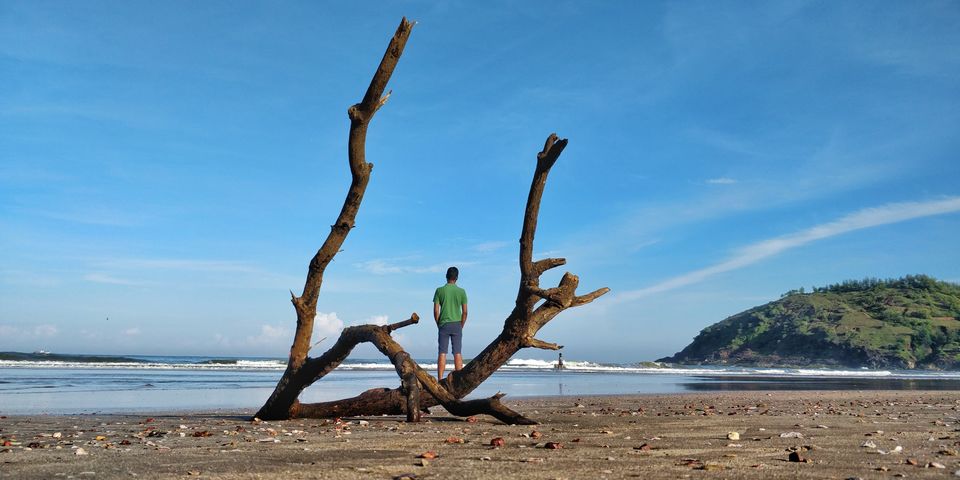 Can't say if this photo needs some description or not.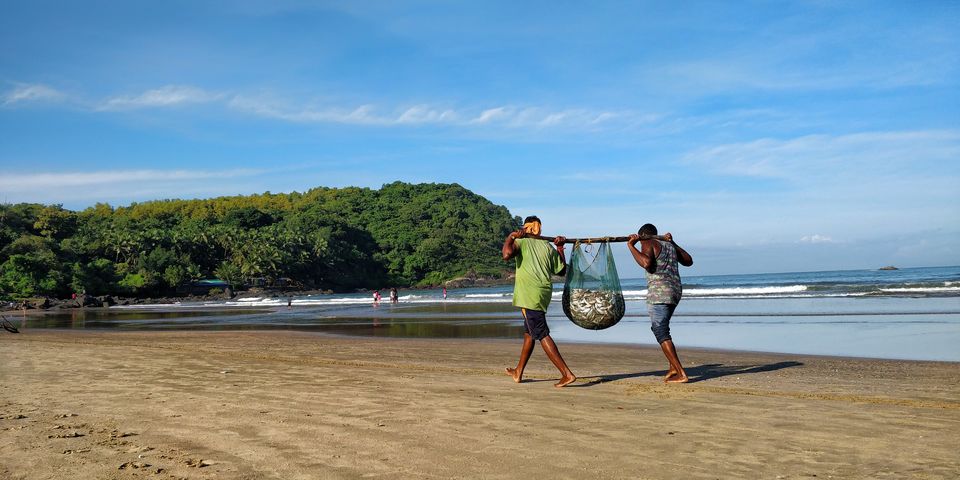 Random fishermen carrying their huge catch to sell in the local market.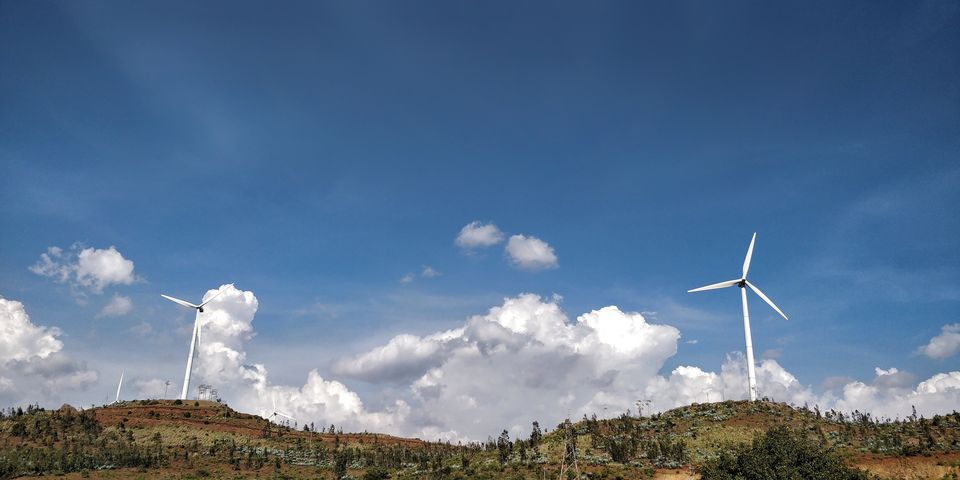 Such windmills are a bliss to the viewer's eyes. You can find them everywhere, on this route.
Some points to remember :
*** Carry some cash with you, these remote places will not always offer you the luxury to use cards/phonePay/Google Pay/.....
*** In Kudle beach, park the car behind the resorts. Multiple places will provide you paid parking. At least, your vehicle will be safe.
*** Visit Namaste Cafe at least once, you won't find a view easily like that.
*** Do the moonlight trekking in Gokarna, that's another best thing.
*** Keep fast aid with you(Fever and quinolones are mandatory)
That's all my patient friend, hope to see you in another trip story. Bye.