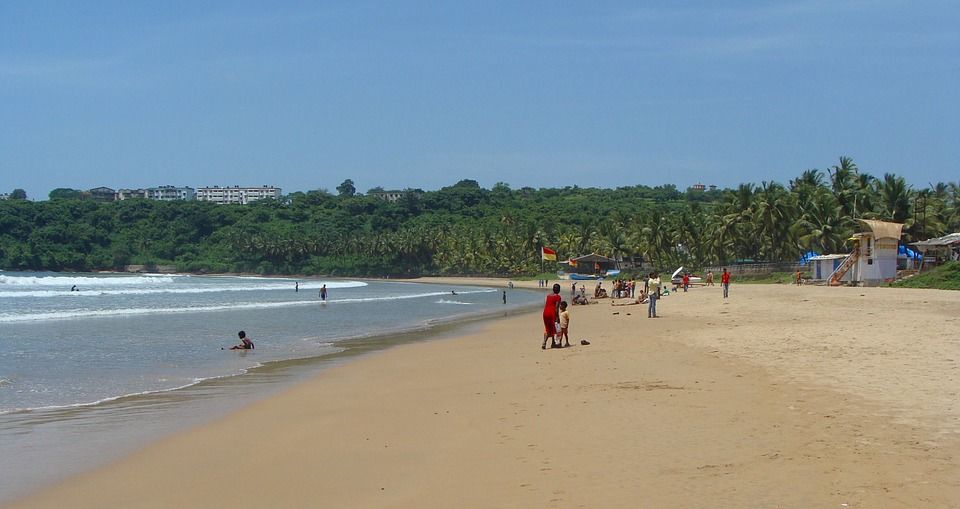 I always thought about how Goa looks like. what are the Goa visiting places. What was the feeling of living in Goa like the locals? Before visiting Goa I thought it is a place of party and pubs where everyone comes from the same mind and that is the party, drinks, and hangout. But after visiting Goa and living like a local there, I changed up my mind.
Goa is a state in western India with coastlines stretching along the Arabian Sea. It has a long Portuguese story and that's why the whole culture is influenced by this. But here we are not going talk about the history that is already present in Wikipedia, so in this blog, I am going to share all my experiences from Goa whether it is about the best place to visit, where to live, the best time to visit and many more. So let's start.
Goa Visiting Places
There are many tourist places in goa, the no. is very large which starts first from the beaches in Goa to the national parks and hills, churches, forts, markets, and the backwaters. It is even difficult to visit each of the places in a single visit to goa, that's why I stayed here as a local so that I can provide you guys with a guide book of goa. Here is a list of beautiful places in goa.
Baga Beach
It is a very famous beach and tourist spot in North Goa. Baga is located at the north end of the contiguous beach stretch that starts from Sinquerim, Candolim, which leads to Calangute and then to Baga. It is around 30km North of Panaji.
Baga is a perfect spot for those who love nightlife. Places like Britto's, Tito's and Mambos have made their mark in the hearts of party-goers. The evening of these places is so much amazing with some pumping music and mouth-watering food.
If you are not the party person then you can start exploring Baga beaches in the morning where you can have amazing breakfast at Infantaria, Shining Star Beach Shack and De Baga Deck.
This place is also very famous for street shopping, tattoo parlors, spas, and designer stores. This place has lots of shopping options that you are not going to stop exploring until your feet get ache and wallet get empty.
The place offers so much variety of water activities like banana boat rides, parasailing, bumper boats, jet ski, dolphin cruises and many more which you can enjoy with your family and friends.
Candolim & Calangute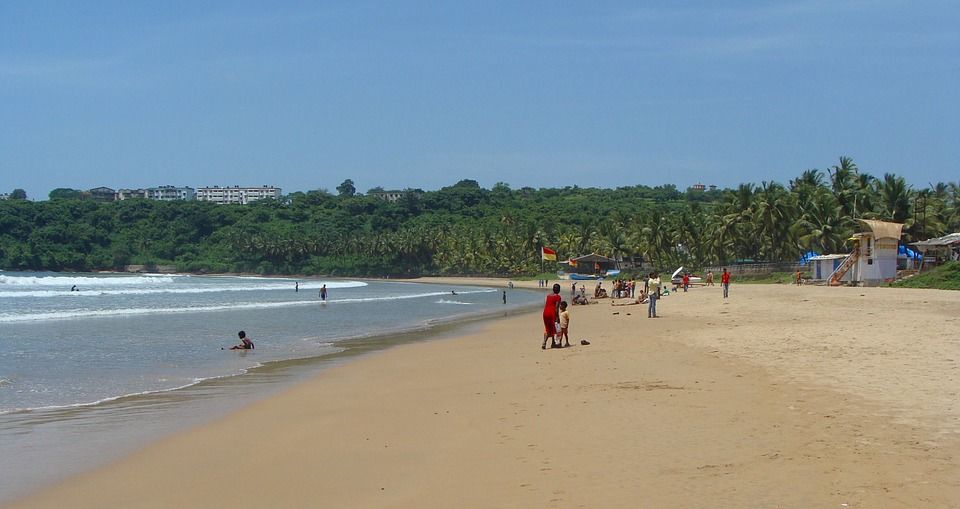 Just 14km away from the north of Panaji, it is one of the most famous beaches for British Tourists. Candolim and Calangute's long strips of golden sand result in one of the state's most inviting stretches of coastline.
The place offers calmness and a very relaxed environment. One of the best spots for honeymoon couples to make their moment romantic and memorable. The best time visit is from November to April.
Many people just wonder why is the place is so special, every travel enthusiast talks about it so much, the reason is its blissful solitude. It is also home to various water sport activities such as jet ski, windsurfing, parasailing, etc and the very famous sunburn Festival. If you are a crazy EDM fan, you sure know all about the Sunburn festival in Goa. For those who have no idea, It is one of the popular electronic dance festival held in Candolim Beach for three days every year, attracting fans from 30 countries across the globe.
One of the most adventurous and daring sports is Diving which almost everyone loves to perform when visiting Goa and after watching Zindagi Na Milegi Dobara is also very popular in Candolim. The marine life is very spectacular here on this beach because the water is clean.
The nightlife is also good on these beaches. Pubs and clubs like SinQ, Shiro are some good ones.
Fort Aguada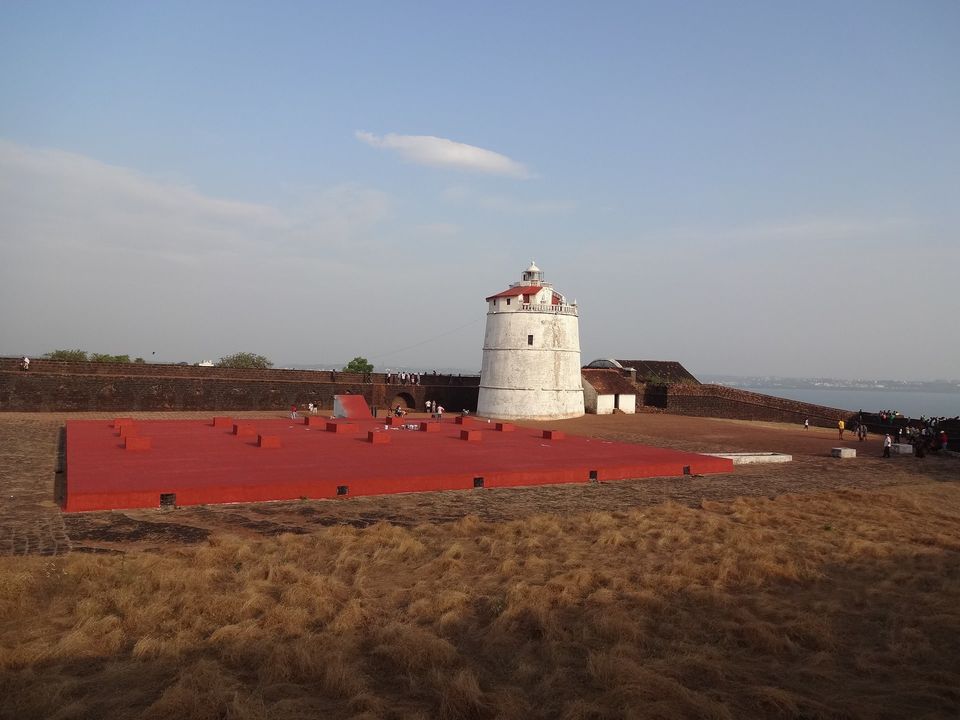 Fort Aguada is a beautiful piece of Portuguese architecture built in the 17 th century along with a lighthouse, standing in Goa, on Sinquerim Beach approximately 18km from Panjim, overlooking at the Arabian Sea. It was constructed in 1612 to guard against the Dutch and the Marathas. It is one of the famous Goa visiting places
At the starting of this blog I told you I will not discuss history too much but to make your interest in this fort it is a little bit important.
This place has two lighthouses, the old one is not operational whereas as open for the general public. One can, for a small fee around 15-20 rupees, climb the steps of the lighthouse and enjoy the view of the surrounding area of the fort. Photography and Videography are allowed, so one can take amazing shots for their Instagram posts.
Some part of the fort has been converted into the Aguada Jail, which is mainly for narcotics and drugs dealing criminals.
The sunset view from the Hilltop fort is just quite scenic which can't be expressed in words. The fort is a great way to spend the afternoon in goa because the afternoons are usually hot to spend time on beaches. Some part of the fort is also acquired for five-star hotels.
Dudhsagar Falls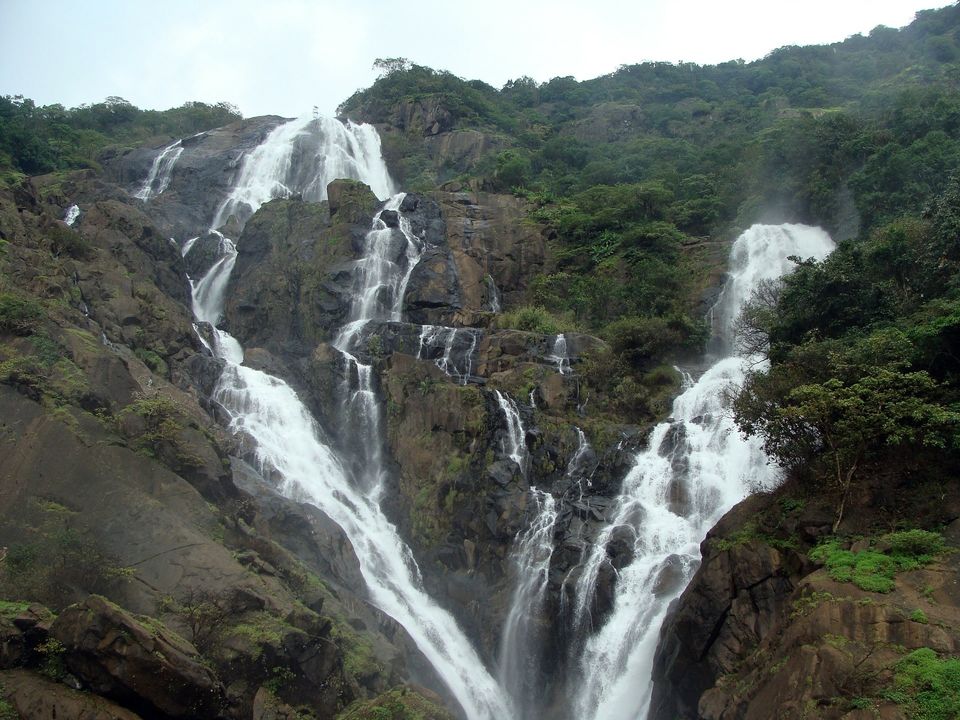 Dudhsagar Falls (Sea Of Milk) is one of the most popular attractions in Goa and one of the famous Goa visiting places without any doubts, whenever you are planning for Goa you have to keep this in your list of visiting place in Goa. The four-tiered waterfall has a total height of 1017ft and is the 4 th tallest waterfall in India. It is located at 45km from Madgaon and 60km from Panaji.
The best time to visit the Fall is in the monsoon, because its real beauty is visible in that particular period very most, as there is a lot more water in this time which makes it wilder and more visually appealing.
To visit this place there is a 2-option, the first one is the railway and the second one is to drive a car or motorcycle. But recently Indian Railway has banned people from boarding/deboarding passengers at the Dudhsagar railway. One can reach the fall with the help of Bhagwan Mahavir Wildlife Sanctuary Taxi near a Goan village called Molem. The Plus point of taking a taxi or riding your vehicle is that you can see the full view of Doodhsagar Waterfall and it will take you to the foot of the waterfall whereas it is not possible by railway.
Trek from Castle Rock Railway Station: It is the most popular trekking route. It takes around 5-6 hr for a 14km trek. The terrain is very rough, so you have to keep yourself very safe. Trek from Kulem: It is an 11km trek from Kulem railway station. The trek is very difficult because you have to walk on railroads. So make sure you should wear comfortable footwear. While going down you will see a Dudhasagar Devi Temple. After suffering all that difficulty the reward is that you will have picturesque views of the valley and Ghats. Trek from kuveshi: It is the most difficult and adventurous route. You can start from the Kuveshi Village and to reach that place you can hire a car from Castle Rock to the village or go trekking which is about 10 km from Castle Rock to the village. In monsoon, it is not preferable to trek because you have to walk through deep and thick forests.
Anjuna Beach and Flea Market
Anjuna is a small village on the North coast of Goa and receives thousands of tourists to visit its beach every day. One of the famous Goa visiting places where People enjoy themselves by relaxing on the beach. The beach is blessed with beautiful red laterite rock. The beach has the perfect picturesque background with hills. It is 29 km away from Panaji and tourists can reach there by bus or cab.
If someone is visiting there, Anjuna Wednesday Flea Market is a must-visit place there. This market was created by hippies in the eighties. Hippies from all over the world came to Goa for the party and when they run out of money, they sell their belongings to fund their stay. But later on, this place developed into a full-grown market where goods from all over India being sold.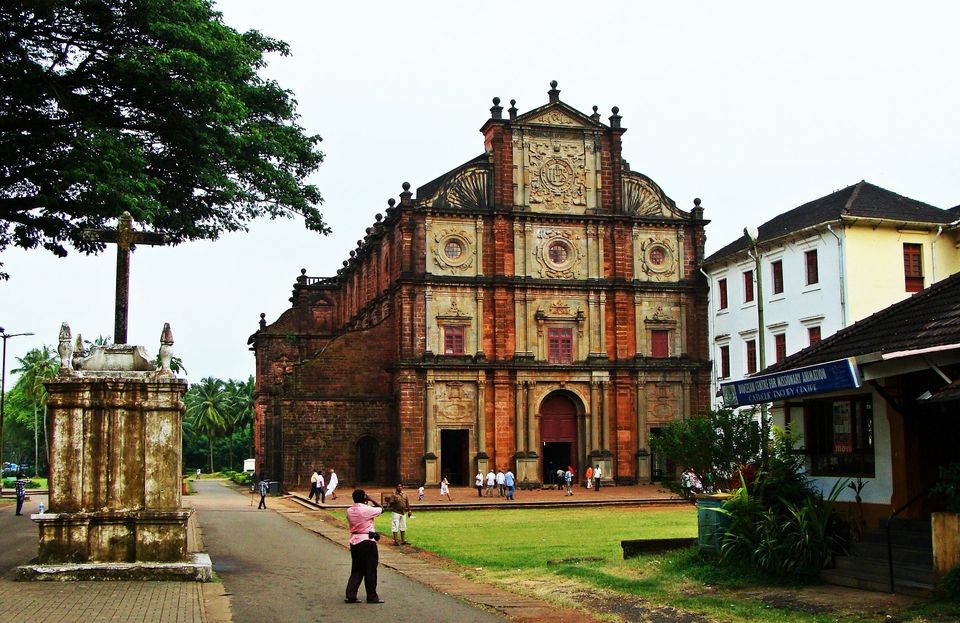 You have a variety of options to buy for your friends and family at a cheap price. This place is a mix of Kashmir, Gujarati, and Tibetan shops which offer clothes, jewelry accessories and many more things by Goa foreign denizens. A few words of mine can express this market if you want to know about this place you must have to visit this place because this place has much more to see.
Basilica of Bom Jesus
One of the most beautiful places to visit in Goa is the gorgeous looking churches here and Basilica of Bom Jesus is one of them. This is one of the oldest churches in Goa and India. It is more than 408 years old and is open to the public every day. It is also a famous UNESCO Heritage site.
The building is constructed in Baroque style and is considered one of the best examples of baroque architecture in India. Best to visit this place is in December because the tradition of feast and novena take place at this time along with Christmas. This place comes under top 10 Goa visiting places. Every travel blogging sites tells about it.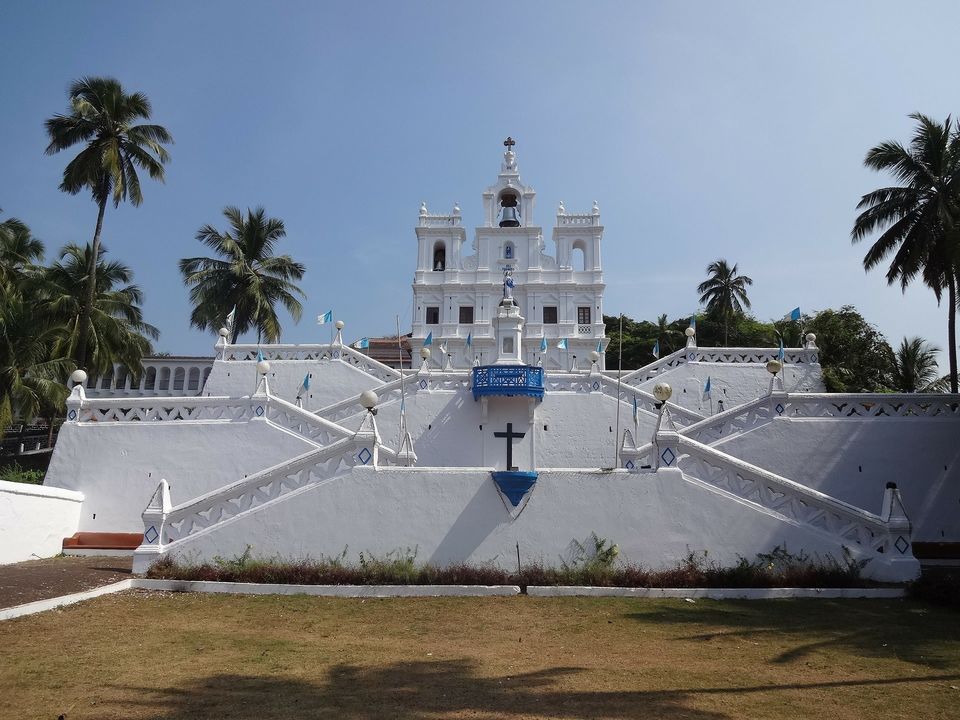 Timings: 9 am to 6.30 pm except Sunday, on Sunday from 10.30 am to 6.30 pm
The church of Our Lady of Immaculate Conception
This charming church is in the capital city of Goa and is the most frequented goa's visiting places​. The colonial Portuguese Baroque style church was built in 1541 as a chapel. The larger building of the church was then constructed in the 1600s. This place is a must-visit in December as the feast of Our lady of the immaculate conception is celebrated on the 8 th of December followed by Christmas and New Year celebrations.
Well, whenever you visit Goa you should visit this place to witness its beautiful architecture and calmness around this place.
Timings: 10 am to 12.30 pm and 3 pm to 5.30 pm
Chapora Fort
It is located in Bardez, Goa, rises high above the Chapora River. Chapora Fort is a famous goa visiting places​ surrounded by the scenic view of Chapora River. This place has an amazing past but for that, you can do google.
The landscape of this location is so beautiful that your soul doesn't want to leave this place. When the cool sea breeze touches your face it feels like this place has some magic. You can sit there and relax. This place becomes even more popular after the famous Bollywood movie 'Dil Chahta Hai'.
To reach that place you have to hike around 700m to 800m, but after reaching there, you have a breathtaking view which makes you smile and feel happy. Please carry your food because there is no food outlet their and after hiking, you need some things to eat and drink.