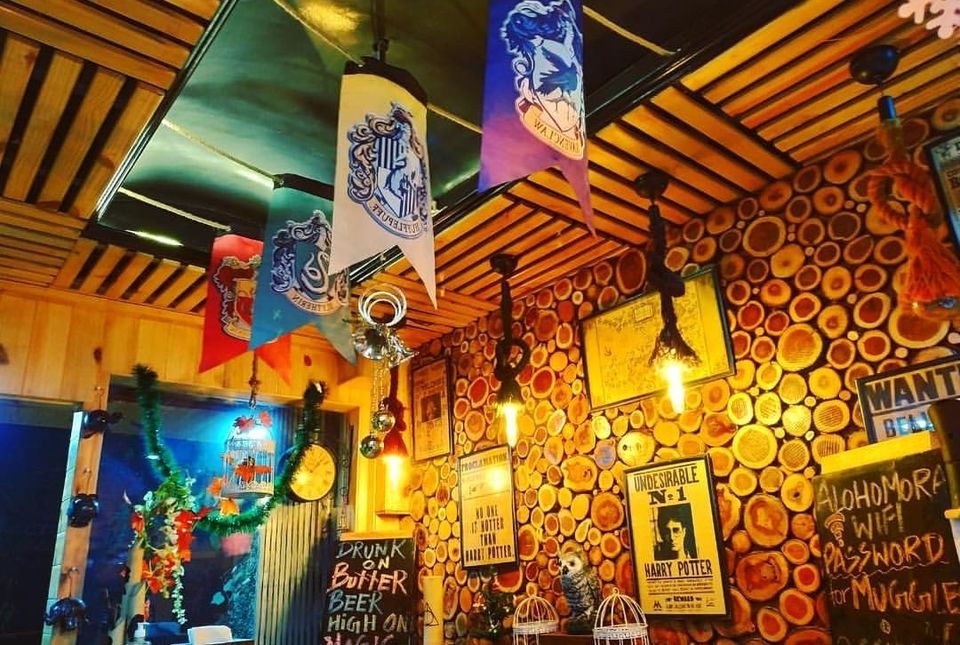 Serving more than just food, themed cafes add an interesting twist to the usual. With factors like decor, ambience and innovation becoming vital to all food outlets, cafe and restaurant owners are constantly experimenting to make our dining experience a little hatke! So, this holiday season, check out our top picks for themed cafes in Delhi.
Don't you feel like just booking a flight to some beautiful place, but since you can't always do that, maybe try the next best thing? Check-in the Runway 1 Restaurant and relish yummy food and vacation feels in this plane turned into a multi-cuisine restaurant! In fact, it is an actual aircraft by the name of Airbus A-310 and also offers the option of dining on the wings with the servers dressed up as flight attendants. You just have to pay 200 rupees for boarding pass which is redeemable. So, tighten your seat belts and enjoy your flight to the foodie land!
Must Try : Chicken tikka pizza, Cheese sticks, Stuffed mushroom tikka, Oreo shake
Tired of cancelling your Goa plans? Want to go to the beach but don't have the time to travel? This cafe will come to your rescue with its refreshing beach themed ambience and Goa vibes. With a small pool for soaking your feet and splashing around, it provides an almost beach-like experience. They also have live music to get you in a beach party mood and a special 'Tiki Bar' for a regular supply of drinks. The menu has a diverse range of coastal food from around the world to satisfy your hunger and give you a complete coastal experience.
Must try : Spring rolls, Makhani pasta, Chili garlic noodles, Death by chocolate
F.R.I.E.N.D.S. isn't just a sitcom, it's a way of life and you simply cannot argue with that. We're all guilty of Binge-watching the episodes a hundred times, so why not head over to How You Brewing and try some scrumptious sandwiches? The best part about this place is their dedication to the show. You'll notice how they have properly themed walls, elements like the iconic orange couch and the Foosball table, and not to forget, they also have Friends quizzes every now and then.
Must try : KitKat shake, Joey's pizza, Red Ross sandwich, Nutella frappe, Break up sundae tub.
All the Bollywood fans, give me a cheer because Box Office cafe is right here! Situated in the cafe hub of Delhi, Hudson Lane, this one is just the place for you if your Friday is always spent in a movie theatre. The walls here aren't just brick and paint but embellished with Bollywood posters and famous dialogues! On top of that, they have some really quirky options on the menu for you to savour.
Must try : Maggi sandwich, double-decker pizza, mac n cheese, choco brownie shake
Shoutout to all comic book fans because this one's for you! Located in SDA, this comic book themed cafe is a must visit for you. From the stairs to the shelves inside, table covers, and cushions, everything is covered with collector's items and memorabilia from your favourite comic books. There is also a wide range of comic books to read while you munch on their Italian cuisine. What's more, they also have live band performances occasionally to accompany the great food and ambience.
Must try : Chicken momos, Spaghetti Alio Olio, Chili Chicken Gravy, Black Mojito
Tired of the pollution in the nation's capital, and want a breath of fresh air? Visit this jungle and aqua-themed cafe in Rajouri Garden that serves 7-course buffets and offers a surreal ambience. Get closer to nature or experience an underwater cave as you try their delicious buffet or order your favourite dishes. You can also try the live grill menu to have your food freshly grilled in front of you.
Must try : 7 course buffet, Live Grill menu, Chicken momos, biryani, white sauce pasta
You've got to be drooling by now. So, did you pick out your favourite one of the lot yet or have other interesting cafes that we missed out on?
Tell us in the comments below or share your experience here on Tripoto with fellow foodies! Want more drool-worthy finds, follow Tripoto on Instagram.
Frequent Searches Leading To This Page:-
themed cafes in delhi, theme restaurants in cp delhi, unique restaurant themes in delhi, hangout places with friends in delhi, tourist must visit cafes in delhi