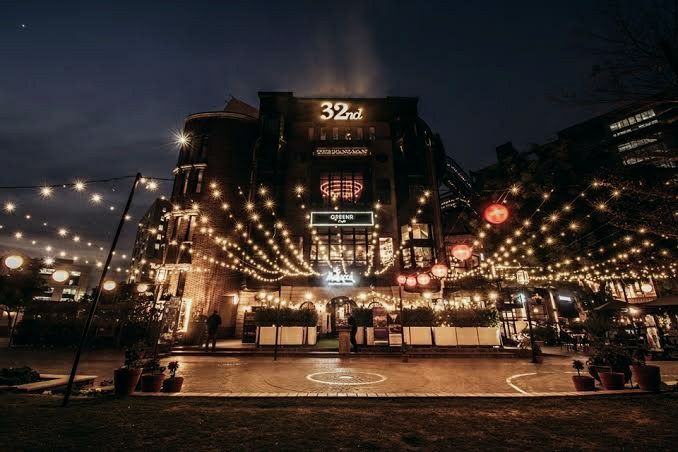 Remember 32nd Milestone that most of us visited as kids? Well, while all of us were busy growing up, this place received a magical revamp— a glow-up like no other, if I may say. 32nd Milestone is now bigger, better and more glamorous! And oh! It is now called the 32nd Avenue.
The 32nd Avenue is the new "it" place in Gurgaon and is basically heaven for die-hard foodies. A treat to the eyes, this place will mesmerise you with impeccable streets dotted with trees, twinkling fairy lights and a larger-than-life grandeur. Featuring some of the most gorgeous dining spaces, 32nd Avenue should be on top of your weekend plans!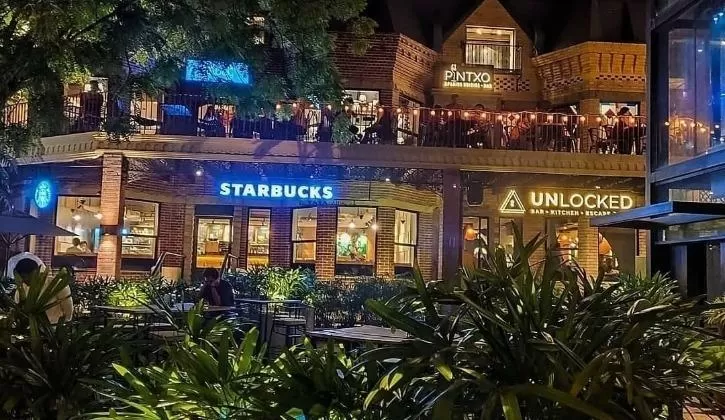 Here are the best dining spots that are ideal for a catch-up dinner with friends, a family get together or a date with your partner!
The House of Celeste: Ideal for a meal with your family
Founded by a renowned Michelin-star Chef Suvir Saran, this restaurant offers delicious food that you wouldn't want to miss. This critically-acclaimed chef earned the first Michelin star for an Indian restaurant in the US, and is the Chairman of Asian Culinary Studies for the Culinary Institute of America. Their menu majorly focuses on Indian food items and presents them with a modern touch.
Food you must try here: Delhi 6 Clouds, Fried Chicken Makhani, Mutton Ghee Roast, and Dodha Barfee served with Dehydrated Milk & Buttermilk Sorbet.
Cost for two: ₹ 1600 and above
The Potbelly Divine for a meal to remember
There are very few restaurants that offer an unadulterated flavour of Bihar. One such fantastic restaurant is the 'Light on the belly' restaurant at 32nd Avenue. This restaurant has become quite popular for the kind of food it has to offer. The ambience and the overall vibe of the restaurant are quite fascinating. Once visited, you will crave to come back to this place over and over again
Food you must try here: Litti Chokha, Chana Dal Pyaaz Kachori, Bihari Burger, Bhoj Ka thali, and Raspua Dessert.
Cost for two: ₹ 1500 and above
Greenr Cafe for a healthy snack
Greenr Cafe is a community-driven and co-lovin place to be at. It is open 7 days a week from 12:30 PM to 10 PM for takeaway, delivery and dine-in at Gurgaon. It is THE place for health-conscious foodies. Their menu features delicious options for vegetarians, vegans, and even those who are lactose-intolerant. They promote clean eating. They are also known to make their own ketchup, chili sauce, and other condiments in-house without using any preservatives.
Food you must try here: Austin Smoked Jackfruit, Manali Super Hemproot Pizza, Pesto Vegetable Spaghetti, and Raw Peanut Butter & Banana Cheesecake.
Cost for two: ₹ 1000 and above
Pintxo for a ticket to Spain!
Pintxo is a casual dining Spanish restaurant featuring dainty wrought iron lamps, dramatic arches, and vibrant stained-glass windows, that collectively make for a really romantic ambiance. An expansive and delectable tapas menu is what they are known for. With Chef Emmanuel Gomes at the helm, you can expect delicious in-house focaccia and slider buns made fresh, every 3 days. They also make their own chorizos and sausages along with an array of sauces that are used in varied Spanish preparations.
Food you must try here: Lamb Shank w/ Ratatouille, Mashed Potatoes, Valenciana Paella, Garlic Prawns, Churros, and Ricotta Cheesecake.
Cost for two: ₹ 1000 and above
RYU Bar for a night-out with your friends!
An ideal place to experience an ecstatic nightlife in Gurgaon, RYU is a pan-Asian themed restaurant focusing on the flavours and style of countries like Japan, China, Korea, and Malaysia. This place is all things magical and offers a wide range of signature cocktails. The overall vibe is something you would want to come here for.
Food you must try here: Thai Green Curry, Nasi Goreng, Chicken Drunken Style, RYU Dragon Roll, Homemade Coconut Ice Cream, and Signature Cocktail-'In The Spirit of RYU'.
Cost for two: ₹ 2000
CAD Techbar & Craftkitchen: A technology inspired bar!
CAD is India's first technology inspired bar and modern Indian kitchen in 32nd Avenue. They let you order food and drinks via a touchscreen console which is fitted in the table. You can sit comfortably at your table and order your food. The ambiance is done up in shades of black and brown and has an outdoor here where you can sit and chill. The cocktails offered at CAD redefine mixology. They offer a wide range of popular international wines.
Food you must try here: Butter Chicken Filopie, Achaari Roasted Pizza, CPU - Chili Paneer Uttapam, Kolkata Ghugni Pate, and Five-Spiced Chocolate Fondant.
Cost for two: ₹ 1800 and above
TPM Cafe for delicious bites served with a slice of music
"The Piano Man is a venture by Arjun Sagar Gupta who opened the first outlet in Safdarjung area. The new club in Gurgaon, located inside 32nd Avenue building, is designed by Amith Chhabra of Livin' Colors Design (@livincolorsdesign). The Piano Man takes its design inspiration from the Preservation Hall in New Orleans, transporting one back to a bygone musical era. Musical elements find their way into the interiors like the handmade wooden piano key details in the bar, or the chandelier on the stage featuring 245 trumpets." quoted by Archdigestindia.
Food you must try here:
This is what the promoter of 32nd avenue have to say about these wide range of restaurants: "We want to create the experience of a Khan Market in Gurgaon. We have pivoted from being just an outskirts entertainment center in the form of bowling and go-karting to slightly more evolved cultural community-oriented space. It, in many ways, validates that a couple of products that have evolved have been very well received by the Gurgaon crowd. It shows how much demand exists in that evolved community."
We are sure you must have made your first pick by now. Let us know in the comment section below.
Frequent Searches Leading To This Page:-