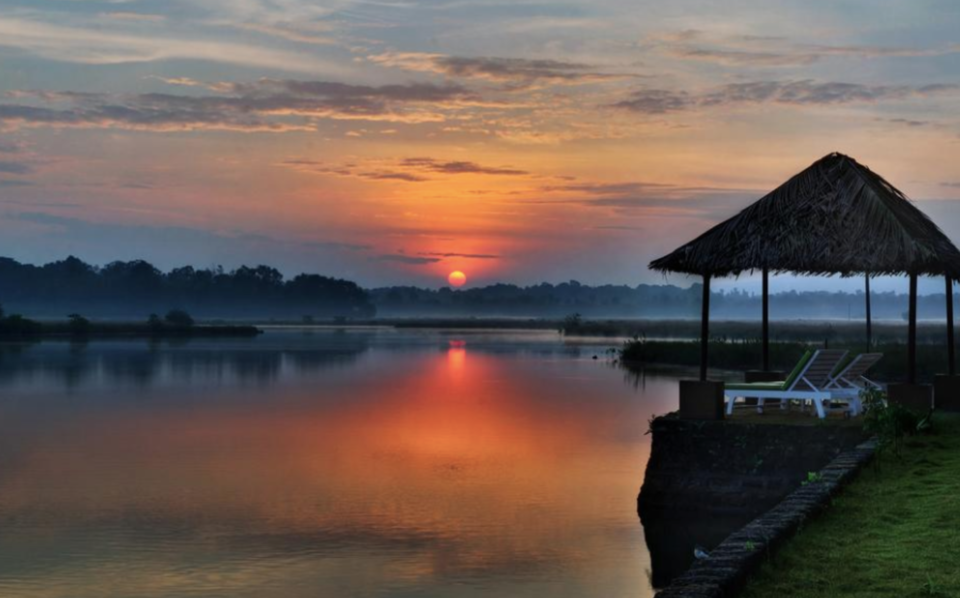 Looking for a life away from my city life I was in search of a place with some calm and quiet at a picturesque location. After some research, I came across this retreat nestled in the heart of Divar Islands in Goa. It is a well guarded secret and is frequented by superstars such as Hema Malini. Now, it was time for me to get my well needed peace from my fast paced professional life and let me tell you no other place would have been as apt as Mercure Devaya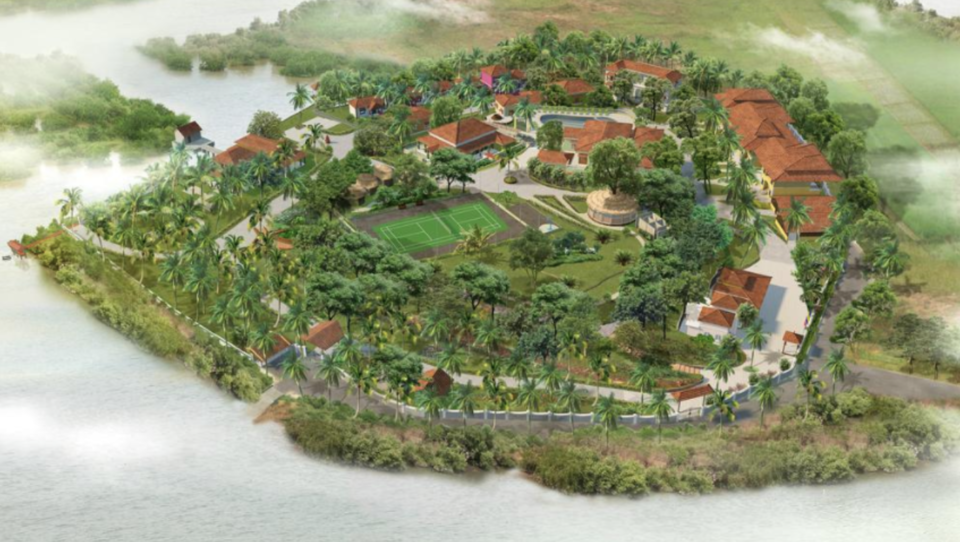 My friend Sanjna and I reached here after around the afternoon after an exhausting morning of travelling. However, all our exhaustion faded away as we reached the property that was our home for the next 2 days and 3 nights. We were greeted with fresh glasses of tender coconut water as we walked into the beautiful property. It had a traditional sitar music playing in the background which had a soothing effect on our tired minds and helped us relax. I must say the staff was very attentive and efficient as the entire procedure of check in took us less than 10 minutes and after this we headed to our rooms.
Our Room: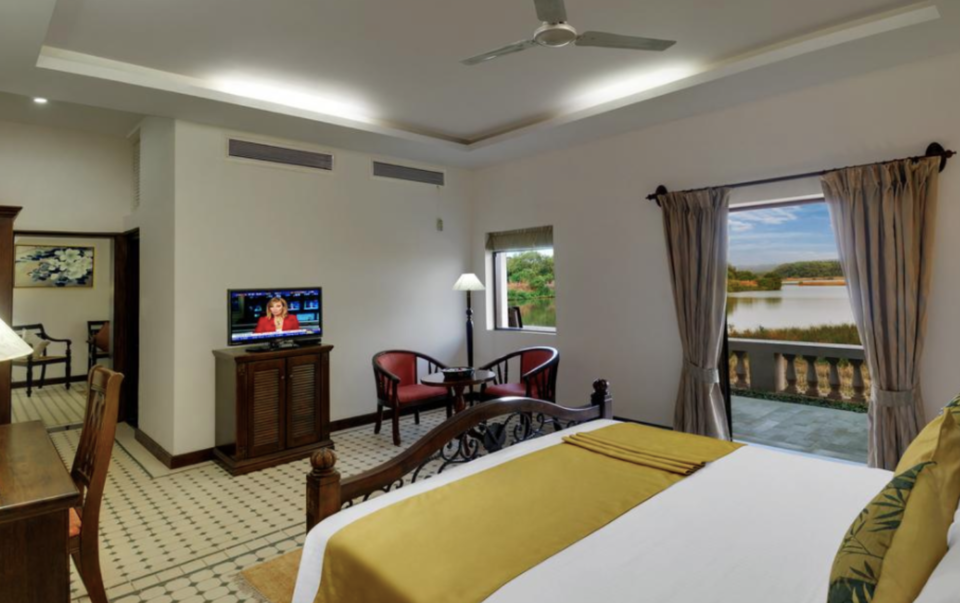 The architecture around here is very portugese in style yet at the same time with every step there is a vibe of serenity and peace attached to this place. Our room was a beautiful space overlooking the river. It had a king size bed and other amenities such a beautiful bathtub, a study table with complete with ink pens and embossed paper. It was our haven to relax in after a day of therapies and other sightseeing around the island. An inviting room complete with room serve where the doors to the balcony alcove resplendent with its flowering champa trees and chirping birds and buzzing crickets. It took me back to the time where I was in grandma's home - so pure and calming.
Humbling Food for Body Detox overlooking the lake: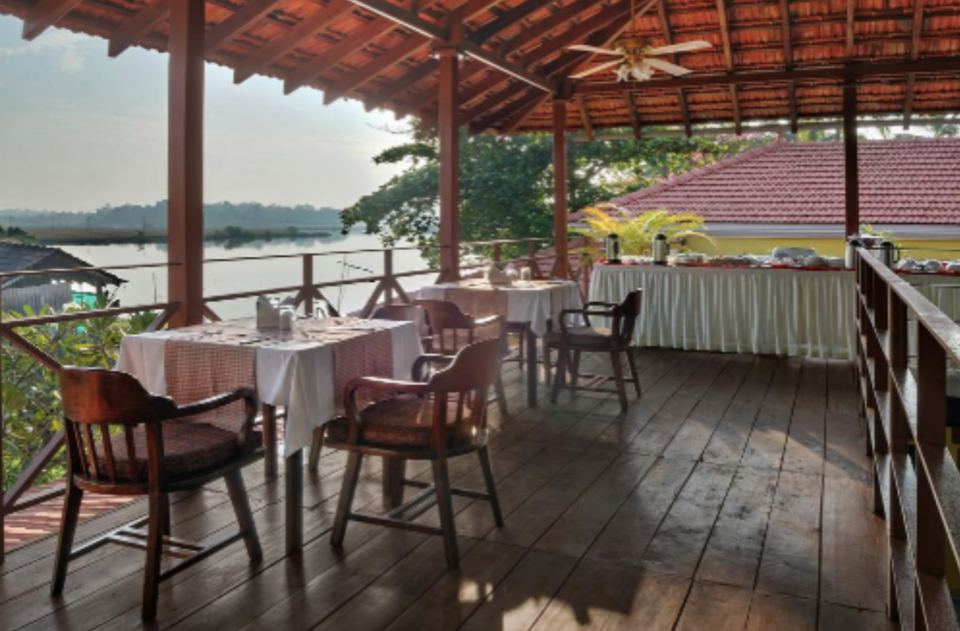 A welcome change of taste from the usual pasta and pizza that we normally relish our taste buds with, the restaurants and the food huts at Mercure served us food that our system really needed but we never provided it with. My favourites were the avocado soup, methi roti, mix vegetable curry and the cut fruits, these items were a treat to my soul as they were prepared with the retreat's special recipes. The food and the ambience by the lake is an apt setting where the simplest act of eating gains its own enjoyment and makes you want to pay attention to every small moment passing by in your life and relish it.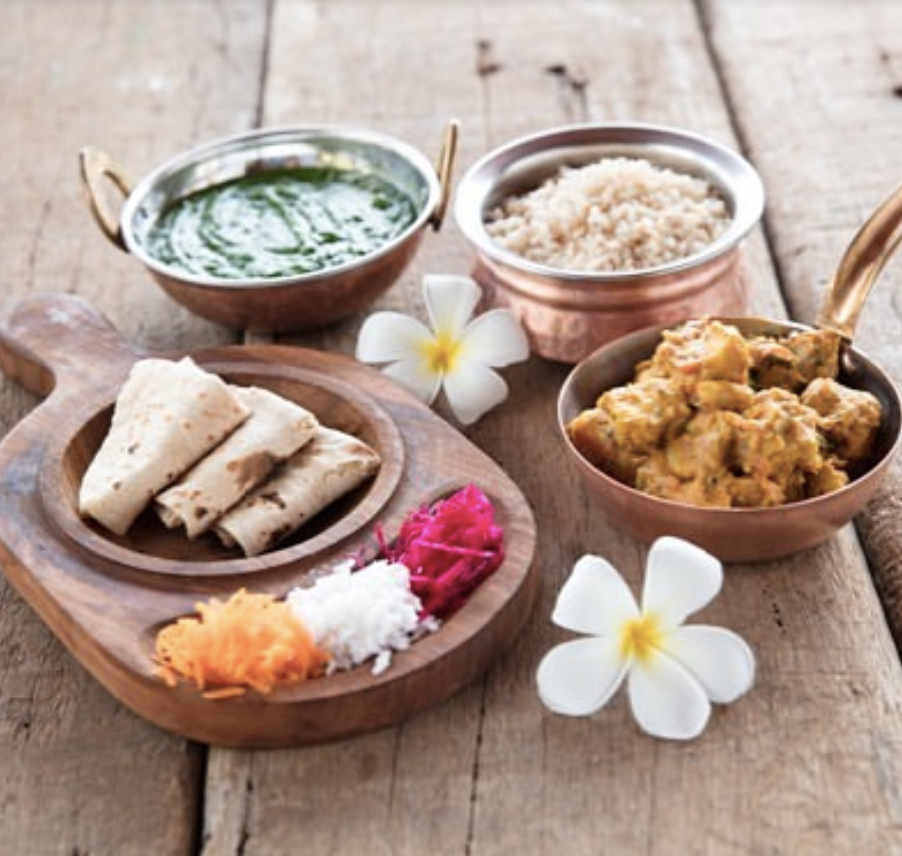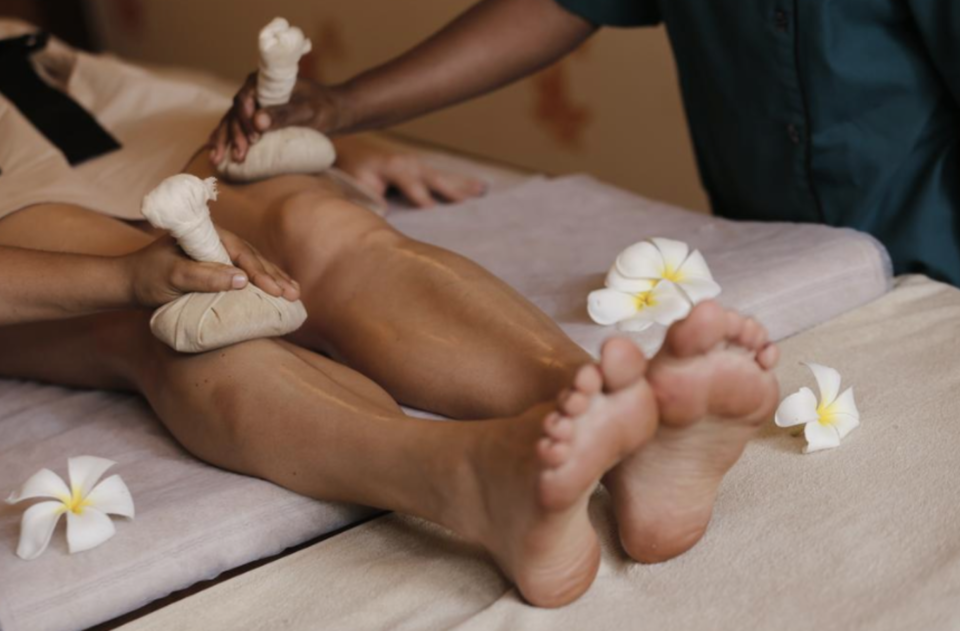 The ayurveda center and its treatments were the favorite part of my stay at this retreat. Unlike other properties, this does not have a spa, it has an Ayurveda center since it is a retreat property. I have been to many spas before this but the way in which treatments are administered in this house of ayurveda is out of the world. The walk into this world of blissful mental and physical healing begins with a visit to the doctors who take stock of your well being and lifestyle and then assign you treatments accordingly. There are many therapies that you could opt for starting from Abhyanga, Shirodhara, The Mukha Lepam, The Padabhyanga. All of the treatments are state of the art and have a unique touch to it where two healers are at your service giving you the therapies that you opt for and this a very rare practice.
Head for a swim and lux in the sun: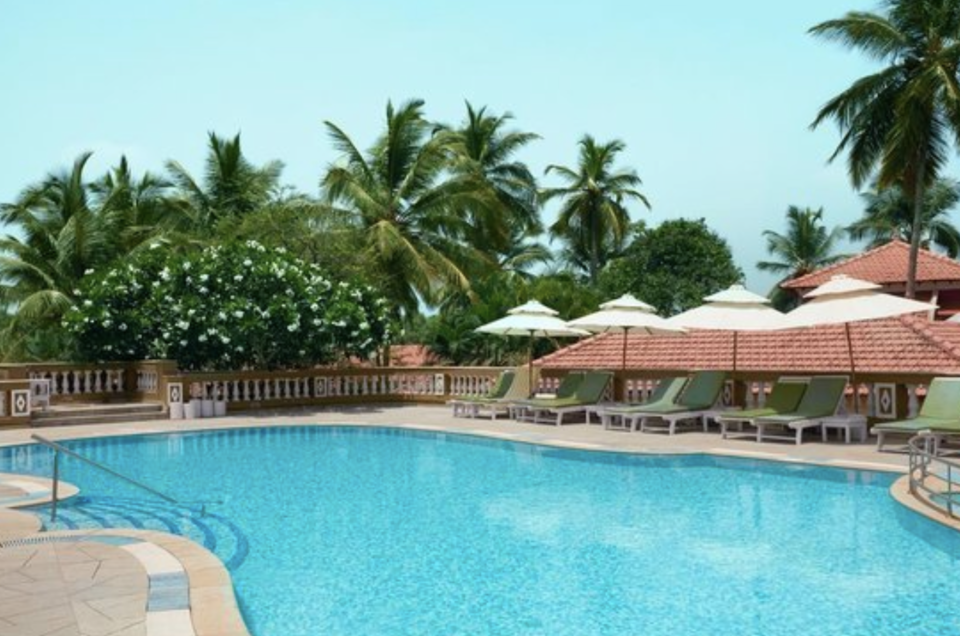 An avid fan of fitness regime, morning laps at the pool for me were a must. The pool is just 4 feet and allows maximum flexibility for everyone to just relax and have fun even if they are not swimming. After a swim I would recommended that you have a cup of retreat's herbal tea, it is simply amazing and re-energizes you to go about planning the rest of your day.
Relax by the river and watch the sunset: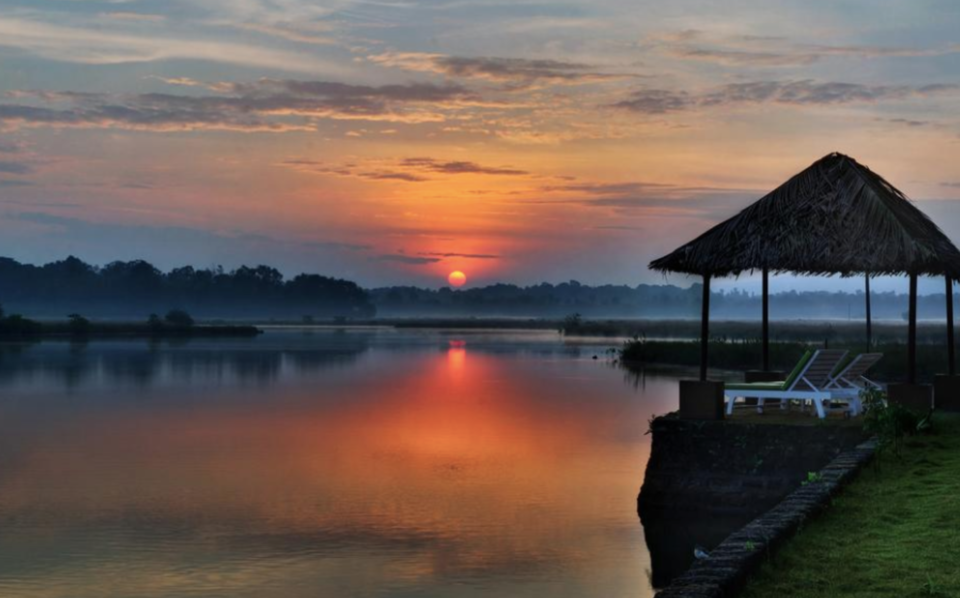 THere are some evening you do not want to be out and just spend an evening of leisure. This retreat is artfully designed to meet such needs where there are adorable huts constructed by the river with lounging chairs. Here, you can grab a book and soothe yourself in the evening breeze while you watch the sunset into the horizon. This was one of my favourite spots at this retreat.
Connect with your inner self through Meditation and Yoga: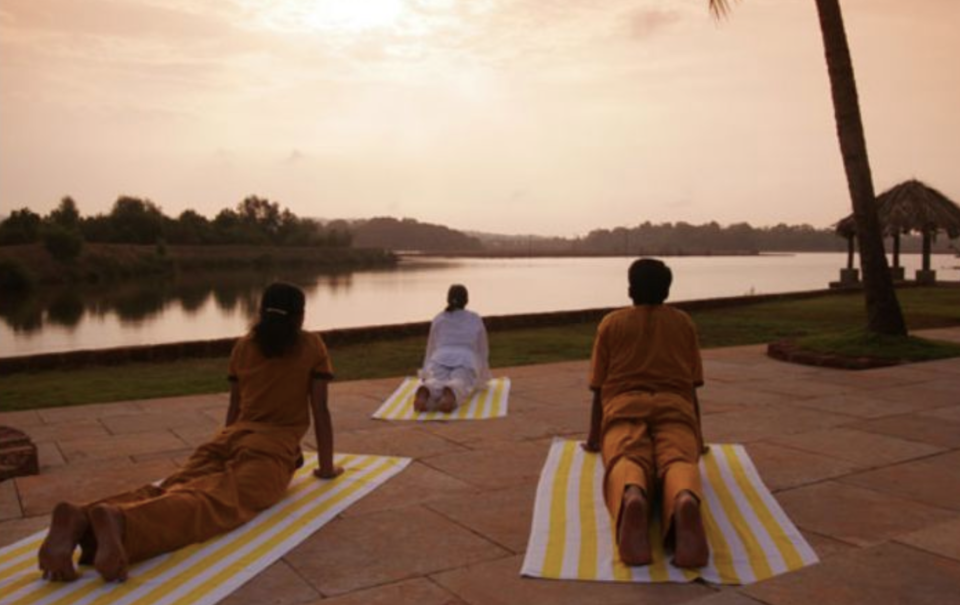 This place has a very set schedule where you are advised to wake up during sunrise to soak in the early rays and hear the birds chirp you into wakefulness. The meditation and yoga is very soul-cleansing and is recommended for everyone who decide to make this resort their home.
Take a Ferry to Vasi Island and be surprised:
This is the neighbouring island which lies right in front of this resort - just across the Mandovi river. This island has a variety of flora and fauna like the lipstick tree and the soap tree and places such as an age old church, a love bridge and several beautiful portugese homes. The suggested time to visit this place is early morning or in the evening for you to relish your time here. This island can be accessed by a ferry and a guided tour can be organised by the retreat for you if you make a request well in advance at the reception desk.
Go cycling by the Lake and Explore the Church:
This island by the river gives you a beautiful stretch to cycle by and have your own time where you relish the feeling of being on a vacation. The bicycles can be procured from the reception and you can have a great time just biking around the expanse of the island and appreciating the nature and the beautiful portugese architecture around this retreat.
How to get here?
To get to this retreat you have to take the ferry from one end of Old Goa to reach the other end which ends at this island. From here you can take the car arranged by the hotel to reach the retreat. The ferry is super inexpensive and your car can travel on the ferry with you, now isn't that amazing!
Who to go with ?
This retreat is for anyone who seeks to just detox themselves from their fast paced life and spend some time in rediscovering themselves. You could come here by yourself, with your family or with your beloved. This is a place for everyone, where away from the grasp of social media and other distraction you just get to spend some quality time reconnecting with yourself.
Fun facts about this place:
1) There is no phone connectivity here - This place is not for the faint hearts, you need to be very determined to stay here. This place will make sure to keep your phone away.
2) The property staff doesn't have phones - The staff at the property don't carry their phones around. They are extremely focused and love to live without phones. They are people you get inspiration from.
Tips to stay here:
1) Be strong hearted. You have to be very determined to live here and to let the place change you.
2) Once it changes you, you will never want to go back!