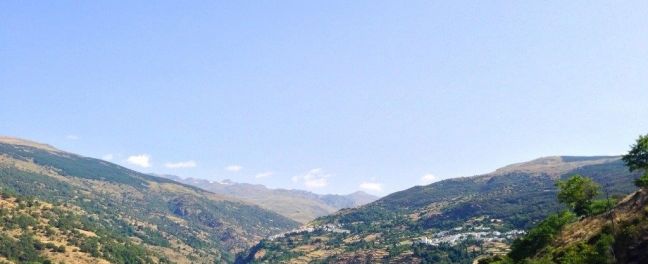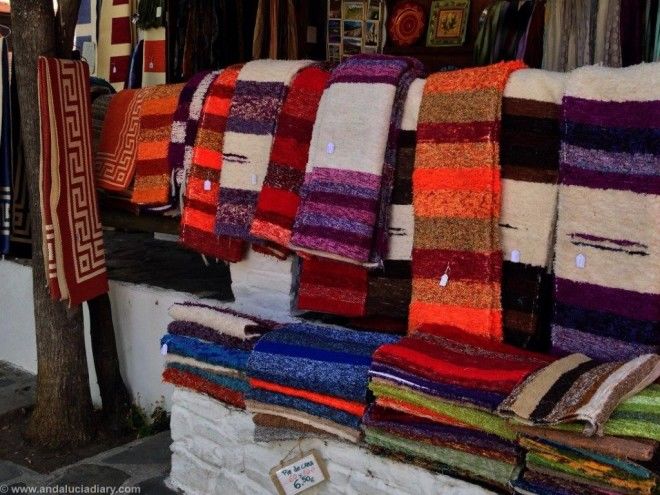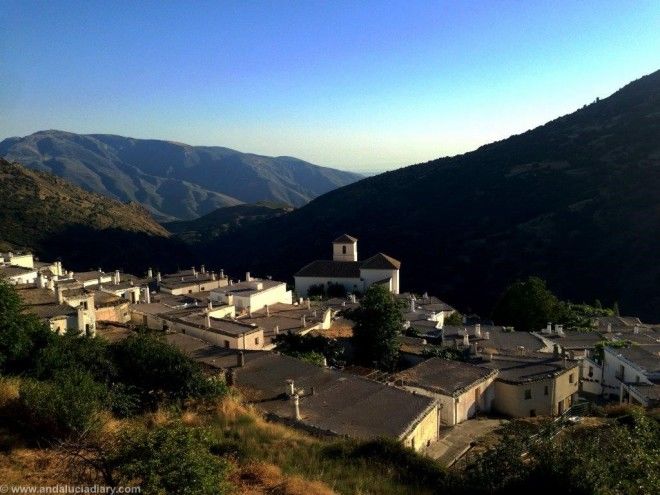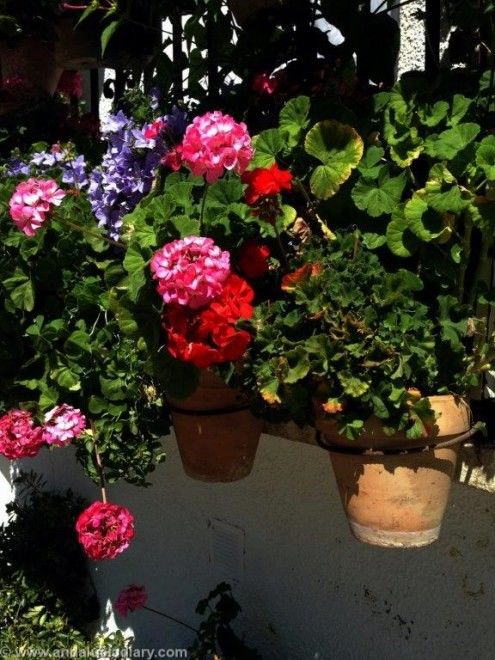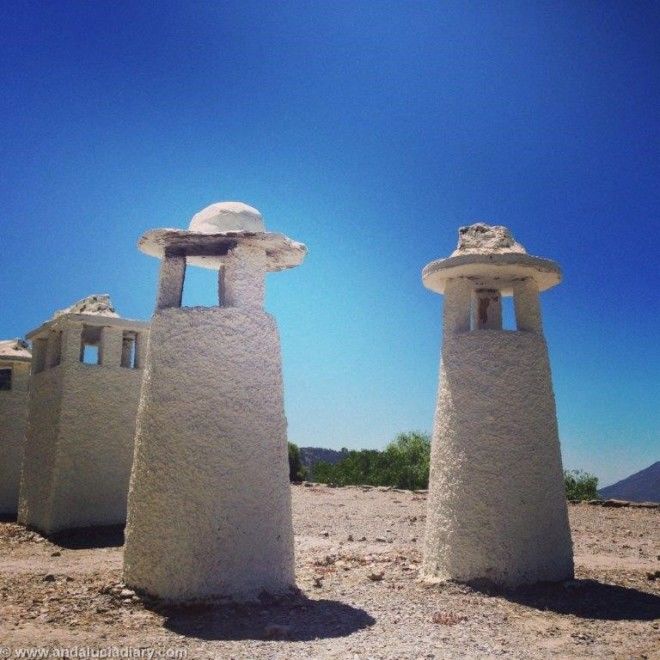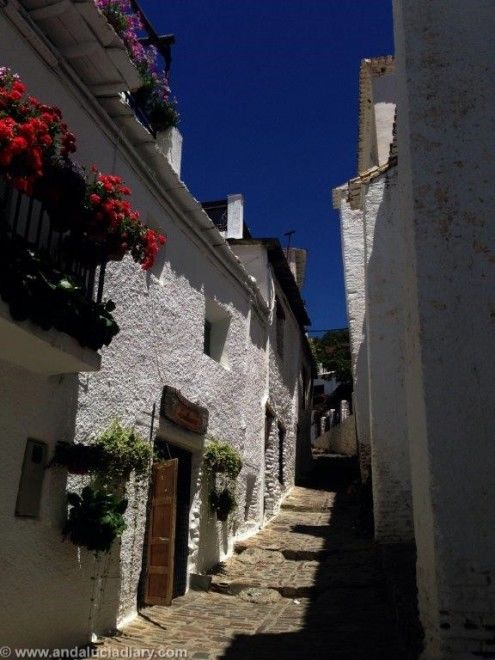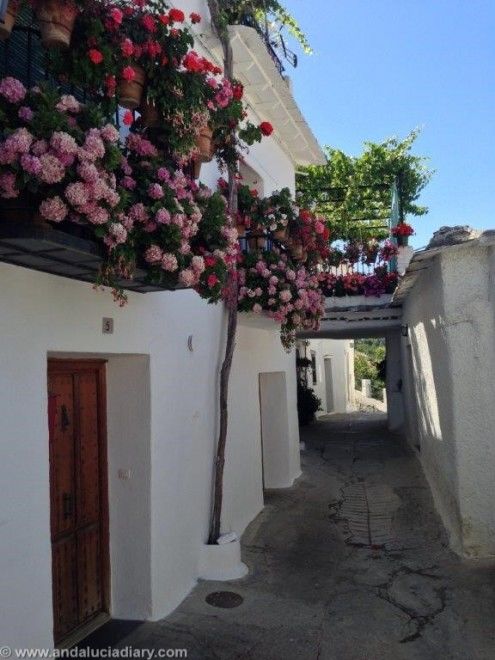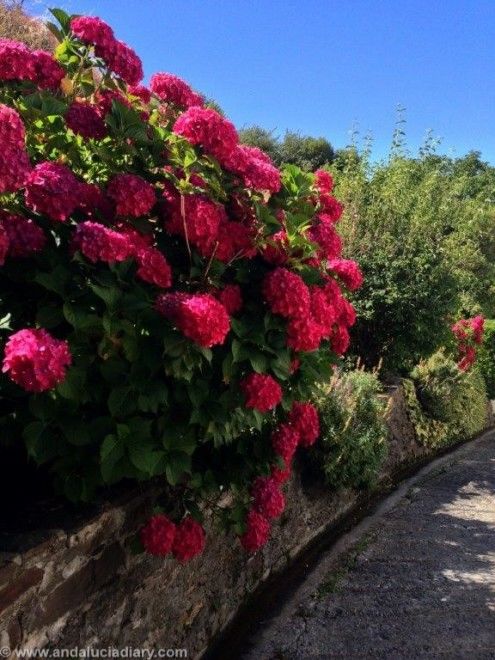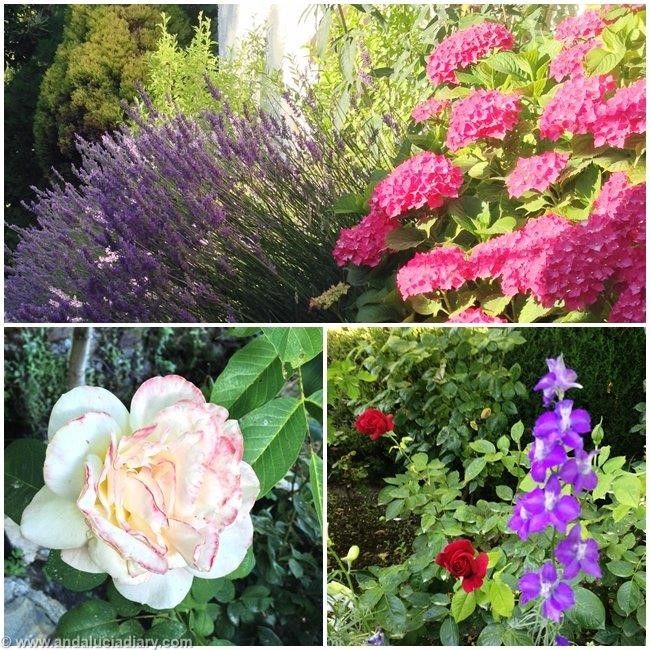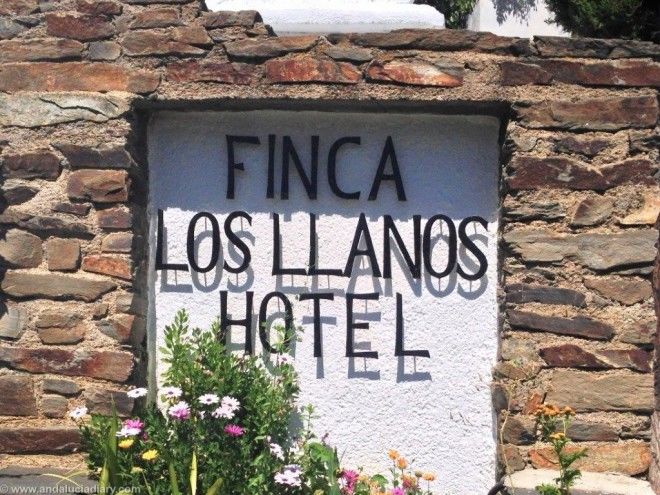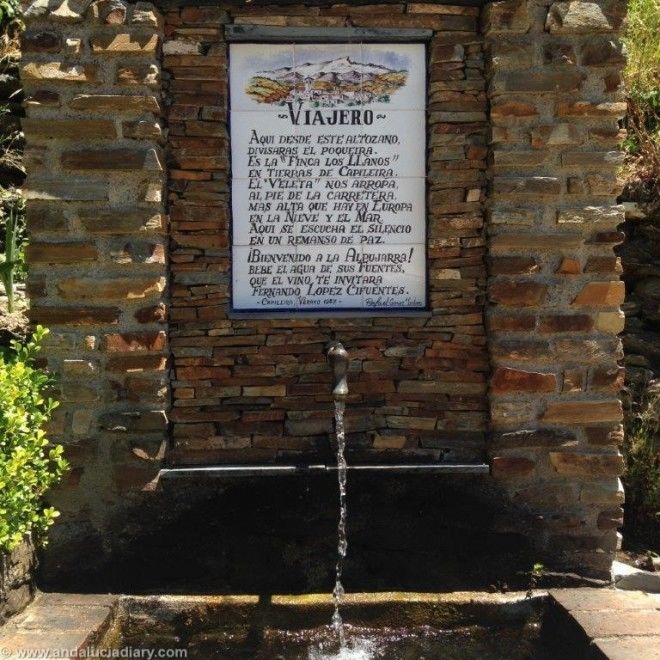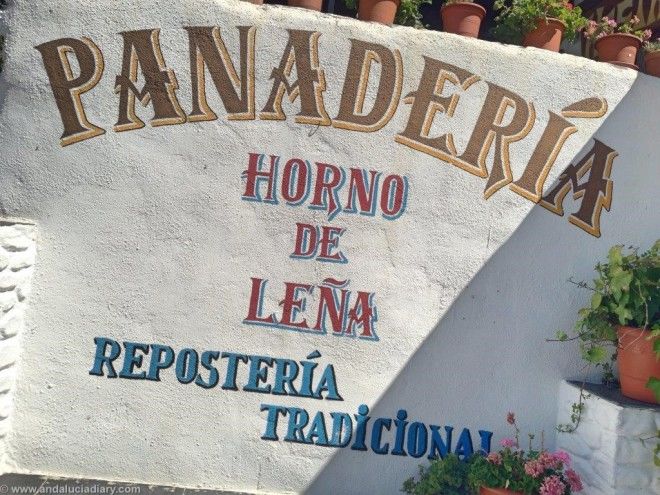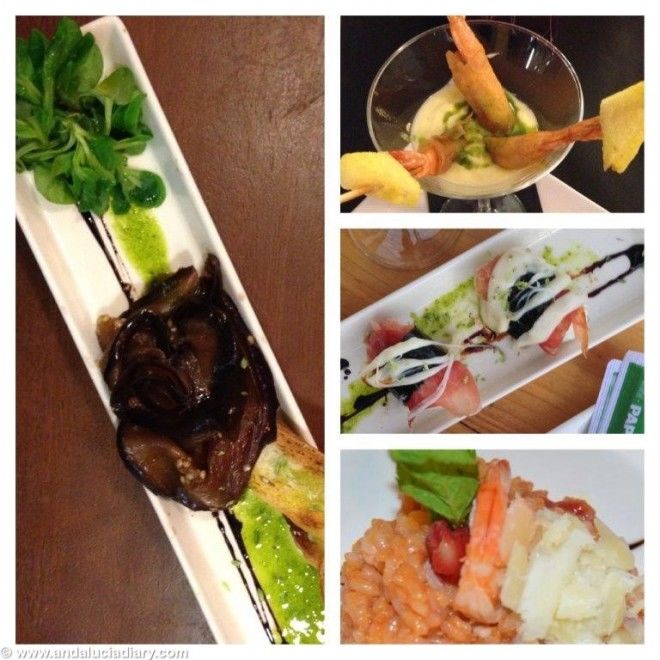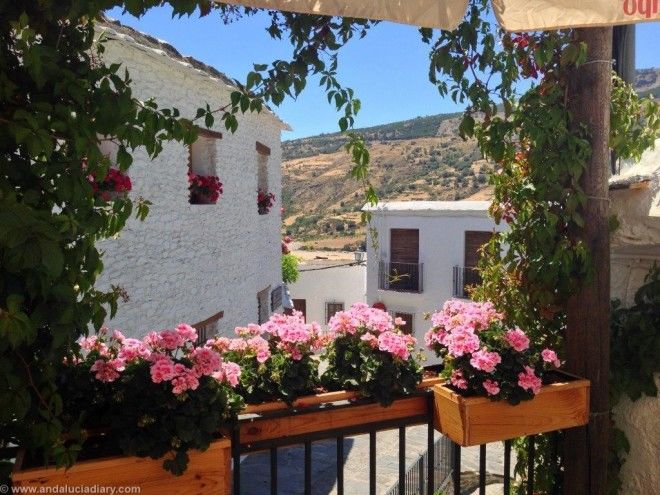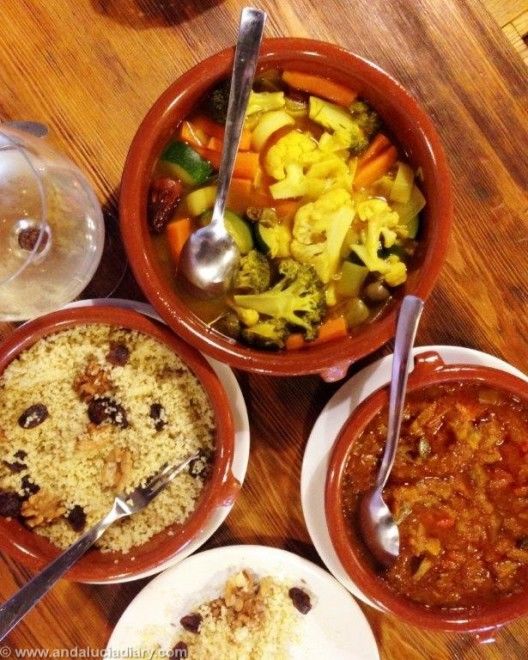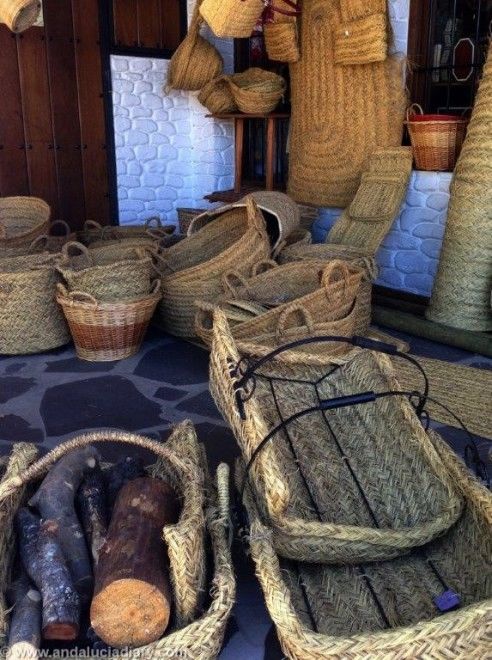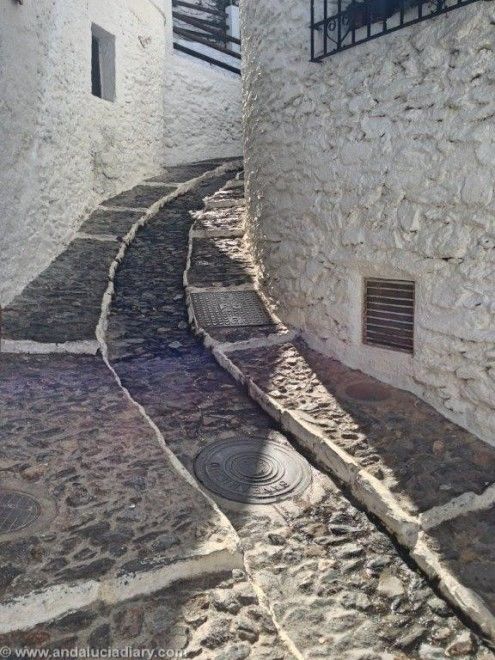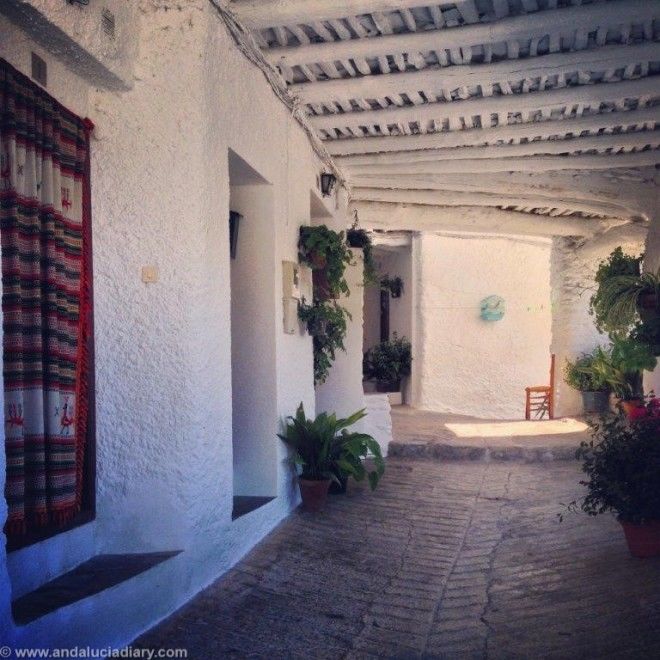 The road continues to wind and climb upwards, tight bends take one higher and higher. The sound of falling water often fills the air; even in high summer there is the feeling of spring here. Snowmelt from the Sierra Nevada continually filters through these foothills, filling streams, rivers and ancient irrigation systems that date back over a millennium to when the Moors and Moriscos lived in these mountains.
We continue upwards, passing through the white washed villages of Pampaneira and Bubión, decorated by the earthy tones and rich colours of artisan rugs and fabrics that are offered for sale, displayed over walls and hung around doorways.
Ahead, as if tucked into the mountain side, emerge modest, flat-roofed houses with distinctive white chimneys; picturesque homes clustered together, their stone and timber open terraces shaded by twisted vines and bursting with crimson from cascading geraniums.
We've arrived in Capileira, in the Alpujarras, in Granada province. It is a postcard perfect village which at about 1500 metres is the highest within the Poqueira gorge. To help put that into perspective, the village sits about 100 metres higher than the summit of Ben Nevis the highest peak in the UK. Little wonder that this area is known as the 'roof' of Iberia.
We've left behind the heat and crowds of the coast and are in a refreshingly peaceful corner of Andalucia.
Finca Los Llanos
We pull up into the steep driveway of Hotel Finca Los Llanos , bordered by a fast running stream and flowering hydrangeas and scented roses. Our home for the next few days, this rural retreat with panoramic views, shaded garden terraces, and inviting swimming pool offers guests the chance to experience life in an authentic Alpujarran village. Gloria Lopez provides a warm welcome at this family hotel that her father Fernando started.
The comfortably furnished guest rooms are found in distinct buildings of traditional Alpujarran architecture, which the family have named after Spanish and international writers, poets and Hispanists, such as Washington Irving, Federico G Lorca and Gerald Brenan, all of whom loved Granada province. Each room has a welcoming rural Andalusian style, using regional materials such as terracotta, slate, local chestnut and walnut, Arabic-inspired ceramics, crafted lanterns and local alpujarran fabrics.
The spacious 'Rafael Gomez Montero' suite is named after the late Spanish journalist and poet, another writer who was seduced by the charms of the Alpujarras. He dedicated a poem, 'Viajero' (Traveller) to Los Llanos and its guests, and it is immortalised on decorative ceramic tiles on a small fountain, standing in the shade of a walnut tree, in the hotel gardens.
Gastronomic Highs
Foodie breaks are an increasing draw to the region, known for its organic produce. Strolling through Capiliera for a place to eat is a pleasure. The main road ends here, and within the village the streets are too narrow for cars. So without traffic one can be immersed in the tranquillity of the mountains, even in high season, and enjoy the terrace restaurant and bars.
The most acclaimed place to eat in the village is 'Botanic Bar' run by young chef Guillermo and his partner Africa. Guillermo, originally from the Alpujarra, was professionally trained in Bilbao and Barcelona, and is the talent behind creative tapas and a 'menú degustación' tasting selection of seven plates, highlighting the best and latest additions to the menu. Enjoy classic ingredients such as local serrano ham and goats cheese, but imaginatively served for example as sushi rolls. Other dishes include marinated organic aubergine in soya and local honey: or pigs cheeks slow-cooked in beer and then Andalusian orange juice. There is a chill out deck, and a dedicated Gin & Tonic bar.
It's a magical way to spend an evening, leisurely dining on the terrace as the sun sinks behind the mountain and the stars begin to fill the clear sky.
For simple, local fare, try 'Taberna La Tapa', where Eduardo offers modest dishes of cured cheese, homemade olive tapenade, or a classic Alpujarreño pisto, (a sort of ratatouille), as well as dishes such as cous cous with fresh local vegetables, that reflect the region's past as the last stronghold of the Moors.
The restaurant of Hotel Finca Los Llanos is open to guests and non-residents alike, offering a homely menu that reflects the changing seasons of the Alpujarras. The hotel has its own 'huerta'; an organic vegetable and fruit garden that supplies the restaurant. Try fresh river trout with a glass of local white wine, chilled gazpacho made with garden fresh tomatoes, or a classic Alpujarreño pisto, (a sort of ratatouille), for a perfect summer lunch.
Crafty Shopping
Artisan crafts, once the means of making essentials for these isolated villagers, are now very much part of the tourism sector. Bubión a neighbouring hamlet has a number of 'tallers' like the artisan carpet workshop, 'Jarapas de Hilacar' where the owner is happy to demonstrate the strength and patience needed to create the local woollen rugs, each individual pieces of craftsmanship. In addition, esparto grass that grows locally near Órgiva is used to make all manner of basket ware; making interesting and authentic gifts.
Lofty Adventures
Capiliera and its neighbours have also created a sustainable economy thanks to a strong interest in activity adventures in the surrounding wild spaces of the Sierra Nevada National Park, such as river canyoning and climbing as well as walking and mountain biking.
With an early start, one can board the small bus that departs from Capileira, taking walkers, climbers and adventurers up to the start of National Park, where even now patches of snow are still visible. The road becomes a track, and soon the wild beauty of the park unfolds, taking one to even greater heights.
PRACTICAL GUIDE
Information:
http://www.capileira.es
How to get there:
Car is undoubtedly the easiest. The 'Autovia del Mediterráneo' from the Costa del Sol now directly joins the new A44 motorway heading north towards Lanjaron. Then take the A346 or A348 to Órgiva and then head north.
How to get to around:
Rent mountain bicycles, walk or hike. Bus runs twice a day from Capileira to the National Park peaks for hiking.10 euro return, departs at 08.30 & 11.00am. Returns at 16.30 and 18.45. Capileira Information Point: Tel: +44 958 76 30 90
Where to stay:
Hotel Finca Los Llanos is a charming rural hotel in Capileira, offering guest rooms with balconies and views, swimming pool, bar and restaurant.
http://www.hotelfincalosllanos.com/
Where to eat in Capiliera:
Botanic Bar
Voted Number 1 on TripAdvisor. Creative, fusion tapas, main dishes and tasting menus with local & Asian influences. Restaurant, terrace and Chill Out deck. Owners Guillermo and Africa speak English.
Tel: (+34) 958 763 059
Restaurante Finca Los Llanos
Serving typical Alpujarran dishes using locally sourced ingredients including serrano ham from Trevélez, goat's cheese from Busquistar, cured sausages from Pampaneira, as well as regional Contraviesa-Alpujarra wine.
Tel: (+34) 958 76 30 71
What to buy:
Local food products like Alpujarras honey, Granada wines. Local artisan items include handmade rugs, and hand woven 'Esparto' grass baskets