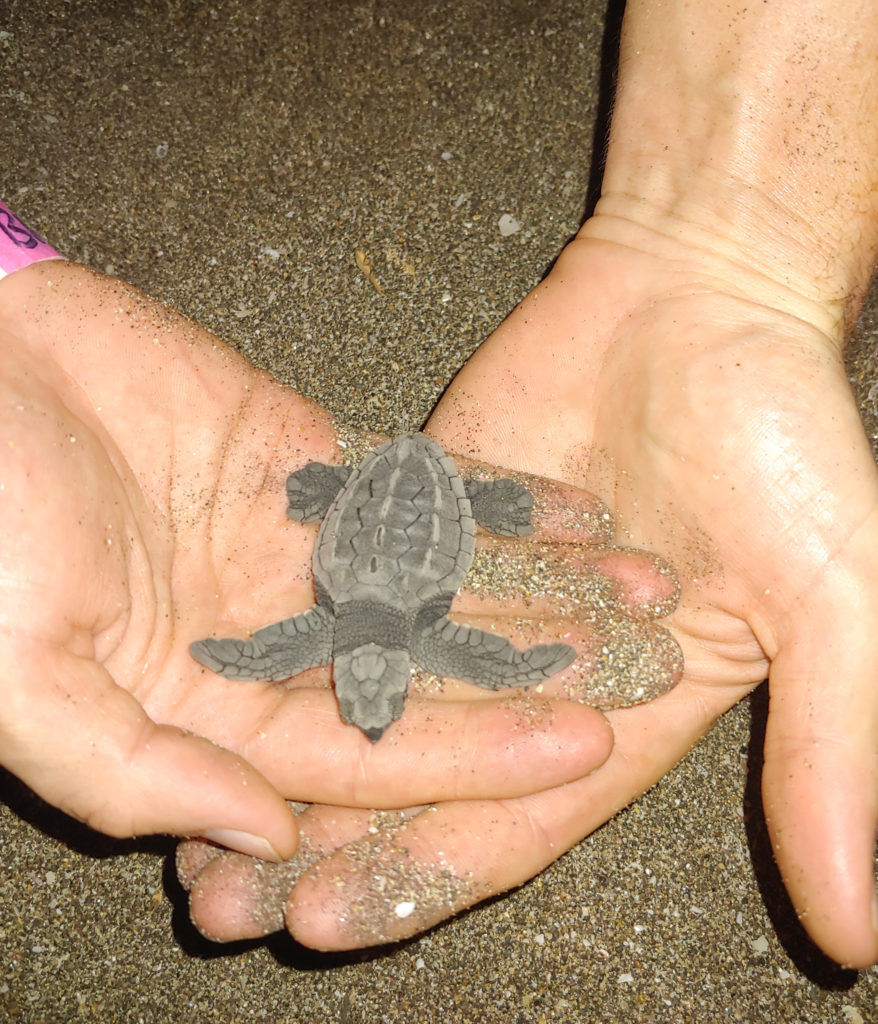 When we were staying at our hip hostel in Granada, I noticed a flyer for an oasis on the Pacific called Surfing Turtle Lodge. It advertised cheap rooms on the beach and your chance to volunteer with baby sea turtles. This opportunity was one of the reasons Ilene and I came to Central America. I took a picture to save it for future reference, and we proceeded with our journey through Nicaragua. We spent a tranquilo five days on Ometepe, then ventured into the chaos of Managua and Leon. Near Leon, we hiked up, then sled down the slopes of the youngest active volcano in the country. After these adventures, it was almost time for us to split ways with our new travel buddy, Atti, as he continued north into El Salvador/Honduras. But one last desire lingered before we made our way south, back to Costa Rica. I raised the question, "Surfing Turtle?" Atti, without hesitation, responded, "I'm good, boy." Atti booked a dorm bed for $5 and we booked a semi-private room for $18 total.
The next morning the three of us jumped into a taxi to grab the chicken bus from Leon to Las Penitas for 50 cents per person. This wasn't quite like any of the previous chicken buses we'd experienced. Imagine filling a school bus to capacity, then allowing 50 more on board. Then install a sound system with the bass, that only a high school kid could dream of for his first car, and jam reggaeton on blast. In the U.S., this would call for a few roadies and an entire day of debauchery.
An hour later, we arrived at our stop, then walked 10 minutes to what we assumed was our pickup point for Surfing Turtle. The only issue is that Surfing Turtle sits isolated on the other side of a massive river valley dumping into the Pacific. It was also perfect timing for the lowest of lowest low tides. So, we walked 1km through wet sand until we arrived at the bank of what was left of the river at low tide. A guy working for Surfing Turtle loaded us into a small motor boat and literally pushed us to the other side, where we unload then reloaded onto an old horse carriage. The horse and his horseman lead us through the trees for 10 or so minutes.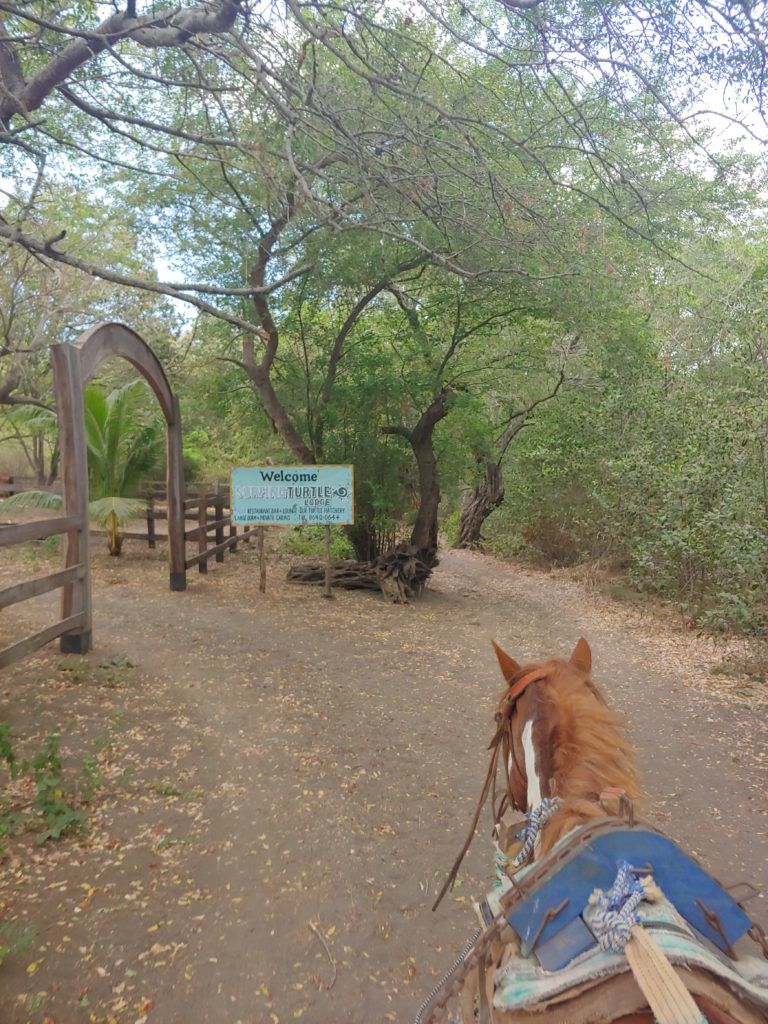 Like a mirage in the desert, we came upon the huts of Surfing Turtle Lodge. Music was bumping and people were cheering. Come to find, there was a charity sand volleyball tournament the day we checked in. Initially, the vibe was a little odd. A small, tranquilo beachfront hostel mixed with all day drinking and loud music. The turtle hatchery sat about 30 meters from the action. To be honest, we were a bit concerned. Eventually, the $2 mojitos and info that the volleyball tournament was a kind of "charity for the turtles" put us a little more at ease. We even ran into our guide from the volcano boarding near Leon, whom was in the happiest of happy drunk states.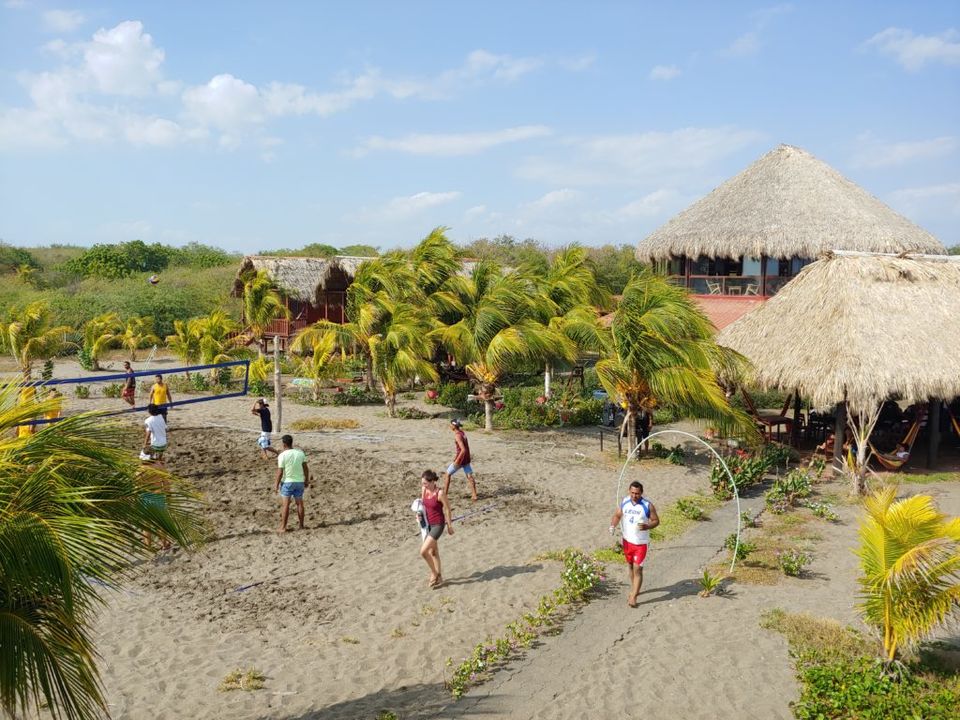 That afternoon, we enjoyed the best of what the equatorial Pacific has to offer, and patiently waited for the tournament festivities to subside. From our shared ocean view balcony, we ate a typical Nica dinner and watched the sun dip into the unknown. As darkness took over, Atti and I eventually made our way down to the beach to catch a glimpse of the milky way. I hadn't observed stars quite like that since remote camping in the mountains of Peru. We soon became distracted by movement in the sand. To our amazement, two baby sea turtles were scurrying through the sand towards the lights of Surfing Turtle. Atti picked one up and I cradled the other. They were a bit frantic and needed to find the ocean soon. Their flippers felt soft, smooth and cool, like a leather boot on a damp day. Ilene was up in the room, missing out on a magical moment. I sent her an emergency alert text as we nudged the nuggets towards the ocean. Ilene made her way down and the three of us scoured the sand near the hatchery. One, two, three more turtles. We were amidst a very unique experience. Only the three of us were helping these delicate creatures find their natural habitat. Workers finally noticed the commotion and tended to the ongoing hatching. They collected nearly 100 turtles from inside the hatchery and lead them into the waves as other guests gathered round in excitement. Drunkards didn't listen to the instructions of the workers and shined their cell phone flashlights for a better look. Unknowingly, artificial light from humans can confuse baby turtles, as their natural instinct is to head towards the reflection of the moonlight on the ocean.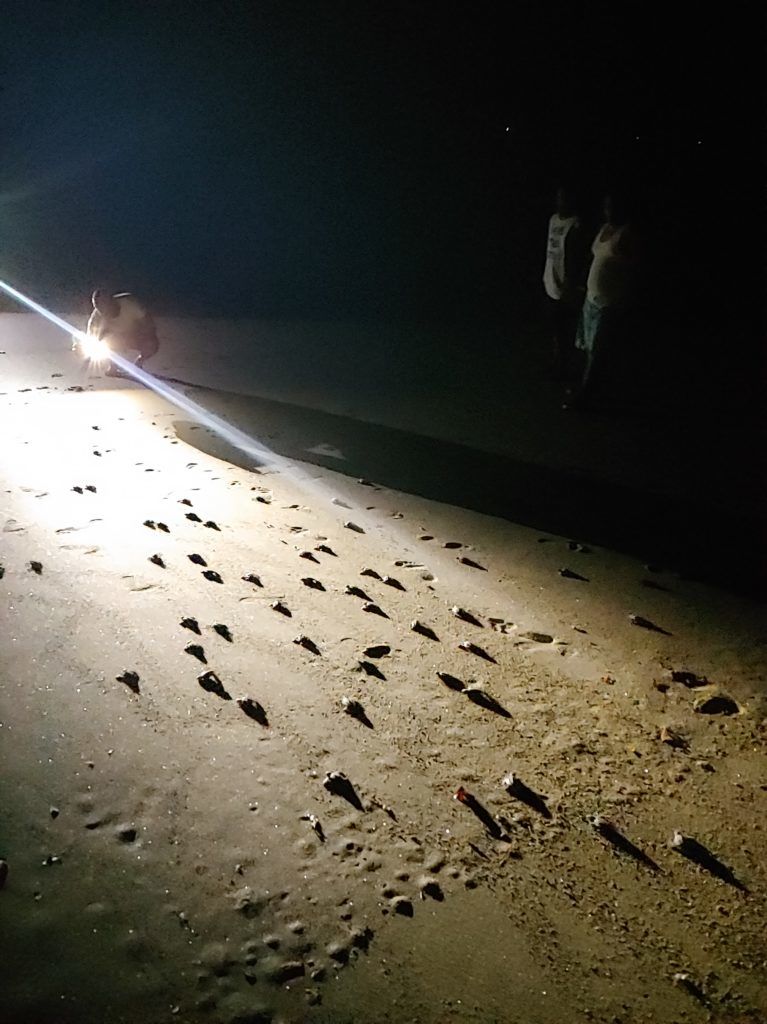 We have a delicate, double-edged sword predicament. Outsiders may be quick to judge what's going on. At first, we were also a bit apprehensive with the operation. Maybe the hatchery is too close to the action? Maybe partying shouldn't be mixed with conservation? One should agree. But there's a unique situation going on here. The underlying problem is that poachers scavenge for turtle eggs to either eat or sell. Surfing Turtle Lodge found a solution to this issue. They use proceeds from guests and events like the weekly volleyball tournament to fund the purchase and proper raising of turtle eggs. In other words, if Surfing Turtle didn't buy those eggs, the baby turtles we helped save wouldn't even exist today. Be careful how you criticize and critique on the surface. Dig deeper, and you will understand and find joy in efforts that people are making to conserve what truly matters on our planet.
If you want to experience what we did or donate/volunteer, please check out Surfing Turtle's website.
If you want to know how we did it so cheaply, feel free to comment or send us an email. Stayed tuned for the part 2 blog about our beach cleanup experience.
-Brock