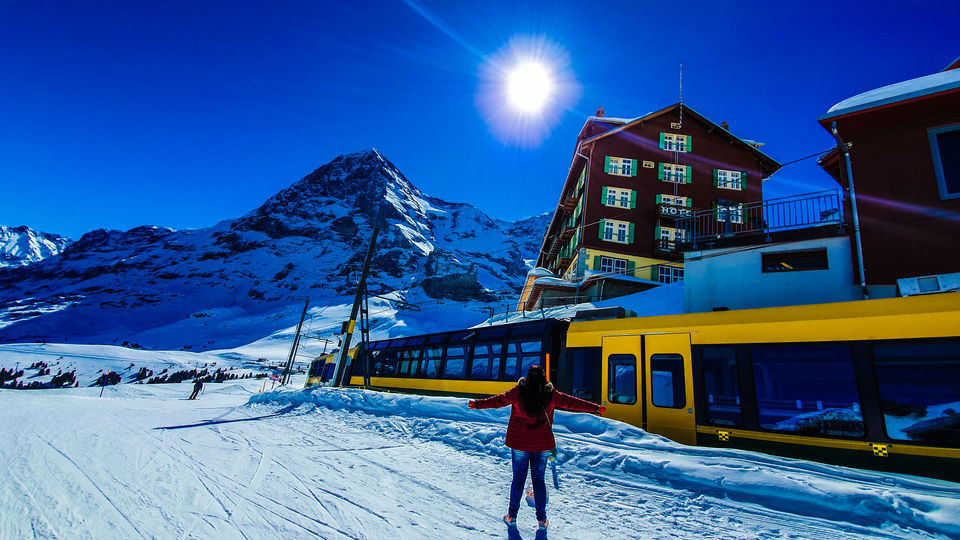 After the city of Canals - Venice, romantic surrounds of Paris and crystal clear water of Palma/Ibiza, the one place which was left in my bucket was …. yes you are right!!!….. Switzerland !! . I love snow covered mountains and always thought to be surrounded by high peaks and enjoy the peace and beauty of that place.
My much awaited 3 days journey started from Gare De Lyon station of Paris on TGV at around 8 am. As train started rolling my excitement to reach Swiss increases.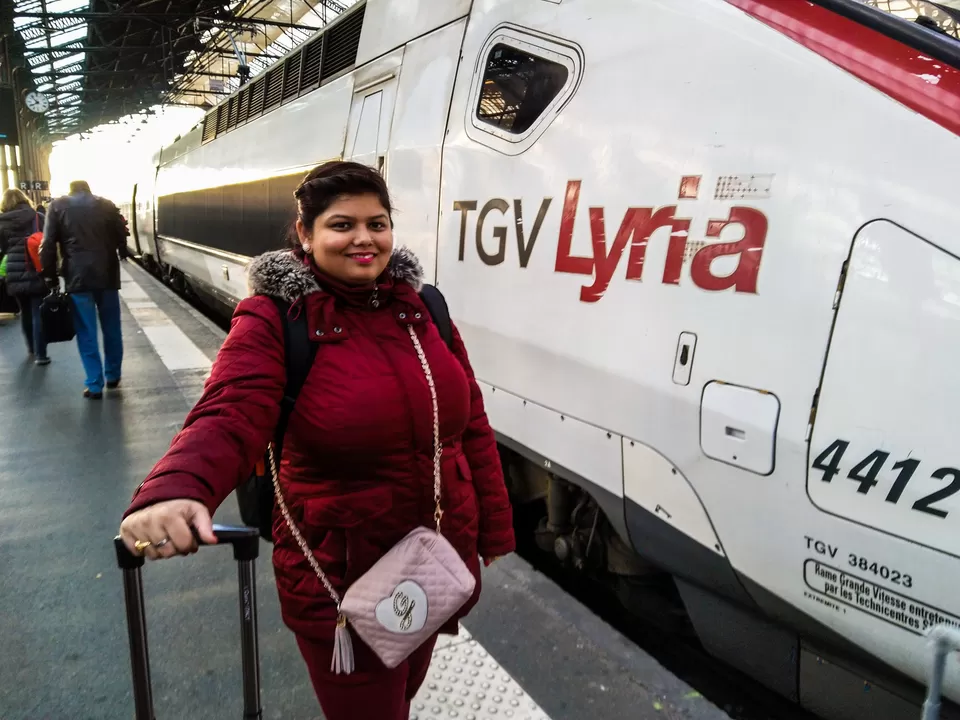 After 3 hours of journey we reached Geneva, our first stop in Switzerland. We booked our home stay in Interlaken because most of the things we planned were near to it. We planned to have a 2 hours layover in Geneva to see the beautiful lake the city around. Before going more into the beauty of Geneva Lake, I just like to add some details of the travel pass we took. For our travel in Switzerland, we took 3 days Swiss Travel Pass (STP). With this pass more than 90% of the transportation are covered, around 500 museums can be accessed for free and up to 50% off on many mountain excursions. Please refer to SBB app for more details.
Geneva Lake is at 15 minutes' walk from station, so I will suggest to take a halt of an hour or two and go to see this beautiful lake, its worth walking. We were 2 couple, walking on the street of Geneva between colorful buildings and flowers, we reached Geneva Lake. Water of this lake is very clear and there is a huge fountain in the center of lake. Bright sunny noon with sparkling fountain perfect combination to spend some memorable time over there. You will find yellow color boat (included in pass) to cross the lake and go near the fountain and have some beautiful clicks. Near to fountain, there is a garden, if you want to rest for a while. If you want to buy some Swiss souvenirs, I will suggest to check them in Geneva as same things will be a bit costlier if you thought to buy in Interlaken or any other town nears Alps. I bought Swiss knife, Swiss Cow Bell and a Swiss musical box from a shop on my way returning station.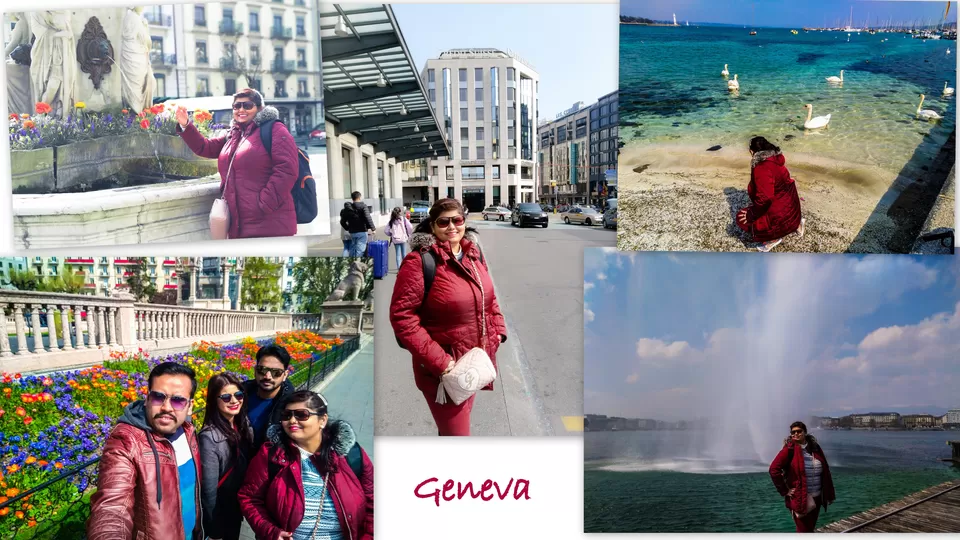 INTERLAKEN -
From Geneva, we took train to Interlaken via Bern. I took around 3 hours to reach Interlaken West station. Interlaken - a narrow stretch of valley, between the emerald-colored waters of Lake Thun and Lake Brienz, it has old timber houses .
HOME STAY-
The home stay we booked was an apartment owned by Barbara & Simona and was at 10 minutes' walk from Interlaken West station. It is a beautiful 2 bedroom house having Mountain View from 3 sides. After having a refreshing tea at house, we went out to explore more about Interlaken.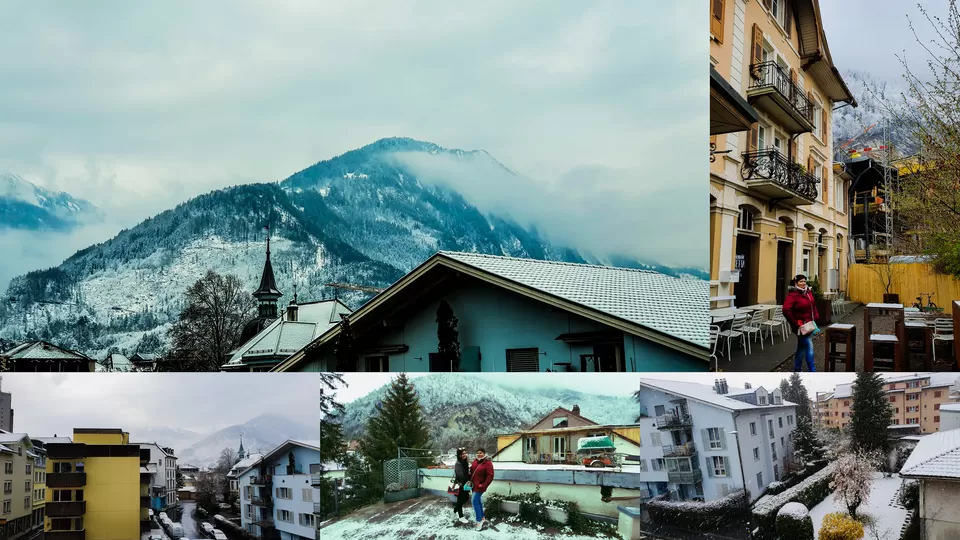 STATUE OF YASH CHOPRA- THE SWISS HONOUR-
At 10 mins walk from our house, there was Casino Kursaal where in 2016, Swiss government installed a bronze status of one of the renowned Directors of Bollywood, Yash Chopra. He showed the beauty of Interlaken in his movies and made it popular in the world so to honor him, he was titled as 'Ambassador of Interlaken'.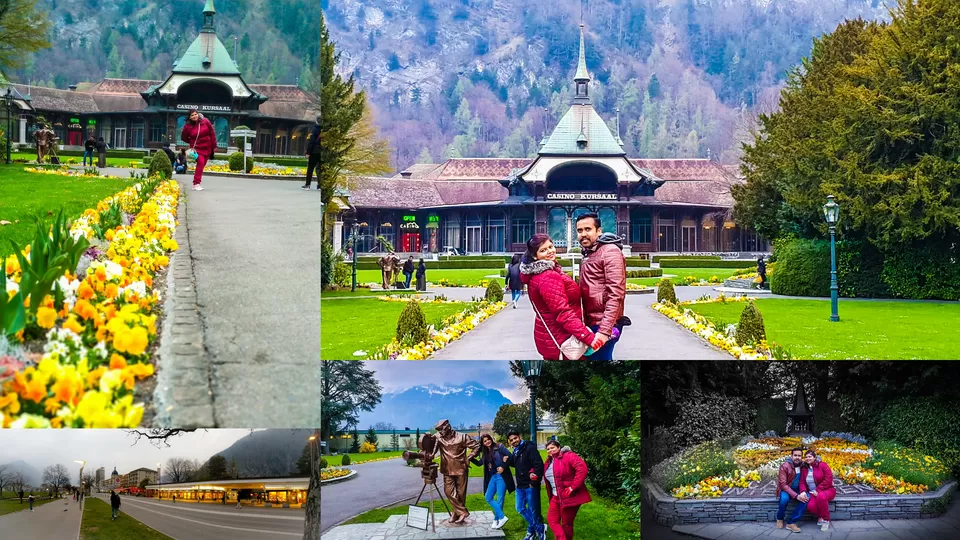 It was light rain that day when we reached Interlaken but later it stopped so from there we thought to walk towards an open area which is used by Paragliders and stayed there for a while to feel the beauty of place surrounded by mountains from all sides. If you have time in Interlaken, I would suggest you to have boat ride between Interlaken and Thun. It's a 2 hours ride so while coming from Bern, you can drop at Thun station and from there take a boat ride to Interlaken. With this you can save time by separately planning for same. Also you can walk beside Lake Brienz and spend some memorable time sitting beside lake. In Interlaken you will find Coop supermarket, if you want to buy some snacks or food items. We returned back home and thought to take rest because next day we planned our first Bernese Alps excursion, so need some good rest.
GRINDELWALD-
With the excitement to see more about Swiss Alps, I woke up early in the morning. As I slide the curtain, I shouted like hell... It was snowfall❄❄outside and to wherever my eye can see, its snow covered. I love snowfall. As it was snow that day, we thought to check 'Live webcam' on https://www.jungfrau.ch/en-gb/ . As view was not clear that day at Jungfrau, so we thought to go Grindelwald instead. After having some hot tea and breakfast we started around 9 am towards Grindelwald.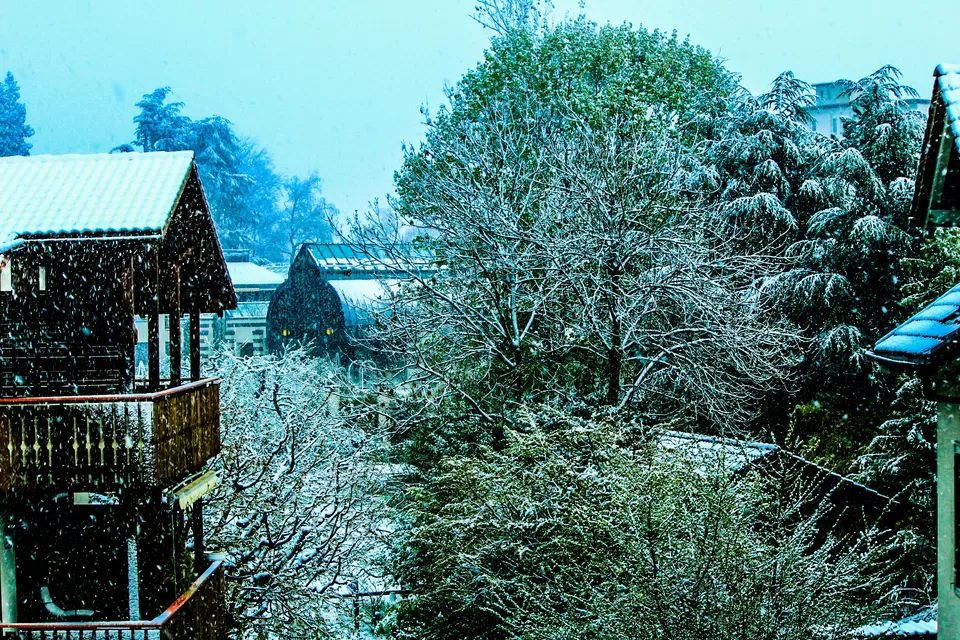 Special Note:-
For Grindelward, you will get train from Interlaken Ost , same train will be marked for 2 parts one section for Lauterbrunnen and another for Grindelward so check for the section and then board train.
Its 30 minutes' ride for Grindelwald and from there 20-25 minutes walk for First.
FIRST-CLIFF WALK
First is a minor summit on the slopes of the Schwarzhorn in the Bernese Oberland. It is mostly known as a cable car station above Grindelwald and as a popular hiking area with the Bachalpsee in proximity. In the summer, it's a hotspot for adventure with the First Flyer, mountain cart and trottibike scooter. In winter, it's a Mecca for freestylers and snowboarding. If you have Swiss Travel Pass, you will get 50% off on the cable car tickets. Tickets and be clubbed with different activities such as Trottbike, Cliff walk, First glider, first flyer and mountain cart. As the weather was not very much clear that day, so only First glider was open so we bought cable ticket with 1 activity which costs 46 CHF. Cable ride is automated and you can ride it many number of times. Be careful while boarding or deboarding the cable car, as gate open/closed automatically. As the cable ascends we moved more towards snow covered peaks crossing the clouds. We reached top called First (2167 m) and walked outside the station where it was snow everywhere. It was a moment which I always dreamt of. I started playing with snow, throw it on my husband and jumping. Please carry good shades with you as it would be too bright on the top with snow all around. You will not be able to open eyes if you don't have sunglasses. There is a beautiful cliff walk which will lead you to have some beautiful clicks, may be your Titanic pose with snow covered mountains on your back ❄️❄️❄.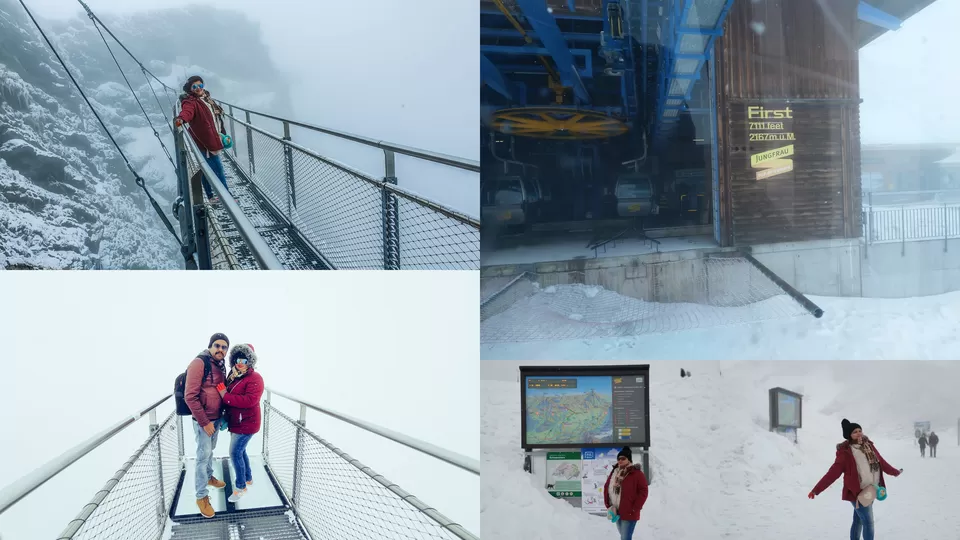 GRINDELWALD ACTIVITIES-FUN FUN FUN!!!!!
There was a restaurant at the top so we had our lunch and followed by hot coffee to relax ourselves from the cold outside. We took cable car and came 1 station back, Schreckfeld, to try First Glider. Flying with a bird of prey can be exhilarating. Especially when an eagle called First Glider takes flight. His four "passengers" float through the mountain landscape and enjoy a panoramic view at high speeds: To begin with, the First Glider is pulled backwards from Schreckfeld towards First at 72 km/h. It is on the way back that the eagle really takes off. He and his passengers glide the 800-meter-long flight route at up to 83 km/h. Finding myself hanging hundreds of meter above snow, the thrill of that activity doubles. I suggest you to have at least 2 activities there, unfortunately I got only 1 that day ,also as suggested by the instructor over there - it's not safe for pregnant ladies and if your periods is due or you have , such activities must be avoided. From there we returned back to Grindelwald and planned to go Lauterbrunnen from there.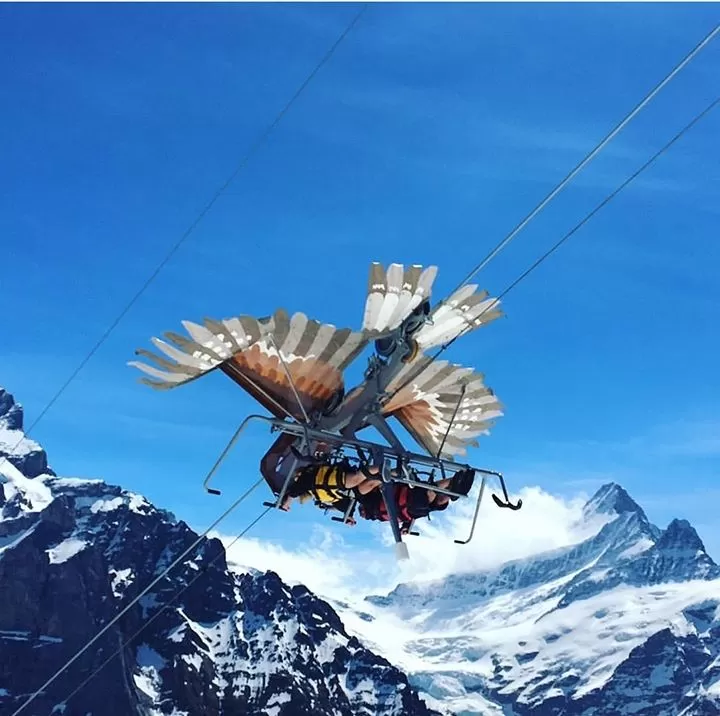 'Lauter Brunnen' ('many fountains') is situated in one of the most impressive trough valleys in the Alps, between gigantic rock faces and mountain peaks. With its 72 thundering waterfalls, secluded valleys, colorful alpine meadows and lonely mountain inns, the Lauterbrunnen Valley is one of the biggest nature conservation areas in Switzerland. Lauterbrunnen is starting point for various beautiful excursions of Switzerland like Jungfaruoch, Wengen, Kleinen Scheidegg , Murren etc. There is a beautiful fall at a walking distance from station. After spending around 1 hour at Lauterbrunnen, we returned back to Interlaken at around 7 pm. Walking through the beautiful streets of Interlaken we went to Restaurant Taj Palace (Rosenstrasse 7, 3800 Interlaken, Switzerland) to had our dinner. There was variety of Indian cuisine and also very delicious. If you want some Indian food, its right place for you. After dinner we walked back to our stay and relaxed. We checked next day's weather of Jungfrau and as it was sunny so we felt excited to have some great scenic views. With this excitement and memories of the day, I went into beautiful dreams of snow.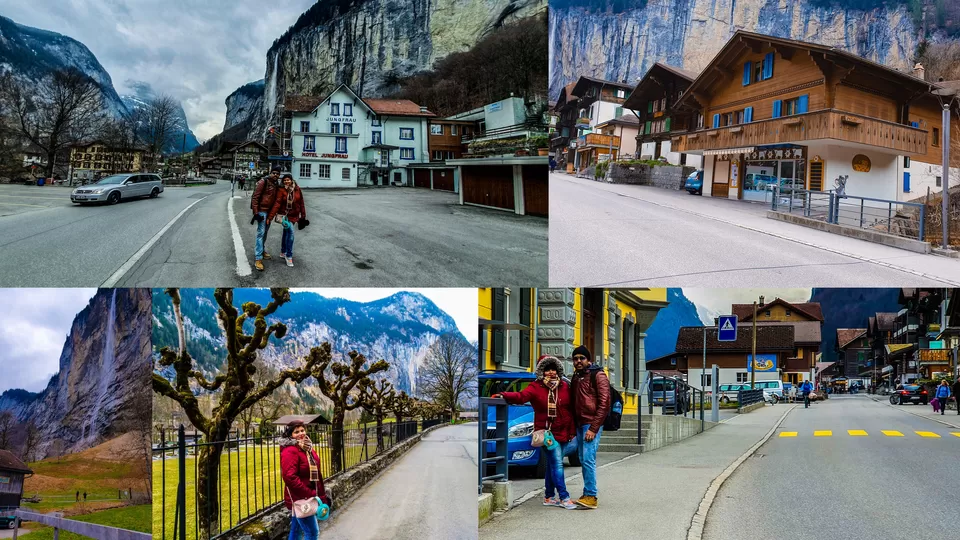 JUNGFRAU REGION- INFORMATION ABOUT TICKETS-
We had our train back to Paris from Geneva at 7:40 Pm and it takes around 3 hours from Interlaken so we had to start early that day. Jungfraujoch, called Top of Europe, takes around 3 hours to reach from Interlaken Ost. With Swiss travel pass you can go to Wengen but from there to Jungfarujoch you have to take separate ticket. With Swiss travel pass you can get discount of 25% (as per 2019 swiss tickets plan) on that ticket and will cost around CHF 132.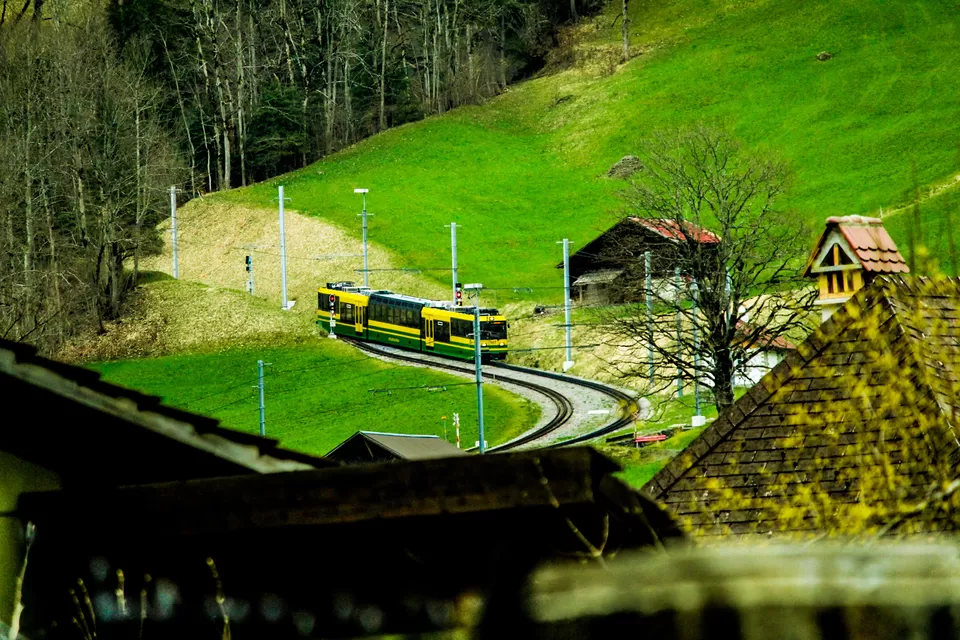 KLEINE SCHEIDEGG-
As we had very limited time that day so we dropped our plan for Jungfarujoch mountain and planned to go Kleine Scheidegg, a mountain pass at an elevation of 2,061 m, situated below and between the Eiger and Lauberhorn peaks in the Bernese Oberland region of Switzerland. There is a big railway station on Kleine Scheidegg where two cogwheel railways meet. Here you can discover the most beautiful region in the Bernese Oberland. We did checkout and took train from Interlaken to Lauterbrunnen. At Lauterbrunnen we bought ticket for Kleine Scheidegg will cost 48 chf after discout of 25% ,36chf and took cogwheel train. This train between Lauterbrunnen to Kleine Scheidegg gives an awesome scenic view which you will never forget and words can't explain it. We reached Kleine Scheidegg station and after keeping our luggage in locker we moved towards the area where various snow related activities were taking place.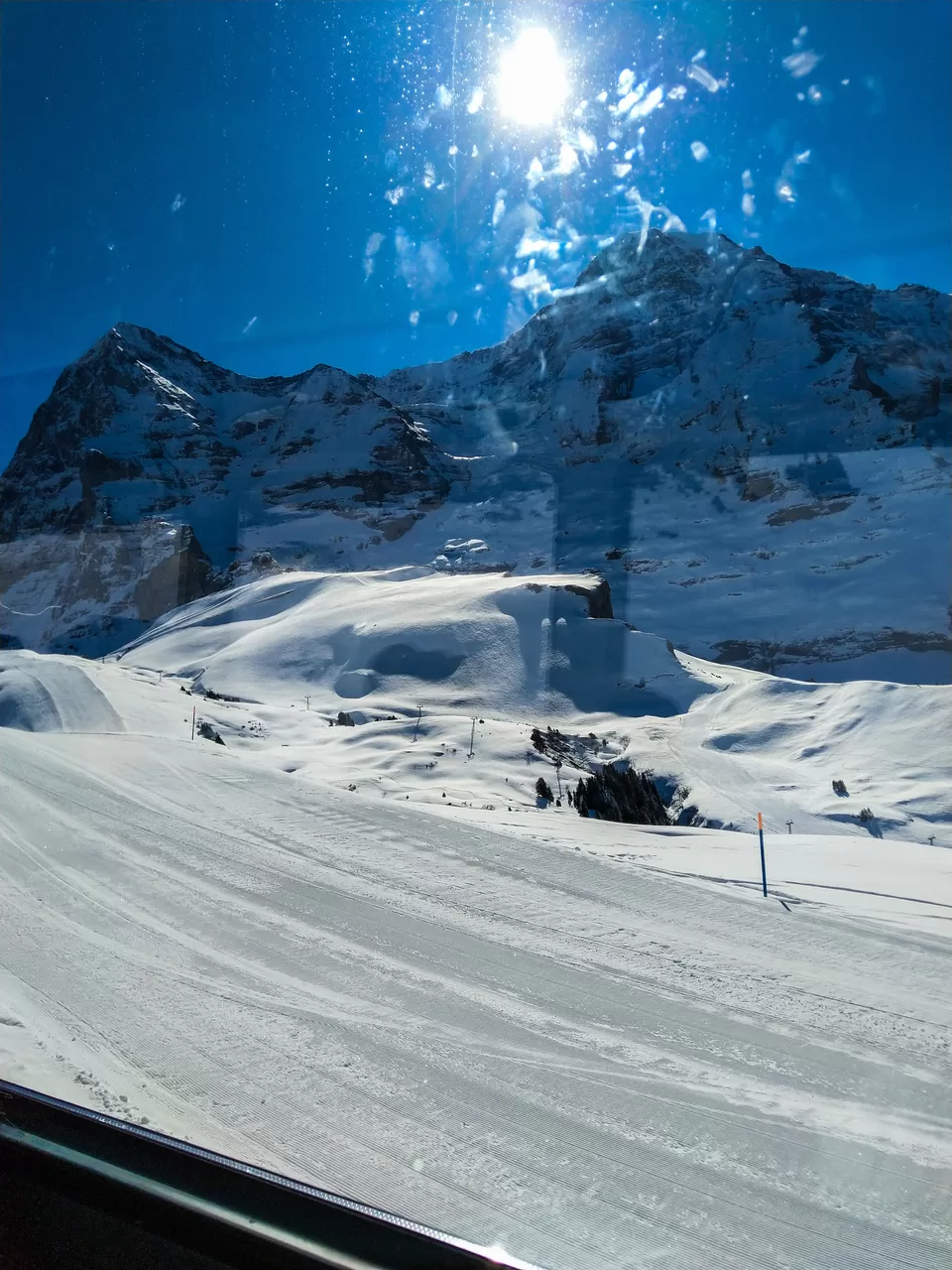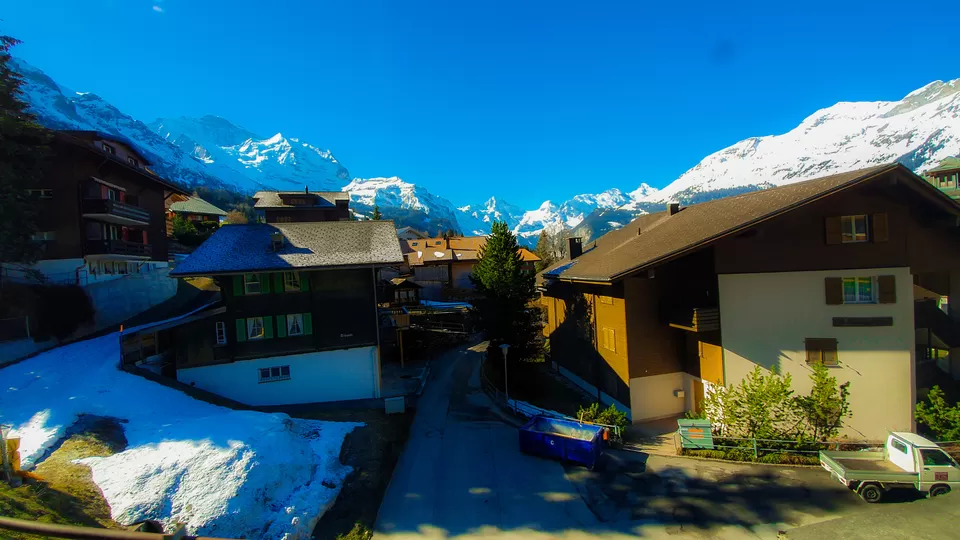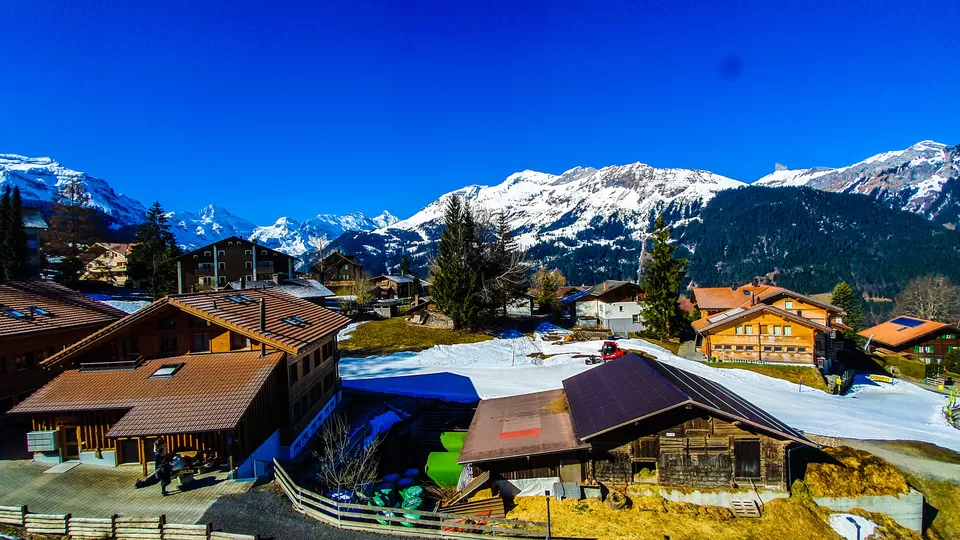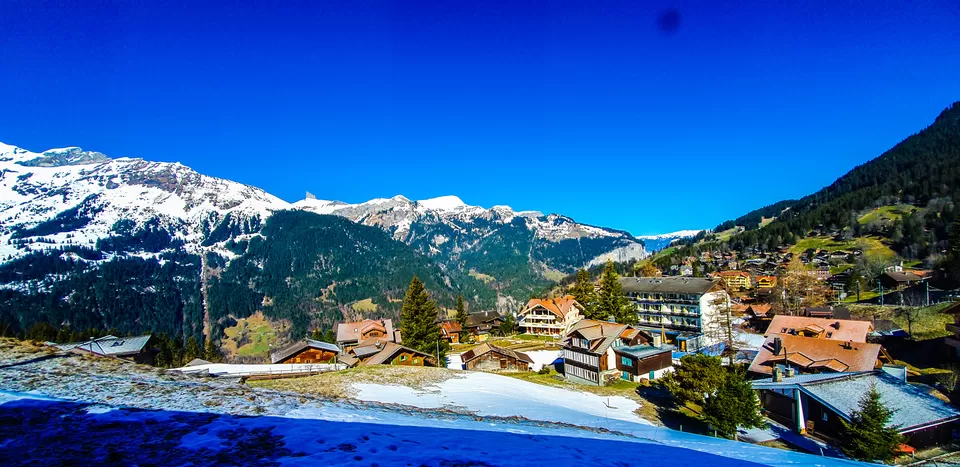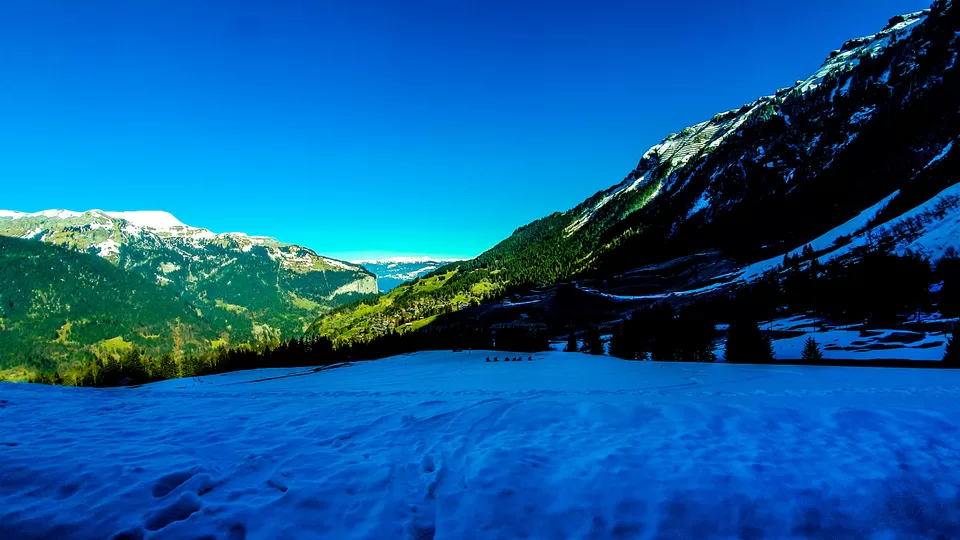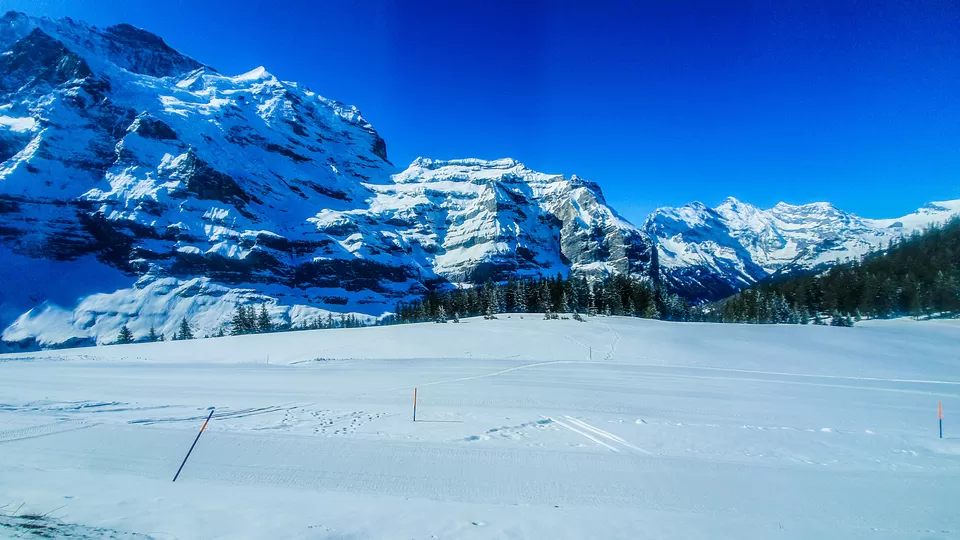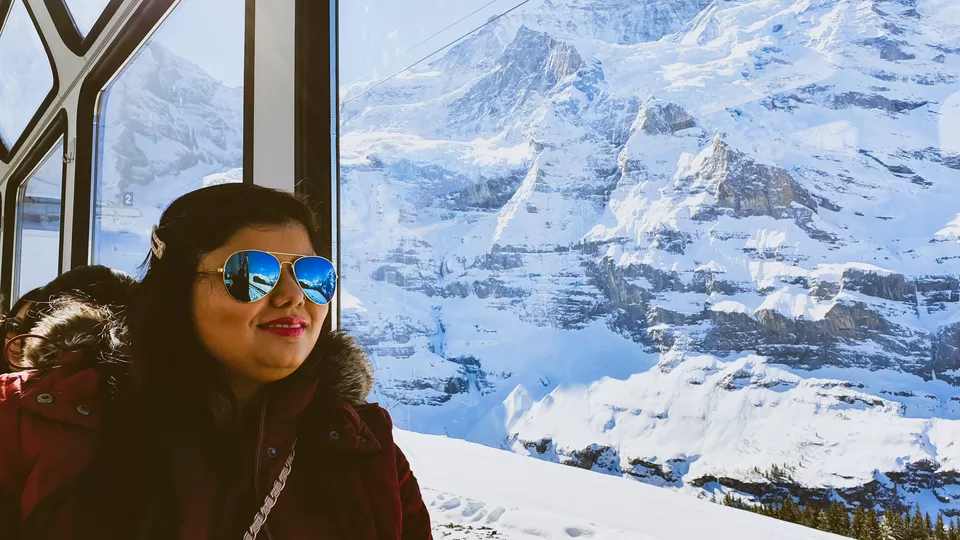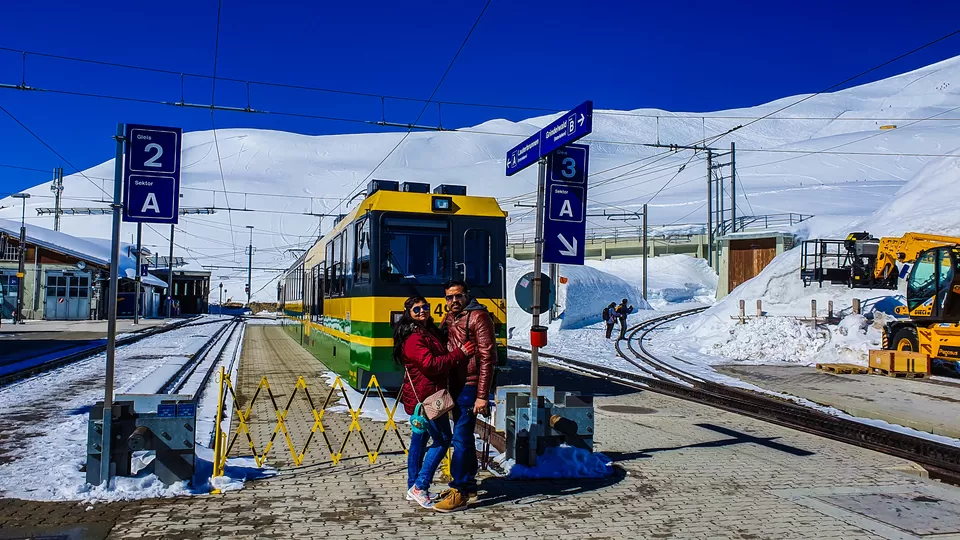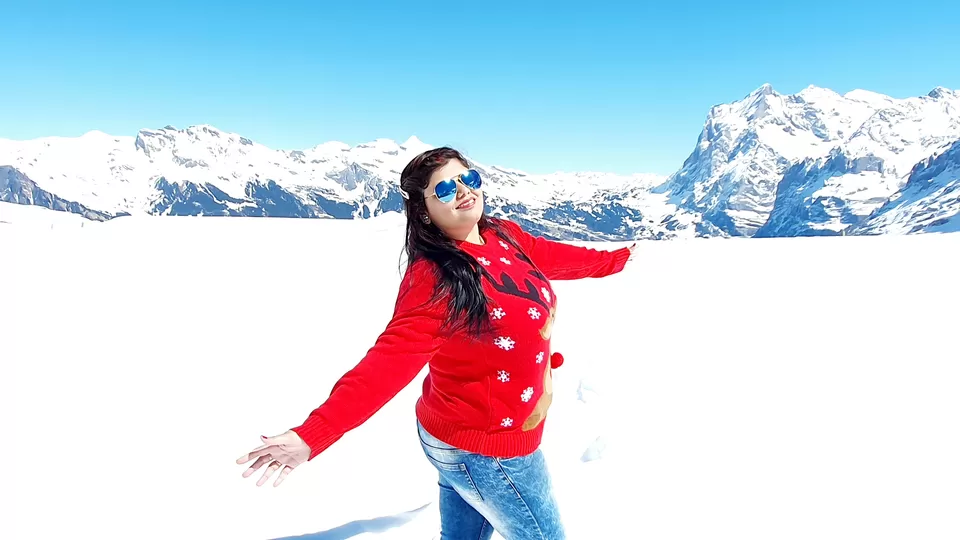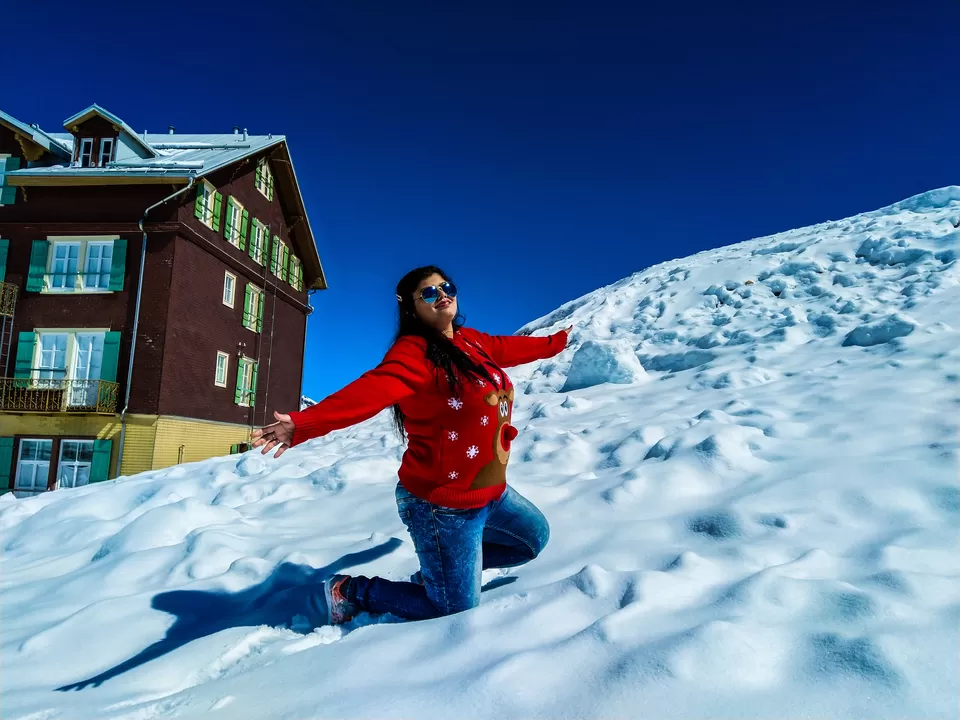 FUN ACTIVITY @ KLEINE SCHEIDEGG
There is a shop near station from where you can rent Sleigh or Ski board and there are some dedicates areas for beginners who can try some sports with these instruments. We rented a wooden Sleigh to slide on snow. These sleigh costs between 10-15 CHF so you can easily take one and try some basics slides even if you are doing it for the first time. We enjoyed a lot while sliding on the snow. As it was a beautiful sunny day, we were there for 3 hours and had fun time and enjoyed sunny day with glittering snow covered peaks which gives the breathtaking views.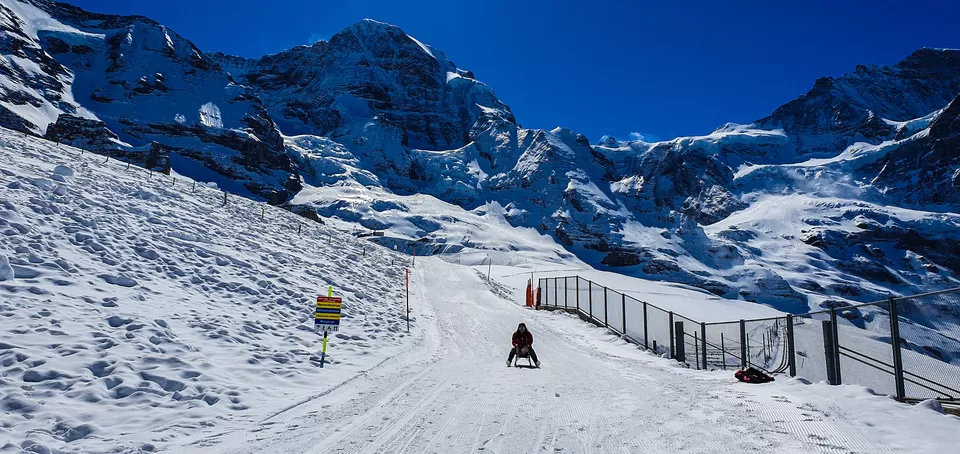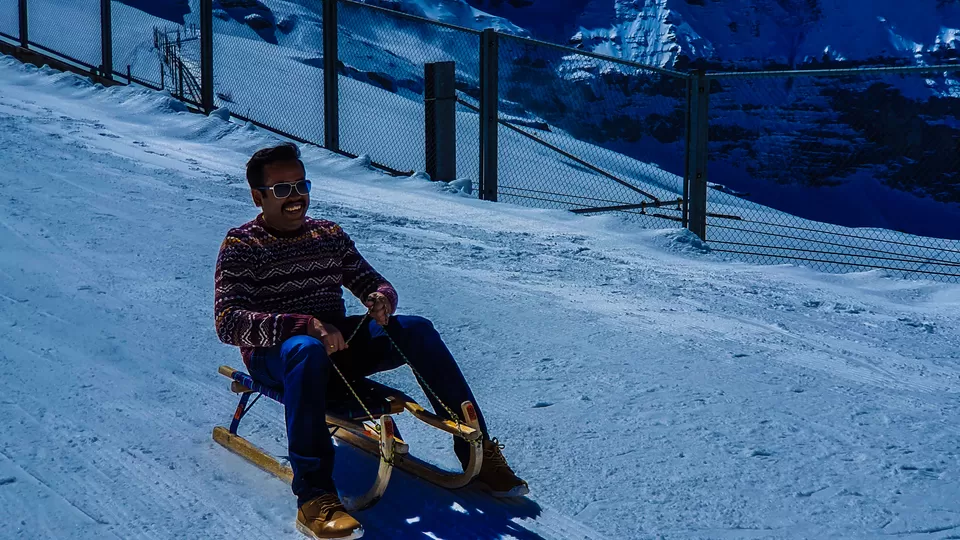 It was hard to say good bye to this beautiful place but as we had very tight schedule to catch our train from Geneva so we returned back. We reached Geneva at around 6pm so we had 1 hours 30 minutes before our train ,so we planned to spend some time in city and go again near lake. We saw a beautiful rainbow beside the fountain. We had coffee beside lake and after having some last few clicks of beautiful Swiss lake and boarded our train to Paris. Switzerland gave me the feeling......
'"When you arise in the morning, think of what a precious privilege it is to be alive – to breathe, to think, to enjoy, to love this beauty of nature"
My photo blog on Swiss trip will publish soon.
Happy Travelling!!!