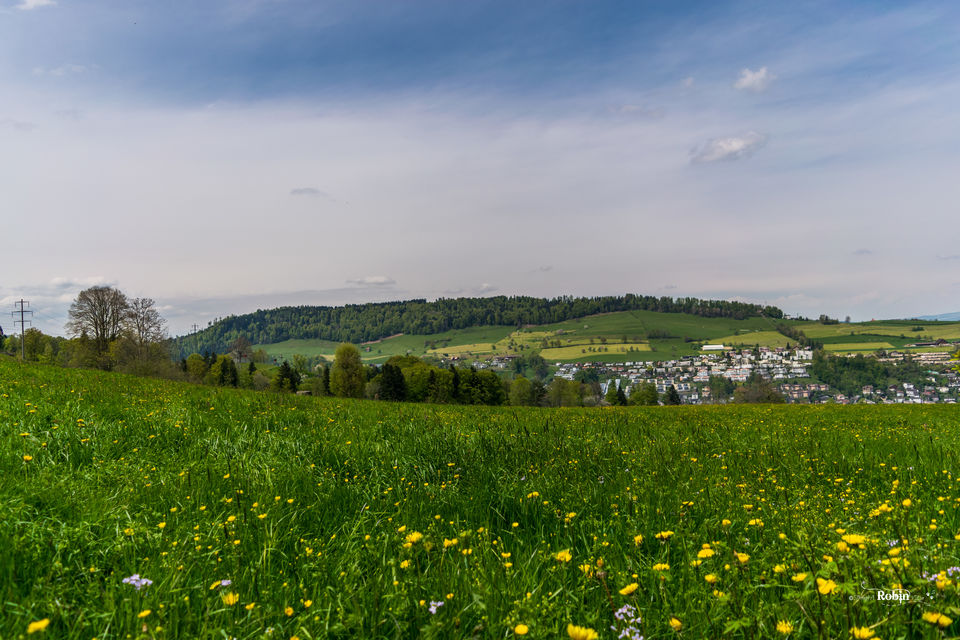 For many, including myself, Raj and Simran's love story on screen was probably our first glimpse of the spectacularly beautiful European Alps. Especially for me, as a child growing up in the Himalayan region of Uttarakhand and already tuned to appreciate hilly landscapes since childhood, it was fascinating to see mountains and meadows located so far away and yet so familiar in more ways than one. Textbooks could never help me paint the image of Swiss alps as much as Bollywood did. Apparently this infatuation with rolling meadows and snow-capped peaks of Switzerland has remained ever so strong - so much so that Indians still constitute a sizable proportion of travelers and tourists visiting this European paradise. With so much to see in limited time and limited budget (yes, unfortunately Switzerland is one of the more expensive destinations around!!), an itinerary to this destination usually involves extensive planning, iterations and occasional trade-offs. But one thing that I have experienced in my two trips to the country is that irrespective of which part you travel to, the landscapes will woo you over with their charm, without a shadow of doubt.
So, how does one go about living the traveler's dream and spend 10 days in Switzerland? Let me help you with the difficult part - the itinerary.
Day 1 :
Irrespective of the mode of travel you might have chosen, you will most probably be arriving in this bustling metropolitan city on the banks of lake Zürichsee to start your Swiss adventures. This cosmopolitan city boasts of a really vibrant multicultural society with an exciting nightlife, along with a really pretty Old Town by the lake to welcome you when a little solitude is what you seek. With well preserved 19th century buildings along pretty cobblestone streets, Zurich gives a perfect sample of what the beautiful country has to offer to its guests. Plus, if Swiss chocolates or cuisines are what you fancy, then you'll realize that you could not have arrived at a better city than Zurich. For the nature lovers, you have the beautiful hike to Uetliberg along the western edge of the city to keep you completely satisfied.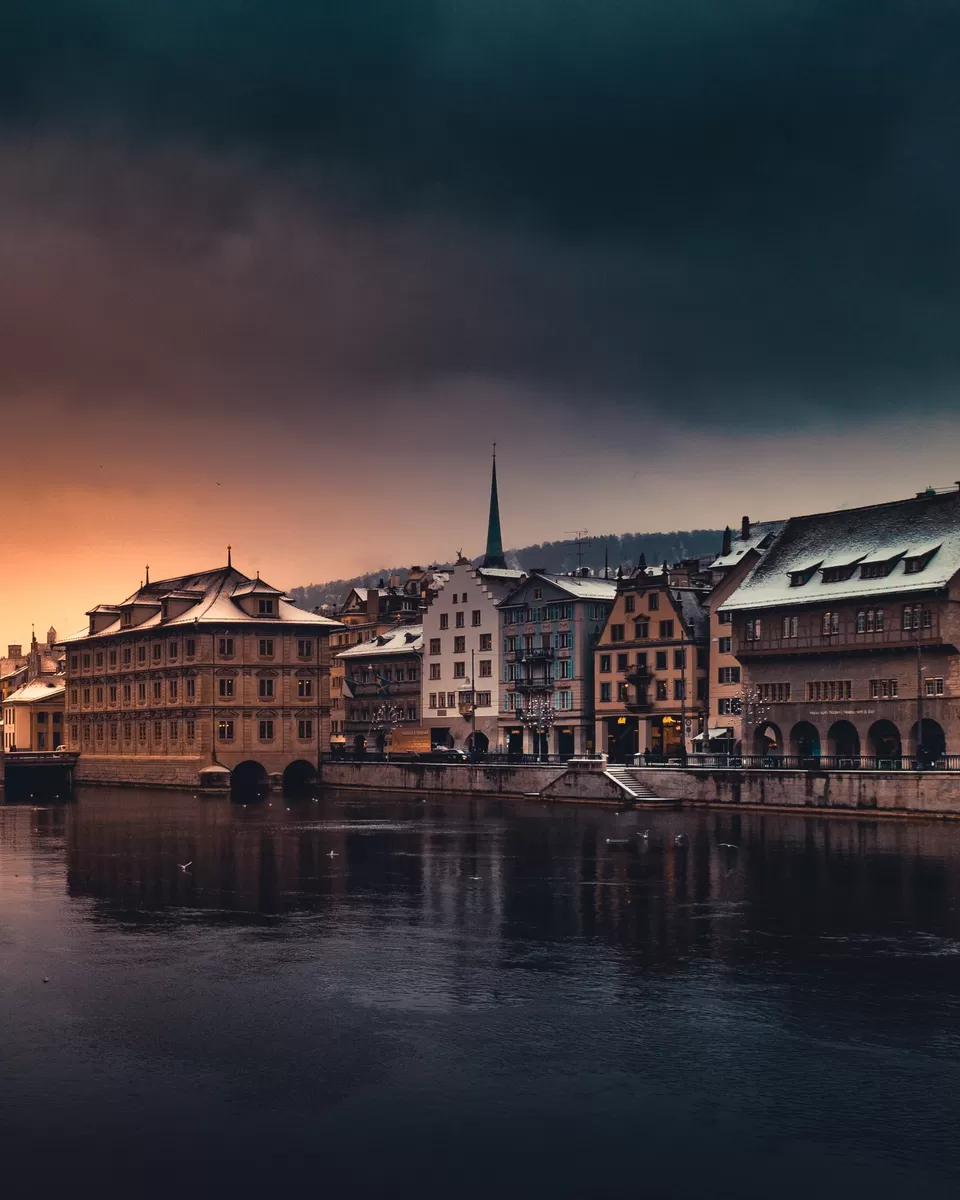 Spend the night exploring the vibrant District 5 for some of the best bars and cafes around and get some much needed sleep - for you need to be ready for your first glimpse of the towering Swiss alps.
Day 2 and 3
A short train ride or a scenic drive will bring you into one of the most popular and scenic cities in Switzerland - Lucerne. Located on the banks of lake Lucerne and with the towering alpine peaks of Mt. Rigi and Mt. Pilatus in the vicinity, this pristine town gives you your first glimpse and experience of the fabled Swiss alpine landscapes. As soon as you approach closer to the city, the towering alpine peaks start providing a constant and ever-so-beautiful backdrop to an already gorgeous city. Spend the first day just soaking in the old town and cultural vibes of the town. Take a walk across the old town, along the pristine waters of the lake, through the iconic Chapel Bridge - and stop in your stride to admire the magnificent Lion Monument and feast over the delectable Swiss delicacies.
Devote the entire next day for a visit up-close and personal to the Alps. Take the steepest cogwheel in the world to the top of Mount Pilatus to find a breathtaking panorama of Alpine landscape and towering peaks waiting for you with arms wide open. The ride down on the cable car makes up for some spectacular bird-eye view of the entire region around Lake Lucern. Alternatively, you can have a similar experience of memorable mountain rail and cable car ride on the memorable round-trip to Mount Rigi. Just hop on the boat cruise to Vitznau and immerse in breathtaking landscapes views. Spend the night in Lucern.
Day 4
Nestled cozily in central Switzerland and a short train ride away from Lucern is the spectacularly pretty region of Jungfraujoch - a favorite among landscape lovers and backpackers in Switzerland. Located perfectly in between rolling pastures, towering peaks, crystal clear alpine lakes and idyllic villages is the beautiful town of Interlaken - a perfect base for exploring the region.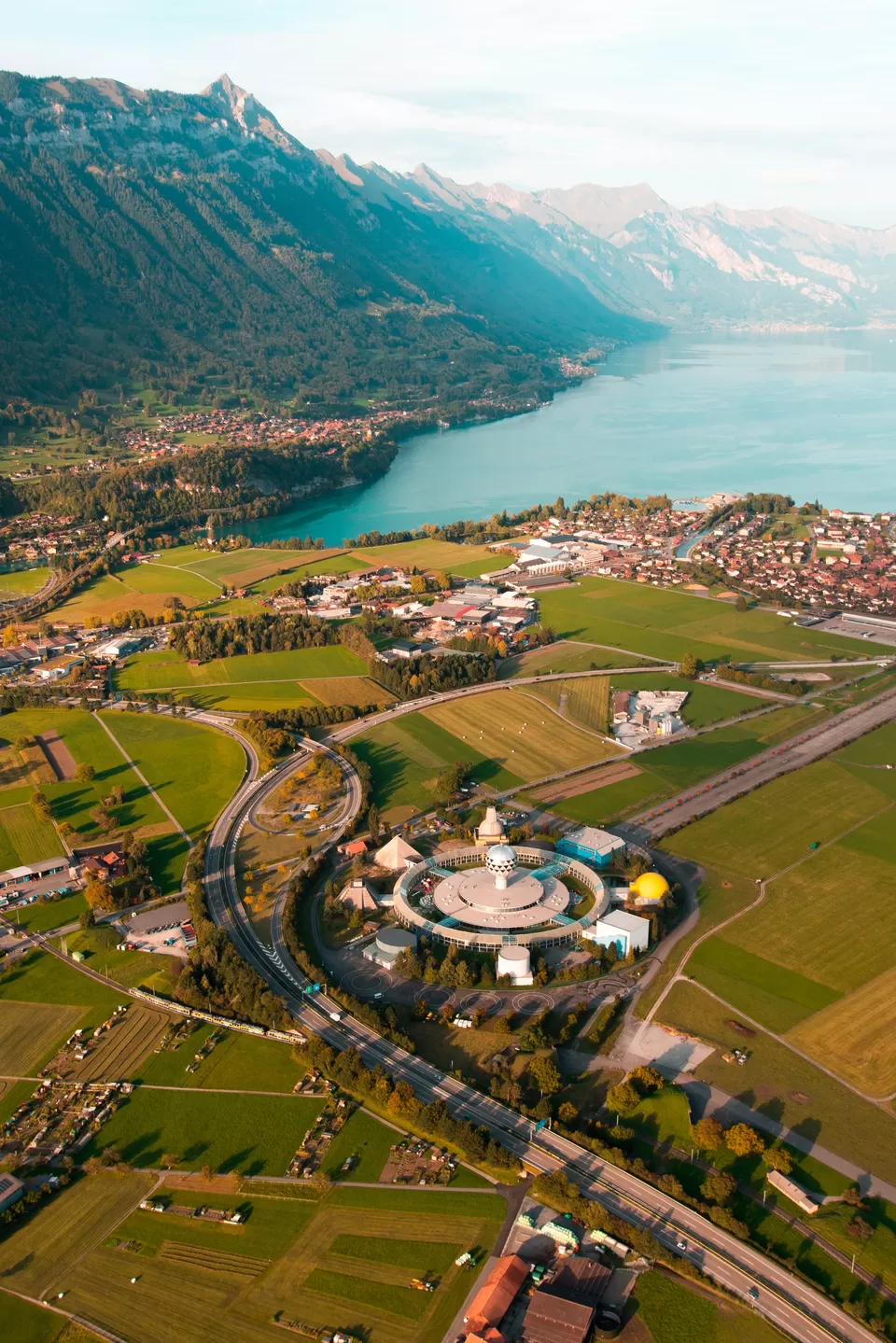 Spend the first day getting familiar with the region, exploring the beautiful town of Interlaken or taking the funicular to Harder Kulm - a viewpoint 1300 meters above the town providing breathtaking views of the region. If adventure is what you seek then you only need to take that leap of faith off Harder Kulm - of course I am talking about paragliding!!
Day 5 :
This would seem like your entire trip was building up for precisely this moment, but then such is the grandeur of Jungfrau that you truly cannot help but feel elated at the fact you are at the top of Europe!! On a clear day you'll find out that the panoramic views from 3,500 meters above pristine alpine pastures and settlements is definitely tough to beat. It takes a few hours to cover the prettiest of train journeys from Interlaken to the top, with stopovers to tease you into exploring the region even more.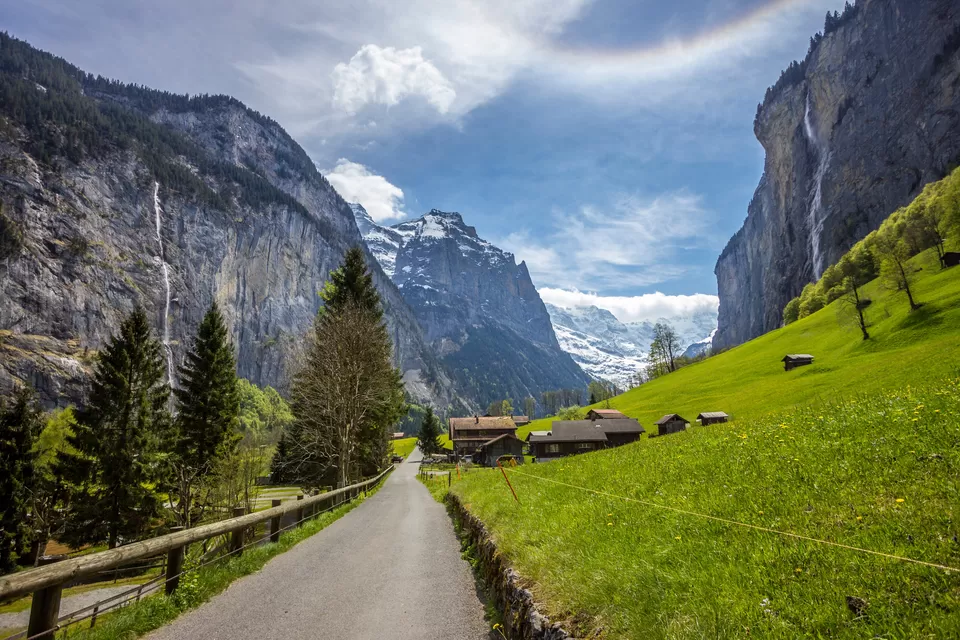 If you are taking the train from Interlaken - Lauterbrunnen- Jungfraujoch then I would recommend you to take your seat along the right windows, if possible. That way you will have better views of the region in general. You would not want to miss out on the best views of Kleine Scheidegg now, would you. Make it a point to spend some time in the beautiful town of Lauterbrunnen without fail. This is one of the most pristine and spectacular mountain towns that you will ever encounter anywhere!! But even if the pretty houses do not convince you to stop and spend some time here, the 300 meter high majestic Staubbach Falls will ensure that you do.
Day 6
I would recommend you to stay at Lauterbrunnen or Grindenwald for a night, for there is so much natural beauty to experience and explore in this region apart from the towering mountain peaks. Perched up high on the mountains, Grindelwald is a pretty little village, which is quite popular with hikers and skiers alike.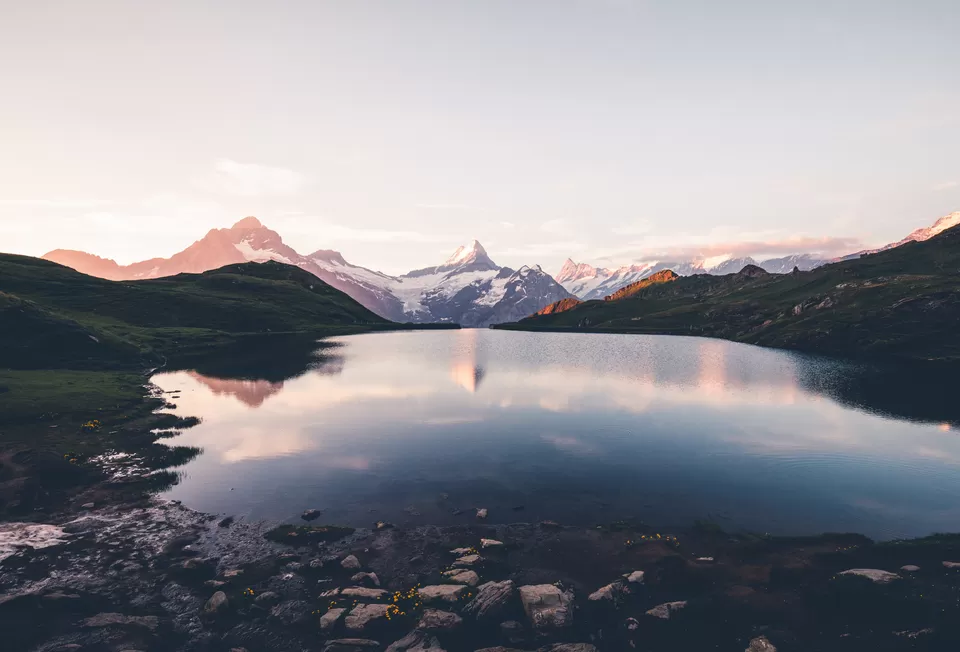 Embark on an easy to moderate hike across the beautiful landscapes to the crystal clear alpine lake of Bachalpsee Lake. With towering peaks surrounding the small patch of water body, this has all the potential to be a nature-lover's ultimate satisfaction - or a writer's muse!! Explore the beautiful village of Grindenwald itself do discover small pockets of alpine magic locals have conveniently managed to contain in their gardens. Take the train down to Interlaken at the end of the day to continue on your next leg of the journey.
Day 7 :
Bring your Swiss adventures to a fitting culmination at the historical capital city of Bern. This is such a sweet city to visit in visit - like, literally!! After all, this is the birthplace of the phenomenon called Toblerone. When compared with expansive capital cities, carrying pages-full of history, that most European countries boast of, the Swiss capital is a diminutive power packed pretty little postcard-worthy city that punches way above its weight. It houses an Old Town which will take you back into the 1600s in no time while Aare river gives you perfect company for those peaceful evening strolls.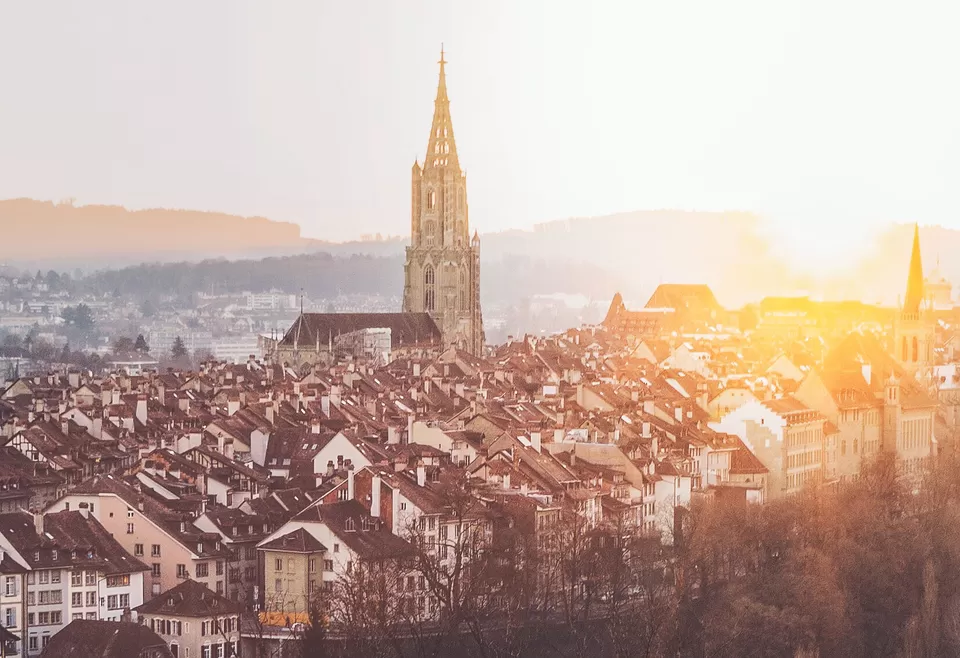 While in Bern, don't forget to visit the home of one of the biggest Swiss superstars - of course I am talking about Einstein. It was in Bern that he came up with the revolutionary Theory of General Relativity and the house-cum-museum lets you get close to the life of such a brilliant mind. Also, across the city lies the popular local hiking trails along The Gurten hill. This beautiful green space provides you the best views of the city and the surrounding Alps. For a leisurely note to end your travels in, just take a stroll across the Old Town, feast over delicious Swiss delights and discover unique bars and taverns hidden in the pretty streets.
Where to stay
Switzerland is a relatively expensive country to travel to. Dorm rooms in hostels start from 30 CHF to 80 CHF near city centers. Hotels are pretty expensive with prices ranging from 100-120 CHF for the most basic of rooms. AirBnb is a great and economical option, with a shared room costing around 30 CHF and an entire apartment for 60 CHF. Check this link to discover the accommodation best suited to your travel style and budget.
What to eat
This is what particularly pinches a traveler the most when traveling in Switzerland. I've never enjoyed paying for a regular meal roughly 3 times the cost I would have incurred upon the same in Germany!! You know food is expensive when McDonald itself does not offer you anything below 15 CHF. Bars and cafes are your best bet for lunch special menus going for 5-9 CHF. A meal in the restaurants will cost you around 20-35 CHF. If you are on budget then the best option is to stick with supermarket pre-packed food.
How to get around
To travel around and within the cities, you can use the public bus system at most places. You can buy 1-day bus pass at most places which are quite economical. To travel between places look to book your train tickets early through the extensive network of Swiss Rail. Normally you can expect to pay anywhere between 2--50 CHF for second class inter-city train tickets. Also, you can check the Swiss Rail website here to know all about the various rail pass options available. Alternatively, if you want to cut down on the travel expenses then you can try carpooling or BlaBla cars, although be prepared for any unfortunate last minute cancellations.
-----------------------------------------------------------------------------------------------------------------------
From doing my bit towards the environment by working in electric mobility research field, often finding myself wandering aimlessly through landscapes, to continuously seeking thoughtful conversations with travelers from across the world, I am a travel experience narrator. A firm believer in the philosophy that a human should experience everything and do everything in his lifetime (for specialization is for insects....), you can say "hi" to my photographer alter-ego @througharobinseye on Instagram, read through my mind as I narrate my personal travel experiences at www.talesofarobin.wordpress.com or sing along with me @undrkn5trk5hn
-----------------------------------------------------------------------------------------------------------------------