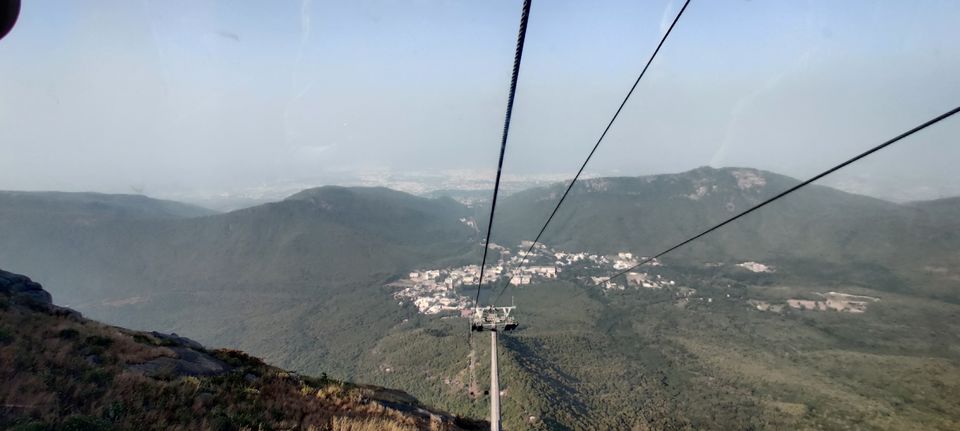 Girnar Mountain: It is the mountain range situated in Junagadh district of Gujarat State, India. It is older than the Himalayas and is one of the most remarkable mountains in India. There are many pilgrimage places on and nearby these mountains.
However recent attraction of this place is the Ropeway which Asia's longest ropeway. The ropeway starts from Girnar mountain base and ends at AmbajiMaa temple.
Total Length: 2 km
Total Number of Carrier cabins: 25
Total support towers: 9
Total Station: 2
There are total of 9999 steps to rich to last peak on mt. Girnar and ropeway connects till 5000 steps.
3999 steps to Bhagwan Neminath Jain Temple
5000 steps to Ambaji Maa Temple
9999 steps to Guru Dattatreya Temple (Last Pilgrim)
One has to climb another 5000 steps to visit guru Gorakhnath temple and Guru Dattatreya Temple.
How to Reach: Bus/Train/Personal Vehicle to Junagadh city.
Tourists can take personal autos from bus-station or railway station to reach the Girnar Mount.
It is around 5 km away from both, bus station and railway station.
Stay Option: There are several option at Mt. Girnar Base to stay starting from Dharamshala, Ashrams, Hotels or Guesthouses. Prices varies between 300-1000 per day.
It is one day trip if you are coming for Ropeway visit only.
Ropeway Timings: 8:30 am to 5:00 pm (It runs throughout a week from Monday to Sunday)
Tourists can make reservations for ropeway for their suitable day and time slot.
URL: https://udankhatola.com
Adult two-way tickets-700 INR
Child ticket (5-10 year) -350 INR
One-way ticket (bottom to top) -400 INR