We all have seen the TV campaigns, "Come breath in a bit of Gujarat" done by Amitabh Bachchan for Gujarat Tourism. Although it has drawn many tourists, I always thought of it as little exaggerated until I along with my friends took a visit this month.
Dwarka
We started off the trip from Dwarka, where we reached on 3 January at 7 in the evening. We stayed at a guesthouse, and after taking a shower and some meal, we strolled around the city streets. We also took a visit to the Gomti Ghat before returning to the guest house. The next morning was when the actual trip had started. We woke up around 5 in the morning, and after around an hour we left for Dwarkadhish Temple. On the way, we started feeling the soothing ambiance of the old Kingdom as the temple was visible from everywhere with all its grandeur. It is not allowed to take any electronic inside the temple, so we couldn't capture the temple's beauty.We stayed at Gomti Ghat for sometime, after which we took a bus to cover rest of the places. The bus took us to Rukmani Mandir, Nageshwar Temple, Bhet Dwarka, and some other places. The most important were Nageshwar Temple, which is amongst the twelve Jyotirlingas and Bet Dwarka, an island near Okha where Lord Krishna used to stay with his wife. The ferry ride to reach Bet Dwarka from Okha was also enjoyable.
/* A Few Tips */

Take this way for Somnath from Dwarka via Porbandar and enjoy the sea, if you're travelling in a car
Porbandar
We left Dwarka around 2 PM and headed towards Porbandar in a Bus which also stops at Harsiddhi Temple and Mul Dwarka Temple. We reached Porbandar at 5.30 in the evening and made a visit to Gandhi's Birthplace, a museum now, Sudama Temple and Chowpatty near Beach. All of these were at walking distance from each other and the bus stand is near the beach. The beach was very dirty and overall Porbandar was very disappointing.
Somnath
From Porbandar, we took a bus at 8 PM to Somnath where we reached at 11 in the night. The next morning, we left our room early to the beautiful sunrise near Somnath Temple. The temple is first of the twelve Jyotirlingas, and it is said that the temple has a history of destruction and restoration, the most recent in 1950, which was initiated by Sardar Patel. Near the new temple is the old Somnath Temple which was built by Rani Ahilya Bai (Queen of Indore). There are some other important temples also, which can be covered in at most two hours. The way to the beach passes through a small market. The beach has a very clean shoreline of the Arabian Sea. After taking lunch at a local dhaba-like restaurant and asking people how to reach Diu (since there was no bus until next morning), we took a "Chota Hathi" (Tata Magic) for Una from the square which has the main gate to the city. After reaching Una we took an auto to Diu and reached the Diu bus stand at 7 in the evening.
Diu
After finding a place to stay, we took a bath and then left to stroll around the quiet and calm streets of Diu. The clean streets of Diu were very helpful to relieve the fatigue of traveling for almost 3 hours. Just in a matter of minutes, we discovered why Diu Tourism brands this secluded island as "Ilha de Calma" (Island of calm). The island is great to hop on a bicycle and just roam around. Everything is in the vicinity and easily reachable, no matter where you are. Diu has some pretty good restaurants offering Portuguese Food as well as some sea food. But as we all were vegetarians, we just ate some curry and chapati before going back to our hotel. The following morning we left our hotel before 6 AM so that we can reach Nagoa Beach before the sun rises, the beach was 8 KM from the bus stand. The road to the beach is awesome and has a world class cycle track along the sea. Being the most happening beach of Diu, as it hosts the festival ground, it is clean and maintained, although gets little crowded than other Diu beaches. But luckily as we got there even before the sun, so there was hardly anyone and we were able to lay down there for a few hours. We then visited the massive Diu Fort, which is surrounded by the Arabian sea, offering a great view. The fort had a couple of weapons and a lighthouse but unfortunately, we were short of time. We then quickly visited the very Portuguese St. Paul's Church, Diu Museum and some other places before leaving for Delvada Railway Station by a charkha.
/* A Few tips */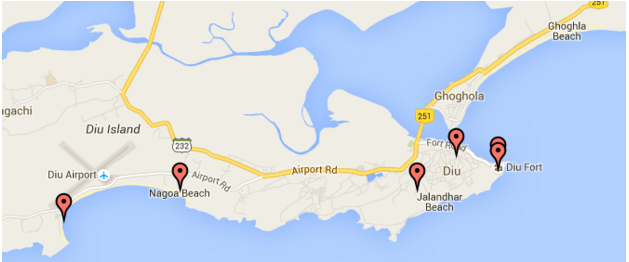 If you've got time, don't waste money on auto rides instead take a bicycle or bike hire. The most distant place from the main square is Nagoa Beach which also is only 8Kms for which autos have fixed rate of 100rs.
Junagarh and Girnar
We took a very vintage train running on a meter gauge (Passenger MG 52951) to Junagadh which took only 6 hours and some 40 minutes to reach Junagadh Junction, the same time a bus may have taken. The journey by this train was an enjoyable one, firstly since the ticket was only 35 Rs, secondly it crosses many interesting places. Throughout the journey we passed through some beautiful views as it the train runs through the forests nearing Gir, thus we got to see some peacocks and deer(s) through the train window. After reaching Junagadh we took an Auto Rickshaw to Girnar and found a place to stay that night, and slept early as we had to get up early so that we can start climbing Girnar Mountain early to avoid the sun and take advantage of morning temperature as much as possible. Next Morning we started climbing at around 4:40 AM, a little late from what we had planned. The first stop was at about 4000 steps, here there is a group of beautiful Jain temples which were built around 1128 AD. One of these temples is the Neminath Temple since Tirthankar Neminath achieved enlightenment here. After Jain Temple, after 200 steps further there is Gomukhi Ganga Temple, and by Ambaji Temple at around 5000 steps followed by Guru Gorakhnath Temple.We reached the topmost temple i.e. Dattatreya Temple, after climbing around 10,900 stairs at 9 AM and returned to the ground at 12:30 PM. After taking rest for a while, we visited Bhawnath Temple and left for Junagadh to find some place to eat. Quickly after reaching Kalva Square, we started looking for Patel Paratha House (A very famous restaurant about which a guy we met in the train to Junagadh told us). After asking directions multiple times we finally reached the restaurant and found that it only serves Gujarati thali on most days, at first we thought of leaving as we all have heard that Gujarati dishes are very sweet since they add some sugar or jaggery, and doesn't matches the taste of a typical Marvadi spicy food eater, but we still ordered as we thought we won't be having much choice. The food was very very tasty and changed all the myths about Gujarati food. The food was so good that we all eat to our full capacity, after which we eat some cassata ice-cream from a thela, which again was very tasty and surprisingly very cheap (Rs 10 Only) considering the amount and number of flavors and dry fruits it had mixed. The next day, we visited Gangotri Kund, Ashok Shilalekh, Radha Krishna Temple, Shiva Temple, Gayatri Shakti Peeth Temple, Vageshwari temple, Junagadh Fort, Buddhist Caves, Junagadh Wildlife Museum, Junagadh Museum and Mahabat Makbara. Best among these were Junagarh Fort, Junagarh Museum and Mahabat Makbara. We left for Ahmedabad at night.
/* A few tips */
Although finding an auto rickshaw for Junagadh from any place in Girnar is very easy, it is better to walk to the main square of Girnar first and then take a rickshaw, to save some money. From the square, the fare to Kalva Square is only Rs. 20 per person (even 10 sometimes if you are lucky) or 60 total, but you need to bargain for that.
The Kalva square is kind of important as it connects Junagadh and the way to Girnar, and everything is reachable from here.
Ahmedabad
We reached Ahmedabad at 4.30 in the morning and visited Hathee Singh Jain Temple. We had our hotel booked at Navrangpura near Sardar Patel Stadium. On our way to hotel we saw the most popular and undoubtedly amazing icon of the city, The Sabarmati Riverfront, and since it was morning the view was absolutely amazing. On the first day, we started off by visiting Riverfront Park, Kankaria Lake, Gandhi Ashram and then all the way to Akshardham in Gandhinagar and getting back to enjoy street food at Manek Chowk Night Market. Traveling within the city was not a tough task, thanks to the city's very efficient bus system consisting of more than 90 KMs of dedicated bus lanes. On BRT routes buses were punctual and frequent and had very good information systems, but on the other routes we had to take a lot of help from Google and Panwalas. The routes where the streets were very narrow and full of traffic, we took auto-rickshaws from near-by bus stops. To reach Gandhinagar we took a van from Ashram Road for a good 40rs. After visiting Akshardham, we took another van to get back to Ahmedabad. We then quickly took a rickshaw to Manek Chowk Market, since we were quite tired to get in a Bus and then walk up to the main market. Manek Chowk Market is kind of important one for the city, and any visit to Ahmedabad is certainly incomplete without visiting here. While it is famous for street shopping, in the morning it becomes a vegetable market, while in the afternoon India's second largest Jewellery Market and during night, it turns into a huge, super crowded food paradise offering variety of foods at very cheap prices, the best being Pav Bhaji, Sandwiches, Pizza, Dosas, Shakes and Kulfi-Faluda. Although, you need to know the right shops to get the right experience. The shops are open till late night. It also has some of the important historic places nearby - Teen Darwaja, Ahmed Shah's Tomb, Queen's Tomb, Stock Exchange Heritage building - oldest after BSE, Jama Majid, Bhadra Fort, Swaminarayan Temple, Maneknath Temple. After filling our stomach, we left for Law Garden Night Market in a auto rikshaw. This market was in a relatively better area of the city, and thus had a number of fancy restaurants and food outlets. The main attraction of the market are however hundreds of shops which surrounds a garden selling Chaniya-Cholis. For the next day we had planned to start with the Amdavad Ni Gufa which is a cave structured art cafe built by M.F. Hussain but unfortunately, we found out that it opens in the evening. We then visited ISKON Temple, ISKON Mall, The Alpha One Mall and then all the way to Sarkhej Roja and Utensils Museum. Sarkhej Roja was worth visit, the Utensils Museum is very famous since many celebrities including Indian Cricket Team, Pranab Mukherjee - President of India, Bollywood Actors have tasted their food. If you're not looking for an expensive lunch I won't recommend you to visit this place. Instead If you have time, I would recommend you visit the Vintage car Museum, which we missed due to lack of time. Before checking out of hotel we visited the riverfront park again since the very grand Annual International Kite Festival was happening that day.
Frequent Searches Leading To This Page:-
Best Tour Packages for Gujarat, Top Gujarat tour packages with price, Best Travel Packages for Gujarat, Places to Visit in Gujarat, Best Gujarat Trip Packages, Gujarat Holiday Tour Packages, Top Gujarat Packages for Family