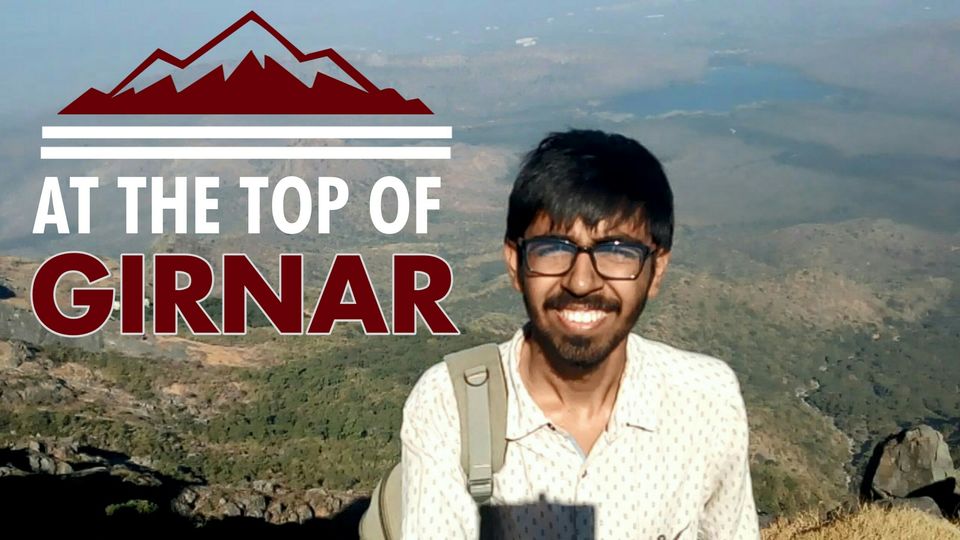 My Day 1 started from the porbandar ST Bus station, from where we have picked up the bus to junagadh at 4:00 PM which took 3 hours time to reach there on 7 and then we ate dinner at 9:00 PM near the central market of Junagadh. After eating dinner, we finally heads to our Friend's home which is near the Girnar Mountain. So there will be no problem to go there on tomorrow morning.
So, the next day starts with the early morning on 4:00 AM when we wake up to get freshen up and packed my bag with the things I needed like water,selfie stick(because I'm a vlogger). You should not carry many things which makes bag heavy which can be real problem to climb till the top end of Girnar Mountain which is having 9,999 steps to go. So, after walking 3 km from the friends house to the starting point of Girnar. We ate our breakfast but not heavy like Tea,Gathiya(A gujrati dish which everyone should try) and then we straight heads up to the Starting point.
This is my 1st time to visit this holy shrine of Guru Dattatrey on top end. So with the dark morning because it is still 5 AM in the morning we have started to climb with a bunch of traffic with us who also came like us as first timer or someone to experience it more than once in a life. With the 1st six hundred steps we have taken a break because because of tiredness and at that time one friend bought a Bamboo stick to get proper help to climb. After that we have taken a rest after every 600 steps which is necessary for all the people who are having little low stamina otherwise you will be fully exhausted and can't climb 5000 steps also. So better to take rest whenever you need and take tons of photos & videos after a morning because it can't be better than that. With every steps at more higher feet's from the lands the natural scenery get better and better. Drink water whenever you feel its needed and don't give too much stress to your body without drinking water.
At nearly 11-12 PM we have reached the top of mountain where a small temple of Guru dattatrey is placed. But before that last 2000 steps which is the hardest part of the journey where there will steep steps non-stop with downwards & upwards which will start after another 2 temples at beginning. The top end of Girnar mountain is like a pencil point with just a Small piece of land. Take a break after every non-stop steep steps which consists 20-30 steps.
Now after reaching the top end of mountain, its time to Head back. Then there will be places like little restaurant at top but don't eat heavy food but just for the sake of energy eat some foods. At returning journey will be easier because it gives a relief that you reached the end of mountain and now coming back. But legs feels little shaky and more heavier and by meeting a new friend from Germany whose name is Rieley(hope I spelled it right) who is 65 a old man but having more stamina he has compare to us who are just 21 years old.The time passes so fast that we feels like its 4 minutes but it was 4hour.
When I put last footstep on the last steps of mountain when journey from bottom to top to bottom ends. The legs started to pain too much that can't walk properly also and immediately took an auto to a place where my friends are waiting who came down earlier.
I drink soda as i completed my girnar journey so as a celebration i drink but it's just a soda not an alcohol. Then we reached home with an auto with one of my friend who is also tired and then take 1 hour power nap to feel less tired. My friend relatives came home with a food for us and gives a feeling of family at the place where I never been to.
After eating food, we directly went to ST bus station but after waiting a much we get to know the bus is full and no place to sit and we can't stand because of tiredness.
Then we hurriedly rush through in the city of junagadh to reach for the other bus stop where bus which is going away. Then we finally got our bus and a cool breeze of air is coming through the window which gives a soothing experience on that 3 hour ride.
We finally reach our home with an all new experience of travelling.
Total cost :- approximately between 500 to 1500 if you stay in dharamshala which is having cheaper rates to stay instead of Hotels.
How to reach Junagadh :-
All the buses & trains are well connected to Junagadh
For the flight,porbandar having an airport which is 90 km far from Junagadh.
Click this Link to watch the full journey at JK Jayraj Khunti Vlogs on youtube.