For this one I am going to dive right in. I simply loved the place. If you are fascinated by history you would too.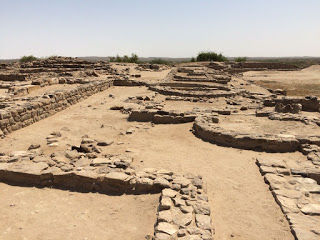 Dholavira is an archaeological site in the Bhachau taluka of Kutch District in Gujarat. Dholavira is one the five most prominent excavation sites of the Indus valley civilization. To give a context, till now the most famous ones have been the Harappa site and the Mohenjo- daro site, both are in the Punjab district of Pakistan. The site of Dholavira is located at a distance of 50 kms from the Pakistan border. It was excavated in the 1960s by Professor J P Joshi. The Harappa and Mohenjo - daro sites had been known for much longer to the mankind and hence way more famous. So far most of us have assumed that the earliest civilizations were settled along side the Indus river but with the excavation of Dholavira, we also found an elaborate civilization built far away from any source of water. This automatically leads to development of water conservation systems making it unique in its own way. Lets make up our minds to enter a time which is 5000 years old and be amazed.
To start with lets see how a simple map of Dholavira would look.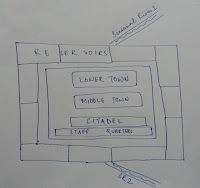 As we see, the whole city is covered with huge reservoirs on all sides, there are two seasonal rivers on the sides which have been diverted to fill the reservoirs which by the process of circumvention and sedimentation filter the water as and when they move from one reservoir to the other. The reservoirs have a step well format which is a signature of the Gujarat and Rajasthan region. The interesting part is that at the bottom of the reservoir there is another step well constructed for worst case scenarios. The length of each reservoir is around half a km.
For storage of water we also see a huge well dug. There is a rather interesting method of drawing water there. Next to the well we see a a small pole with a defined circle around it. It is assumed that a bull/ buffalo could have been tied around the pole with a rope tied to a bucket on the other end. As the animal moves in circular direction, the bucket now filled with water is dragged up. The bucket of water then falls on a flat surface which has outlets through which water flows into the small baths, washing area etc. Simply put we are talking of an arrangement which gives the convenience of water flowing through a tap!!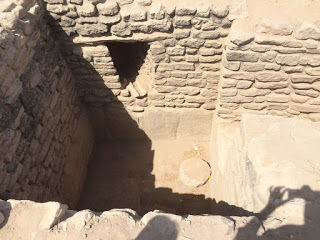 Now that we have spoken in length about the water conservation systems here, lets move to security. The city is largely divided into three parts- the citadel where the royal family would live, the middle town where people in white collar jobs like architects, astronauts etc would live and the lower town where the workers would reside. The middle town has found traces of four cross streets with market area making it sound like a modern day planned city. The lower town is the unorganized rural set up. The whole city is protected by a 12 feet wide stone wall which runs around it. There are four doors, one in each direction. The doors have a unique locking system with large stones in rectangular and disk format found with slits to get locked with the counter opposite structure on top. This in particular amazed me to a different level.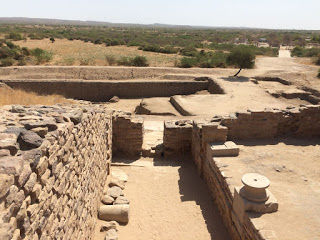 The excavation founds no traces of iron or war equipment suggesting of a life quite peaceful. The place is supposed to have gotten destroyed and rebuilt 7 times, none because of war. The place was affected by a series of calamities from floods to tsunamis to drought. Every time it got destroyed, people migrated back here and built the next city on top of the first one which suggest that 70% of the excavation is still left.
Next we come to the citadel. Citadel is currently the highest point for us to walk on. On the sides we see where the staff quarters could have been. We see passages ways with ducts for ventilation. We see circular mini amphitheater like structures where may be all the intellectuals sat and solved problems.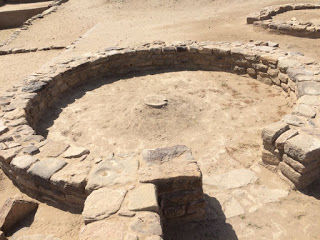 The most prominent part of the whole excavation is the sign board with symbols almost one foot large which they have not been able to decode so far. It is assumed to be hanging on top of one of the entrance doors and very well could mean Welcome!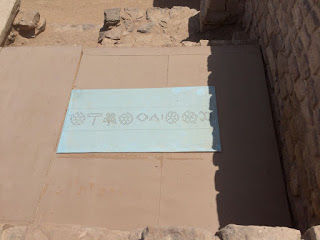 We also see elevated poles which could be sundials. We see a water storage place lined with 2-3 feet of multani mitti or Fuller's earth clay to purify the water for drinking purpose. We see structures with stone bricks locked and aligned in a way that you did not need cement or any other adhesive in between. Basically we see a lot of small and big inventions/ innovations which are common to us now. With all this at one point it seemed that may be we are just re inventing the wheel. I really dont know we need to look ahead or look back for answers. But one thing I am quite close to believing in is the fact its all a big circle and we are a minuscule part of it.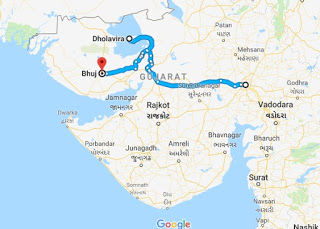 The easiest way to reach Dholavira is by road. I would suggest to take a car and drive the 360 kms directly. It will be a seven hour long journey but very much worth it. Dholavira is almost an island so we need to go via Bhuj and you will cross lanes which would have the iconic Rann of Kutch on both sides. One important fact about the Rann or desert is that its 2 feet under water for half the year, after the water starts to dry up the salt starts getting deposited which actually gives the Rann the pure white flaky texture. But please remember that the land below is still marshy and the chances that your foot would get in the black soggy mud is really high. One can go to the Rann for either watching the sunrise or the sunset, its beautiful.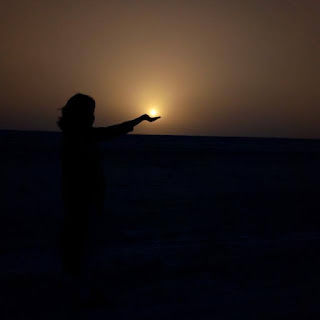 There are lot of small villages where artisans work making the handcraft fabric like batik, bandhni, embroidery, ikat etc. For a collected experience of this you can go to the LLDC Museum at Azrakpur or Shrujan. The Hira Laxmi Craft Park is a nice setup where you can see the history of our independence in 4D format, it seems quite boring but they have done a good job, worth one visit. There are also few palaces around the place like Aaina Mahal which inspired a song set up in Bajirao Mastani and Prag Mahal where a scene from Lagaan is shot. The Vijay Vilas Palace in Mandvi is famous for having shot Hum Dil De Chuke Sanam there.
Well that was a lot of information. Yes there are a lot of gems to see in Gujarat. No I do not believe in"Kutch nahi dekha to kucch nai dekha". Basically in travel we need to keep looking, we need to be open to opportunities and simply dive in - Well incidentally thats also how life works!
Happy Travelling!