This resort is the best in the city of gwalior. It is actually a 17th century fort turned into hotel by Neemrana Group of hotels. The group has hardly changed the structure of the property and changed its look very sustainably. It is closer to the railway station than the airport but located at the heart of the old city, giving you every opportunity to get all flavours of this old heritage city of India.
I have stayed only one night and wish could have stayed long. If you are coming by road to Gwalior from nearby states, the roads are awesome, leaving you with no fatigue or back problems even after sitting in car for some good 5-6 hours.
Rooms: The resort has some 15 plus rooms, very beautifully done with old four poster beds and diwan in every room. The aesthetic feel of that era has been kept alive in the hotel and may be thats why Neemrana calls itself a Non-Hotel Hotel. I completely fell for that concept. The washrooms are big too with old doors and a small patio with every room to sit and relax overlooking the beautiful garden that it opens to.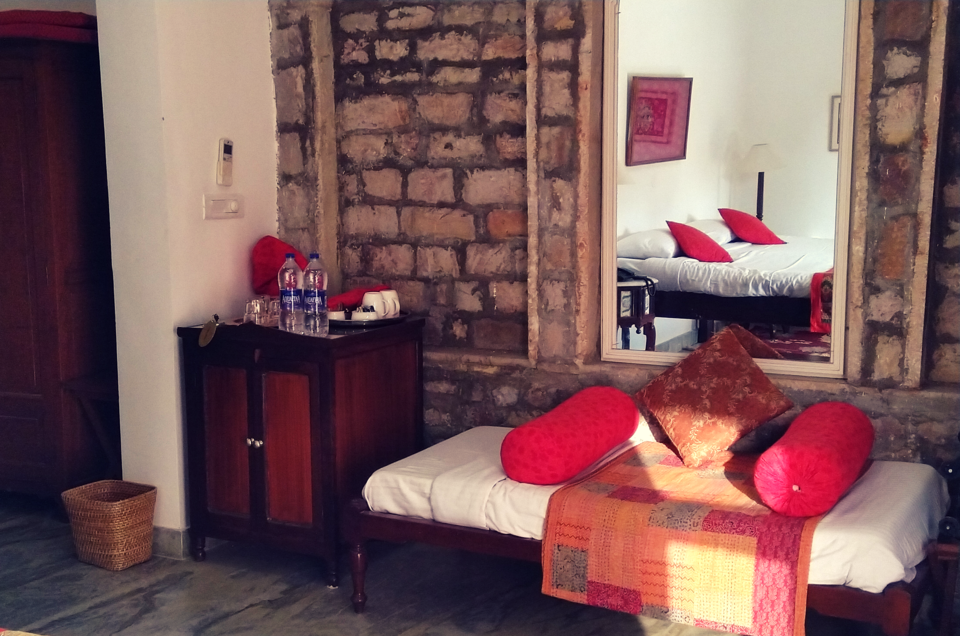 Food: The food was excellent and I can't stop praising it till now. They have limited choices as it happens in boutique hotels but the choices are well cooked to perfection and extremely sumptuous. They also serve you complimentary breakfast and an evening tea with brownies and veg pakora.
It was an experience sitting at that patio outside my room. seeing peacocks roaming around and siping garam 'Chai" and brownie in the evening.
Budget: The hotel is very well-priced and affordable. My room did cost me around Rs 4500 per night which was a win-win given the history of the place and comfort and luxury provided in most sustainable manner.
You can book the place directly from their website or through cleartrip like I did.
I would highly recommend staying at this place if you want to indulge in budget luxury in Gwalior without burning any hole in your pocket.
For more travel updates: follow my instagram handle: ritusree.andshedressesup