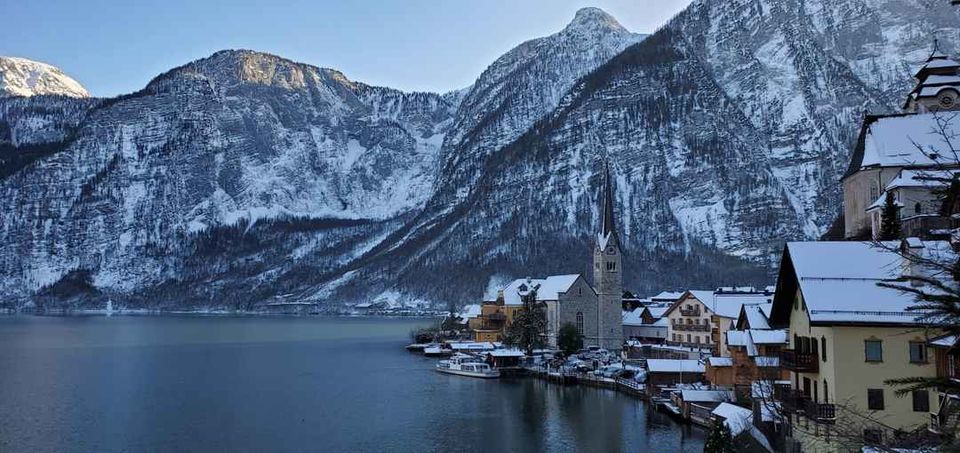 Europe is blessed with vogue cities and quaint villages. It is often said that Europe's actual beauty lies in the countryside. When I was planning my Europe trip, I decided to include a small town in the itinerary. A lot of names popped up like Salzburg, Linz, Innsbruck with great recommendations..but I was not convinced. One day, I was just surfing the Internet and my heart skipped a beat when I saw a postcard picture. That's it! I knew!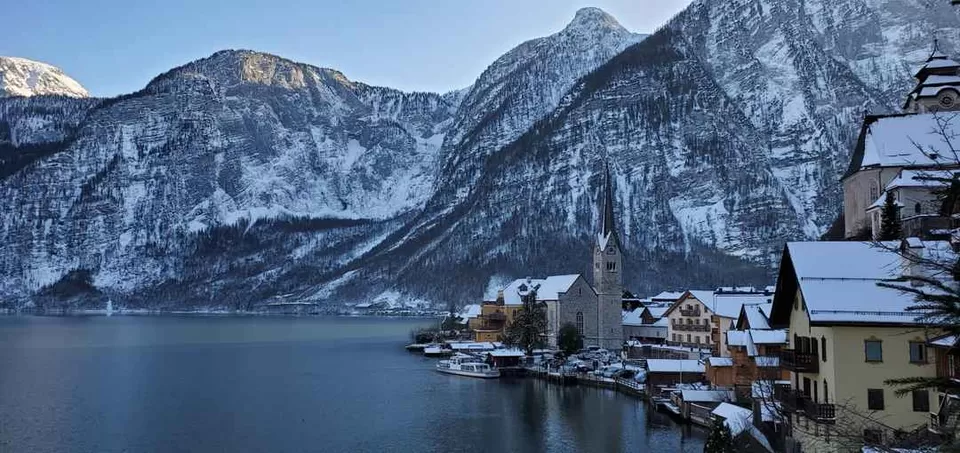 A small alpine village resting on the banks of an oh! so tranquil lake - Hallstatt, Austria. It is a dreamy winter wonderland which you must experience with your own eyes to believe if it's real!
Hallstatt is easily accessible by train from Vienna or Salzburg. You have to change your train at Attnang-Puchheim station. And there it begins...the most beautiful train journey of your life!
You will cross villages so beautiful that you would want to get out of the train and spend a few days in every village. The entire time I was looking out of the window like an amused kid who got a lollipop. The tiny yet so pretty houses enjoying the view of snowy mountains on one side and a wide stretch of sparkly ice and a calm canal on the other side.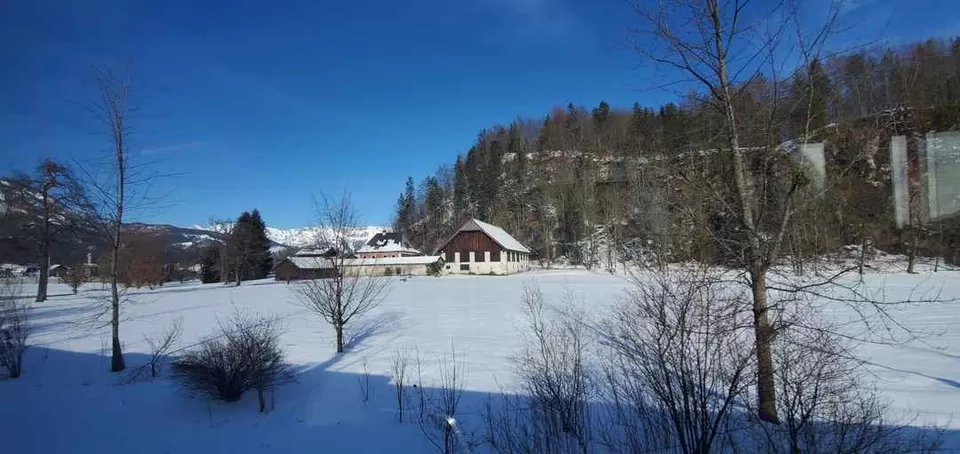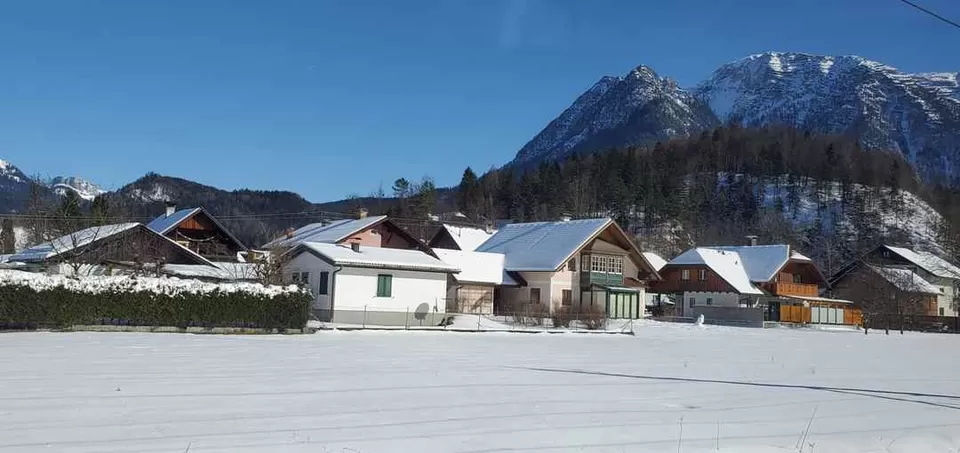 Remember this saying- The grass is always greener on the other side? It has come true...I saw the greenest grass ever throughout the route! :P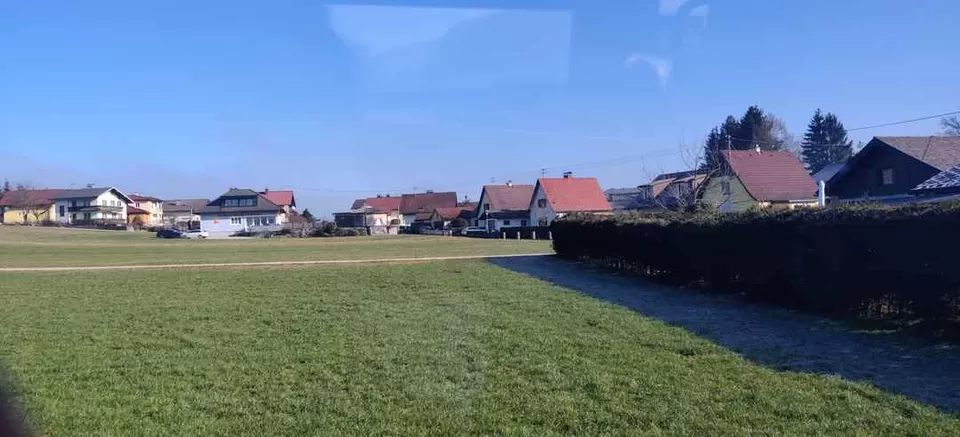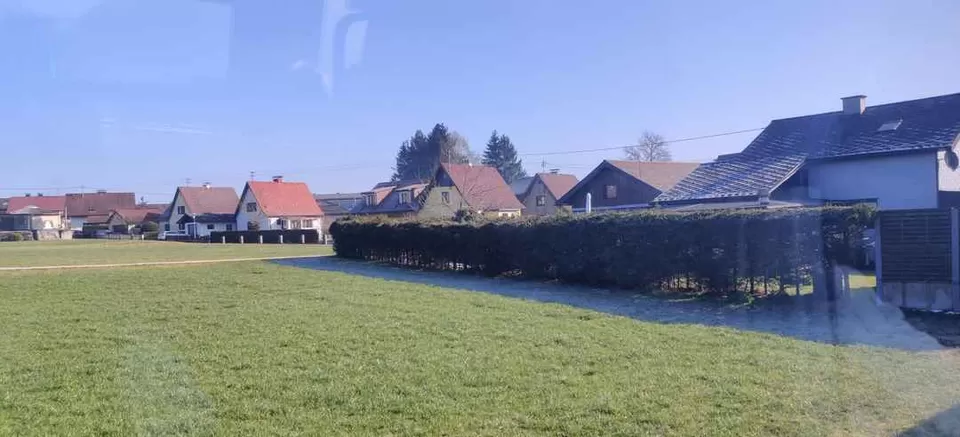 You will be confused whether to look towards left or right side of the train because each frame is so captivating. The most beautiful confusion ever!
I finally arrived at Hallstatt station. Ideally one walks or hires a cab to reach the village centre. But Hallstatt is unique..of course it has to be! You have to get on a ferry to reach the village! As you start ferrying closer to the village, you start gawking at the snow laden mountains, small houses, the landmark church and an absolute gift of God-this pretty town, Hallstatt.
Once you get off the ferry, it is a sight to behold. You are surrounded by snowy mountains and a deliciously cold lake in front of you. You will fall in love with the village at that very moment and if not, the couple swans in the lake make sure that you feel romantic.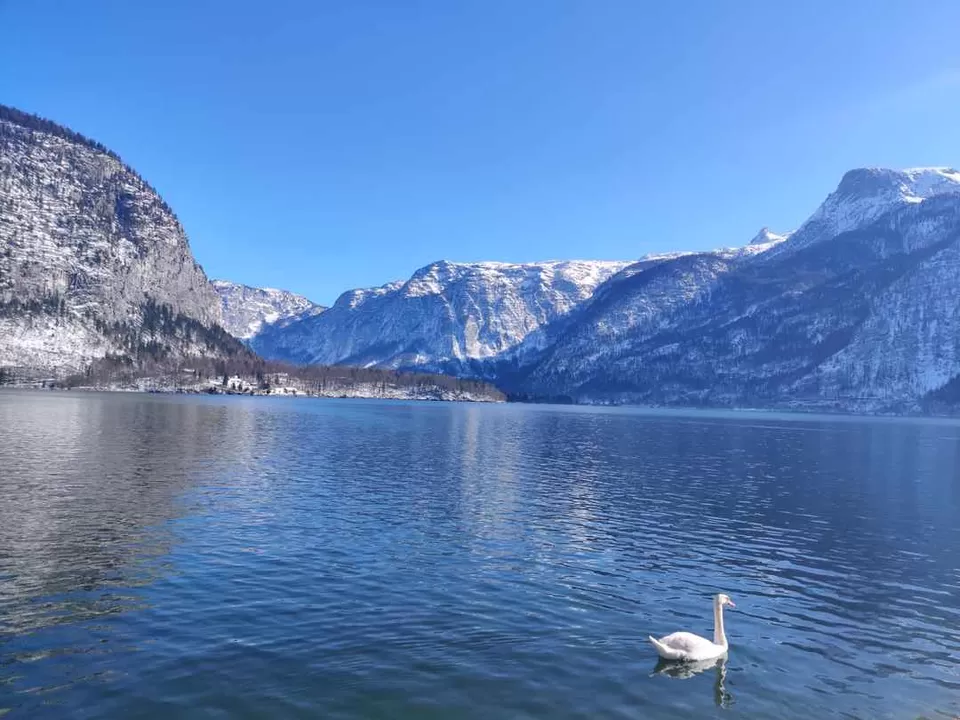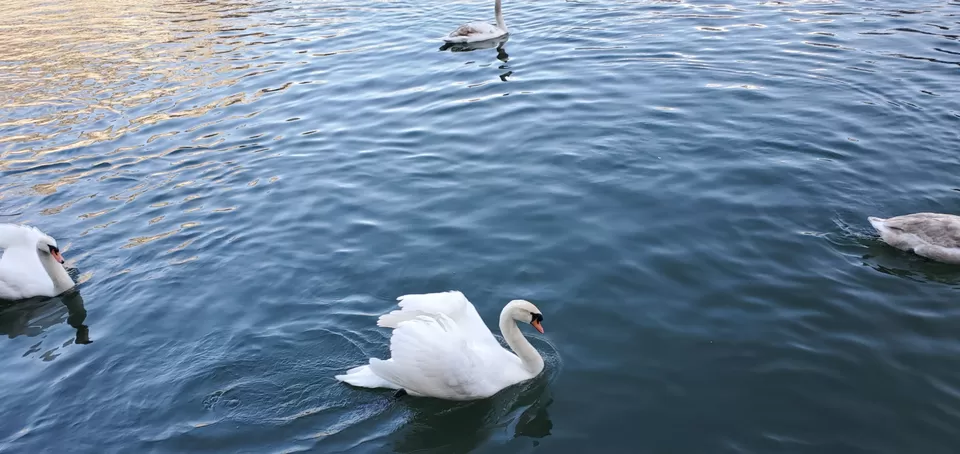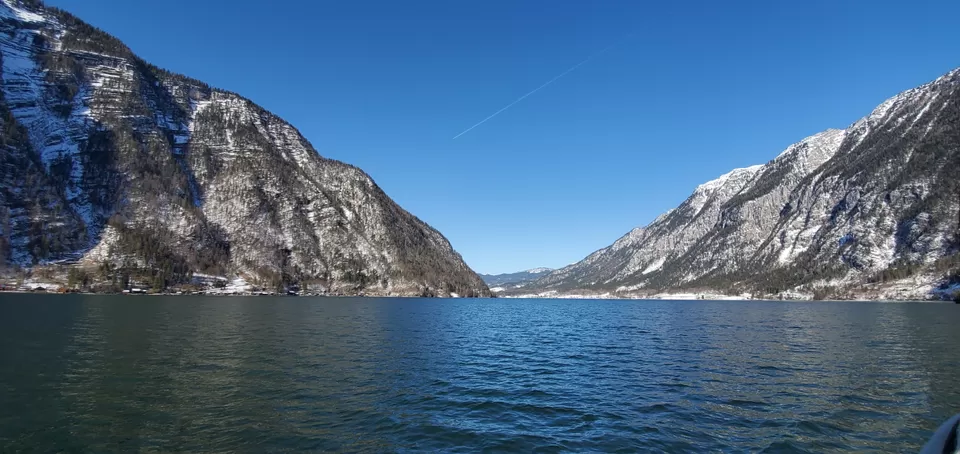 These icy white swans swim proudly in the lake. Just sit there for a few hours and soak in that absolute picturesque view away from all the hustle and bustle of the cities.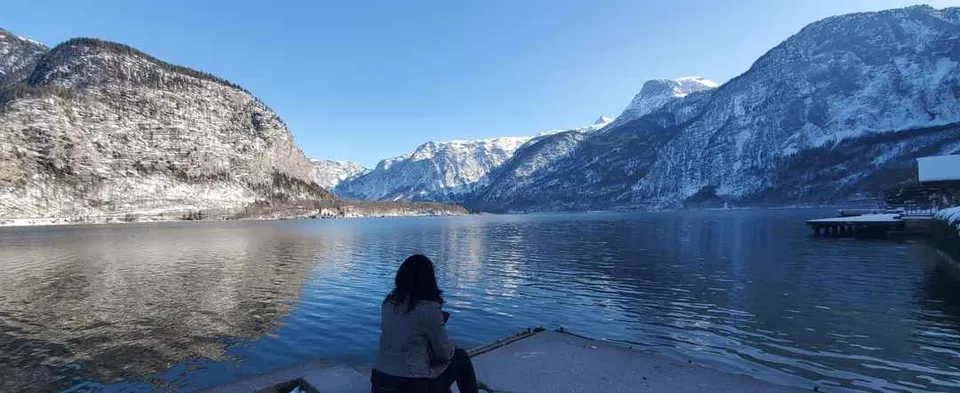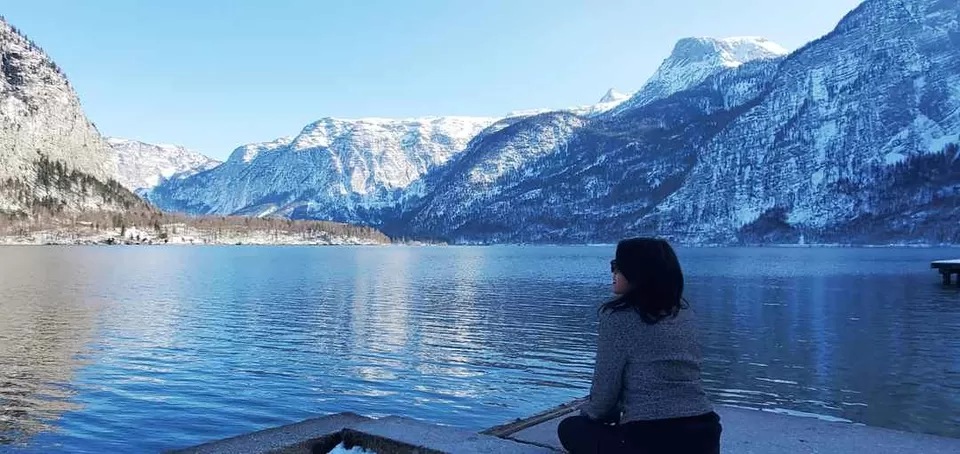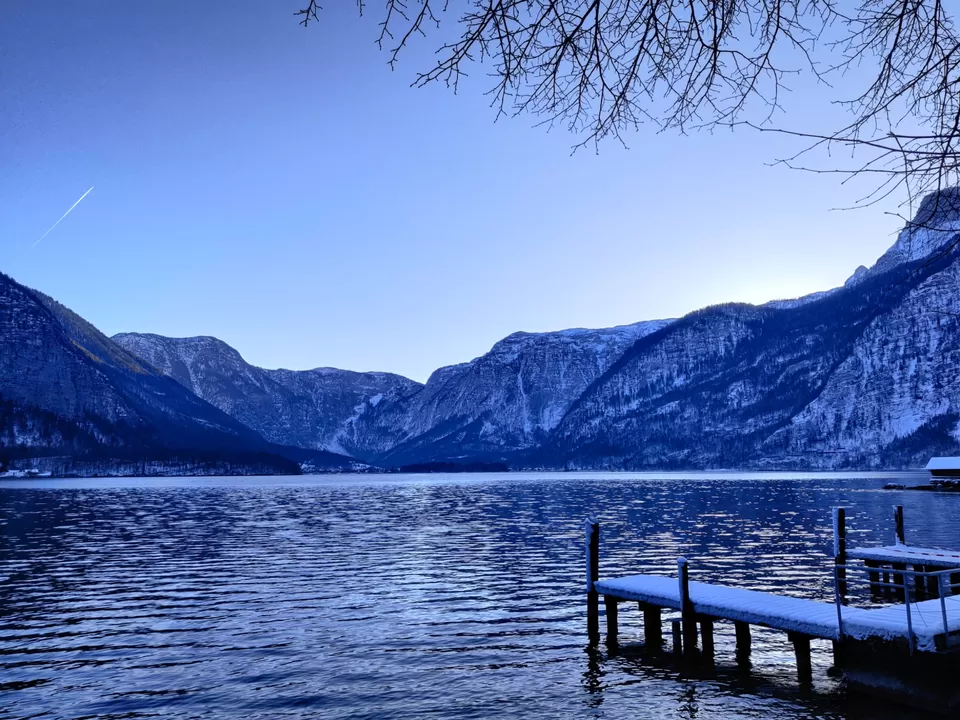 Time for a Fun Fact- This marvellous town has been recreated in China with replicas of the landmark church and the famous market square surrounded by artificial hills and an artificially created lake! Since then, there is a huge surge of Chinese tourists in this town who want to experience the original and pristine Hallstatt.
Okay! Coming back to my journey of this European hamlet. The town architecture is really scenic with cobblestone streets, captivating market square and houses looking like gingerbread huts. See it for yourself.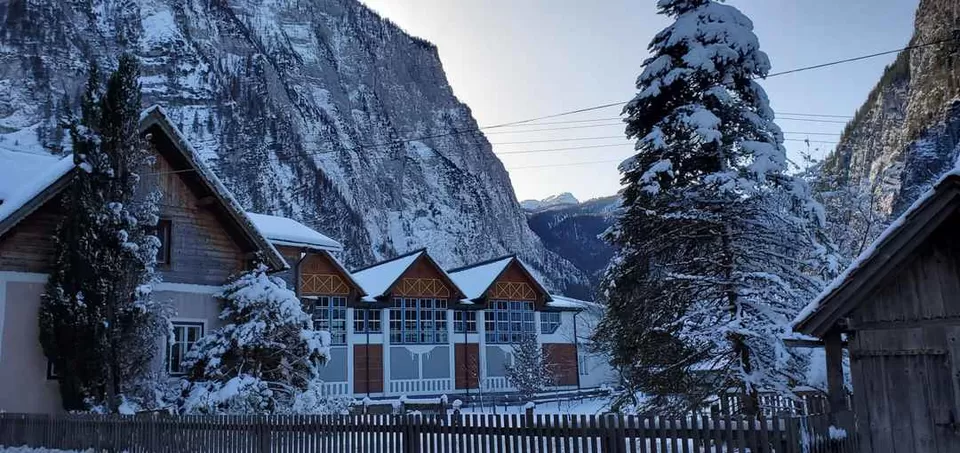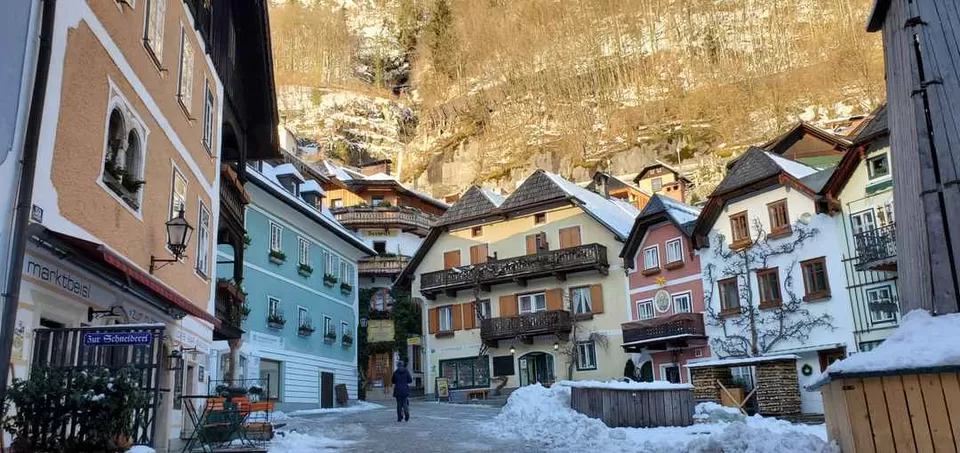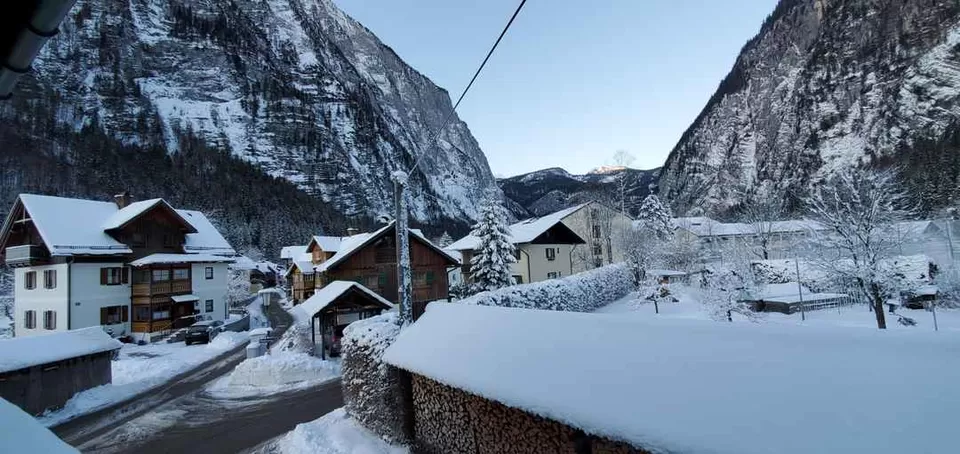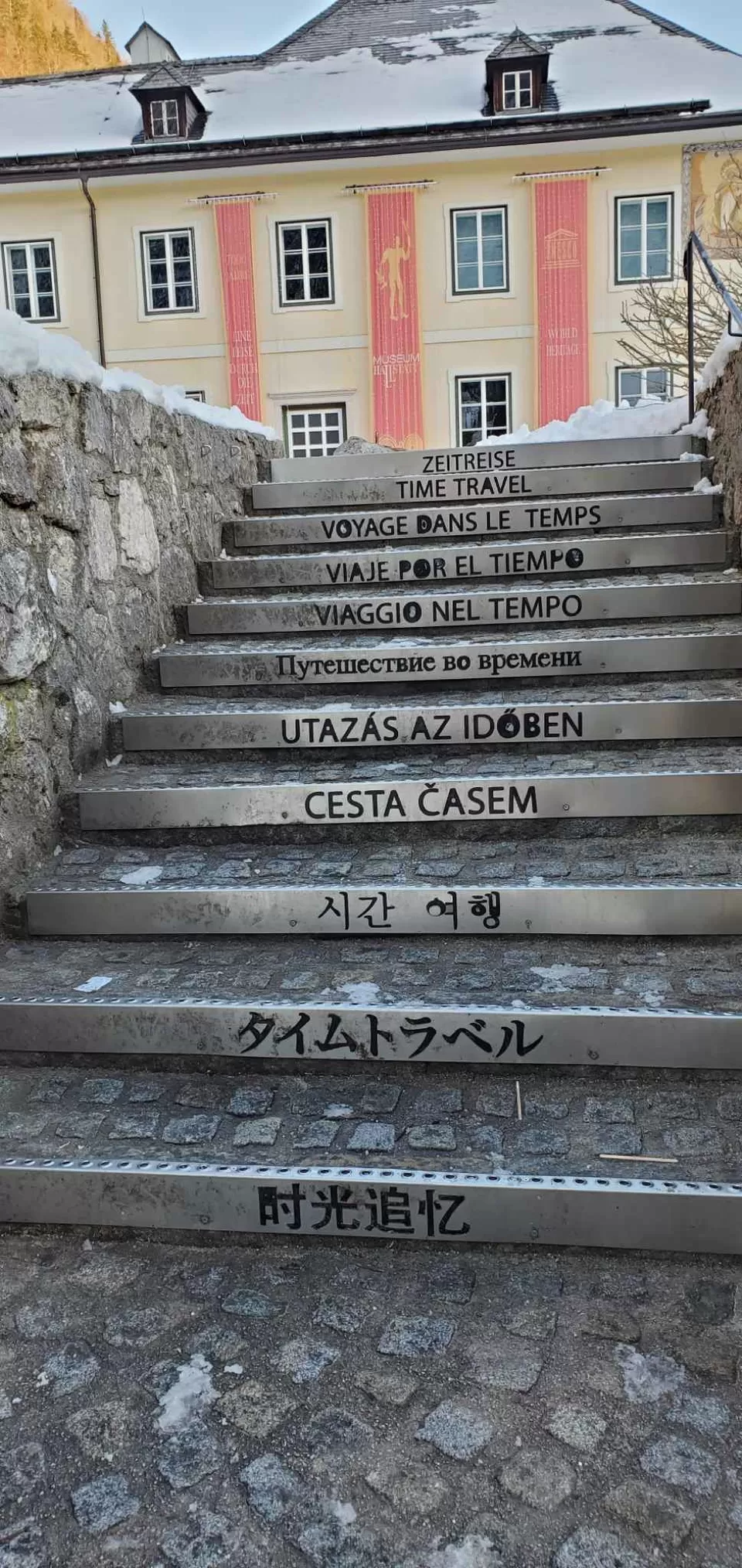 The sight of snow covered huts with the dramatic setting of mountains is to die for.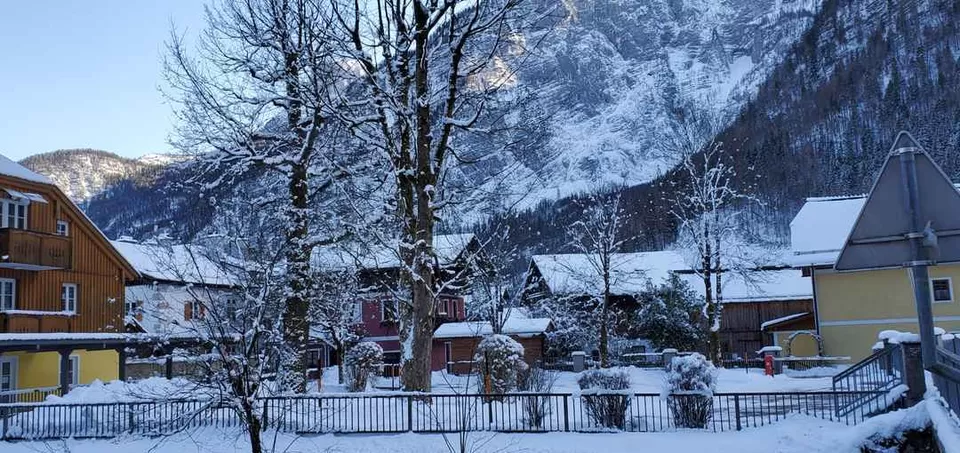 We also created a little snowman of our own...my way of leaving my prints behind :P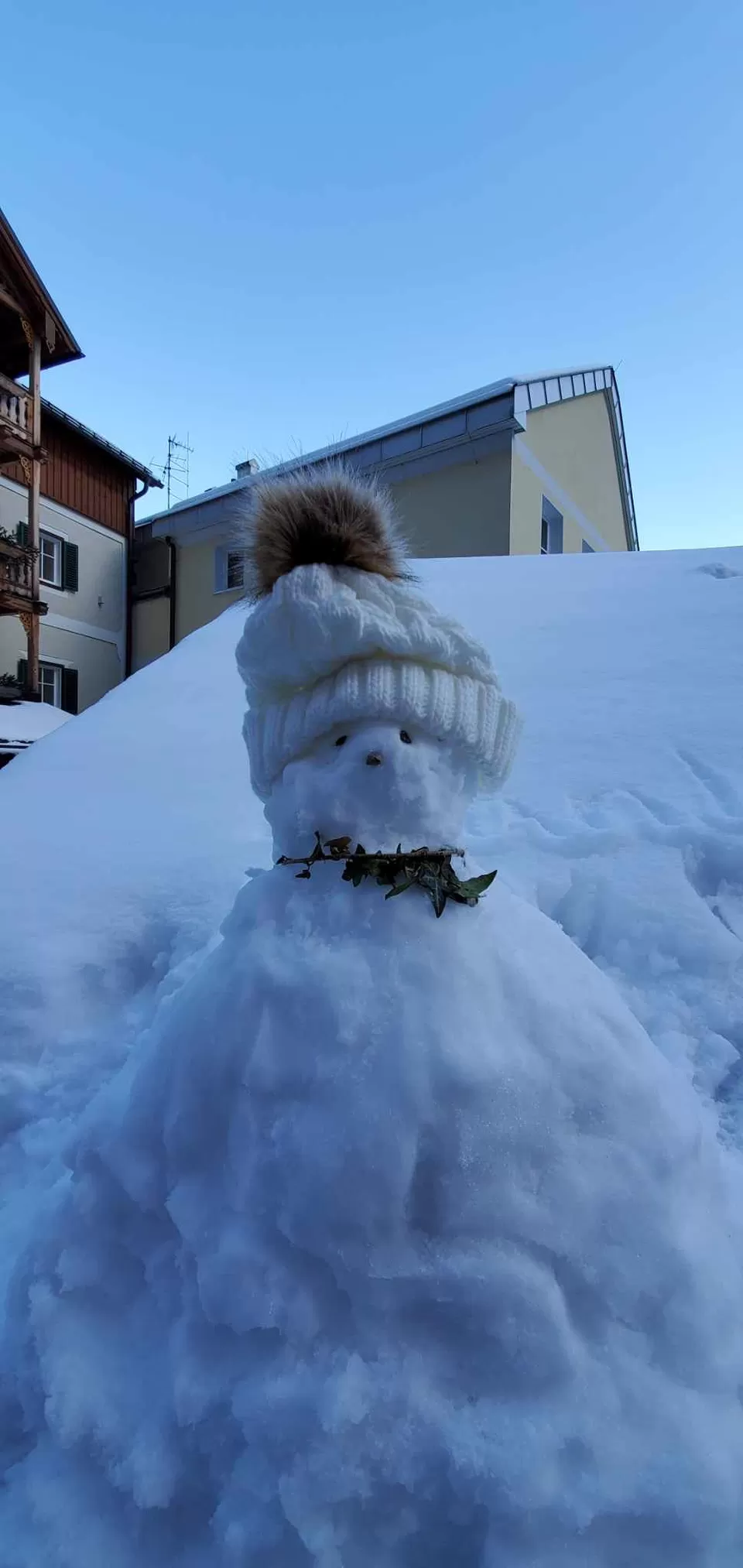 Hallstatt is a UNESCO world heritage site and is famous for world's oldest mines. You can take a tour of these mines. I couldn't experience them as they were closed due to the weather.
As the sun goes down, it is insanely cold to wander around. So, I took a glass of Tomato Soup from a really cute cafe and continued exploring. Yes! I was able to find vegetarian soup in Hallstatt.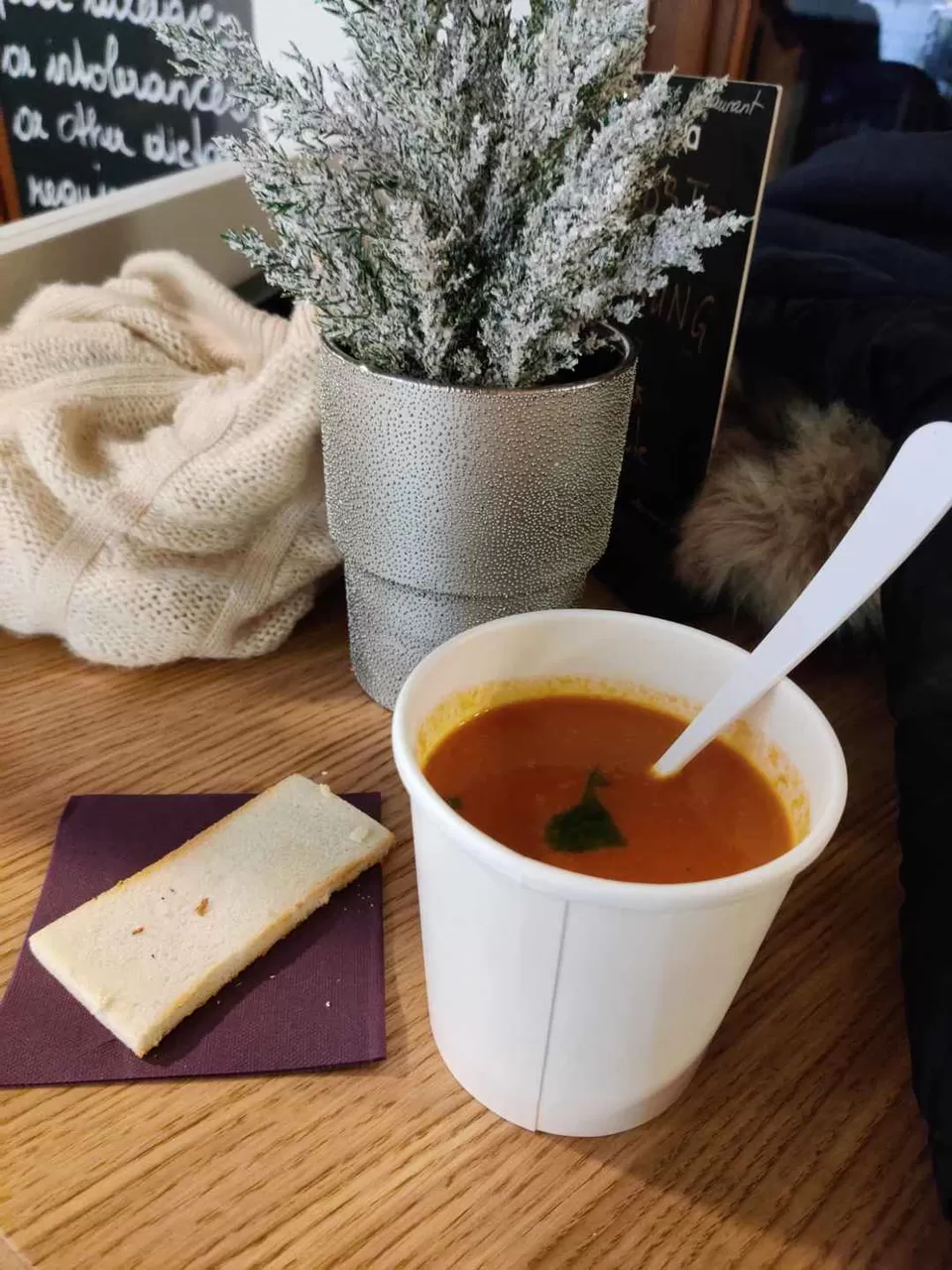 Each frame seems like coming straight out of Game Of Thrones setting. I could actually imagine the Night King and the White Walkers coming out of these snowy huts.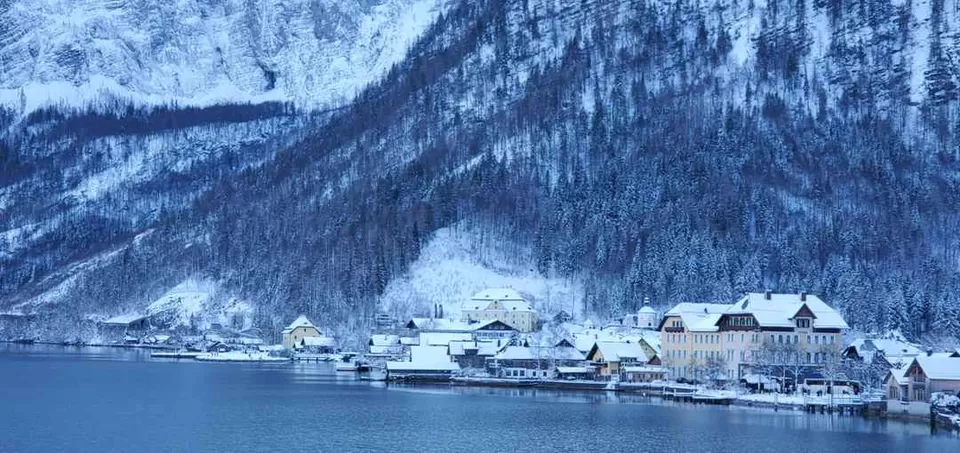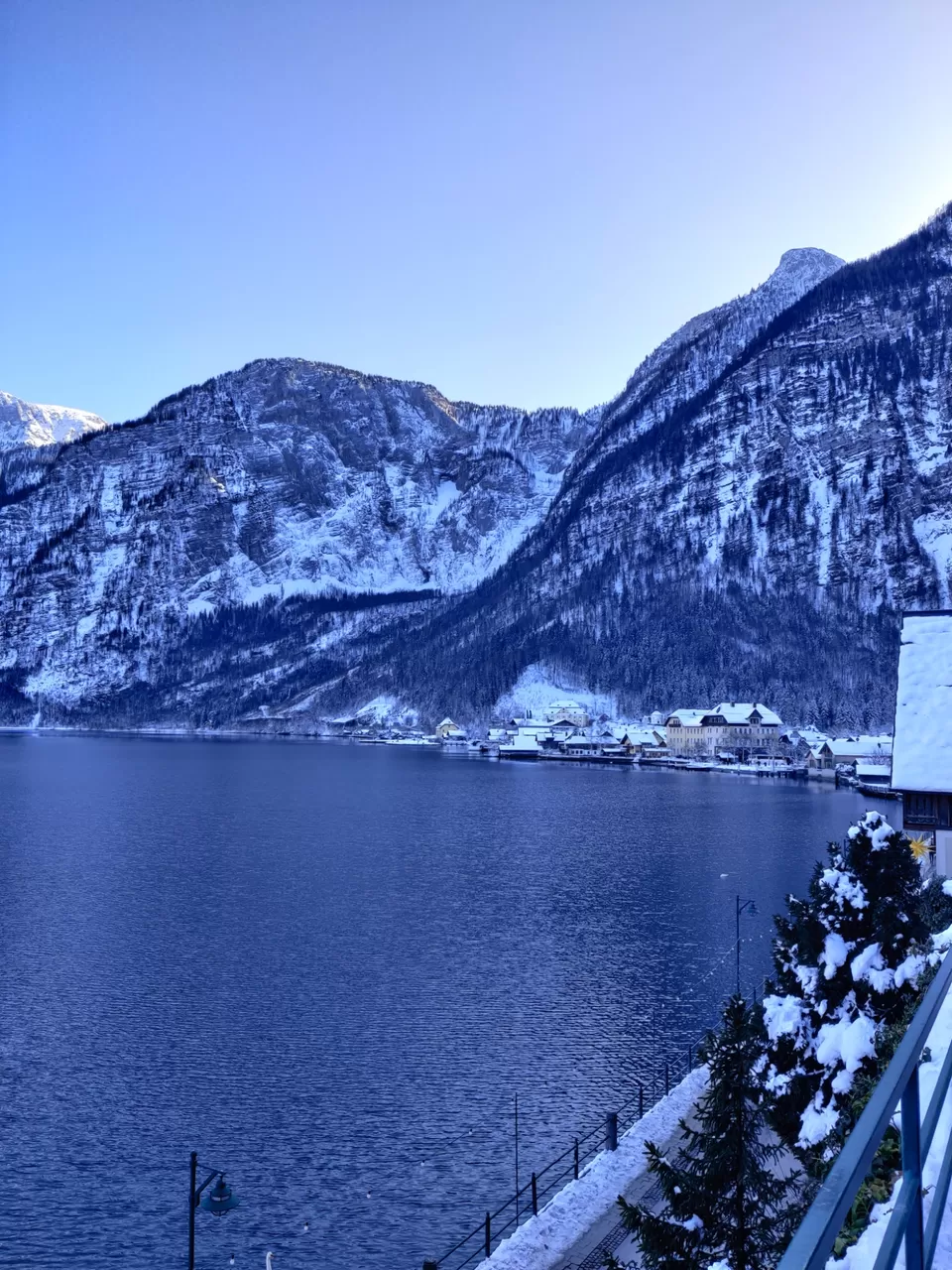 Don't be afraid! Look! I found an ice dagger to save ourselves. :P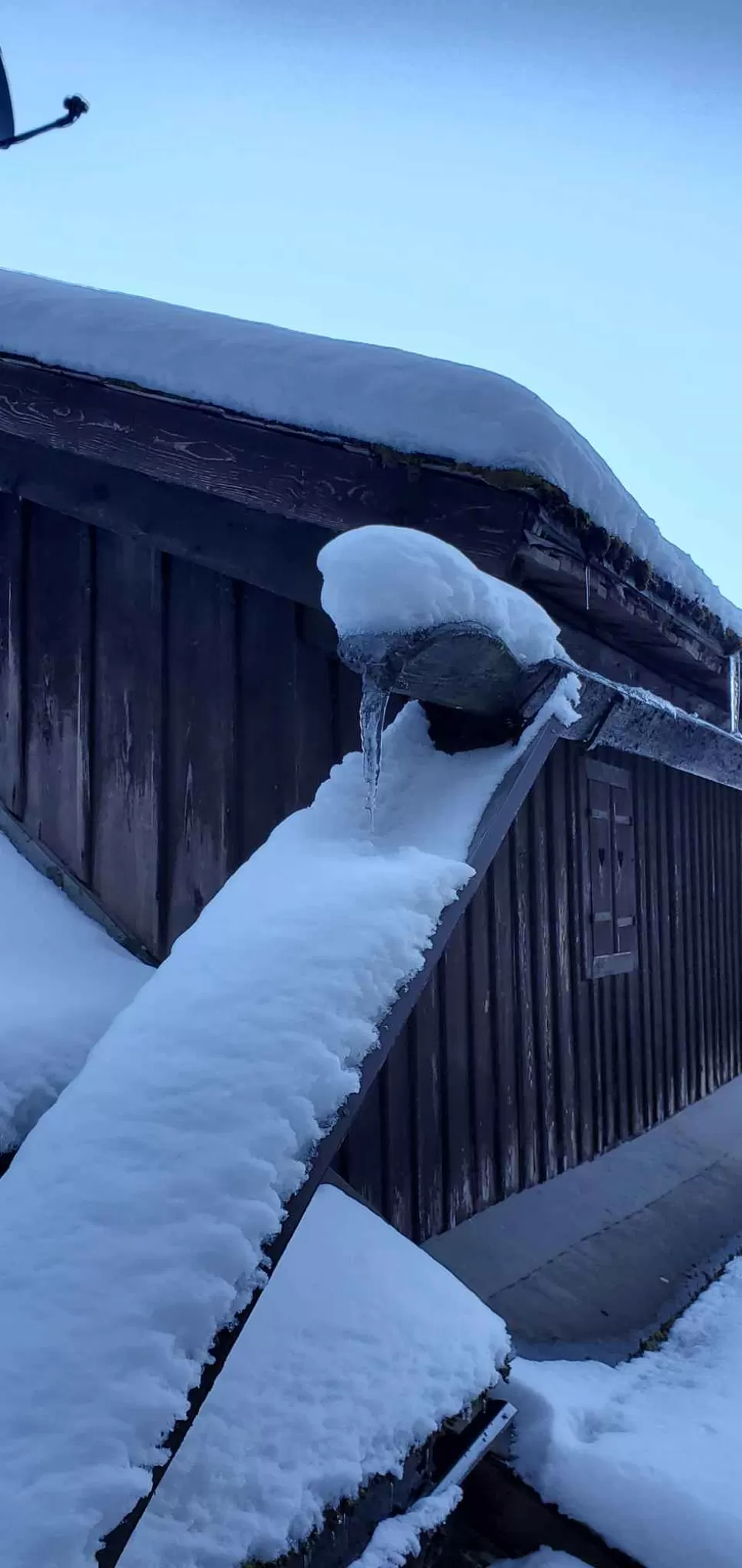 Now it was time to recreate THE POSTCARD PICTURE. Through the cobblestone streets, I reached the location which captures this marvellous piece of art. Snow-white mountains, clear sky, sublime lake, huts perfectly covered with bright snow and taking away the cherry on top-the proud tall church. It seems that each piece has been placed with perfection to create this unbelievable view.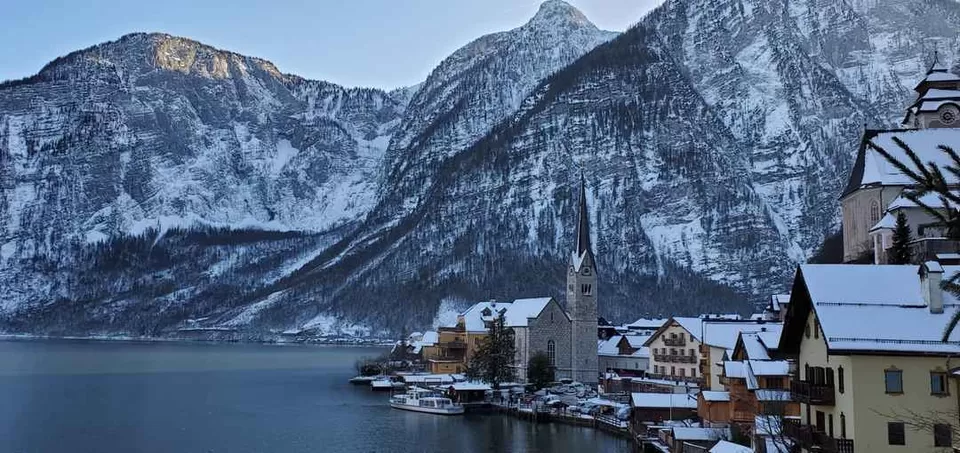 It was an emotional moment for me. I was looking at the gorgeous scenery with naked eyes which I had seen only in pictures and had inspired me to visit this place . My trust just grew stronger- Dreams do come true!
The time had come which I dreaded the most. It was time to leave Hallstatt and return to Vienna. My heart broke into a million pieces when I was bidding goodbye to the huts, the lake, the church, the old town square, the swans and this beautiful town. I got on to the ferry to reach the train station and my eyes were just stuck onto the village and tried to absorb every last glimpse as I was drifting away. Once again, I felt like a child. But this time, an unhappy child whose lollipop was being taken away.
Auf Wiedersehen, Hallstatt! You were more than anything I had imagined.