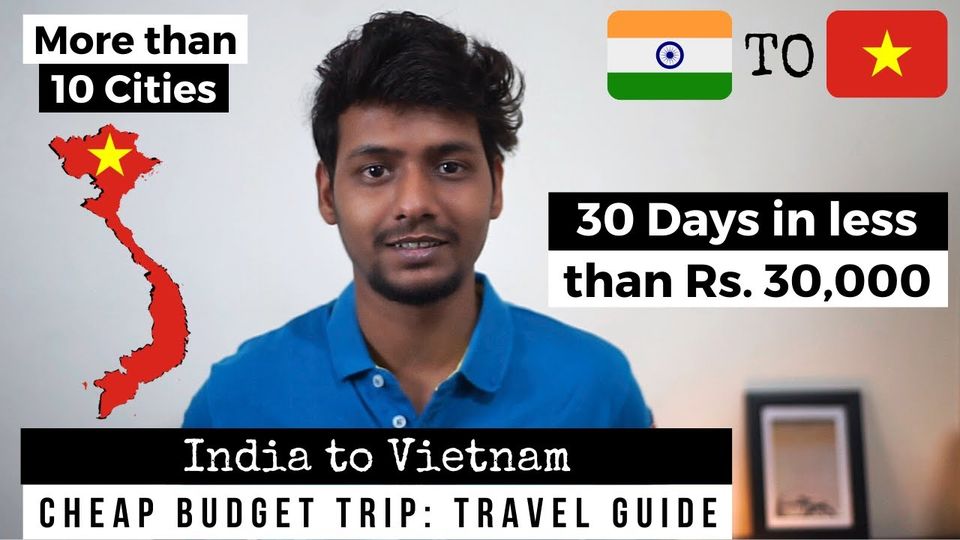 Hello guys! My name is Parag Phadnis, and I am a travel vlogger & some time ago, my friend Tarang and I went on a 30-day trip to a very beautiful country of Vietnam, if you haven't seen it please do watch it...
s
So, today I decided to pen down the budget for our one-month trip... I want to thank everyone for supporting me and asking many questions about the budget.
Vietnam - An Epic Adventure
We visited Vietnam in February 2020 and we arrived in India on the 10th of March, 2020, just before the coronavirus outbreak and the severe lockdown phase of humanity. While in Vietnam we did this backpacking trip all the way from the north to the central region of Vietnam. Vietnam is a country that not many people know about! Most Indians go to South East Asia in countries like Thailand, Malaysia, Indonesia, and Singapore, but Vietnam is a country that has a lot from history to culture, from mountains to beaches, from caves to islands, and even more... And let me be honest, you don't have to spend much money to see all of this, in fact, Vietnam is one of the cheapest countries in the world. This means that if you are a solo traveler, a couple, or want to go with family, then this country can be the best option!
If you want to go to a beautiful country, not far from India, and at the same time is a little offbeat, then definitely visit Vietnam because as I told many people even don't know about this country. This country is really wonderful, and the best bonus is that you can do water activities like snorkeling, and scuba diving, you can go on a luxury cruise to Ha Long Bay, you can go on a hike or nature trail and the most important thing to do is renting a bike and exploring the mountains of Vietnam... We have mentioned it many times in this series about the Ha Giang Loop. The Ha Giang Loop was the most special part of this trip, we have always been talking in the videos that we had the most fun there but even after that there are fewer views on those videos, you just watch it once, If you want to add a bit of thrill, then I would definitely recommend Ha Giang Loop.
Average Daily Budget - Rs.850 per day - How?
Generally, whenever we go to travel anywhere, we have 3 types of expenses - accommodation, food, and travel. So, I have divided this blog into three parts - Accommodation, Food, and Travel. And I will tell you in detail how much you will spend, but before that, let me tell you how much we spent on average. If we talk about hostels, we got hostels in all cities for about Rs 200 per person per night, most of the places had AC dorms and in some places, breakfast was also included! Then I calculated the average expenses for 3 meals, so we spent about 100 rupees for breakfast or lunch or dinner! Keep in mind that you can find cheap options for all things in Vietnam, you just have to do a little research, and I have given a lot of information about different cities in our videos, so you can take help from there too! Then let's talk about traveling, so we did not rent bikes every day and to be honest, you don't even need them, you can walk around and see the cities but still, you can rent a bike for a day from 250 to 300 rupees. (I've not added entrance fees & bus ticket expenses as they can be replaced by bike expenses) In total, all of this is 200 for hostel + 300 for food + 300 for bike = means only 800 rupees! It is quite cheap isn't it... and in this, I have added 50 rupees from my side keeping in mind that the prices are not the same everywhere! So our total amount now becomes Rs. 850.
Accommodation
Now let us talk in a little detail about Accommodation, how were our hostels and how much money you can actually spend on hostels in various cities? Although all the hostels were good and if something bad happened, I have mentioned it in the videos! Let's start with Hanoi which is the capital of Vietnam - here we were getting a good deal, so we chose a little luxury hostel which we got for 3 days at 430,000 Vietnamese Dong, this amount seems very big to hear but the currency of Vietnam is much weaker than India, it means the value of 1,000 VND in Indian currency is only 3 rupees, according to that we got 3 days hostel for two people for Rs 1,300! Then we arrived in Ha Giang where we got a hostel with breakfast for 3 days for Rs. 480 which was the cheapest & best hostel of our entire trip! We rented bikes from this hostel and took a 5-day ride to Ha Giang Loop, which was the most special and favorite part of our trip! After that, during Ha Giang Loop we stayed in various towns for which I would request you to watch the playlist of Ha Giang Loop. In these 5 days, our hostels cost a total of Rs. 1250 per person. Then we stayed in Ha long city for one night where we got a hotel room for Rs. 190 per person. After that, we reached Cat ba island which was my second favorite part in which we got a large room with 3 beds at a rate of Rs. 300 per day. Then we arrived at a nature house in Ninh Binh which was in the middle of the mountains and this hostel was very beautiful, here we spent Rs. 240 per day per person. After that we stayed in a hostel in Hue for one day, the unique thing about this hostel was its breakfast menu and the dorm room. I personally liked this hostel very much and the price of one day's stay with breakfast for 2 people was only Rs. 375. After this we arrived in Danang where the hostel was good, the price was good but the host's behavior was not good. Well, at this hostel we spent about Rs. 200 per person per day. Then we went to Hoi An where for 4 days we spent Rs. 1,550 on a hostel dorm and got upgraded to a private room. And lastly, we came again to Danang where we got 2 beds for 4 days in a dorm room for Rs. 1,470.
Food
On average we ate Vietnamese food for 15 days and in the remaining 15 days we have eaten Indian food at least once, and as far as vegetarian and non-vegetarian are concerned, we had to eat non-vegetarian only 3 times in 30 days because at that time vegetarian food was not available at the hotel or hostel, or else we have eaten vegetarian food every day, every time. and I have also highlighted in my videos that there is no problem with vegetarian food in Vietnam! In many places, you will get breakfast in the hostel itself and at all places, you can get fruits and vegetables which you can eat like salad which is also cheap and healthy. Apart from that, as I mentioned earlier, Rs. 100 per meal, which means around Rs. 300 per day will be your food expenses. In this, you can increase your budget and eat Indian food and decrease your budget and eat salad or street food. And wherever possible, we have mentioned the restaurant menu, bill, and name of the restaurant.
Travel
Now Let's talk about local traveling in Vietnam. Vietnam is a country with the most number of motorbikes, and it is famous for its motorbike madness So you will get motorbikes very easily in all the towns and cities, if you want more CC bikes then you can also rent them by spending a little more. Talking about the license, you do not need International Driving License but in case you get caught somewhere, be ready to pay a fine. Luckily, we did not face such a situation anywhere. And the best option to travel between cities is the buses in Vietnam, You will get a bus or van to go to 99% of the places, which are also very budget-friendly, there are very less train tracks in Vietnam and maybe this is why it is expensive to travel in train here, but if you like the experience of a train a journey, you can definitely try it! Apart from this, you will get great options like a ferry, speedboat, and luxury cruise to visit the islands. So now, it's time for the big reveal I thought that I would have spent at least Rs. 30,000 But when I did a full calculation, I found that I have only spent between Rs. 25,000 to Rs. 27,000 It is getting a bit difficult to calculate the exact cost because I may have not noted everything So, Rs. 25,000 to Rs. 27,000 for 30 days I think this is very good, and accordingly I gave you average daily budget of Rs. 850 per day.
So, according to me, that was a lot of information, apart from this, if you want any information about a particular place or any issue, then ask me in the comment section, and I will try my best to answer all your questions.