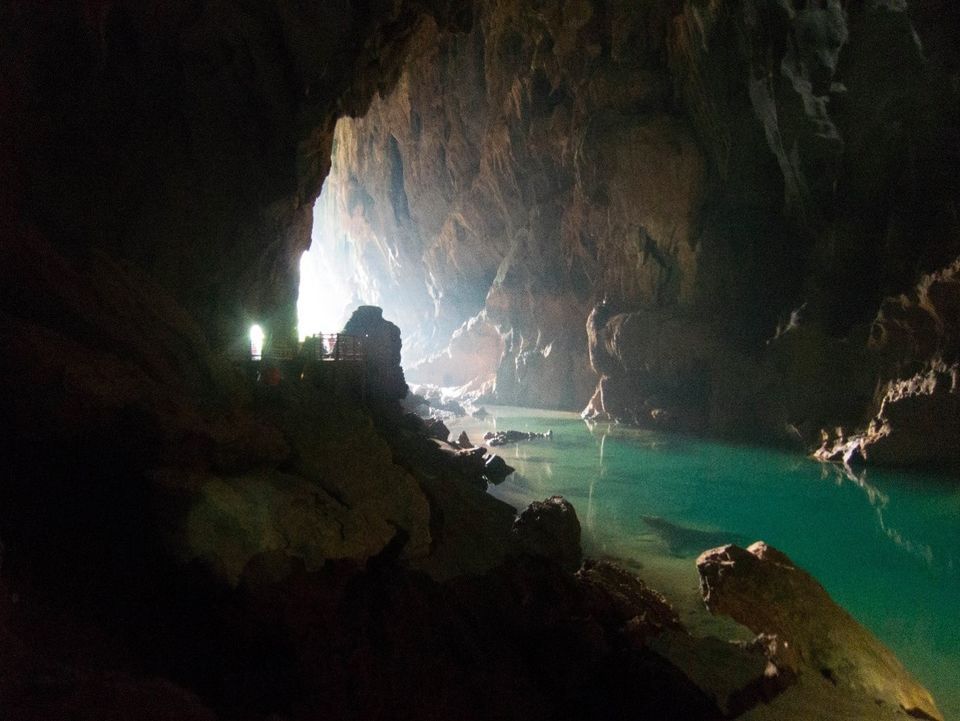 I finally saw it. The mystery, of witnessing something only imagined, unraveled.And it looked much beautiful than my imagination. The entrance to the dark cave in Phong Nha. Dark it was rightly called, not for the vibes it gave but because daylight seemed really far off. Helmets with torches were a necessity. The entrance approach was a quick zipline and a short swim . Thanks to my fleeting swimming skills, I scrambled across the mountain bushes to reach the cave opening, which was a high, triangular shaped, welcoming entrance. You get on to a wooden board-walk, look up at the mouth of the cave, and walk in until a point you turn your torch on. You wade slowly through the calm waters, its colours gradating from dark green to dark black as you go deeper in. If you looked back at the entrance, you would see the sunrays disappearing. The walls of the cave massive and adorned with limestone cones, not disturbing its beauty - only adding to it. You walk further through the narrow crevices, slippery with the water and gloppy gooey mud, and marvel at your surroundings.
I had imagined the caves in my head one week before I sat on a plane to Hanoi, little did I know that witnessing it in reality would feel this surreal. As a ritual I look up for videos and articles of what I should expect from any new land, and so I gathered information about Vietnam's diverse landscapes, street food, local culture, its people and the Vietnam war. Have you ever felt that with every place you travel, your imagination is validated with a different, perhaps better, perspective? Well, this country did that to me, and trust me when I say I got back home with more and better.
A close travel companion of mine, Ishita, and I decided to explore this country in November 2017. We froze to our inward and outward cities as Hanoi and Saigon, then set off to let our instincts and the weather gods to decide our course of journey along the way. We had 12 days on us, including the days of flying in and out.Considering the short time we had on us and the typhoon that had hit Vietnam, I think we did quite well. We met plenty of long term travellers along the way, some like us were moving north to south, while others in the opposite direction. These travellers are usually on road for months, and merge with one another headed towards the same town. Everyone's question to each other automatically was, "Coming from the north or south?"
Landing in Hanoi had a refreshing feel to it, bustling lanes with whizzing motor-bikers, most of whose faces were covered with a mask. Strangely there was no sense of hurry, or panic traffic situations. My benchmark of traffic chaos lies with the streets of Mumbai in India, which was why I wasn't as paranoid as the westerners who visit Asia for the first time are. People on the streets seemed much more thoughtful, because when a deadlock was sensed they co-operated well in order to let the traffic clear, unlike the busy, rude Indians back home. The sight was pleasant - sharp curved narrow lanes, with little shops on either sides & sellers having their meals on low stools outside. Our cab driver didn't speak english, and as days passed, we realised most people here didn't speak English. You eventually learn your ways to communicate effectively. Travel really makes you sensitive to others abilities , helps you work around best case scenarios in worst possible situations & most importantly makes you accepting to different cultures.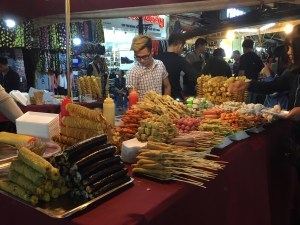 Images of the night street food scene in Hanoi stick with me still. Never have I been anywhere where street food is so embedded in the culture, such a part of daily life, as Vietnam. There's just something about scurrying your way through an intersection to grab a seat on a low plastic stool, and a spicy bowl of pho. We were missing out on a lot of local food variety, so we introduced ourselves to a walking food tour in Hanoi, with two University students as our guides for the evening. The most striking thing about Vietnam is the politeness and goodness of its people. Nick had an infectious way of speaking , from easing a conversation with a seemingly serious tone to drawing polite parallels with other cultures. As outsiders, we tend to judge other cultures, different from our own; but each of them have their unique legends, folklore and long line of history which when put together starts to make sense.
One such interesting legend is that of Ha Long Bay, a popular island lying in the North of Vietnam . It states that long ago when the country was newly formed, the Vietnamese forefathers had to fight against invaders coming from the North by sea. The gods from the heavens watched on before sending the Mother Dragon and her children to help the Vietnamese to defend their country. The dragons descended upon the earth, incinerated the invaders and spat jewels of emerald that upon hitting the land, turned into islets that formed defensive walls. Today they still sit in Ha Long (The descending Dragon) and Bai Tu Long(Bow down to the Dragon Children) in form of approx 2968 karsts / islets.
This country is of so much geological importance, which is what makes its landscape stunning and full of wonder. Technically, the limestone in this bay have gone through 500 million years of formation. The evolution of the karst in this bay has taken 20 million years under the impact of the tropical wet climate. Kayaking around these islets was a feeling I have never experienced before. I suck at swimming, but the fear of drowning was nothing compared to the victorious feeling of manoeuvring through the limestone karsts amongst barking dogs on floating villages. And not just that. The waters so green, the karsts so random, the silence so peaceful , interrupted with echoes of our squeals, was next to surreal.
Talking of surrealism, an unexpected recommendation from a friend led us to visit Phong Nha, 500 km south of Hanoi, our first destination in the Central of Vietnam. In travel guides for Vietnam in 10 days that had I referred , this place was a no where mentioned. I'd also posted on Quora to check what people had to say if I had to choose between Mekong Delta and Phong Nha, I got just one response on Phong Nha. And unfortunately a fortnight before we travelled, central Vietnam was hit by typhoon Damrey, one of its worst in decades. Online forums warned us that if Phong Nha rained, then you couldn't visit the caves. Still, definitely the riskiest yet brightest decision we ever took.
Phong Nha is an incredible place to visit, for its lush green mountains surround you whichever side you look . It hosts the largest geologically evolved cave system in the world. This place is where we saw more miracles of nature, the largest cave in Asia that runs 31 km long, the dark cave & the thick dense forests. Interestingly, Phong Nha has a strong sense of community, and if you observe well, you will notice that all locals have a strong brotherhood that preserves their ecosystem. And after feeling so much wonder in a day, the evenings have a choice of swaying to live music, chugging barrels of beer at the Easy Tiger Hostel, or taking a long walk along the deserted road with mountain silhouettes against the dark black sky in a drizzly atmosphere. Of which I did both. I was also incredibly lucky to meet a beautiful soul, who will always hold a special place in my heart. From Phong Nha down south, lie 2 towns Hue and Hoi An, which should be on the must visit places in your Central Vietnam itinerary.
Hue is a beautiful town with a mix of royal, folksy, modern and traditional architecture, wide roads, cafes, hotels, palaces and pagodas. This town seemed so poetic and romantic, even though it was pouring our spirits down with the heavy rains. The glimpse of this town was enough to entice a strange belongingness somehow. This town looks palatial, owing to the fact that it seated the Nguyen Dynasty emperors until 1945 and was the national capital of Vietnam. This town is also known for the Battle of Hue, which was one of the longest and bloodiest battles fought in the Vietnam War.
The Reunification Express, that connected Hue to DaNang, was waiting for us at a near to deserted station and its blue coloured wagons stood out in the background of the grey skies. Terrible weather conditions make a departing a place all the more memorable and dramatic. This train runs through the Hai Van Pass, an epic mountainous stretch along the coast of South China Sea. The mist from the sea rises into the forest , and clings to it, which is why it is also called the Pass of the Ocean Mist. The views are spectacular and you see the waters from the sea splashing along the coast as your train chugs through the Pass surrounded with the Marble mountains. You end up wanting more of it, and that view goes on for 2 solid hours.The Hai Van Pass was also known as the Street Without Joy because it carried the dreadful burden of the Vietnam War.
A quick dive into Vietnam's not so far history will give you a better perspective of the current state of Vietnam's mind. Vietnam was under the French colonial rule since the 19th century. During World War II, Japan invaded Vietnam too. To fight off both the forces, the political activist Ho Chi Minh, formed a communist party "Viet Minh" in the north. Following defeat in World War II in 1945, Japan withdrew its forces from Vietnam. While Ho's forces formed its communist party up north, France backed the then Vietnam king Bao, to form a capitalist state in the south. Saigon as its capital. Although both sides wanted a unified Vietnam, North Vietnam wanted a communist model and South Vietnam obviously wanted close economic and cultural ties to the West. In 1954, Ho's Viet Minh defeated the French, which ended a century-long colonial rule in Indochina. During about this time Cold War was intensifying worldwide and America hardened its policies against communist states; pledged support to South Vietnam and sent its troops to fight the communist forces. By November 1967, the number of American troops in Vietnam was approaching 500,000. One of the worst decisions of US history was aiding the Vietnam war, which not only pierced its image of being invincible but also questioned its stance on humanity. The bombing campaigns of the Vietnam War were the longest and heaviest aerial bombardment in history. The United States dropped approx 7.6 mn tonnes of explosives, leading to a bloodbath of approx 2 mn innocent lives. Back home, Americans were divided into 2 cohorts: 1. supporters of the war for "patriotic" reasons and 2. others who protested the Vietnam War. The US backed off only in 1973 through peace talks. In 1975, North Vietnam captured Saigon, renaming it Ho Chi Minh City. All of this goes to show the destruction that Vietnam had to bear as a country - emotional, psychological and physical.
Bret was also travelling with us for a bit and I couldn't help but notice how even after introducing himself as an American, with the absence of ill will or recrimination, the Vietnamese were compassionate and humane. Moon, the owner of Paddys Hostel in Hoi An never said to him, "Look what you did to us", instead she said, "It was not you, it was your government." Just goes to show how important resilience and kindness is, for want of a better world.
With my experience so far, North & Central Vietnam was humble & traditional; something that changed drastically as we moved to Saigon in the south. In Saigon's defence, we spent only a day there (my immediate assessment was that it was slightly brasher). Saigon, known as the liberal one, has a more spontaneous and open feel to it with young enterprising aspirational population and has different stories to share about itself. With the Fall of Saigon, between 1975 and 1980, more than 1mn northerners migrated to the south and central regions, and in turn, displaced Southerners from their homes, forcibly relocating them to uninhabited mountainous forested areas. Now here are the stories that I heard in Saigon.The families who were once rich, suddenly had to give up their lands and homes to flee, which you may also recall is predominantly the story of most grandparents no matter which country you reside. The guide who arranged our tour to the Cu Chi tunnels mentioned how unfair to Southerners this was which makes you realize just how much humanity war can destroy.Having put up at a hostel in District 1, the financial and commercial hub of Saigon, I managed to scoot up to the pub crawl area behind the lanes of our hostel and have some dinner while I could see women standing on the roads inviting on-goers to their loud pubs. Saigon looked more modern a metropolis, compared to its counterparts in the North.
With Saigon, we ended our travel tryst with Vietnam, leaving us to come back for more. Of all the stories, the one that strikes most is the re-unification history of Vietnam - mainly that of struggle, against the French, the Japanese, the Americans, against South Vietnam ideologies and later the Chinese too. Warfare had demolished the country's infrastructure and economy, but reconstruction proceeded slowly. Also prone to natural calamities Vietnam thrives in the continual resurrection.
Never blaming, complaining, nor looking for pity, Vietnam is winning hearts because it is tenacious, united and resourceful, and that is also how it is rebuilding its economy. The spectacular dark cave, the one that I imagined in my head before visiting this place, suddenly held a different reality. A reality of the spirit of humanity in Vietnam, the one reality that is everlasting.
Footnotes:
https://sondoong.info/son-doong-tours/phong-nha-ke-bang-adventure-kayaking-and-zipline.htmlhttp://www.redcranetravel.com/vietnam/interesting-facts-about-halong-bayhttps://www.paradisecruise.com/halong-bay-travel/the-legend-of-halong-bay.htmlhttps://www.halonghub.com/blog/mysterious-legends-of-halong-bay/http://www.bbc.com/travel/story/20120416-mini-guide-to-hanoi-vietnamhttps://www.theguardian.com/travel/2016/nov/20/vietnam-caves-phong-nha-homestays-tourshttps://www.onthegotours.com/Vietnam/Very-Vietnam-10-days#inclusionshttps://www.insider-journeys.com/blog/10-days-in-vietnamhttps://www.tripadvisor.com.au/ShowTopic-g293921-i8432-k4857803-Best_itinerary_in_Vietnam_for_10_day_trip-Vietnam.htmlhttps://globalnews.ca/news/3848108/floods-swamp-vietnam-ahead-of-apec-summit/https://en.m.wikipedia.org/wiki/Phong_Nha-K%E1%BA%BB_B%C3%A0ng_National_Parkhttps://www.lonelyplanet.com/vietnam/north-central-vietnam/phong-nha-cavehttps://www.roughguides.com/article/phong-nha-ke-bang-national-park-vietnams-last-paradise/https://www.travelfish.org/location/vietnam/north_central_vietnam/quang_binh/phong_nhahttps://thevietnamwar.info/us-presidents-during-the-vietnam-war/
Frequent Searches Leading To This Page:-
India To Vietnam Flight Cost, Hyd To Vietnam Tour Package, Vietnam Travel Package Deals, Northern Vietnam Tour Package, Cheapest Vietnam Tour Package From India, Vietnam Tour Package From Kerala, Vietnam Tour Package For 3 Days