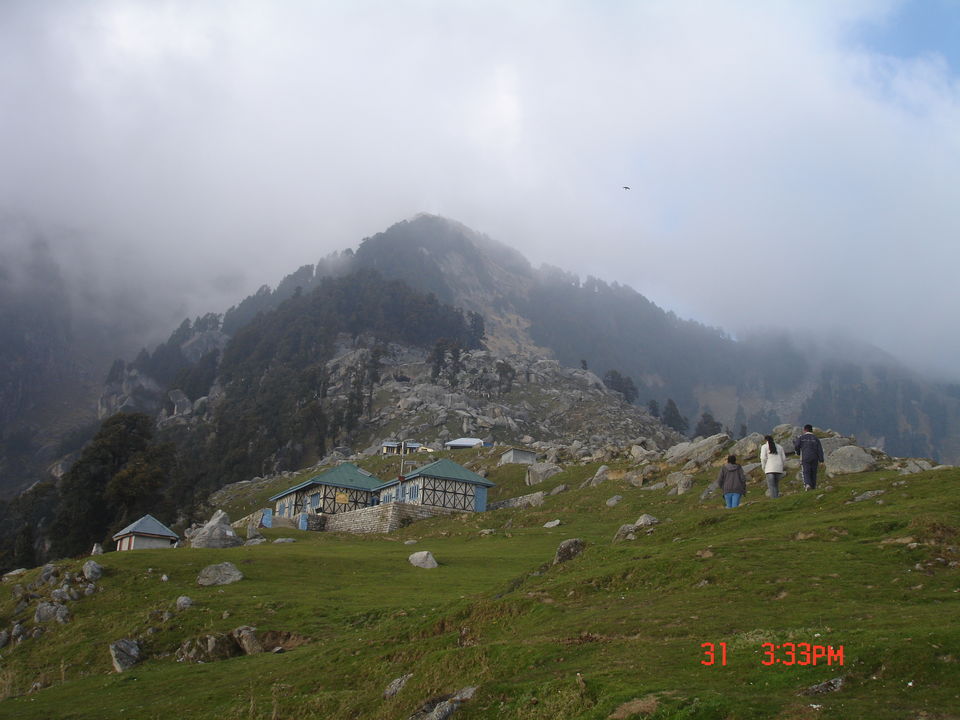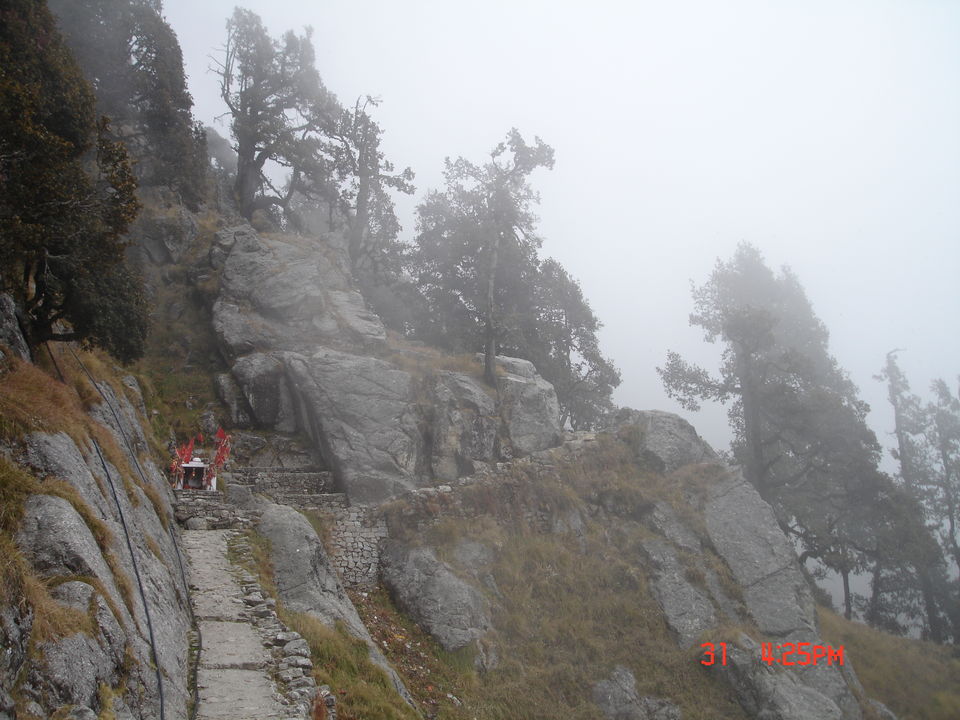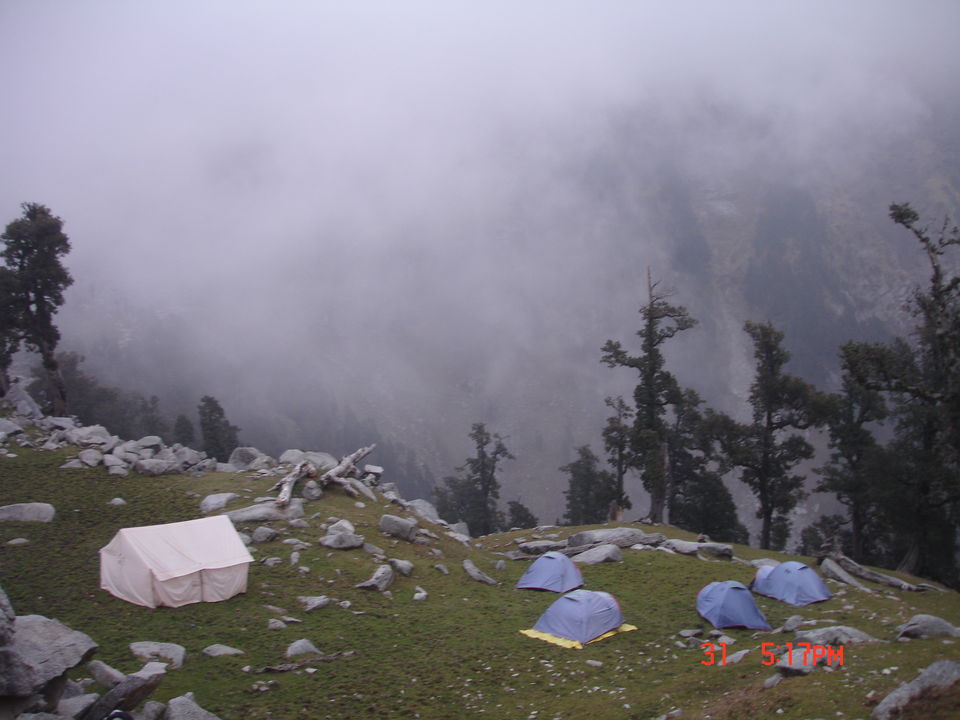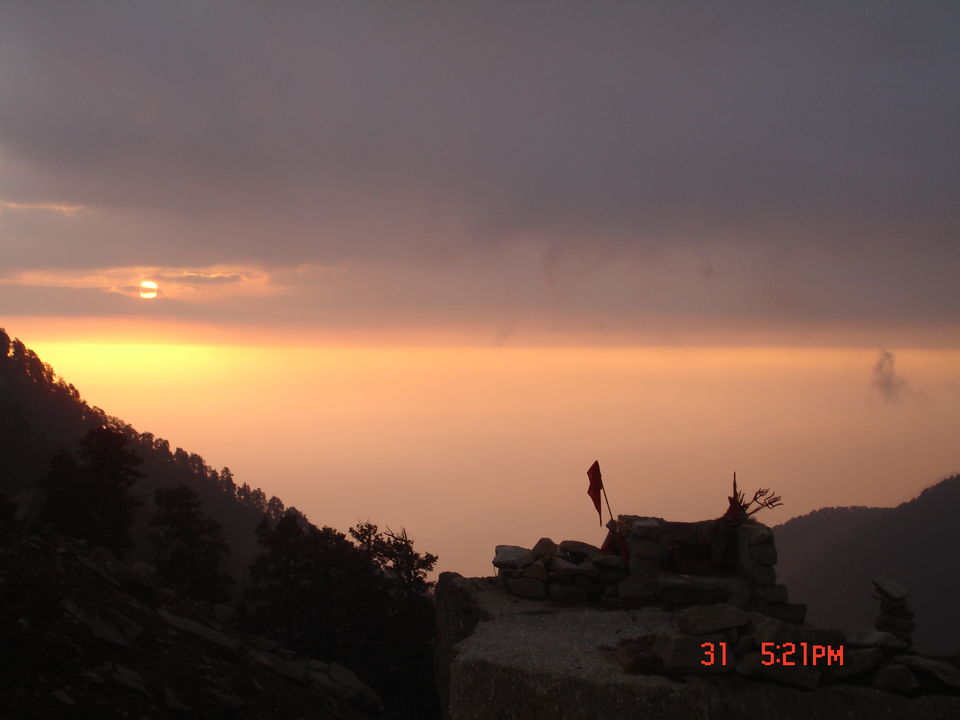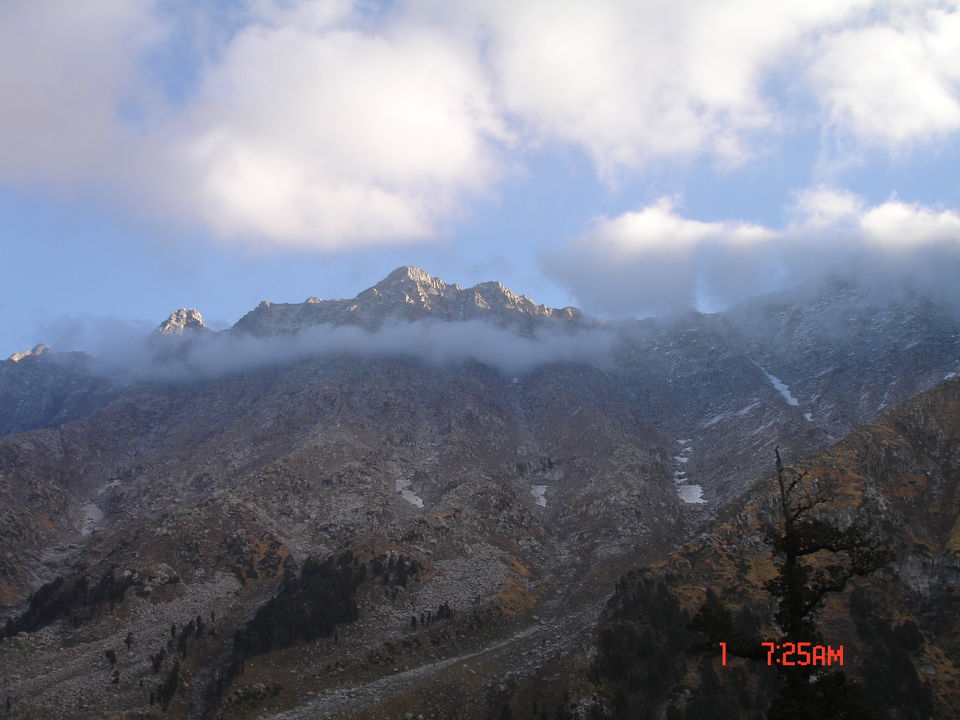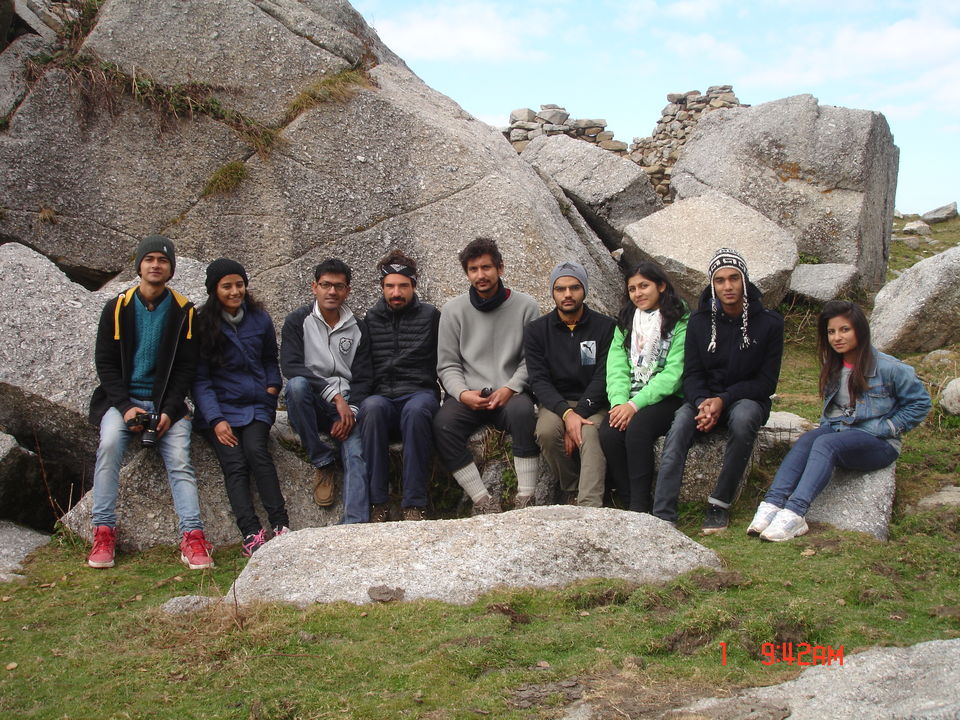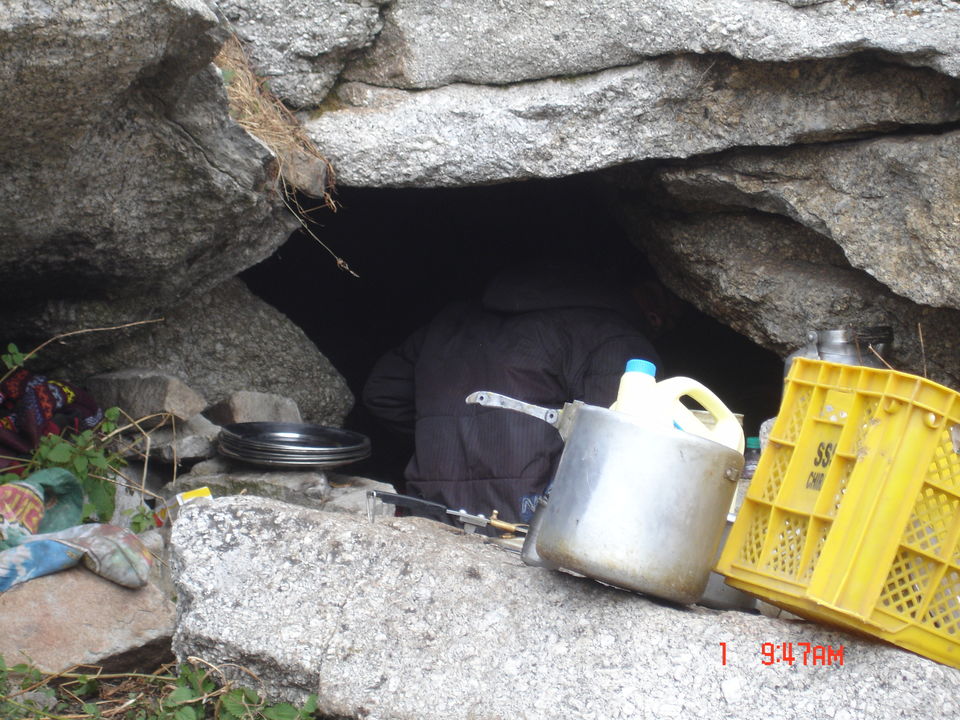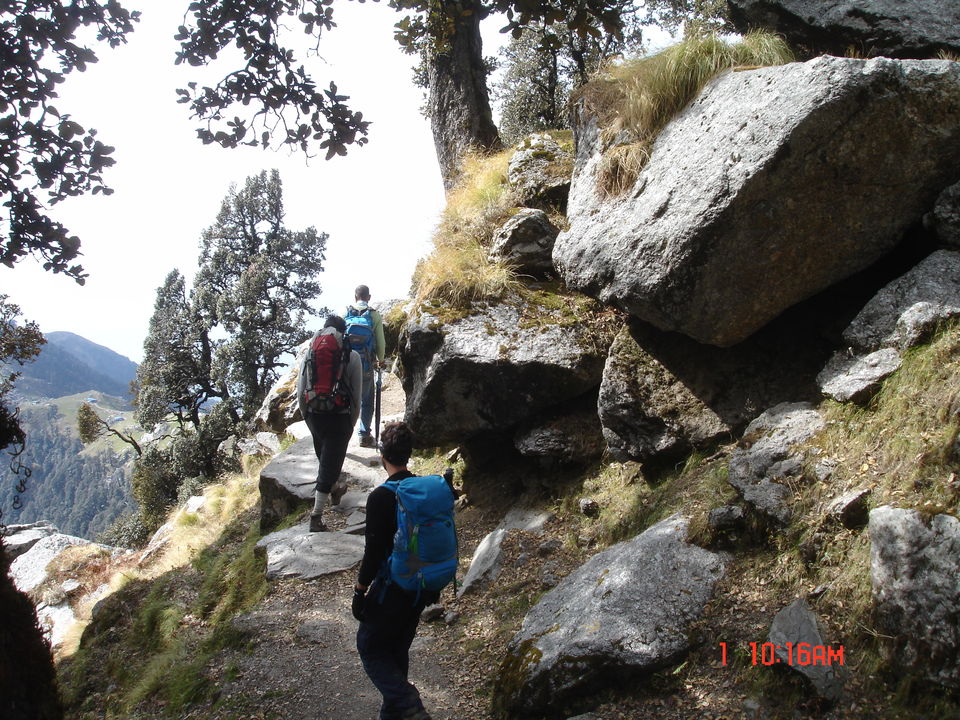 Kaun BC kehta hai ki Triund Ka trek aasan hai (Who the hell says that Triund trek is easy), yelled a guy. Hahahahaha! Well I agree with him. You are bound to experience epiphany reaching the summit as THIS IS NO EASY TREK; it's strenuous and bone shattering to the very core. But then there lies the answer why we trek. Filled with sheer joy when I reached the top and awed by the imposing Dhauladhar Mountains in front covered in snow. The lush greenery only adds up to the nirvanic vistas. Triund is no doubt a trekker's paradise. What greater joy is there being treated to a splendid mountain view, getting up in the morning after having a blissful of a sleep under the stars.
After an overnight journey from Delhi, I reached Dharamshala at about 5am, still contemplating my trip to be. All I had as a target was Triund. No detours. A cup of freshly brewed hot tea helped me brave the morning chill and the time to organize. The first local bus to Mcleodganj was at 7.30am; I had too much time to spare. I dwindled aimlessly in the dimly lit city roads waiting for the daybreak. I stumbled upon a group of elderly Bongs. They were bugged to see me alone. Upon being asked, I told them the places of attraction around, monastery, cricket stadium, gallu temple, dal lake (Triund of course not). What startled me was they enquired about Sach pass. All I could say was its very far and not easily reachable. They decided in unison, "stadium jawa jak tale". Bongs! (i'm one too btw). We exchanged "happy journey(s)" and parted. With the dawn setting in, I could see a shared taxi parked near the tower (landmark). There were only three passengers sitting. 8 more could fit in. It's better to leave early even if it saves me 15 minutes, I told myself. I needed to find co-passengers. I headed back to the bus stand and found a group of college students, from Thapar. I asked them to share the cab ride but they were waiting for the bus which was told to them would leave by 7 (I was told 7.30). I asked them to check again; it was already 7 and there WAS NO bus. They were convinced that rather waiting half an hour, an immediate shared cab, makes more sense (The bus charged 10rs and the cab 15rs). Within 45 min we reached McLeod Ganj.
Mc Leod Ganj is a bustling market, more like sprawled between 9-3 of a clock. 9'o clock points towards the Mcleod Ganj bus stand & a line of food stalls, the 12 points towards the way towards Gallu Devi temple till which you can go by cab (which is starting point of Triund trek), couple of family restaurants, sweet shops and the 3 leads you to fancy cafes which are flocked by foreigners and of course the famous Namgyal Monastery – the home of the Dalai Lama, down the alley. Oh most importantly there's a liquor shop at quarter to 10. All shops open at 8am. Sharp. A light breakfast of tea-bisuits & I rolled out to visit the monastery first. Incidentally, totally undeclared, 'The Dalai Llama' was visiting that day. For the same reason security was heavily upped and no photography was allowed for that day and I had to deposit my camera & phone at a counter before the entrance. Inside the monastery, there is a prayer area for devotees where they sit & read holy books inside boxed chambers, chant, meditate. The room with monks meditating in front of a big Buddha statue reminded me of the movie, Seven Years in Tibet. The echoing chants throughout the complex filled me with much reverence, I felt so peaceful within, such is the harmony exuded by this divine sanctum. The open lecture space was being prepared for the Dalai Lama visit. After much wait, his Holiness entered receiving a loud cheering from the crowd. As he walked, the crowd turned high octane devotees, as much as they wanted to touch their God, they were barred by the security besieging HIM. Some even managed to lie down and fold their hands facing towards his feet (prostration). Their faces screamed 'please deliver us from our evil'. HE blessed the 'lucky' ones placing his palm on their heads. I hope they were revived. After being seated, HE gave a speech and since he was speaking in the native Tibetan, many people had radios (available there) in their hands which translated what the Dalai Lama was saying. After a while, an interesting round of Buddhist debate started regarding life and philosophy, from what they are taught. The defenders after answering clapped (or rather slapping) their hands leaning forward. Obviously I didn't know its significance why they are doing so. After irritating a couple Buddhist scholars, did I get to know that it is an act of emphasis to their answer. Why I love traveling is I'm vis a vis new things, places, people, culture etc; traveling is informative per se. While leaving, a guy who was taking pictures, I told him Dalai Lama is in there. He wasn't aware, he got so excited that he rushed to enter but then I told him you have to deposit your camera. At the counter as I collected my things, the guy told me he had come for a 10 day meditation course at a Vipasana centre somewhere around. Explains his thrill!
After a lavish breakfast at Moonpeak Espresso (really good sandwiches), I searched for my transport to gallu. I was lucky to share a taxi with a group of Hamirpur students (Per taxi charges 400rs). Reaching Gallu, there was a small setup by the PWD guys for registration, a mandatory thing. A downward route along the pipelines goes towards Bhagsunag falls; I kept it for the next day. All of of us were banzai for trekking. The trek route is completely rocky, pebbled which I guess even felt punching through my woodland shoes. It's roughly 12 kms and highly exhausting, getting steeper with every step(so it feels). On way, couple of stalls urged me to take a break. At every pause, I could only sink in the beauty of the valley. I saw many foreigners & was especially happy to see young college goers. I laughed at myself thinking at that age the only trip I made on weekends was from hostel to n fro home (Bleh!). I spotted a couple of paragliding chutes. For once I was glad & thought maybe Triund also offers paragliding but then it had struck me it was the last day of the paragliding competition at Bir Billing. That was that. Finally reaching the top, the view was heavenly! I was ecstatic. Though it was a bit misty, I could see the Dhauladhar Mountains covered in patches of whites as it played hide n seek behind the clouds. The vivid green meadows simply uplifted the mood. The dew wet earth, only enriched the ambiance. Nature=Tranquil.
I met the Thapar-ians again. They looked completely weared out. That was when one of them 'yelled'. All broke into thud-dering laughter. Many people had pitched their tents. On the way and even after reaching the top, people had mentioned that there is a place 3kms further which is much less frequented by travelers. I thought, why not try going beyond triund. A guy from the PWD rest house advised me to follow the yellow markers he pointed at. It was already, 4.15pm and I wanted to make it there before dark. Following the directions, I reached a point where I wasn't able to find a marker. The assemblage of rocks was all the more confusing. I was all alone on the track, no one to be seen either way. I patiently searched for it swinging my head from left to right like a pendulum. Luckily my eyes fell onto it, the petite marker revealed itself from the obscurity, behind a couple of rocks. Finally reaching my destination 'Snow Point' after crossing the 'Snow Line' campsite, I felt blessed to have taken up this 3 kms extra hike, sheer serendipity. God was busy painting brilliant hues across the landscape. Beauty & tranquil stood still while I sat on the rocks and stared at one of the best sunset. Life's best moments. While the twilight lasted, I looked for some home sapiens. When I had reached there were tents but there was nobody. But after bellowing a while, the guy who managed the place showed up and he fixed me up a tent (cost me 500rs). Couple of foreigners also showed up, a Swiss-Timo and an American-Emanuel. Emanuel could speak proper Hindi, turns out his mother is from Jalandhar. They had just come from a short hike from a place where it was full snow and indrahar pass was visible. Later in the evening that hamirpur group also showed up. And that was the last of the crew. In total we were only 9 people up there, far from the noise of Triund. The evening fog soon cleared up to make way for the Intergalactic display of a zillion stars. Even a DSLR couldn't capture what the eyes could. A close friend of mine once said that eyes are the best lens ever created. Touche. A bonfire was lit up and soon all of us got chatting. Time passed away as we shared stories and laughter. I had a simple dal-rice dinner with Timo inside a cave where it was being cooked and served hot. The night gave way to a biting chill. A borrowed jacket wore over my own kept me warm somehow through the night. Although I had difficulty in sleeping as the ground was hardly flat and I suffered cramps no matter how much I tried making myself lie comfortably in the sleeping bag. The next morning I woke up kind of distorted and the only healing was done by fresh air and tea. After getting a group picture clicked as a remembrance of my stay and the lovely people I put up with, I started the descent with the camp owner and the foreigners. On the way down I was amazed to see a (foreigner) mother with her three little kids, more like toddlers, (applauding mentally). I wonder any Indian parent would ever do such a thing.
The last thing on my itinerary was Bhagsunag falls. After reaching the PWD checkpoint, they directed me to follow the pipelines. The waterfalls is about 6 kms from here. I had to constantly ask people for directions, its way too perplexing . It was on this route that I saw the Vipasana centre, teeming with many foreigners. Reaching the Bhagsunag falls was a big disappointment for me. I had seen better waterfalls during kheerganga and Jibhi trips. At bhagsunag, there is no way you can come under that waterfall as it slopes down the rocks straight into the pool of water which generally is crowded by people, and I was hell tired that day continuously walking. There is a swimming pool and a temple complex from where it's a 1km hike to the waterfalls. I decided to take a dip in the swimming pool instead. How much I wished I knew swimming. But then I enjoyed idling away in that cold water. Rather than self loathing, enjoying the smallest of things is the best solution after all. I got out after a while and headed back to the bus stand.
An end to another hallmark of a trip to Himachal. Every trip initiates my drive for the next one as it's never enough. Going incognito while traveling has made me ingenuously happy and hopefully soon enough another trip to the mountains will happen.