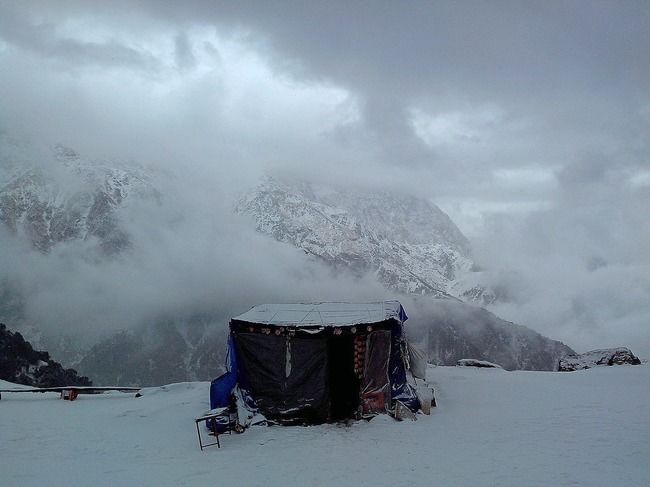 Back in Jan 2012, I took my first trip to Triund. Triund is situated in the suburbs of Dharamshala, Himachal Pradesh and is at an elevation of 2842 meters above sea level. There were a lot of questions floating in my mind somewhat like what is trekking? What all things would I need there? How will I reach there? Like any other notorious guy I just threw all my thoughts aside and left for ISBT, Delhi. I had an idea that we get a Volvo bus to Dharamshala from there. I spoke to a local tour & travel guy and got a ticket for just ₹700. Generally you don't get these private Volvo buses directly from ISBT. So to catch these buses you have to walk a little from the main ISBT to the road that connects to the Grand Trunk Road. I was standing on the road, waiting and suddenly realized I haven't got the most important thing for the trip. Cigarettes!! I rushed to the nearest shop and grabbed a pack. As I lighted up a smoke I saw the bus coming. Finally, I took the bus that changed my thoughts about traveling and turned me into a travel freak.
3 AM: Our bus stopped at the gas station. I got off the bus, lighted a cigarette and was enjoying the cold breeze. There was a white guy who was staring at me. I just went up to him and asked "Where are you from?" He said Holland. I asked him whether he came to India for the first time. The answer that he gave shot my brain. He said he owns a house in Dharamshala. Every 6 months he visited India just to get the inner peace from the Himalayas. I turned around to get into the bus and there was only one question I was asking to myself. What kind of a guy is he? Either he is some stupid guy who is wasting all his money to travel to India every 6 months or is he living the life to its fullest. As I continued my journey I understood, what peace he was talking about.
7 AM: I was standing at the McLeodganj bus stop. McLeodganj also known as "Little Tibet" is a small town situated 5 kms from Dharamshala which is known for its monasteries, temples, Bhagsu Nag waterfall and Shiva Café. We got off the bus and the first thing came to my mind was "chai". There is a small tea shop at the bus stop itself where you get to see a hypnotic view of mountains. Ankit and I were enjoying the weather and the hot cup of tea and we encountered a guy who perfectly looked like any other software professional like we did. His name was Nitin. We started talking about phones and all the new technologies and got to know that he worked just next to our office. We started to talk about Triund. He had no idea where it was neither did we. We asked a cab driver and he guided us how to reach Triund. Nitin got so excited about Triund and asked if he could join us. We were ok with it as he seemed to be a nice guy. He was actually supposed to meet a friend from Russia who was staying in McLeodganj. He dropped his plan and decided to go to Triund us.
We asked the cab driver to drop us to the point from where the trek to Triund starts. Before I tell you about the place I would like to tell you about the cab driver. He was really short in height and seemed to be around 30. The way he was talking about the place I easily made out that he was experienced and knew the place well. The best part was his name "Gajni". Yes!! Gajni was his name. A guy with short height and really short hair whose name was Gajni. You can still ask for him at the taxi booking corner right opposite to the bus stop in McLeodganj.
Now let me first tell you something about McLeodganj. I see McLeodganj divided in 6 different streets. Each street leading to a particular place of attraction. Street 1, the bus stop street. Here you find taxis, autos, local and interstate buses. There is a taxi booking table at the corner of the road which has a defined fare list to all the destinations. So you don't have to worry about getting over charged by localities. Street 2: Right opposite to the taxi booking stall. This street leads you to the Dalai Lama temple. On your way to the temple you will see beautiful cafes which offer a large variety of cuisine starting from German bakery to coffee cafes playing amazingly good music. As you continue on the street you will see Tibetans selling some really good stuff related to their religion. The best I would suggest is the "singing bowl". Street 3: This is the parallel street to the temple road. Here you can find some cheap rooms to stay. All hotels have almost the same bedding and comfort. Don't go on the looks. Consider small lodges over the big hotels as the room size is almost the same. But prices may vary to a great extent. Street 4: "The Bhagsu Nag Road". This road leads to the Bhagsu Nag temple and waterfall. You can even find some good hotels on your way to Bhagsu Nag. A bit expensive but great if you like to stay away from all the rush at the main square or the temple road. Will come back to this when will talk about Shiva café. Street 5: This leads to a small quiet village/town known as "Dharamkot". This is a home for peace lovers. Not much crowded, plenty of flowers, small cottages, common area for a bonfire and the Pizza café. I don't exactly remember the name but yeah just next to all the cottages there is a café that serves pizzas. Really good stuff. Street 6: Just parallel to the bus stop and leads to the "Dal Lake". I haven't explored it much but if there is a snow fall, this is the best place to go for a walk. Dense forests all around, everything covered with snow, totally isolated. By isolated I mean there is no commercialization on this street as of now.
Let's get back to the taxi driver now. As he suggested, the best way to reach Triund was to take a taxi to the base camp i.e. Gallu temple. The trek starts from there itself. It's a 9 km trek and I will rate it level 2 which is suitable for beginners. There is a diversion at the start of the trek which leads to Naddi. Naddi is known for its greenery.
We agreed to what Gajni said and headed towards Gallu temple. Gajni helped us to get a room at Dharamkot. They charged just ₹300 for a room. We threw out luggage and headed to the base camp. The way to Gallu temple was really scary as the road was full of stones and very narrow. The maximum speed at which one could drive on that road is 10 km / hr. I would suggest you not to take your own car as one needs perfection to drive on such roads. You get a taxi for just ₹300 - ₹600 depending upon which car you take.
Finally we reached the base camp and were really excited about the trek. I asked Gajni if we need to take care of anything during the trek. The statement that he made scared the hell out of me. "Agar sab shaant ho jaye toh wapas aa jaana. Ye tufaan se pehle Ki shaanti hoti hai". After 15 mins of walking there was a diversion and we were lost. There was no one to guide us. Then I found a stone on which there was an arrow sign and was written Triund. The sign was faded and one might not notice such a thing. We kept walking for almost 2 hours and with every turn we took there was only one question in mind. How far is Triund?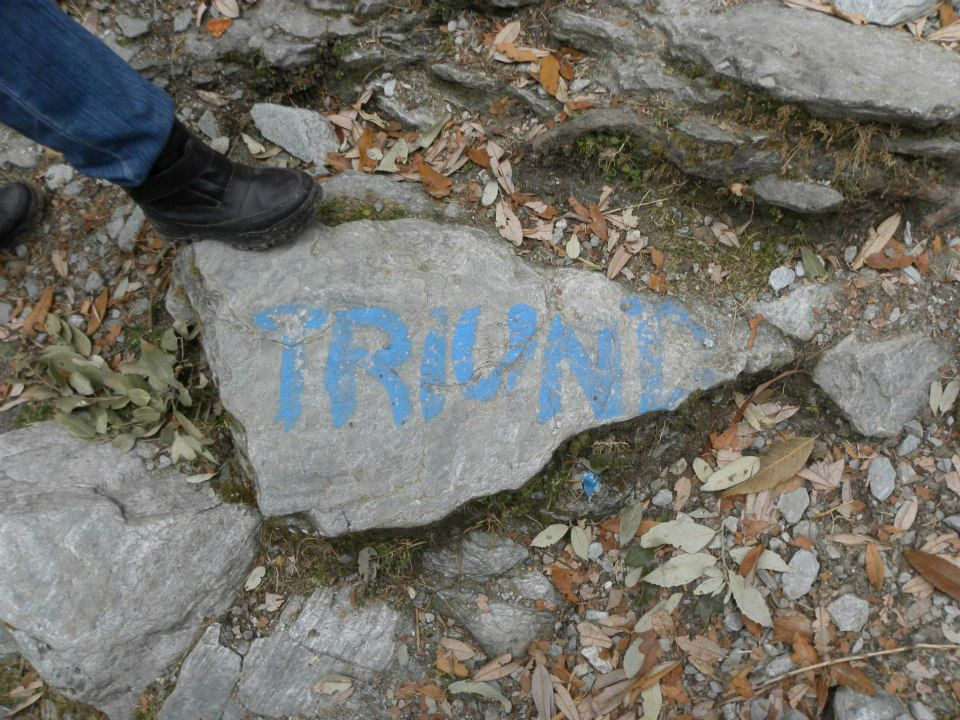 After walking for about half an hour more we reached the "Magic view point". This is the only tea shop on the way where you get almost everything you need for the trek. Umbrellas, torch, energy drinks, munchies and even Rum if you know how to ask for it. We grabbed Gatorade and few packs of biscuits and continued walking.
Half an hour later, as Gajni said everything turned silent. No winds blowing, no sound of trees. All we could hear were our footsteps. Later, I saw a small drop of snow dropping at my feet. I was excited as this was my first snow fall. It took only 15mins and everything around me changed from green to white. At first it was fun but as time passed by things turned a little dangerous as we were not prepared for this weather. The temperature suddenly dropped and there wasn't a single person around us. I decided to trek down but Ankit forced me to keep walking as he dint wanted to leave it unfinished. I took out my binoculars and looked down to see if someone's there. I saw a couple coming along with a guide. I felt a bit relaxed and decided to wait for them. Once they reached our point, we started walking again. One should have all required stuff for this type of climate. Umbrellas/raincoats are must.
After 45 minutes the trail ended and it was time to see the heaven; "HIMALAYAS". I reached "Triund"! I turned my head around and all I saw was snow covered mountains. The clouds were under my feet. The view was breathtaking. All I felt was "PEACE". No one around. No pollution. No traffic. No commercialization. No concrete. Nothing at all. It was the "BEAUTY OF NATURE". I have no further words to explain what it felt like. The picture below portrays it all.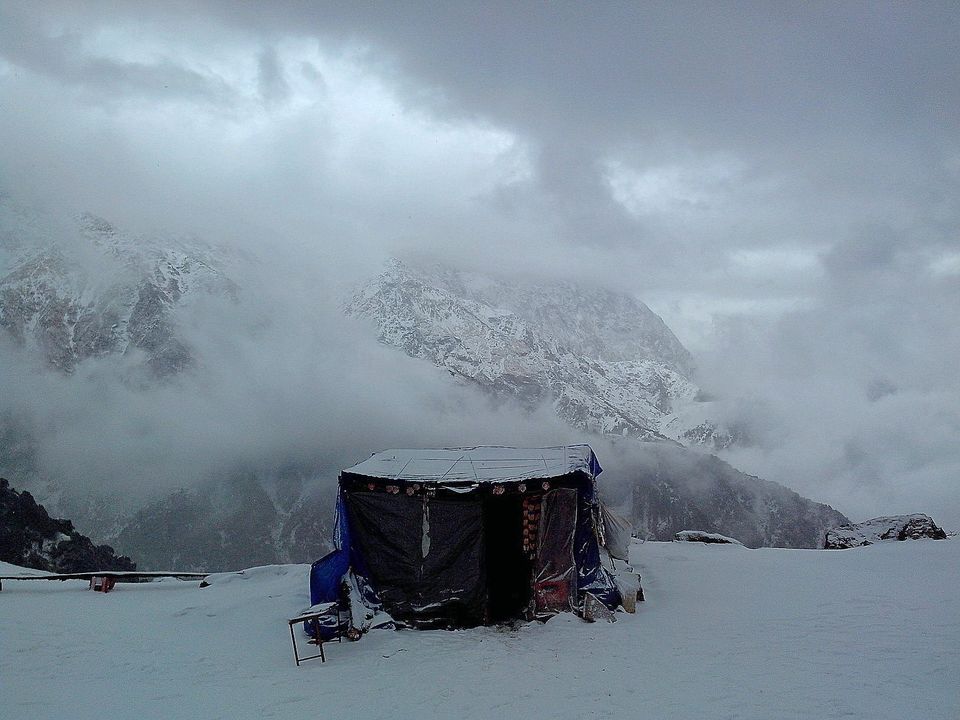 Here you will find two small tea shops who arrange tents, food and all other necessary items for camping if you would like to spend a night. The average cost of tent is 1000 maximum. A cup of tea costs 25-30 and Maggie noodles for 75. Don't crib about the cost of food as it is quite tough to get the stuff from Mcleoodganj to Triund on a regular basis. These guys deserve it. They also arrange for bonfire at night if it's a big group.
We took pictures for the next half an hour. Enjoyed the view, had tea and headed back to the base camp as the weather was getting worse. There was no point taking risk of setting up a camp. Even the tea shop owner was getting ready to trek down. It took us 2 hours to reach Gallu temple. By this time it was raining heavy. We had no conveyance to reach Dharamkot from Gallu. It's just half an hour walk from Gallu. We decided to take the short cut that generally localities take. Start walking on the road right opposite to the temple and after around 1 km you will find a trail going down to your left. You can take this to reach Dharamkot. It won't seem tough. After all you will have a lot to think and talk about after enjoying the view of Triund.
While trekking down all we had to talk about was chicken and rum. After all we were starving. Finally we reached our cottage in dharamkot. Now things turned a bit worse. The cottage was owned by a lady who lived there only. She rents out the first floor of the house to tourists. Since it was off season and there were not much tourists in dharamkot she refused to cook for us. So, in case you are planning to visit triund in winters, don't expect much from dharamkot. All she had to offer was tea. We had nothing to eat. There is no market open till late in dharamkot. It was dark and we decided to reach McLeodganj to have some good food but the question was how to reach McLeodganj as there was no taxis in dharamkot. The lady at the cottage suggested us to walk till McLeodganj as it is just 3 kms from dharamkot. Luckily I had Gajnis contact number. We called him and forced him to come and pick us up. After almost 1 hour gajni showed up totally drunk. He was not in a condition to drive butt we had no other option. It took us 30 mins to reach McLeodganj. During the whole ride, I was worried because the way he was driving was really scary. Twice it so happened that we almost slipped into the cliff.
We reached McLeodganj and took a hotel near the main square. Here you can find a hotel for just 400-500 in offseason whereas the room would cost somewhere around 1000-1500 in summers. We rushed to a restaurant and had the most amazing food of the trip. After all it was "butter chicken". It was raining in McLeodganj. As we headed to our hotel I encountered a yet another amazing person. He was the owner of the confectionary store just above the "Black magic" club. We started to talk and he told us that he shifted to Himachal 7 years ago and was a software engineer in Bangalore. Black magic is a so called bar in McLeodganj and is almost empty most of the times. Who would love to go clubbing in the mountains. This confectionary store at the upper ground level is one of the best stores in McLeodganj. Here you can buy all imported cigarettes, cigars, juices, perfumes, chocolates, etc. The best part is you get to listen to good music in the store. I asked him if there are any chances if it would snow here in McLeodganj. Since it was mid of January, he was quite sure that it will not snow. But I had a strong feeling. We stood there for almost an hour and kept talking about nature, music, software companies, etc as we enjoyed the bonfire and the joint that he rolled for us. Later, we were all set to get drunk. We reached our hotel and enjoyed rum. We became really good friends with Nitin. He was a stranger all together but we were comfortable as it takes only a minute to know if the person is genuine or not. This is my personal opinion. You are free to think differently. It was getting really cold and I decided to check if it was snowing outside or not. I went outside and I saw that the whole balcony was covered with snow. I couldn't wait till the morning. It was already 3 am and I decided to sleep.
I woke up at 9 in the morning. I lit up a cigarette, ordered tea and enjoyed the view from the balcony. The sky was clear and the whole town turned white. Everything around was totally covered with snow. Everything seemed beautiful and peaceful.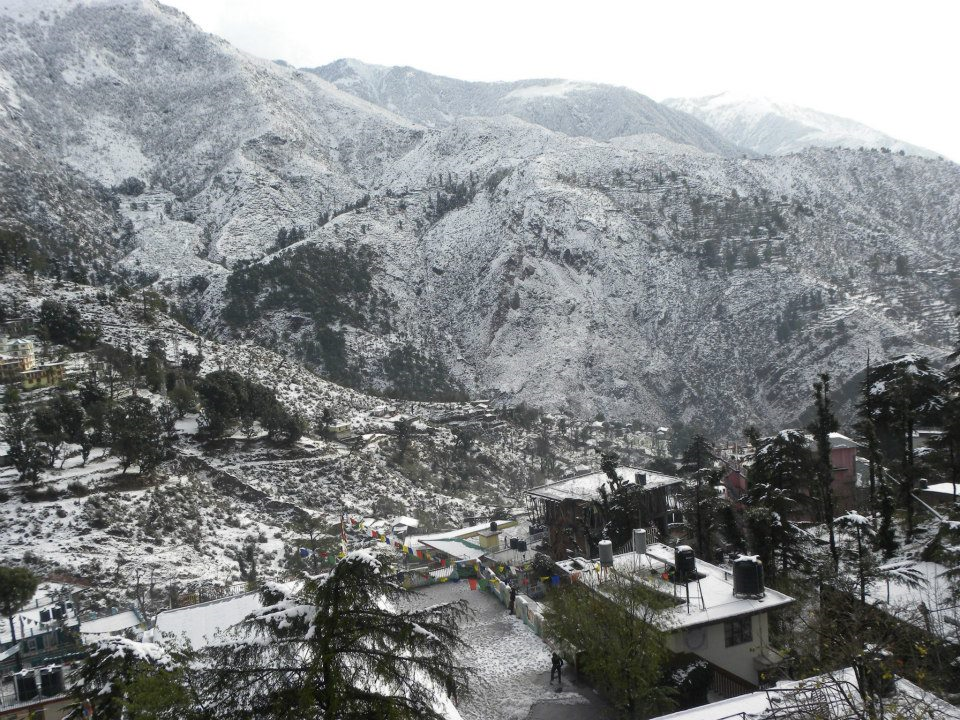 It was now time to explore the incredible McLeodganj. We checked out from the hotel and headed straight to "Shiva Café". Shiva café is located on the way to Bhagsu waterfall. To reach Shiva café you will have to trek a little. Somewhat about 1 km steep trek from the waterfall. Not much people are aware of it as this is situated at a totally remote location. This used to be a venue for rave parties at one time. It is a peaceful café with great music playing all the time. During summers you can also stay in the café in case you don't find any room in McLeodganj/bhagsu. They serve all types of snacks and beverages like pasta, Maggie, cold coffee, etc. Truly speaking, the food here is not that tasty but the ambience is what you pay for. Amazing pieces of art all around. Paintings on walls, Shiva trishuls and much more trippy stuff all around. You can even score some good stuff from here. Again, it matters how you ask for it as they don't give it to anyone or everyone.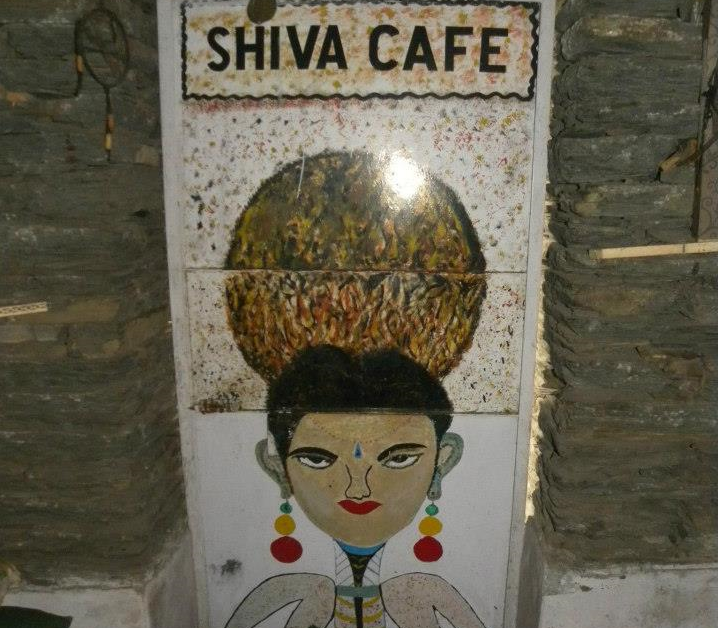 On the way to Shiva café you come across the BhagsuNag temple and the waterfall. BhagsuNag temple is an ancient temple in Kangra district. It is said that the king Bhagsu and Nag – "The lord of snakes" had a fight for water as there was no water in the kingdom. The king prayed to the Nag and the lord granted him a boon that the place will be known first by the kings name and then the lords name. Henceforth the place is known as BhagsuNag. After having our breakfast we headed to the "Dalai lama temple". It took us almost an hour and a half to reach the Dalai Lama temple. You can also take an auto or a taxi directly from BhagsuNag.
McLeodganj is a home for several Buddhist monasteries out which the most worshiped is the Dalai Lama temple. It is also known as the Tsunglagkhang temple. Here you will get to see an amazing gold plated statue of Gautam Buddha. The temple has an astounding architecture including golden prayer wheels. All you get here is ~PEACE.
By this time we were really tired and were starving. As I told earlier, there are various restaurants and cafes offering wide range of cuisines out of which we decided to eat at The Mcllos. This is one of the most famous restaurants in McLeodganj. Various celebrities and cricketers who come to Dharamsshala surely visits this restaurant. The restaurant has an open roof seating as well as an indoor seating. The best beverage here is the "Apple Cider" which is a local beer brewed in Himachal.
The next thing we did was getting drunk, eating and talking about the amazing experience that McLeodganj gave us. We actually cancelled our tickets to Delhi and stayed there for two more days. There is one more trek from McLeodganj i.e. Kareri Lake. More on that later.
On summarizing I would just say that the moment I reached the top of the Triund Hill I felt I was lost. Lost into the nature. One would never feel this in a city full of pollution, noise and responsibilities. Give yourself some break from your day to day busy lives. There is much more out there. The startling experience that I had on this trip forces me to travel and encourage people to do the same. All I would say to you is just - Travel. Travel for peace, travel to explore, travel to meet, travel to experience, and travel to know the inner you.
"Traveling is a brutality. It forces you to trust strangers and to lose sight of all that familiar comfort of home and friends. You are constantly off balance. Nothing is yours except the essential things – air, sleep, dreams, the sea and the sky – all things tending towards the eternal or what we imagine of it." – Cesare Pavese