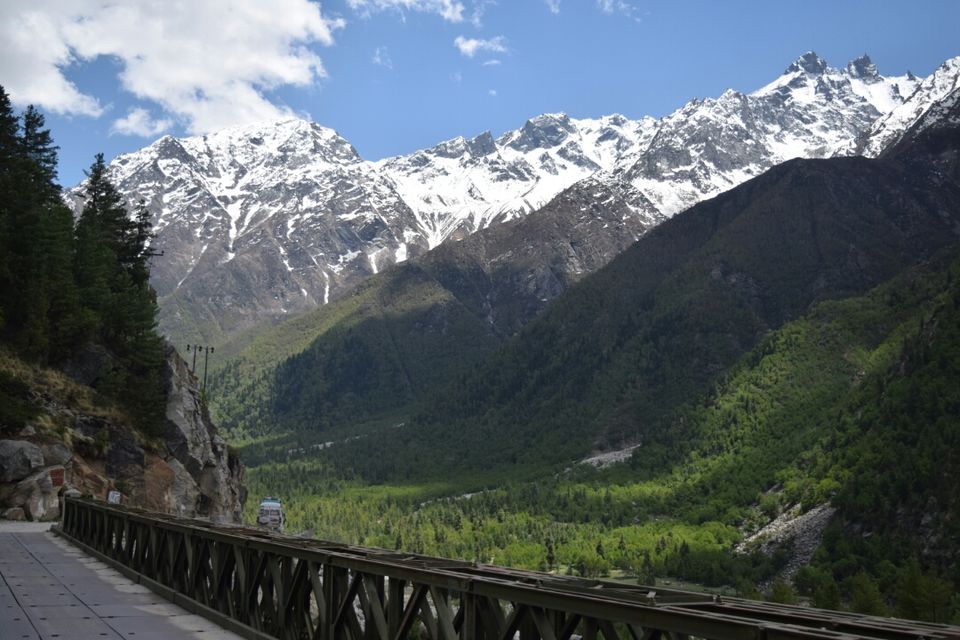 Chitkul,the peripheral village halting before the indo-tibetan border in kinnaur district of himachal sits on the banks of Baspa river at an elevation of 3,450 mtrs. With the blissful snow capped peaks and mellow river breeze,it is the most scenic element in and around sangla valley. Claimed upon being one of the deadliest roads,add to it the never ending adventure.
ROUTE: (via NH-22)
Chitkul is 610kms from the capital territory,Delhi and it takes upto 20-22hrs to outreach the destination.
The course is as follows:
Delhi-Shimla-Narkanda-Rampur-karcham-Sangla-Rakchham-Chitkul.
The NH-22 for Chitkul ends at karcham,where the road bifurcates–one towards Chitkul itself(Indo-Tibetan road) and the other towards Recong Peo.
THOROUGHFARE AND GLANCES
(Sangla-Rakchham-Chitkul)
Surrounded by both sierran and  streaming beauty,Sangla(22kms before chitkul) is a major town in the valley with all basic amenities-petroling, ATMs,hotels. Halfway hitching Sangla and Chitkul is the awed wonder village of Rakchham(10kms before chitkul).Other than its meadows,grasslands and apple orchids, hike and strolling to lower rustic parts,Rakchham-chitkul wild life sanctuary,kumru fort,the river down below and bridges are a must.Though the narrow winding roads have fair conditions,but needs good driving skills.
CLIMATE –  The continuum cold climate in the valley is a sure fire for a 4day trip specially to winter lovers.
1. Valley remains closed in winters and other than a few landslides in monsoons, it is easily accessible.
2.In summers,the daylight hours are pleasantly cold requiring light woolens and at night the temperature drops to 3-5 degrees.
ACCOMMODATIONS – There are several hotels and tent accommodations in the valley.
Sangla hotels-mount kailash (07186- 242527),prakash hotel(01786-242218)
Rakchham hotels-rupin river view hotel-highly recommended (01786-244225, 09816686789).,Igloo nature camp (08420285900)
Chitkul hotels- Panchali hotel   (9903154295),Alpine hotel(09805977268)
TRAVEL HACKS
1. Hotels in Chitkul are a bit expensive,so it is advisable to stay at sangla or rakchham and start an early day halt to chitkul returning back by evening.
2.Tented accommodations are expensive too so you may look up to homestays.
3.woolen clothes are a must,strolling and trying tukkpas are suggestible.
4.Use airtel or bsnl sim cards.
DECODING THE TRIP
(Choose the stop-bys as preferable)
Day 1-Delhi to shimla(7hrs)/delhi to narkanda(10hrs) night stay.
Day 2-Shimla to sangla valley(13hrs)arkanda to sangla valley(10hrs) night stay.
Day 3-Explore rakchham and chitkul and hike down to river beds and meadows.
Day 4-Sangla valley to delhi(20-21hrs)
OR
Day4-you may head off to kalpa for a view of  kinner kailash;) by taking up the bifurcated road to recong peo and stay in kalpa at night or return back to Delhi the same day if you want.
(Chitkul-kalpa-delhi:23hrs)